Sport requires not only good physical, but also mental preparation from a person, who wants to achieve their goals.

They are required to have a winner mindset, to be confident, and be able to work in teams. Therefore, the psychological aspect plays a really important role in any form of sport, that's why below we collected the best sports psychology apps.
And don't forget that learning from the best is also important! Get an app to watch sports highlights and see all the best sports moments!
Restoic
This app is entirely dedicated to improving efficiency and achieving better results for athletes around the world. The Restoic app was developed with the help of sports psychology professionals and athletes.
Therefore, it offers a high level of mental skills to increase productivity, increase self-confidence, reduce stress, and develop many other factors necessary for stable mental health. With this app, athletes will learn the five key skills needed to succeed and enjoy the sport.
Athletes will learn how to relax properly. Thereby they will start bringing balance to their lives and reducing stress.
Also, the app will teach you to look inside of yourself and reinforce constructive and positive talk with yourself. This will definitely increase the self-confidence of users.
The app will help its users effectively set goals that can really be achieved.
The app will help you develop concentration and the ability to stay in the moment.
The features of this app include many modern and effective practices for mental health and increased productivity. For example, with this app, everyone can master the art of meditation and include it in their daily routine.
Also, each user will be able to use the Binaural Beats listening function. These Binaural Beats help in reducing stress and improving sleep.
The breathing practices that this app offers to master are also extremely important for any athlete. These exercises improve breathing, which helps during workouts. In addition, breathing exercises help you concentrate better and relieve muscle tension after hard workouts.
For deeper relaxation, athletes and other users can enjoy the sounds of nature. The app presents such sounds as the sound of rain, beach, fire, and others. If a person needs a more personalized approach, then athletes can use the digital coaching function.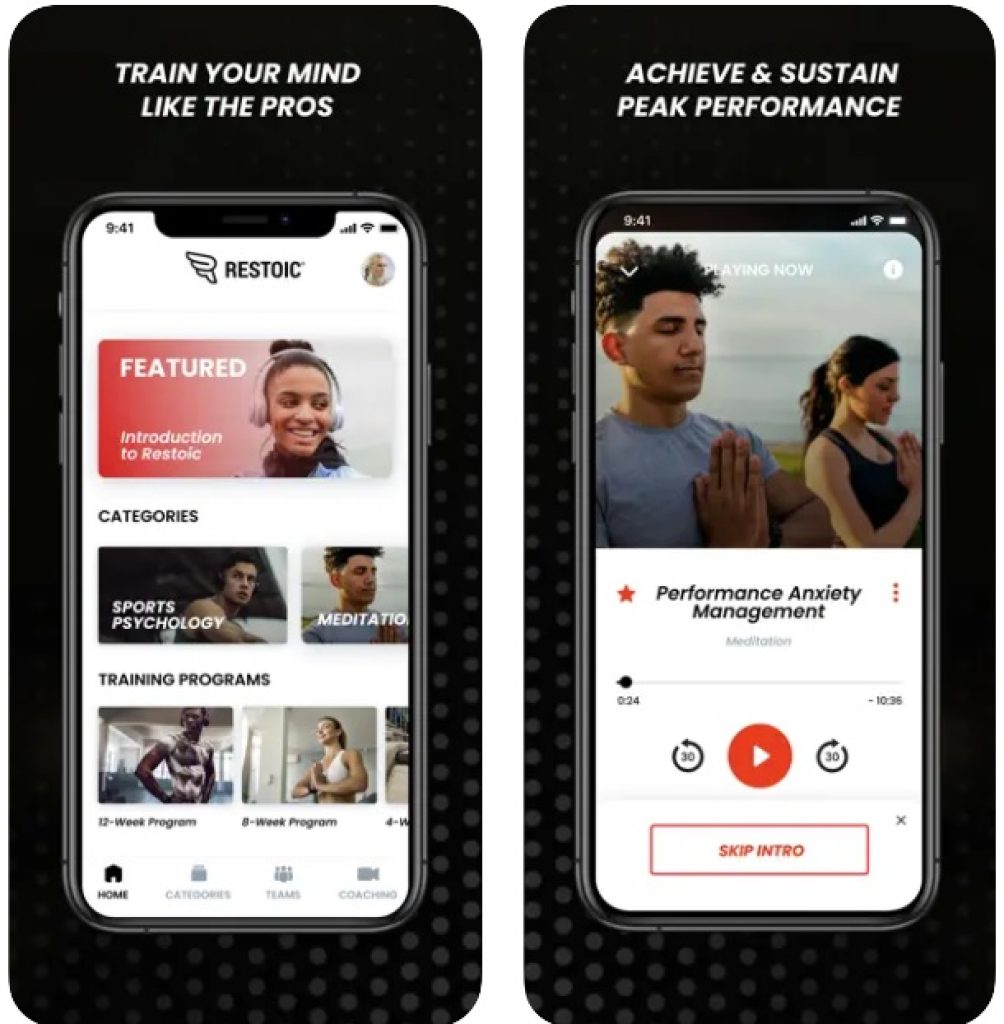 You may also like: 17 Best Sports Streaming Apps for Android & iOS
Wellness Coach
This app helps users to participate in personal or group coaching. It offers hundreds of different coaches to work with both individually and in groups. This app will help users who need support, observation, and evaluation of their achievements with tips for the future.
Moreover, this app will help a person to stay on track and control any areas of life, which also includes sports. In addition to coaching, this app includes other useful features for physical and mental health.
For example, in this app, you can learn how to meditate regularly, practice fitness, and yoga. The app also offers to complete challenges by the number of steps a day.
In addition, the app has music to relax and improve the quality of sleep. Also in the app you can listen to wellness audiobooks for self-development.
To achieve your goals, it is important to track your progress. Therefore, the app has such a function where you can monitor various indicators and evaluate your achievements. In order not to give up on the goal halfway through, this app offers specialized structured wellness plans.
According to user reviews, the app really helps them achieve their goals. In addition, users have found the interface quite relaxing and straightforward.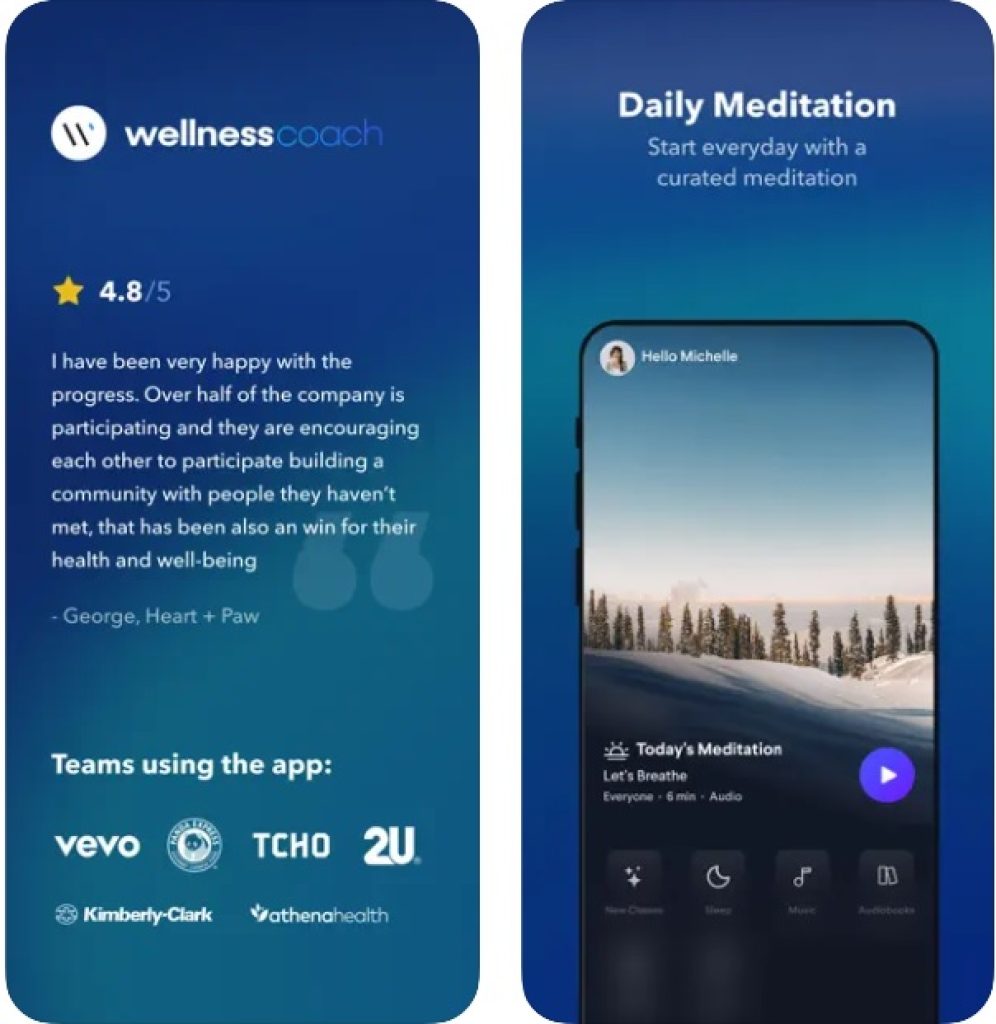 Champion's mind
Champion's mind is one of the biggest and most popular apps among competitors from the same sphere. This app is focused on sports psychology and mental training to achieve great results in the sports field.
The Champion's mind app contains over 200 mental training sessions. The practices that this app offers are suitable for all sports. However, the developers claim that the exercises from this app must be performed every day to obtain solid and long-lasting habits.

This app offers daily psychological hacks and tips to boost your physical and mental abilities. In this app, each user can learn:
goal setting
gratitude
visualization
positive self-talk
Setting the right goals is quite important for any activity. If a person sets overly ambitious goals, then the probability of their achievement is reduced to almost zero. Therefore, this app will help users set realistic goals and gradually achieve them.
Mindfulness, relaxation, and various breathing practices are really helpful in relieving excess tension and stress. Regularly doing the exercises in this category will help the athlete focus on the important things, and not on the pressure that is being placed on him or her.
Visualization helps users to set their minds for a successful outcome of events in advance and train the so-called winner mindset.
The app interface is quite strict and concise. It just reflects the focus that users need to achieve. This app covers almost every mental performance skill that an athlete needs to develop. For example, the app helps not only in getting stable mental health, but also:
increases self-confidence
gives leadership skills
teaches confident body language
teaches how to deal with pressure, and much more.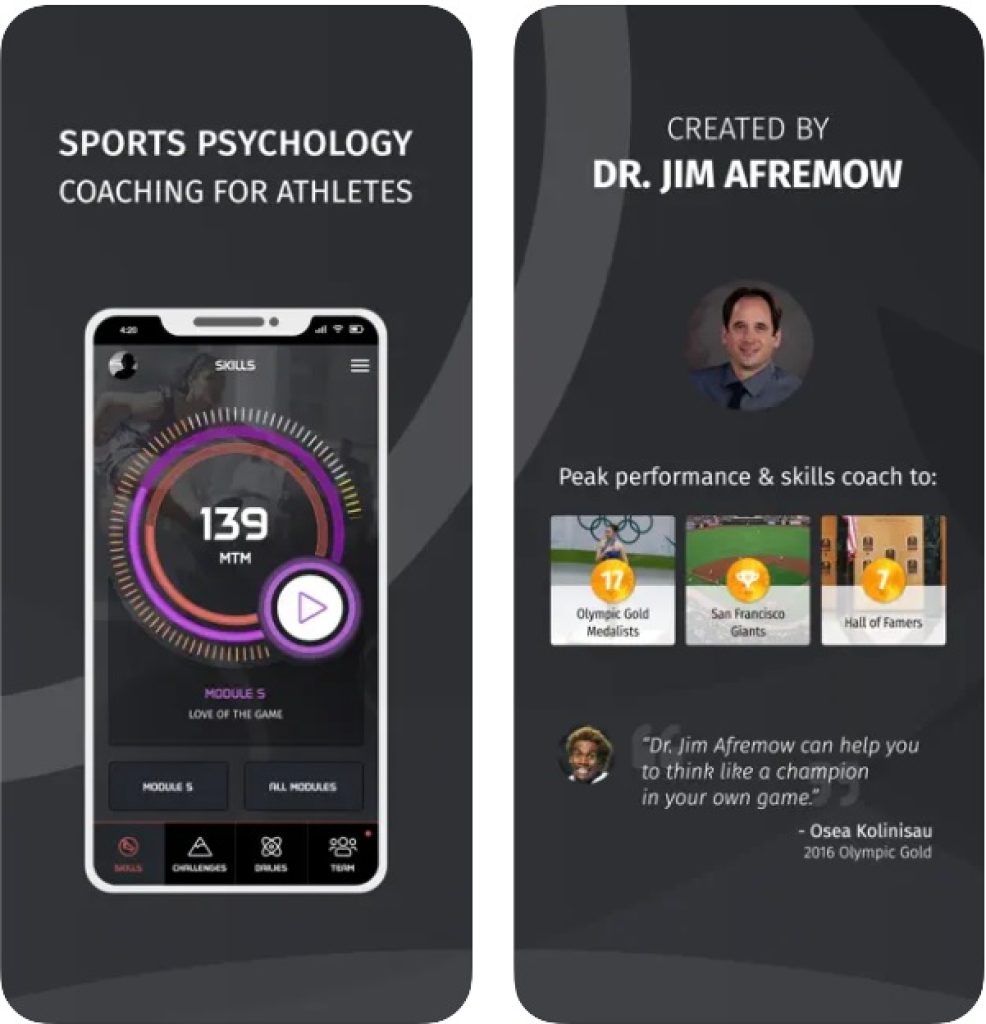 SportPsych Performance Coach
This app also helps you in developing the mental skills to deal with pressure and achieve better results. Here, users can use the journal feature to track their progress.
Using the criteria provided in this feature, users can track the level of satisfaction depending on the intensity of the workout. Also, users can compare several indicators to see the pros and cons of any habits and eradicate them, introducing those that, on the contrary, will help improve the condition.
Moreover, in this app there are audio recordings that cover the most important topics of mental health in detail. For example, here the theme of limiting thoughts in achieving the goal is revealed.
There are also exercises to help the user improve awareness and mindfulness. Moreover, this app has articles on topics from the very definition of sports psychology to the key to success in sports.
In this app, users can turn on daily reminders. As for the interface, it is not simple like in other apps, but here you can change the theme color of the app, font size, background color, and other parameters.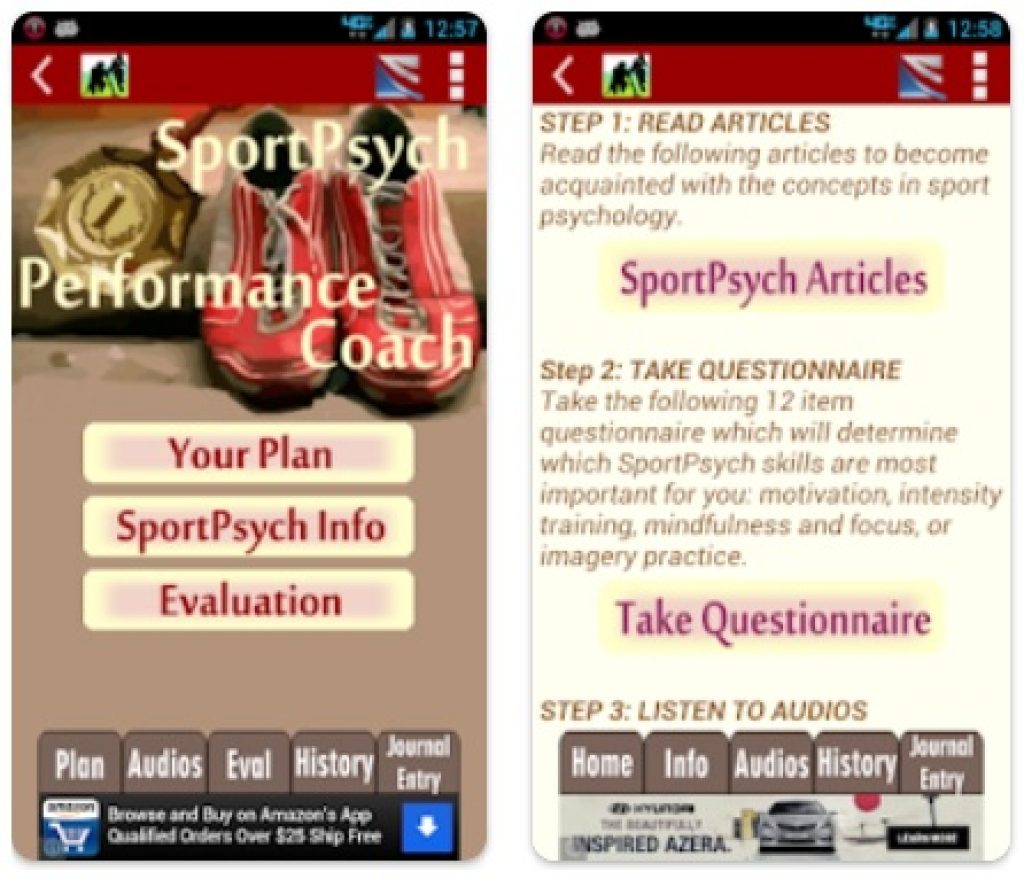 You may also like: Top 8 sport video analysis apps for Android & iOS
InnerHour
InnerHour is a more general app that focuses not only on achieving sports goals, but also on improving the mental health of users in general. With this app, it will be easier to deal with depression, anxiety, stress, and sleep problems.
There are six self-care courses in this app. Since each person is unique and has their own habits and preferences, the app offers four-week personalized plans.

In these plans, unique exercises, which are based on the characteristics of a person, will be compiled in order to achieve the user's goals faster and more effectively.
During these four weeks, users will learn how to write appropriate affirmations, conduct meditations, and much more. Last but not least, users will be able to learn how to properly set goals.
For athletes, this is especially important. Through the introduction of new habits, users will be able to achieve any goals more easily. Also in this app, you can track your mood, and then see what affects it.
In addition, the app has a special Allie chat bot. If you write to this bot and share what worries you, then she will find simple exercises that will help solve the problem and relieve stress.
According to user reviews, the tasks in the app are really interesting and quite simple. These practices are helpful in distracting users from obsessive thoughts, stress, and motivating users to think positively.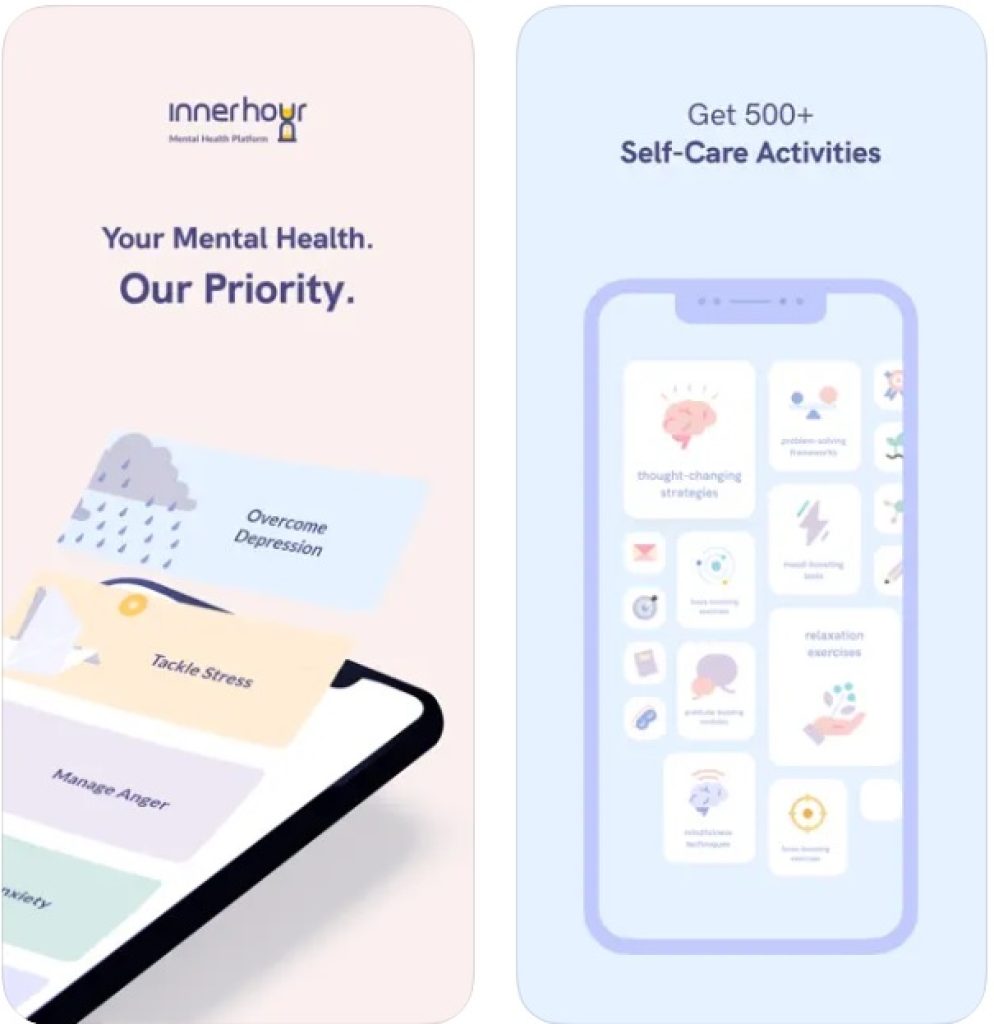 Sports Mental Coach
With this app, users will be able to achieve various goals in the field of sports development. The app offers features that will help you:
set goals effectively
manage anxiety
increase self-confidence
stay motivated at any time
stay focused on goals and achieve them.
According to the description of the app, it is perfect for athletes of any sport and any skill level. For any development, it is quite important to evaluate achievements and changes.

Therefore, this app has a function to monitor the level of anxiety both during everyday life and during sports exercises or participation in competitions.
For setting goals, the app offers special worksheets that can be filled out in detail, indicating different types of goals and other details.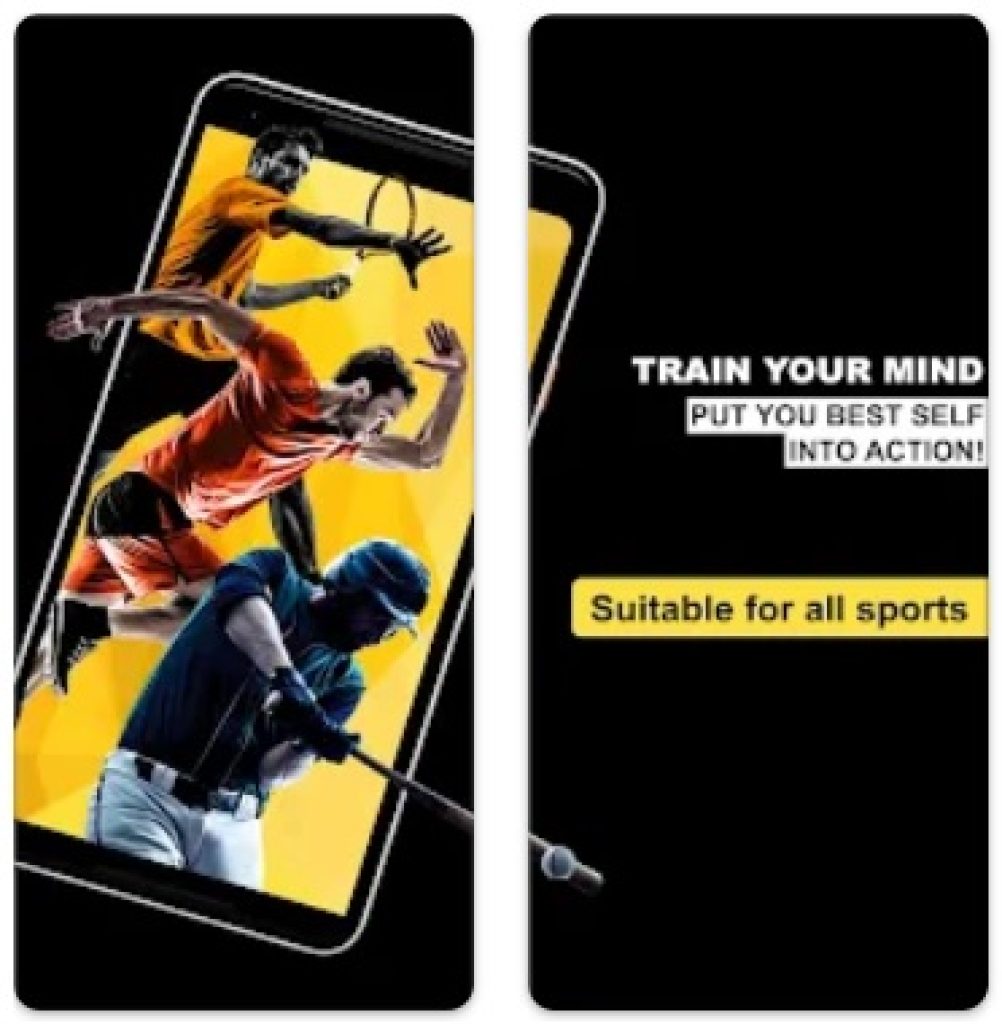 Moodfit
Moodfit is an app that helps you relieve stress and develop more resilience to different life situations. For greater efficiency, the app offers to set personalized goals and engage in self-development practices, which were formulated on the basis of these goals.
The app will help reinforce positive thinking and the desire to achieve your goals through gratitude exercises. A special journal for recording mood changes is also included in this app. It helps to understand the causal relationships between events and reactions to them.
To be in a calm state and easily relieve stress, the app offers special breathing exercises. Also in the app, users can try to meditate.
The app offers not only a set of interesting and useful features, but also provides data protection. Each user can set a password for the app. Moreover, the app will send unique reminders to each user.
On the home page of the app, there is a special scale for tracking the implementation of daily habits. For even deeper control of their mental state, users can take small questionnaires to assess the level of depression or anxiety.
Users can also express their thoughts in notes and keep a gratitude diary. For those people who have never practiced these mental health exercises before, there are a few hints in the form of guiding sentences.
However, according to feedback, one user experienced a technical error. Because of this, the user was unable to log in and use the app. It should be noted that without authorization it is impossible to work with the app.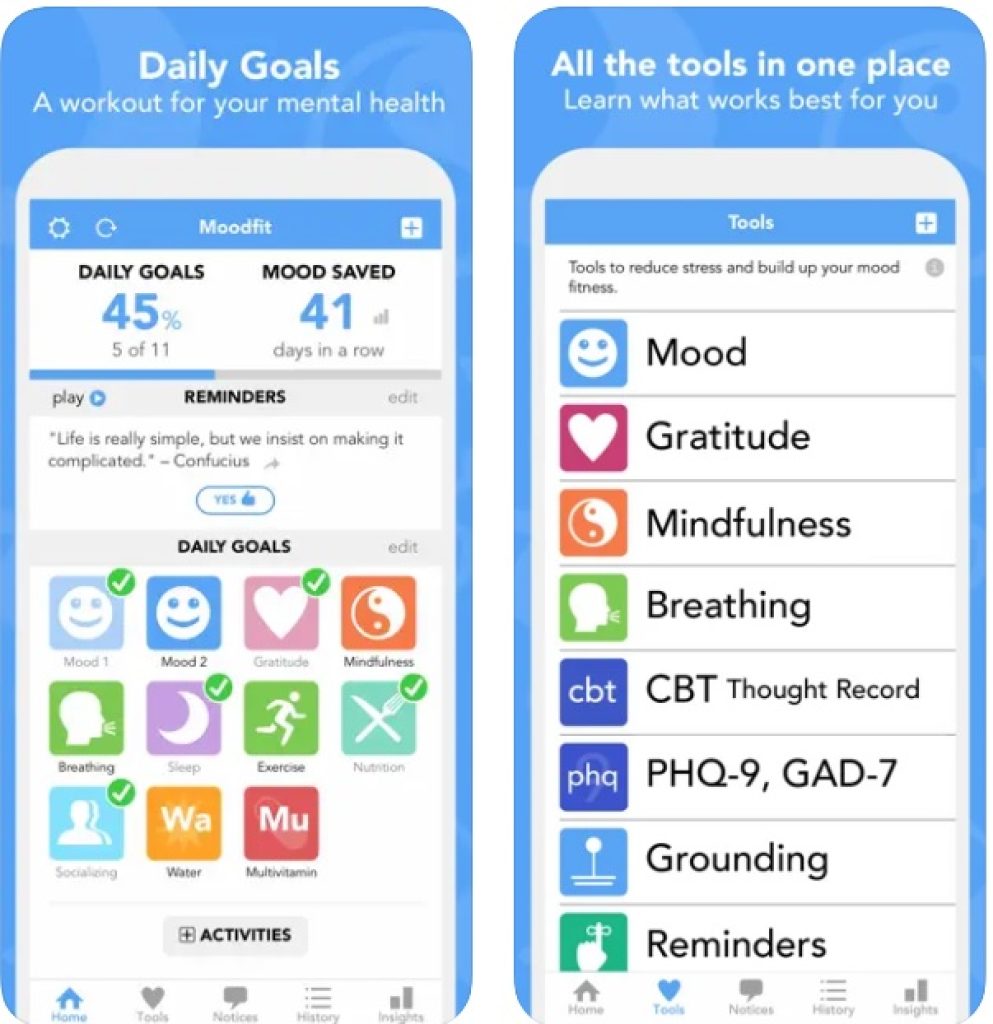 Mindshine
According to the Mindshine app, happiness is not a choice; happiness is a practice. By this, the developers mean a set of good mental health habits that a person performs every day. Therefore, developers have included some of these habits in their app.
For example, there are such features as:
meditation
journaling
visualization
gratitude
development of positive thinking.
The app specializes in dealing with every part of its user's day. Therefore, there are morning, afternoon, and evening routines.
During the morning routine, users will be asked to perform breathing practices to clear their minds and set priorities for the day using special journals.
During the daily routine, users will be able to replenish energy and continue productive work with the help of visualization.
Evening practices will help its users relax and improve the quality of sleep through meditation. In this app, the exercises are not separated from each other, but presented in a complex manner. These sets of exercises will not take users much time, because on average they last from 5 to 15 minutes.
The app interface is relatively simple. It does not require a long trial in functionality and does not irritate users.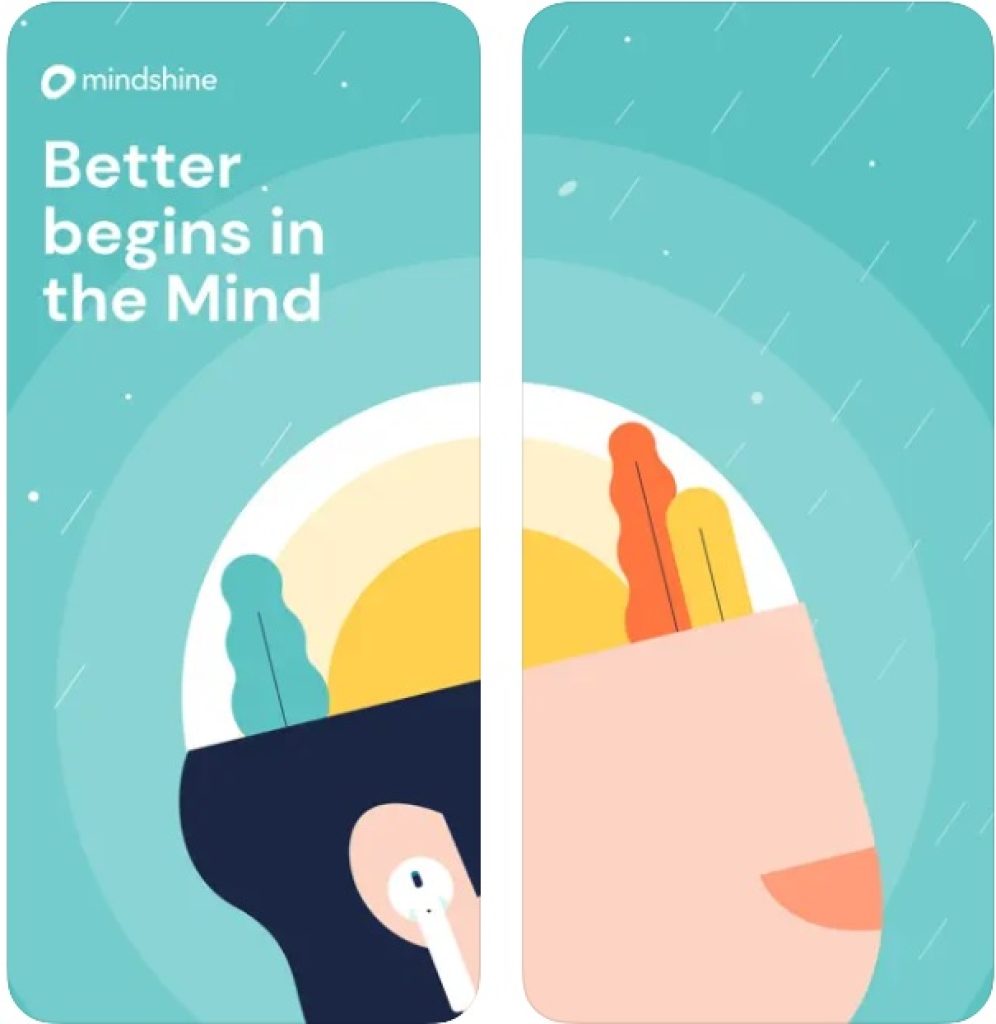 You may also like: 11 Best football prediction apps for betting (Android & iOS)
Mental Skills
This app primarily specializes in the mental preparation of athletes for serious competitions. The features of this app will help you:
develop leadership skills
increase self-confidence
create a growth mindset
relax and relieve stress.
The app does not only have functions that help to maintain stable mental health, but also small simple exercises to focus. Users will be able to take tests on the speed of their reaction and improve their focusing skills.
If users have questions or difficulties with the app, they can contact the developers by mail and get a quick response. When users download the app, they get 5 self-development modules absolutely free.