The most popular way for people to use Chromecast is to watch movies and TV shows. But it can actually cope with much more than that.
There are lots of free Chromecast apps for Android in 2023 that let you enjoy all your fave thing on the big screen. There are apps for storing and viewing your pics, running podcasts, planning trips, and more.
In case you want to use the most out of your live TV check out this article: 13 Free Live TV Apps for Android & iOS
Here's the list of the 11 best free Chromecast apps you should try in 2023. Take a look!
Spotify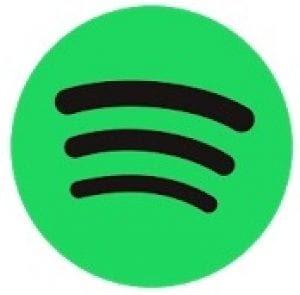 Let's start with a Spotify app. This is a music streaming platform that is supported by Chromecast.
Frankly speaking, this app doesn't really need an introduction. In case you've ever searched for an app to listen to music the chances are high, you've come across this one. The app runs on smart algorithms that do a great job in recommending new songs. Plus, you may create countless playlists and search from pre-made ones.
The app has a proper playlist for every mood and occasion — from a romantic dinner to a soundtrack to your fave book. Along with its massive compilation of hits, this app is now available on all possible devices — even from your smart TV. There are lots of pros in steaming your fave hits from your TV.
First of all, the quality of the music will get higher, especially if you own an HQ soundbar. Plus, the TV is much louder than your mobile and you can use it to always have the music turned on in the background. This app does have some sub packs but the free version is very nice on its own. All you need to do to start streaming music via Chromecast is to tap on the device's pin in the app and pick the right speaker.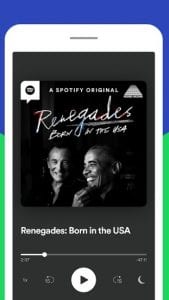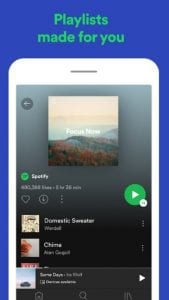 You may also like: 11 Free Chromecast apps for Android & iOS
Plex: Stream Free Movies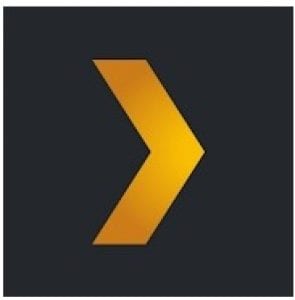 Next, we have the Plex app and this is an app that lets you watch countless TV shows, movies, and TV channels live.
This is a time-proven service for all the movie lovers out there and now you may stream your fave shows via Chromecast. The main idea of this app is to let you built your own media service with your beloved shows, channels, and so on. The good thing is — now your media collection may look like a powerful casting service and not just a compilation of files.
In other words, you get to customize your collection in lots of ways. You may sort it by categories, genres, moods, and more. You may even make your own movie tops and share them with your mates. The app covers a wide range of movies and shows so you can be sure all your faves are covered.
Plus, the app has a powerful searching engine so you can search by actors and the release date if needed. You may also bookmark all the movies you like or would like to watch, and they will automatically appear in the unsorted folder. Relating the app to Chromecast is easy — just tap on the streaming pin on the home page and pick the right connection.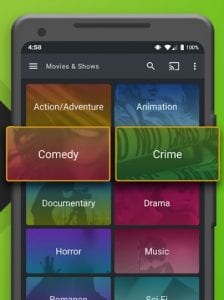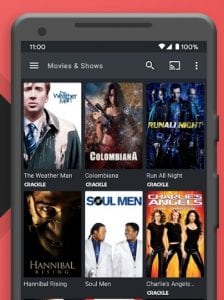 Pluto TV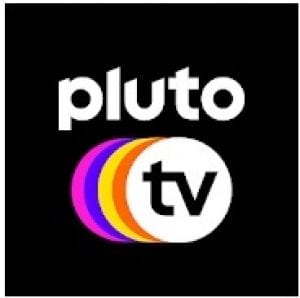 Pluto TV is another streaming service that covers various TV channels you may watch live.
For now, the app covers more than 200 channels of all the possible genres — from live news to sports content. The app even covers multiple local programs from NY, LA, and more. There are also a lot of outstanding channels fully dedicated to reality shows, cartoons, games, anime, and more.
Along with that, the app also covers a decent compilation of movies you may stream. All the movies are sorted by categories so it's easy to navigate. Besides, the app covers thematic lists with the newest releases, the most popular shows, and more. It also covers various language options for the most popular channels which is nice.
And as you may already guess, this app is supported by Chromecast. Herewith, it's very easy to use — just pick the channel you'd like to watch, tap on the TV pin and choose the right connection. And just like that — you get a full-on free TV with nothing but a few taps. It needs to be mentioned, the app is completely legal and fully free so no worries about that.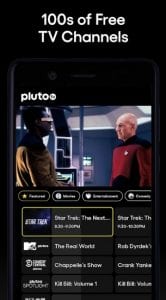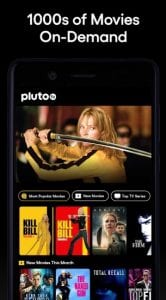 Maps on Chromecast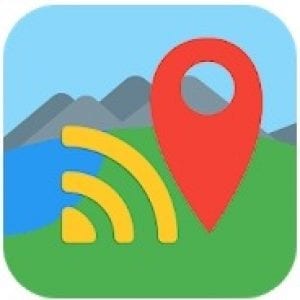 As its name suggests, Maps on Chromecast is a navigation app you can view right on your TV.
This app is a life savior when you need to plan a big trip with your fam or mates. You can sync the map on a big screen with a few taps so all the trip members could have a closer look. Plus, this app is incredibly easy to use. Do you need to move the map? Do it on your mobile you can use it as a full-on touchscreen.
You can zoom this one in and out and view the info on various buildings and sights along with regular map apps. Therewith, the map quality is beyond great. You can also switch between several map themes — from a satellite one to the terrain. You may also measure the distances and plan full-on routes.
The app also covers traffic info and lets you bookmark your fave places. The only disadvantage is you can't export the planned routes to Google Maps so you'll have to stick to this one. However, you may view and copy various GPS coordinates and enter them in other mapping apps.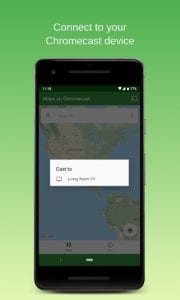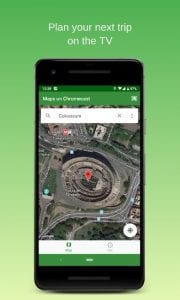 Twitch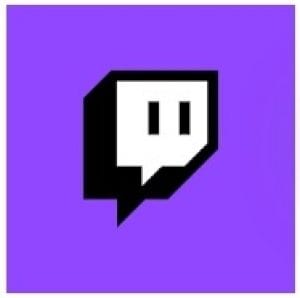 Twitch is a streaming platform you can now watch on the biggest TV in your house.
Frankly speaking, if you're a fan of watching how other people play games, sing o, eat or just casually chat with others — this is a one-stop app for you. This is the biggest and probably the most popular platform for streamers and their fans. And that is why the platform covers all kinds of live content you may think of.
Do you enjoy watching how people play some old-school games? There are streamers who do that. A fan of blasts and action? The app has something for you as well. Simply looking for a company to watch while you're eating your dinner? Twitch has you covered as well. Along with that, you can easily become a streamer yourself or watch your friends do that.
Connecting the app with Chromecast is easy — just tap on the translating pin and pick the right connection. Once you'll link the app to your TV for the first time you can set it to do this automatically when you're at home. The Chromecast version covers all the regular app's features with no limits.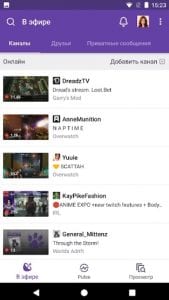 LocalCast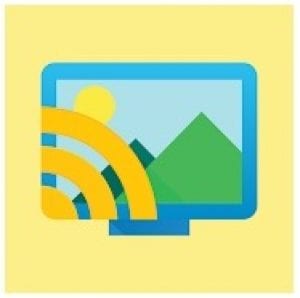 LocalCast is an app that lets you stream music, pics, and vids on your TV.
This app is a great solution if you have tons of various files spread around your device and want to organize them a bit. The app enables you to make multiple folders with all kinds of files — from docs to vids. The app also gets easily integrated with various cloud services and other stuff like that which is great.
Therewith, you may make as many folders as you want, sort them by your will, and rename them at any time. Plus, you not only get to import files from cloud storage but upload the whole folders to it. You may also share the folders with your mates if needed. The app has a built-in search engine so you can look for specific files and folders easily.
The app also has a great tool for movies. The tool enables you to make queues from several media files. Thus, if you're planning a party or a long movie night you can mark all the files to not get distracted by that later Syncing the app with Chromecast is simple — tap on the sharing pin and pick the connection.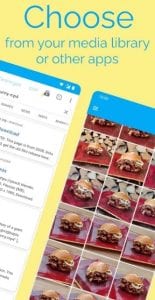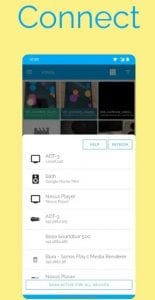 Check also: 11 Free Game Streaming Apps for Android
Web Video Cast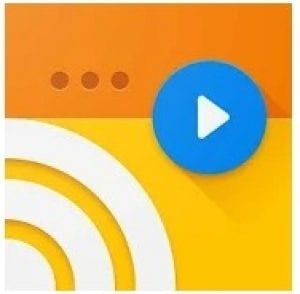 Web Video Cast is another app that lets you watch countless video content.
This app covers all the most popular movies, TV shows, and channels you can now run via Chromecast and other connections. Along with that, the app lets you run local vids and audios you have on your phone on the best screen in your house. As for the channels, the app covers everything — from sports to news, reality shows, and cartoons.
Plus, the app has a wide compilation of movies you can stream. All of them are precisely sorted by categories for easy navigation. There's also a built-in search engine that you can use to look for specific vis and movies. In case you don't know what to watch there are various lists with the most popular movies, the newest releases, and more.
You get to bookmark films and vids you plan to watch and put them in turn if needed. Plus, the app saves your watch history in case you'll need to come back to some file. The Chromecast connection here is great and stable so no worries about the crashes or something. The app also has no ads which are always nice.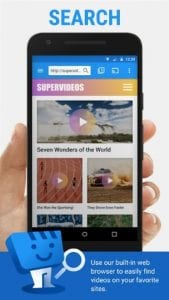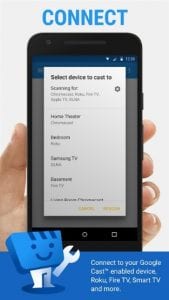 Pocket Casts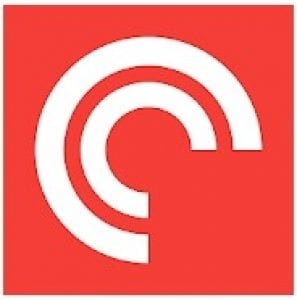 Pocket Casts is an app that lets you enjoy your beloved podcasts on TV.
This is the ultimate podcast streaming platform that will satisfy all the needs of a podcast lover. The app covers a wide range of podcasts dedicated to various themes — from psychology and true crime to celeb podcasts and all that. Plus, the platform stands for good quality so you can be sure the sound will be as clear as it can be.
Along with that, the app has an intuitive UI and simple controls so you'll quickly figure out how to use it. All the podcasts are presented in a grid form and it takes one tap to start it. You may also bookmark the podcasts you want to listen to later and follow some users.
Besides, the app enables you to search for playlists made by other users. You may also make a full-on line out of podcasts to listen to throughout the day. There, the app is made the way that there won't be any long waits in between the files. You may also view how much time you have left on every podcast and easily skip it if needed.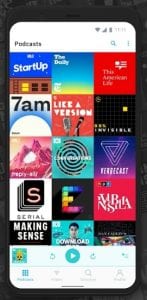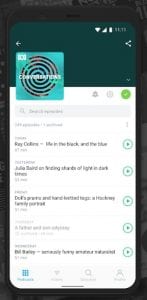 Google Photos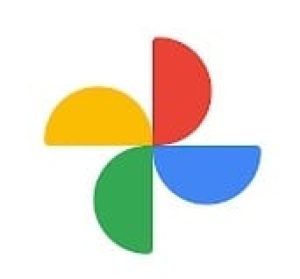 Google Photos is an app that grants you to keep all your pics in one safe place.
Frankly speaking, the main goal of this app is to give you a source where you can store all your shots and be able to reach them any time. Thus, in case you've had an amazing journey and the time has come to show your fam all the photos you've taken — this app is a life savior.
Plus, as the app is now integrated with Chromecast, you don't even need a PC or laptop to show your pics — you can demonstrate them on the biggest screen in the house now. Therewith, you get to organize your shots and sort them into folders for easy navigation. You may also use the search engine to look for specific shots or vids.
Syncing the app with a TV is easy — there's a self-titled icon right in the app. Once it's done, you may swipe across the pics on your mobile and the same will happen on a big screen. You may also zoom in on the shots if needed. You may even control the app by your voice — just tell it to play some album and that's it.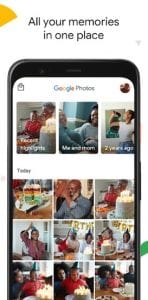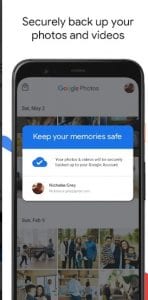 Movies Anywhere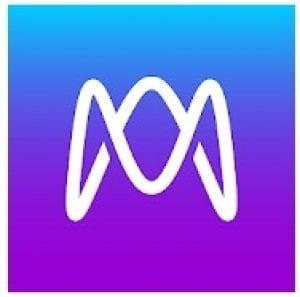 As you may guess by the title, Movies Anywhere is an app that gives you access to all your fave movies.
The main point of this app is to let you build your own collection of movies for free. All you need t do for that is to log in and if you already have some movies downloaded to your device the app will cope with the rest. Therewith, it doesn't matter where you downloaded the movie from — the app covers all the most used formats so no worries about that.
Furthermore, you get to access the collection of your mates and share your own with them. In case you don't own a sub pack you may only share 3 collection passes a month but that sounds quite fair. Another cool thing about this app is you may watch your fave movies with your mates without leaving your house.
The app empowers you to use synced viewing with up to 9 people at the same time. Herewith, the amount of content you may watch is unlimited which is nice. The app also has its own compilation of movies you can buy and add to your library if needed.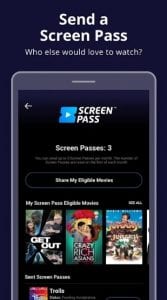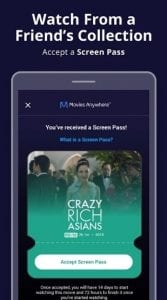 You may also check: 11 Best Anime Streaming Apps
Screen Stream Mirroring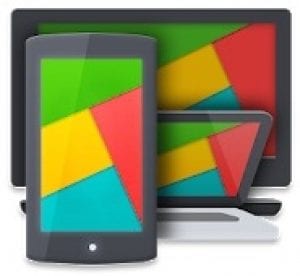 And lastly, Screen Stream Mirroring is a powerful tool that enables you to broadcast your phone's screen to TV live.
This app can cope with sharing your screen with various devices via different networks including the Chromecast. The sync gets done easily — just tap on the casting pin and pic the right connection. The process takes literal secs so you won't have to wait long.
Once it's done you can practically do anything you want on your phone and it will immediately be shown on your TV. At that, the app covers both video and audio streaming so you may literally watch YouTube or read Twitter with the help of this app.
You may even play your fave mobile games on the big screen. The connection quality is usually stable so there will be no crashes or glitches. The only thing you need to consider is that the app runs on sub packs and the free version has time limits for browsing each app.