Have you noticed that lately, you've been messier than ever before? Seems like it's time to pay special attention to your planning! It might seem like something insignificant, but that's what determines your productivity. And obviously, you're not going to take a classic notepad and write things down. All the people of productivity use apps!
And to feel like superman and increase your productivity to the ceiling we recommend exploring the article 25 Best productivity apps for Android & iOS – you will find all the apps you need to get things done.
TickTick
We decided to make TickTick a pacemaker on our list since it is a very classy checklist app. You must have seen it somewhere before since it's truly popular.
TickTick is an app for managing daily tasks with broad functionality. It means that you can check your cases at any place. The app also embeds a handy widget where you can see your daily checklist.
If you wish, here is a short brief of its pros:
Multifunctionality, yet, made simple
Synchronization with PC, Cloud Services
Pomodoro Timer involved
Popularity
Not a bullet journal, just a user-friendly planner
Users can swipe tasks to the left or the right in the app. Tasks appear as a list for the day, week, or calendar. Multi-steps problems are displayed as a list or Kanban-board. Here the minimalistic design helps to stay focused and doesn't tease your attention to some vague things.
TickTick allows users to sort their objectives by projects and files and then highlight these files with different colors which is another fun element of this app.
Also, you can divide general missions into sub-goals and mix them with media files. There is a Pomodoro timer for the combat with procrastinating in this app – a perfect merge for a checklist app!
With this timer, the user can set a deadline for each purpose. Usually, people set twenty-five minutes for their tasks. At the same time, It has a Tracker of useful habits which afford you to monitor daily progress in training new skills.
The biggest hallmark of TickTick is that it's not just another bullet journal or regular planner, but it rather combines features of a calendar, planner, to-do list, collaborative software – and it seems like the developers have managed to make the best of the best.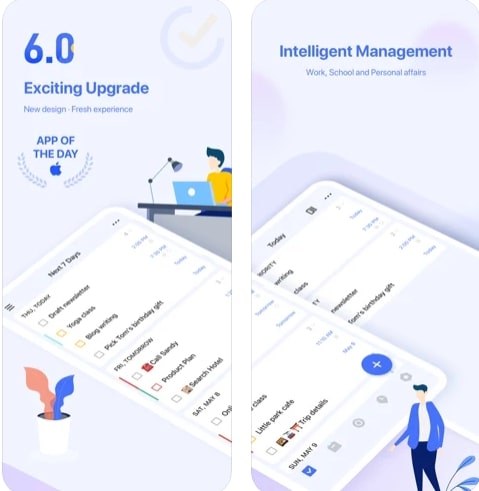 You may also like: 11 Best event planner apps for Android & iOS
Process Street
Process Street is an app that helps users plan group projects, manage business processes, and control tasks. It is a simple, free and efficient way to manage your team's lists of cases.
Why'd you chosen that?
It is great for managing checklists for business processes
Possibility to create a checklist for the whole group and for each member
Integration with other apps (!!!)
Organizing daily desks
Just like the previous app, this one is remarkable for its minimalistic interface design. It integrates with more than 1,000 apps such as Airbnb and Spotify – another virtue. But here is it essential to note that it's more about managing business processes than household routine.
If you need to systematically manage business processes, Process Street is the best choice for you. There are desks for completing routine goals in this app. You can create your desk or use one of the prepared. The work process is placed on the desk. After choosing desk users to divide the task into simple steps. The app's editor generates a work plan based on these steps.
Also, this app affords to save and collect key information about the task. We would like to highlight the fact that every group member has his checklist and deadline according to the general object – so this app allows the individual approach to everyone, yet gathering everyone together towards the goal.
Each person in a group can see the progress in the following section. So, this app is for the whole group and for everyone involved in the process at the same time.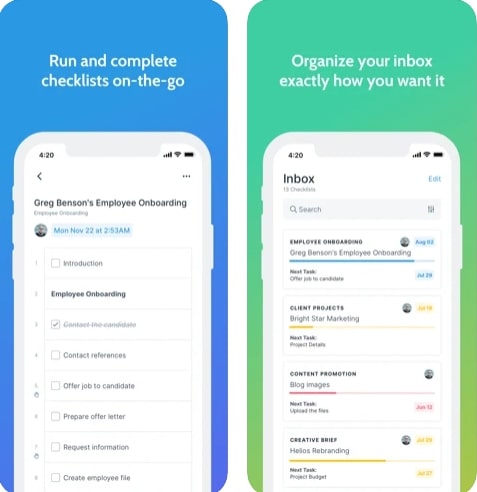 Evernote
One of the most popular apps of organization daily routine is Evernote.
A classic type of daily planner and checklist app
Wide variety of notes keeping
Possibility of project management
Task manager included
This app includes keeping text notes, pictures, videos, and audio. The concept of Evernote is a notebook with the possibility of sync. It means that it affords to keep an electronic notebook. In Evernote, It is possible to stress the notes by key terms or categories. Important notes can be protected by password It also has many desks.
These desks are divided into collections and categories. Moreover, with Evernote, each person has an opportunity to scan the documents and search for information in PDF and hand-written texts. The menu of the app consists of workspace, formatting field, and a menu of additional settings. By default, all notes are added to the first notebook.
You can use Evernote as a task-manager due to its functions like enclosure any media file in any note. The main straights of this are keeping all important information in this app and the other one is the system of data organization through the tags which everyone can set in the text. Also, users have accounts in the app.
There are six tabs in the account: My account, Work Chat, Settings, Subscription Information, Support, and Legal Information. The user can log out and sync his accounts there.
And if in the case of both previous apps the interface design was a strength, then this one is sucker here. Many users expressed their satisfaction about it. What is more, Evernote requires the Internet signal for proper work.
Note synchronization is available for free on only two devices. The main reason why this app becomes less popular nowadays than before is the emergence of new checklists apps with modern design and different additional functions.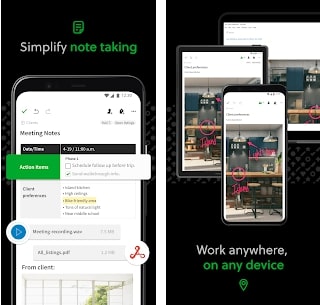 Google Keep – Notes and lists
If you are looking for an organizer which will work on any of your devices, try Google Keep!
Trivial, but does its job
Integrated into the Google eco-system
Not too many features for productivity, but still a nice daily checklist
This app affords to do quick notes both on a computer (keep.google.com) and on a phone (iOS, Android). You can make shortlists of tasks, photos, and voice notes in the app. Google Keep can work without the web signal but if the user wants to edit his memos on different devices, this app saves all the information in the cloud with the internet.
The virtue of Google Keep is that you create notes on the flashcards. These are mainly suitable for making brief notes.
It is also very simple to create checklists in this app – they are created in a similar way. The other useful thing in Google Keep is the opportunity to add pics to your notes and vice versa. Moreover, the user can sketch the picture in the note.
Additionally, there is a function of setting reminders for memos in this app. And just like in real life you can colorize the notes in a different way to make them look more natural. On the other hand, there is no multi-level system for notes like in Evernote. Some users deem that the app definitely would be better with this function.
Anyway, Google keep is one of the useful instruments for systemizing information and making to-do lists to organize your life. It has everything you need for everyday use. Google Keep is a set of basic tools for creating and editing notes.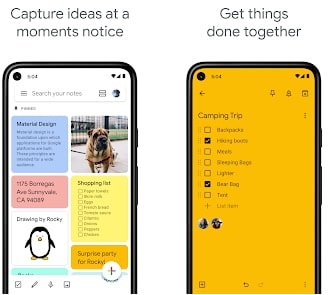 Do! – Simple To-Do List
Easy-to-use and popular app at the same time which is available in App Store.
A ligther version of TickTick
Even though Do! is more a simple classic planner, it can be converted into a checklist by adjusting the settings. This app is also nice as your routine daily motivation.
All planned tasks are located in the general to-do list. These tasks can be categorized based on date, color, or alphabet. It depends on your preferences.
Sorting by date allows placing the events in the calendar. For organized and structured working there are coloring marking and grouping missions in Do! The groups can be seen as thematic checklists. Users can change the interface and set the script. The sounds of writing pencil and crumpling the paper add a special vibe to this app, though won't be appreciated by everyone.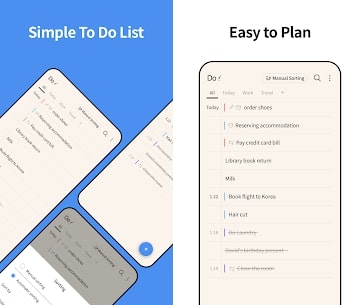 Trello
What is Trello? This is a simple cloud storage service for managing small teams and projects. All around the world, Trello is recognized as the project management software, whereas it can serve also as a daily checklist app.
A project management software with the elements of checklists
Customizable interface
Some users find Trello similarly to an Excel table, where the user can name columns, rows and fill the cells with any information. This is not exactly true since Trelly has a much less "official" format.
The app-based is on the Kanban methodology which is one of the parts of Agile philosophy. According to this theory, every task is a single card. The cards are put on boards (or columns).
Trello is not only about project works. You can plan everything in this app like a shopping list or your next vacation. The app can work offline as well.
For group work, there are four elements in Trello: teams, boards, lists, and cards.
How does it work? The administrator creates a team and boards.
He/she divides team members on different desks.
Choosing a desk for each member depends on the type of task which is included in the general mission. To-do lists are made on boards. Cards, in turn, are created on lists. When the process has been already organized the mediator can monitor the process on each board.
Trello is not only about teamwork. There are many extra functions like checklists and deadlines which make planning routine easy. Checklists are rosters inside the cards. You can use it for creating sub-tasks. Completing checklists are highlighted in green color. Also, you can save checklists for use in another task. Users can set a deadline for each card.
The tool integrates with a large number of systems like Evernote, Google Calendar, and Gmail. Accordingly, Trello is a quite useful app for managing project works and regular tasks. It can be adapted to any case.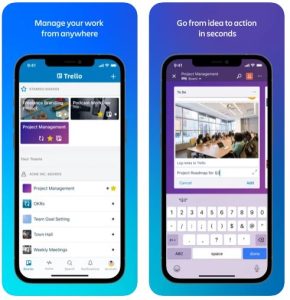 Habitica
Habitica is one of the most sapid planner apps. It is a game service with managing functions. It means that in this app people can win awards for completing daily tasks of their life or be punished otherwise. This feature is a motivator for using this app.
Requires a lot of involvement and dedication
An authentic checklist app
Another hallmark of Habitica is that it involves the elements of the game in it. During the time you work, study or do household duties your character rise to the level and get new equipment.
Every task on your list is an opponent for fighting. As in any game, if you win a fight you get the award. The users can add their awards. It can be your hobbies, for example. Tasks are sorted by the app.
For instance, there are harmful and beneficial habits. If the user has smoked his character will lose life points. Also, characters can associate and fight with the boss.
Bosses of Habitica attack slackers. It is necessary to carry out daily tasks for everyone in the group to beat bosses. To invite a friend, just scan the generated QR code. You can change the avatar and other profile settings if you want. Moreover, there are quests (series of assignments), seasonal events, guild, and equipment.
On the other hand, users don't advise making a lot of cases in Habitica. These losses may stimulate you to stop using the app. This is one of the drawbacks of Habitica. Thus, Habitica is a helpful app for people who have problems with motivation. This app is for people who like PRG games. Or you can throw away the game theme and then it's just a handy organizer.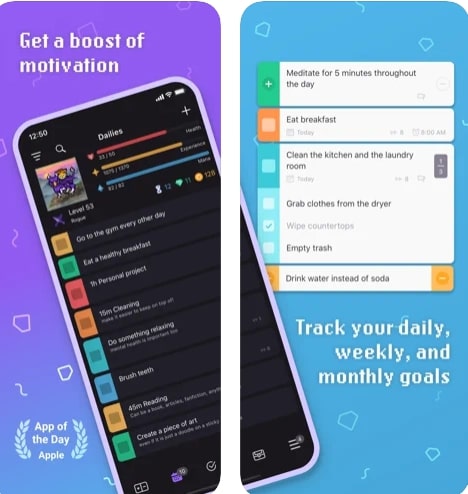 You may also like: 11 Best Homework Planner Apps for Android & iOS
Google Calendar
Another app in our list is provided by Google. With Google Calendar you can plan events, make reminders, set tasks, control completing tasks, and write short notes. Your notes in this app can be colorful.
Main advantage – synchronization with all Google services
Google fans will appreciate
In addition, there is a function to create a table for a week which can help to see free days during this period. You can set a form and time for reminders. It can be an e-mail or notification on phone. Moreover, there is a possibility to add more than one calendar.
It helps to classify household duties, working missions, and so on. In general, Google Calendar is OK for organizing your daily routine and staying in touch with all your plans.
The app has the function "Find a time" to choose the day for meetings. Just add the link for video call in Google Calendar instead of sharing login of Skype or Google Hangouts with your colleagues and friends. Google Calendar allows you to include files and documents directly to the event. This way all people who have been invited will have an entry to them.
The other advantage of planning meetings in the app is the possibility to fix links for the appointments on Google Maps. If you download Google Calendar on your device you'll get an impressive free online calendar that allows you to easily track your events and share them with your family, friends, or colleagues.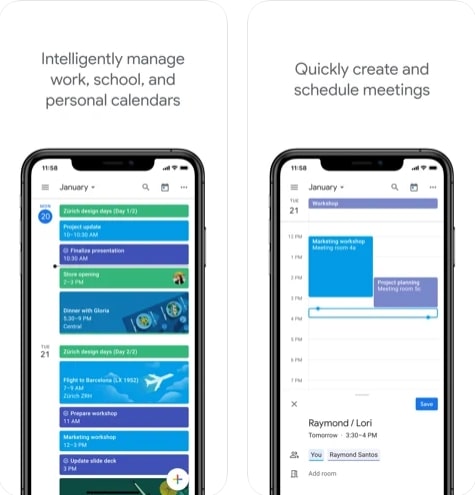 Notion
The Notion is a new app for creating notes, Kanban-boards, checklists, – basically, just another checklist app that you might want to try.
The app is compiled of boards that you can manipulate to create your schedule. Notion can be used as a diary, habits tracker, an organizer for notes, to-do lists. Personalize the app by applying filters.
At a glance, Notion seems like a heavy nut and not everyone can crack it right away. To solve this kind of problem the community of this service created a series of instructional videos.
Who's the main audience here?
Students can take some notes from classes, make schedules, and set deadlines. As for the teamwork, there are features like drawing up roadmaps for process and checking it, sharing documents, commenting on some mistakes in texts of other team members.
Summarizing everything, Notion is very convenient, flexible, and customizable for any "wants" tool that can be useful to everyone. The cloud swiftly syncs all your tables with your phone. You can also use it for teamwork, similar to Trello.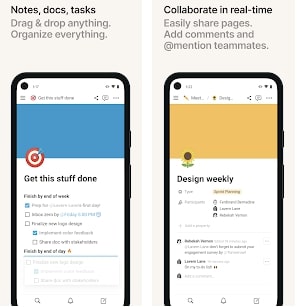 Clear Todos
Yes, we know, another planner app in a minimalistic style. Though sometimes here the design is way too straightforward and not everyone will find it handy.
We can see that Clear tries to use all space of display with the greatest possible utility. This app is for personal using and keeping lists of daily business and routines. There is no opportunity for sync, adding tags, including date or time. Moreover, the size of the task is limited by the line. So, Clear is like a Twitter among apps for managing tasks.
We would like to say something special about the design but it's rather controversial here. We know that the developers tried to add the possibilities for the customization but it turns quite… gaudy at the end. There are five themes in this app.
To sum up, Clear Todos is for those who want to stay low-key with their daily checklist app. It's not that popular yet, but it's already gained the users' loyalty by its proper functioning and easiness of usage.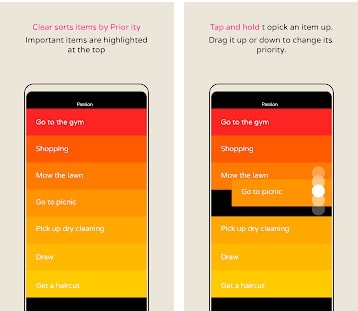 You may also like: 11 Best home planner apps for Android & iOS
Tweek Calendar
Tweek is a weekly planner with the elements of the daily checklist.
In the opinion of the developers weekly planner is the most effective way to organize and plan daily business. It's super simple, even more, plain than the previous app. The pro of such virtue is that it won't occupy as much space on your gadget, as, for example, Evernote.
You don't need to read instructions before starting using this app. Instead of this just begin drawing up a list of cases and planning routine.
There is an automatic function of transferring unfinished business to the next day allows leaving only completed tasks behind. It means that you can't forget about uncompleted cases. The design of this app is laconic. At the bottom of the screen, there is a place for tasks without time limits and random lists. There aren't headlines for do-to lists.
It makes it difficult to structure these lists for some users. To solve this kind of problem you can highlight the headline using color. Also, users can stress an important task or event by color. There is also an option to add marks, subcases, or checklists to the note. Reminders come as emails – a controversial feature as well. In case you start your day by checking emails, you can install this app.
Tweek allows creating several calendars at the same time such as personal and working calendars. It is possible to keep them with other users.