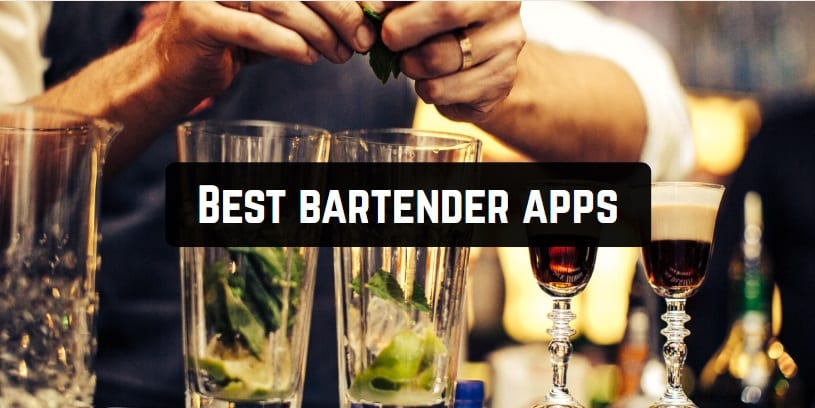 Have you ever wanted to become a barman or at least to learn how to muddle cocktails? We are sure that you happen to envy the perfect mastery that barmen demonstrate. Undoubtedly, by doing this they compel the attention of all people at the party. But this is not true for you, right?
However, today there is unrestricted access to information, so everything is possible. At the moment the App Store and Google Play have plenty of educational apps that can teach you basic bartender skills as well.
So we claim that in several minutes this very dream may come true! All you need is to read that post and learn about 10 best bartender apps for your Android or iOS.
8,500+ Drink Recipes Free
Would you like to get access to an awesome cocktail database? If you give an affirmative answer – this app is appropriate for you. Here we have over 8,500 Drink & Cocktail recipes which you can easily use in order to mix a drink.
8,500+ Drink Recipes Free has many options. Firstly, it's always possible to search quickly by ingredients or in special categories. Secondly, you can add any drink to the Favorite-list. Thirdly, for most adventurous users the developers suggest Random choice. It remains to prepare ingredients, read the instruction, and start mixing.
The top-rated app has become one of the favorite apps of over 5 million users. That is why this very app is not to be missed.
back to menu ↑
Cocktail Flow – Drink Recipes
One of the best bartender apps is called Cocktail Flow – Drink Recipes. The app is really multifunctional and convenient to use. You can easily find out which cocktails can you muddle with the ingredients you have. Then get detailed instructions on how to mix them and enjoy your drink! You can also browse cocktail recipes by categories and discover drinks in a way you never experienced before.
There is one more nice option: all cocktails are divided into groups for different occasions so you won't bother your head anymore. Those, who are interested in ingredients, can read about any products they wish. By the way, all recipes are accompanied with beautiful illustrations.
Don't hesitate to use that app. Become the best barmen at your party!

back to menu ↑
Bartenders Guide
If you want to impress all strangers at the party and make friends with them, this app is definitely for you. Bartenders Guide contains best recipes from all over the world.
This app will become your main tutor in this matter because it is really the wellspring of information. Here you can learn about bar accessories and bar material that you need to organize a party.
After studying the information you are able to mix drinks searching them by ingredients or by cocktails' type. The special "Party Planner" option will make your party unforgettable! By the way, the app is appropriate for a novice in bartending and for experienced one as well.
back to menu ↑
Cocktail Recipes
Since this moment more than 500 Easy-To-Follow recipes are at your fingertips. Now it's not necessary to go to a bar or pub to get delicious drinks – you can mix drinks by yourself!
There's no more need to flip through dozens of cookbooks or magazine pages. Search by Category, by Rate, or find at your Favorites. Then choose all you want and muddle cocktails according to the app's instructions. Here also you can find some recommendations about the best combination of food and type of cocktail. That sounds really wonderful!
And for making your party the best we advise you to read the post about best party planner apps.
back to menu ↑
Cocktails Guru (Cocktail) App
Do you want to explore the art of mixology from a completely new perspective? If you are intrigued by our question, download this app and enjoy its functions.
A great cocktail database is available for your phone and its completely free. Various search functions (by name, ingredients, alcohol volume, method, etc.) will help you to choose the most delicious cocktail. Or you may refer to the Top 100 Cocktails list and find something extraordinary. A detailed description of preparation will help you to do your best and mix a masterpiece.
The main difference in this app is Bartender Academy. It is another cool feature of this application that will help you to gain knowledge in the theoretical part of mixing cocktails. Download the app and be the specialist in this sphere!
back to menu ↑
My Cocktail Bar
We have also included My Cocktail Bar in a list of best bartender apps. Here it is possible to browse by category, by alcohol volume or by the ingredients available.
The main distinguishing feature of the app is an opportunity to add your own unique recipes. Also, the app provides information regarding detailed instructions on how to mix drinks. Moreover, all recipes are accompanied with beautiful photos, so it will be easier for you to muddle cocktails. You may read about each ingredient as well; by doing this you will be able to answer any question about drinks.
Use this app and become a highly skilled specialist in bartending!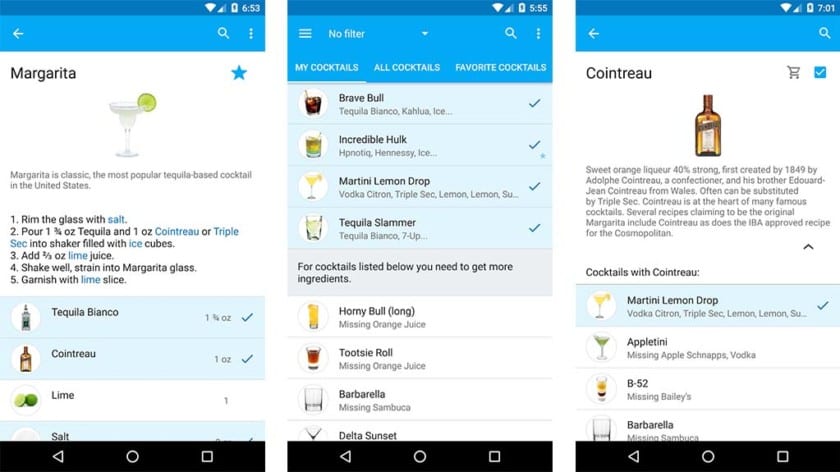 back to menu ↑
Lush Cocktails
In Lush Cocktails you'll find all delicious cocktails for certain. Hundreds of hand-picked drinks will make you the host of the best party ever.
Search drinks by name, by ingredients or by glass type. Curated shortlist will let you choose quicker and then save some time on preparation. Simple but at the same time pretty design of the app makes this app more unique. Here it is also available to save recipes in "Favorites" for further mixing.
And, as the developers say, the app will definitely default to the primary measurement system used in your country. So keep calm and muddle cocktails.
For more fun at the party, you can read this post as well.

back to menu ↑
Shaken and Stirred
This app is a handy bartending app for beginners, but it's appropriate for professionals as well.
The app includes more than 180 essential cocktails and detailed instructions on how to make them. Just check off what ingredients you have and what you can mix. Then filter the recipes on multiple criteria and choose your best drink.
Do whatever you want – annotate, like,  dislike recipes, or flag them by making your custom list.
We want you to pay special attention to this app because its every recipe has an accompanying tutorial video. This feature will be extremely helpful for someone who wants to be good at bartending.
Download the app and master this skill!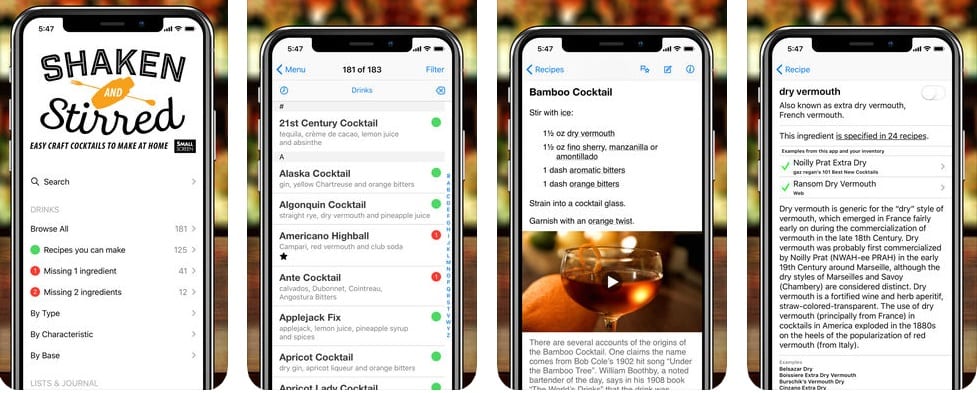 back to menu ↑
Highball by Studio Neat
We offer you one more app which is worth being downloaded. Highball by Studio Neat stores all your favorite cocktails' recipes.
An attractive design goes a long way, so this app really has a great uncomplicated look. One more thing that you will really like is its graphics. All these features make the app much more convenient to use.
The main distinguishing option here is an opportunity to collect cocktail recipes. All you need is to edit the ingredients, description, and custom drink image. The result will look like a nice well-designed recipe card. After finishing to create the card you may share it on any social network.
Moreover, when you save and import a drink recipe card image, it becomes fully editable. With the help of this app, you can make your own great cocktail database and become famous worldwide!

back to menu ↑
Bartender's Choice Vol. 2
We highly recommend you to use this app if you are going to have a party. All the people will never forget this night if you suggest some stunning cocktails. Moreover, if you prepare these drinks by yourself. You should definitely download this app, then choose several variants and mix!
Also here you can search through hundreds of recipes by spirit, style of drink, or sensation. The app includes tips on ice, garnish, syrups, shaking & stirring. This information will be especially helpful for inexperienced users.
Then it's up to you to decide which tricks will you show the public. Anyway, they will be impressed by your bartender skills. Let's party!