Everybody wants to be healthy. However, sometimes we have no time or money to pay a visit to a doctor. In this case, it will be a perfect way to try a good and reliable application.
For example, there are great tools to make an ECG of your heart. In this list, we have collected the best applications to monitor your heart condition.
Please note that using the app can't replace going to a doctor or screening your health in the hospital. Using app is more about getting the right information from professionals rather than treatment.
All of the apps are either completely free or have some basic functions available at no cost. There are great options for iOS, as well as Android users.
You may also like: 9 Best Pill Reminder Apps for Android & iOS.
CardioVisual: Heart Health
This app is a perfect tool for monitoring the health of your heart, including performing an ECG. By the way, do you know that heart diseases are believed to be the first reason for death in the whole world? The good news is that they are preventable.
CardioVisual is aimed at educating people about their heart health. For sure, it can't replace diagnostics but it can provide you with correct information, which is also very important.
This application was created with the help of professional doctors from the US. This is why CardioVisual will be useful for patients, as well as doctors.
CardioVisual was awarded many times. Its main achievements were in 2018 and 2019 when it was chosen as the best doctor's app.
Here are the best features provided by CardioVisual:
Great video lectures and guides

. There are many short videos about various diseases. They use no complicated terms so everybody will easily understand the given information.

Perfect articles

about heart failures. You will know about types of heart attacks and how to help people when they have such problems.

The app can also

tell you how to read the ECG

. After you study the materials, you will be able to understand what's going on with your heart.

Collect

data about diabetes

, there are great articles devoted to the topic.
These are the basic features available for free. Should you need more, go premium. In this case, you'll have the following features:
Premium videos

that aren't available to others. They are usually a bit longer and more informative.

Create your playlists

and sort the videos as you want.

Access to other

unique content

, such as guides and articles about rare diseases.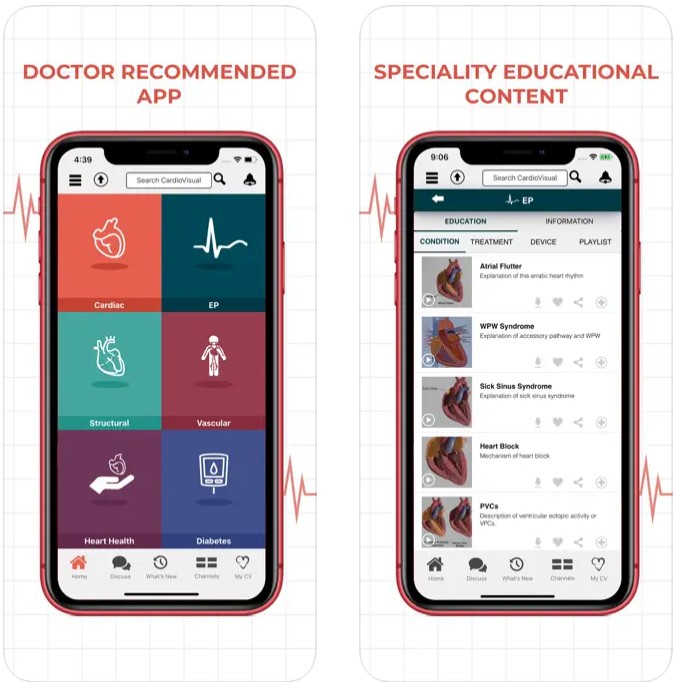 You may also like: 11 Free Apps to Measure Body Temperature (Android & iOS)
PulsePoint Respond
Here is a popular and simple app that is being used by more than three million people. The app is trusted by many people all around the world and recommended by specialists.
We can't say that PulsePoint is about heart diseases and measurements but about educating people about health issues in general. With the help of the service, you will be able to immediately help a person if he or she is in trouble.
Let's review the best features of PulsePoint:
It

covers many heart diseases

and issues, including ECG interpretation. There are many tips you can use to improve your health.

There are

great tips about diets

. We strongly recommend that you read it because sticking to the right diet is vital for keeping you healthy.

The app will

ask you to access your location

. It's better to allow it because the service will show you the nearest hospitals where you can get help when you need it.
What is especially cool about the app is that it is a non-profit project, meaning it will always be free for its users.
The app has a pretty high rating because of its powerful functions and simple interface.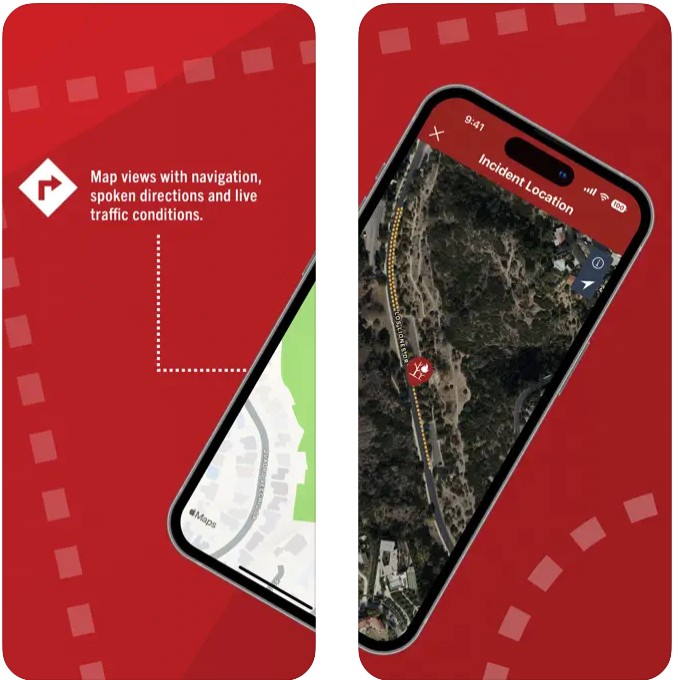 ECG
Do you need to make an electrocardiogram right now? If yes, this is what you need. This great app for iOS will do it in a few seconds.
For sure, the measurements won't be that precise but it still can give you a good result you can rely on. There is no information about the difference between using this app and going to a doctor in real life so we can't compare.
How does this application work?
Once you download ECG, you can use it. No registration is needed.

Put your finger on the center of the screen and hold it for some time, at least 5 seconds.

Then wait for the result to be formed. You can download waveforms on your device or send them to your email.
In fact, that's the only function available in the app. There are no guides or articles on how to understand the ECG you will get. So you will need to ask your doctor to explain the results to you.
What is more, you can use it only if you have Apple Watch.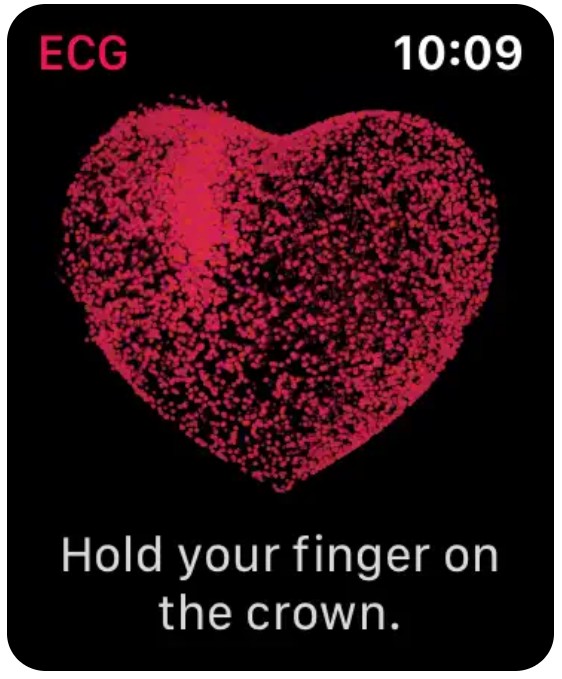 You may also like: 9 Best Mental Health Apps For Kids (Android & iOS)
ECG Master
This is not the app to make an electrocardiogram. However, it contains a great number of tips that will help you in reading an ECG.
ECG Master is a great option for all people who are interested in improving their knowledge of heart diseases and what to do to help a person who's suffering from them.
This is why ECG Master will be a nice app for students in medical schools, teachers, professors at universities, or anyone interested in the topic.
There are two ways to use the app – you can either try practicing your ECG reading skills or solve a cool quiz devoted to heart diseases. In both cases, you will increase your knowledge and boost your skills.
Let's look at some other functions provided by ECG Master:
There are

200 questions about heart health

with detailed answers. You can get a lot smarter just by reading them. This list is being updated all the time, providing you with new and correct information.

If you have an ECG, you can use the app to

get a relevant interpretation of it

. For sure, it's better to ask your doctor to tell you what's going on with your health but the app can also give you a lot.

Check statistics

to analyze if your health condition is getting better or worse.
Please note that the app is more about education than treatment. You can't rely on it in getting a diagnosis.
ECG Master is free of charge. There are no subscriptions, you just buy the necessary option once and the access will remain forever.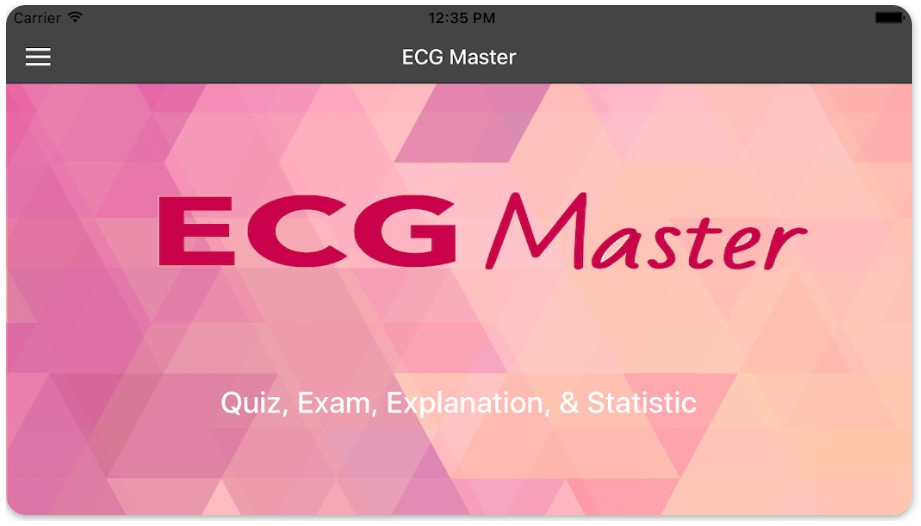 Dr ECG
This is another nice application to study and read ECGs. You will get a lot of relevant and correct data checked by real doctors. What is especially cool is that this data was read and corrected by professionals. New articles are being updated all the time.
Why Dr ECG is so popular among users? It's all about its wide range of functions, let's look at some of them:
Study the interactive picture

that shows you the anatomy of your heart. This is the most basic thing you should know to read the ECG. There are no complicated terms or sentences, everything will be clear even for those who know nothing about the human body.

Once you learn enough material, feel free to

try solving quizzes

. This is the best form of measuring your knowledge of the heart and its anatomy.

Read about case-based stories

. This way of getting information can't replace real practice but it also will increase your skills and knowledge.

Practice reading ECGs

. There are thousands of ECGs ready to be interpreted, meaning you will never lack practice.
This is why we recommend this application for students who go to medical school or university.
You can get it now for free and boost your ECG reading skills.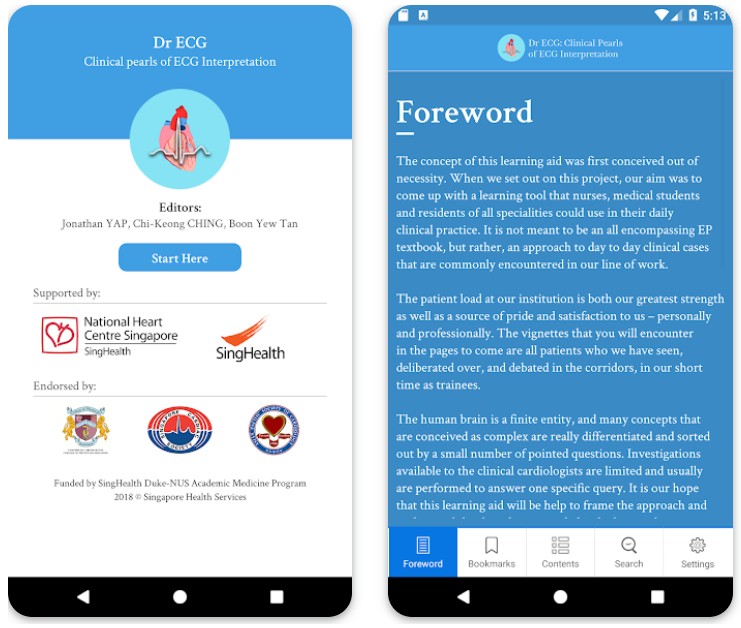 Welltory
Welltory is a health and wellness app that helps you track your heart rate variability, stress level, and overall well-being. With its user-friendly interface, you can easily monitor your heart rate and stress level through your phone's camera, without the need for any additional hardware.
The app offers a variety of features, including personalized recommendations for stress management, sleep optimization, and exercise routines based on your HRV and stress level. You can also track your daily activities, log your meals, and connect with other users for support and motivation.
Allows you to track your heart rate and monitor your health
Helps to cope with stress
One of the app's main drawbacks is its premium subscription, which limits access to some of the more advanced features, such as coaching and personalized advice
Moreover, some users have reported inaccuracies in the HRV measurements, which may affect the reliability of the app's stress and wellness assessments.
Despite these shortcomings, Welltory has received mostly positive reviews from users who appreciate the app's simplicity and effectiveness in managing stress and improving overall well-being.
So, if you're looking for a simple yet effective way to manage your stress and improve your health, give Welltory a try!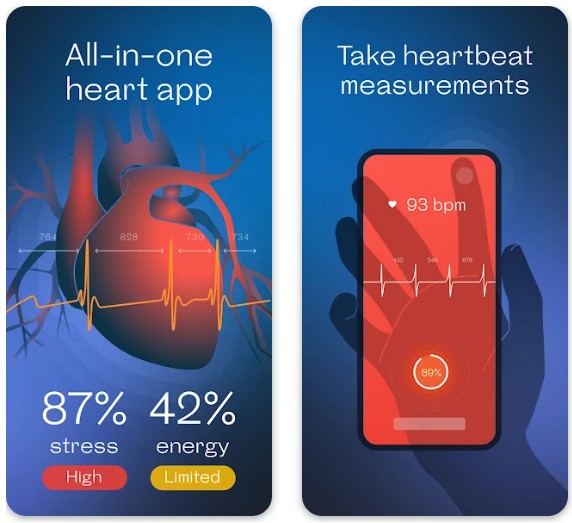 You can also check: 11 Best Mental Health Apps For Teens (Android & iOS)
ReadMyECG
ReadMyECG app is a medical app designed to help you monitor and track your electrocardiogram (ECG) readings right from your smartphone. With this app, you can easily take ECG readings by placing your fingers on your phone's camera lens and flash.
The app has several features that make it user-friendly, such as a real-time ECG monitoring system, a heart rate monitor, and an analytical report generator that can help users interpret their ECG readings.
You can monitor your health with a smartphone flash
Simple and easy to use
In addition, the app can track and save ECG data for future reference, allowing users to track their progress over time.
While the app has a few useful features, there are also some downsides. Some users have complained about the accuracy of the ECG readings, stating that they are inconsistent and unreliable. Others point out that the app often crashes, making it difficult to use.
ReadMyECG can be a great tool for people looking to keep track of their heart health, but users should be aware of its limitations. If you are looking for a reliable ECG monitoring app, you may want to consider other options on the market.