Today most people have problems with their eyes. The thing is that we tend to use more and more smartphones, tablets, and computers. This can be harmful to health.
In this situation, it is better to keep your eyes' health under control. It is quite hard to visit your doctor every week or even every month. This is why we decided to create a list of the best free apps for testing your eyes.
By the way, if you are concerned about your eyes, make sure you check 11 Best Eye Exercise Apps (Android & iOS).
Most of the applications are available for iOS, as well as for Android users.
Smart Optometry
This is an absolute leader in the segment of the eye testing apps on the market. The goal of it is to give consumers accurate and trustworthy results for routine eye exams including visual acuity, color vision, and astigmatism. By the way, the app was developed by licensed medicians.
With Smart Optometry, all you need is an internet connection and a smartphone or tablet to conduct an eye exam.
Step-by-step instructions are provided via the app, and the findings are made immediately available when the test is over. Even people who have never had their eyes tested before will find the tests to be simple to use.
Numerous eye tests, including ones for visual acuity, color vision, contrast sensitivity, near vision, astigmatism, and more are available in the app. It also comes with a number of tools that may be used to assess a range of eye disorders, including a digital eye chart, an Amsler grid, and a color vision test.
Main features:
adapt tests to their own needs
store and review past test results
access informational resources on eye health and vision care
The simplicity and accessibility of Smart Optometry is one of its key benefits. Users no longer require appointments or wait hours at the optometrist's office because they may conduct eye exams in the comfort of their own homes. The software is also reasonably priced and provides a cheap substitute for conventional eye exams.
The software may not be as exact as an in-person eye exam conducted by a qualified specialist, which is one of its possible downsides.
Overall, it is a cutting-edge program that offers a practical and economical solution to carry out fundamental eye exams at home. Even while it might not be as precise as a typical eye exam, it can be a helpful tool for preserving eye health in between visits to the optometrist.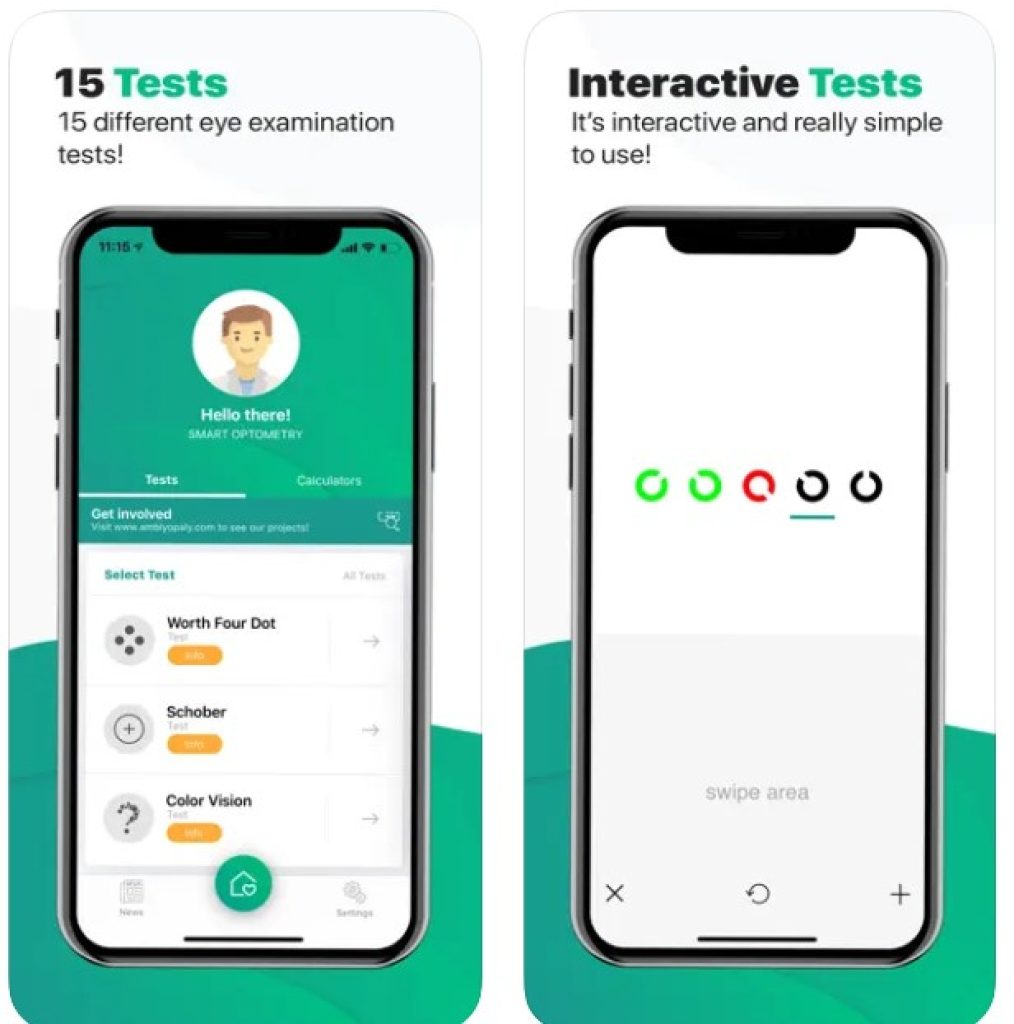 Eyesight Check Test
Eyesight Check Test is a decent app for anyone looking to test their vision.
The app presents the user with a series of eye tests, which include reading letters or numbers of different sizes and colors. The tests are timed, and the user's results are recorded and displayed at the end of each test.
One interesting feature of the app is that it allows the user to adjust the brightness of their screen to suit their lighting environment, which helps ensure accurate results.
The graphics of Eyesight Check Test are simple and clean, with a minimalist design that is easy on the eyes. The app uses clear and legible fonts, making it easy to read the letters and numbers even on smaller screens.
However, some users may find the graphics to be a bit too basic and may prefer a more visually appealing design.
Advantages:
Adjustable brightness settings.
Drawbacks:
Lack of guidance on interpreting results.
Basic graphics.
Although, it does not provide enough information on how to interpret the results. Users may be confused about what their scores mean or how they compare to normal vision.
Also, users can find it uncomfortable that they would like more guidance on what to do if they receive a low score or if they suspect they have a vision problem.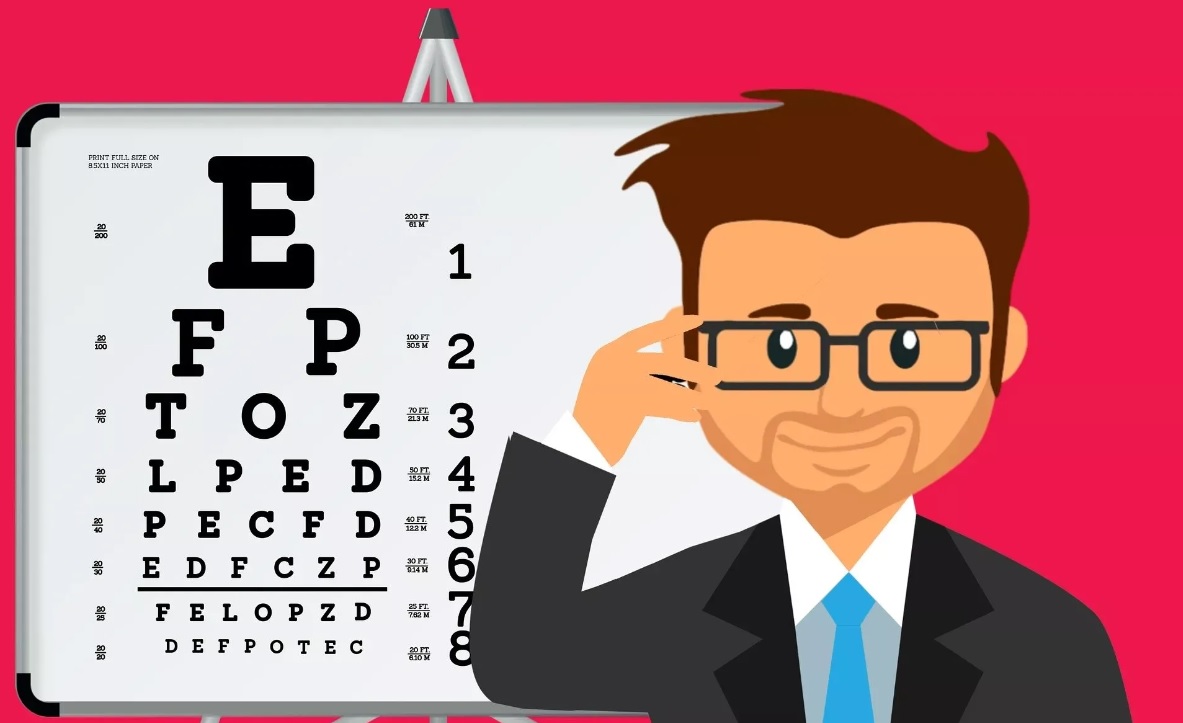 You can also check: 10 Best Thermometer Apps (Android & iOS)
Visual Acuity Test
This is another cool eye testing application. It contains all the basic tests you will like. To take a test, make sure you give the app access to your camera.
With this app, you will:
Make a general eye exam that can detect major problems. It is vitally important because the earlier you start treatment, the better.

Check your vision and download the results of the test. You can use them later when you go to your doctor. It is better to take the test multiple times so that you could see the dynamics.

Take a professional astigmatism test and get a precise result. This is a very reliable test, this is why don't neglect it.

Take a number of glasses test to find out if your glasses are good for you. Maybe they should be replaced with new ones.

Prevent serious eye diseases. When you detect a disease, you should go to your doctor at once.
You can save your test results so that you can analyze if your vision is getting better.
You can create a spreadsheet or any type of graph. This visualization will be done automatically.
Visual Acuity Test is very reliable and precise. The app is getting more and more positive feedback from the users.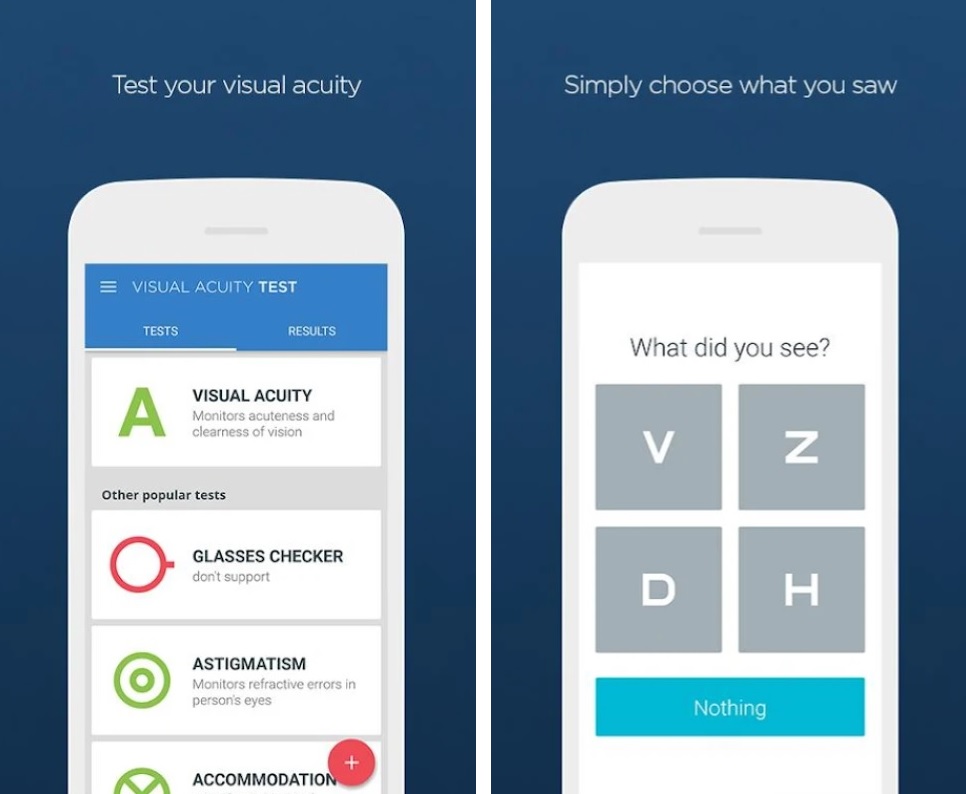 Eye Exam
If you are concerned about your vision, this app is a must for you. It allows you to see how many problems you have and how you could fix them.
The best thing about Eye Exam is that you can test your eyes' health at home.
It is vitally important as we tend to get most of the information visually.
To use the application efficiently, try to stick to the following instructions:
Sit comfortably and try not to make a movement.

Your smartphone's camera should work properly. If it doesn't it can affect the results of the test.

Place your device in front of you. It should be 16 inches from your eyes.

Close your left eye and press the button. Then close your right eye and do the same.

Wait for the results to be presented to you.
The application keeps all the results of your tests so that you can analyze the dynamics later, which is important when you are tracking your health parameters.
If you do tests regularly, you can use measurement statistics. You can easily visualize your progress. For example, you can see it in a pie chart form or any other type of graph. The application will create these graphs automatically.
All the data about your health will be available for download. You can use it when you go to your doctor.
Please note that this app is not the same as visiting the optician. If you have serious problems, make sure you get a doctor's consultation.
There are some ads that keep the content free for you.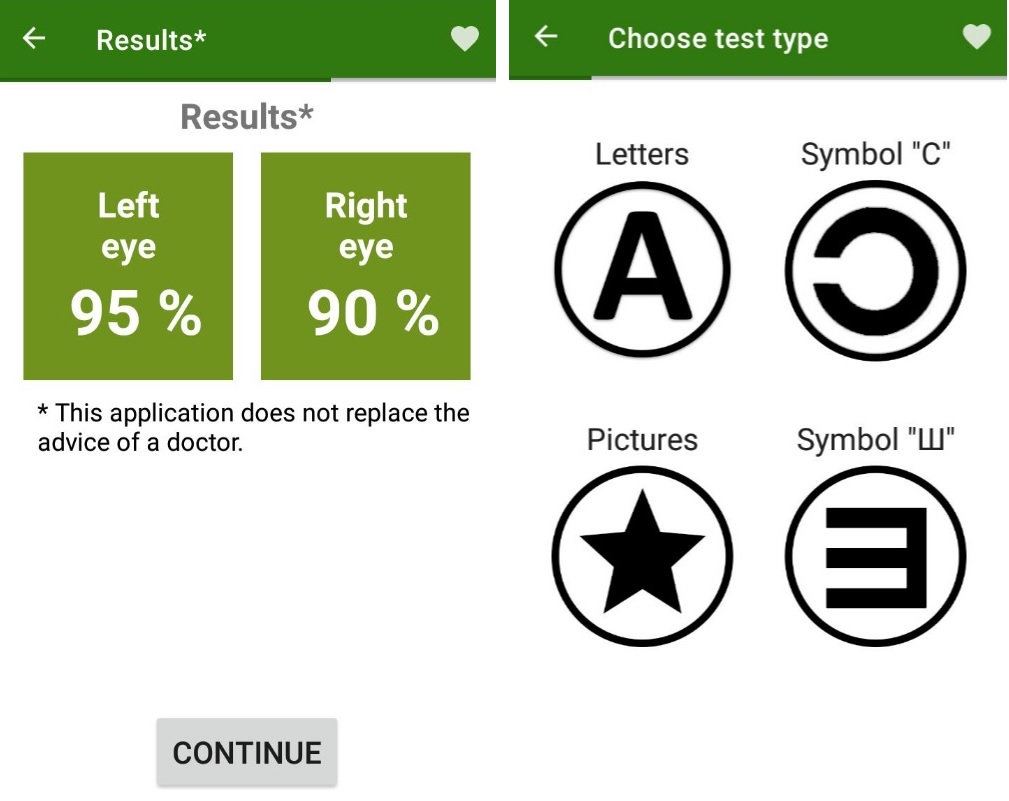 You may also like: 11 Best Apps to Change Eye Color (Android & iOS).
Eye Test Free
This is a basic application that aims at controlling your eye's health. The app is packed with a great number of great tests that will tell you if your eyes are ok or not.
There are more than 100 various tests devoted to different aspects:
Visual acuity Test. This is the most popular basic method for detecting eyesight problems.

Astigmatism. This is a special condition when your eyes are too tired so that your sight gets worse. If you have astigmatism, you can hardly work with your tablet or smartphone.

Color Test. It can help you find out if your sight spectrum is normal.

Question Test. Some issues can be detected without special tests. This is why try to answer all the questions to get the most profound results.
However, we need to warn you that this app can not replace a visit to a real doctor.
There are no ads that could possibly distract you from enjoying the content.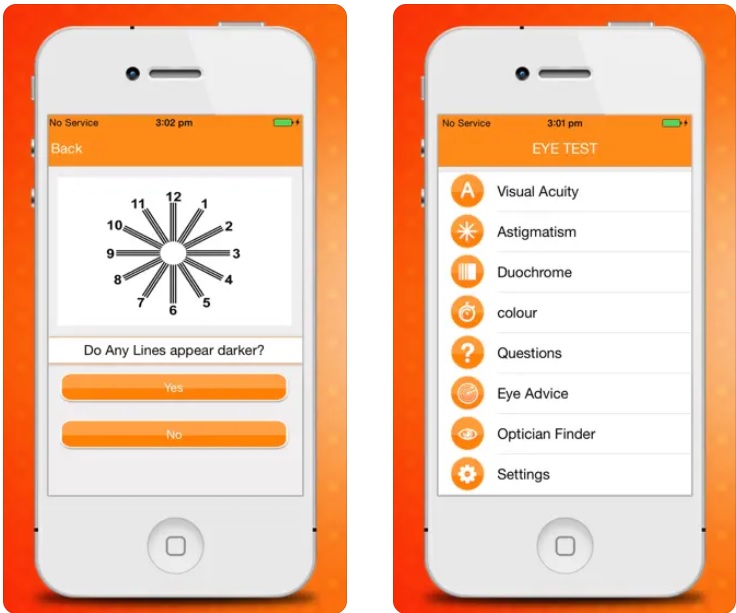 Eyesight
Eyesight is a useful tool for conducting vision tests on the go. This app is still worth using, especially for those who require regular eye tests but have limited access to medical professionals.
You are presented with a series of visual tests that evaluate the quality of your vision. The tests include a standard Snellen chart, astigmatism tests, color blindness tests, and others.
The app also includes additional features such as a vision diary that allows you to track your progress over time and a reminder feature that encourages you to take regular eye tests.
Moreover, the app's design is user-friendly and intuitive, allowing for smooth navigation throughout the different tests. However, some users have complained about the graphics being too basic and lacking visual appeal.
However, there have been reports of bugs and glitches that cause the app to crash or freeze, which can be frustrating for users.
Advantages:
Convenient vision testing on the go.
A comprehensive range of visual tests.
User-friendly design.
Vision diary and reminder feature.
Drawbacks:
Basic graphics.
Reports of bugs and glitches.
Limited range of visual tests.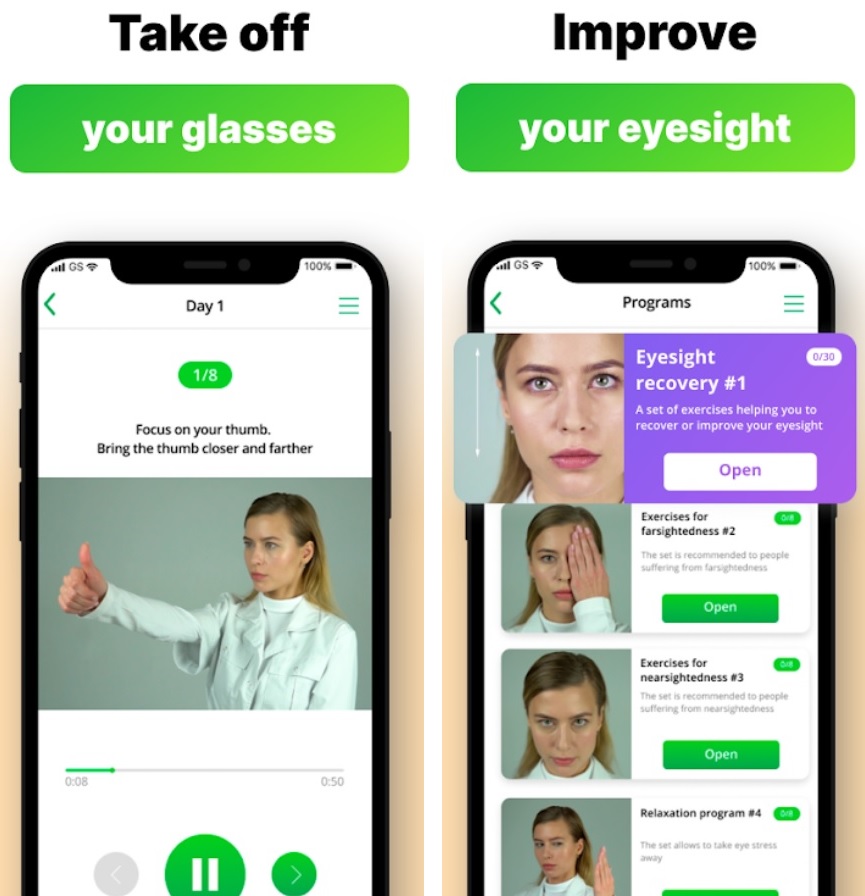 You may also like: 7 Best Prescription Drug Price Comparison Apps
NYU Langone Eye Test
If you want to test your vision, you should download this app because it allows you to monitor your vision progress.
Users are presented with a series of visual tests designed to evaluate their vision. The tests range from simple color blindness tests to more complex visual acuity tests.
The app is easy to navigate and provides clear instructions on how to complete each test.
The graphics are sharp and detailed, and the app makes good use of color to create an engaging user experience.
However, some users have reported that the graphics can be a bit too small, making it difficult to read some of the text on the screen.
Advantages:
Simple gameplay.
Visually appealing and well-designed graphics.
Helps identify vision problems.
Drawbacks:
Some tests may be too difficult for some users.
Some users report glitches, such as freezing or crashing.