Getting tired of reading log ingredients list trying to find out is some food is vegan? There are apps that can answer your No1 question — is it vegetarian food?
There are lots of apps to determine vegetarian food for Android & iOS that can ease the life of every green-diet follower. These apps come with a huge base of products and do not require almost any effort from you.
In case you're a seeker for good vegan recipes, check out this article: 11 Best Apps For Vegan Recipes (Android & iOS)
Here's the list of the 7 best apps in that category you may try. Take a look!
Food scanner: gluten, allergen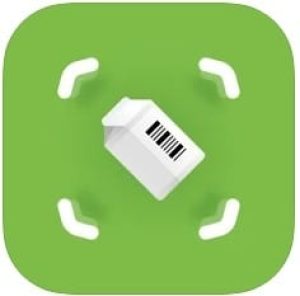 Let's start with the ShopWell app. This is an app that aims to tell if your food is suitable for a vegetarian diet.
Along with a powerful feature pack, this app is also extremely easy to use. Here's how to use the app — before you actually go and use it in the shop you'll need to point out your food preferences. You can set such filters as vegan, kosher, gluten-free, and so on. Plus, you may point out your allergies and food additives you don't want to see in products.
Once it's done you can move to the best part — safe shopping. All you need to do here is to scan the barcode of the item you'd like to buy or have already bought and the app will cope with the rest. The scanner runs automatically but you can type the numbers manually if they're not visible.
A couple of secs after the scan you will get to view a report on the product. If the metrics you've marked are green colored — the products is suitable for them and if they're red-colored it's not. Additionally, the app lets you view the list of ingredients and nutrients in the product. You can scan an unlimited amount of items and easily share the reports if needed.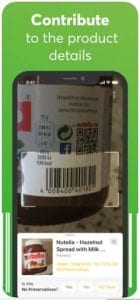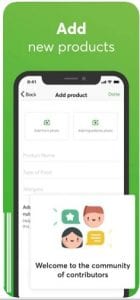 You may also like: 7 Best Food Safety Apps for Android & iOS
Vegan Additives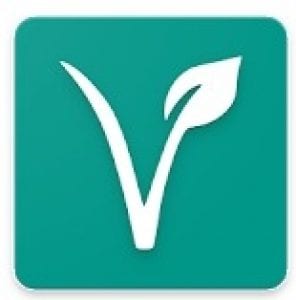 Vegan Additives is an app that will help you figure out if the food is vegetarian or not.
The first thing that needs to be said here is this app doesn't have an auto mode so you'll need to do your research manually. However, you'll quickly get used to it after a couple of uses so it's not that big of a deal. What this app does is lets you search for food additives to see if they are suitable for a vegetarian diet.
Thus, you may rather search by an E-number or by the additive name. The app covers a wide range of additives so you can be sure you'll find the answers to all your questions. The base runs offline so you don't need an Internet connection to use the app.
Each additive comes with an icon and there are three types of those — vegan-friendly, maybe vegan, or not vegan at all. The "maybe vegan" stands for the additives that may have an animal source but the info is not fully verified. So if you need to know for sure you'd better google it or contact the company it's made by.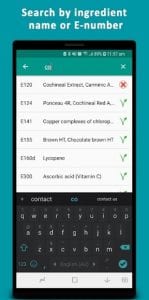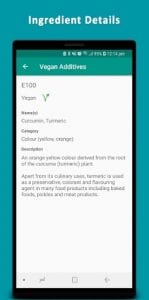 Is It Vegan?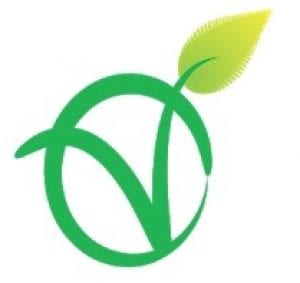 The name of the next app fully reflects its features. Is It Vegan is an app that will help you stay away from animal products.
The app has a clean minimalistic UI and it's incredibly easy to use (mainly because it's fully dedicated to one feature). You just need to open the app, scan the product's barcode and that's it — the app will tell you if it's vegan in a couple of secs. To be more precise, the app can actually tell you if the item is suitable for vegans, vegetarians, or none of them.
The scan usually happens automatically but if some numbers of the code are not visible you can enter them by hand. The results actually come in scale form so you get to see how vegan your product is. If the scale stops in the middle means that the source of some ingredients is not verified for sure.
Plus, you may view the list of vegan ingredients and the list of all the ingredients as well. You may also save the results for some products to not scan them all over again. In case there are no results for your product you should probably wait for a bit- the base gets regular updates and you can even contribute by yourself.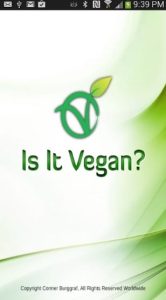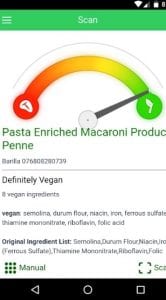 Check also: 15 Best Food Coupon Apps for Android & iOS
VEGAN PLUS – Vegan Recipes, Scanner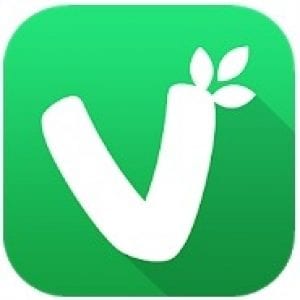 VEGAN PLUS is an app that will ease the life of everyone who sticks to the vegetarian diet.
Frankly speaking, this app has everything a vegan person may need — from diet-friendly recipes to a restaurant map and a food scanner. Let's quickly go through all the features. First of all, the food scanner is made to quickly tell if some food items are suitable for vegetarians. All you need to do is to scan the barcode and the app will immediately give you a report.
As for the recipes, the app covers hundreds of those for all the occasions and the new ones are being added quite frequently. All the recipes are sorted by categories for easy navigation so no worries about that. You get to bookmark the recipes you like, and they will automatically be saved to your personal "cooking book".
The recipes are highly detailed and contain the list of products you may need. Wherein, you get to import the list to other apps or share them with your mates. And lastly, the restaurant map is here to help you stick to vegan-friendly cafes, cub and more. The map uses you GPS and marks all the vegan places nearby.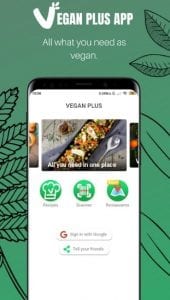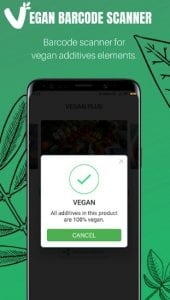 Vegan Pocket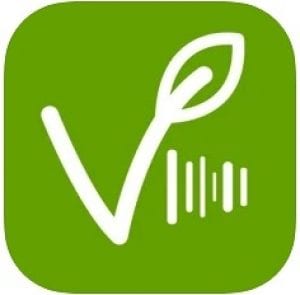 Vegan Pocket is a vegan food scanner app for iOS users that will help you follow the green diet.
Along with the previous app, this one also covers both the scanner and the recipe section which is nice. The scanner part is very user-friendly so you can easily search the products while on the market. All you need to do is to scan the code on the product's label and the app will cope with the rest.
In case you'll even have the problem with the barcode not being visible you can add the missing numbers by yourself. The scan usually takes a few secs so you won't need to wait long. Once it's finished, you'll see if the item is vegan approved or not. You may also share the result with your mates if needed.
Herewith, you can not only scan food but also cosmetic products and even clothes. As was already mentioned, the app also covers lots of vegetarian recipes. Unfortunately, the recipes are not categorized at all so you'll need to scroll through the list. All of them come with a product list and you can bookmark the ones you like.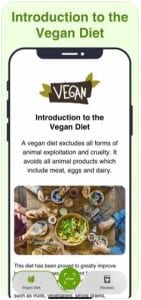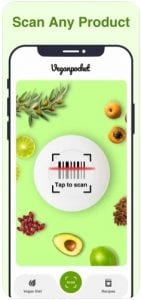 BevVeg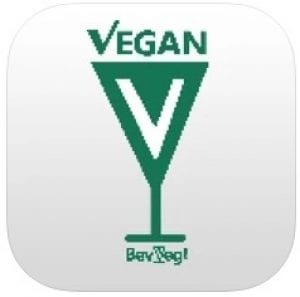 BevVeg is another app that will help you determine vegetarian products.
It needs to be said, this app stands out of all the others on our list. And that's because it's fully dedicated to searching for vegan wine, beer, and other alcoholic drinks. So if you stick to the green diet and like to have a glass of wine or pint of beer at dinner — this is the one for you. Therewith, you may rather search by brands or individual products.
The trick here is the app doesn't have an auto scanner so you'll need to search by the name of the product by yourself (but let's be honest — the outcome you get fully worth it). Once you've found the drink you wanted to check, you'll see its card that may rather e certified as vegan, not fully vegan, not vegan at all, and no info.
If the app claims that the drink is not fully vegan then some ingredients it's made with do not have info about its source. Thus, you'd better google the ingredient individually or try to connect with the company. The app covers a wide range of drinks so you can be sure you'll get all the answers you need.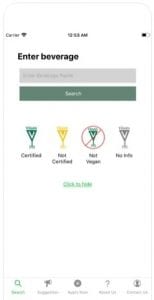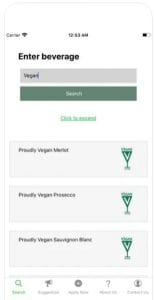 You may also check: 11 Best Weight & Food Calculator Apps for Android & iOS
VeganScan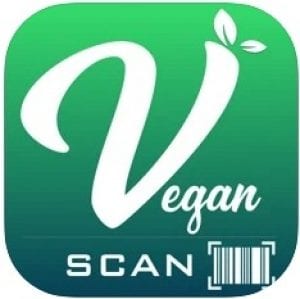 And lastly, VeganScan is an app that will tell you if the food is vegetarian-approved or not.
The app is incredibly handy and easy to use so that everyone could cope with it. All you need to do here is to find a product, scan the code on its label and that's it — your result will be ready in a couple of secs. The app has a huge database of products that gets regular renewals so even if some products can't be scanned yet, they soon will be.
The good thing about this app is it analyzes all the ingredients and points out the products that are not originally marked as vegan but are suitable for the diet. Plus, you can actually help the developers if you have the proper knowledge and awarded that some products are vegan.
To do so, you need to add the product and fill in its report. It needs to be said, all the reports made by users go through the verification so the chances for a mistake are as low as they can be. The app also lets you view the full list of ingredients of the product in case you have trust issues.