Are you planning to start doing fitness at home but you feel like you're lacking motivation? But what if we would suggest you do it following the plan prepared by the celebs? Would you like to look just as awesome as they do? Then check out the best celebrity fitness apps for home exercises down below.
And for additional motivation, try out the fitness apps that include the challenge element in them. You can discover these apps in this article.
Results Wellness Lifestyle
This is an app by an influencer Lucy Mecklenburgh. The app is considered to be one of the best ones among celebrity fitness apps. It includes different fitness programs that allow you to lose weight reduce stress, or just elevate your lifestyle.
And the app will take care not only of the physical aspect, it will also compile a special meal program so you can enhance your progress. That is available for all possible devices, including TV. To be honest, the best way to watch Fitness videos that can be found in this app is on TV.
When you just open the app it can be a little bit overwhelming because there's a lot of everything in the main menu, and you feel like you just want to explore everything at once. However, we recommend starting with the fitness program at the upper part of the screen by just clicking on the let's start button.
In the category, you will find the introduction workout videos with Lucy and other certified trainers, and will be able to do Fitness at home right away.
When you feel like you are in the mood to do something additional, you can also explore the meal and recipe section where you will find sports meal recipes vegan recipes, and so on.
Another interesting feature of the app is that there is a 24/7 chat where you can just talk to other participants and just get support when you're feeling low. What is more, it is possible to get a professional consultation by a coach in the app. The only disadvantage of RWL is that it only has the 7-Day free trialю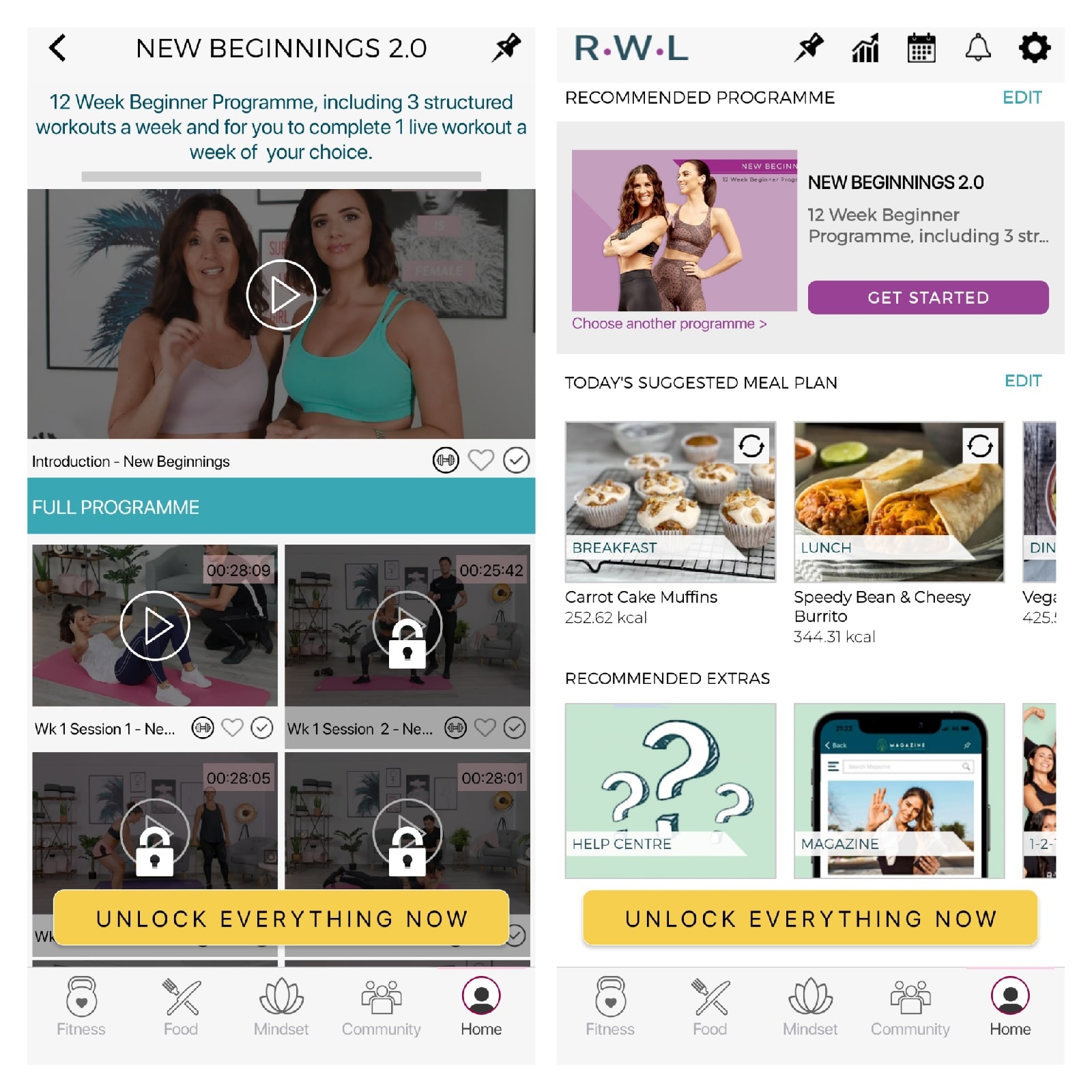 You may also like: Top 11 Sport Video Analysis Apps for Android & iOS
Centr, by Chris Hemsworth
Chris Hemsworth undoubtfully has one of the best bodies in Hollywood. And actually, in 2020 he launched his own fitness app! Centr will take care of both your body and mind. There are not only workouts that will help you to build stronger muscles and a leaner figure but also meditations and meal plans.
The app comes with one week's trial. When you just open the app you first need to Define your goal of using it and then choose your level. In total there are three levels. After that, you can start doing workouts.
Each program has several videos by professional trainers and you can do them everywhere including your house. Don't forget to track your progress in the special section in the app and record how much time you spend on each workout.
This way it will be easier for you to track your results. In total, the program lasts 6 weeks and is meant to increase your overall health. Its workout lasts 20 to 40 minutes. There are also video recipes of healthy meals that you can eat in order to achieve the best version of your body.
What is more, the app contains guided meditations to put you in a better mood. The only significant disadvantage of the app is that sometimes it just doesn't give you access even though you have chosen the free trial. It just makes you go straight to the paid subscription.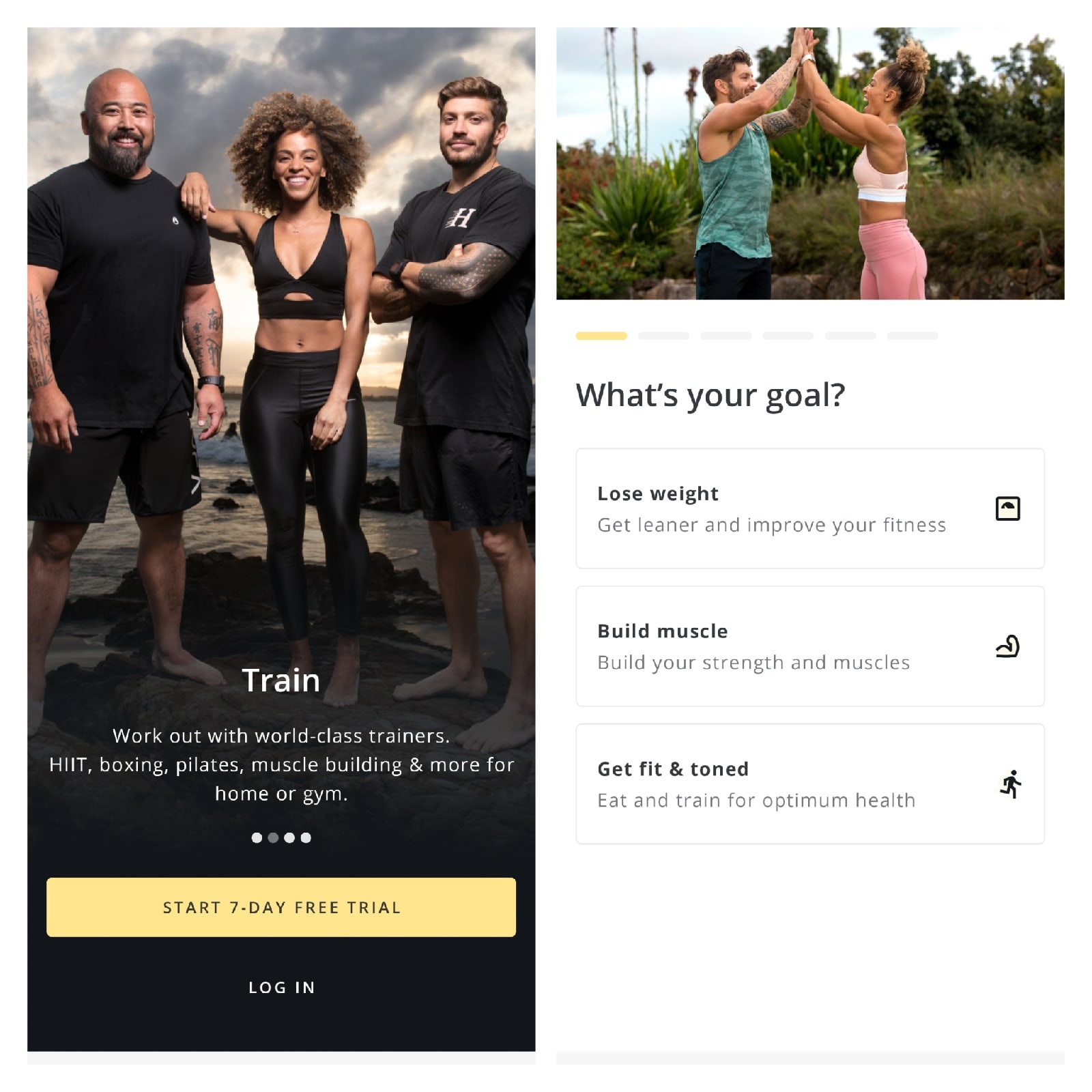 fit52 with Carrie Underwood
This is a fitness app from country star Carrie Underwood. Honestly, this app turned out to be one of the most convenient in usage.
When you open the app it will ask you some questions, for example, enter your name, your goals, your age, and so on however you can choose just keep this part and just go straight to the main menu.
As usual, on the main page, you will find fitness programs, healthy recipes, daily challenges, newsfeeds, and other interesting things related to Fitness. If you want to start working out, you just go to one of the sections where you will find a bunch of short workout videos with instructions and a timer.
What is more, there's a special section in the app that allows you to track your progress, just don't forget to put in your data in there.
But while exploring the app we discovered that the majority of workouts are available only with a paid subscription and the ones which are available for free are super simple. In addition, it feels like the uploads forever.
But even despite all the negative aspects, Fit52 became one of our favorites.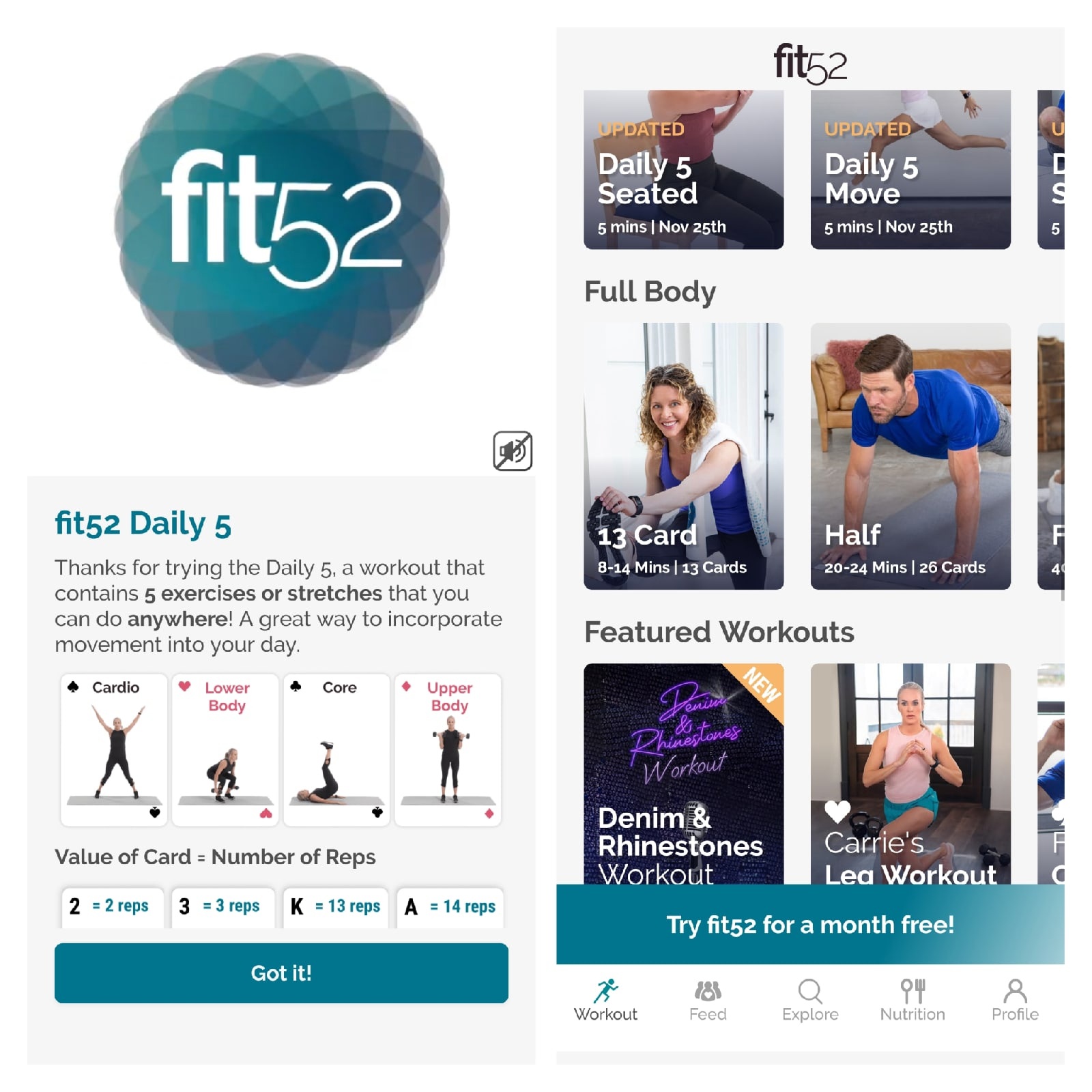 You may also like: 11 Best Gym Companion Apps
Jennis: Women's movement coach
Jessica Ennis-Hill is an Olympic gold medalist and her workouts make sense for sure. This is one of the most unusual and best fitness apps for women because it takes into consideration all aspects of the cycle.
When you just entered the app, it will ask you detailed questions about your cycle which we don't recommend skipping because that's the app is able to tailor a special workout program only for you.
All the fitness recommendations and exercises are based on the scientific approach which is supposed to increase Women's Health and Wellness. And of course, the app will form an authentic training program for you based on your preferences and favorite activities.
Each day of your cycle will contain suggestions of useful exercises and workouts that you can do on that day. The app has a 7-day trial period. The daily goals are formed specifically up to your hormones. In the app, you will get guidance from the world's leading experts.
What is more, in the Jennis app you will be able to track your period, activity, and more. There are detailed trends that will help you to understand yourself better and improve your cycle by studying your symptoms.
What is even better, the app can be synchronized with all Fitness Gear. Jenny's app doesn't partner with any third parties and it doesn't pass your data to anyone.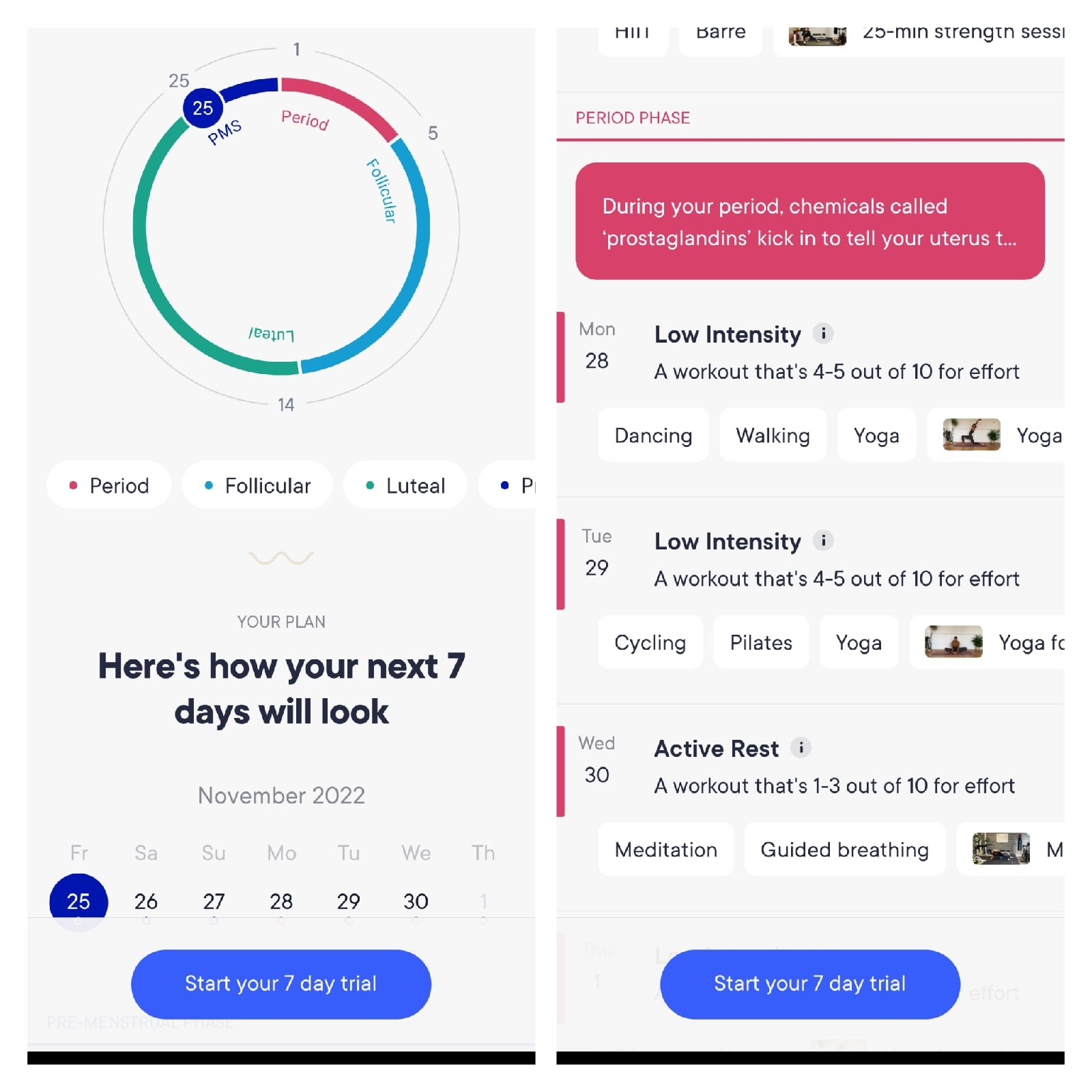 Nike Training Club: Fitness
At first, you might think that Nike Training is one of the cheesiest apps for home workouts that you can choose and it has nothing to do with celebrities. Wrong. In fact, Nike Training Club makes collaborations with the world's most famous Parts men such as Lionel Messi and Cristiano Ronaldo.
You can find their workouts in the app. Not speaking about the fact that Nike Training Club is one of the best workout apps out there with great functionality and a wide range of workout videos. The best advantage of this app is probably the fact that it's totally free unlike all the other celebrity apps on this list.
Nike Training Club is Not Just An app, it's a sports community, where you can also have conversations with other sports Junkies and find new friends. The functionality of the app is great, it will suggest you do the workouts based on your preferences and goals.
Your trainers are going to be the top world professionals. You will need to First create an account and mark down all the information about yourself before you can start working with Nike Training Club. The only annoying factor about this app is that the creation of your personal account is super meticulous.
Are you already curious to find out what Cristiano Ronaldo's workouts look like?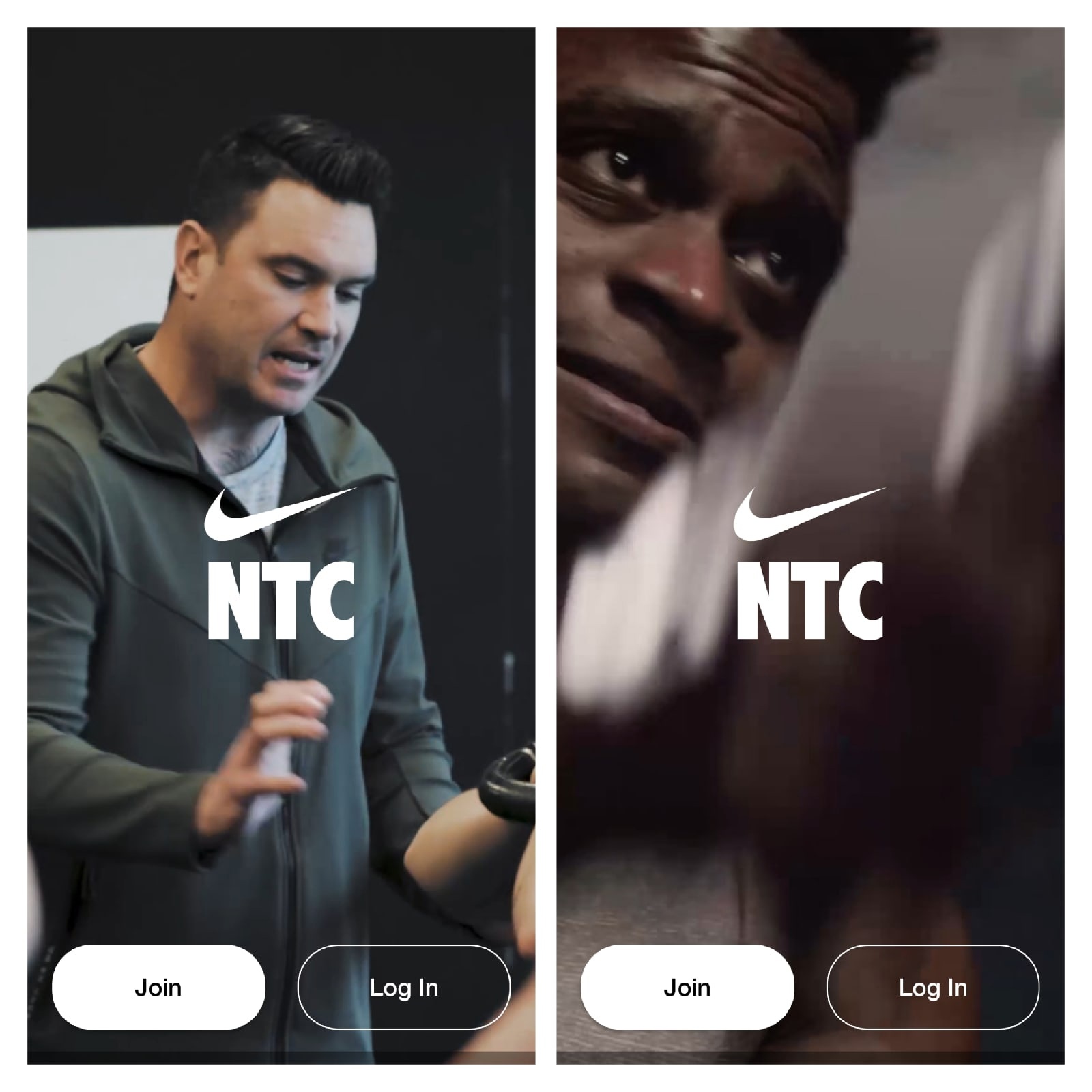 You may also like: 13 Best Health Coach Apps for Android & iOS
Celebrity workouts
In case you're looking for a more simple app and you're not at the beginning level when it comes to working out, then you can explore the celebrity workouts app. There's nothing too much to say about it. It just contains text information about which exercises some celebrities do.
It's rather unclear on which information these assumptions are based on. But if it makes you feel better thinking that you're doing a certain celebrities workout then why not go for it? Especially when these workouts are not difficult at all.
This will be rather complementary to your daily workout. But we must give credit to the developers of this app, the workout information about some celebrities working out is truly detailed.
And by detailed, we mean that it's not just a list of exercises with repetitions, but a meticulous description of their warm-ups, calculation of weights, strategy, and so on. Despite this fact, the app has the plainest interface design ever, so using this app alone is quite boring.