There are two definitions of eye tracker apps. The first one stands for the revolutionary technology in gaming that allows players to control the game with their eyes only – crazy! The second is more popular, and it's a branch of classic medical eye testing. So in the following article, you will explore all types of free eye tracker apps.
And more eye tracker apps you will find in the following article, just with a little different name: free eye test apps. And before I start, I must inform you, that those apps are just the game in the best case and they cannot be used to claim real diagnosis.
Beam Gaming Head & Eye Tracker
This app claims to have a revolutionary approach since it allows to do eye tracking without the additional hardware. Originally, it was developed for gamers. To be honest, it was a little bit tricky for me to understand from the description to understand what exactly is, so I downloaded the app, and let's see.
As I noticed, Beam Gaming Head uses the front-facing camera of the device for doing the work and translating them into in-game actions. This is supposed to help gamers to control the game with the eye only. But can it even be true?
Main features:
eye tracking
head tracking
facial expression recognition
First, is eye tracking. It seems like this feature works occasionally, but it depends on the type of device and the function is still laggy. The head tracking feature allows you to adjust their view by moving the head.
The facial expression recognition feature is supposed to detect emotions and then translate them into in-game actions.
You will open the app and will see the list of games that are supported. Choose one from the list of supported titles and start playing.
I was really impressed by one interesting aspect it supports a wide range of diverse games. So, the app will be suitable for all types of gamers.
But I also noticed that the app works poorly in low-light conditions or with wearing glasses or contact lenses. Additionally, it may require some time to get used to, as controlling games with eye movements can take some practice.
I really support the innovative idea of the app and want to give my appraisal to the developers, but please don't expect much since the technology is only at the evolution stage.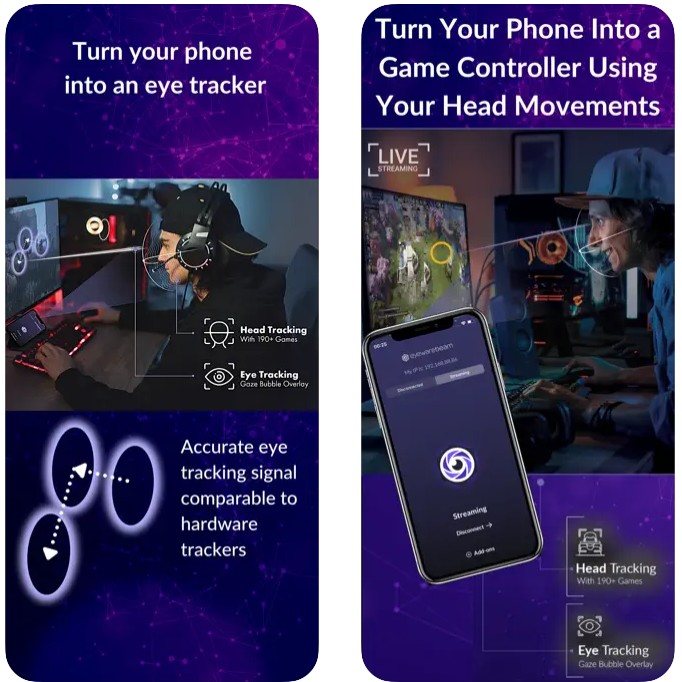 You may also like: 9 Free Apps To Remove Eye Bags From Photos (Android & iOS)
EyeTracker
I noticed an interesting app in this category and also noticed it didn't have a very good ranking. But I still tried to test it and it turned out it's quite a reliable and qualitative app on the market that can also do decent eye tests for users.
The app claims it uses advanced computer technology to analyze the movement of the human eye. To be more precise, it uses the front-facing camera to capture the user's face and then analyzes the position and movement of their eyes.
According to the developers, this app also has machine learning algorithms to detect patterns. The feedback turns out to be quite precise.
Main features:
Can measure the user's visual attention and focus (analyzes the user's eye movements and provides a score based on their performance)
Gives feedback and suggestions to help the user improve their focus
Can measure the user's reading speed and comprehension.
This is done by presenting the user with a piece of text and tracking their eye movements as they read.
The user interface design is OK. There are clear instructions on how to use it. Eye Doctor displays the results clearly and concisely. But to me, the interface seemed a bit cluttered and confusing.
The app isn't bug-free. People also complain the app isn't always accurate in tracking their eye movements. However, I would still claim overall the app is reliable and provides useful feedback to help users improve their visual focus and attention.
This is an average eye-measuring app that has its flaws, but taking into consideration the cool design and the functionality that doesn't require any additional gears, I would say this app is worth using.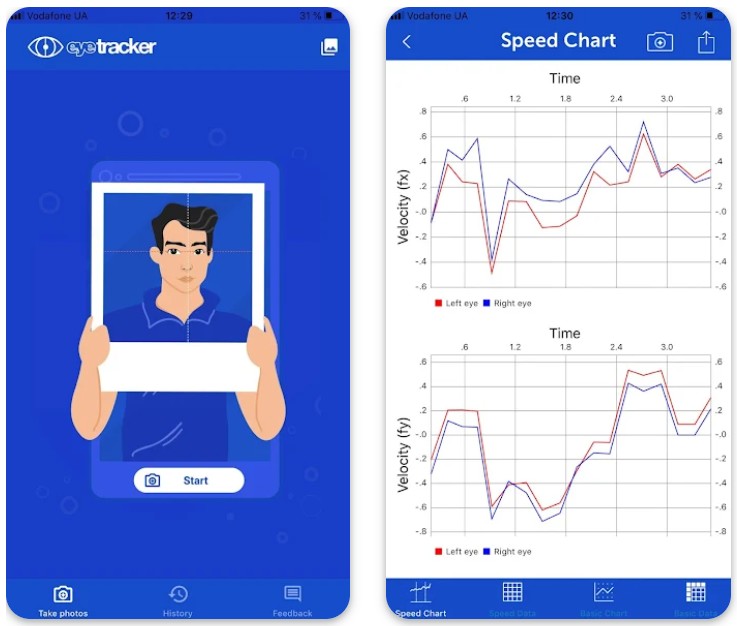 Look to Speak
Here we have another extremely interesting app in this category. And even though it doesn't have the name "eye tracker", Google Play gave me it in the first search results, so I decided to take a closer look.
First of all, I'm really inspired by the idea of the app. It was developed to help users with motor disabilities to communicate using only their eyes.
Once again, here we have the innovative technology to detect the user's eye movements and translate them into spoken phrases. It's a Google Creative Lab project.
Main features:
You can select from a list of pre-written phrases or type original messages
You can adjust the sensitivity of the eye-tracking
You can customize the app's settings to individual's needs
In general, Look to Speak is also designed to be highly accessible, with large buttons and clear text to make it easy to use for users with limited mobility.
To use the app, you simply need to look right into the screen and it will adjust to your eyes.
Then select a phrase or type a custom message using just your eyes, and the app will speak the message aloud. Crazy!
As I already said, this innovative app can actually transform the future of communications. In my opinion, this technology has the potential to transform the lives of people with motor disabilities because it brings them the lost chance to communicate with others.
Besides its eye-tracking feature, Look to Speak can also be praised for its accessibility and user-friendly design.
And before using the app you should keep in mind that it requires a device with a front-facing camera, and not each Android device has it. Moreover, Look to Speak may not work as well in bad light conditions or with users wearing glasses.
But I would still recommend checking out this app – just for curiosity.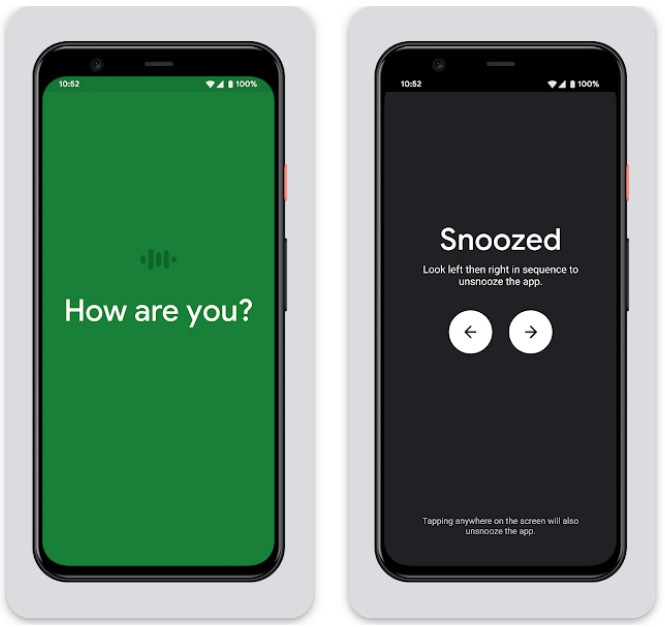 You may also like: 11 Best Eye Exercise Apps (Android & iOS)
SeeSo Eye Tracking Demo
Another experimental project by VisualCamp. Unlike the serious app, this one chases less ambitious goals, which are, nevertheless, not less interesting.
Jumping in, I would say that the eye-tracking feature here is generally reliable, but may be affected by factors such as lighting conditions, camera quality, and user position. But during the tests, I was glad that SeeSo was providing helpful tips and feedback to help users improve their eye-tracking performance.
Main features:
calibration process to ensure accurate eye-tracking
a demo mode that allows users to test their eye-tracking performance
a visualizer that displays the user's eye movements in real-time
The customization setting is quite flexible and you can tailor the app according to your preferences.
In order to use SeeSo, just follow the calibration process to switch on the accurate eye-tracking. You can enter demo mode to test eye-tracking performance and use the visualizer to see your eye movements in real time.
One cool aspect of the app is that it can provide real-time feedback. This can help users identify areas where they may need to improve their eye-tracking skills and adjust their position or settings accordingly.
In addition to all those eye-tracking features, SeeSo is also remarkable for its simplicity in usage. To my mind, even not tech-savvy users will be able to test it.
But keep in mind that SeeSo doesn't work well on all devices, particularly those with lower-quality cameras or outdated operating systems. Additionally, the app may require some time to get used to, as eye-tracking can take some practice to master.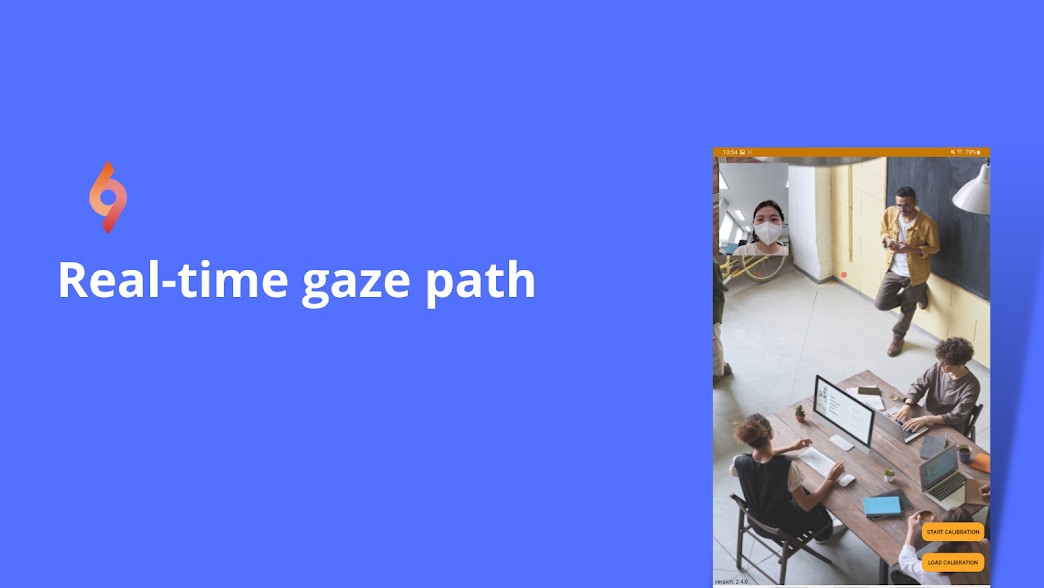 Eye Excercises
And if you came to this article just to find the app that will help you to track the health of your eyes, here is finally an app for you. To be honest, this is one of my favorites from the list.
Here you will discover a variety of eye exercises and tests to improve focus, eye tracking, and peripheral vision. And don't worry, Eye Exercises includes an eye tracker feature that allows you to monitor eye movements while performing various activities.
The eye tracker feature can be found in the main menu of the app. After clicking on it, it will open the camera on your device, which will track your eye movements as you look at different objects on the screen. Moreover, Eye Exercises will track both horizontal and vertical movements, as well as gaze duration.
Main features:
variety of eye exercises and tests
a customizable training program
progress tracking
You can choose from a range of exercises and tests. For example, there are such interesting practices as strobe light training, saccade training, visual acuity tests, and so on.
You can always change the setting so the programs are matching your needs. The last one, progress tracking, allows you to see how you are improving over time.
One interesting feature of Eye Exercises is the ability to sync your progress among devices. This means that you can use the app on multiple devices and still keep track of your activity.
To my mind, Eye exercises appear to be safe to use.
But keep in mind that there are tons of complaints about the eye-tracking features doesn't work well. And the comprehensiveness of all the sets of exercises can be questionable from the medical point of view.
However, despite these controversies, I would still recommend this app to anyone who wants to keep their eye health in good condition.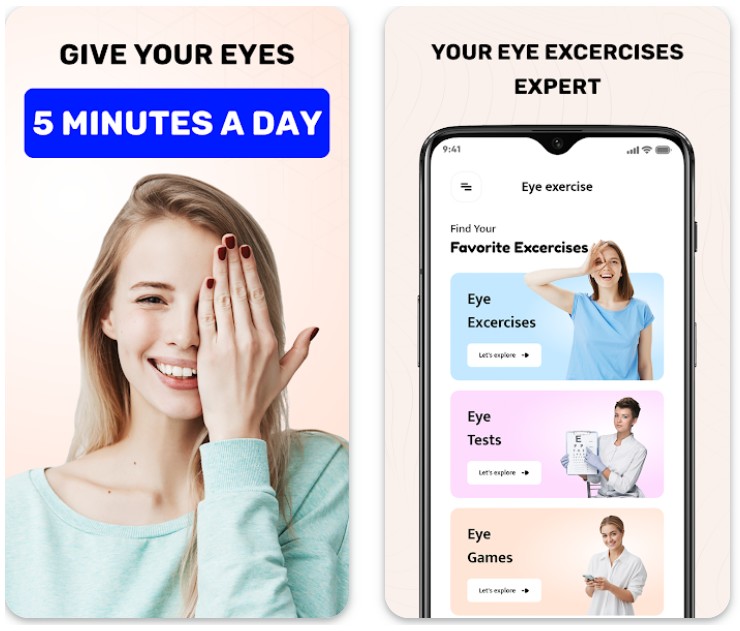 You may also like: 11 Best Apps to Change Eye Color (Android & iOS)
EyeX
Another excellent eye-vision exercises app. I'm not going to lie, one of the main reasons why I decided to include EyeX on this list was its cool and innovative interface design. After the test, I can say it was a pleasure to use the app. Great user experience!
And of course, I couldn't miss the eye tracker feature. Here it is a little tricky to use – you must first calibrate the app by following the instructions provided. Once calibrated, the app will track the user's eye movements as they perform various tasks. Those are simple tasks – reading or following a moving object on the screen.
Once again, I really liked the fact that the app provides a variety of eye exercises and tests designed to improve focus, visual acuity, eye-tracking ability, and so on. For instance, here you can do such activities as following a moving object with your eyes, tracking a pattern of dots, or practicing visual memory.
Other features:
customizable training program
progress tracking
ability to set reminders for eye exercises
One interesting feature of EyeX is the ability to view a heat map of your eye movements during an exercise or test. This allows users to see where their eyes are focusing and adjust their technique accordingly.
And just like in the previous case, the eye tracking feature of EyeX might be lacking some accuracy. The technology is still new and can be buggy. Despite this fact, the app looks like a safe option for maintaining your eyes' health.
The interface design is decorated with funny avatars and icons, which makes the user journey exciting and not as boring as usual. If you want to do eye exercises but feel like all those medical apps are too boring for you – EyeX is an excellent choice.