Who needs a basic static lock screen cover when there are cool animated backgrounds? Especially if we're speaking of live wallpapers with animals — what may even be cooler?
Fortunately, we've gathered together the 7 free live animal wallpaper apps for Android to liven up your lock screen. These apps provide you with interactive wallpapers that can magically transform your phone screen. All these apps come in different themes: some dedicated to wild animals, others to pets, dogs, cats, and more. Take a look!
Wild animals Live Wallpaper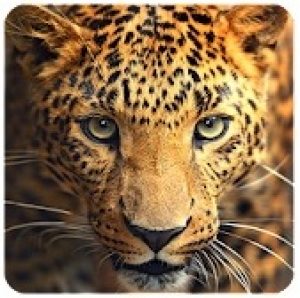 Let's start with a live wallpaper app dedicated to wild animals.
The idea of this app is simple: it provides you with HQ live bgs that are wildlife-themed. The app covers dozens of pics of leopards, panthers, white bears, wolves, lions, and more. Plus, the app regularly updates its collection in case you'll want to diversify the look of your home screen.
As for the quality, it's on the highest level possible. No joke, you'll get to see all the fur pattern details, the slightest color changes, and the smallest details like mustache or lashes. Besides, all the animals are captured with stunning nature bgs that will boost your lock screen. As for the animation, there will be some pieces of dust and glitter falling around, the animals themselves will not move.
It needs to be said, all the wallpaper support landscape mode, so no worries about that. You also get to decide if you wanna set a pic as a lock screen, home screen, or both. In case you're worried about the loss of battery power, the app has already taken care of it. The thing is, all the bgs are optimized to consume minimal power, so it won't drain your battery.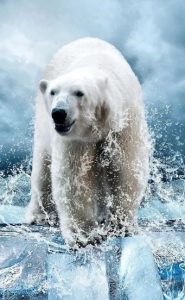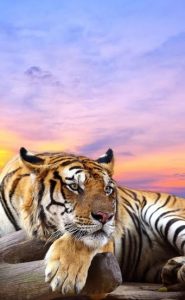 You may also like: 11 Best Automatic Wallpaper Changing Apps
Tiger Live Wallpaper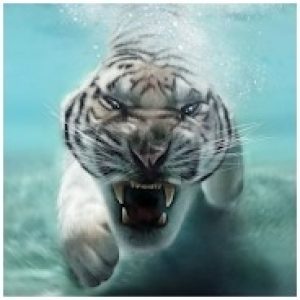 As you may guess by the title, this is a live bg app for all the tiger lovers out there.
Let's all agree the dangerous majesty of tigers can not be overrated. Plus, it's almost impossible to find a pic with a tiger not looking stunning on it, which makes it a perfect animal to beautify your lock screen with. This app covers plenty of pics capturing tigers in various situations.
Here we have roaring tigers, angry tigers, swimming tigers, chilling ones, and much more. Some pics look like photos, while the others are more of drawings. The new ones add up from time to time, so you won't run out of material. All the bgs are free and are compatible with both phones and tablets.
As for the moving effects, there are a few options for you to choose from. For instance, there's a parallax effect, a water drop one, fog one, ice one, and more. You may also make a slideshow out of several pics and adjust the scrolling if needed. Plus, you get to enable the sound and regulate the touch effect.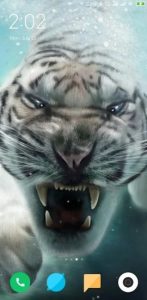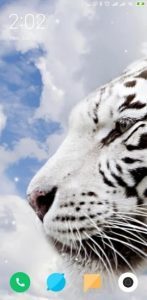 3D Deer
Moving on from hunters to preys. This app provides you with stunning deer moving bgs.
Along with a visual part, this app also intends to bring you relaxation and calmness. It will bring you into a charming green forest where a realistic-looking 3D deer is living its life. Beyond that, the forest is filled with countless details you'll get to notice.
There are small birds, tiny rabbits, squirrels, and other creatures that make the forest seem real. Herewith, all the animals move, interact with the forest, and do other stuff that is fun to watch. It actually looks like there's a cam set somewhere in a forest with a live stream only for you.
You'll get to see the deer drinking from a small lake with a waterfall, walking around, laying in the grass, and more. The wallpaper is made with a parallax effect, so it won't be stuck at any point. The weather in the pic will also change a little, and you'll get to see a rainbow from time to time. Besides, there are built-in packs of static bgs made out of the moving ones if needed.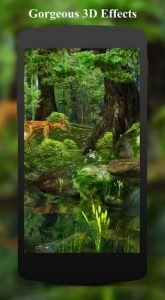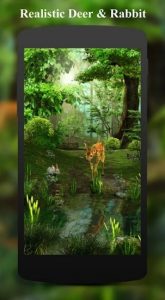 Cute Animals Live Wallpaper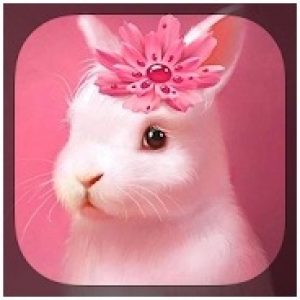 In case you're not a big fan of wild animals, this app is your cup of tea.
This app is dedicated to all kinds of cute pets you may think of. It covers pics of kittens, puppies, little rabbits, mice, hamsters, and even fluffy chicks. There are 10 pics in total for now but more will be added in the future. However, not all of them will be available right away.
According to the app's rules, you'll only get 5 bgs after downloading the app. As for the other 5, they will be unlocked in the next 5 days (may sound odd, but rules are rules). Herewith, you may rather pick one option to make a slideshow out of them all. In that case, you'll need to regulate the animation speed and its density.
The animals themselves are not animated, so a slideshow is the only option to get an actually moving bg. The pics are HQ, so you'll get to see all the smallest details. Beyond that, all the live bgs are compatible with both mobiles and tablets. Plus, the bgs support a landscape mode, so no worries.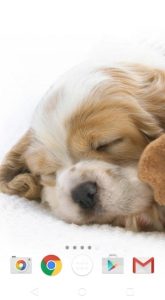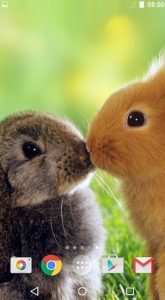 Check also: 11 Free Christmas Wallpaper Apps
Cute Corgi Dog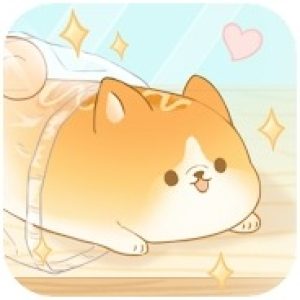 Who doesn't love corgis? Do such people even exist? Sounds impossible, cause these dogs are truly adorable.
Well, the developers of this app are definitely fans of corgis as they've made incredibly cute wallpapers dedicated to them. It needs to be said, this live wallpaper is not realistic — there are no photos or smth. It's an animated drawing of a corgi dog living his life.
There are several packs of live bgs where the corgi is drawn in different situations: you may rather pick one or make a slideshow out of them all. At the first glance, the bg will look static, but it takes one tap to liven it up. The wallpaper is HQ, so no worries about that.
Additionally, the app also covers cute icons you can use to replace the original ones. Needless to say, all the icons match the corgi theme, so you can set your device in one aesthetic. All the icons are also adjustable, so you can move them around and switch as needed.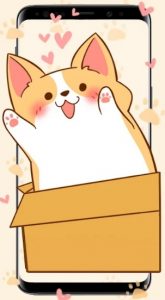 Fluffy Sushi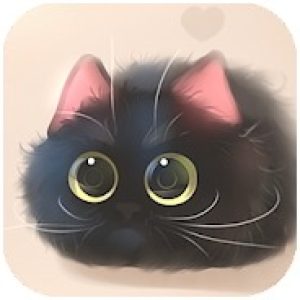 This is another cartoon live wallpaper for everyone who wants their lock screen to look as cute as possible.
In the first place, this app only gives you one moving bg option: a fluffy black kitten named Sushi. Yeah, you don't get any diversity here, but there are plenty of themes that can compensate for all that. For instance, there's a Valentine's Day theme, a Christmas one, and lots of other options you get to try.
Herewith, not all themes will be available straight away, and they will unlock with time. All of them are free though, the only thing it takes is time. Beyond that, you get to customize your kittens as needed: you can brush his hair, add various accessories, change his mood, and more.
You may also change the weather around him and make him go to sleep if needed. Besides, you may turn the sound on and on and add up various interactions like jumps, licks, news, and whatever else. The wallpaper supports a landscape mode and is compatible with both tablets and phones.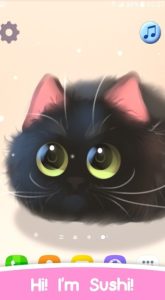 You may also check: 15 Free Background and Wallpaper Maker Apps (Android & iOS)
Neon Animals Wallpaper Live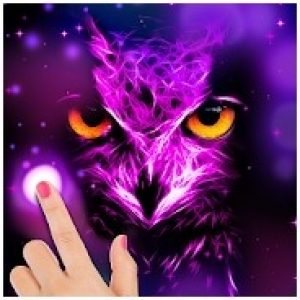 And lastly, we have a live wallpaper app for those of you who want an extraordinary bg.
As you might've guessed by the title, this app is fully dedicated to no neon animal wallpapers. Yeah, the theme is quite narrow and not for everyone, so it may not be for you either. However, it needs to be mentioned that all the bgs are HQ and there are several interactive options for you to try.
The app has a wide range of bgs with animals and birds: there are horses, owls, lions, kittens, and even fishes. The compilation gets regular updates, so more are on the way. Besides, you get to customize each wallpaper by picking the color theme.
You may also regulate the intensity of the glow if needed. Speaking of the animation, it's mainly the glow and a slight movement of neon lights, the animals themselves are static. The app supports landscape mode and works on both mobiles and tablets.