Instagram is a huge platform that helps people to fulfill themselves. You can promote your brand, appearance, product, and also make money using Instagram. You can even become a popular blogger, model, or millionaire thanks to this social network.
The competition is great. We advise you to stand out from the crowd and try different fonts for your posts. This is unusual and interesting.
You will be able to attract a lot of attention and get more likes, views, and subscribers. We've created a list of the best fonts for Instagram apps for you. Decide what suits you best and install it.
If you are looking for quotes for your Instagram posts then check this article.
Fonts – Emojis & Fonts Keyboard
This is the first app on our list. It is perfect for newbies on Instagram. The app changes the keyboard of your smartphone by adding new fonts. Customize your keyboard. Open the app settings and select the fonts you want.
Place a checkmark next to them and the app will display the fonts on the keyboard. Write quotes using custom fonts. This will grab the attention of new users. The app has over 30 fonts.
You can use the new fonts not only for posts on Instagram but also in messengers and other social networks. The app has one problem. If you want to return to the normal font, you will have to scroll through the fonts for a long time to find the normal one.
We hope the developers will fix this problem soon. Download it and you will be able to embody all your unique ideas with text design.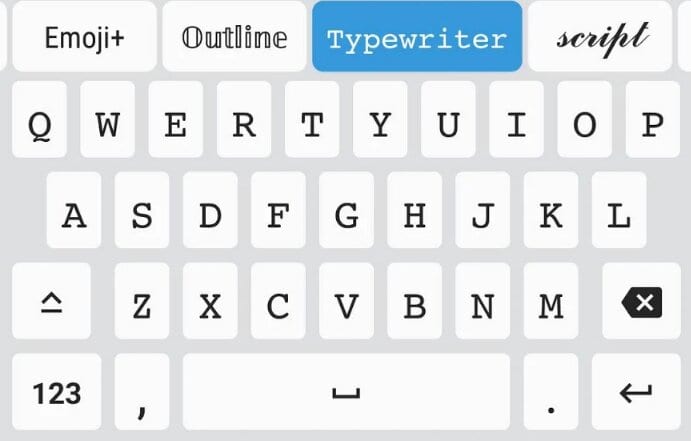 You may also like: 6 Free Apps to Watch Instagram Stories Anonymously
Cool Fonts for Instagram – Stylish Text Fancy Font
This is one of the apps that has over 140 different fonts for your Instagram. You can create a cool and unusual post. The app also supports other social networks, not just Instagram. You can stand out from other Instagram bloggers.
Original fonts will grab the attention of a new audience. The operation of the app is very simple. Choose a font you like and write what you want. Changing the font has never been so easy.
The app has an intuitive interface. Don't be afraid of annoying ads. The app doesn't have it. Copy and paste text with a unique font. Try mixing different fonts. You can also unlock fonts for Instagram bubbles.
Change the font in your profile bio. This will make your page memorable and unique. The app doesn't work in the background and doesn't take up much space on your smartphone.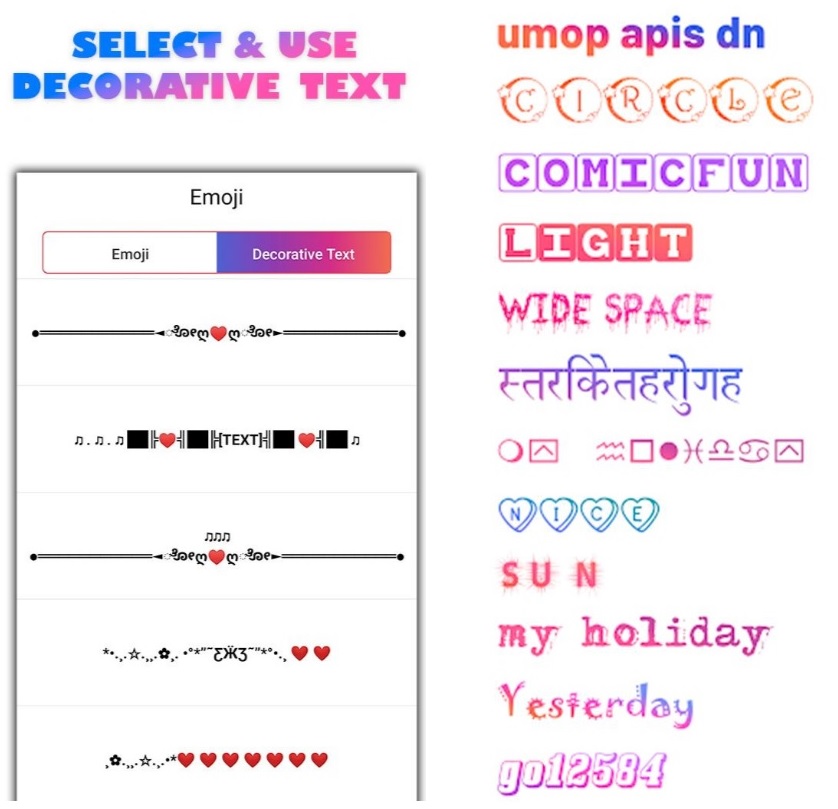 Fonts for Instagram Keyboard
If you want to add some style to your Instagram then this is the app for you. It will allow you to change the font in bio, comments, direct, as well as in the description of photos and stories.
Dozens of different fonts are waiting for you. You can choose a font from the app or create your own unique one. The app runs directly from Instagram. You don't need to copy and paste text from third-party apps.
The app can be completely personalized. Choose a theme for your smartphone keyboard. More than 20 topics are waiting for you.
The app has a simple and intuitive interface. You can change the fonts and keyboard theme directly in the app. You can print text with unusual fonts to occur in any app. Typing is fast and without braking.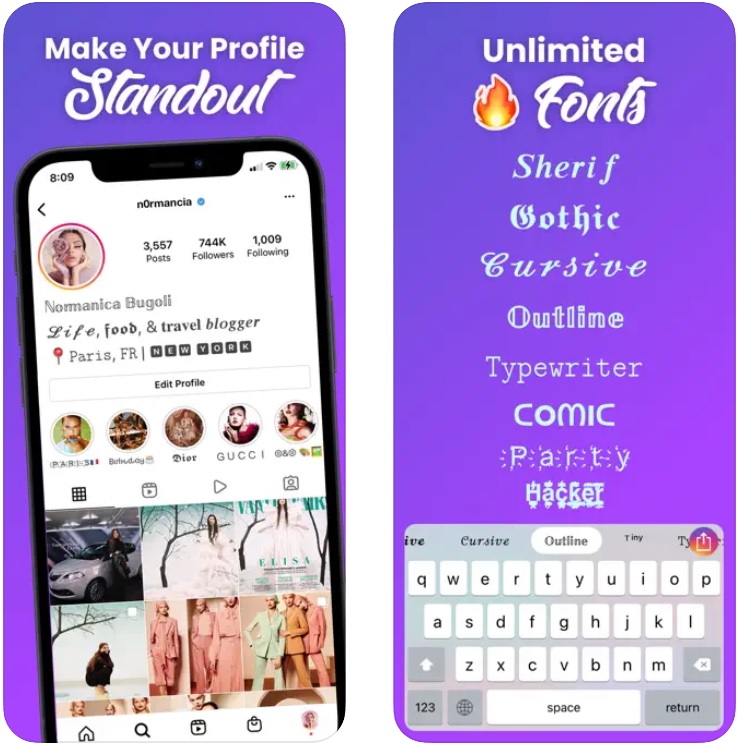 Handmade Fonts for Instagram
In Handmade Fonts for Instagram, users can generate their own fonts and stickers.
Once you have passed simple installation, you will get to the menu page filled with the following sections:
Templates
Fonts
Stickers
Backgrounds
Choose a preferred template or font from the extensive collection and double-click on the text to adjust it. Here you can change the text size, customize the color, rotate, etc.
On the right top, tap on the sticker button to add stickers or backgrounds. When your creation is completed, press the Save button and it will be instantly saved in your media library.
Lastly, open Instagram and create a story by tapping on the «Aa» button. Then, choose a sticker button and download the picture from the library.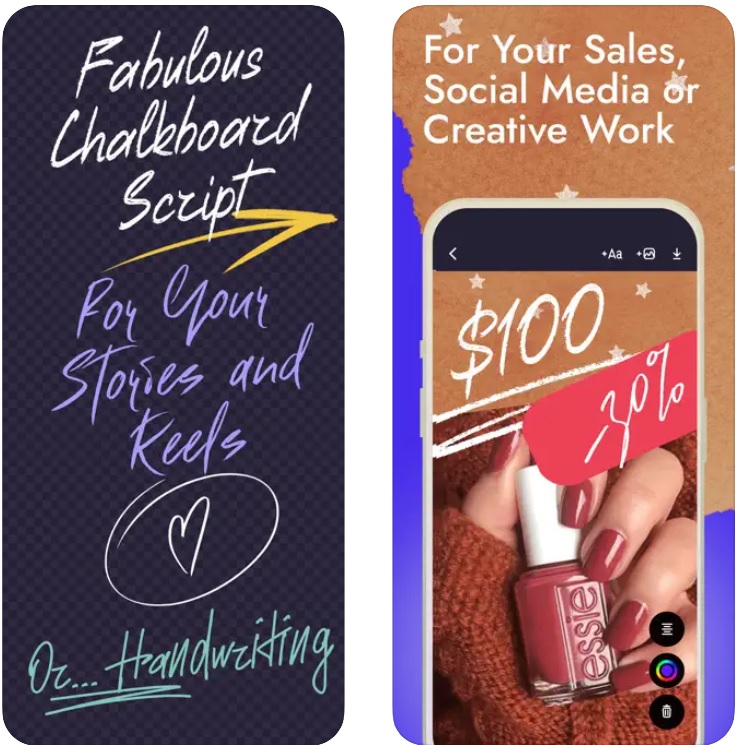 Fonts Keyboard & Cool Art Font
Would you like to impress your friends or Instagram followers? Then download this app to get brand new fonts. The app has more than 50 stylish fonts that can be used in any social media, instant messenger, and email.
Moreover, you can write cool fonts directly from third-party apps. This will significantly speed up your work. The app supports portrait and landscape mode. You can try the reverse function to write text backward. This will make your posts on Instagram unusual and mysterious.
The app doesn't have a specific design because it changes the built-in keyboard on the screen of your smartphone. The developers update the app weekly with new fonts and bug fixes.
Using stylish fonts on Instagram will allow you to reach popularity and become famous. Personalize your Instagram profile with cool fonts!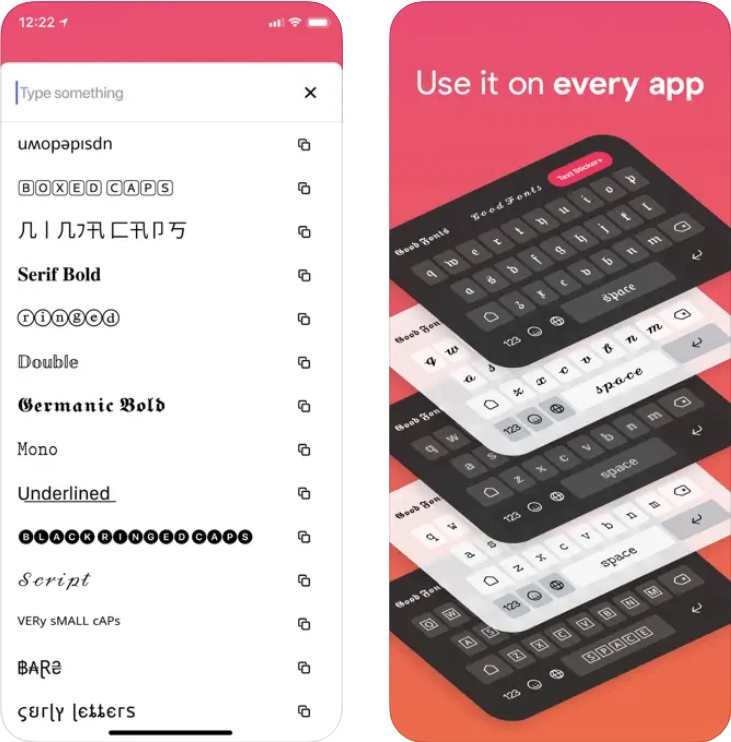 You may also like: 7 Best Apps to Fake Instagram Direct Message for Android & iOS
Fonts for Instagram – I Fonts
I Fonts is a multifunctional application that comes with an extended set of fonts, stickers, and templates.
When you have launched the app, tap on the screen to add text. Scroll through the screen to monitor all the fonts and choose the favored one. After that, users can adjust the text color and select the desired position.
At the bottom of the screen, you will find multiple useful tools. So, here you can choose a template, add a background, snap a picture or download an existing one from the library.
Once everything is ready, tap on the Save button right bottom, and the app will automatically save your creation in the media library. Or, you can also instantly share it with your friends on various social nets.
As for the drawbacks, many users complain that some fonts are not compatible with certain foreign languages.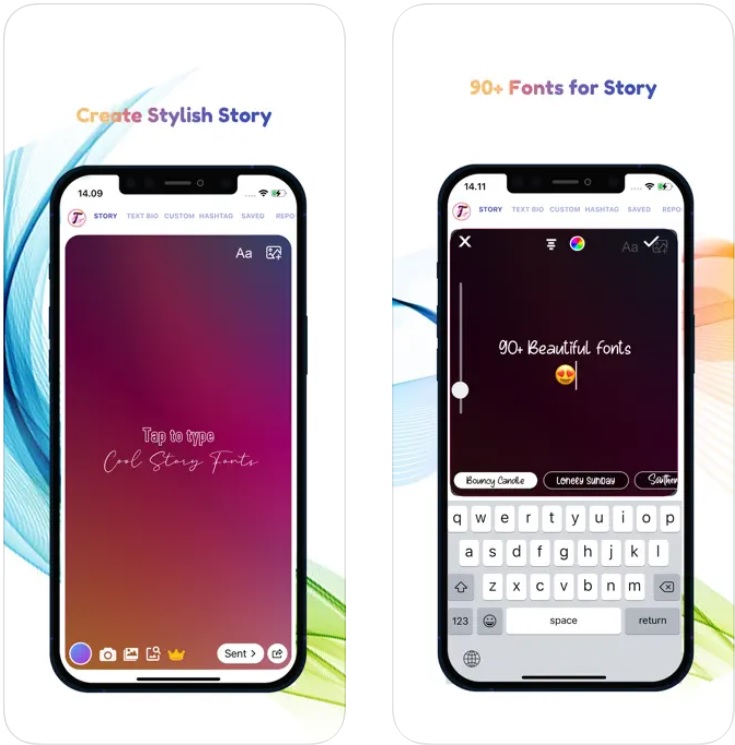 Fontify
Fontify is an application designed to help you add creativity to your Instagram posts using unique and stylish fonts. The app allows users to choose from a wide range of fonts and apply them to captions, biographies, and stories.
With Fontify, users can make their Instagram profile stand out and get more followers.
One of the key features of Fontify is its user-friendly interface. The app is easy to use and navigate, making it accessible even to those who are not tech savvy. It also offers a large collection of fonts, from classic to whimsical to modern styles, ensuring users have plenty of options to choose from.
But some users have reported that the app can sometimes bug and run slowly. Some reviewers also complained about the limited customization options and the fact that some fonts are only available in the paid version.
Moreover, some users expressed dissatisfaction with the application's support service and the lack of timely updates.
Reasons we like this app:
Convenient to use
Allows you to make your profile more attractive
Opens up new opportunities and ideas for creativity for you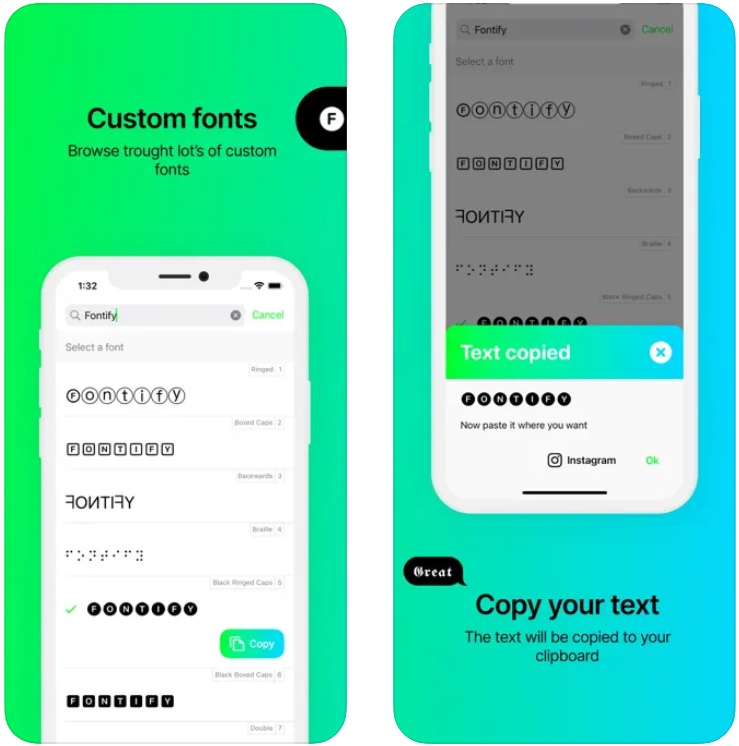 Cool Fonts
All Instagram bloggers should have this feature-rich app. You will get the most customizable keyboard for your smartphone. Several dozen fonts are waiting for you to add variety to your posts. Use fonts to grab the attention of a new audience.
You can type text with original fonts not only on Instagram. The app works on all social networks. Customize your bio to make your profile unique.
Send messages and see the reaction of your friends who never knew that you can use different fonts. Add originality to your social media. You can change the font at any time. Just click on a button on your keyboard. Add fonts to your favorites to instantly access them.
The app will allow you to personalize the design of your smartphone's keyboard. Indeed, it has a huge variety of tools for creating unique keyboard designs. You can choose themes that are already ready.
The app has over 40 keyboard themes. Join over 10 million people actively using different fonts for Instagram aesthetics and promotion. Download the app and you won't regret it.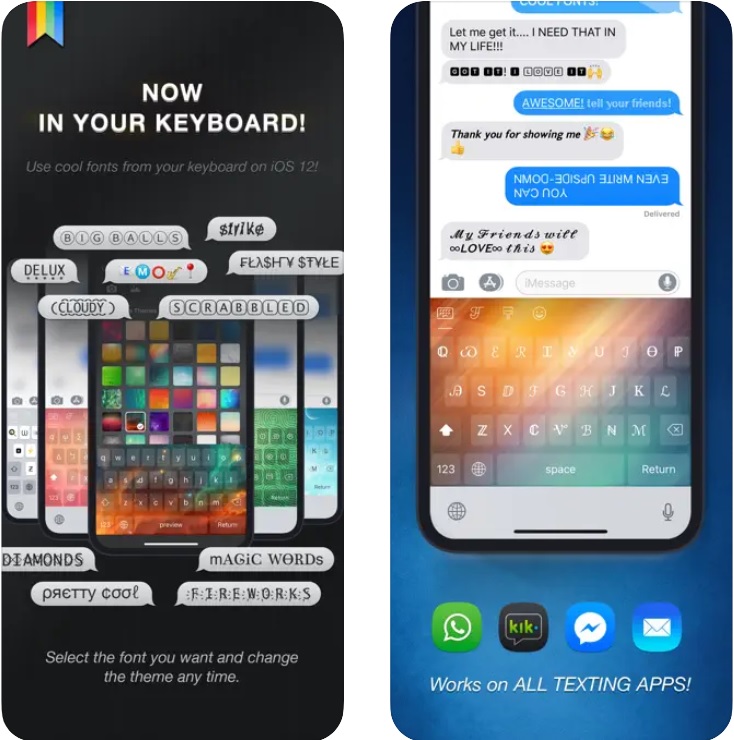 StoryFont
StoryFont is a mobile app designed to give your posts, captions and social media stories a unique touch with a wide range of fonts and styles to choose from. With a user-friendly interface, you can easily customize your text, make it stand out and impress your followers.
The app boasts an extensive library of over 400 stylish fonts, from quirky fonts to bold and edgy ones, ensuring you always find the perfect font to match your mood and message. You can also customize the size, color, and background of your text, giving you complete control over the look of your posts.
Despite the many benefits, some users have expressed dissatisfaction with the app, citing difficulties in navigating the interface and crashes. Others complained about the app's limited free features, requiring users to pay for premium services.
With a wide selection of fonts and an easy-to-use interface, you can take your messaging to the next level and make your followers wonder, "Wow, how did they do that?"
Reasons we like this app:
Large selection of text styles
Develops your creativity and gives you new opportunities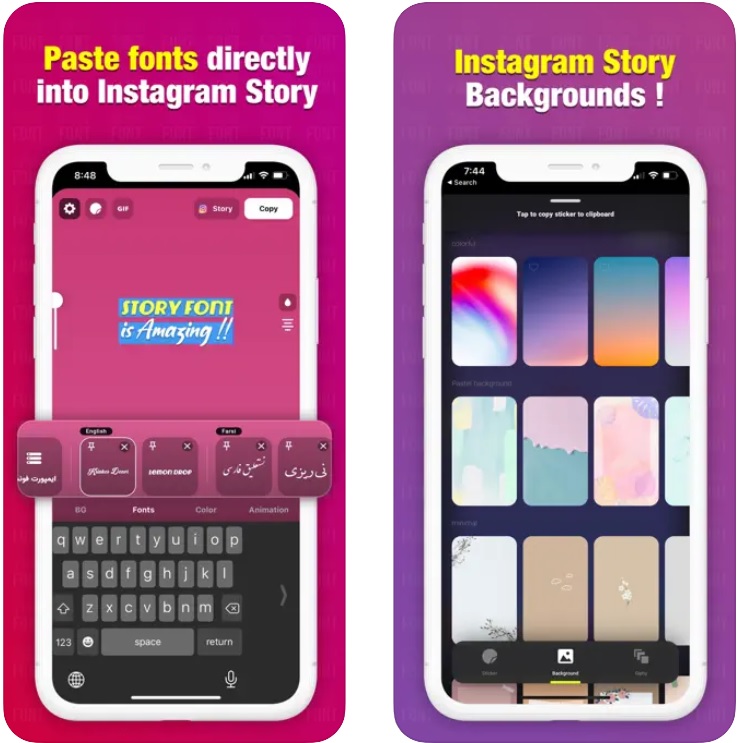 Cool Fonts
Cool Fonts is a fun tool that allows users to spice up their social media posts using unique and stylish fonts. The app boasts over 100 different fonts that can be used across various apps like Instagram, WhatsApp, Facebook and more.
With this app, users can easily transform plain text into something more visually appealing and attention grabbing. The app also gives users the option to preview their text in different fonts before sharing it on their social media accounts.
Some users have reported issues with the app's functionality, including font styles not displaying correctly or the app crashing unexpectedly.
And keep in mind that the majority of the content in the app is locked an available only for purchasing. 
Application features:
Convenient
Allows you to make your profile more attractive
Opens up new opportunities and ideas for creativity for you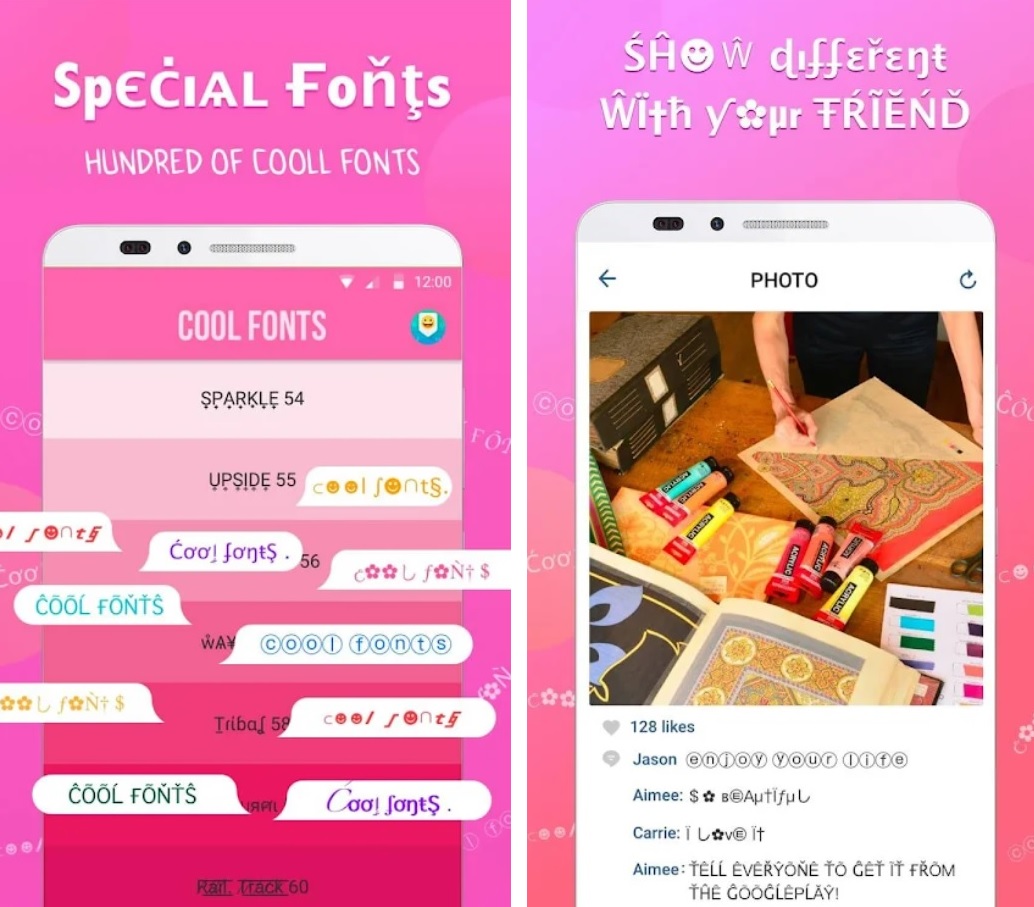 You may also like: 15 Best Font Style Apps for Android & iOS
Stylish Text – Fonts, Keyboard, Symbols & Emojis
This app has a lot of features. Now we will tell you about them. Firstly, it is a great generator of fonts for Instagram. Secondly, you can personalize the keyboard. Choose the theme of the keyboard to make it more pleasant.
Create a new text style or edit app fonts. Copying of the text occurs quickly even if the text is long. If you don't want to use this app with others, you can block them. Use this font generator only for the social networks you need.
You can adjust the use of fonts in the settings of the app. We warn you that the app supports Android 8.0 and higher. More than 120 stylish fonts will be available to you. Don't worry if your Android version is lower than 8.0.
The app will work but some fonts won't be available to you. Your smartphone won't support them. Some fonts only have uppercase or lowercase letters. This will allow you to come up with a unique design for your bio or Instagram photo description.
This app will help all Insta bloggers to promote their profiles. You can create eye-catching descriptions or stories. This will boost your views. The app is free and has no annoying ads.
Try it and you will see that it really works!