Wanna get into boxing training without going to an actual gym or getting a trainer? You've come to the right place!
We've picked up the best boxing training apps for Android & iOS you could try. These cover all kinds of training you can fully cater to your prefs and skill level.
Most of these come with built-in boxing interval timers to make your sessions even more effective. Plus, there are programs for both newbies and pros, and you can filter them out to match your style and pace. Let's get into it!
Nike Training Club
What would be the top sports apps without sports brands? Nike's biggest sports brand always supports ordinary people in their sports endeavors. True professionals and athletes from all walks of life have participated in the development of one of the best training applications – Nike Training Club. Of course, there were boxers in their ranks.
Due to the fact that the application gives recommendations related to your previous training, at some point, you will notice that all your recommendations are filled in boxing, strength training, MMA, and kickboxing.
The app even takes into account your schedule during the week and allows you to train anywhere, anytime, and on any of the available programs (and there are more than 185!). You can choose the muscle group you want to work on, as well as the intensity and level of training.
So, if you're a newcomer, the app won't give you Michael Tyson's level of training (and that's not even because you can lose your ear during it). In general, due to the fact that the application comprehensively monitors your activity – from everyday to training, it is suitable and recommended for all those people who want to monitor themselves without much effort.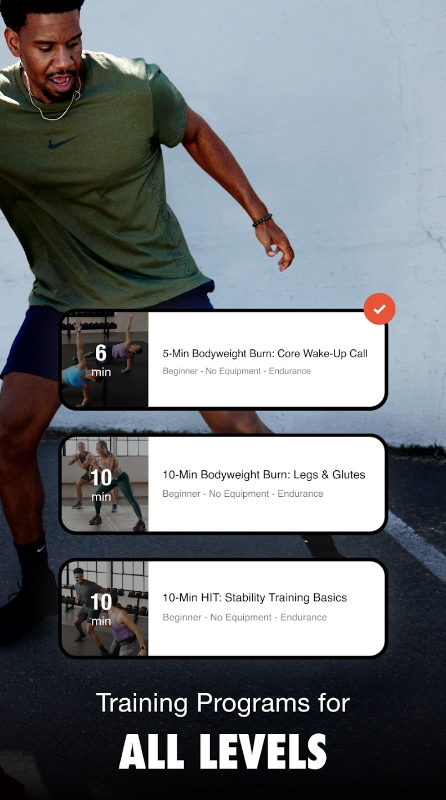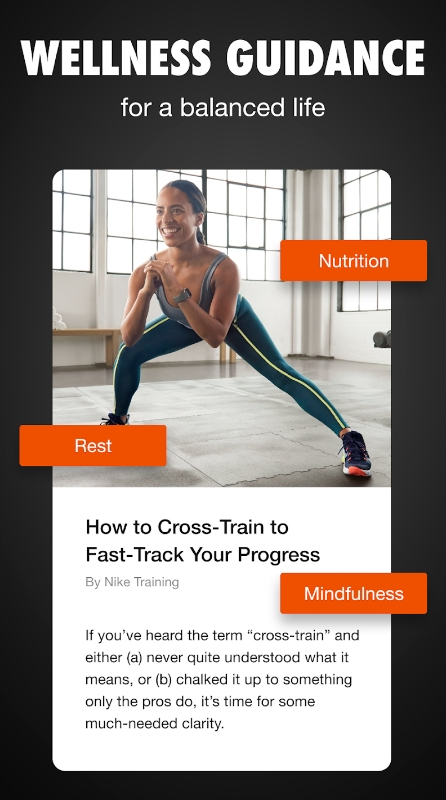 You may also like: 15 Best Boxing Games
Bower Boxing
Bower Boxing has powerful tools for being your personal coach and sparring partner. The application was developed specifically to help you learn new combinations and movements.
Bower Boxing is a unique application supported by both the iOS platform and Android. The uniqueness lies in the fact that the application absolutely randomly offers you more than 100 thousand combinations and techniques of boxing.
The application also provides a training mode, in which there are exercises not only from boxing but also from the category of fitness. Now individual training is available to everyone when installing Bower Boxing!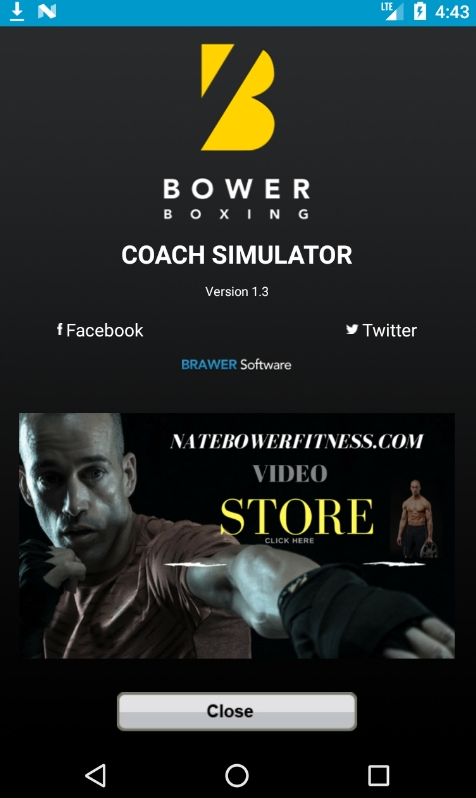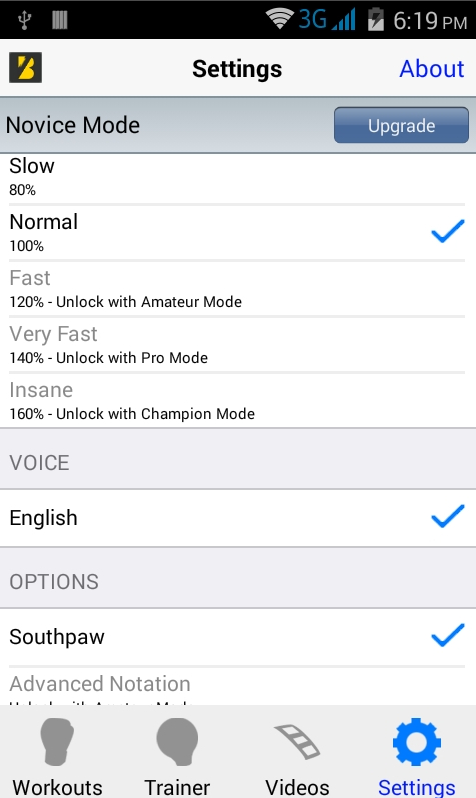 Boxing Training & Workout App
This app is a gem for those who want to do shadowboxing or punching bag training. It works for people of all skill levels, so even if you're not experienced and just getting started, this app is the right choice.
Plus, the app can help you level up, as there are over 100 kinds of combos you can try. Thus, you won't get bored and monotonous with training and have more motivation. It's always nice to try smth new, right? You'll be able to pick the techniques to try, switch drills, HIIT, and cater the workout to your needs.
Another cool thing you'll surely appreciate is a built-in timer. No need to get an extra app for that, you can easily start timed sessions and adjust the number of rounds.
And if you wanna get a gym-like experience at home, this app lets you do that too. You can filter the training to ensure you won't need any extra supplies if needed. Overall, there are over 70 guided programs you could try here. And that's without counting the warm-ups and cool-downs. There's a paid version of the app, but the free one is fully usable.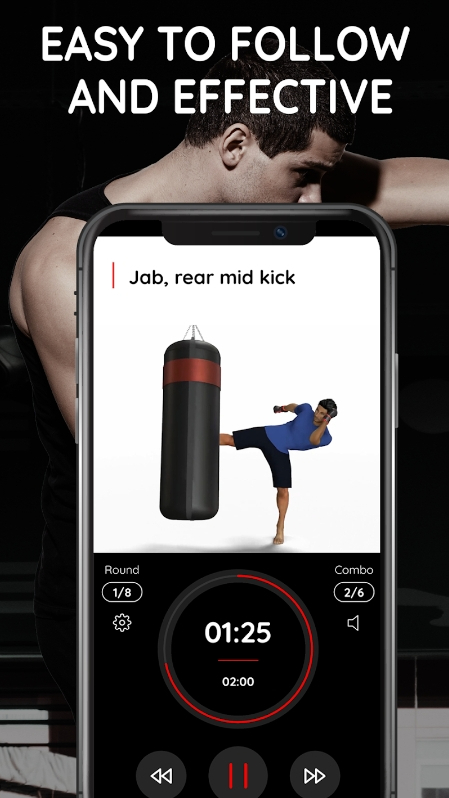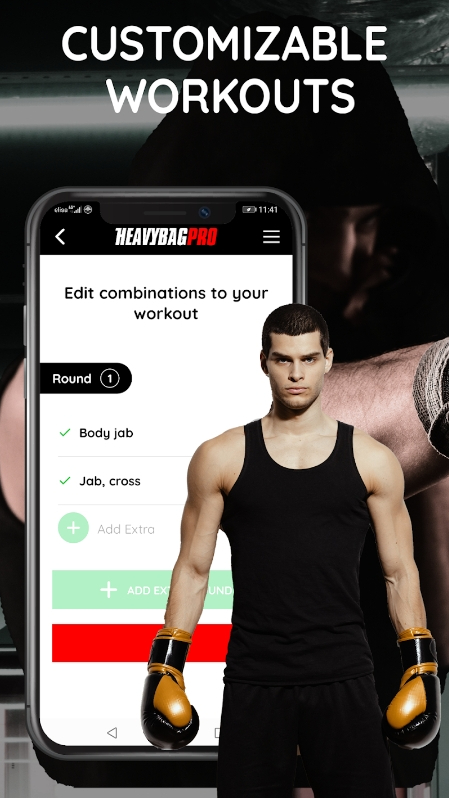 Precision Boxing
Precision Boxing has several versions, including Lite and Pro. If you want to buy or improve your boxing skills, it's just a find for you. The application will become your coach and instructor in the boxing world.
You can practice using the original techniques, as well as you can create your own combinations, which can include both attacks and techniques of shadow boxing and standard strokes.
Not only does the application allow you to create combinations yourself, but it also allows you to find others like them. In general, if you're looking for success, you know what you need to install on your smartphone.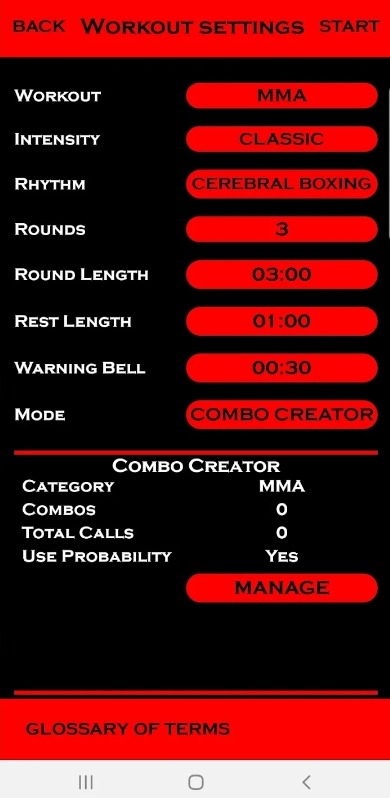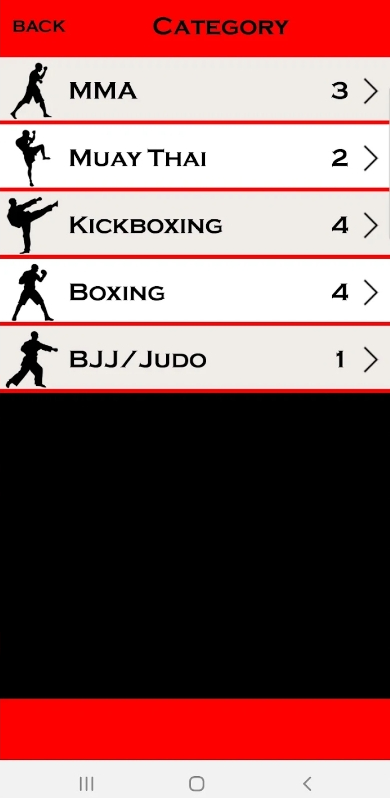 PUMATRAC
PUMTRAC might be a little less popular than the Nike Training app, but basically, it has the same idea – this is an app from a sports brand for the fans (and not only fans) with various workout videos and training. Here you will find more than 120 workouts for all kinds of training, including boxing.
Moreover, there is a lot of cardio workouts, that you could also use for your boxing exercise. In PUMATRACK you can schedule your workouts and track your progress since the app makes the record after each training. The pleasant bonus is that many video sessions are recorded featuring world sports stars, just like in Nike Training.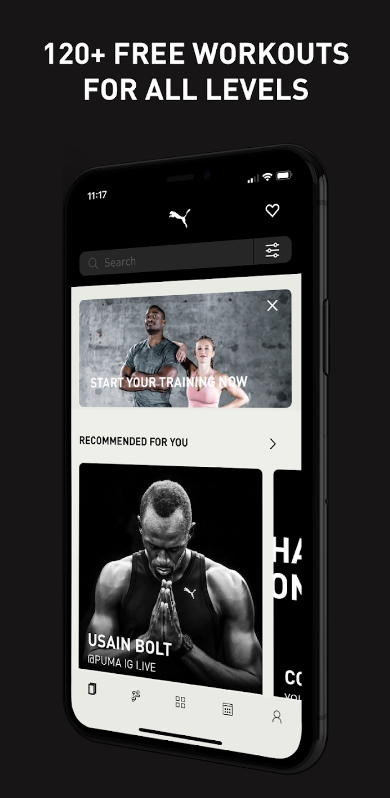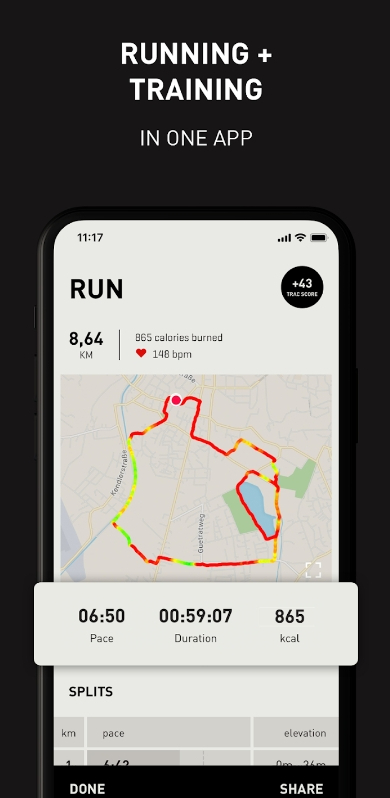 Shadow Boxing
Shadow Boxing is an app that helps you master skills from the comfort of your own home. Thanks to this service you will be able to watch different exercises and take part in training sessions. You will also be able to create your own workout, if you want, put a timer in it.
This app has shadow boxing, that is, special workouts and a punching bag for classes. You won't really need the exercise items, but if you have them, by all means, use them. Do you want to do a cardio workout? No problem, choose exercises to your liking and burn calories.
The app has many awesome features. There are techniques on how to perform. You will be able to repeat a bunch of body movements according to the instructions and achieve results. Moreover, there is a jump rope for active workouts and more.
This program is suitable for fitness and for preparing for long-distance races. All exercises are accompanied by music, you can always turn it on to set the mood. Use the handy timer when you exercise. The timer will count activity and rest times. All music plays from Spotify and Apple Music.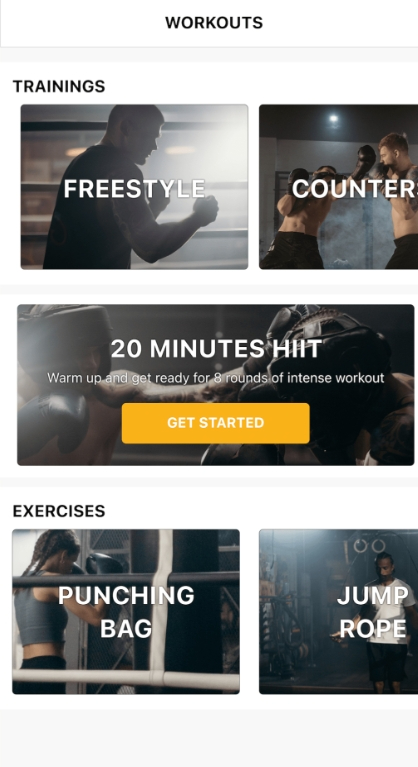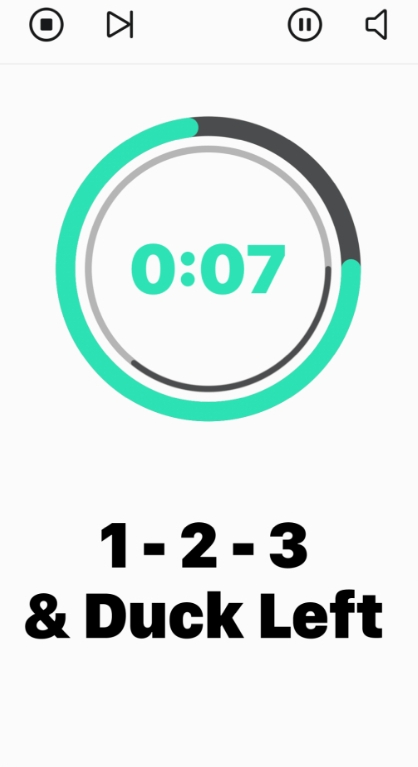 Boxtastic: Boxing Training Workouts For Punch Bags
The application is specially designed for training with a punching bag! Now all you need to be in shape is to buy a punching bag and install Boxtastic. The application will make you a combination of blows at the same high level as the coach in the professional hall in the ring.
Boxtastic has 5 modes:
1. Real Fight: This mode allows you to feel like one of the famous boxers. You can be in the shoes of one of the 16 legendary fights, and fully replicate their blows, fighting technique, and success.
2. Boxing 1: Generation of blows that train your attention and increase your cardio load.
3. Boxing 2: A standard set of tricks and blows practiced daily by beginners and professional boxers around the world.
4. Ultimate Boxer: During this mode, a random fight is generated especially for you. Reflect on your opponent's blows, and retire as a winner! In this mode, you can set the frequency of your opponent's blows to match.
There is also 5 mode: Boxersize. It uses HIIT – High-Intensity Interval Training technique. This allows you to enter the intensive training mode in minimum time, often called Tabata. If you want to diversify your sport, you can safely install Boxersize.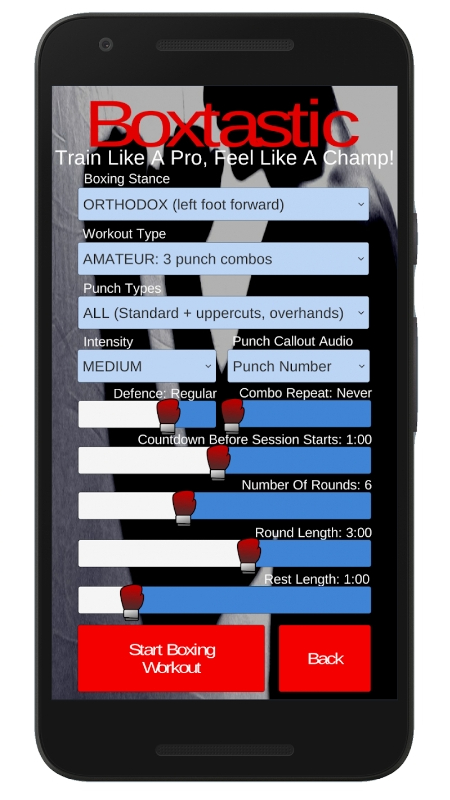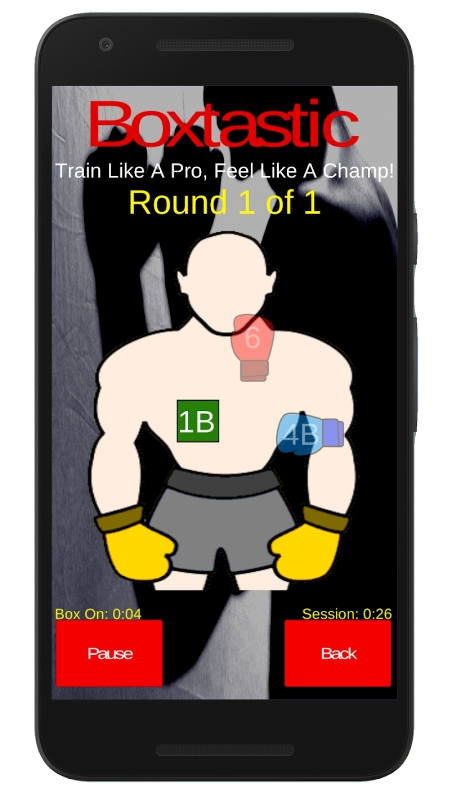 Boxing Training
A very cool boxing app where you will find various types of training that will be suitable for you specifically. Here you will find the training sessions for the following boxing skills: defense, punching, offensive combinations, sparring drills, speed bag drills, heavy bag drills, mitt drills, footwork, and even more.
Another great feature of the Boxing Training app is that it has the DJ's set for training so you won't even have to pick up the motivating music for your sessions. When you choose to do a certain exercise, there will be not only the video but also an audio guide to help you during the training.
What is more, you can view the boxing videos both online and offline. The only drawback here is that in order to get access to the whole collection of exercises, nutrition advice, and other nice features, you will have to buy a premium subscription.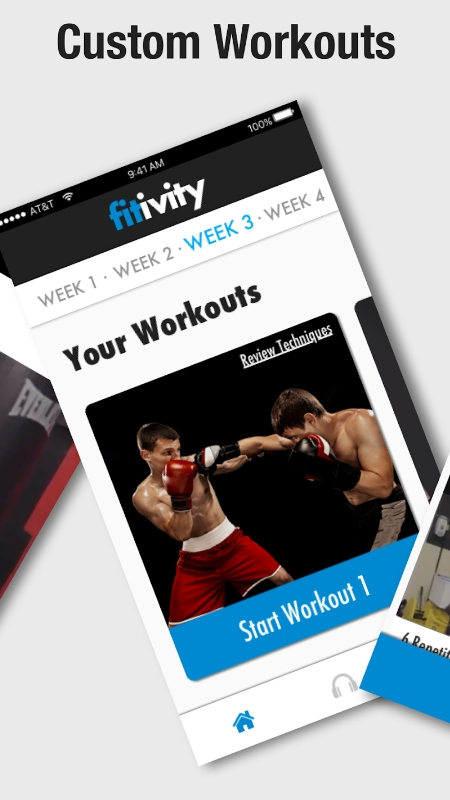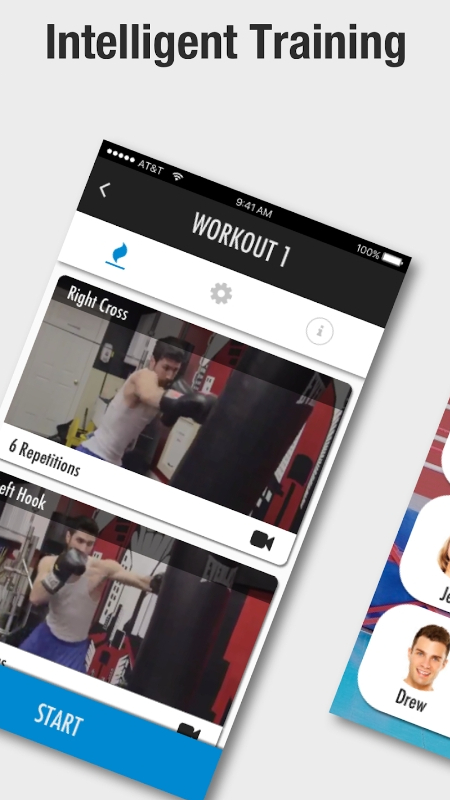 Kickboxing
Boxing isn't just about strength training with a practice kick. Boxing can also become a fitness! With Kickboxing – Fitness and Self Defense, you can combine cardio training and strength training directly from the box.
Fitness kickboxing is the choice of people who want to be tough and slim. By burning calories, you'll not only lose extra pounds, but you'll also improve your coordination, endurance, and even flexibility.
The app supports 3 training modes – light, medium, and complicated. Training takes up to 30 minutes a day, so even the busiest people can keep themselves in shape with a smartphone. You can track all your calories burned right in the app, daily, and after each exercise.
If you don't want to train on a treadmill or stepper, Kickboxing can help you. The app requires absolutely no equipment and gives you complete freedom. Cardio without much effort and equipment – what can be better? Only that it can be combined with the box!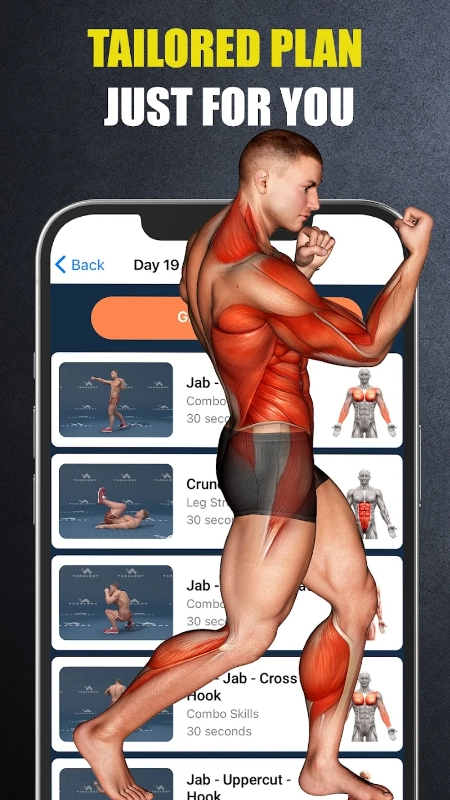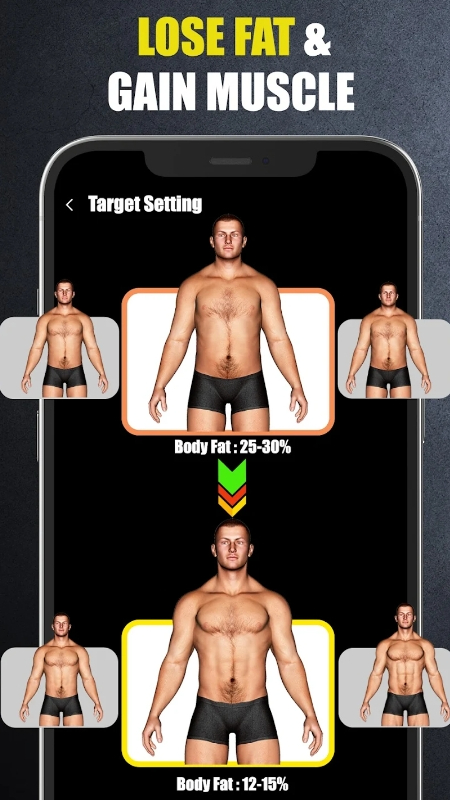 Check also: 9 Best Parkour Training Apps
PunchFit
If you are not a beginner in boxing and you already have some skills and, what is more important, know the combos and punches then this app could be an additional help to your training. You can perform the combinations that you will find here with the punch bar or without any equipment at all.
What is more, the remarkable feature of PunchFit is that it allows you to create your own boxing combinations and train in the mode that you want. Boxing sessions can be tailored to suit your needs: rounds, round length, and rest periods along with the punches themselves.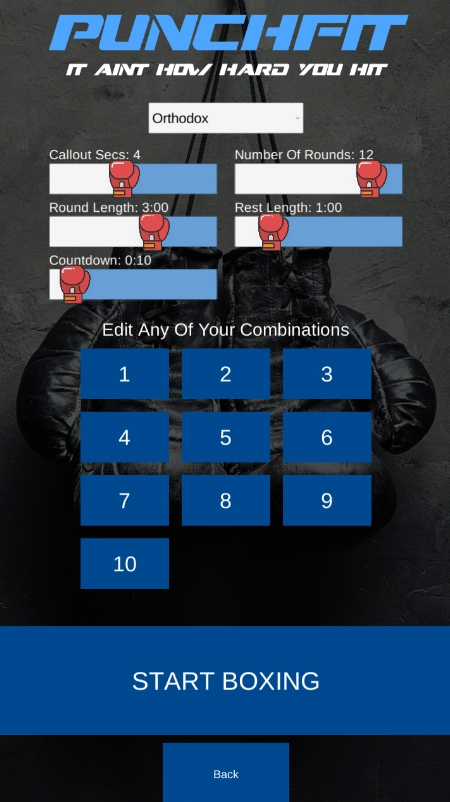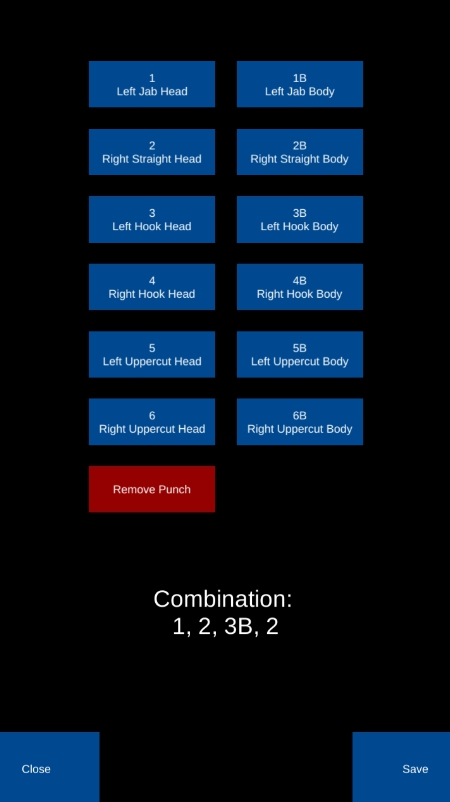 Dodge Boxing
This is a more simple boxing app and it will be more suitable for those who already go to boxing training at the gym. It can be a helpful addition to your regular training – for example, it includes the special boxing timer for doing the exercises or the section for keeping the score.
Another especially helpful feature of Dodge Boxing is that it helps to keep the statistics of your progress – after counting with the timer how long you are able to do the exercises and how often you train, the system will build a graph of your boxing journey.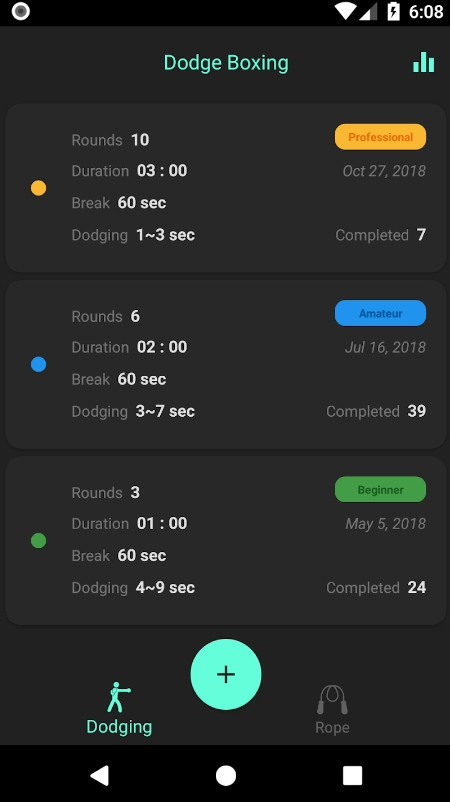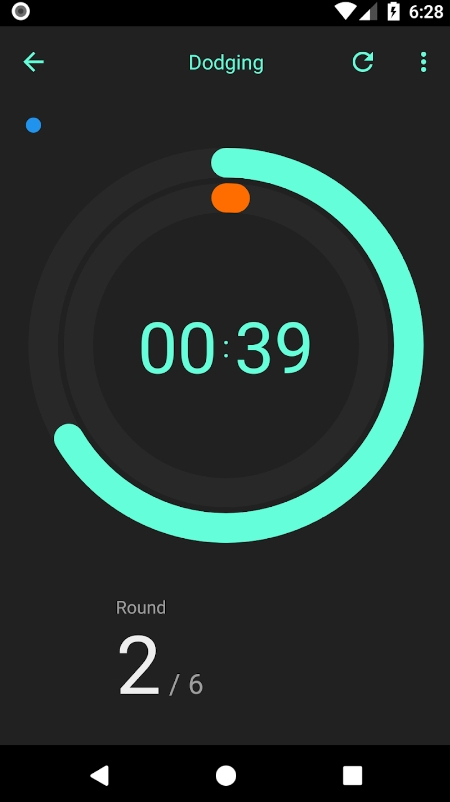 Punch Lab
Punch Lab is an application that gives you complete control over your training progress. You get full statistics of your success just by clicking a few buttons on your smartphone.
The Punch Lab is used by professional athletes and UFC fighters. Isn't that a quality indicator? Famous fighters have been involved in the development of the training for this application. Anthony Joshua and Conor McGregor were directly involved in the training programs.
It's obvious that such great and famous athletes pay a lot of money. That's why the application gives a trial version only for 5 days. After the expiry of the term, you will have to buy the application, but you should agree that quality training is worth it. And a personal trainer will cost you more than Conor McGregor's training!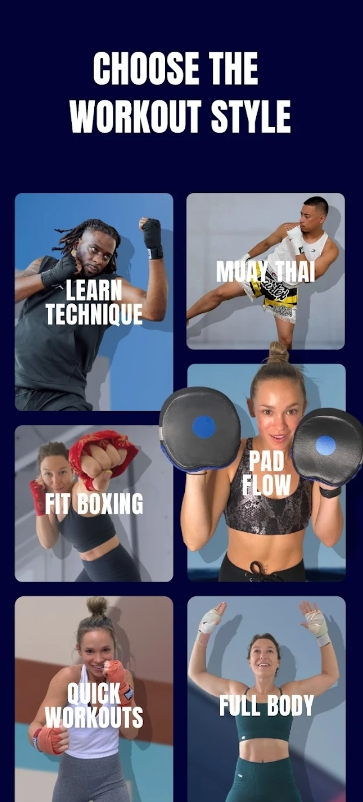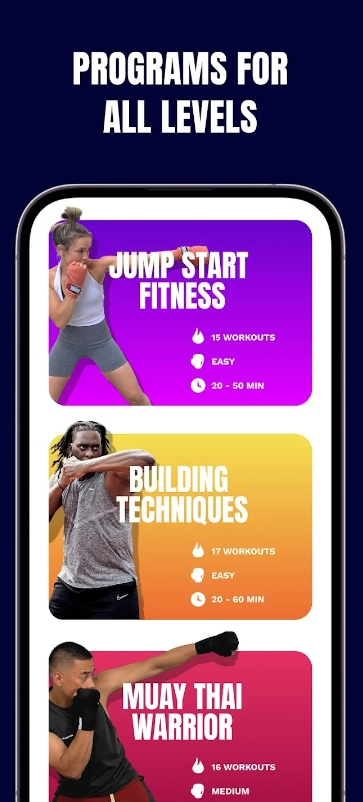 Boxing Training – Offline Videos
If you're training on your own you might have quite a hard time understanding the right technique. It is still better at least sometimes to learn how to box with a trainer or who is a pro at this since it's always better seen from the side where your weaknesses are.
Well, if you're still training alone or maybe you just want to get some additional information about boxing, then this app will be useful for you. As you can understand from the name, here you will find a bunch of boxing videos, from training sessions and championships, with explanations and without it.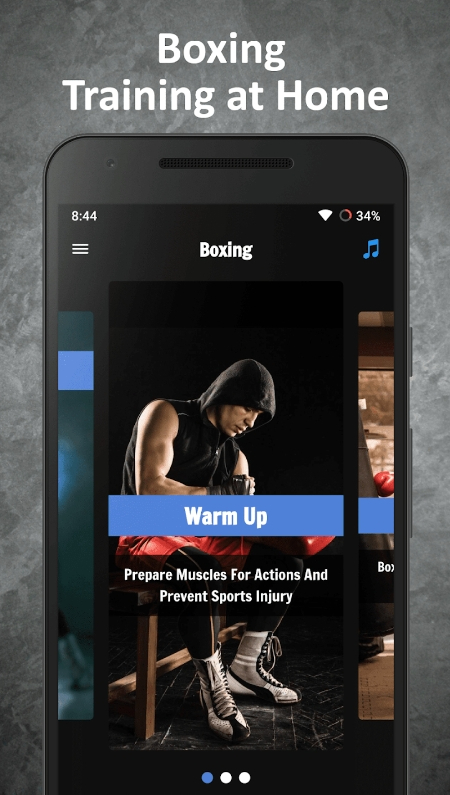 You may also check: 13 Best Health Coach Apps
FightCamp 
To wrap up, we have an effective boxing app that helps you do effective sessions at home. It covers a massive liv of over 1K workouts of all kinds (including kickboxing). It covers workouts for both newbies and pros, and you can fully cater it to your needs.
You can use the app without any extra supplies, but it will get way more effective if you pair it with punch trackers. Thus, you'll be able to see such stats as the number of punches, speed, and total output. All the data gets saved automatically, so you'll get to monitor in-depth progress after each session.
You can even see how well you stack up against the community (fully optional, though). There's also a special mode that lets you compete with other users head-to-head. As for the sessions, all those are made by experienced trainers with real fighting exp. You can filter those out to see HIIT-style ones, those with punching bags, and all that.
The new programs come out quite regularly, so there's always smth new to diversify your exp. You'll get to sync the app to any music streaming acc to enjoy workout playlists while training. There's also a built-in timer, so you won't need and extra app for that.