Nowadays geologists don't need to carry that much equipment with them because IT technologies could replace the majority of them. For example, in the following article, you will find free geological compass apps that will allow you to make precise measurements.
And before you start, we suggest you explore more apps of this type and check out our article about geofencing apps.
FieldMove Clino
This app is exactly what you need. This is a digital compass clinometer. It's simple and uses it to measure the field area. It is also optimized to use the device to base location and orientation center.
Therefore, you will turn your phone into a traditional handheld bearing compass and will be able to do the measurements. You will be capturing the planner and linear features in the field. Moreover, with this app, you will be able to take large amounts of measurements.
This all should improve the precision of your data. In addition to that, here you can also take and store Geo-referenced digital photos and you can also store text notes.
As well as supporting online Google Maps, FieldMove Clino can work in the offline mode, and it enables you to import your own georeferenced base maps and collect data while disconnected.
After that, you can export your files as MOVE, CSV, or KMZ files and then import them directly into FieldMove™, Move™ or other apps like Google Earth.
Main features:
Display geological data on an equal area or equal angle stereonet, allowing you to perform some basic statistical analysis in the field
A broad library for customization of planar and linear features
You can export your KMZ data to Google Earth
In addition to all of that, the app has a really nice interface design which is quite rare for apps of this type. It's quite pleasant to use it. You open the app and can use the compass right away. FieldMove will suggest you to create an account but you can skip that part if you don't want to waste the time and share your data.
Despite everything mentioned above, the app has some errors and bugs- sometimes it doesn't save or export the files.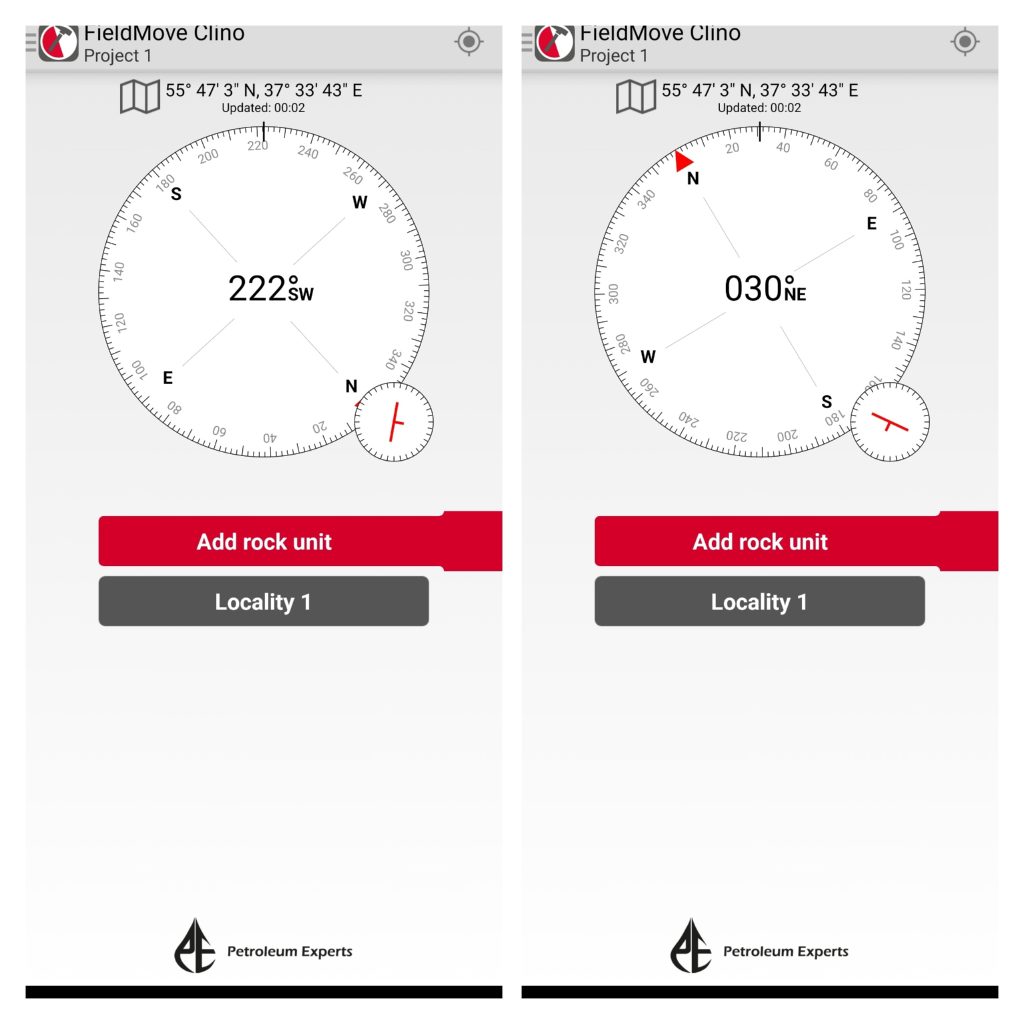 You may also like: 15 best compass apps for Android & iOS
eGEO Compass GS by GeoStru
This is a small Android Geo Compass app that seems to be able to show some precise measurements. It is beneficial for measuring the fields in the mountain and hills area. All you have to do is to put your phone onto the ground and the app will be able to do its necessary measurements.
However, unlike the previous one, this app is not really pleasant to use. It has a super obsolete interface design and sometimes it doesn't show the precise data since it hasn't been updated for years. It will be more suitable for older Android devices.
According to ourtests, the app turned out to be working and it installs quite fast. You don't need to create any additional accounts to start and you can one the compass right away. The app will ask you to enter some measurements, but you can skip that part and go straight to the compass.
However, it seemed quite fluctuating to us, so it's not clear, how precise it is.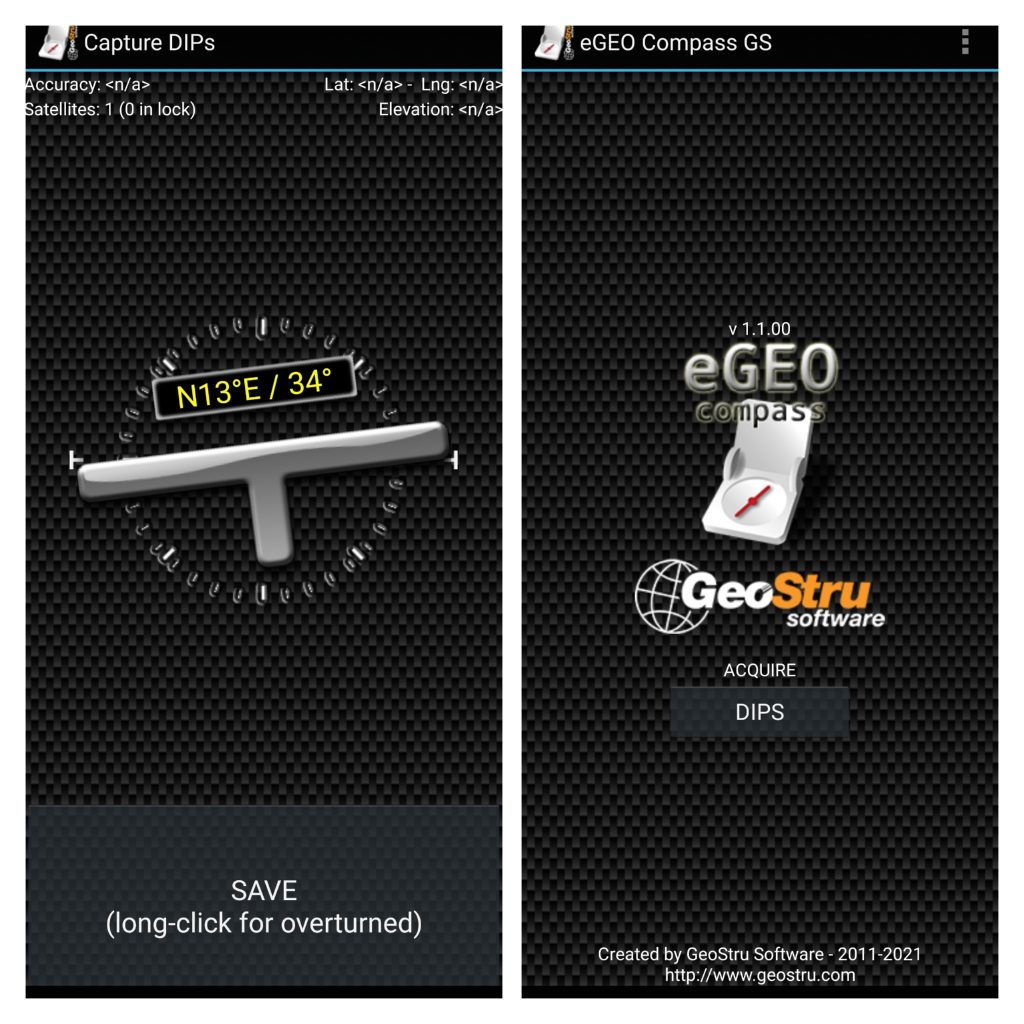 QField for QGIS
There are not so many Geo compass apps on the market, so we're going to stick with the general geological apps that more or less include this feature. This app claims to be focusing on efficiently getting GIS fieldwork done.
It combines the minimalistic design with this sophisticated technology to receive data from the field to the office in a fast and easy way. All in all, this whole app is an open-source project so its users can set up maps and forms on their workstations and deploy those in the field through the app.
You can use this app for the synchronization of your projects and for collecting data. It also includes the geological compass but its possibilities are quite limited.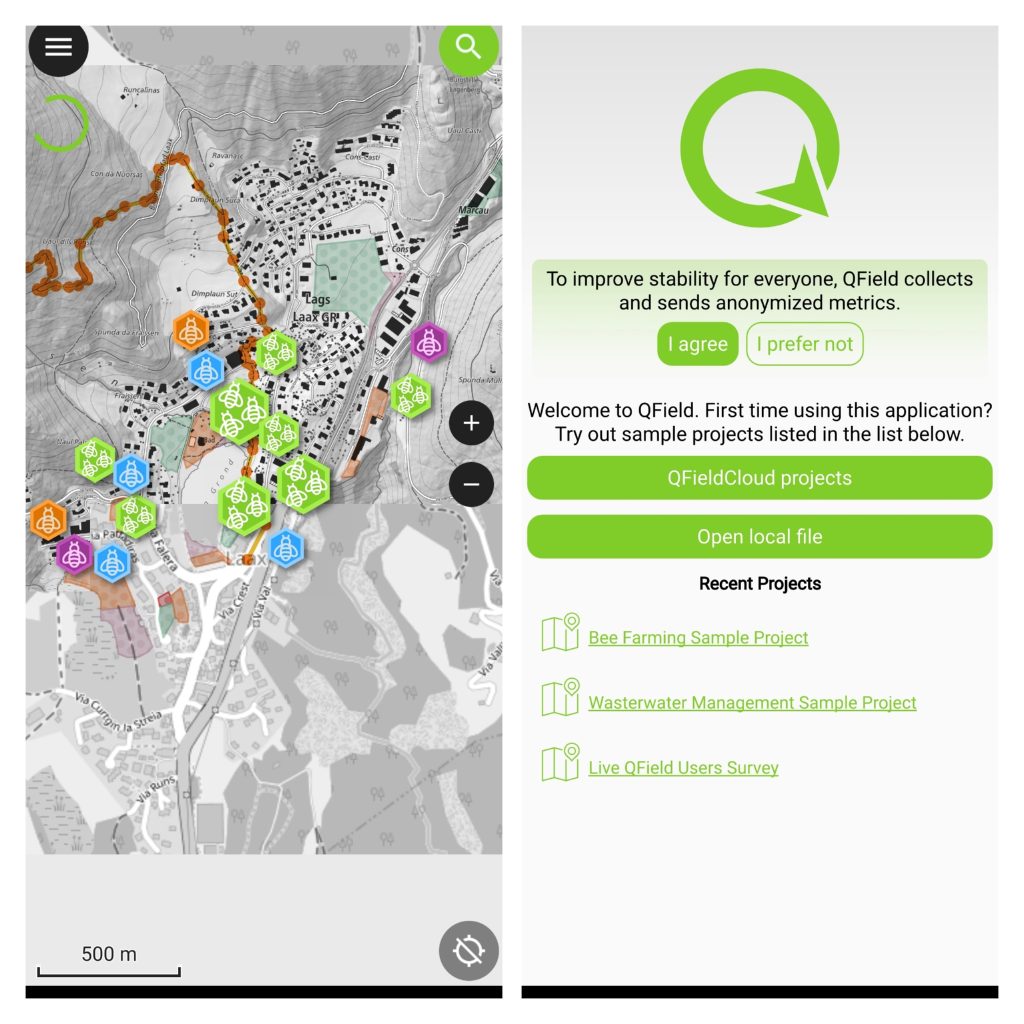 You may also like: 15 Best barometric pressure forecast apps for Android & iOS
ArcGIS Survey123
ArcGIS Survey123 is a complete, form-centric solution for creating, sharing, and analyzing surveys. It also includes the feature of the geo compass.
You can use this app to create smart forms with skip logic, defaults, and support for multiple languages. Collect data via web or mobile devices and ArcGIS work even in the offline mode. The app works fast, so you can quickly analyze the current data and upload new files.
The premise of this app is that it allows users to improve and expedite data collection, so they can create smarter and of course, data-based, decisions, even while out on the field. With ArcGIS, it will be easy for you to use and interpret the data since it has a user-friendly interface.
In order to better synchronize your data with the app you will have to create an additional account. We also discovered that it's not really easy to navigate here.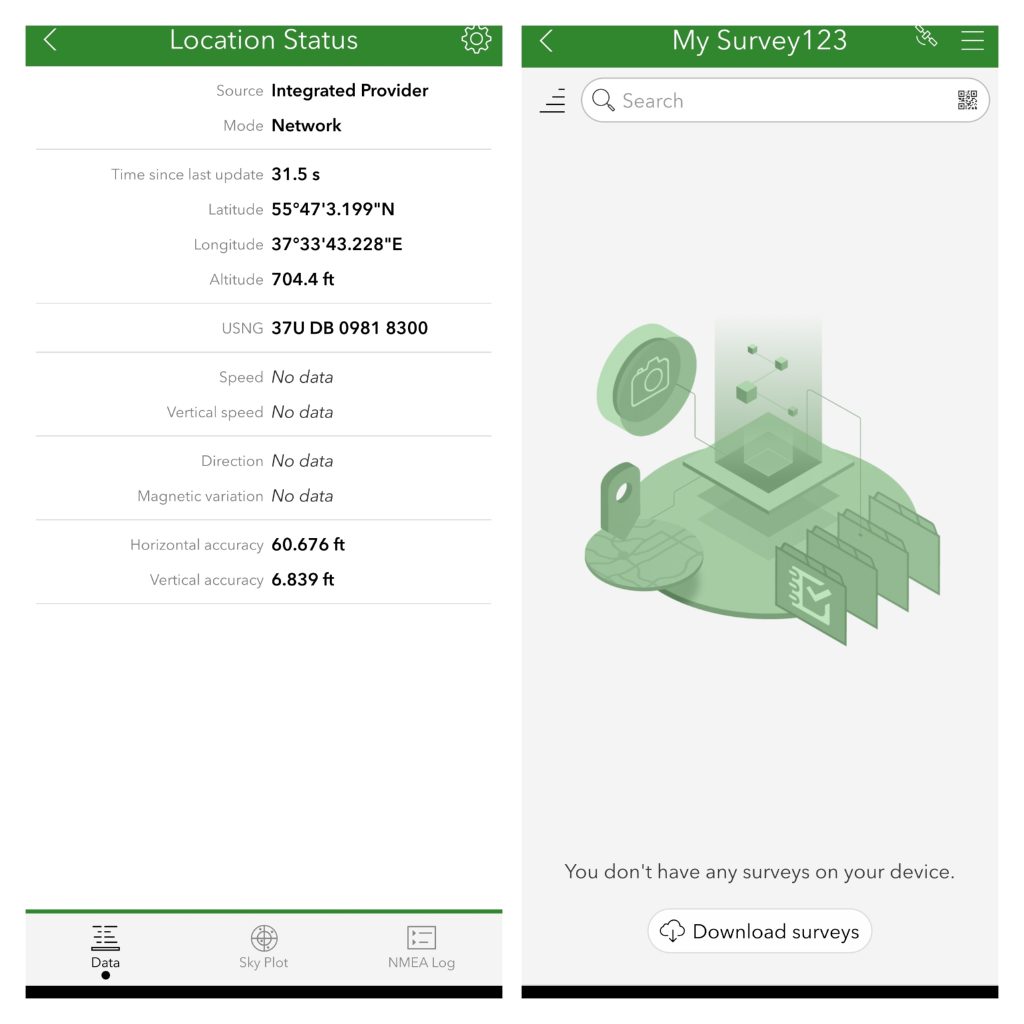 You may also like: 11 Best Offline Navigation Apps for Android & iOS
Geo Camera Compass & Levels
This app is not popular at all, but it claims to be a Geo compass that will help you to do the field measurements. It will synchronize with the GPS data of your phone. As you can see from the screenshots, it works in AR mode and allows you to do the measurements in real-time mode.
It's quite user-friendly, but in order to use it, you need to be a pro at geology. In general, Geo Camera Compass & Levels was created to make your data collection easier. You can zoom in and zoom out the camera mode and it can even function in the night mode.
We thought that this app would crash immediately as soon as we install it, but surprisingly it turned out to be a reliable tool, that you can easily install and start using right away.