In ordinary life, you probably came across the statement that formatting the background of an image is a task that is often impossible even for an expert. However, this judgment is incorrect. This article will cover free GIF background remover apps that will assist you to do without the help of a specialist.
If you like editing your pictures we also recommend checking out the article about retouching apps to achieve even better effects.
Apowersoft
With this app, you can conveniently, efficiently, and most importantly, quickly remove the background of the image. The functionality of the utility allows you to cut absolutely any object in the photo, be it a unit of goods, logo, or even graphic printing.

The most important function of this app is the edit of a seamless background, which includes scaling, moving, copying, as well as rotating photos to different viewing angles.
For documents, in this case, the photo is cropped according to the parameters set by the user, for example, a Belgian visa of 3.5×4.5 cm and many others.

Important is the fact that the app offers two backgrounds of your choice – white and transparent, depending on the user's requirements. If you use this app, you will be able to apply different templates for certain purposes, which will give you an advantage in the convenience of the interface.

The big plus is that the utility has such a function as a background eraser – thanks to the painstaking work of the developers, this app can process absolutely any photo.
Additional attention is paid to such a function as "manual mode" – select the required area or object for formatting and click there – the app will create transparency and erase everything that you do not need.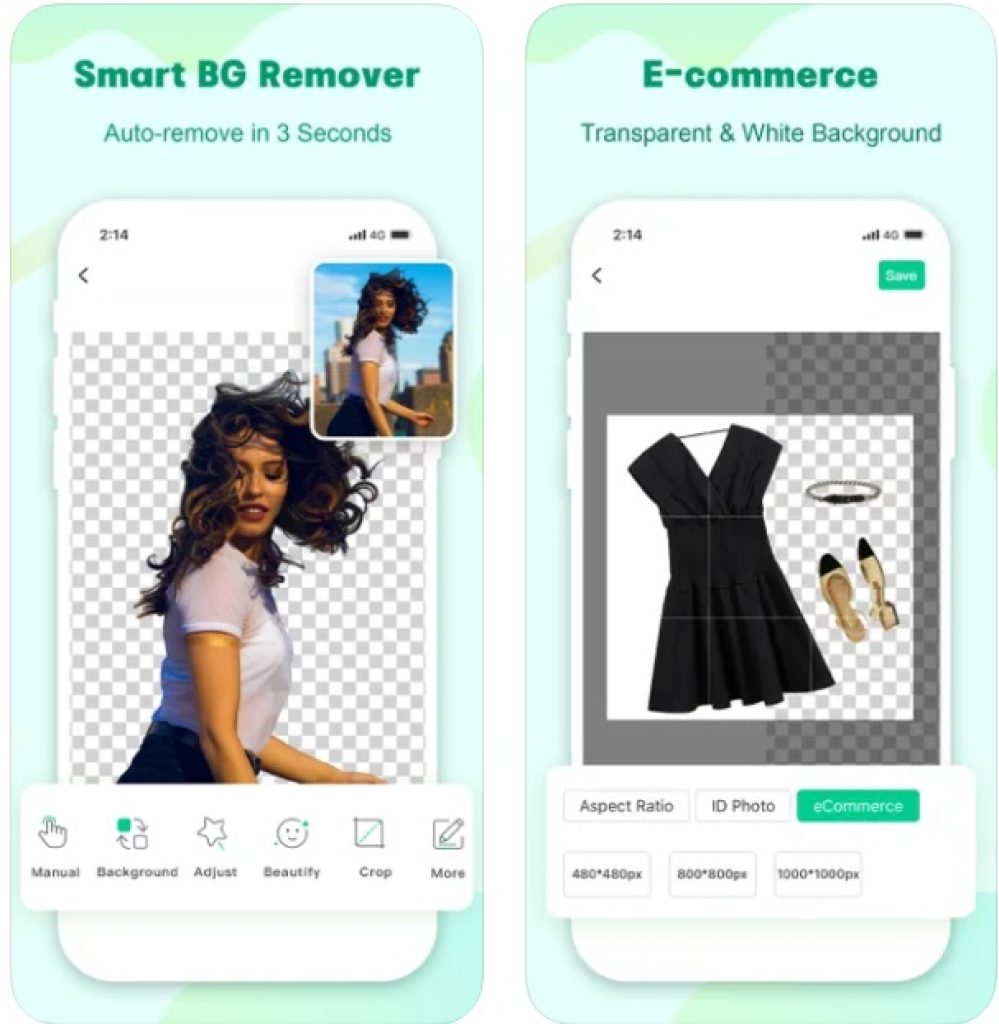 You may also like: 9 Best Apps to Unhide Apps on Android & iOS
Magic Eraser Background Editor
This program has a wide variety of different brushes of any stiffness, as well as the ability to see what has already been formatted – the function of the «red mask».
Thanks to the ability to move, delete, undo or redo editing, this graphic editor is one of the most indispensable.

The ability to choose to scale significantly affects the quality of your downloaded image. If you want to select the most suitable color, the magic wand tool is perfect for you in this endeavor.
This app can save modified photos in two formats – png or jpg. In addition to all of the above, no watermarks are added to your work, which is undoubtedly an advantage.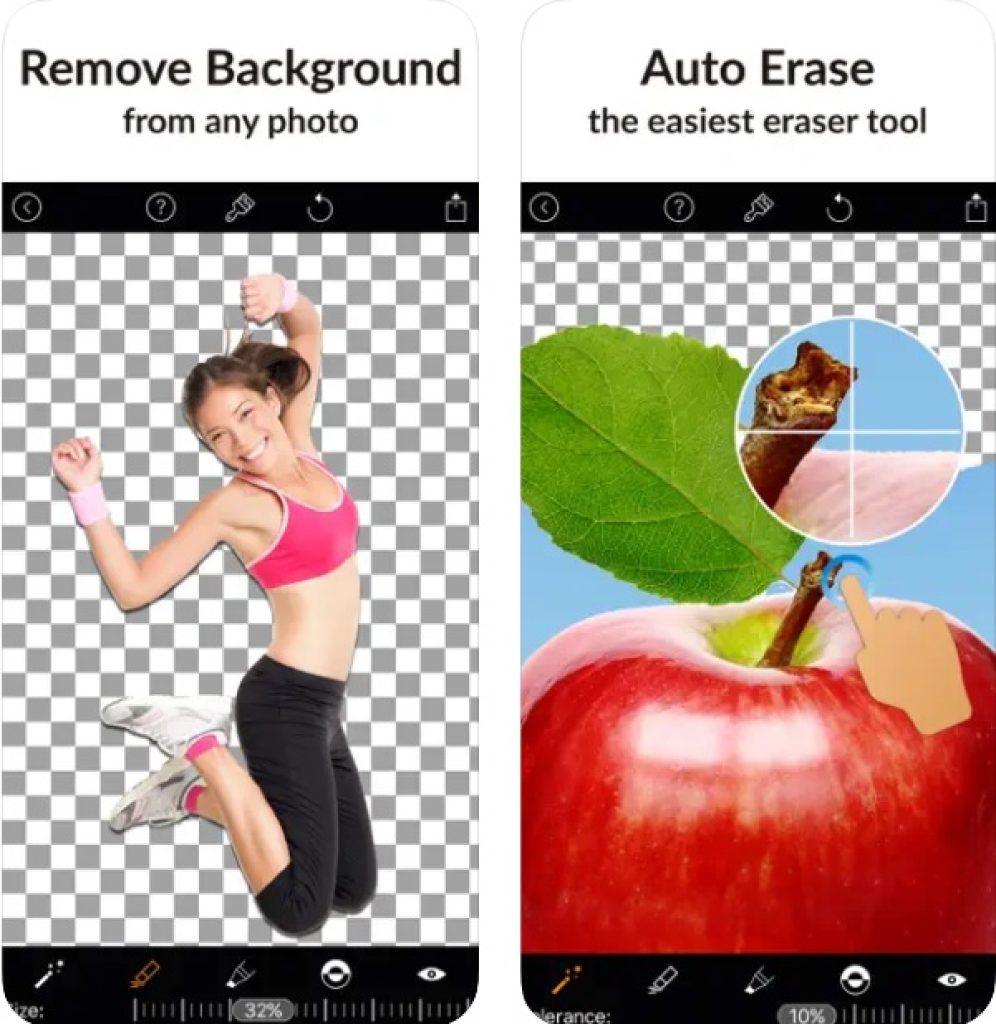 Background Eraser
Foremost, it should be said that this app weighs the smallest number of megabytes, which will allow you to get a graphics editor that will save your device's memory. The user-friendly app interface and ease of use attract you to dwell on this among all other options.

The functionality of this utility has features such as zooming in and out, as well as automatic editing and picture selection. To destroy the background, a so-called "auto mode" is provided, in which you can edit as clearly as possible what you consider necessary.

As a bonus, the app provides an option to destroy extra pixels in your photo, which allows you to format the element to the smallest detail. After performing these actions, you can use the edited file as a collage or as a workpiece for a future album.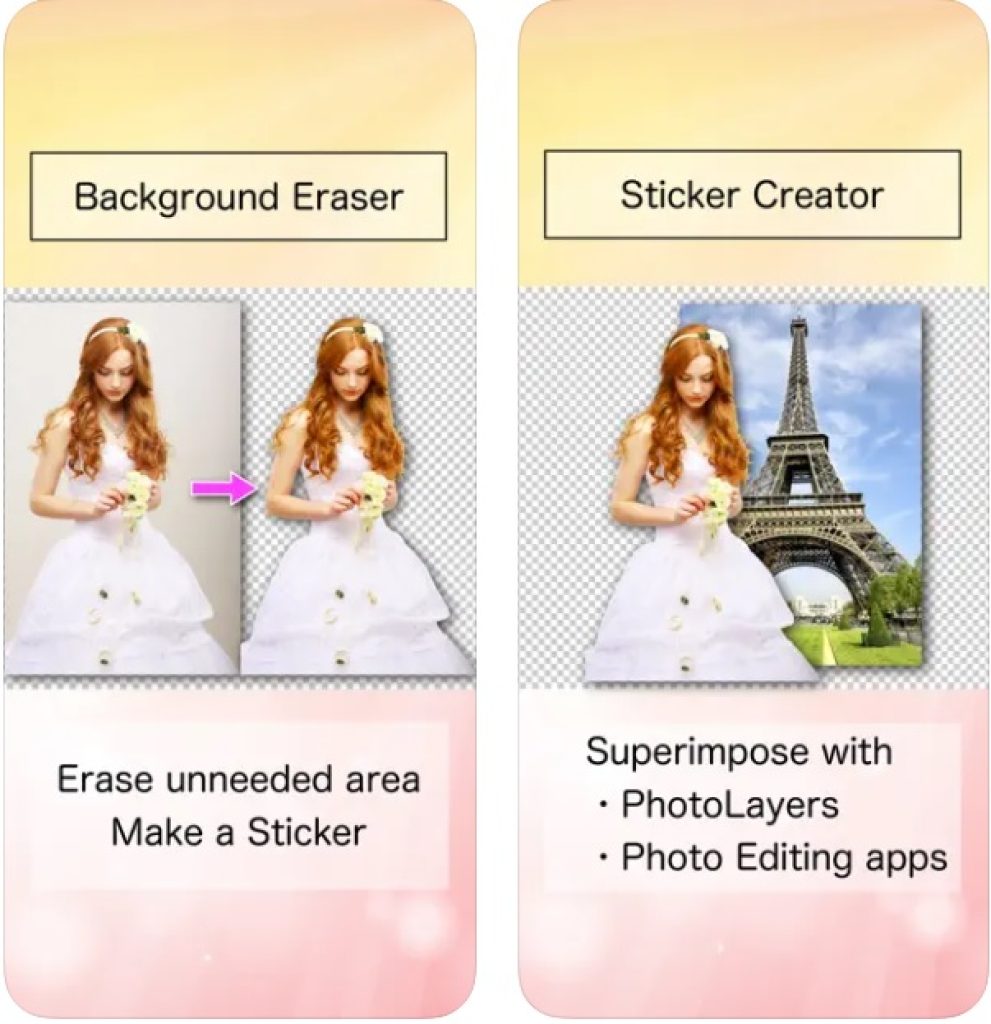 Background Eraser: superimpose
This editor will help you remove the background with literally one touch of your finger: literally, now the area with the same color saturation is removed.
This appendix offers you two file format options: png in a white background and jpeg in a transparent one, which is most convenient and qualitatively suitable for processing photos.

The developers provide the following tools for cropping pictures, namely: auto-deletion in a certain area, complete erasure, and restoration of the area selected by the user, as well as reverse formatting processes with a graphic object.
For point editing, there are more than ten options for clipping an image with predefined settings that are made as simple and understandable as possible.

This app offers as many as 9 tools aimed at further improving your files, such as contrast, brightness, shadows, temperature, and several others. If it is desired, the user can choose the size of his image. The utility offers 3 options: high quality, normal quality, or low quality.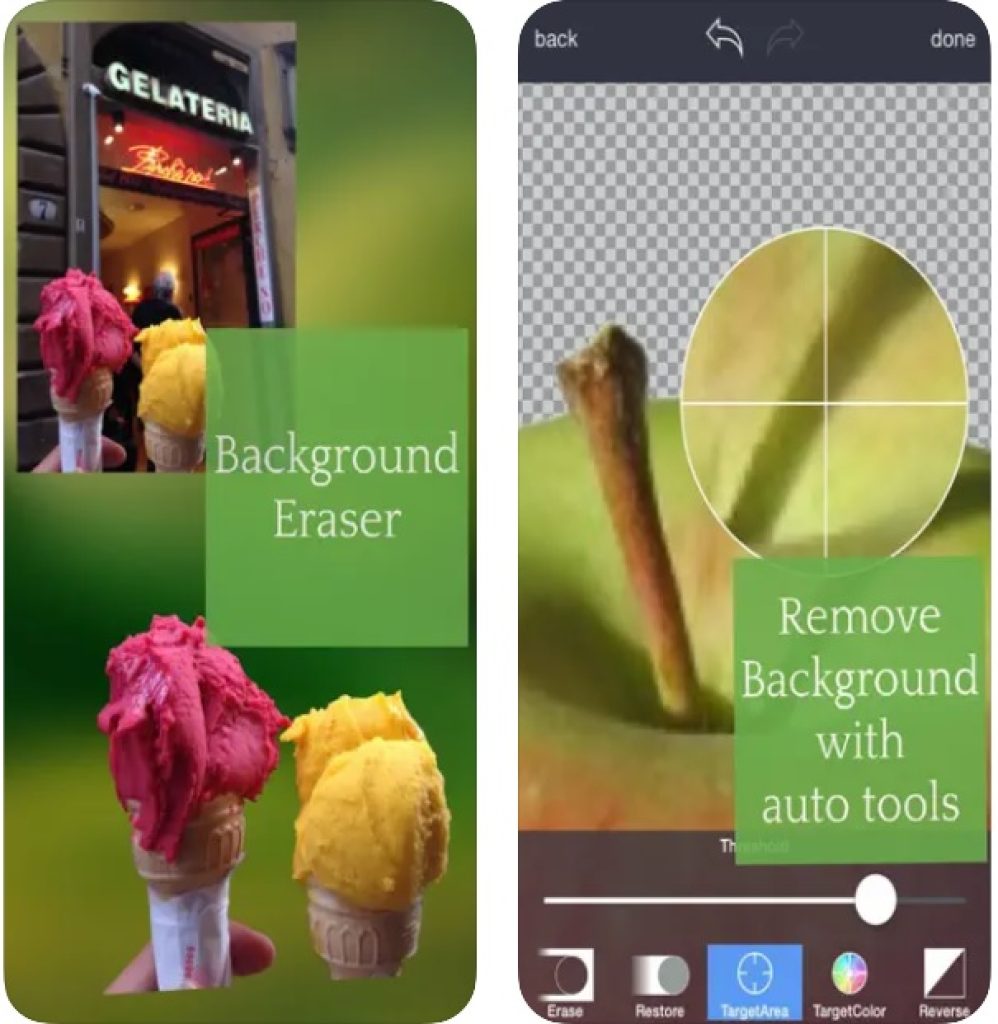 You may also like: 11 Best apps to change eye color (Android & iOS)
Slick – Auto Background Changer & Eraser
This tool supports numerous utilities, which in turn are designed to perform various operations with photos of different formats. The most important tool is auto-erasing, which performs the function of erasing certain image elements based on level, color, or pixel if there are similar colors in the background.
It should be noted that this app has in its arsenal such a tool as "displacement," the main purpose of which is to manually wash unnecessary parts.
For more accurate editing, there is an element such as «scale», which allows you to approximate the image and make a filigree cut.
The possibility of changing the color and type of the brush also deserves attention: it can be a circular, square, oval, rhombus, or otherwise at your discretion.
This feature comes complete with another utility called «extraction», which can highlight a closed loop in which it is formatted directly in the picture.

It should be noted that there is such an important tool as handling errors of various types, as well as restoring remote areas.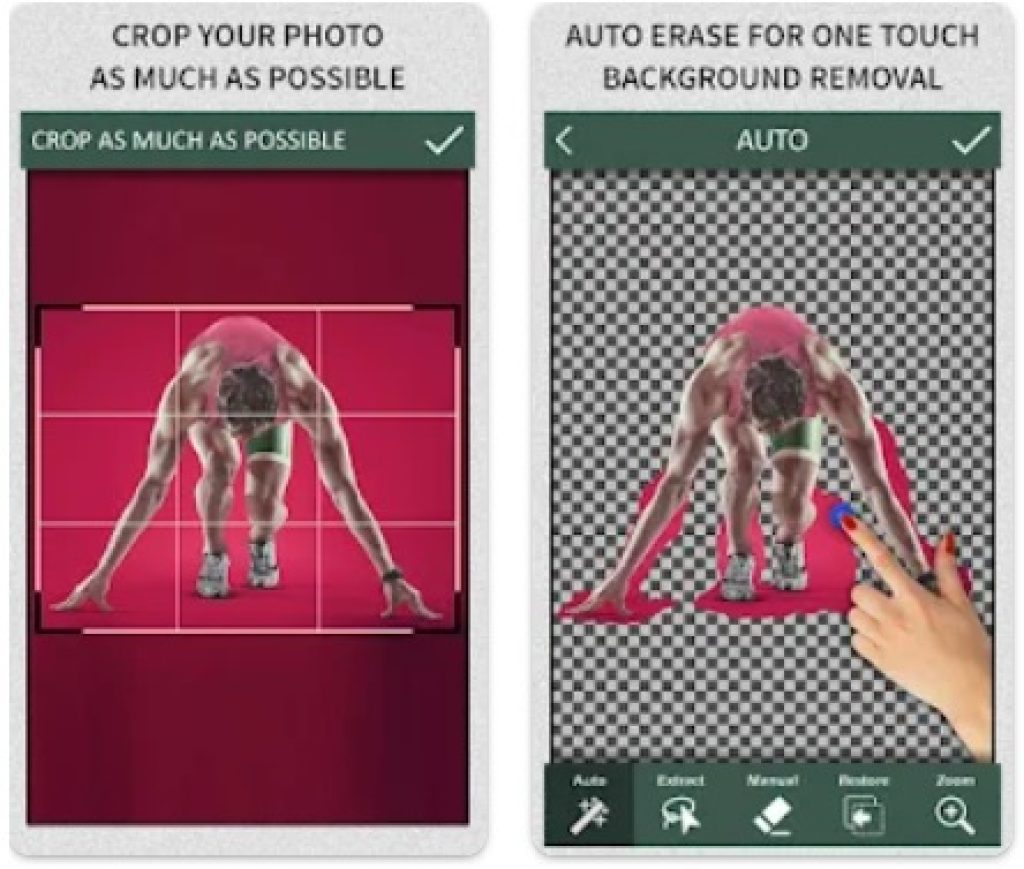 Background Remover
If you are tired of editing your photo for each pixel, this app will save you from such a need and significantly save time on formatting.
As the most important function, we can call automatic selection of the central object, which allows you to work first with the main part, and then with all additions.
It should be noted that you do not have to manually select each object – the smart tool "selector" will do everything for you with an accuracy of a single pixel.
If it is desired, you can return the focus to the focal object and continue to format it throughout the editing area. The developers have provided a number of additional preset styles as a necessary option for improving the image and formatting the background itself.
When we are performing these actions, we can even combine two pictures into one and continue working with them.

It is possible to place additional graphic objects on the image, and with a good camera resolution, all imperfections will be removed from the file. Thus, this app has huge functionality that is easy and convenient to work with.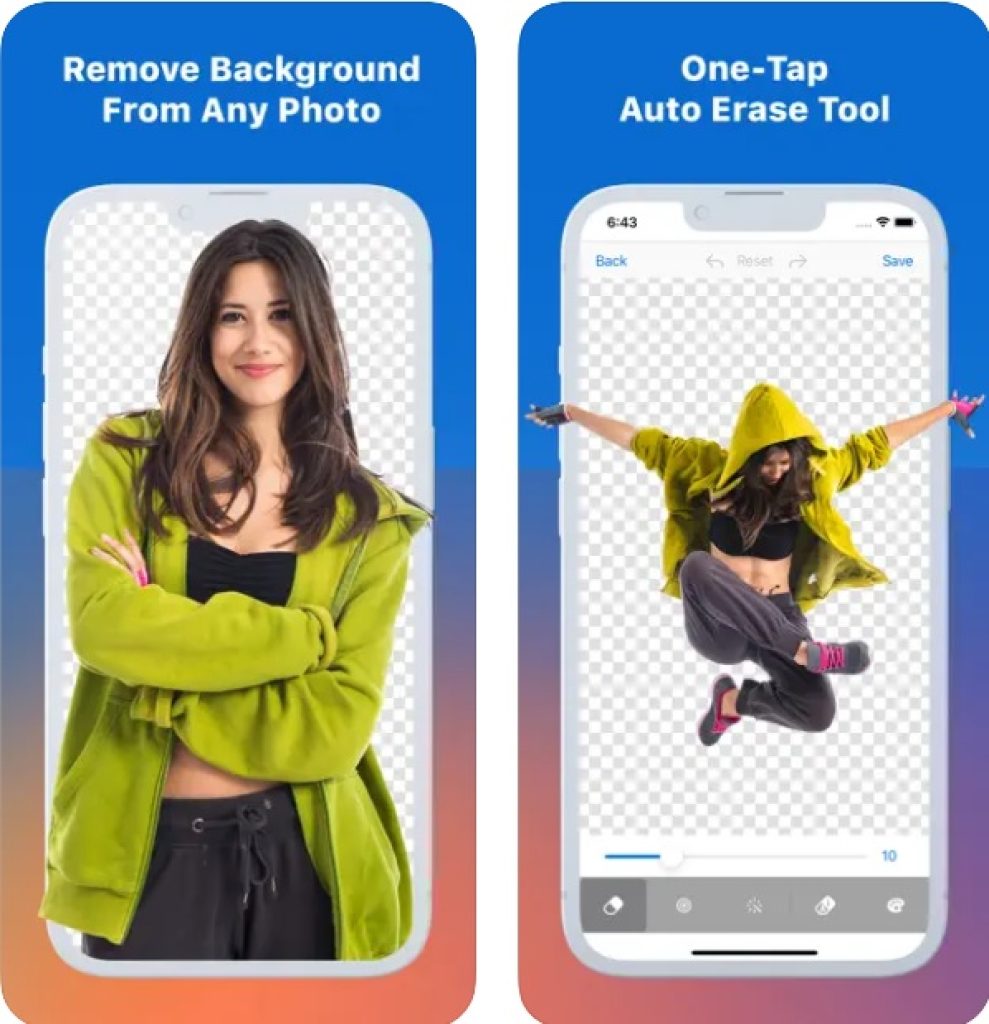 Cut Out, Cut Photo Background
This app will easily allow you to perform operations such as replacing, formatting, and destroying the background. With a few simple steps and an easy interface, you can lightly edit the background of your photo.

Since this utility contains built-in artificial intelligence, formatting your photos goes to a different level: a smart picture processing system can do everything you need yourself; you just have to click on a couple of buttons and enjoy the process. You can share the editing results with your friends.
If you do not trust artificial intelligence, then you can implement the process completely manually because the functionality of this app allows you to do everything you need.
One of the brilliant features of such programs is various sets of stickers that can be "pasted" on a photo when editing it. An additional plus is auto-improvement, which will help remove all imperfections and make your creation perfect.
This tool has a large choice of backgrounds, so if you do not have ideas that can be put on the back foot, the app will offer you many solutions for this problem, such as a picture of a beach, hotel, or art museum, sunny shore, or something else of your choice.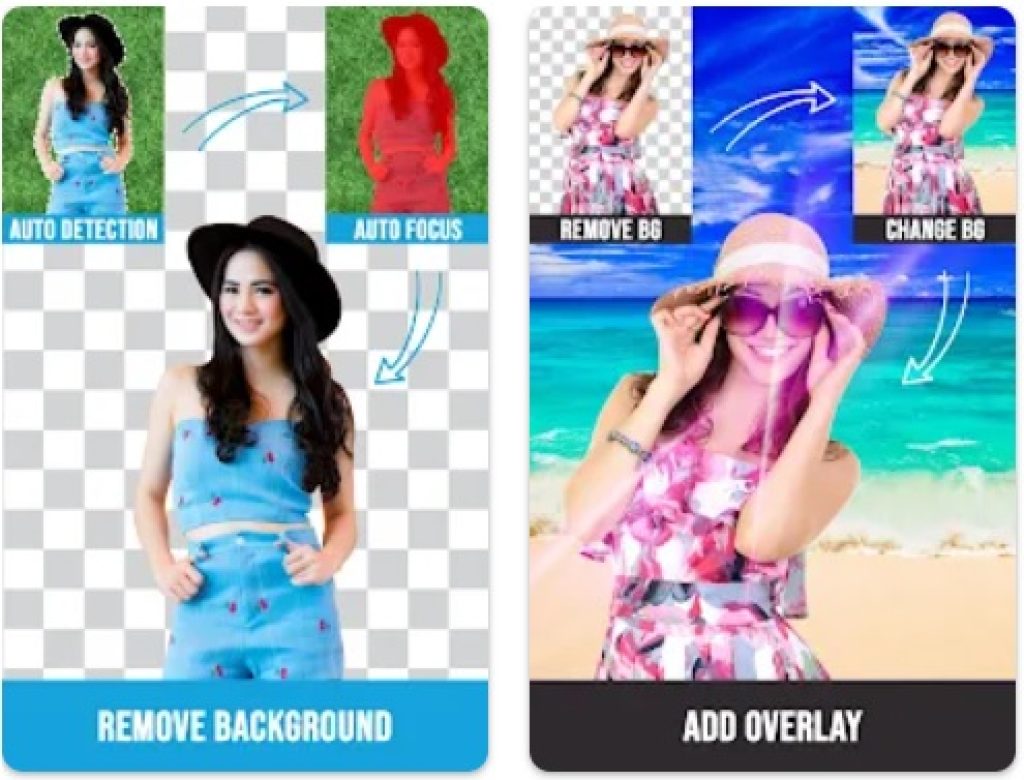 Photo Retouch- Object Removal
Admit it, you always wanted to remove someone or something from the photo? If this statement is true, then the solution to your problem is this app. When you use it, you will get your picture as you want it to be, and not anyone else.
One of the most important options of this utility is the possibility of changing different facial shapes, which will help to make your photo a few steps closer to ideal. Didn't it work out how your eyes or nose look in the photo? Yes, no problems!
A graphic enhancement and magic wand tool will help you fix these unfortunate misunderstandings. If you wish, you can add color to your old photos, as well as format the background in various colors or in their absence.
An important option is that this app can add animation to your background that many utilities of this type, unfortunately, do not.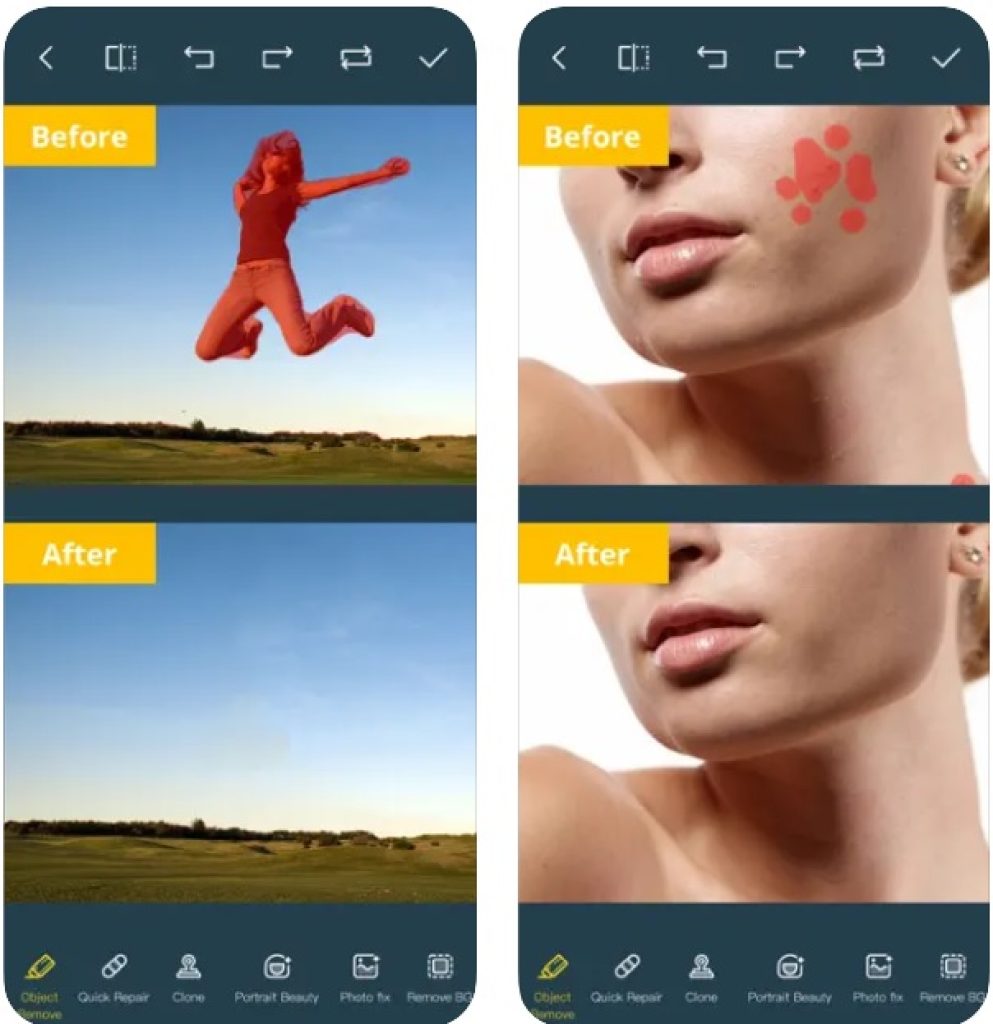 You may also like: 11 Best cut and paste photo apps for Android & iOS
Ultimate Background Eraser
This app allows you to change the background of absolutely any image quickly, clearly, and efficiently, while keeping all proportions in dynamics and without violating resolution.
Nothing complicated, just creativity, simplicity, and reliability in one bottle. The key feature of this utility is the automatic deletion of photos if you want to save time or manual, if you want to meticulously edit your graphic element using your own knowledge and skills.

If you accidentally made some mistake or deleted the image altogether, then the app will allow you to return everything to its original form using the "return" function.
It is important to note that you can share your work not only with friends and family but also post it on a special picture exchange platform provided by this app.