It's no secret that health is the part of our life which actually controls its fate. Nowadays the healthcare is not free and people have to pay considerable sums of money to take care of it.
Sometimes these prices are reasonable, sometimes not. Besides, in some countries, like the United States, the medical system is insanely expensive and people living there are just obliged to have health insurance.
You may also like: 11 Best medical ID apps for Android & iOS
Also when we are traveling we need insurance to protect us in emergency cases. Despite all these facts, many people are sure that getting health insurance is a long and arduous process. With the apps listed below, you will find out how to get your insurance fast and easily.
 myCigna
This is not exactly a health insurance app, or, being more precise, it does include the manager of your health insurance, but in fact, myCigna is a multifunction medical ID app. Here you will find a special manager for all of your ID cards. Using that manager, you can quickly view all your ID cards.
You can also form your claims right in the app and it will store and save all the history of your requests. What is more, you can even create the group claims right in the app. Plus, while shopping for medical supplements, you can check and compare the prices of more than 60 thousand pharmacies across the US.
And obviously, with this app, you will always be able to review and have an access to yourCigna insurance. You can book the appointments to the doctors via the app as well.
The myCigna app helps users keep track of their medical expenses and see how close they are to their yearly deductible or out-of-pocket maximum. It also allows customers to see claims for any family member for any care provided within the last two years.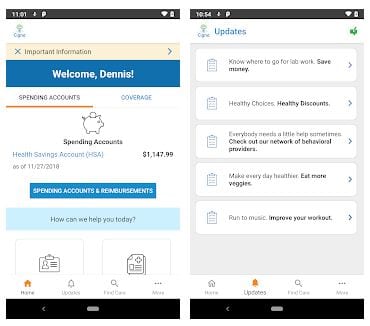 You may also like: 11 Best symptom checker apps for Android & iOS
Cigna Health Benefits
You never know what is going to happen in your life and with your health, which is, by the way, one of the essential elements of it. This app can provide you with insurance for any life cases. You will get complete access to all you need wherever you are.
However, keep in mind that in order to use this app, you must be enrolled in coverage from Cigna's Health Benefits unit. Cigna app will help you to find a doctor, hospital, or facility and use them when you need it.
You can also download or send an electronic version of your membership card for you or a family member. Moreover, you're in control of each of your claims and you can monitor their status.
You can also call on the hotline of the company by just clicking on the phone number in the app. Even though using apps like these may seem difficult, here you will discover a friendly interface that is easy to use.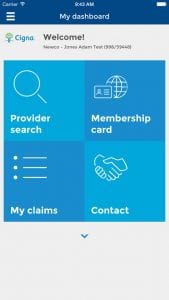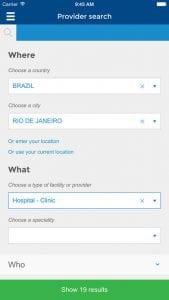 Health4Me
With this app, you will cover literally everything when it comes to your health. The goal of this app is to help you to save more time and get more productive results. It doesn't matter what exactly you need to do – to buy insurance or visit your local physician – the app contains all the functions.
Discover the nearest doctor in your area. Get the claim done. Find a pharmacy. Moreover, you can check your medical spending accounts with this app. All your information will stay absolutely confidential.
Tools like myHealthcare Cost Estimator can make your health care options easier by comparing procedure, provider, price, and place. You can find out the drug costs and view and share your member health plan ID card.
You can compare different medication prices and then make the best choice. Besides, you can refill your prescriptions, or check the status of refills and renewals. With this app, the information about your health will stay with you 24/7.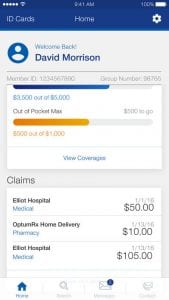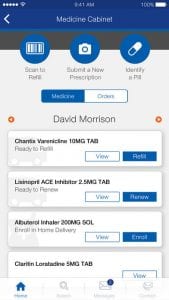 You may also like: 7 Best medical apps for patients (Android & iOS)
nib Health Insurance
Australians can use the Nib app to ensure their health. The principle of this organization is that health insurance should be clear and simple for everyone, no matter where they are. The app looks like a standard service with tabs on the left side of the screen that can be opened by tapping. To use it, you need to be a registered user.
With the app, getting insurance has become incredibly easy – almost as easy as ordering a thing from an online store. You can update your personal data on your mobile phone, apply or see what payments and benefits are due to you
If necessary, the nearest nib centers are also available, in particular, ophthalmic clinics, dental clinics, and hospitals that cooperate with the company. In general, the nib Health Insurance application makes it easier for you to use your insurance and also makes it easier for you to create any applications and obtain information about your documents.
You may also like: 9 Best medical records apps for emergency cases
Care Health
This company was formerly known as Religare Health Insurance Company. Now you can find it under this name – but it has kept all its prominent features.
For those who are not familiar with this health insurance – it is a specialized Health Insurer offering health insurance services to employees of corporates, individual customers and for financial inclusion as well. The app helps to book the appointments to the doctors and manage your medical bills.
The main tagline of this company is the client-centricity, so the app is made extremely convenient in order to satifsy all the consumers' needs. You will find that the interface of the app is user firnedly and easy to manage. Lots of functions are semi-automatic, and this factor is important in the elaborate burocracy app.
What is even better, in this app you will get your own personal consultant. International travel insurance can be acquired in the app as well in a few minutes.