Modern technologies are developing every day and allow us to use more ways to entertain. One of the interesting features of smartphones is the creation of personalized emoji.
They can be used in messages or various social networks. This largely makes communication the most interesting. Besides, with their help, you can better convey your emotions or express feelings.
The first application in this area was Bitmoji. But, despite all its advantages, it does not have all the useful functions for such purposes.
You may also like: 12 Free Apps to Add Your Face to a GIF (Android & iOS)
In this list, you will find various applications for creating personal emoji. They contain more interesting features than the familiar Bitmoji application.
Genies The Digital Human Race
Turn your face into an animated sticker with the Genies The Digital Human Race application.
The program has artificial intelligence that turns your self into interesting emoji. It uses innovations such as neural networks and machine learning. With this, you can choose between a huge number of hairstyles, face shapes, eye color, and much more.
How to create your personal emoji? First, you need to choose a standard template. You can then select facial features such as the shape of the nose, lips, and eyes. You can also choose skin tone, eye color, and hair.
If you do not want to manually select all the parameters, the program can do it for you. Just put your photo on the emoji template. Then you will get a finished animated sticker with your face. But, the photo must be of very good quality and contain only your face.
Once you have finished creating your personal emoji, you can click the "save" button. After saving, you can share Emoji with your friends.
The process of creating emoji in this application is very simple. In addition to manual settings, you can also choose to automatically create emoji. To do this, you need to take a picture of yourself and start the process.
The application will select the shape of the face, skin tone, eye and hair color, and much more. All parameters will be based on your unique appearance. Once the process is complete, you can make some changes. Also, the application Genies The Digital Human Race has additions to the standard set of stickers on your phone.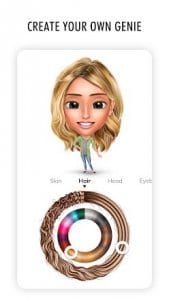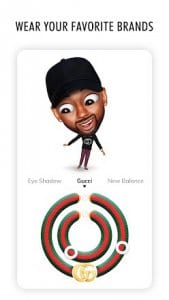 You can also check: 7 Best flirty dirty emoji apps for Android & iOS
Bobble Keyboard Fonts, GIF, Stickers & Themes
Bobble Keyboard Fonts, GIF, Stickers & Themes is a unique application for creating animated stickers based on your face. To create such an emoji application uses artificial intelligence and neural networks. To do this, an unusual engine is built into the application. It will allow you to create your personal sticker from ready-made templates.
Choose the right image from the huge collection. You can also use the camera to create your selfie or select it from the camera of your mobile device. To create a photo using the front camera of the phone.
In the special camera of the application, you will see a markup within which you need to place your face. This greatly simplifies the creation of your animated stickers.
If you select a photo from the gallery, the application recognizes your face in the image. It is desirable that the face is located in the middle of the photo and it was clearly visible. Also on the photo should not be strangers. Then the application Bobble Keyboard Fonts, GIF, Stickers & Themes generates for you a personal emoji.
It also gives you a set of different variations. You can generate emoji an unlimited number of times. Ready emoji can be saved in the application gallery or export them to your phone gallery.
Emoji can also be used in any messengers. Besides, you can send a sticker to your friend directly from the application. To do this, you will need an email or account in any social network. This is a free application without built-in advertising. Create personal emoji and surprise your friends with them.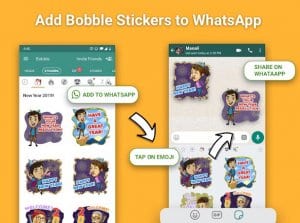 Mirror: My Emoji Face Avatar
This app is a little bit different in terms that it creates an avatar not in 3D but rather in the cartoon-like graphics, but that looks cool as well. What you need to do is to only upload your picture into the app and create a beautiful icon with your face.
There are more 1500 stickers and personal emojis for your smartphone in your app. After you make your avatar with Mirror you will be able to use it on each messenger or social network and surprise your friends.
You can even create the whole collection of the emojis in this app based on your face or on faces of your friends and enjoy using them while texting on Whats App or Facebook.
After you upload your photo to the app, you can choose the style in which you want your avatar would be made – original or anime. The first one is more plain and calm, anime is brighter and eye-popping, and less natural.
Moreover, you can not only create a simple avatar on the white background for your messengers, but you can also create the whole sets of stickers with various backgrounds and decorations and even writings.
For that, you just need to use the stickers that you already have in the app. When you are creating your avatar, you are able to choose the hair color, the eye color, the haircut, the clothes, and even the makeup. In other words, the detailed customization is encouraged.
After you created your avatar you can share it on social media right from the app. The only thing is the free trial here is available only for the first 3 days of usage and then the subscription costs $9.99/month.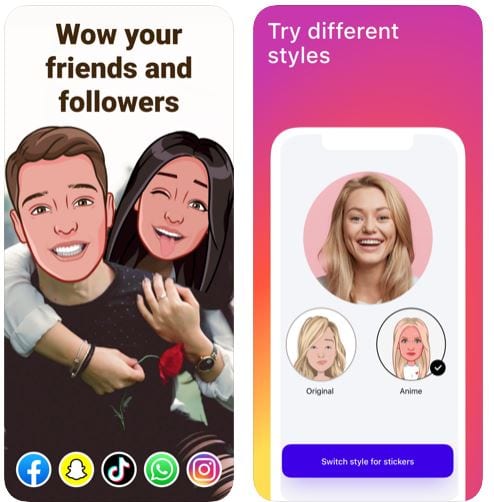 Chudo
Personal emoji are a copy of your face and repeat your movements. With the help of the application Chudo, you can choose the appropriate parameters. Choose skin color, facial features, and hairstyles that are like yours. You can also wear glasses or any other jewelry.
Send animated emoji to your friends. This can be done through messages or any social network. You can also use them during a video call. New animoji has been added to the application, which is not in the standard set of your mobile device.
When you first start the application, you will see a screen with new parameters. They need to be used to create your personal emoji.
To use all the features of the application Chudo, you need to perform a few simple steps. Find the conversation icon and click on it. It is located at the bottom of the screen. You will see a list of contacts.
The application will automatically download all contacts from your standard program. Choose the friend you want to send your personal emoji to. In the messages, you need to select the desired emoji.
Then you can open the camera to create your animated sticker based on the finished template. Two circles will appear on the screen, with your eyes in the center. Your face should be completely in the chamber. Lighting should also be good enough. So the app Chudo can better recognize you.
Appropriately, it will better convey all your facial features. If these rules are violated, the application will not be able to see all your features. After creating a photo, you will receive a set of different emoji. They will be based on your face. During this process, you will be accompanied by various tips.
This is a completely free application. Here you will find a huge number of interesting features. A nice addition is the complete lack of advertising.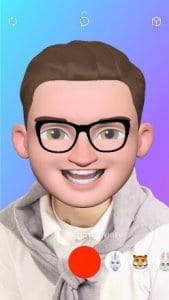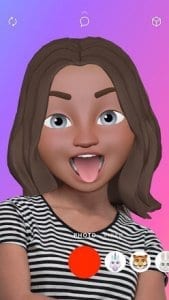 You may also like: 11 Free Face Mask Apps for Android & iOS
Emojily – Create Your Emoji
Emojily – Create Your Emoji is an application with which you can create a funny animated sticker using your face. Use it in a variety of situations.
Here you will find the masses of amusing pictures. They are divided into five categories of moods. In these images, you will see your emoji with a sign "I love you!", Or, for example, in the form of a shark.
The application Emojily – Create Your Emoji allows you to send a lot of funny images to your friends. You can share your favorite emoji through Whatsapp or any other messaging app. This program uses neural network algorithms. It recognizes your face and creates an animated sticker. You have the opportunity to edit your Emoji.
Change gender, hair, eyes, nose, add a beard, glasses, and other objects. After that, based on the finished image, the application generates a set of stickers. It can be used in any instant messenger.
The quality of recognition depends on a set of user photos and appearance parameters. The application Emojily – Create Your Emoji can correlate a real photo with the existing database of templates. It even can distinguish small features such as scars and moles.
Emoji has its own three-dimensional animation. By clicking on the screen of your phone, you can project a three-dimensional image on yourself. After creating the animation, you can send it to a friend or publish it on any social network.
This is a free application that has useful functionality. with it, you can surprise your friends with new animated emoji.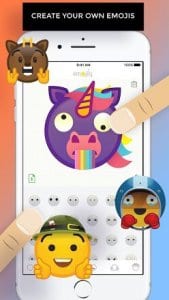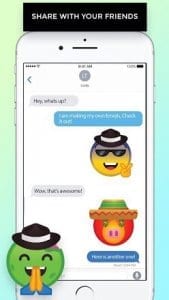 Myidol
This is one of the most popular emoji, stickers, and avatar maker app ever. Myidol was developed in Asia, so it includes the features of manga-like characters along with the kawaii style of avatars and details.
One of the advantages of Myidol that helps it to stand out from other apps is the fact that it was used and recommended by the most famous world celebrities, such as Lady Gaga Miley Cyrus, Zara Larsson, Lily-Rose, Ellen DeGeneres, and many more.
The app works in a more simple way than other ones, but not in the bad sense – it means that its technology of face recognition and converting a picture into a 3D image is more advanced. Myidol is really capable of turning your face into the 3D avatar in seconds after you upload it.
You can make your avatar here completely authentic and unique – you can choose the skin color, the hair color, and the haircut, the eye color, and even the mustache.
What is more, you can pick up the clothes and accessories in order to make the image of this avatar more similar to the real you. In other words, the possibilities for customization are wide.
The funniest part is generating emojis, making profile pictures, and directing your own MV using that unique avatar. Share the little animated version of you with all your friends. Now you are able to film stories in the animated version of you!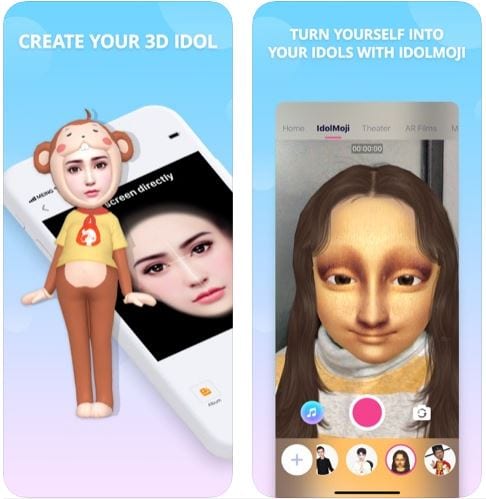 YourMoji – Custom Emoji Editor
Create your personal emoji with an unusual application YourMoji – Custom Emoji Editor. Here you can customize settings such as facial features, hair, clothes, and more.
Also, the application has an interesting built-in game. Here you can create a home for your character with a variety of stylish items. To use all the features of the application you need to register.
Here you need to enter a name and email. Then you can chat with your friends and visit them at home. You can also create joint stickers using the game camera.
Attached you will find different skin tones, eye and hair colors, hairstyles, and more. Also here you will find many variations of different clothes. This will help you create your own style.
Besides, in this application, you can create animated greetings using your personal sticker. Use the microphone of your phone when creating a video to record your voice.
You can open the front camera of your mobile device and try on the image of emoji. Then you can take a photo. The application YourMoji – Custom Emoji Editor exports emoji to special stickers that you can then send to friends. This can be done using any messenger or social network.
Express your emotions with special animations. You can also share photos and videos with your friends, who have a profile in this application. For you to choose from a large variety of backgrounds and poses.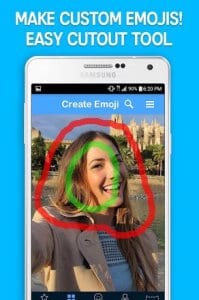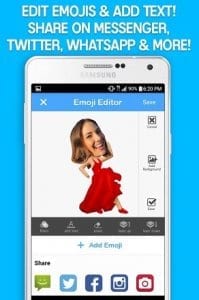 SuperMii – Make Comic Sticker
With the SuperMii – Make Comic Sticker application, you can create new emoji based on your looks. Emoji created on the basis of real photos. The application offers a large set of customizable images. Here you can change the background, hairstyle, head shape, and much more.
The application allows you to create animated stickers with many characters. It gives you a series of personal emoji: smiling, laughing, sad, loving, and many others. You can choose the right style for your emoticon. All emoticons and stickers are animated.
The first thing you need to do is decide which Emoji you need to create: male, female, or for a couple. In the latter case, you can choose a boy-girl, girl-girl, or boy-boy.
To create an emoji, you need to take a picture on the front camera or select a ready photo from the gallery. The application SuperMii – Make Comic Sticker will create a basic emoji that will be very similar to you.
Then you will enter edit mode. Here you can adjust parameters such as the shape of the head, chin, and other facial features. Now choose your eye color, hair, and hairstyle.
With this program, you can also add a few other details, such as the position of the hands or clothing. This is a very fun application with which you can create emoji that look like you or your friends. Created Emoji can be saved to the memory of your mobile device. They can be shared with friends or used as the main photo in your profile.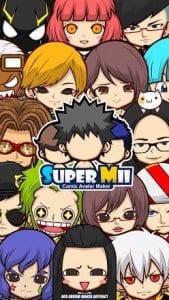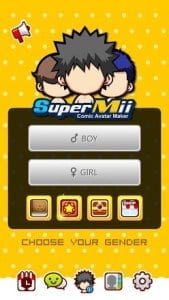 Check this: Best 7 emoji apps for iPhone & Android
MojiPop: Emoji Avatar Creator
If you are bored with monotonous smilies, you can create your own using the MojiPop: Emoji Avatar Creator application. The main feature of the application is that Emoji will have your face.
Choose any image that is most suitable for you. Try on a dress, a suit of a biker, a pirate, and much more. You can wink, smile, embarrass, or sob from the screen of your mobile device. You can make fun of your friends by sending them emoji with their faces.
All that is required to create a personal emoji is to choose a good photo. To create high-quality animation will need high-quality photography.
The application MojiPop: Emoji Avatar Creator will take over all the complex photo manipulations. It will find the face in the photo, identify the features, and create all the variants of emoji. A simple face photo with a few clicks turns into one of 12 animated characters.
Emoji can be sent via email, messages, or social networks. For special occasions, you can choose Emoji from holiday sets. So, you can originally congratulate your friend. Please note that an Internet connection is required to work with the application. The autonomous use of this program is not possible.
MojiPop: Emoji Avatar Creator is a simple and convenient application with which you can share real emotions. Thanks to the program a good mood will be provided.