My name is Daria Sauline and I am used to live in Germany, so I know German dating apps pretty well.
Here is the list of best dating apps in Germany to try in 2023:
ElitePartner
German dating apps are all about quality. The majority of the platforms and websites are paid, but it is worth it since you will have a high-quality database of candidates and many additional perks that will make the process of searching for a partner funnier and much less stressful.
ElitePartner is a good example to kick off with. It is said to be the leading site in the sphere of serious relationships.
What makes the difference is that the app's team checks every profile manually and chooses the candidates who only opt for long-term connections. People are sorted out with the help of a complete 20-minute personality test.
There's also a special focus on people that have a degree. Indeed, 70% of the users do have it, so we can observe rather an educated community. The service has a database of more than 3.8 million people.
ElitePartner helps its clients to find a perfect match. The platform offers such interesting solutions as Flirt Seminars, Single Coaching, and professional photo shootings.
The only struggle you may find while using the app is that it is specifically in German. But it doesn't mean that you won't find an English-speaking candidate. However, we are looking for a match in Germany, so it's no surprise that some German is required, isn't it?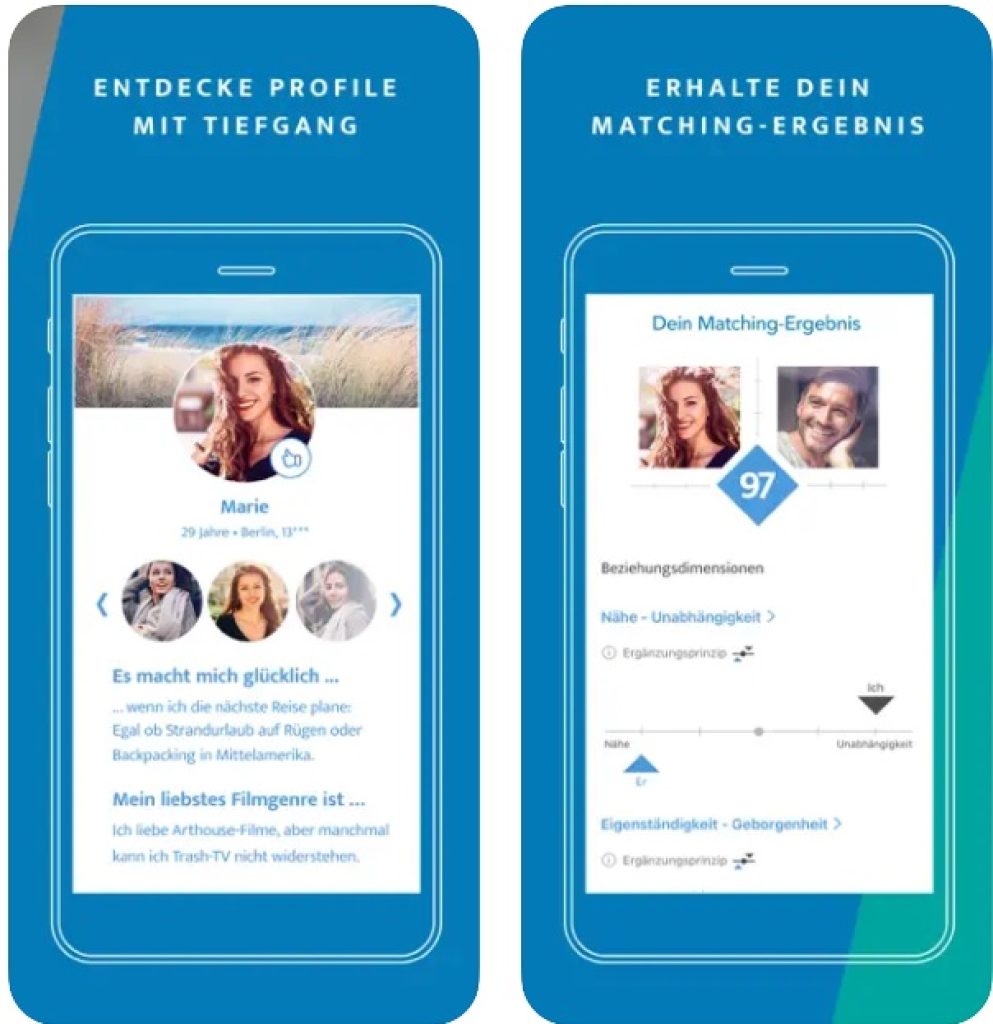 You may also like: 11 Best Canada Dating Apps (Android & iOS)
Parship
If to judge by popularity, Parship takes the lead in Germany thanks to an elaborate marketing strategy. The platform states that with the help of Parship you can fall in love and find a match in just eleven minutes!
As the ElitePartner, this app focuses mostly on serious and committed relationships. One more feature similar to those that previous services have is that Parship also is focused on people with an academic degree who are currently employed and are proficient in their sphere.
To sign up and start finding a match, you will have to fill in a personality survey that lasts 30 minutes and contains 80 questions. This approach along with an ID-checking system prevents fakes from being accepted and guarantees that you will meet only the best candidates.
Parship took a survey in 2021 and found out that 94% of couples made in Parship are at least satisfied with how things are going. Such a score is the result of a crew of experienced professionals, so the app requires paid premium status to unlock the majority of the features, including pictures.
There are different premium plans. You can opt for 6, 12, or 24 months membership paying €449,40, €790,80, and €1.101,60 accordingly.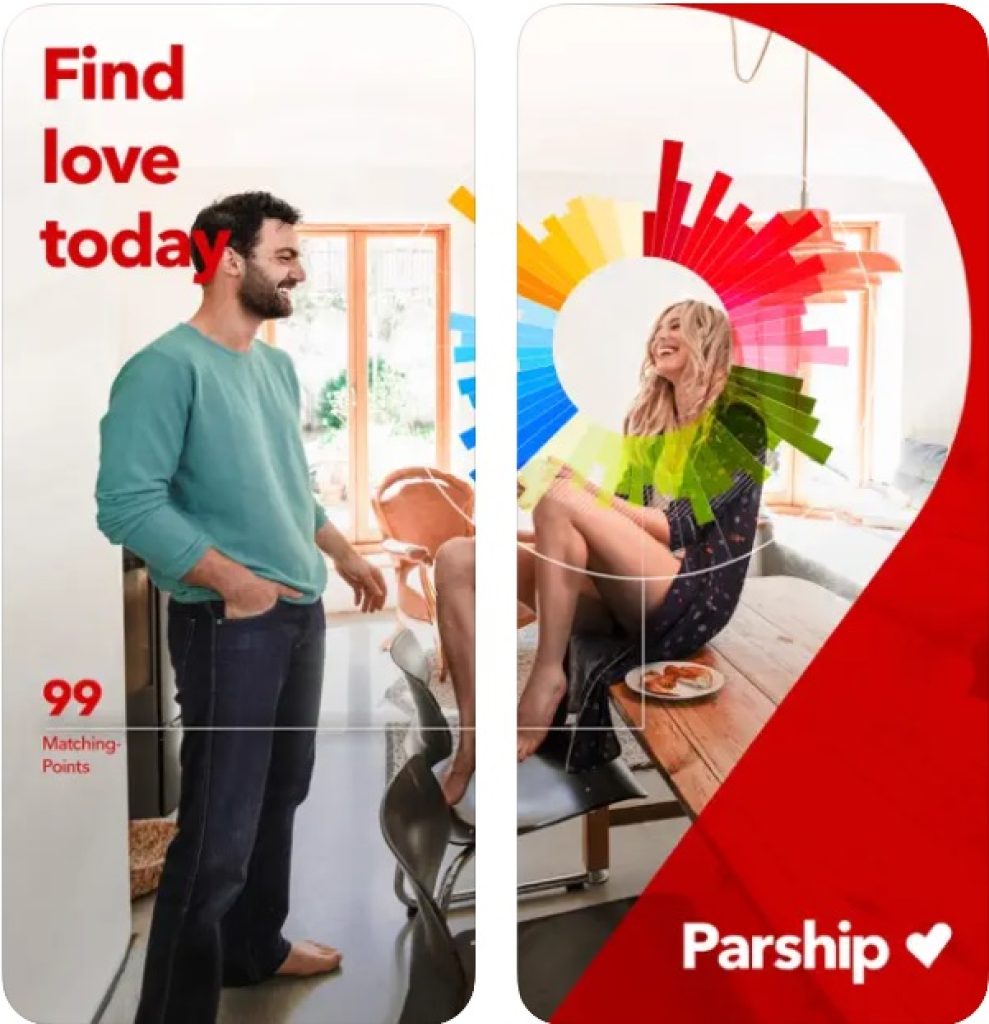 LoveScout24
LoveScout24 is one of the biggest dating services in Germany since it has more than six million members across the country. This app broadens the targets it focuses on since it chooses not only long-length relationships but also casual flirting as its priorities.
The service has a website and two apps for you to dive into searching for your match online. To widen your experience and make it more varied, the creators of the platform added online events and seminars where you can feel a real party atmosphere and make the searching process much funnier.
If you have the opportunity to visit an offline event, never miss the chance to do so.
Visiting an event, either online or offline, is a good decision to kick off with LoveScout has no automatic suggestion for the candidates. Here there's no endless swipe-left-and-write thing where you can sort out people for hours. You have to start your active search yourself.
If you are not really into searching for matches yourself, you can opt for a required premium plan for one month only. Here you don't have to pay for a year or two at once, so you can change the app with time if you want. The service, like the majority of the rest, is provided in German.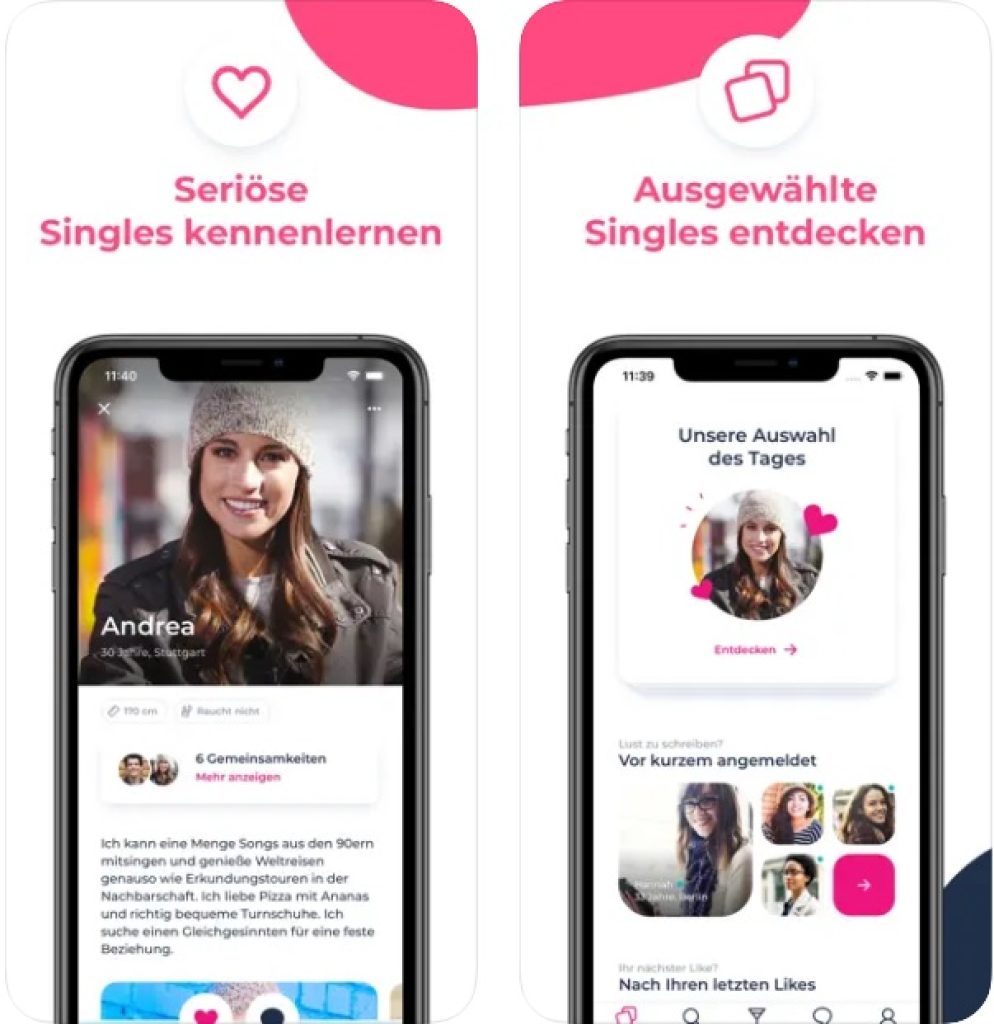 EDarling
The slogan of this platform is Intelligent Dating. Quite a catching one when thinking of the algorithm that is used for finding suitable partners. It is said that eDarling has a scientifically designed matching system to find a perfect partner for long-term connections.
To tell the truth, it's hard to say whether the method that this service uses is somehow different from the rest. The first step you follow is to take a test that lasts on average forty minutes. This detailed test is the basis of every profile of the website that is later checked manually.
As you can see, such a system is key to finding a suitable candidate according to your specific preferences. It's hard to tell if there's anything that scientific, but the users of the app are quite satisfied since now more than 2.6 million people in Europe actively use it.
If you by any chance have any struggles with German, you can opt for eDarling. It is a Europewide service that can connect you to English-speaking people too.
Like the majority of apps of the type, this one reveals the whole set of functions only if you have the Premium version.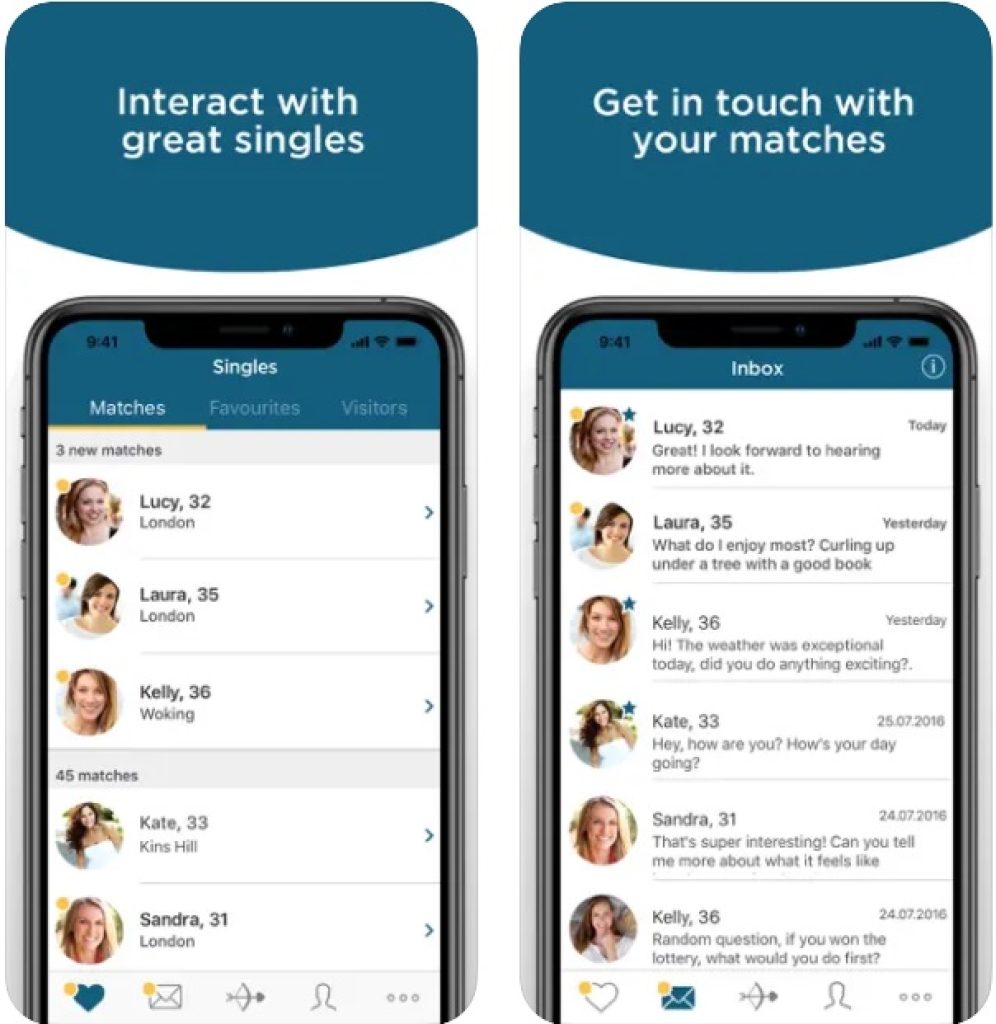 C-Date
C-Date is also one more major app in the dating industry in Germany. It has a database of 3.7 million people in Germany only and thirty-five more million people around the world.
The targets the service states to be taken as the main idea are completely different from the ones the previous apps on the list had. It says 'Liebt, wie ihr es wollt', which stands for 'Love as you want' and reflects the concept of the platform. C-Date lies in casual flirting, affairs, and occasional meetings.
There's no strict verification system and you don't have to spend half an hour to validate your account. However, the profiles are still checked manually via chat.
C-Date welcomes everybody to its active and lively community. Who it welcomes the most are women that are looking for a man since they can have a premium status for free. Those looking for somebody else have to pay, but still, less than men have to since the price for them is the highest.
For example, a man has to pay €179.70 for three months of C-Date while a woman not looking for a man has to pay €44.70. Premium plans are offered for three, six, and twelve months.
The service says 'Liebt, wie ihr es wollt', which stands for 'Love as you want'.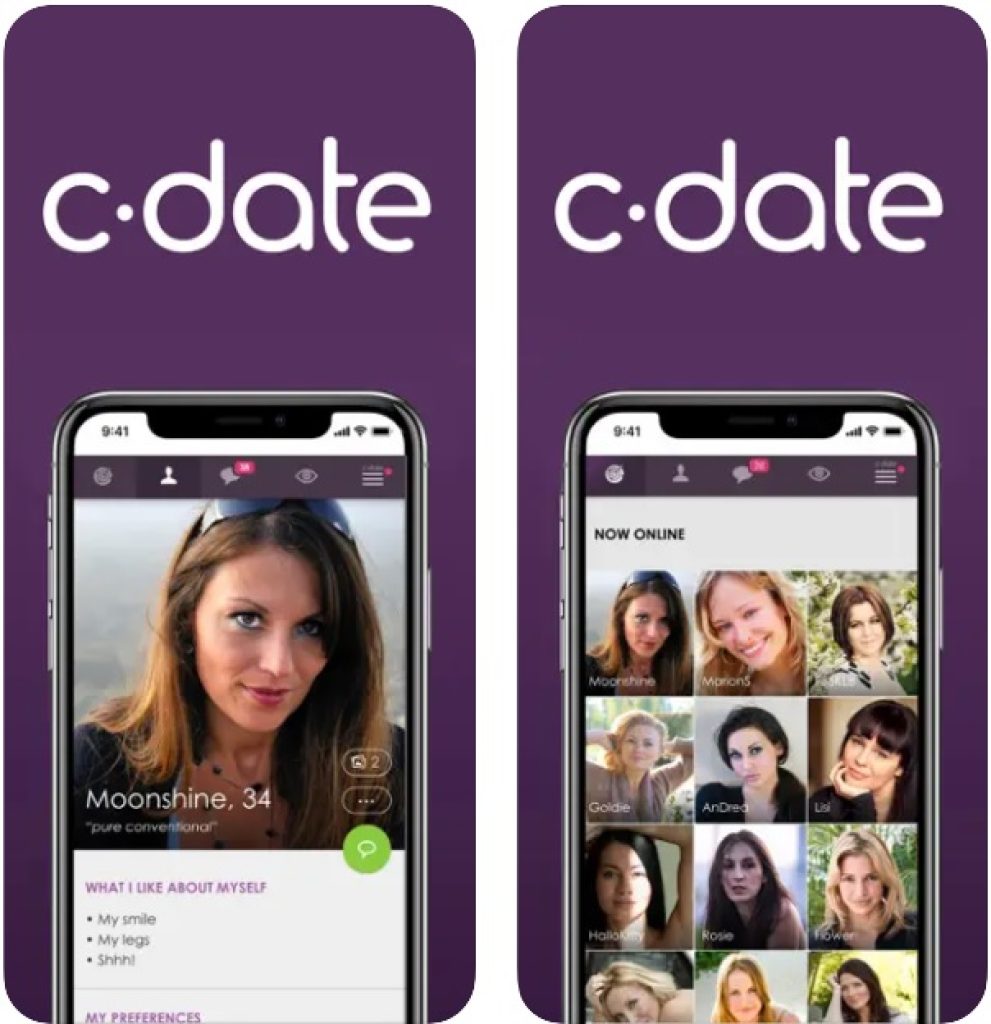 You may also like: 9 Best Dating Apps for Married People (Android & iOS)
NextLove
Let's move to an app with a more specific client base. NextLove is a name that speaks for itself – when you have had one love already and now you are moving on to the next one. It is a dating platform that focuses on single and divorced parents. More than five million people are using NextLove today.
The app is provided not only for German users but also for the whole of Europe so the main language used is English. You don't have to pay anything to start using the platform – just sign up and give it a try.
The only thing you will have to do is to verify your account with an SMS or via some other method you will choose. Every profile is verified manually via a top-tier anti-scam system.
As for the premium status, NextLove offers several plans that include more options for you to interact with other people. The payment options are quite flexible, starting with €19.99 each month.
You can opt for 3-month, 6-month, or 12-month plans. With Premium, you get access to such features as Go Invisible, Message Filter, and Anonymity filters.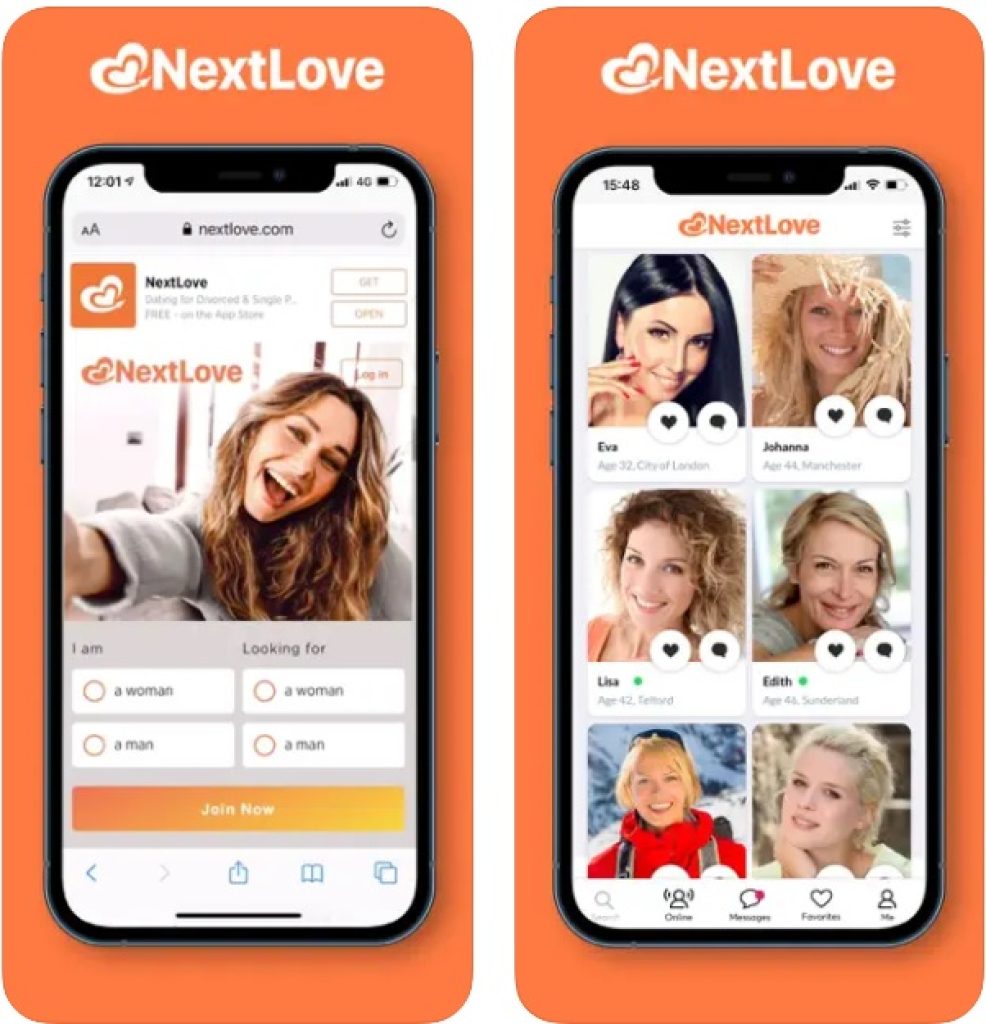 Tinder
This app hardly needs any introduction since it is the biggest worldwide dating community with more than sixty-six million people in 190 countries, including Germany.
If you are new to the topic of dating apps, then Tinder is quite a cornerstone of the market since it introduced the swiping scheme. Simply swipe right and wait until you get a match and go on a date. There are no language restrictions, so you can have a nice chat with a foreigner.
The swiping system conquered the world but brought some drawbacks along. People started to rely more on photos and pay less time to look through the person's bio. So, if you don't want to spend an hour filling in a form and only upload a few photos, Tinder is just for you.
You can easily use Tinder for free since the majority of functions are available. But, for example, if you want to see who swiped you right, you can opt for the Premium plan. You can choose either Tinder Plus or Tinder Gold.



Lovoo
The service that can compete with Tinder is Lovoo. It works quite the same using a swiping system that can help you to find a match. However, on Tinder, a match is everything since you can't contact a person and write a message to them if somebody hasn't swiped you back.
In Lovoo you can write to anybody you wish without swiping them or waiting for them to swipe you back. You can also look through the profiles without being seen with the help of the ghost mode.
Another useful feature is a Best Pick tool that suggests potential matches comparing the interests you both indicated in the profiles.
As for the database of subscribers, Lovoo nowadays has more than 28 million signed people worldwide. What is remarkable is that the service was once founded in Dresden. Maybe it's the reason why it is the most popular dating app in Germany that reigns over Badoo and even over Tinder.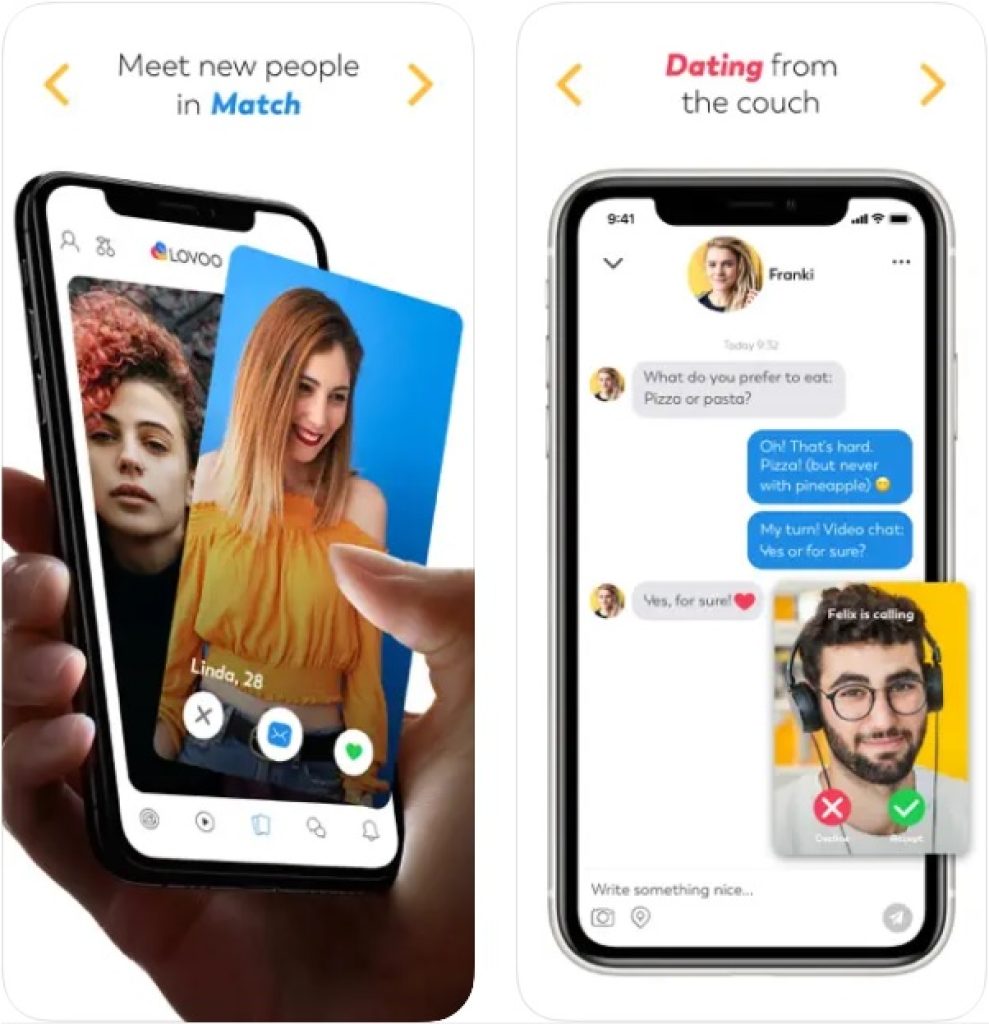 Badoo
As it has already been said, Badoo is one of the big three apps along with Lovoo and Tinder, the leading platforms in the world. It has absolutely the same searching method as the other two use.
What makes this one stand aside is that it filters users according to their location and interests to find you someone suitable who you can easily meet.
Badoo is more dedicated to offline experience than other apps. It shows you whether you have already met someone in real life and, if not, how can you do it by calculating the appropriate date and time.
The Premium plan doesn't make much difference here, so you can get everything you want from the platform for free. The free functions that the app has include video chat to connect with people you have a match with face to face or to phone people you already know and just talk to them.
If you decide to become Premium, you will have the opportunity to create a list of favorites, to see who liked your profile, and make your messages read first.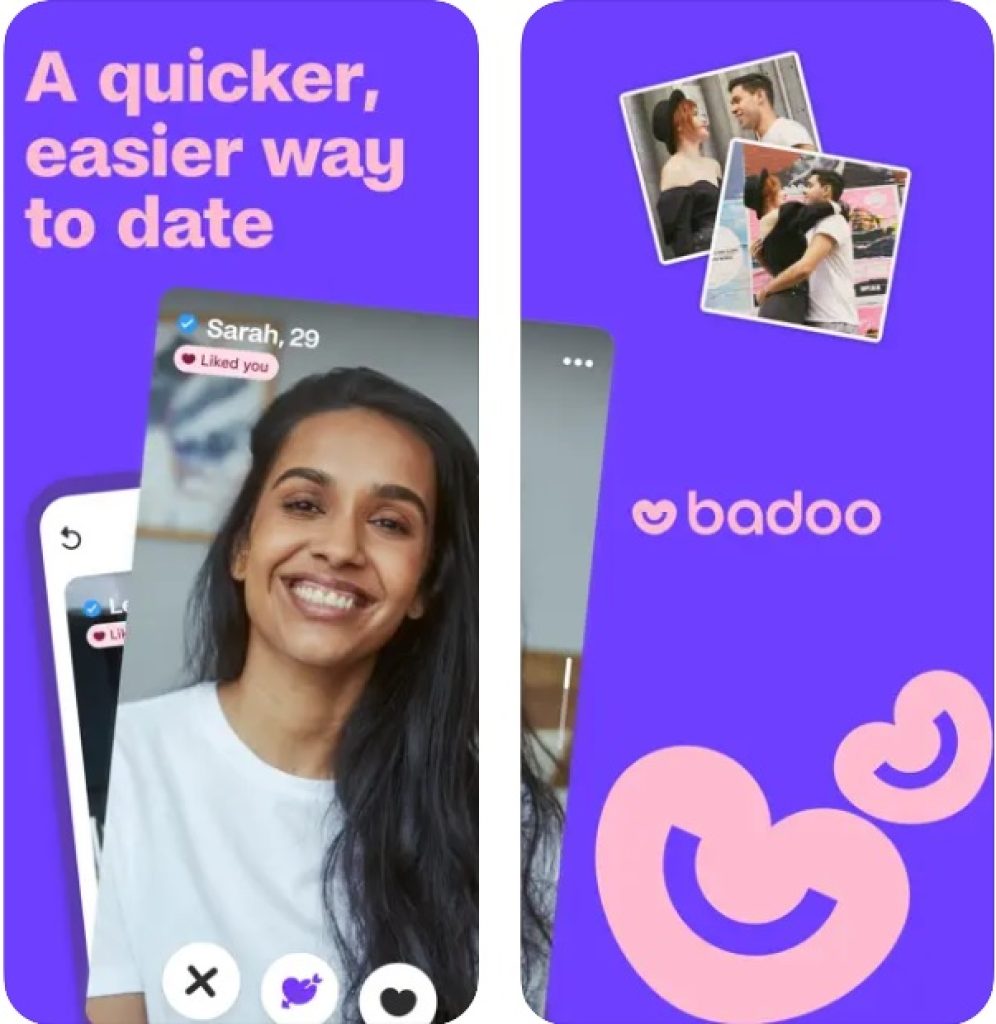 OkCupid
It's hard to make correct conclusions about people judging by their photos. The apps as Tinder or Badoo filter out thousands of potential candidates since the picture is the main searching criterion.
In OkCupid, you will see a picture and a short story of a person to get a better understanding of who one is. The service works like Instagram where you look through profiles through the posts and see some additional information in the stories.
The app browses people around you to find the most available match. It also gives you and your future dates some fun questions to answer and to see whether you have matching interests and traits of character.
OkCupid is paid with 1-month packages starting at $9.99. Paying this, as the creators say, you get an opportunity to build a meaningful connection with whomever you want.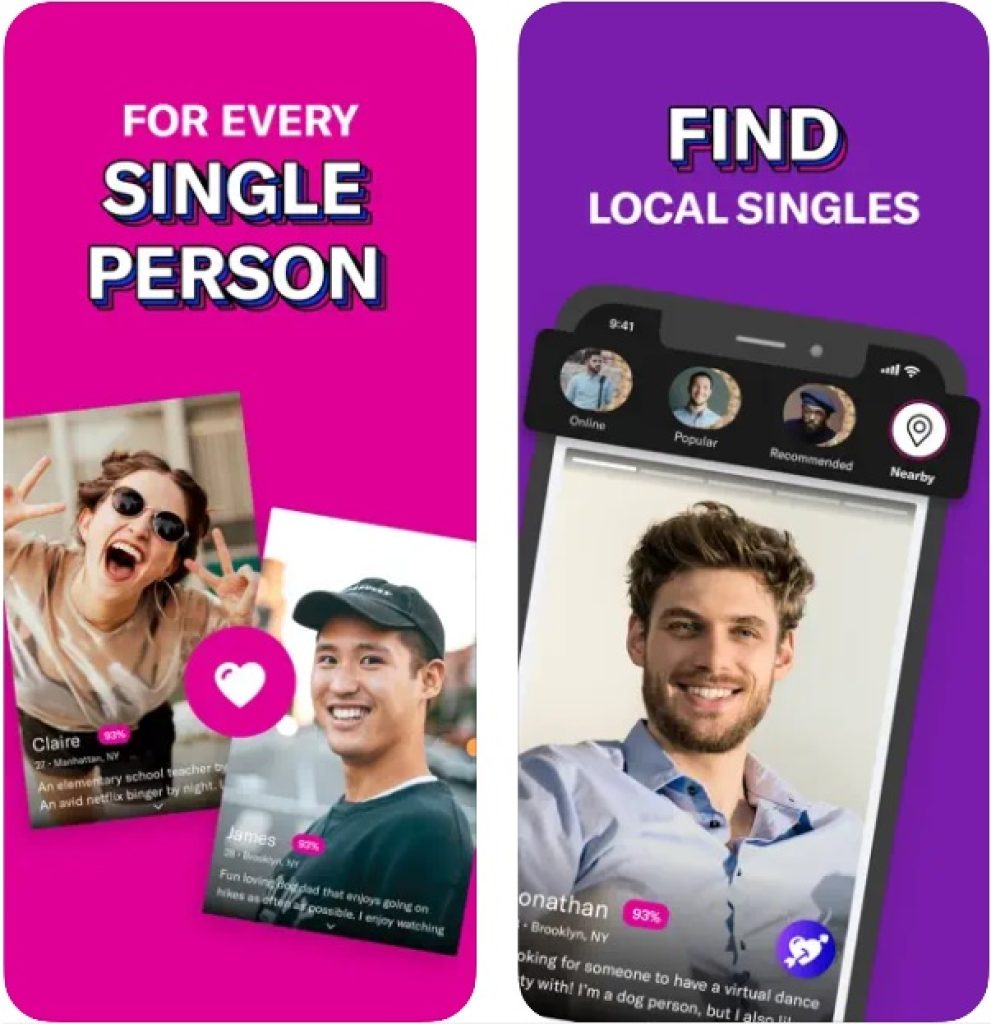 You may also like: 9 Free Secret Dating Apps for Android & iOS
Once
There's a popular belief that meeting your future match is not something regular. It is a unique experience that preferably has to happen once in a lifetime. It is not the result of a searching process but a kind of magic mystery. If you are a true romantic and believe in love at the first sight then you can try Once.
Once has quite an interesting system of finding matches. You don't have to look for them, swiping tons of pictures. A match is provided for you once a day at noon.
Then you will have twenty-four hours to like the person back. Since there's only one person a day, it makes you think more seriously and focus more on the candidate and contributes to a profound decision-making process.
The matches are found for you manually based on your emotional profile. For example, the system decides that you are a Pilot, meaning that you are guided in love more by your head than your heart. As a result, you get 24 hours of undivided attention from the ones who have a corresponding emotional profile.