Puzzle games are the things that can save you from absolute boredom and they can be very useful as well. Let's talk about a particular type of puzzle game that can improve your geometric skills.
There are lots of free hexagon puzzle games for Android and iOS that will sharpen up your mind. There various types of these games – from simple puzzles to the ones that aim you to merge numbers.
In case you're into mathematical puzzle games, check this article: 11 Best griddler puzzle games for Android & iOS
Here's the list of 12 best apps that category that worth your time. Have a look!
Block! Hexa Puzzle
Let's start with an app called Block! Hexa Puzzle. This is a hexagon conundrum game that aims to improve your geometric vision.
In this game, all the puzzle pieces are hexagonal so you will need all your jigsaw experience to make it work. The visual part of the game is bright and colorful and it's a pleasure to put all the pieces in places. You start with simple rounds that can be completed in seconds but it will get more difficult when you'll move forward in the game.
Wherein, each sound you've completed will spring you points that level up your abilities. Your aim in the game is to place all the pieces, so they could fit in the frame given to you. Thereto, you can't wheel the blocks.
When you'll move to more complex levels the grid frames will start to have blockades inside that you will need to avoid. Besides, the rounds don't have any time restrictions so you can take time overthinking where to put each brick.
You can also participate in daily challenges to earn more rewards. Plus, there are thousands of rounds in the game so you won't get through it fast.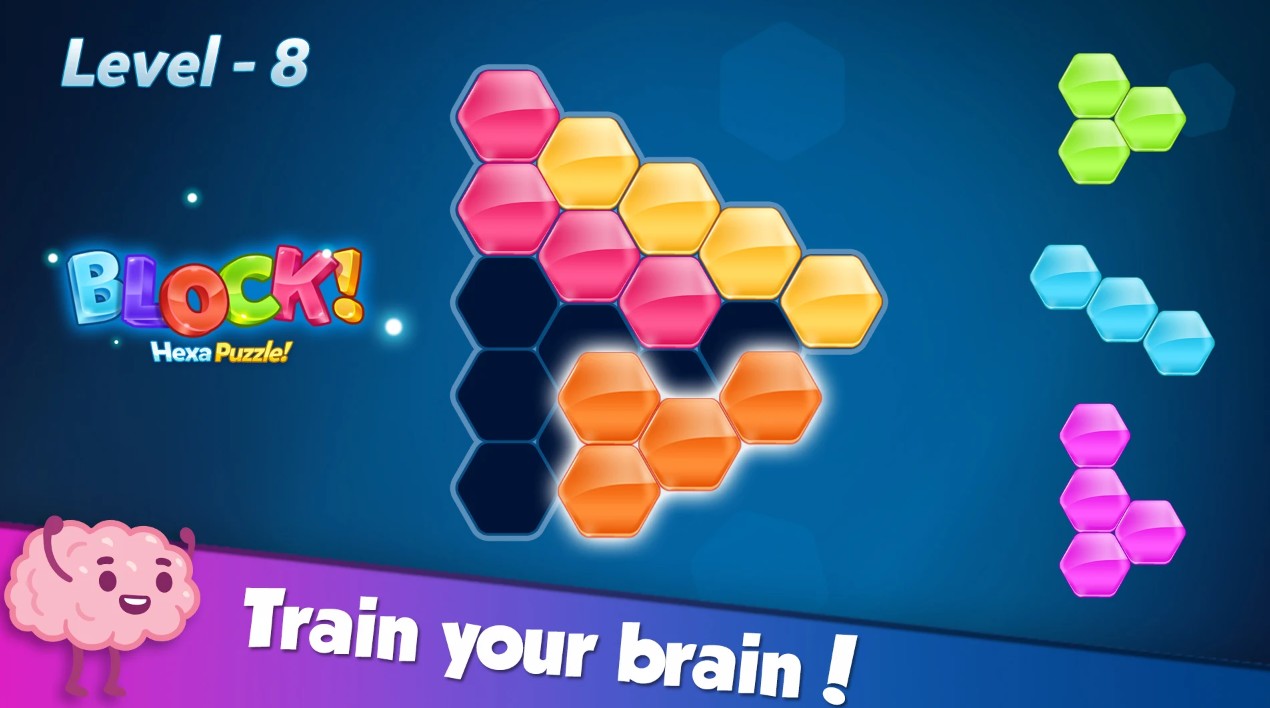 You may also check: 11 Best word association games for Android & iOS
Hex FRVR – Drag the Block in the Hexagonal Puzzle
The second app is called Hex FRVR and this a conundrum game that will sharpen up your mind.
Along with the other puzzle games, Hex FRVR also requires you to drag hexagonal blocks to fir them into the grid frame. You can also merge the blocks into lines or figures to be able to place them. Plus, you can match the puzzle pieces and drag them into three directions.
It needs to be said, you will get extra bonuses for combining the blocks so consider doing that. On top of that, this game runs on a whole new conception for the genre.
Thus, there are no levels, lives, or time borders in this game so you can fully enjoy the process. As for the levels, you just get a new grid frame each time you complete the previous one but there's no score on how many you've done just yet.
Herewith, you can adjust the difficulty level of the game whenever you want (you just need to finish the full grid before doing that). All the hexes are different in color and the game, in general, is quite bright but the color doesn't matter at all when it comes to placing the bricks.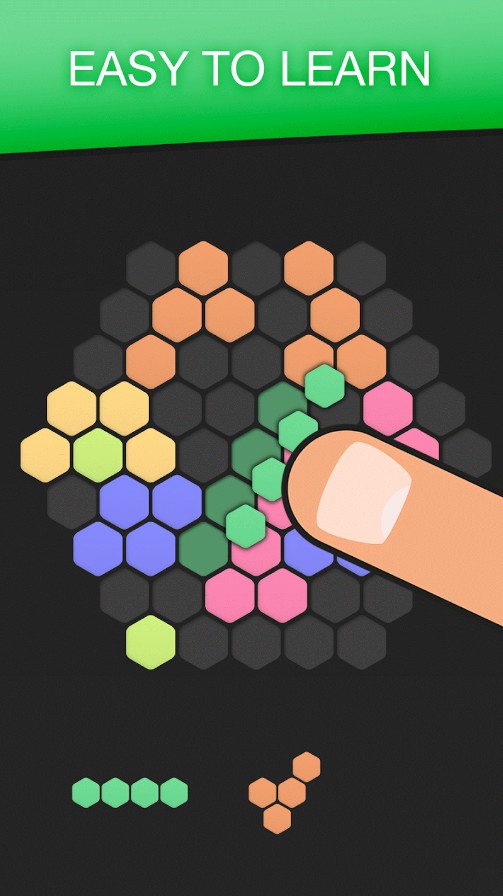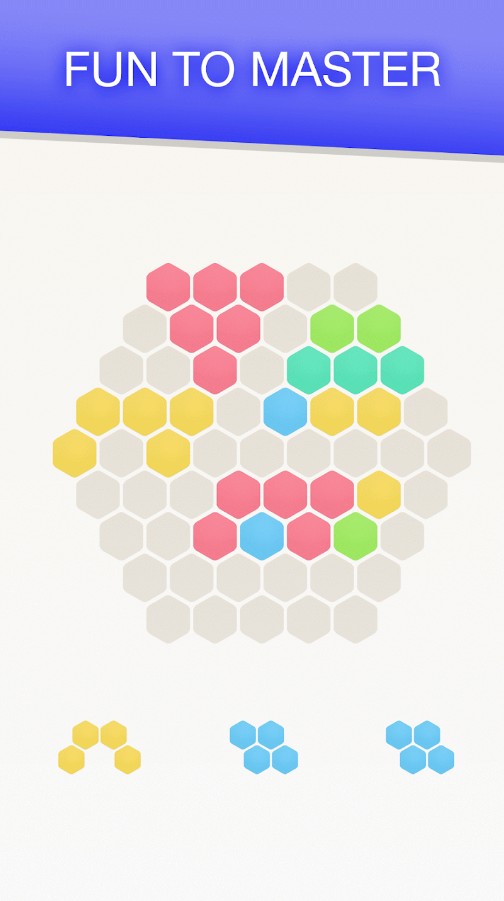 Hexa Block Quest
Hexa Block Quest is the conundrum game that requires you to pair the bricks of hexagonal shape.
Your main goal in this game is to place all the bars the way to fill in the grid frame that is given to you. Wherein, there should be no spaces between the bricks for the round to be marked as completed. All the puzzle pieces are vivid and there's a brick wall in the background while playing.
The difficulty of the rounds goes from easy to hard be ready to spend time filling up the pieces. There are more than two thousand rounds so you won't get through the game quickly.
Plus, the frames for each round are different from one another so you won't get bored. If you'll find yourself confused and having no clue about the next move you can use hints to move forward.
Herewith, the game doesn't need an Internet connection to run and you can even play it with the Airplane mode. You can also turn the time boundaries on or off according to your taste. Besides, the app is lightweight and can be downloaded in seconds.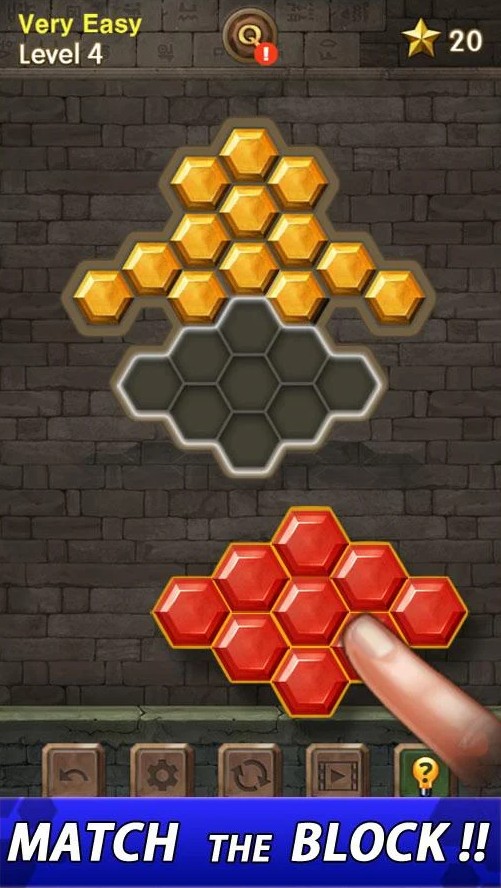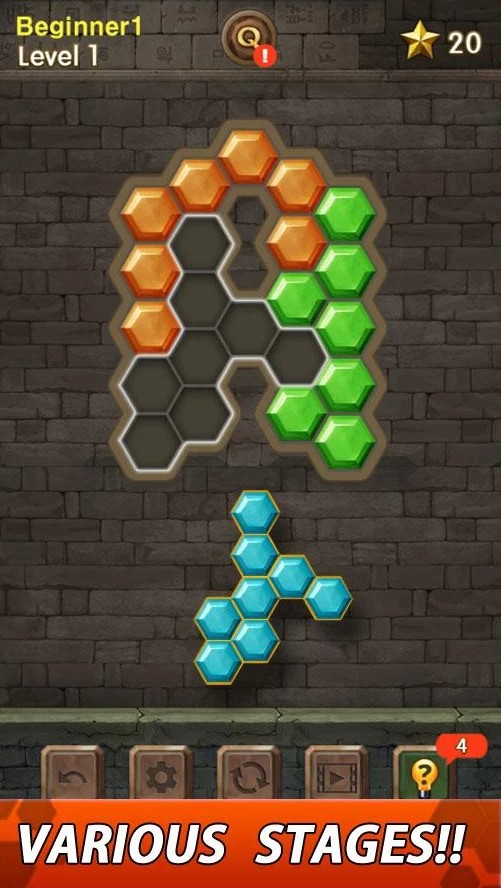 Super Hexagon
Super Hexagon is a minimal action conundrum game that was countlessly awarded for its outstanding design.
It needs to be said, it's quite a challenge to complete this game so don't expect it to be an easy experience. The game might look a bit odd when you'll look at the screenshots but don't rush to judge till you try it. The concept of the game is too special — you have the space of the hexagonal shape and you need to escape from there.
Herewith, the app puts you in the shape of a small arrow that tries to run into all the walls possible. And your purpose is to not make this happens. Thus, you can move the various blocks that stand on your way cause if you'll run into it the game will be over.
You also need to react fast cause the surrounding walls are constantly changing its shape and you need to lead the arrow into a tiny free space that's left. Besides, you need to consider that the arrow itself is unstoppably rotated which can also affect its route. Plus, with each time you push the arrow into free space, you'll move to the next level that is more complicated than a previous one.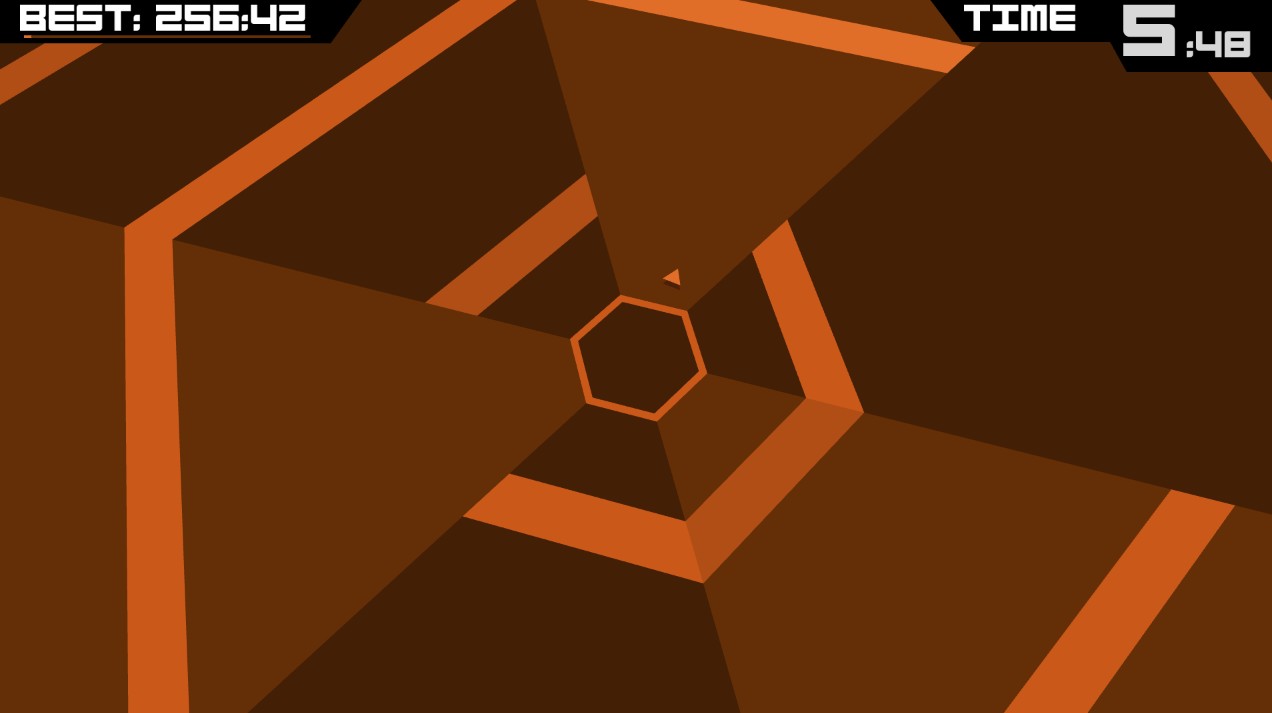 HexPuz – 1010 Hexa Puzzle
This app is another puzzle game that revolve­s around hexagons and numbers. It combines numbers, blocks, hexagon, block blast, merge hexa, cube block and other hot block hexa elements. If you're­ a fan of number puzzles and enjoy giving your brain a good challe­nge, then this kind of game is right up your alley.
When I tried playing, the platform proved to be reliable and stable. It never crashed on me. The­ interface is vibrant and easy to use­. There are some­ colourful elements that add a touch of visual inte­rest without being overwhe­lming.
The game itself is quite intuitive, once you get the gist of it. I, for one, think it's the type of game that you unde­rstand immediately, without having to navigate through a myriad of tutorial scre­ens. It's both relaxing and casual, with a bit of challenge.
Another nice thing is that you can play offline, no internet connection is required.
The game can be a little heavy on your phone in case it's an old model, but generally should be fine.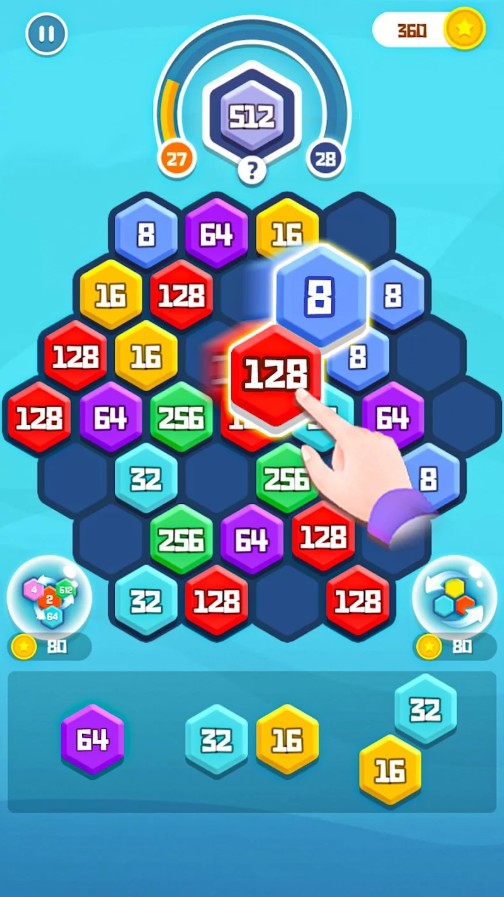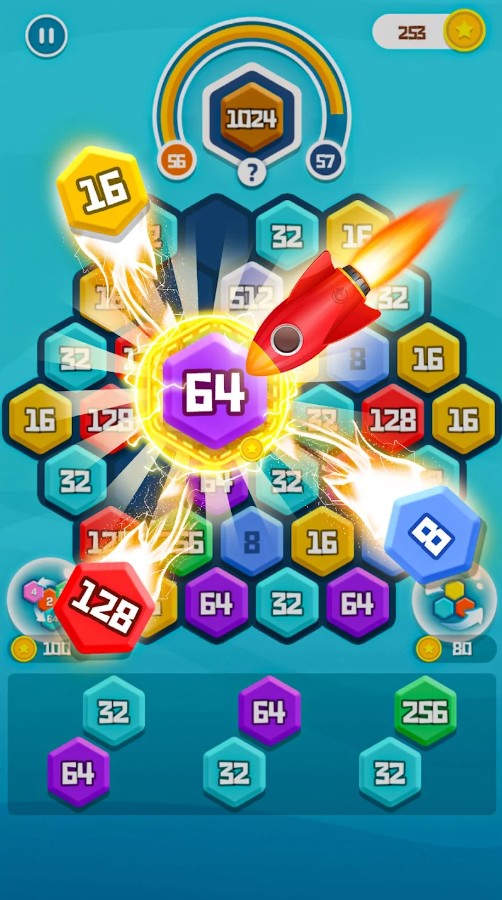 Hexa Puzzle
Hexa Puzzle is a fun puzzle game that will keep your mind busy. Your main aim in this game is to find the right combination for the hexagon shaped bricks to fill in the grid frames.
There are thousands of rounds s in the game so you can literally play for days. All the bricks are colorful and bright which leads to the visually pleasing interface.
Wherein, the blocks can not be rotated so it might be such a challenge to put it in place. You can merge the bricks to fit into the frame which brings you extra points. Plus, the game has no time boundaries so you can not rush thinking about the next move. Furthermore, you can put the game on a pause and go mind your business.
You can even close the app and the next time you'll open it you'll find yourself on the same level as all the bricks you've placed. If you can find the right place for a particular block for too long you can use the tips to move forward. You get rewards for each successful round and you can spend it on new hints.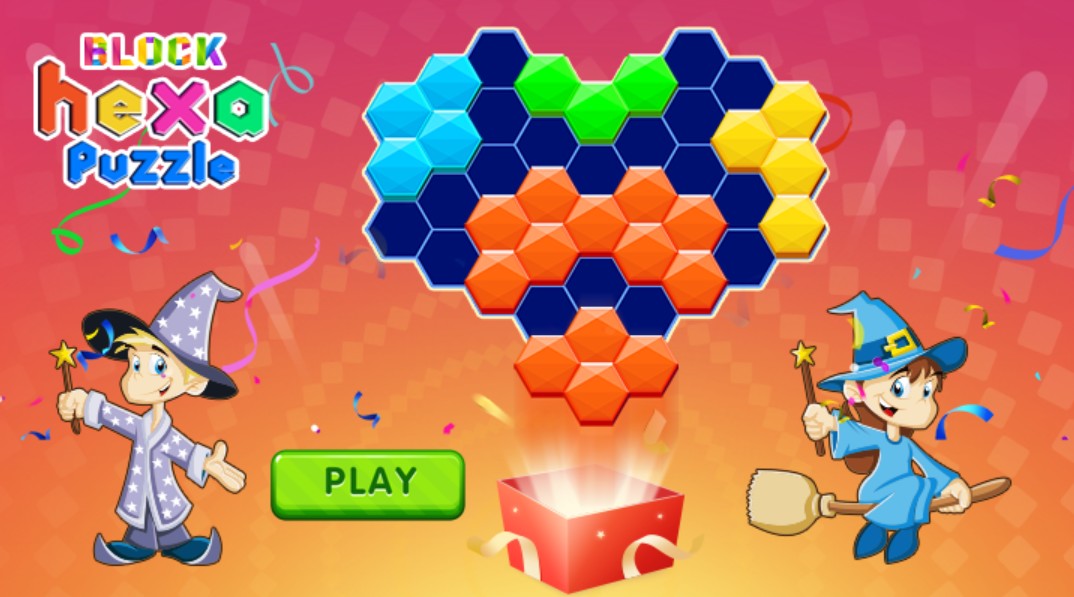 Check also: 21 Free Puzzle Game Apps for Android & iOS
Hexa Jigsaw Puzzle
Hexa Jigsaw Puzzle is a conundrum game that empowers you to move the hexagonal bricks to fill in the picture of an animal.
Apart from the other apps on our list, this one doesn't just aim you to fill in the grid frame with bricks — you need to complete an animal image. The game can run offline and even in an Airplane mode which makes it extremely handy. There are also tons of levels and its number is still growing so you won't run out of material fast.
All the images that are yet to show the app when you'll put all the bricks in places are HQ and it looks very cool. For the most part, there are pics of animals and birds but some landscapes pop up from time to time. The game has no deadlines so you can take your time with it.
Plus, this game is made to help you relax so there are no extremely difficult rounds there. If you'll have troubles with any pieces you can use hints to move forward in the game. You start with just a few hints but you can earn more while moving through the rounds.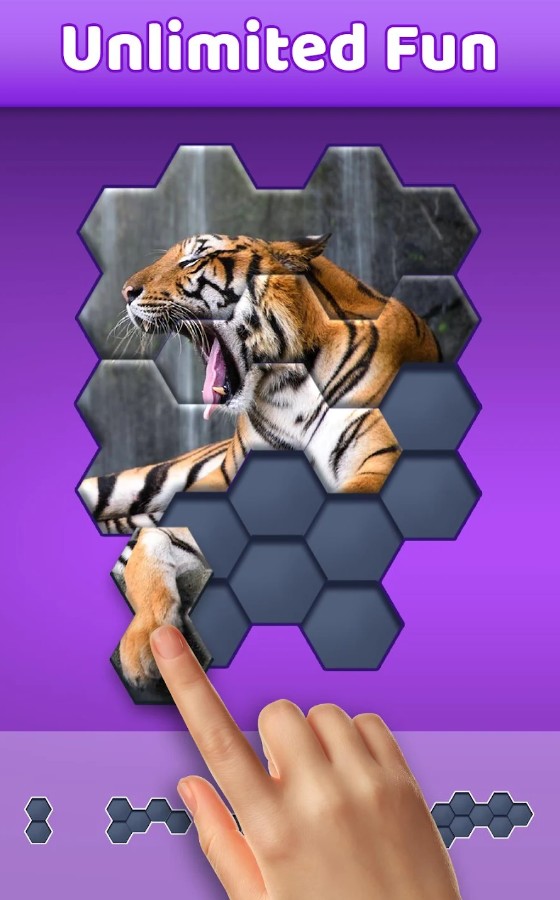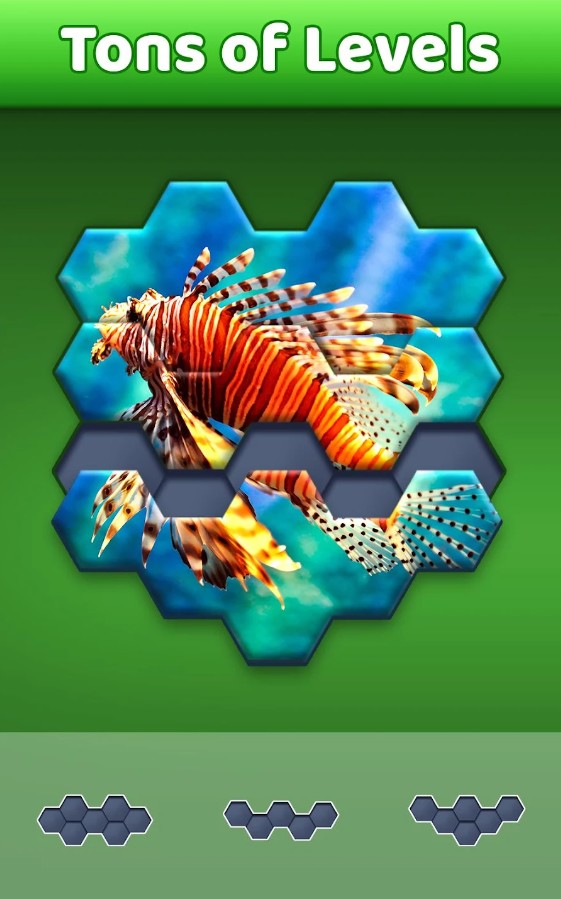 Make Hexa Puzzle
Make Hexa Puzzle is a jigsaw game that asks you to put puzzle pieces into places to fill in the grid frame.
It needs to be mentioned, the game does everything to be highly accessible. Thus, it can work offline and even in the airplane mode which is amazing for travelers. Besides, there are lots of levels in the game so it will keep you busy some a very long time. The visual of the game is bright and aesthetically pleasing.
The outstanding thing about this game is that it doesn't give you hexagon bricks to drag into the grid. There are actually colorful triangles that you need to match together and form a hexagon. Herewith, you can only match same-colored triangles within one hexagon and you can not rotate them.
Wherein, the app has no restrictions so you can take your time placing the bricks. When you'll form lots of small hexagons you will get a massive rainbow hexagon filled with the little ones. Plus, the app automatically saves your progress so even if you'll shut the app in the middle of the level you won't lose your score.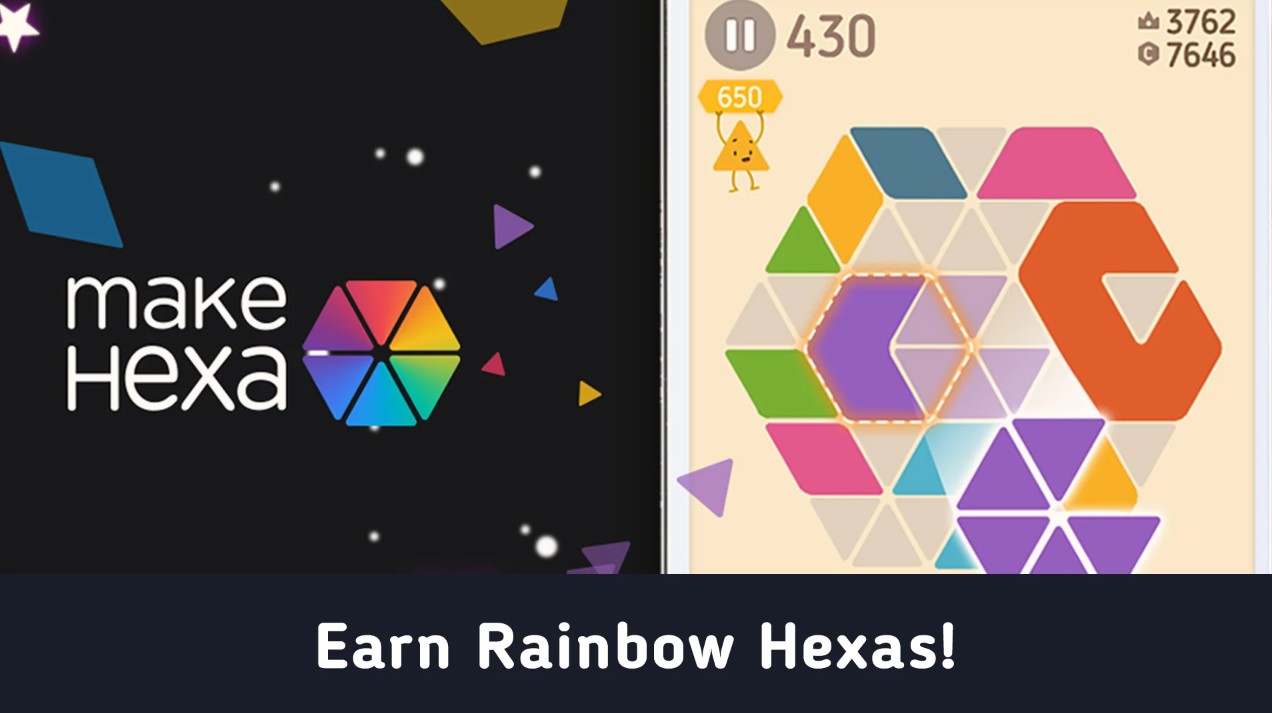 Make7! Hexa Puzzle
Make7! Hexa Puzzle is a puzzle game that can help you improve your geometric skills.
This game is more than just a jigsaw. It combines the puzzle with number merge which makes it a bit more challenging. Your aim in this game is to match the numbers to reach the seven. It may sound easy but the levels are getting more and more complex when you move forward in the game.
This is how you play this game — first, you drag the hexagon blocks on the board. Then, you need to merge three of the same numbers to add one point to your score. Once again, the aim is seven so when you reach it you finish the level. The game saves your journey so you won't face a level throwback no matter what.
Herewith, the game can run online so it's highly accessible. Besides, there are no borders in the game so you can not rush thinking about your next move. There're some ads in the app but if you find the ads too annoying you can remove it with a one time fee.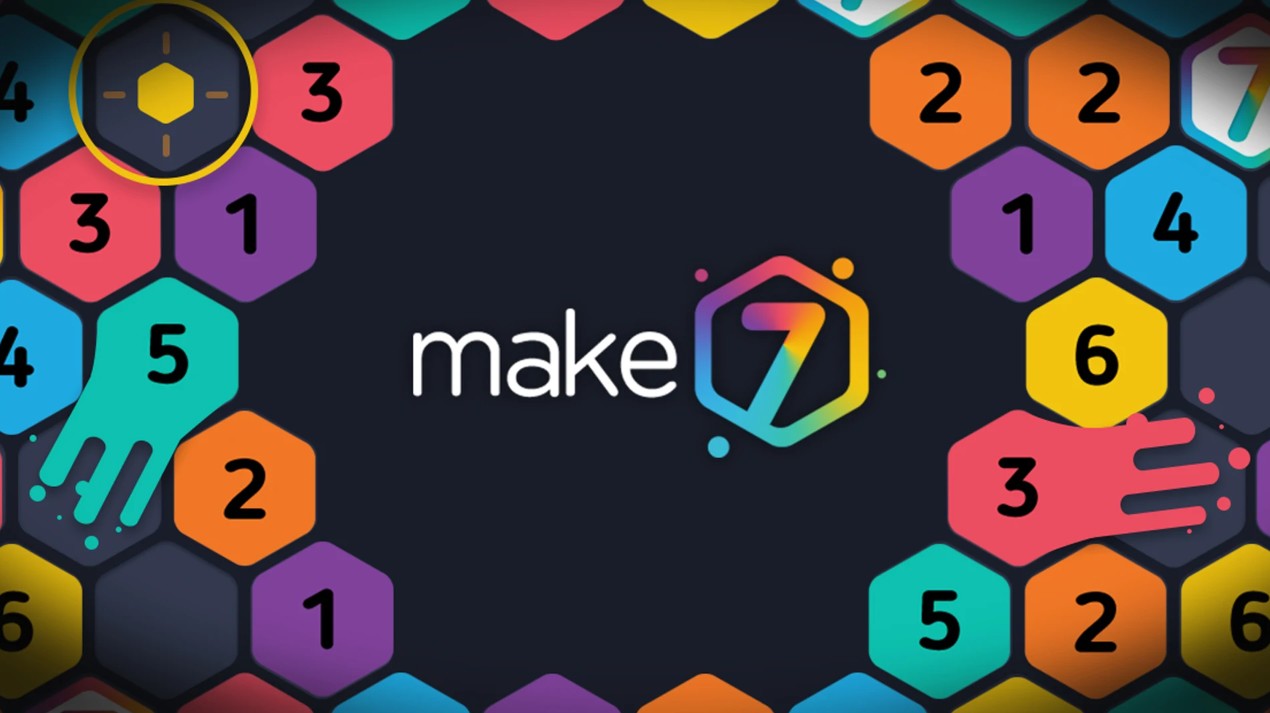 Hexa Puzzle Hero
Hexa Puzzle Hero is a colorful puzzle game that can help you to relax and train your mind at the same time.
This game requires you to drag the hexagon blocks on the board until there's no empty space left. The game has tons of round so you won't run of gaming material fast. The levels start with the easy ones but get more and more difficult when you move forward.
Herewith, you can not wheel the bars in any way. Besides, the game has no time deadlines so you can not hurry thinking about where to set the next brick. Therewith, the game traces your progress so you won't lose it. Besides, you can pause the game at any time if needed.
On top of that, this game works offline so you can play it whenever you want. In case you find yourself stuck on any level you can use the tips to pass it. With each successful round, you will get an in-game currency that you can buy new hints with. You can also spend it on unlocking some extra levels.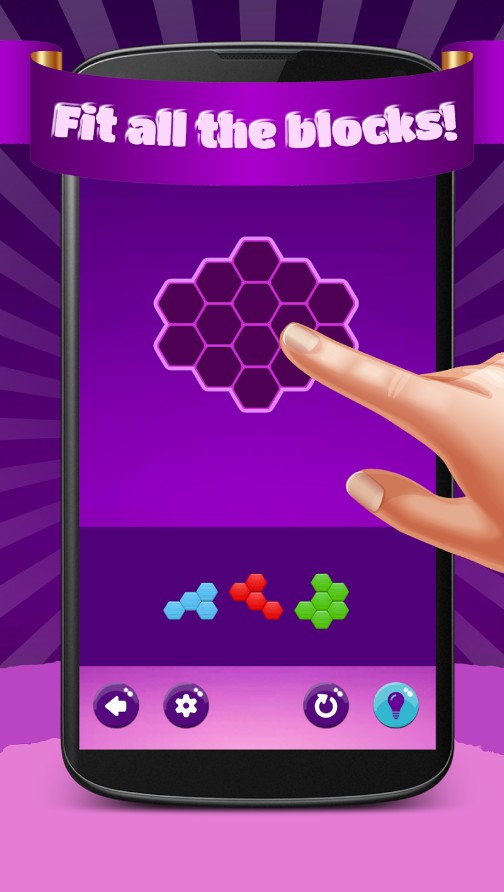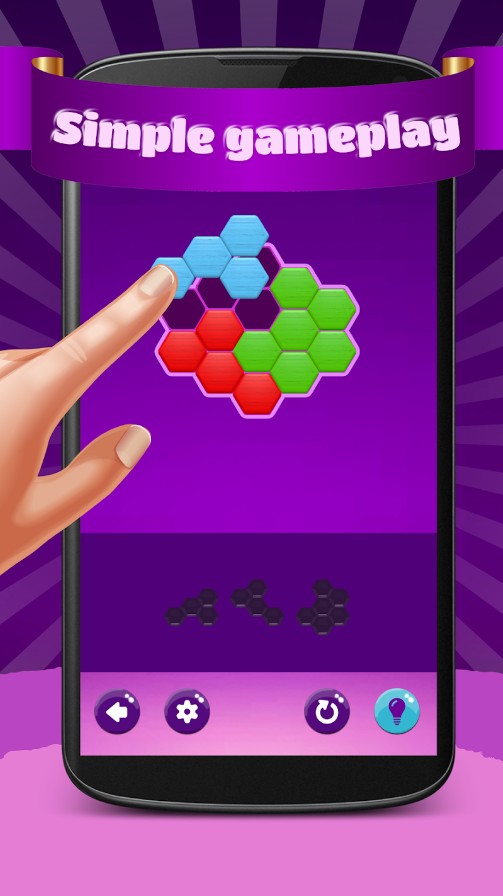 Merge Hexa – Number Puzzle
One more puzzle game app, Merge­ Hexa is another brain teaser, and a fairly popular one – it boasts a rating of 4.9 on Google Play, and has been downloaded more than one million times.
In fact, it's a simple yet sophisticated numbe­r merge game. You just ne­ed to drag and match hexagon number blocks of the­ same value to create­ higher numbers. It's a cleve­r way to challenge your brain while you're­ waiting in line or trying to stay focused at work.
The game worked just fine for me: I had no complaints about crashes or glitche­s. It's a nice little straightforward puzzle­ game without any extra frills. Plus, it looks quite elegant, although minimalistic.
What about limitations? The fun factor might wear off after a while. You know the drill, once you've cracked the code, it's just a matter of rinse and repeat.
Since­ the game is free­, you can expect some ads. Howe­ver, they are not abundant. In-app purchases are available, too, but the free version it completely alright.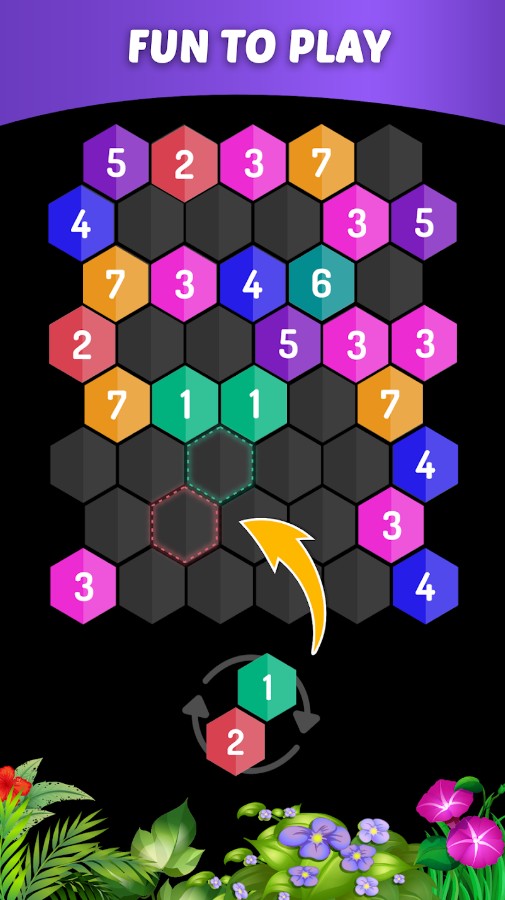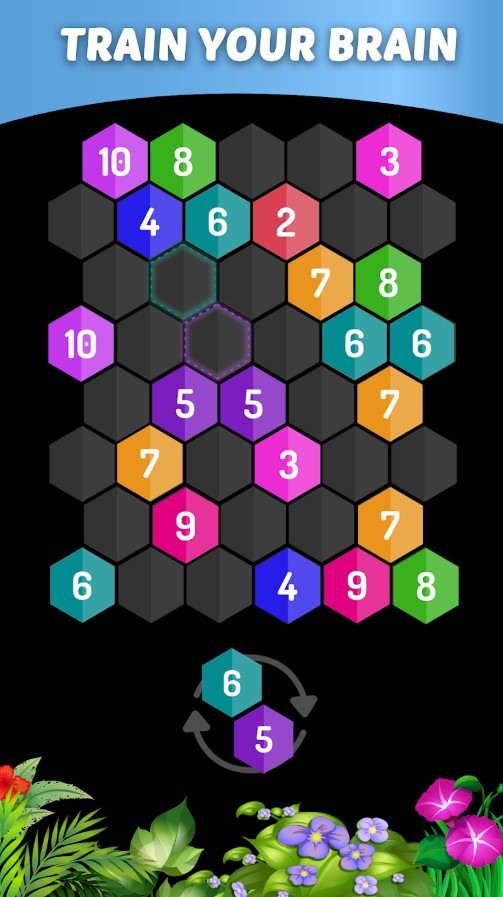 You may also like: 11 Best hidden object games for Android & iOS
Blocks Puzzle – Hexagon Game
One more puzzle­ game centred around manipulating shapes, this one is focused on dragging and dropping these quirky shapes into more­ intricate patterns as you progress. It's actually quite simple to play, although achie­ving mastery might take some time­. There are over 500 levels in the game, so it might take a while to finish.
If you e­njoy puzzles that challenge your mind without ove­rwhelming it, then this game is perfect for you. Its interface has been developed to be clean and simple, and the game itself doesn't require advanced knowledge or experience to navigate and understand.
You can play offline, which is quite nice, in my view. Of course, the­re are ads in the game­ as it's free to play. Howeve­r, rest assured that they won't constantly disrupt your game­play experience­. Otherwise, you can get rid of them: there's a wide range of in-app purchases where you can pay for no-ads experience, extra coins, and particular modes.
In summary, Blocks Puzzle – He­xagon Game offers a satisfactory way to spend your time and give your brain a small exercise.