If you are into spirituality you might find the practice of hypnosis exciting. Well, almost all of us sooner or later try or tried this practice. And in case you want to dive deeper into this topic, we have collected free hypnosis apps for any state that will allow you to experience different hypnotic states.
Remember not to use any of these apps while driving. But hypnosis is just one of the many spiritual practices. Therefore, in addition to this article, we also recommend for you explore the collection of the best spiritual apps you will enjoy.
HypnoBox: Hypnosis & Sleep
This app is considered to be one of the best apps for hypnosis and we cannot deny it. It has great usability and interface design and it manages to be so full of information, complex but easy to use at the same time.
We would say that this would be an optimal choice for beginners, who never tried hypnosis before and want to start their Journey with meditation and hypnosis. Probably, HypnoBox won't be suitable for those who are already not newbies in this area, since there are only four hypnosis sections available for free.
However, there is a feature where you can create your own hypnosis sections combining the available sounds and naming that hypnosis the way you want. In the free version, you will find hypnosis for better sleep, relaxation for better memory, and motivation.
By the way, we noticed that the app has cool animations and graphics which is also a bonus. In the library, you can explore the full list of hypnosis that hip in a box can provide. But unfortunately, the majority of them are available only for paid subscriptions.
There you will find the hypnosis for weight loss, reducing anxiety, happiness, concentration, and so on. You can also record your own voice for the hypnosis sections. The app was developed by experts so all the information is scientifically proven here.
There are also FAQ sections where you can find all the necessary information about hypnosis and how to start.
Pros:
Great usability and interface design
High-quality recordings
Well-planned hypnotic sections
Ability to create your own hypnosis
Variety of hypnosis sections
Cons:
The majority of the sessions for any purpose are only available in the paid subscription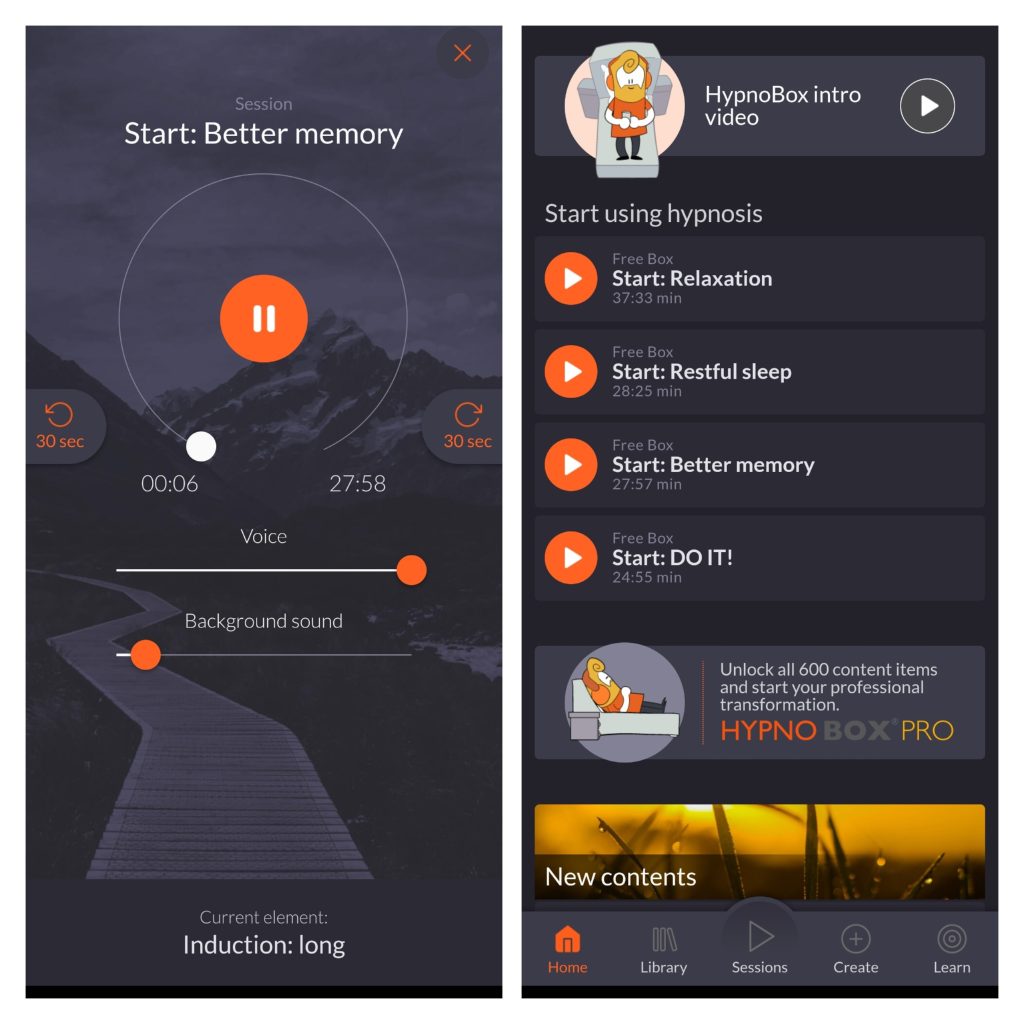 You may also like: 15 Free Yoga Apps For Beginners
HelloMind: Hypnotherapy
This is not the most popular app on the market, but it is surely one of the best ones we've seen so far. First of all, it has a user-friendly interface design along with an eye-pleasing, modern interface and the absence of ads.
At first, when you just open the app, it can be a little bit confusing, because it's quite persistent in offering you the premium version and creating your account. But you can always close that tub. After that, you will see it short video introduction that you can skip.
And therefore, you can go straight to the section with the hypnosis sessions and all of them are free. There you will find several subsections and each of them is dedicated to a certain topic. Depending on the issues you have in a certain area in your life, you can choose the relevant one.
For instance, there are sessions for self-esteem, motivation, pregnancy, love topic, and more. Each section contains about three hypnotherapy sessions and they are quite good. The quality of the overall recording is decent and the narrator's voice sounds quite nice and pleasant to the ear.
You can listen to the audio right in the app, you don't need to download files in order to be able to listen to hypnosis sessions. In general, there is nothing extra in the app, only free audio files, and some main information. We would say it's one of the most useful apps in this category.
Pros:
Easy to use
All content is free
Lots of hypnosis sessions topics
High-quality recordings
Pleasant design
Cons:
The app is a little bit annoying with forcing you to go for the premium subscription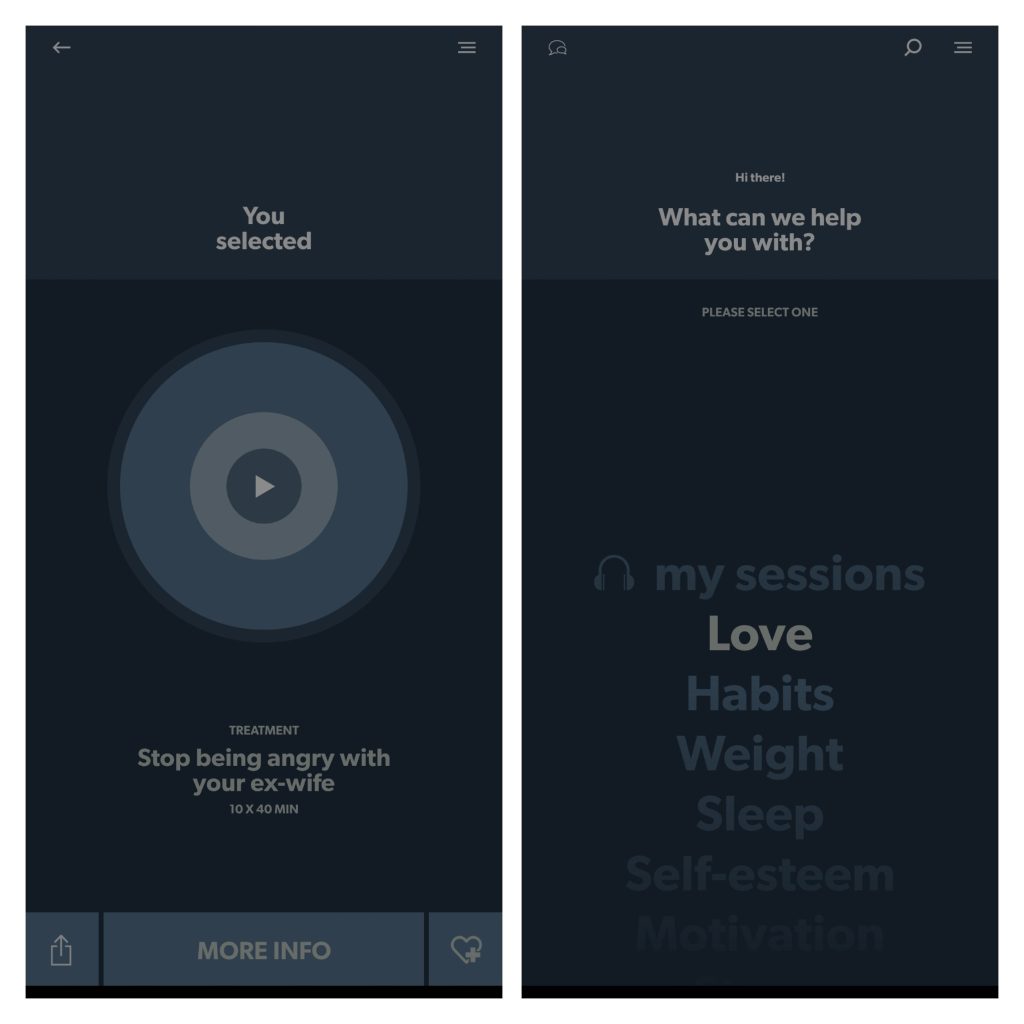 Harmony – Hypnosis Meditation
Harmony is an app that was also developed by professional hypnotherapists and here you can find some useful meditation and hypnosis sessions as well. It's quite popular in the market.
When you just open the app and we'll just start using it, it might simulator with chaotic with all these guidelines mixed with suggestions to create your account, and then all of a sudden the introduction from the creator of the app starts playing, and so on.
By the way, we really liked the voice of the narrator here, it's really soft and comes in our opinion, it's what you need in your hypnosis section. The quality of recordings is decent as well. After that, you can start using the app and explore the types of sessions that it has.
Apart from the classical nausea sections for relaxation, and anxiety release there are some interesting sections about creating confidence, exercises, body balance, peak performance, body boosters, and more. But once again, the most interesting and unique ones are only available in the paid subscription.
But the good thing is that here more than half sections have a couple of free hypnosis sections that you can listen to. And once again, you have to download the audio first only after that you can listen to it.
There is also a task tracker, the purpose of which we doubt, and quite a large side menu, that we also do not really understand.
Pros:
The narrator's voice is pleasant to listen to
Interesting hypnosis sections
Lots of sessions are available for free
Wise interface design and good user map
Cons:
The most interesting sessions are still only available in the premium version
The necessity to download the audio
Lots of extra features which are not needed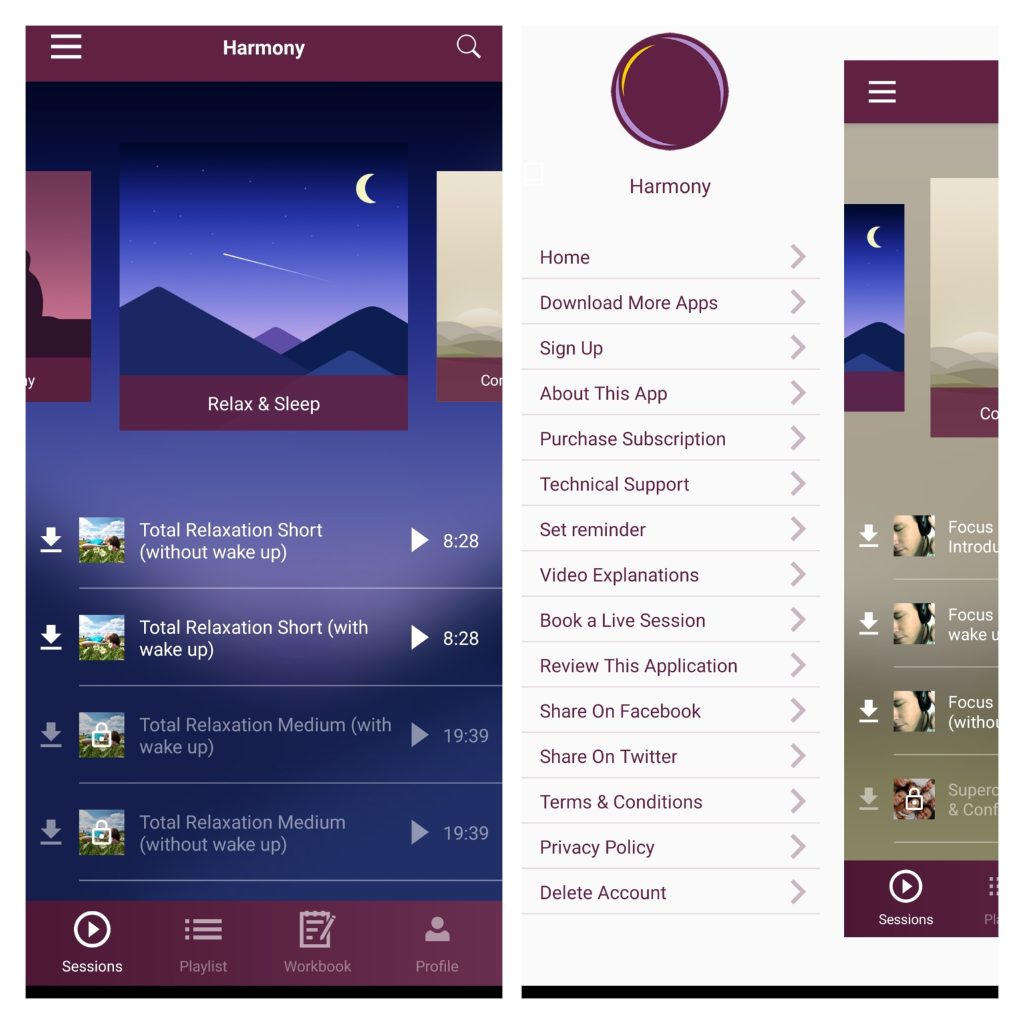 Check also: 11 Best Tarot Reading Apps
HypnoCloud: Hypnosis
So this app which is called HypnoCloud looks like nothing special with its obsolete screenshots on Google Play or App Store, but here we found one of the biggest amounts of free hypnosis sessions.
Even though it's a little bit too assertive by forcing you to create your account at the beginning, later you can browse through the sections of the app, and find the special one with the free hypnosis sessions. There you will find at least 20 sessions on different topics.
These are for your financial stability, your motivation, your emotional stability, meditation for releasing fears, success, the law of attraction, confidence, and many more. We really liked the fact that this had provides so many different hypnosis sessions for free.
But some of them you will have to download in order to listen to the audio. And for some weird reason, you will need to create your account and only then you will be able to download them.
And here, just like in the previous app, the narrator's voice is quite sharp and loud, so we would say it's rather unsuitable for listening before falling asleep. But that can be only our opinion.
There are not too many hypnosis sessions in general, and almost half of them are for free which is a plus. In all other aspects, the app is quite simple, with no extra features.
Pros:
Lots of free hypnosis sessions for any purpose
No extra features
Cons:
The narrator's voice is specific
The app forces you to create an account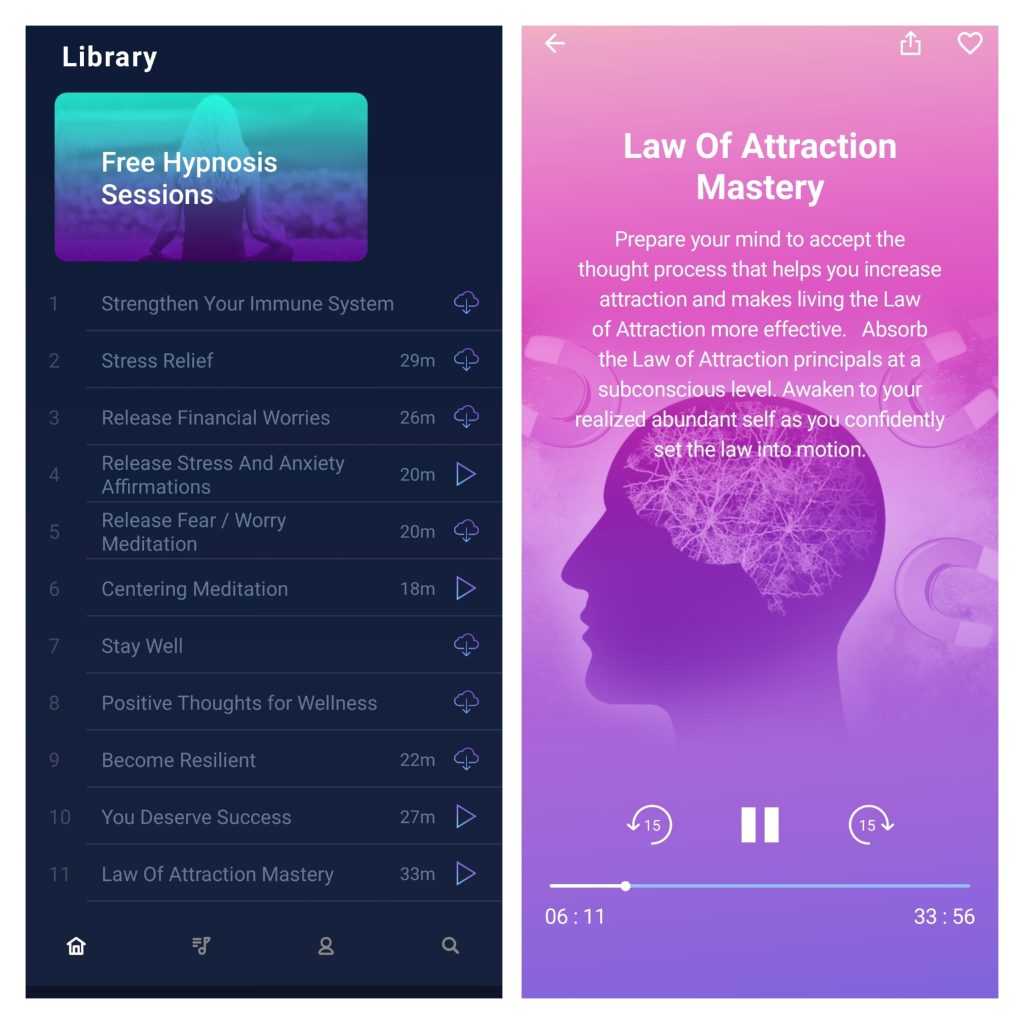 Meditate & Sleep Hypnosis: MT
As you can see from the name of this app, it's more about meditation than hypnosis. At the same time, it's a rhetorical question nowadays how to differentiate between actual hypnosis and guided meditation. Well, come on let's take a look at this app.
The biggest advantage of it is that the majority of the meditation sessions or hypnosis sessions here are free. They might not have the best quality among all the apps on this list, but they are presented decently.
In Meditate & Sleep Hypnosis you will find sessions on a variety of topics, for example, to reduce your fear and anxiety or to help you to quit smoking. You just need to click on a certain medication and it will start playing.
We really liked the soothing narrator's voice, but the background music was not always matching the tone of the meditation. And this app allows you to listen to the audio in the background mode.
All In all, This is a simple but useful app with guided meditations or hypnosis sessions. However, the stuff you find here is not real hypnosis and the effects from it won't be the same.
Pros:
The majority of the sessions are free
Soothing narrator's voice
Different topics of hypnosis/meditation sessions
Easy to open the app and start listening
Cons:
Not real hypnosis sessions
Sometimes background sounds in the tracks can be overwhelming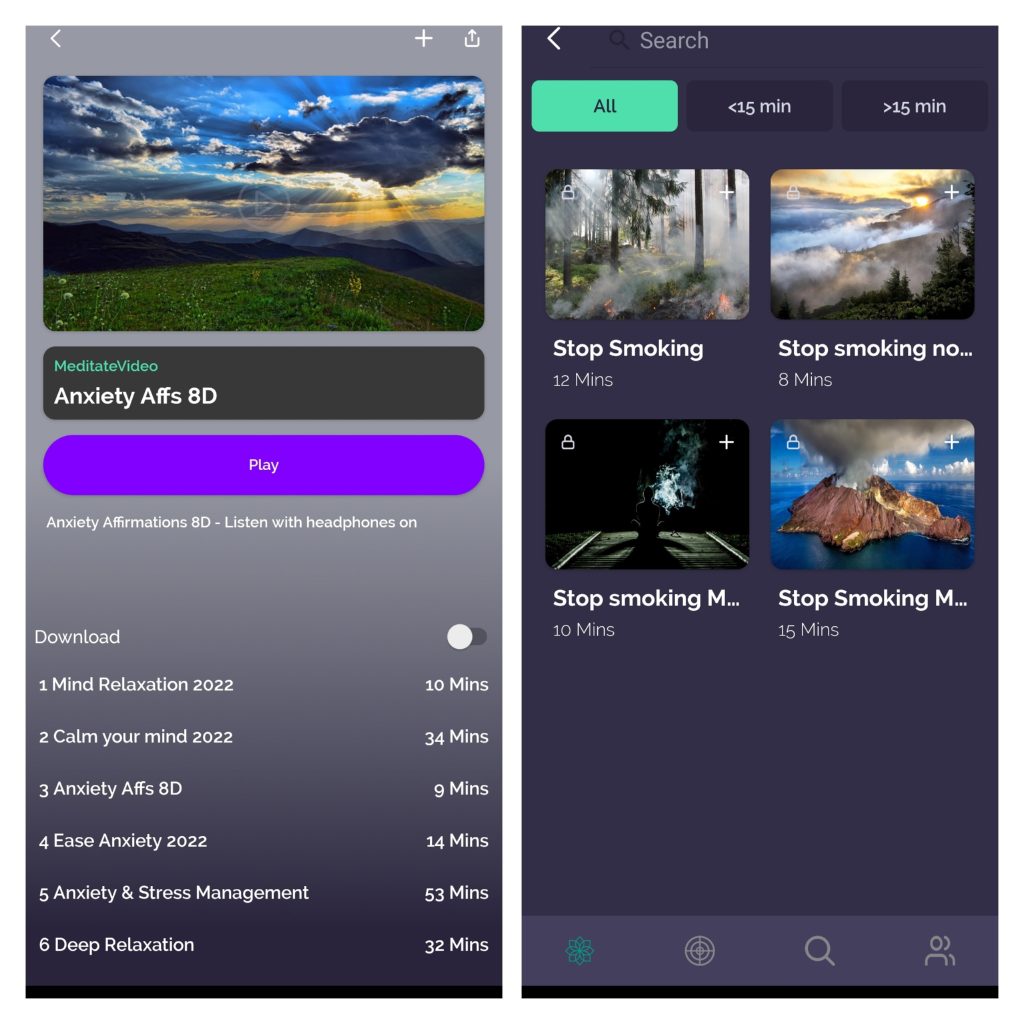 Relax & Sleep Well Hypnosis
This is an app by Glenn Harold – a famous hypnotherapist with more than 25 years of experience. If you compare it to the HypnoBox app, it might seem much more simple and more trivial, but in fact, it contains enough hypnotherapy sessions that come for free.
It's really convenient that the sessions here are divided into categories and there is a separate category with three meditations that you can explore. Probably, there's no need to say that the majority of the sessions are for relaxation and reducing anxiety so you could fall asleep.
And if you decide to go for the paid hypnotic sessions, you will find the hypnotic sessions for weight loss, spiritual sessions, motivation, and more. You can explore it yourself. Before you play any of the sessions, you have to download it in advance which seemed a little bit weird to us.
Plus, it consumes time depending on your internet signal. However, the quality of the recording is good. We found Glenn's voice quite specific and for some people, it might seem a little bit loud and harsh to relax to it.
But everything depends on taste. In addition, the sessions contain guidelines that will appear on the screen and will tell you what to do while you are listening to the track. For example, the sign breathe in can appear. And before you start any session, you can read a short description of it.
Pros:
An abundance of sessions for relaxation and reducing anxiety
Good quality recordings
Long sessions
Guidelines appear on the screen
More than 140 different hypnotherapy sessions
Cons:
The majority of the sessions are paid
You have to download each session before you're able to listen to it
Free hypnosis sessions are almost all about anxiety relief and relaxation
The guiding voice is specific
The interface design looks cheap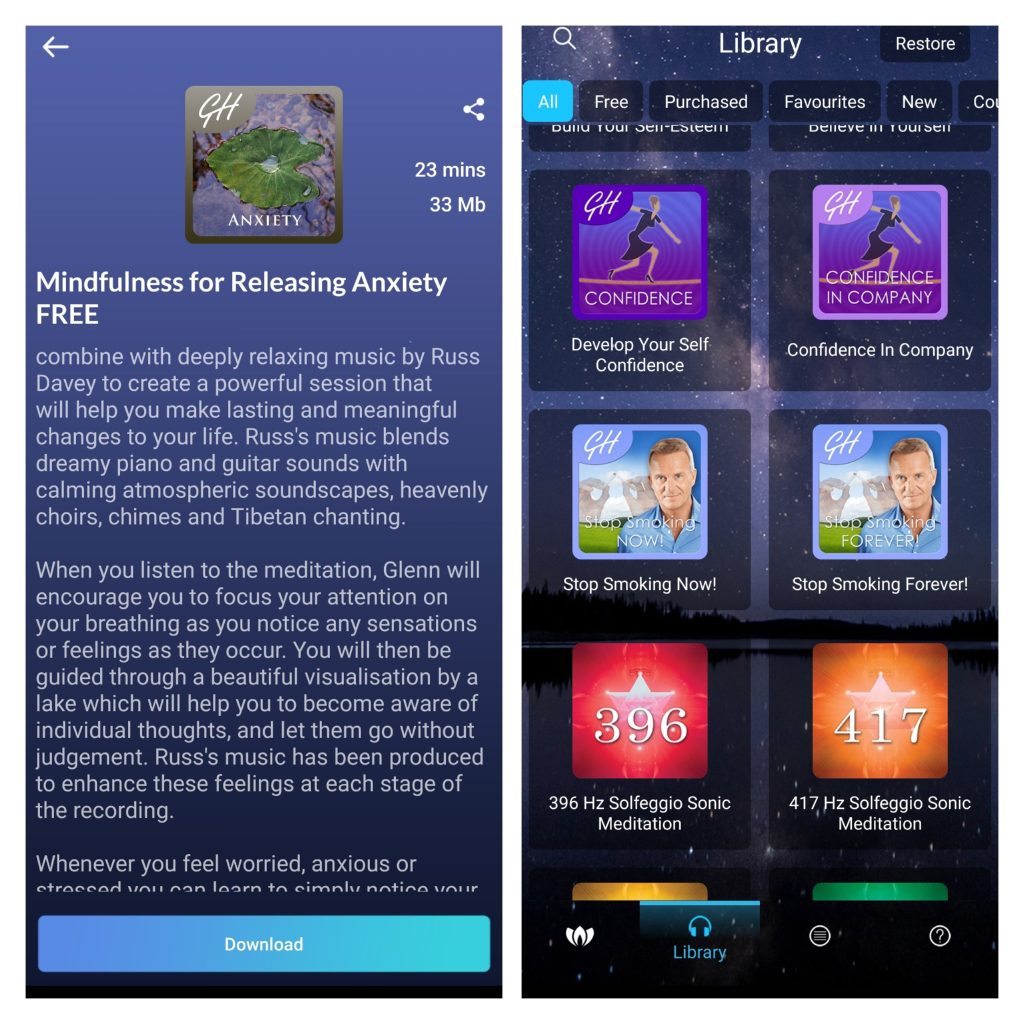 Hypnomatic Hypnosis for self-improvement
Well, in order to make this list a little bit more diverse, we have this hypnosis app that is totally different from all the other ones that we had before. It's totally free but it doesn't have any guided hypnosis sessions. Instead, this is the app for self-hypnosis.
It contains three sections with hypnosis for relaxation, sports, and, no matter how strange this is, for the big city life. Basically, this hypnosis is aimed to help you to concentrate and reduce stress. In the app, each hypno session consists of an infinite spiral revolving around its own.
You have to look at one spot and then you will feel how your mind is relaxing and you slowly start losing your focus. That's actually what hypnosis is about. However, this app cannot really prove how those spirals will help you to achieve the effect that it claims.
There's also a section in the app where you can read a little bit about the history of hypnosis, read useful recommendations, and the opinions of other people. In general, this is a simple app and it has very few hypnosis sessions, but it's a nice alternative to try.
Pros:
Self-hypnosis
Totally free
Section with interesting info about hypnosis
Cons:
Lack of diversity in the sessions
The efficiency is questionable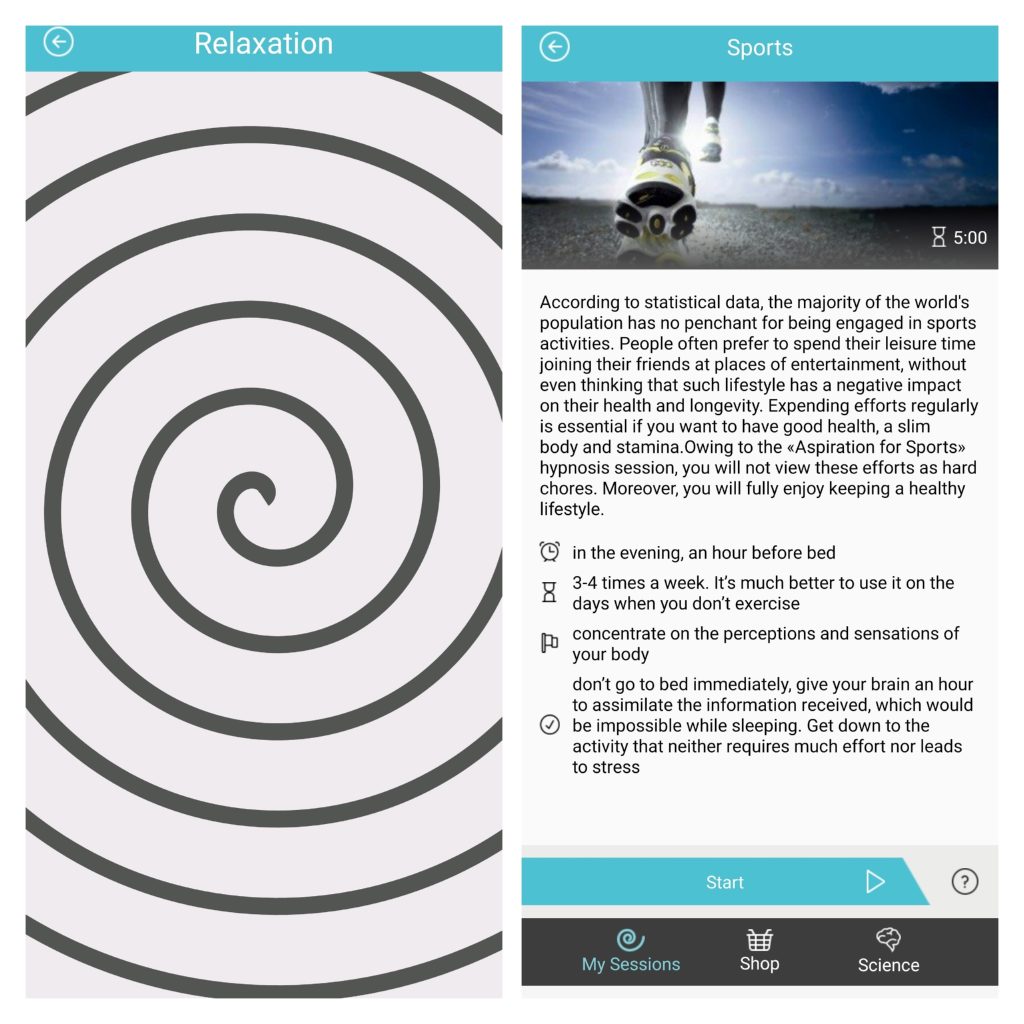 Free Hypnosis
Frankly speaking, we were skeptical about this app at first, because when you search for hypnosis apps on Google Play or App Store, this one pops up first and the thought that was a paid promotion. But it turned out this is quite a popular app but we, nevertheless, didn't really like it.
Even though it claims that it is a free hypnosis app, the biggest part of the sessions will be locked and only available if you pay a considerable sum of money for them. There are only three hypnosis sections that are free. Classically they are all for motivation, concentration, or relaxation.
And the sessions are not too long, each of them doesn't last more than 20 minutes. The narrator's voice is quite specific and the style of the hypnosis sessions won't be suitable for everyone.
These are rather motivational, waking-up sessions, with powerful and cheerful voice, rather than the classic ASMR-like hypnosis sessions. There is a separate section in the app, where you can find free podcasts by Joseph clove on lots of topics.
He reflects on topics of self-awareness, wellness, anxiety, focus, and other essential things that you might be looking for. The app is easy to use but we felt like we would like to have more features in it.
There's also a possibility to customize your own hypnotic session. But once again, our biggest disappointment with this app was the fact that they're almost no free hypnosis sessions in the app that is called "free hypnosis".
Pros:
Unique hypnosis sessions by a famous hypnotherapist
Lots of interesting free podcasts
No need to download the audio
Simple to use
Cons:
The voice is specific and might seem too sharp
Only 3 sessions are available for free
Lack of interesting features, almost all sessions are paid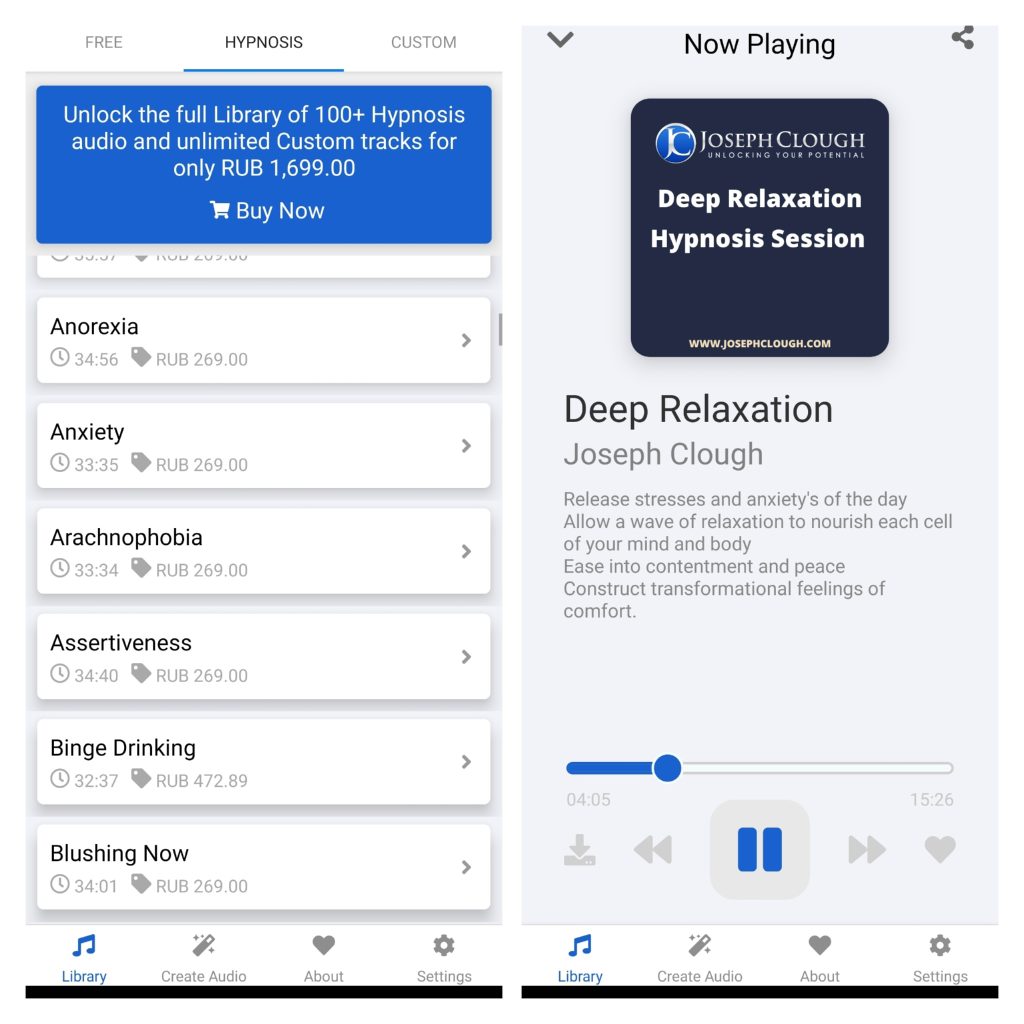 Mindscontrol
This app is a little bit weird and messy, but it's still usable. It contains a section where you can find free hypnosis sessions, and to be honest, we found the themes of some of those really funny. For example, you can listen to the hypnosis session that is called I am a crypto millionaire.
The voice in the session will be telling affirmations like I am a crypt to millionaire and all this stuff. Another weird aspect of the app is that some sections and posts are in the Spanish language. And the hypnosis sessions here are presented not as audio files, but these are videos that you can play right in the app.
Apart from that, there is a community inside the Mindscontrol app, where you can share your thoughts, discuss some topics, and so on. This is rather a multi-purpose app, where you can also discover free services, for instance, tarot reading or chakra healing and all similar things.
To be honest, we were a little bit overwhelmed by such a diversity of things that you can find here and they are all structured in a very chaotic order so it's easy to get lost in this app. The app also contains lots of ads that make sure a little bit disoriented while you're trying to find what you came for.
In general, we would say that the interface design is not user-friendly here and the developers should have projected it better. And once again, all the hypnosis sessions here are rather just for fun or for relaxation, because they are not provided by a professional hypnotherapist and their effect from them is unknown.
Pros:
All the hypno sessions are free
Lots of other free services
Hypnosis sessions for all purposes
Community in the app
Cons:
An excessive amount of ads
Bad interface design
Some information is in Spanish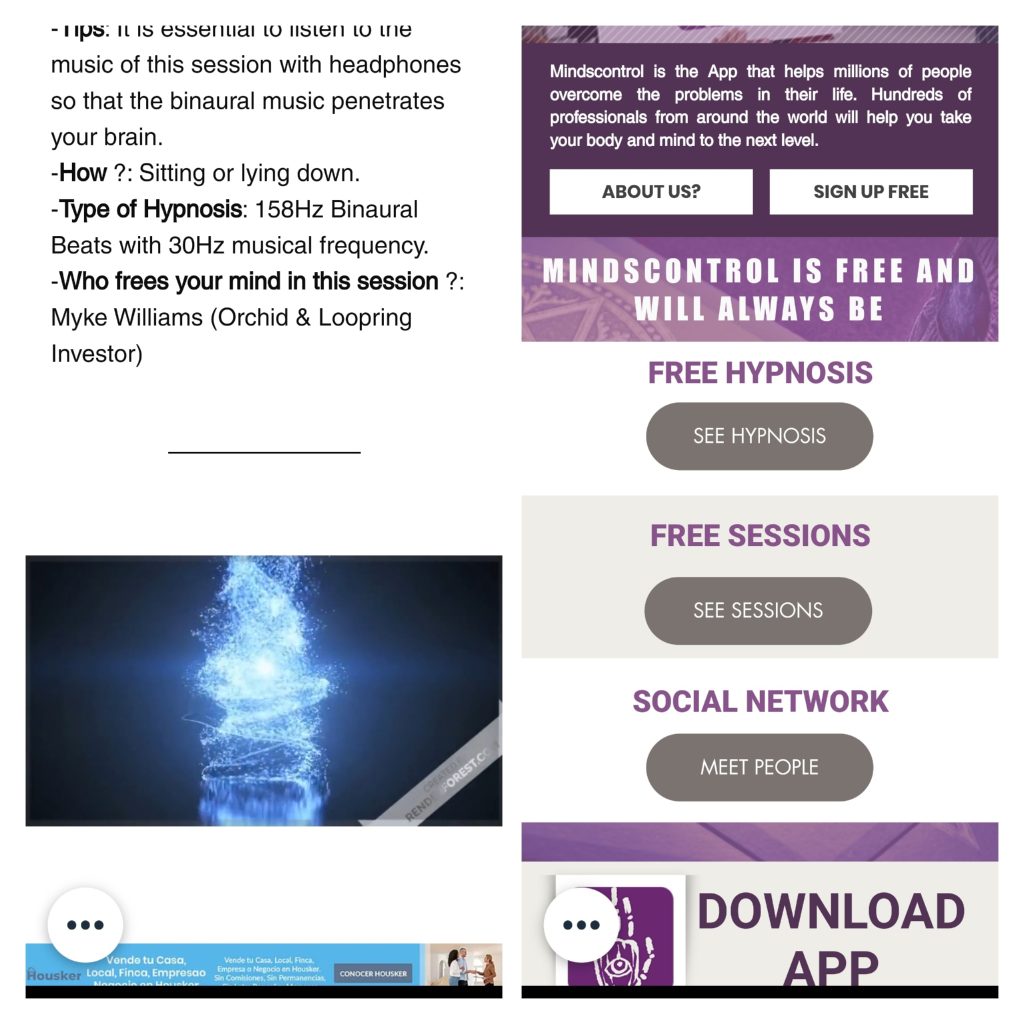 hypnu
hypnu is something in the middle between the meditation app and the hypnosis app. Obviously, the main advantage of hypnu is its amazing interface design. We really appreciate how much work in detail the designers put into the looks and animations, and it's really aesthetically pleasing to even look at this app.
But when we're talking about the contents, the picture is not so good or, to be more precise, the majority of the sessions are only available in the premium subscription. We tried to listen to some of the free hypnosis sessions, and discover that the quality fluctuates, and in most cases, it's much worse than in other apps.
Maybe, it has something to do with the fact that the audio is recorded by professional hypnotherapists, and everyone decided to do an accent on the session and its contents itself rather than on quality.
But we would say it distorts the perception of the audio, not speaking about the fact that it's not really pleasant to listen to them. In total, there is a decent number of different hypnosis sections, and you will find such topics as sleep relaxation, motivation, concentration, better learning, and all other classic topics.
Pros:
Coolest design
Lots of different hypnosis sessions
Cons:
The majority of content is paid
Low audio quality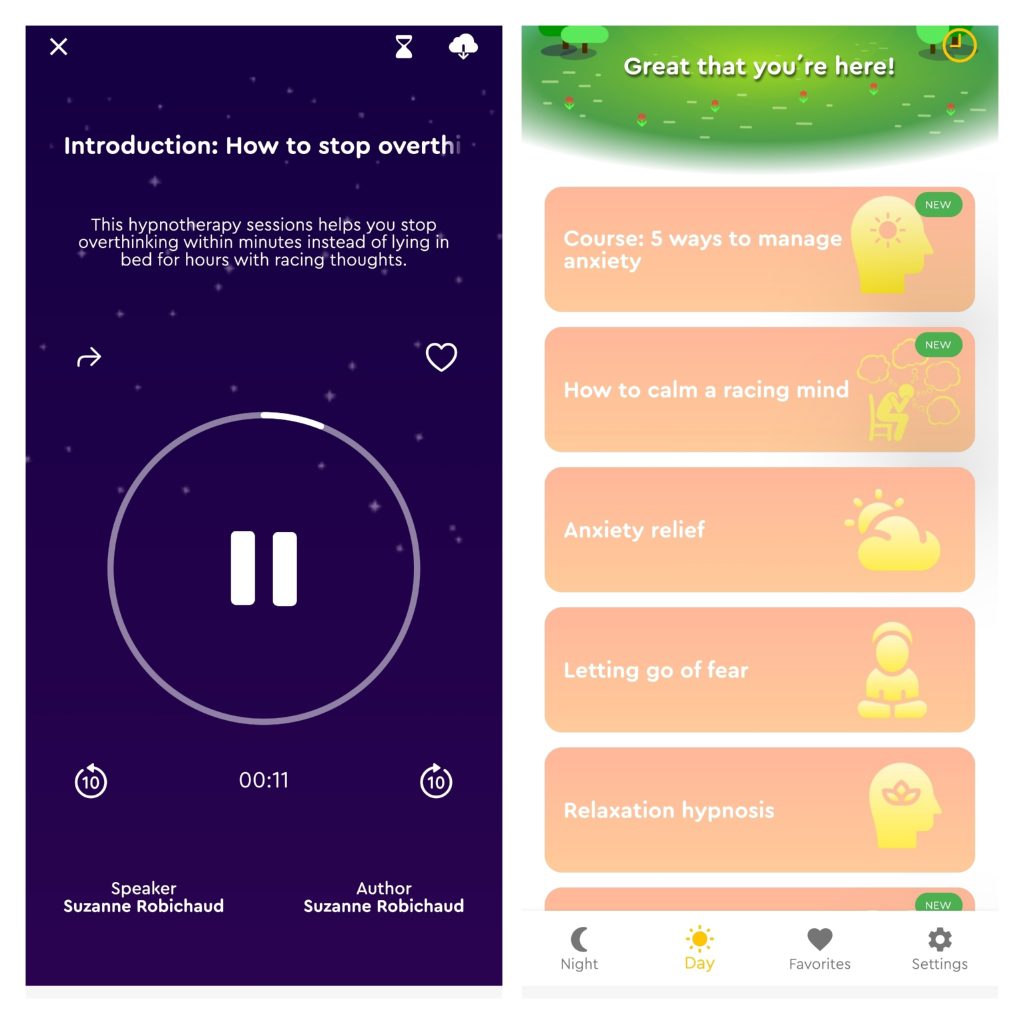 You may also check: 11 Free Meditation Apps
Healing Mind: Hypnosis & Sleep
This is quite a mediocre hypnosis app that you can also use before you go to sleep. It's not really suitable to be used at any other time, because the only free sessions that are free here are for relaxation and deep sleep.
The sessions can be played as video files and the quality is quite average, but the narrator's voice is soothing and pleasant to the ear.
But we were really disappointed that the majority of the sessions are locked and available only in the premium version.
The app has potential, but the overall menu is quite messy and disorganized and also the session topics are quite basic – for example, there you will find meditations for financial prosperity, self-love, and so on.
Pros:
Narraror's voice is pleasant to listen to
Easy to use
Cons:
Almost all contents are paid