Hanging out with your nearest and dearest is always exciting and entertaining. What could be better than a comfortable holiday in an idyll with nature? Well, those holidays are a luxury for people who travel only for business purposes. To pack for a business trip, they should use these apps.

Here can only be a selection of the best camping map apps that will make your tasks of planning an unforgettable camping experience easy.
WikiCamps
This app tops our list because of its capabilities and improved updates. If your plans include looking for and organizing a great camping trip with friends or family, the first thing you should do is download this versatile app to make your job easier.

The main benefit of the app is that it is not only available in the States, but there are also editions for Australia and the United Kingdom.
The app makes it easy to find the campsites you want, as there is a filter function that you may use to sort the places on the map. For example, you may want to include on the map places with dog walking, information centers, and so on. Setting up the right filter makes it easier to navigate the map.
While viewing the map, you can split the screen to easily view the various types of checkboxes that will be indicated on the map. These are the same flags where there is a particular object for better camping. For an even more convenient location, the app has a customized compass that will serve as your guide.
Ability to sort out the spots on the map
Lots of filters
Checkboxes on the map
Built-in compass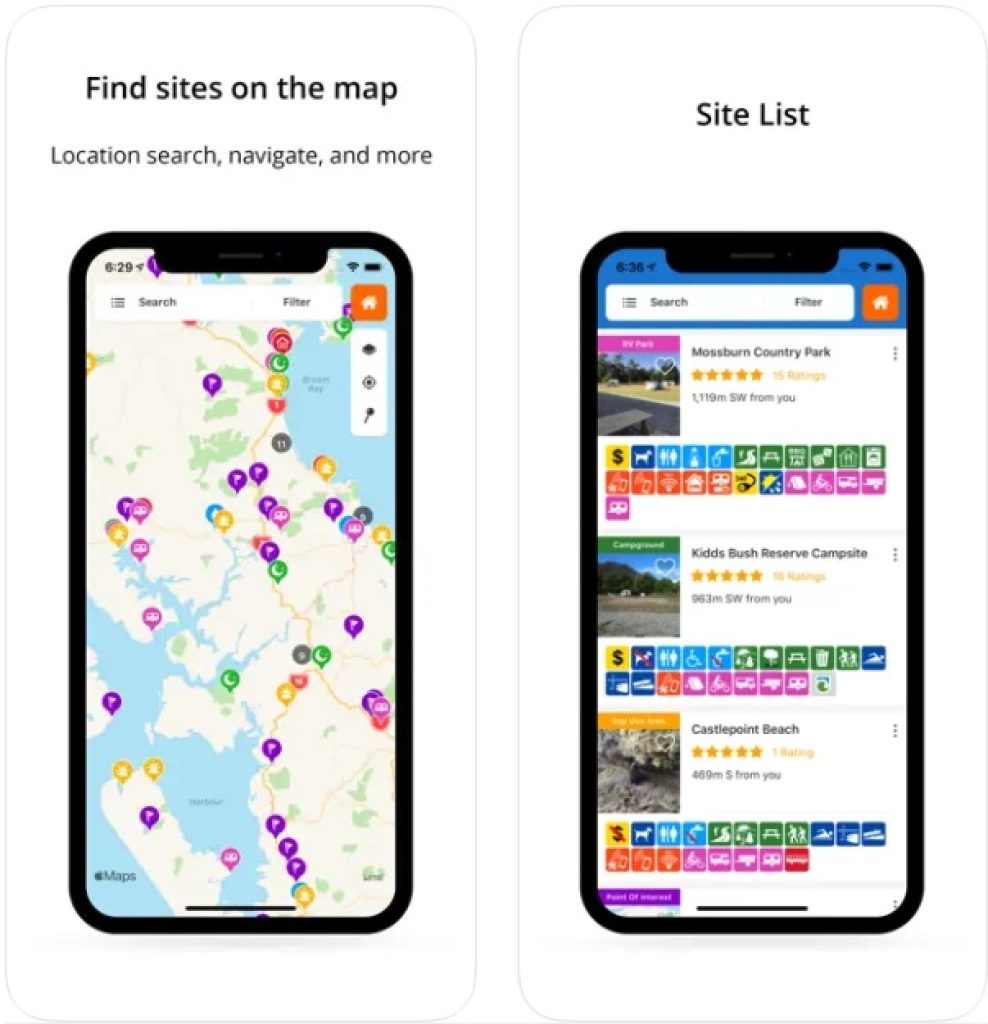 You may also like: 11 Free hiking apps for Android & iOS
Campendium
This app is a community where all the enthusiasts who love outdoor activities alone with nature have gathered.

Here users can share different comments, as well as photos that they have managed to take during a vacation in a particular place on the map. This allows seeing how the surroundings look and what interesting things can be found.
To find a convenient camping spot, all you have to do is open the app. By enabling geolocation you will be able to find a suitable place by typing a few words in the search bar. The app will show you places on the map where there are places to rest and good camping in general.
Probably the only downside may be that the app is sometimes limited to geolocation. Despite this, the app has discussions with other campers to choose the best location for your convenience.
The app is easy to use, as there is a map with different icons. These marks show where there is parking, where you can find public places and so on. Also in the application, you can view the ratings of other users who have visited certain locations on the map.
Ability to leave feedback
Search for particular places
Shows all the amenities around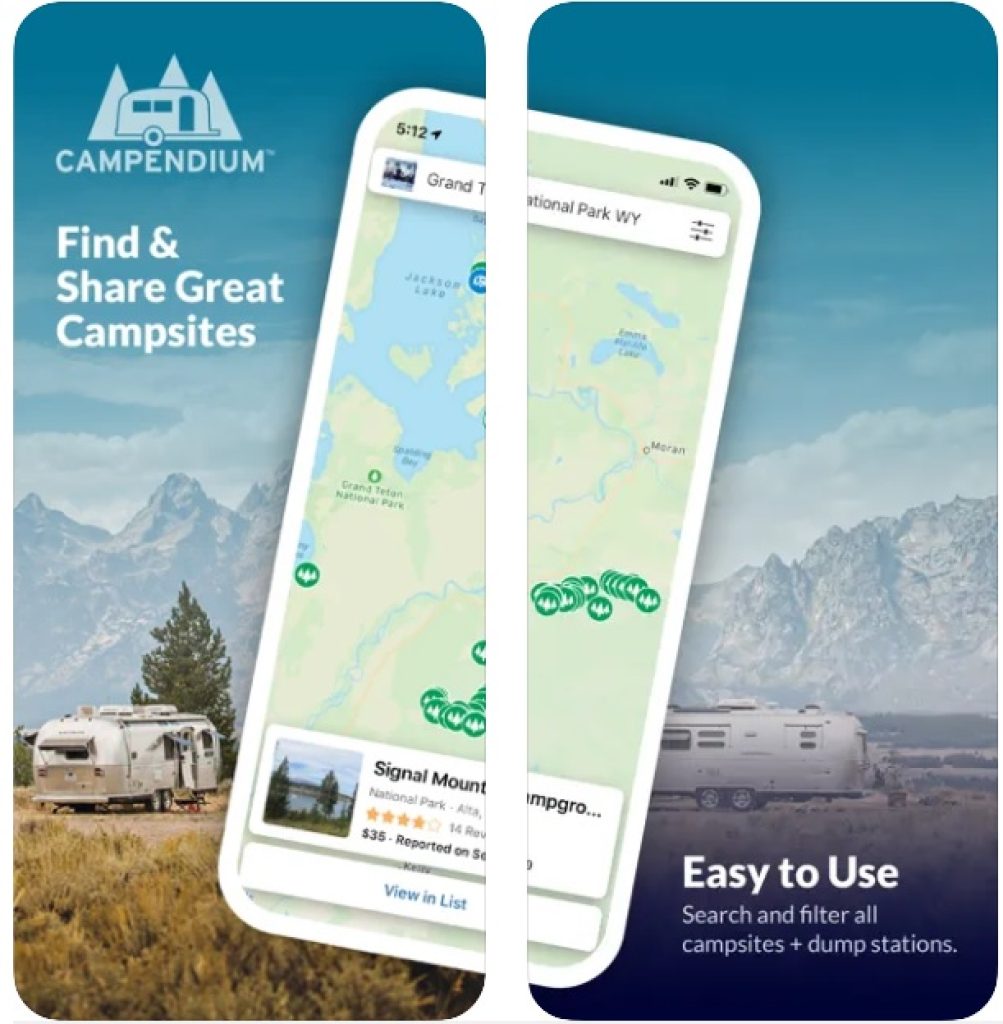 AllTrails
For hikers, the app is the right one. The interface of the app is user-friendly, and there are several functions for a better rest. For choosing the optimal route, the app has a handy map with detailed directions and locations.
This app should be added to your mashup of camping and outdoor apps. The major pluses of the app are that there is an option to record your itinerary.

If you have started your journey and you need to write down how long it will take you to get to the right place, this function added to the app. There is also a feature to communicate with your contacts without leaving the application.
Here you can create a personal profile for yourself and view your routes. Do you have some locations you want to visit? Then, add them to your wish list so that you don't lose and forget them. And if you wanting to write down the places you've visited, you don't need to mark them on the map.
The app allows you to record the places you have visited, also with the help of the app you track your progress while you are camping.

If you want to count your steps or how much distance you've already walked, then the app is for you. But the disadvantage of the app is that the map doesn't show icons with this or that place. It only shows your route on the map, and the navigation through it.
Detailed directions on the map
Ability to create a personalized profile
Wishlists
Recorings of tracks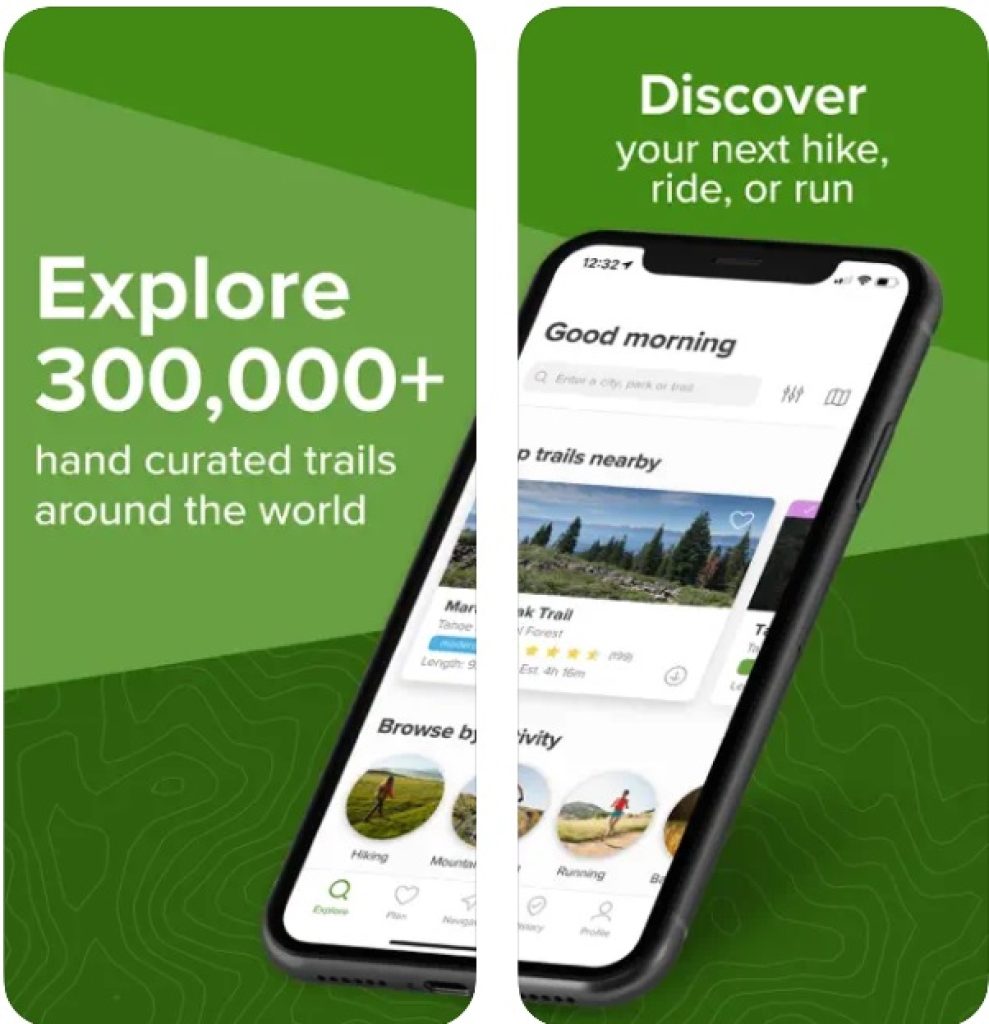 Waze
The Waze app can help you get to your destination easie. Not only a map app, but it also has many features such as selecting music for a breezy ride, creating a profile for more features, a secure GPS tracking feature, and many more. So, let's proceed with an overview of the app.
The map in the app shows camping locations, but you can also pick spots yourself by writing or selecting a location in the search engine. In the settings, users can select options they are comfortable to use, and optionally add places to their wish list or mark favorite places that they like.
In the side menu of the application, there is "Scheduled journeys". You can add trips and locations to this list, and add an approximate date when you are going to visit the campsite.

This is a very handy feature, especially for forgetful people. You can also add your home address and work location in this menu, which we don't think is that essential.
Many people prefer to use this application rather than Google maps. Waze is not only convenient but also an improved app that contains everything you need for camping and daily life.
Possibility to add music playing in the background
Enabled search of spots for comping in the app
Scheduling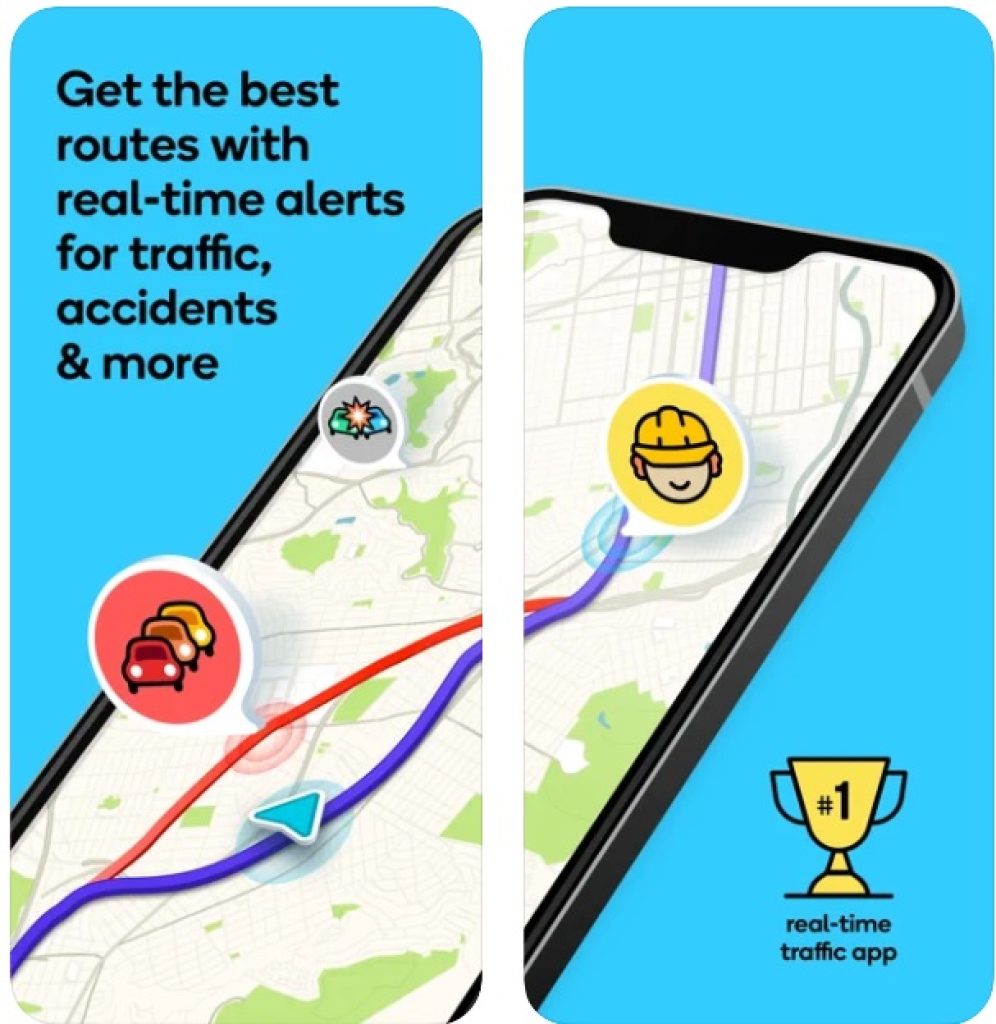 Tripadvisor: Plan and Book
To escape from the tedious city life, you need a good rest at an affordable price. To choose and plan a vacation in the right place for you, you can ask for help from Tripadvisor.

The app has the best places to stay, such as campsites, theme parks, remote out-of-town locations, and more. To find out what features are in the app, let's take a little tour of the app.
Thanks to the app's easy-to-use interface, even boomers can easily understand how to use the app. The main menu has panels such as "Explore", "Things to do", and more. You can access the map by clicking on "Explore" the map is displayed clearly and it is possible to view even small narrow streets.

On the map, you can filter the places you are going to go to. You can also make a report of your travels, and write down what you need to do not to forget anything.
The plus side of the app is that it's not designed for a certain type of camper. There's every kind of entertainment and every kind of place to stay, from the usual restaurants nearby to the flights. And if you're not planning to stay overnight in a tent in the countryside, you can see what hotels are nearby.

In the program, users can leave comments and reviews on places they've visited. This feature helps to know if a place is worth visiting. We consider this a very cool feature of the app because not everyone wants to go somewhere for a few hours and be frustrated with the chosen place.
Large reviews and ranking section
Handy interface
Variety of options and features
Monitors all the amenities nearby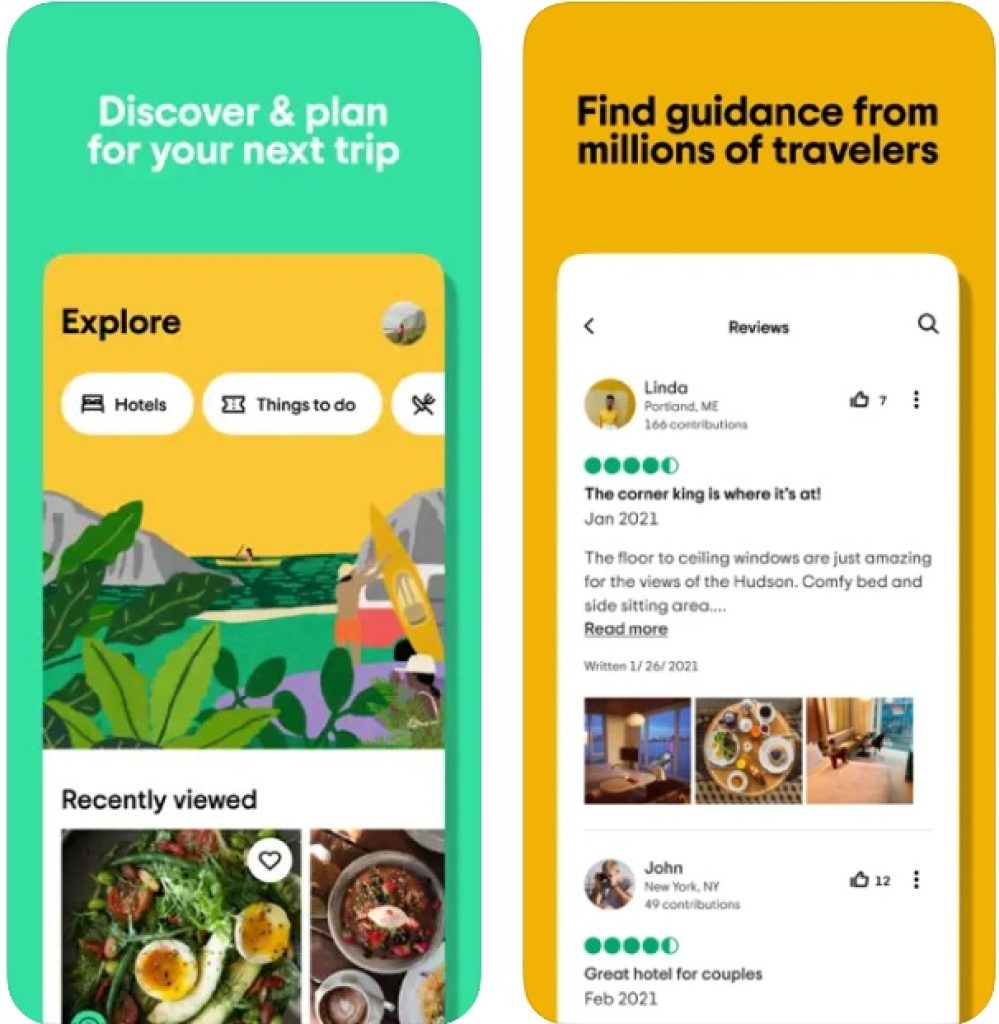 The Dyrt: Tent & RV Camping
The camping scheduler is always at your fingertips, in one click look for the most optimal places for your camping. Already several thousand people have turned to this app's camping map for help. Listed below are a few of the top reasons why users choose The Dyrt, and what are the drawbacks to the app.
The first thing we do when we open the app is to enter the main menu, where we have to choose where we are going. We press the button and go to the map. It is convenient to navigate here, as there is a function to find places for camping nearby or places far out of town.

The search engine gives us different locations for a comfortable stay, with additional photos and necessarily evaluations and reviews of other campers.
Under each location is written the approximate amount of money that you will spend choosing this place. For your convenience, you can choose the estimated dates when you are going to go camping. The app makes it simple to choose the right place for each person.
Possible disadvantages of the application are that many features are only available to VIP users, those who have access to the pro version of the application. And for regular users, the application provides access only to select a location. By looking through the options of where to stay you can make a booking.
Scheduling
Search inside the app
Reviews section with photo reviews
Automatic calculation of budget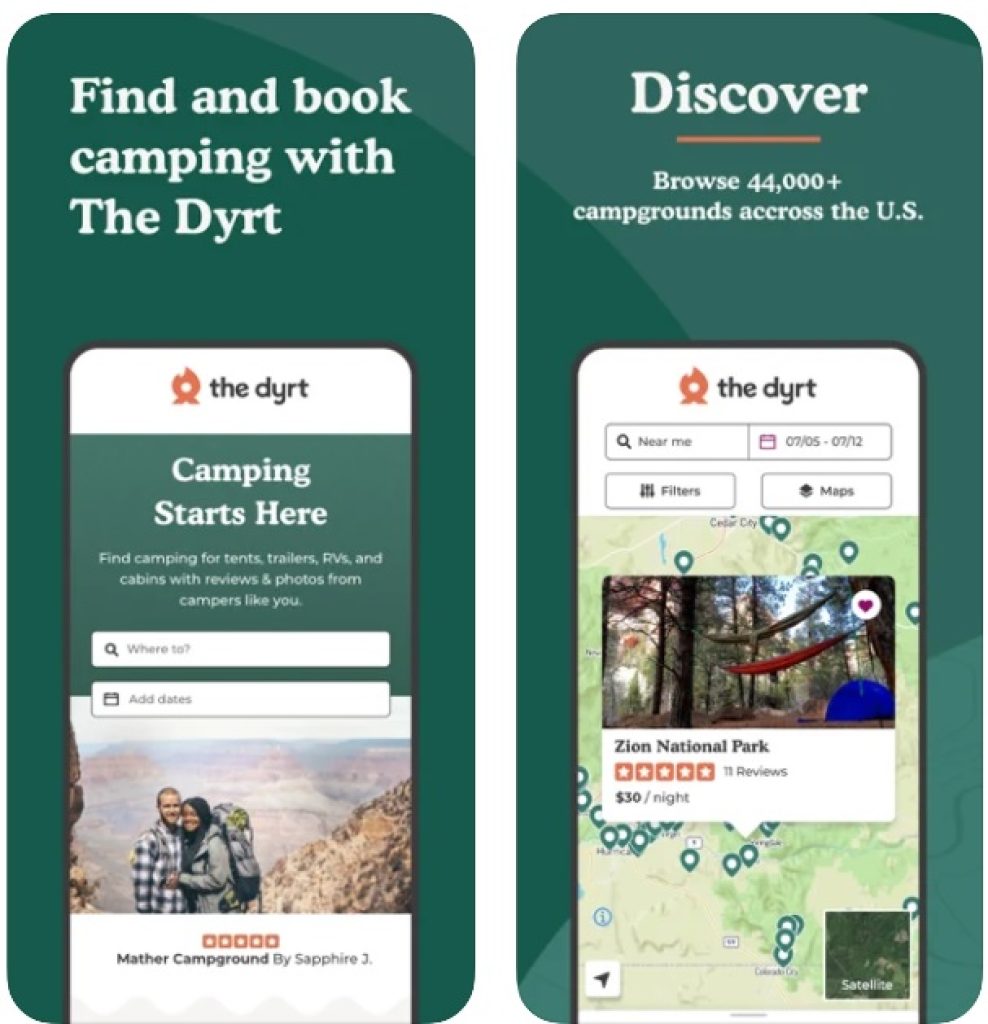 You may also like: 20 Best Ever Travel Apps For iPhone & iPad
FreeRoam – Campgrounds, Boondocking & RV Parks
An app with different functions and capabilities for organizing a campsite. There may be some difficulties with booking a place with the app, but we just have to tell you more about the possibilities of the app and how you should choose the right locations.
Let's start with the nice features of the app, such as creating friends. To plan and organize a campsite for new acquaintances, the app is top. You can add other campers as friends who are just as willing to travel as you are, you can also communicate with them online in the app and share places there.

And if you want, you can sort your list of friends and users. For example, add people from your location to one list, and people from other places to another list.
The map in this app is probably one of the best, as it not only marks places and route diagrams. There are various kinds of areas marked with graphics.

There are also location filters next to the finder and there are a variety of signs on the map. For example, fresh water on the map is marked with a water sign and a blue circle.
When using the application you can create your own travel map, and mark which places you are going to, and you can add approximate dates nearby. And you can share this travel map with your friend's list.

Once you select locations on the map, photos of those places will be automatically shown. This makes it easy to get to know your surroundings from the photos, for a better reference point.
Network inside the app
Ability to create route diagrams
Filters for maps
Creation of personal travel maps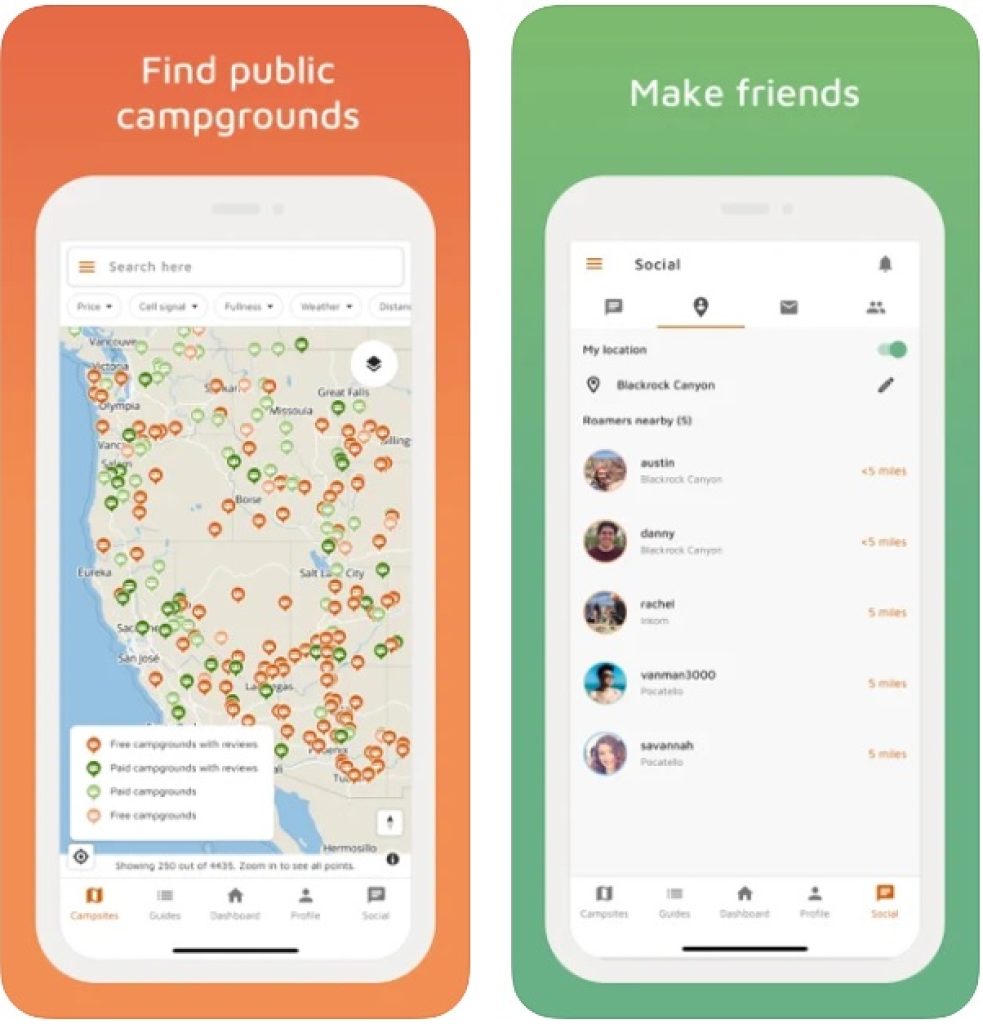 Hipcamp: Camping, RVs & Cabins
Another must-have app for the ultimate camping and recreation experience. When camping with friends, you probably want something new. A great opportunity to make new friends and like-minded people in the HipCamp app.

The best camping locations are not only in the states but also in Canada and Australia. You can find RV cabins, lodging, treehouses, and more here.
Write down different camping spots with your friends, mark them on maps, share them, and plan trips jointly. Sounds promising, doesn't it? You can do it all with this app, no need to take screenshots or drop off locations from the map to each other on other social networks.

The app also has a calendar where you can make marks, notes, and others.
You can find reviews of other visitors to the area or other users, as well as their evaluations, by clicking on any location. In a new window, you can find detailed information about a place.

You can book a place for yourself directly in the app with one click. Also, if you have a pet, you can choose places to walk with them, as well as find booths where they are welcome.
Finds the nearest amenities
Network in the app
Creation of the joint maps
Synchronization with the calendar, scheduling
Reviews section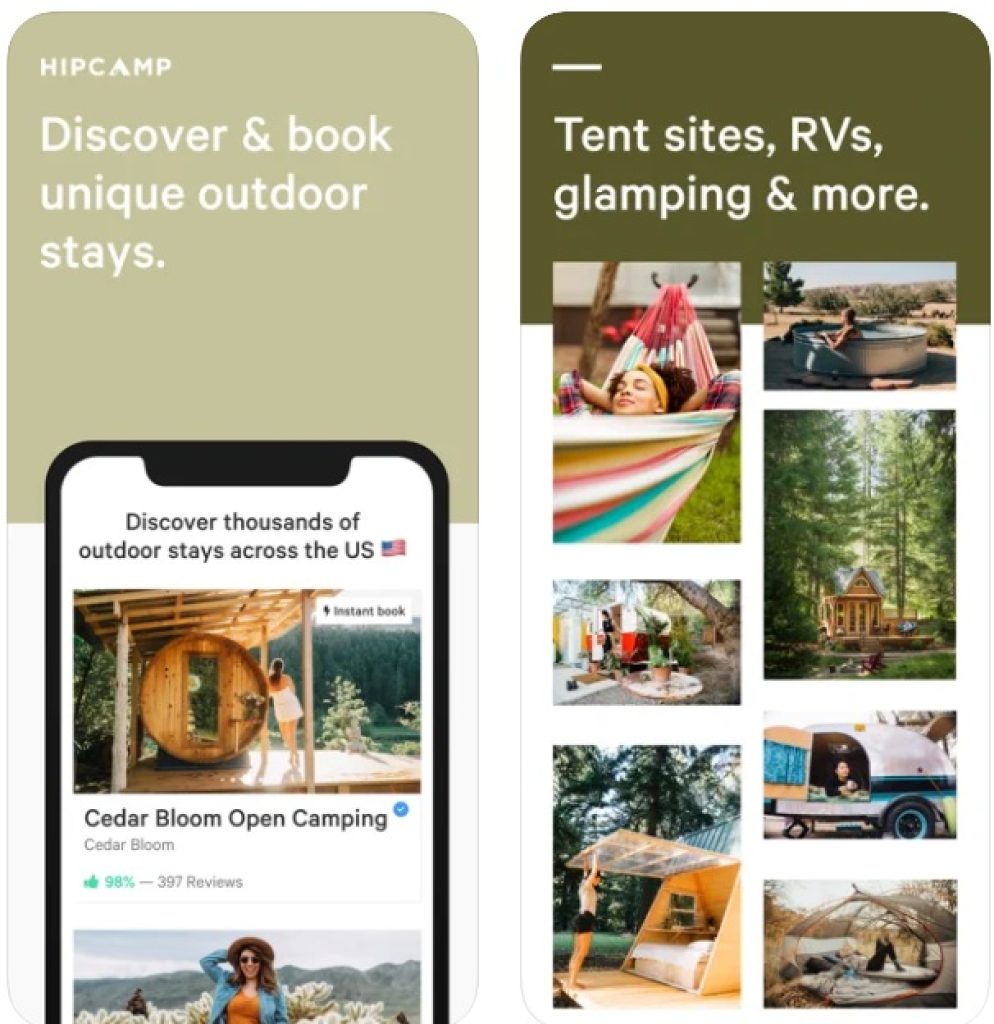 Recreation.gov
The best app not only for camping but for planning other outdoor activities too. Every outdoor enthusiast should have this app, as without it there is no way.

It is impossible to go somewhere without having planned a route. Just for route planning and it is necessary to use this app.
What makes this app special is that it has a lot of features. From selecting unique campgrounds and individual campsites across the country to being able to get digital tickets, to making reservations.

In the app, you can find and view planned events and unusual attractions, and see which route you can easily get to that place.
The menu with a map has a filter function and selects the nearest places in turn. In the list of locations, suitable options are shown for your convenience, and at the bottom, there is an estimated amount of your stay.

Also, the best feature of the application is that you can pay not online, but scan the QR code at the desired location.
Possibility to acquire tickets to various locations right in the app
Search filters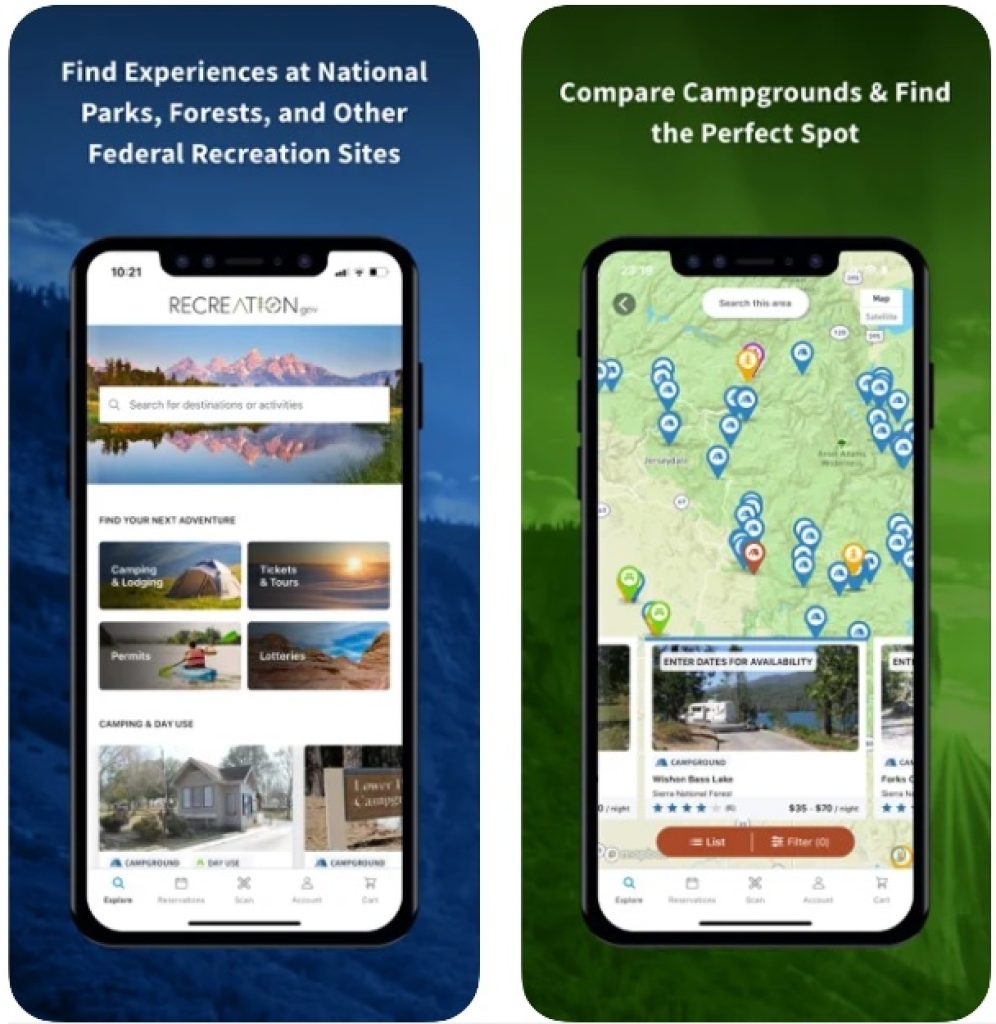 RV parks & Campgrounds
The title speaks for itself. Despite the fact that the application interface looks like it hasn't been updated in several years, you may find useful information and a few cool features in it.
In the options section, you can find a list of stores, hotels for overnight stays, camping parks, and other useful features. When you include something-which is on the list, it is automatically added to the map, and will be marked with icons.

The top camping locations will be marked on the map by number, from the topmost to the newest. There will also be full information written about the area and a few pics added for reference. The details will also include the personal website of the place where you want to stay.

There is a call button next to it, which is very handy for dialing up and making reservations or asking questions.
And finally, how not to mention user feedback. In the app you can leave a review or read reviews from fellow campers. The app is a bit tedious, so it's more recommended for older users.
Shows all the useful places around, including camps, cafes, stores, etc.
All information is accompanied by pictures
Ability to connect with a place right in the app
Reviews section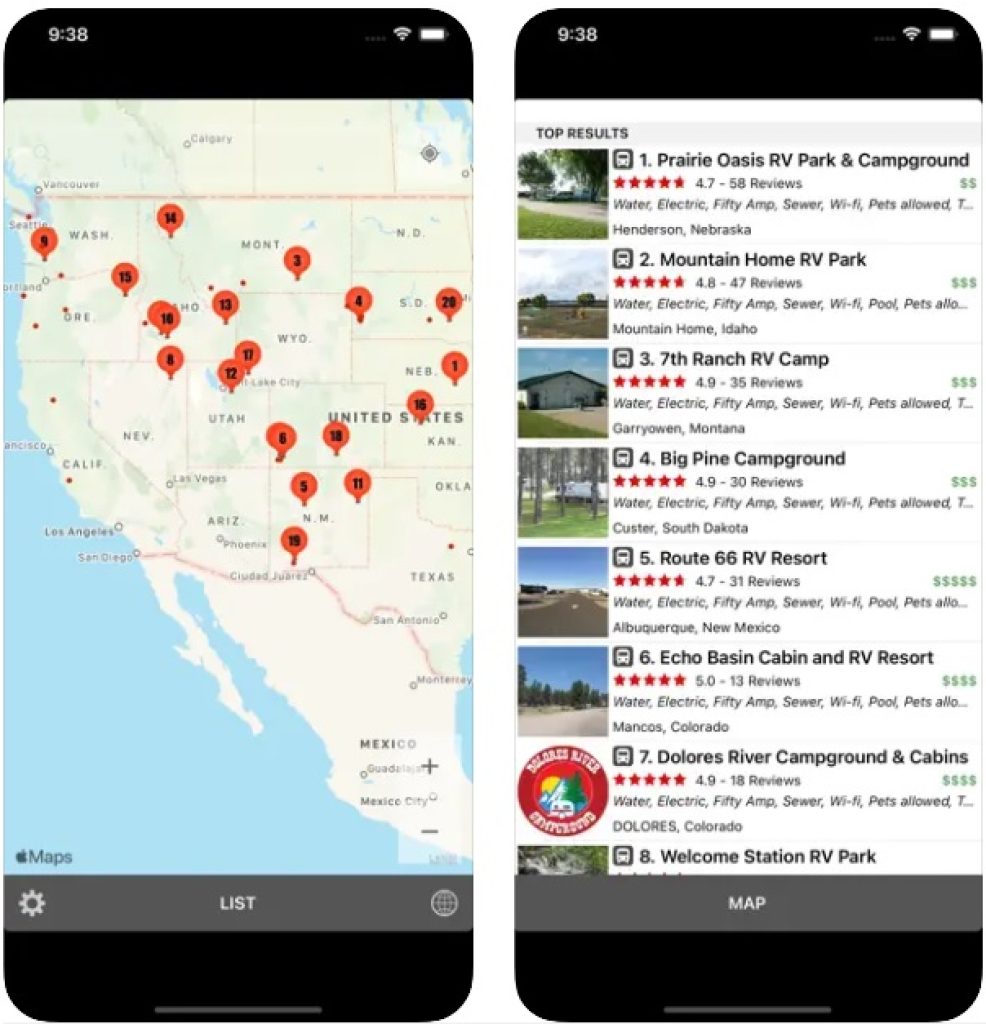 You may also like: 11 Free road trip apps for Android & iOS
Boondocking
The app combines a map, weather information, a tracker, and more. You can see what the weather will be and humidity information and others in the place where you are going to go.

Thanks to this feature, you can dress for the weather. The map in general is not unlike a typical Google map, it's just like the other apps, there are marks and icons on the maps. Or you can change the map to a satellite map, but this makes it many times harder to navigate.
You choose your own camping spots here, and the guidelines here are different from other apps. There are just the names of camping spots and just a picture of them, but if you click on the names, more detailed info about the area appears.

The app's interface looks tedious, which is probably one of the downsides. For it is the first thing that grabs the attention of users.
What's really exciting and beneficial for camping in this app is that you can view the weather no matter where you are. You can also view the weather not only during the day, but also at night.

So, users can identify things that they will definitely need depending on the weather. If these opportunities and functions of the application are enough for you, then it is as a good option.
Weather information in the app
Several typesof maps
Pictures of various camping spots