When we go hiking, going out to nature, by the river, or taking a walk, we see plants. They surround us throughout our lives, and we are indebted to them for oxygen.
Beautiful flowers always grow in the gardens and plots near the house, but we have no idea what they are called. We don't know the details of their growth, their peculiarities, and so on.
It turns out that even if we have seen a beautiful plant somewhere, it is almost impossible to find it – because in flower shops no one will understand what we are talking about by description.
You may also like: Animal identification apps
What if you're in the woods and there are no people who know about it? Then you will not define what kind of plant is in front of you. In this case, were developed apps that help you to recognize a flower, plant or tree almost without your participation, just by its image.
We found for you 17 Best plant identification apps for Android & iOS, which you can download to your smartphone and use when necessary.
Plantifier
Plantifier will be useful for all lovers of plants, flora, and beautiful greenery around. You can use it only if you don't need to know the name of the plant immediately – you won't get what you need instantly. The whole service is based on the MyGarden.org forum, whose users are experts in the field.
How the whole recognition process works: you upload a photo of the plant, flower, or tree you are interested in and that's it! After a while, users will help you find out what it is.
If the Expert Advisor has answered you correctly and really helped you, you mark it. In general, Plantifier is a convenient service for learning something new about plants and to highlight information from people who are passionate about flora.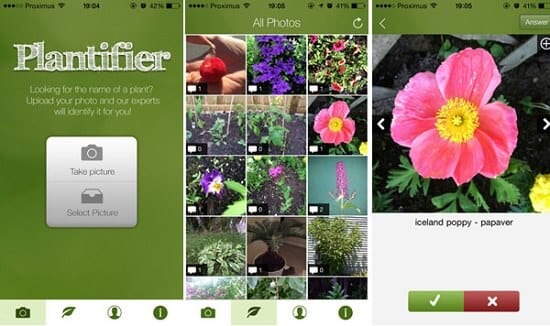 PictureThis – Flowers&Plants Identification
In this application, you will be able to quickly find out the necessary information. On a walk or camping trip, your children are constantly asking questions about the surrounding plants, and you do not know what to answer them?
To satisfy your curiosity, you can start looking for information on the Internet, but it will be much longer than you would like. The PictureThis app will help.
PictureThis allows you to identify plants, succulents, trees, and even cacti in seconds. Simply point the camera at the flower and the app will detect it with 98% accuracy. You'll find more information, details about care and watering, and interesting facts and tips from professionals.
Also, the service can remind you about the watering if you already have plants. PictureThis will help you to teach your children something new and interesting, as well as learn new information yourself.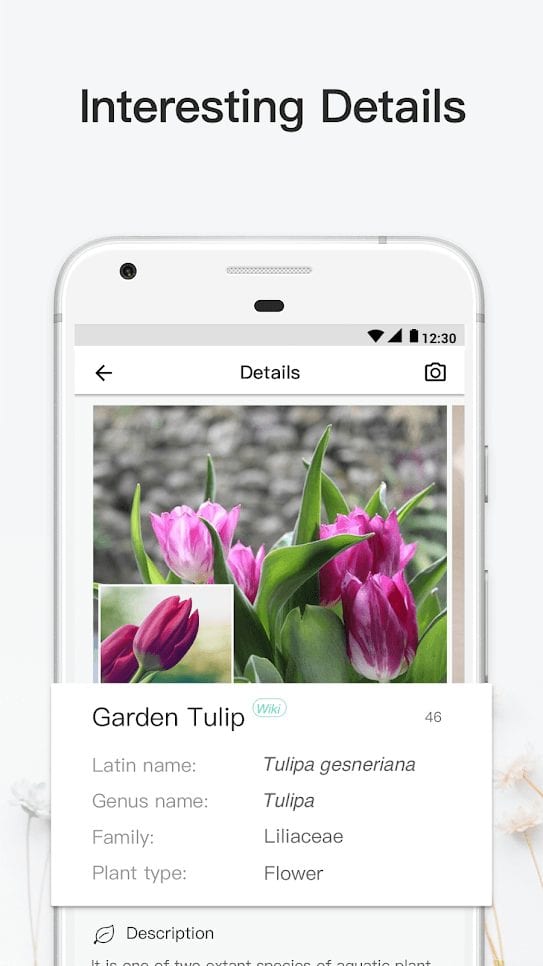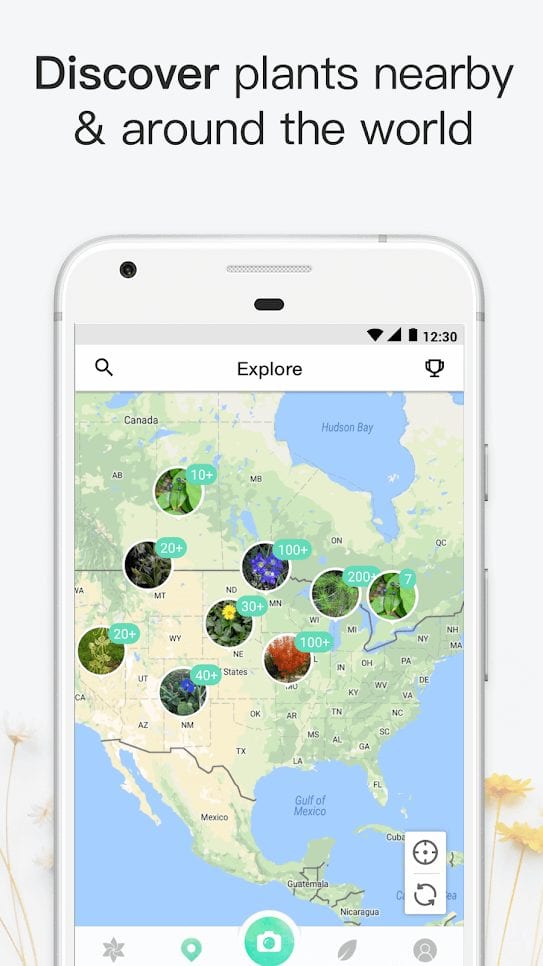 You may also like: 15 Best farm game apps (Android & iOS)
PlantSnap – Identify Plants, Flowers, Trees&More
PlantSnap is a service developed with the help of the Earth.com portal. If you are fond of picking mushrooms, studying plants, or just constantly wondering what is growing around you, this application will be useful for you.
The PlantSnap library has more than half a million plants, herbs, mushrooms, and succulents. The entire archive has been created by the users themselves, and as you can see, it is regularly updated.
The application works with a machine-learning algorithm to help you determine exactly which plant is in front of you. You can find up to 2,000 new plants every month. The application works in conjunction with its website, so you can even immediately upload your snapshots to your smartphone and they will be available on your computer as well.
A plant map is also available. If you want to find a particular flower or a category, PlantSnap will give you this opportunity. All of the application's features are available through a paid subscription that costs less than $3 a month.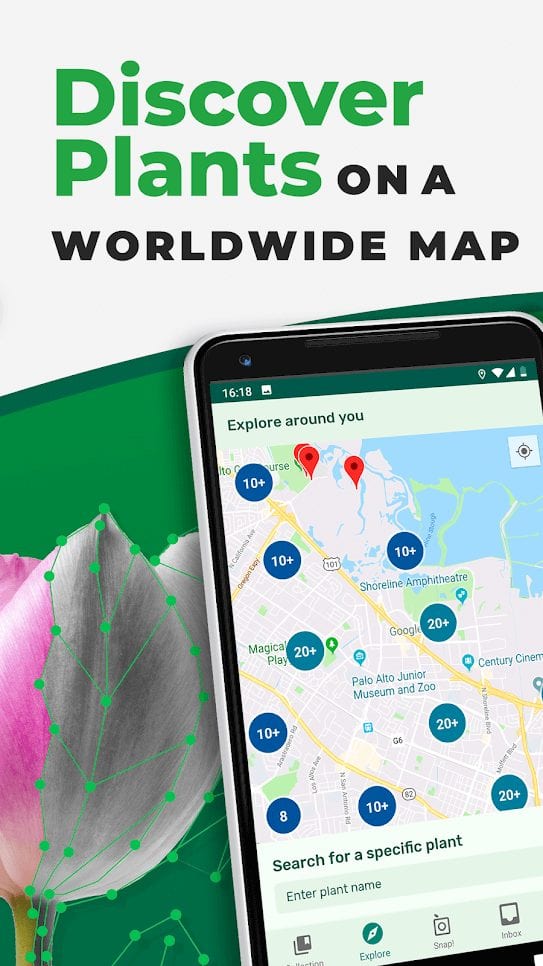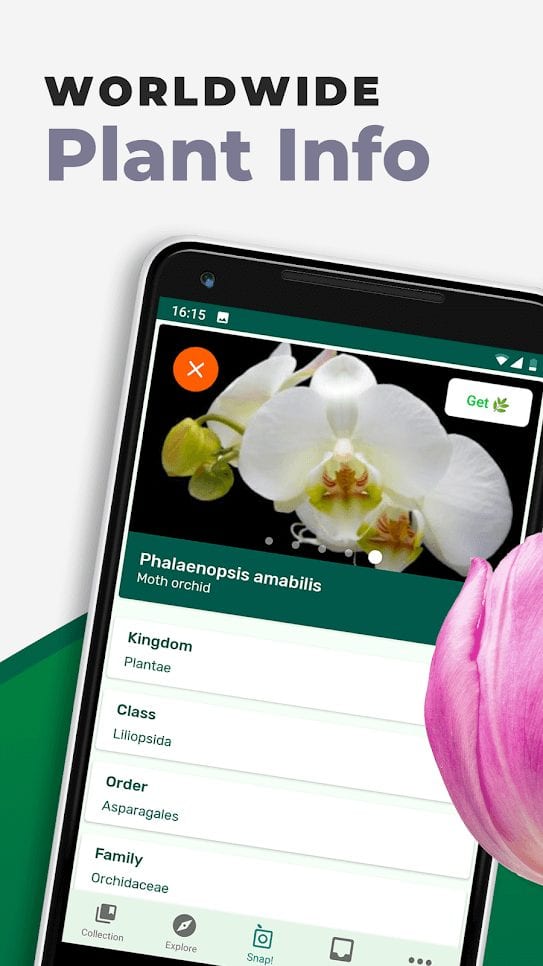 What's that flower?
Photo identification is not always effective and useful. Often, to get more accurate information, you will have to search for information, use a browser search, or simply settle for inaccurate information. The What's that flower application will help you to simplify your search, quickly find the plant you are interested in or similar to it.
The service offers you to do your own search. Choose the color of the plant, the region of its growth, a specific place of residence, and some other external features – the number of petals or the length of the stem. So the results of your request will decrease in quantity and you will more likely find the flower you are interested in.
If you still want to use a photo search, remove all annoying advertisements, or enable standalone mode, you will have to buy an Advanced Usage Mode.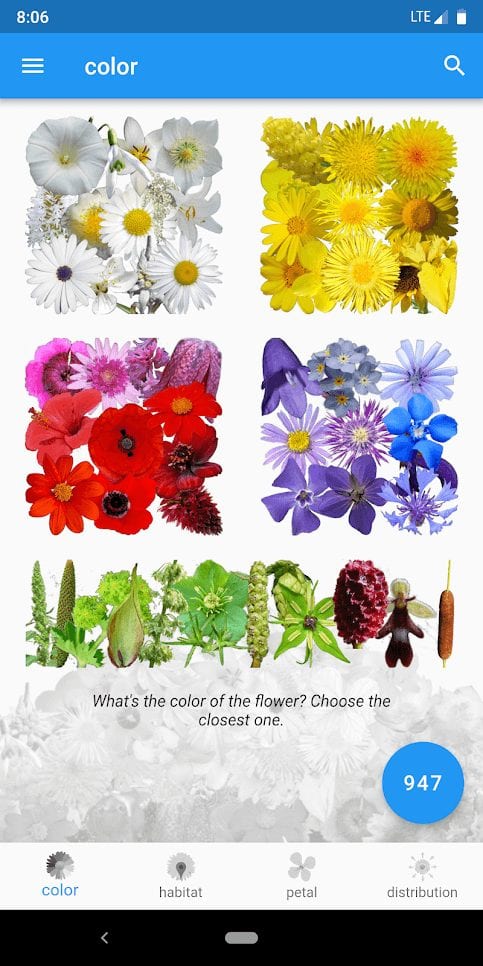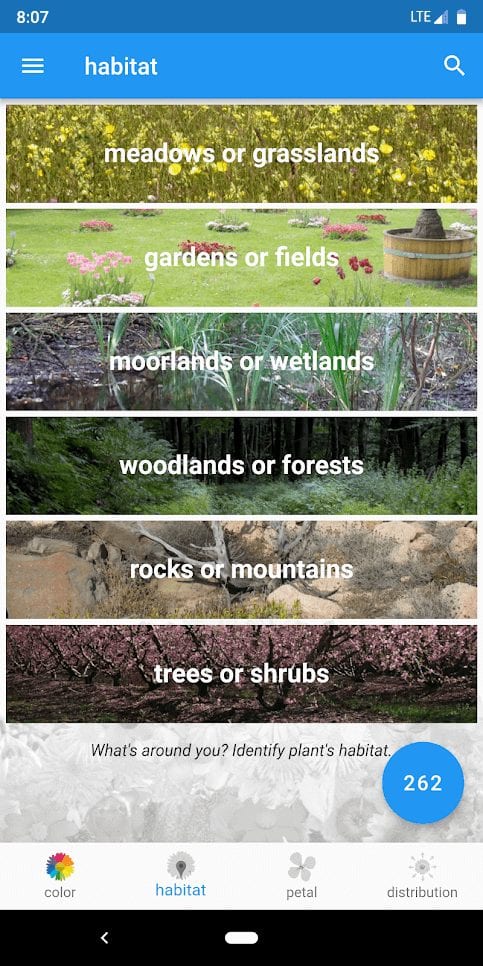 iNaturalist
A little more than just a plant search, the iNaturalist app can offer you. Here you can not only record and write down all your observations and findings but also share them with other interested people, as well as communicate with the whole community.
iNaturalist is one of the most popular and recognized applications for identifying and searching for plants. More than 400 scientists and researchers are working to build a full base of plants and you can even join them.
Discover something new. You can find plants hundreds of miles away, study them by photo and description, and create your own plant inventory. You can get comments and discussions from naturalist groups about your findings. You can also create your own project or watch someone else's research – become part of the naturalist community on iNaturalist.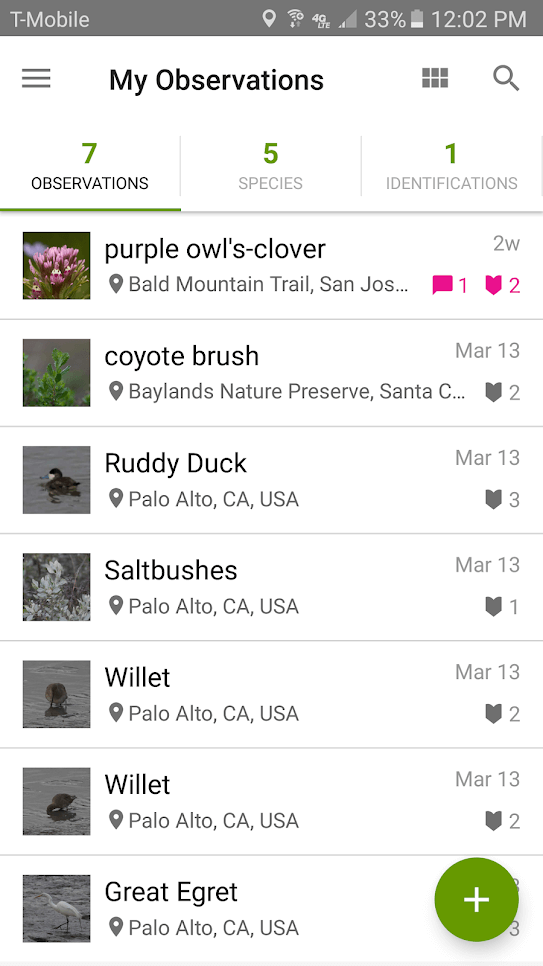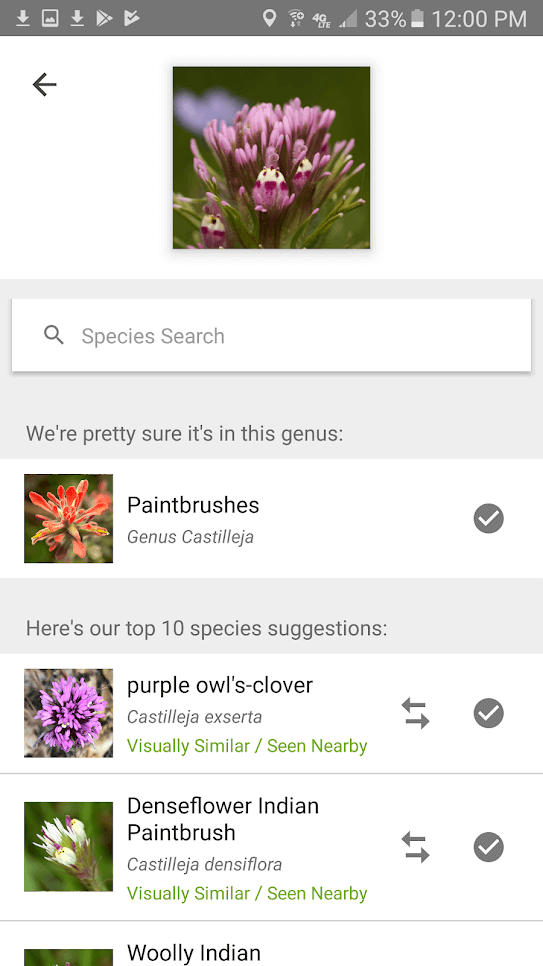 You may also like: Mushroom identification apps
PlantNet Plant Identification
PlantNet is a scientific project aimed at collecting information about wild plants on city sidewalks, near houses, and in parks. It's a whole civil engineering project that can replace a real botanist.
With the help of the application, you will be able to better study and understand the many plants that exist on planet Earth – ferns, flowers, mosses, and much more. Plants are so similar to each other that it is not difficult for an ordinary person to mistake them, but with PlantNet you can forget about this problem.
All you have to do is take a picture of the interesting plant and you'll know its name and features right away. Users who load wild plants directly are especially appreciated. In this way, true scientists can study the progress of growth or even capture new species.
There are a lot of virtually identical flowers and herbs in the world, so even the smallest detail can be important – be it spikes or a special shade of petals. Now PlantNet recognizes more than 20,000 different plants, but their number is constantly growing and increasing.
Multiflora identification will allow you to identify a plant even more accurately, even if you do not know which category it belongs to.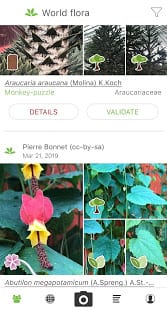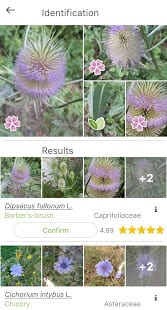 Plantix
One of the few apps on our list that is marked as the "editor's choice". This is a perfect guide for the farmers and everyone who deals with this craft – in Plantix you will find a broad base of the plants, crops, weeds, and 400 other types of the plants. You will also find everything about their nature, possible diseases, price, and breeding.
The app has been downloaded more than 10 million times and translated into more than 18 languages – another proof that many farmers choose this app when they want to get an abundant harvest. What is more, Plantix is the whole community of farmers and you can get useful advice and help at any time.
Plus, here you can also calculate fertilizer demands for your crop based on the plot size. And if you notice that your plants are suffering from an unknown disease you can simply tap on the picture and the app will show you the name of it and how you can cure it.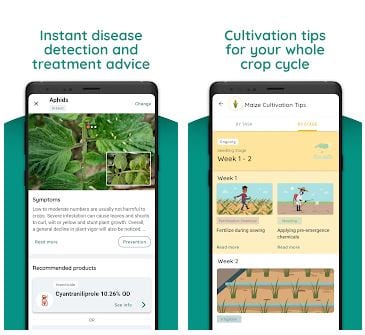 Agrobase
Are you a farmer? Or maybe you just have the curiosity about the plants that grow in your garden? In any case, you will find this app extremely useful. It contains information about the full collection of agricultural plants, pests, weeds, and diseases. Here you will also find all registered pesticides, insecticides, herbicides in a chosen country.
What is more, this app is not the plant identifier only, but it is also capable of detecting the types of insects – thus you can find out how dangerous are they for your farm. Agrobase is used among crop, vegetable, fruit, nut, horticultural, and livestock farmers to reach higher farming productivity.
The only negative aspect of Agrobase is that it contains lots of ads, that sometimes block your way of the comfortable usage of the app.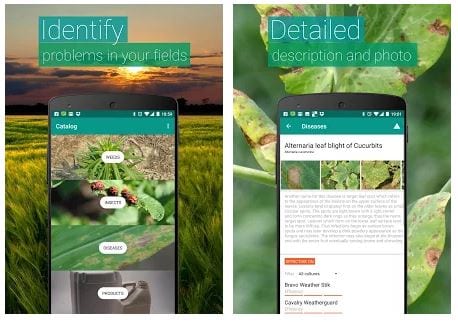 Flora Incognita
The application immediately attracts interest by the design of its home page. There are several colors on it, the middle of which serve as menu buttons. Now the question "What's it blooming there" will not leave you in the dark.
Flora Incognita has more than 4.5 thousand different plants in its catalog, which are found all over the world. The process of identifying plants is simple and intuitive: you take pictures of the plant itself – its bud, flower, stem, or leaves and the service begins its work.
You will be presented with its geography, toxicity, protection status, and many other facts. In the application itself, you will also be able to record all your observations.
Bring in information about the plants, trees, flowers, and many other things that you have met. You get a whole diary with a lot of useful information. Keep in mind that indoor plants are not identified.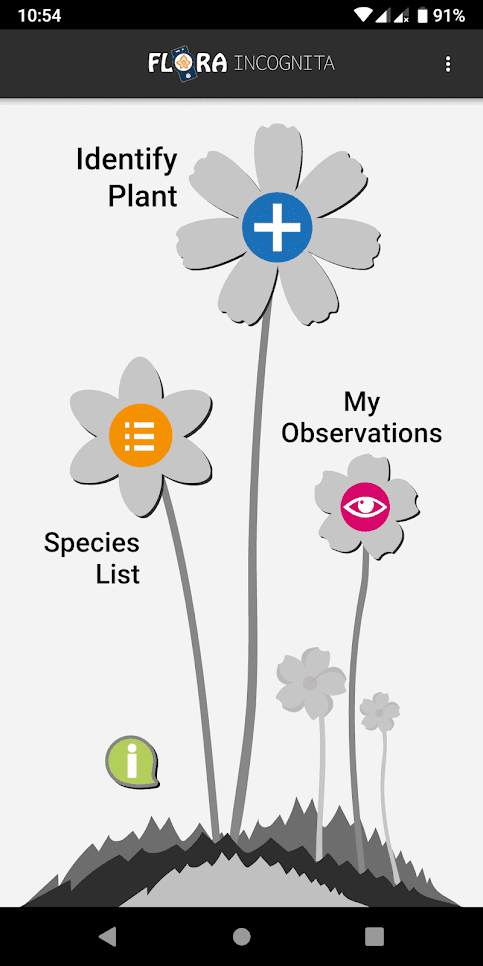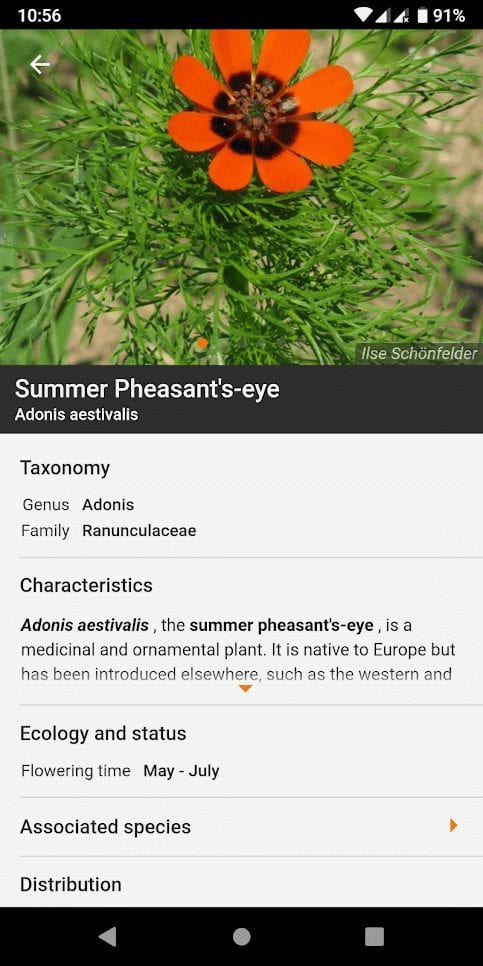 Wild Edibles Forage
Plant research is an incredibly exciting activity. Some people like it so much that they even create special applications that relate to their hobbies. That's how the Wild Edibles Forage app was developed. It is a real tool and encyclopedia for beginners florists and naturalists.
With Wild Edibles Forage you can explore and track plants that grow in your backyard. What if there's an incredibly rare plant out there and you don't even know it?
Each of the plants has up to 8 of its images and photos – so you can study in more detail the greenery you are interested in. Small details, features, and information about growth regions – all this is also taken into account in the description.
When you travel, you can even leave notes right on the map. Turn on GPS and Wild Edibles Forage will automatically detect where you are. You can also record your observations or plant information right there. The app allows you to get full information about the plants – toxicity, poison, characteristics, and even smells.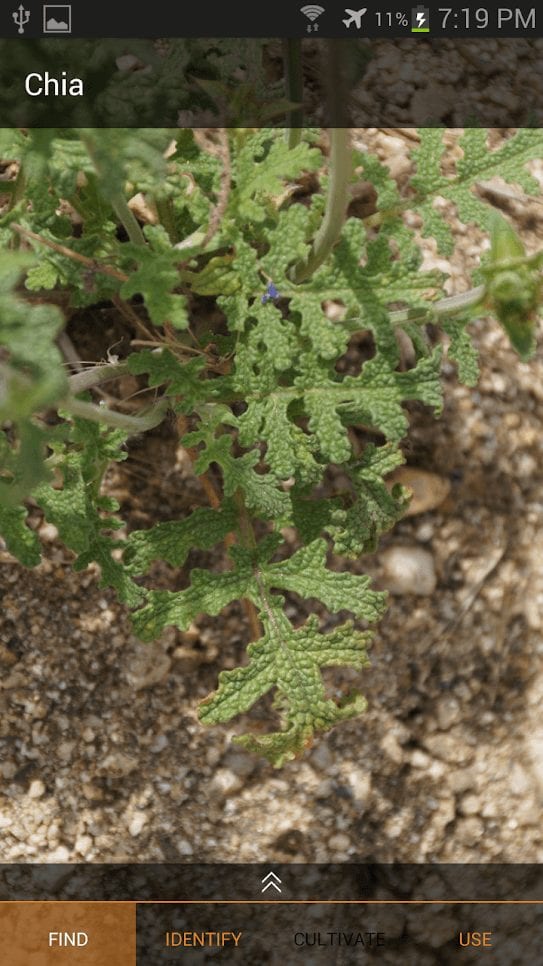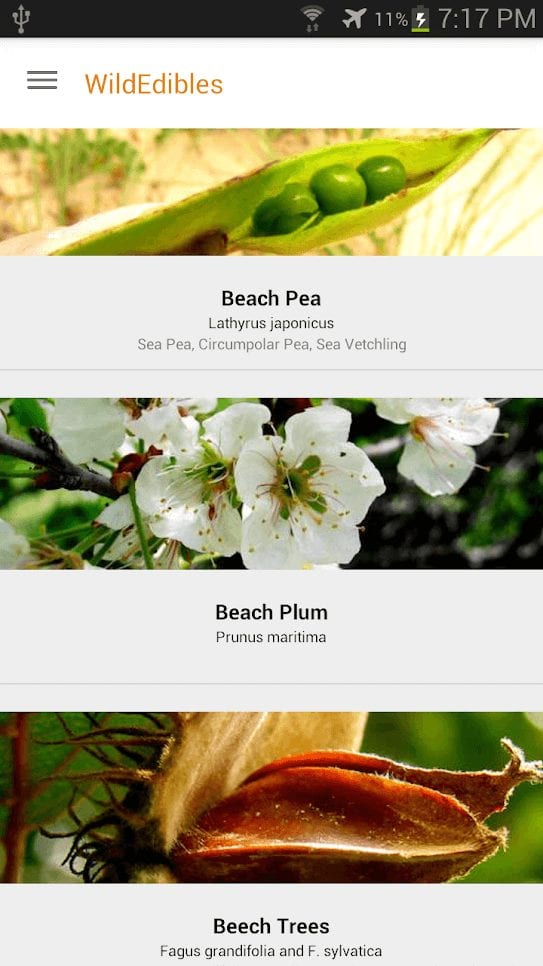 FlowerChecker, plant identification
The app with an incredibly cute icon – a white flower on a blue background. FlowerChecker is your assistant in determining the species of plants, and also gives you the necessary information or additional images of the plant.
All you need to do is take a picture of a flower, bush, tree, or even lichen. An experienced team of experts will give you complete and comprehensive information about the plant.
Statistically, more than 90% of your plants can be recognized. The developers of FlowerChecker believe that it is possible to recognize a plant only with the participation of a person – artificial intelligence is not able to do it.
That's why you pay 1 dollar for each identification. On average, it takes from a few minutes to several hours to recognize a single plant, depending on its rarity. In order to try out the functionality, you are offered with 3 free recognitions. This way you will understand how efficient FlowerChecker is for you and whether it is worth buying.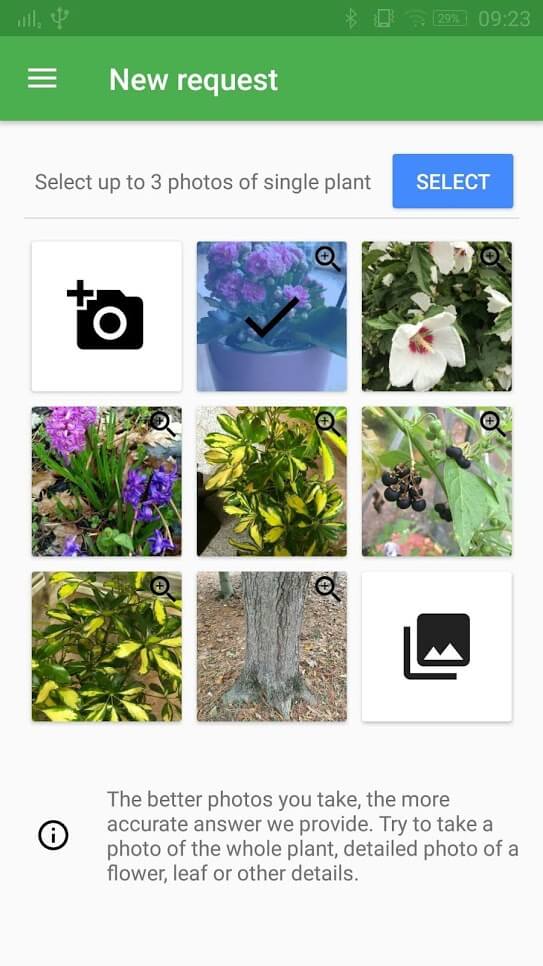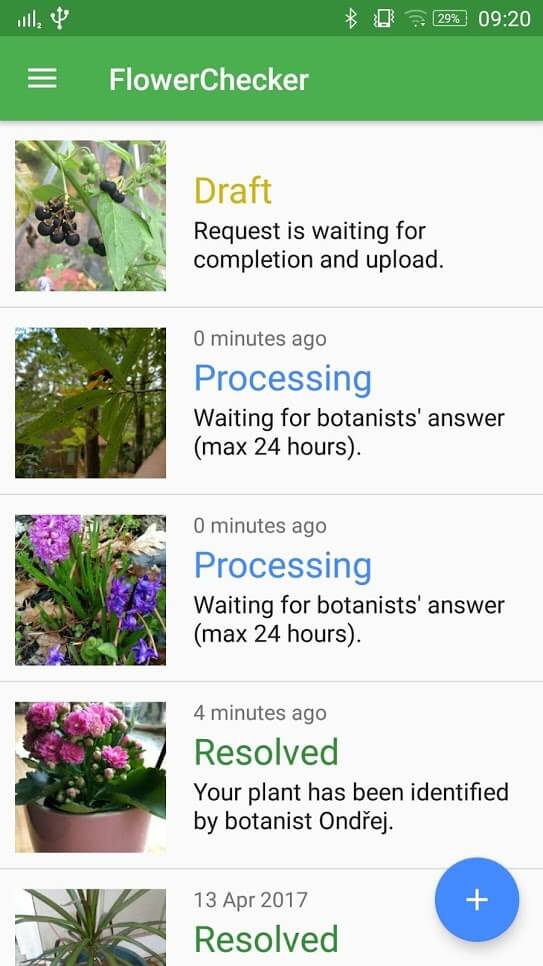 GardenTags – Plant ID & Care
Would you like to introduce all the plants from your garden? Or do you need tips on how to take care of them, as well as the nuances of growing them? In this case, you can recommend the GardenTags app. This is a full service for gardeners, which is not only convenient to use but also useful.
Create your own profile and add to it everything that grows in your backyard. It's like an electronic flowerbed where each of the plants will give you the information you need. You get complete instructions on how to grow them, irrigation mode, and much more.
GardenTags has built-in automatic flower and plant recognition. If you doubt the result or it's just a rare specimen, more than 100,000 gardeners will help you to solve this problem. Want to get a lot of other tips? For example, what's best to grow in your climate, how to take care of each plant so that it can develop to its fullest, and much more.
Looking for inspiration? Even with this, GardenTags can help you. See hundreds of garden and flowerbed ideas shared by other professionals and amateurs. With GardenTags, your backyard can turn into a home for plants.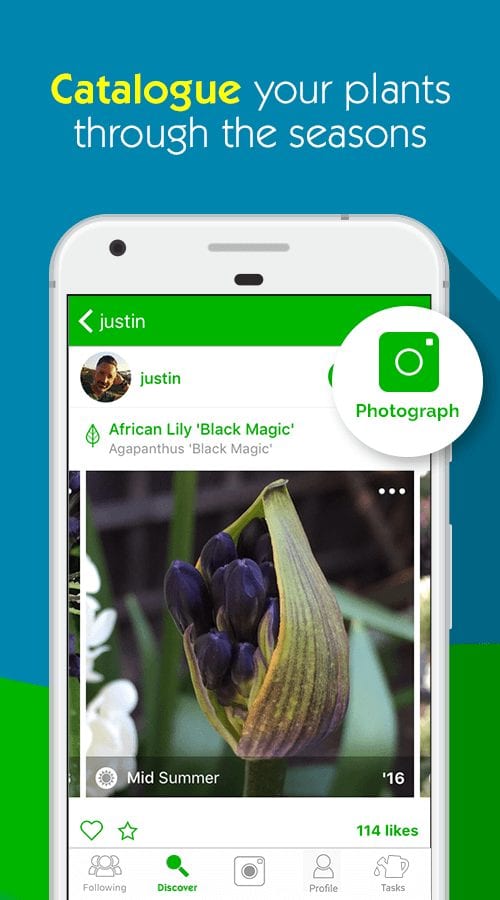 You may also like: Fish identification apps
iPlant with Brigitte Mars
At least once in your life, you've heard of useful and medicinal plants. After that, you wonder if something that will help you instantly grows right next to you, and you don't even know it. Inspired by this idea, the scientist Brigitte Mars developed the application.
Brigitte Mars is a specialist in herbs and plants, their medicinal and nutritional properties, and many other things concerning flora. When you search through photos, you get full information about the plant – its etymology, properties, components, and contraindications.
Searching for interesting plants, you get such a lot of new information, which you would not find by using the search engine. Knowledge leads to self-sufficiency!
It is worth noting that before using herbs as medicine you will need to consult a specialist. Do not neglect your health, even if you are sure that it will do you good.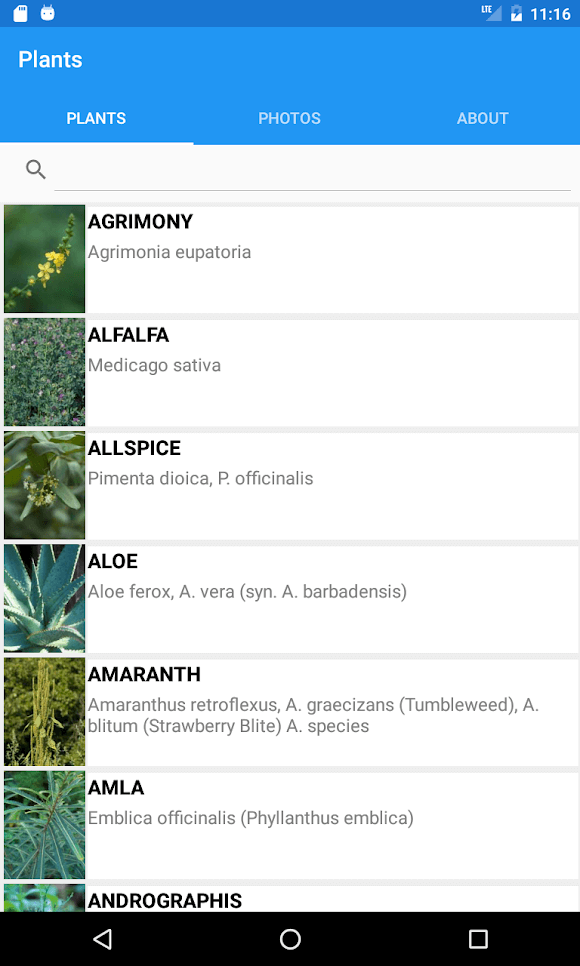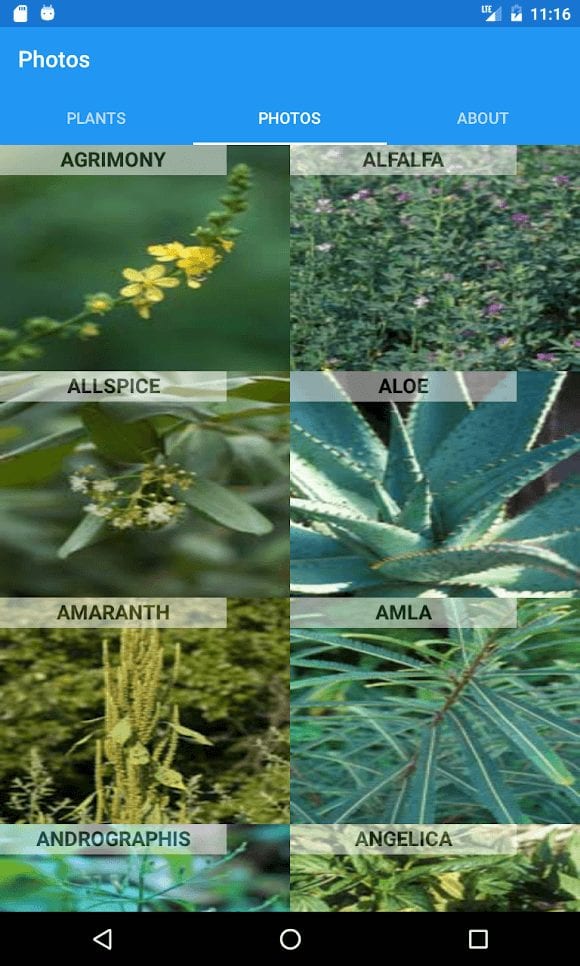 PlantFinder – Plant Identification
When you first see the plant identification apps list one of the first things in your mind might be " who in the world would need this?" Identifying the plants? Why should it be so important? But if you take a closer look at our daily life there is a lot of cases when we want to know what plant is in front of us.
Maybe you walked into a beautiful hall and you saw those rich, luxuriant flowers? You won't search for the owner or gardener just to ask which these flowers are, right?
Life becomes really easy in this sense when you can detect what type of flowers you see in front of you just by taking a picture of it and searching it in the app like this. Upload a plant snap, get your match, and find out about the plant that interested you in an instant.
The database of PlantFinder is more than decent – it counts more than 250 thousand plants. Here you can even compile your personal collection of plants by adding the separate types to your favorites.
Apart from that, in PlantFinder you will discover cool elements for you not only could find the plant but not to forget to take care of those that you already have. For example, you can set up a reminder here that you need to water your flowers.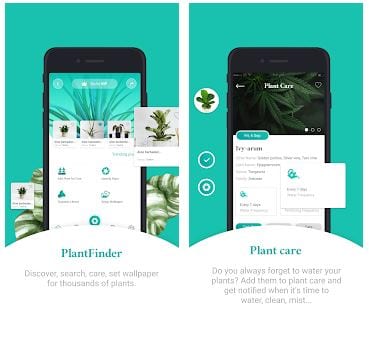 Smart Plant Home
As you have already guessed from the name of this app, it can become your ultimate guide about your home-grown plants.
Here you will find all the necessary information about the types of home plants, how to take care of them, where you can buy a certain plant and how expensive it might be and how capricious a certain plant can be. This is quite a standard app for Android, but its strong side is definitely the tons of information that it provides.
The app is produced by the network of garden centers all across the US. So don't be surprised when going to buy a certain plan and searching for the store where you can get it, you will find only the stores owned by this company.
However, this organization is very decent and does provide the best plants at very affordable prices. Plus, you're receiving the full guide on how to take care of them.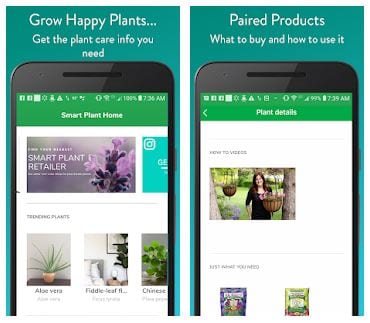 You may also like: 7 Best land surveying apps for Android & iOS
Garden Answers Plant Identifier
If you are afraid that some of the plants in your garden or near your home may be dangerous for your children or pets, you can now easily identify them. Use the Garden Answers Plant Identifier app to help you with this complex issue and you'll know exactly if there's a potential threat near you.
To identify a flower or plant, you will need to take a snapshot and send it directly to the application. You will immediately receive comprehensive information from experts about it, its use in horticulture and gardening, as well as properties.
The mechanism of artificial intelligence allows you to recognize more than 20 thousand plants and answer the most popular questions.
As we have already mentioned, there is a system of a search for key questions. The archive has more than 200 thousand of the most popular facts, questions, and answers.
Those matches that you are most interested in and you want to keep them – you can add them to the category "Favorites". Using Garden Answers Plant Identifier will help you to easily navigate through this huge green world.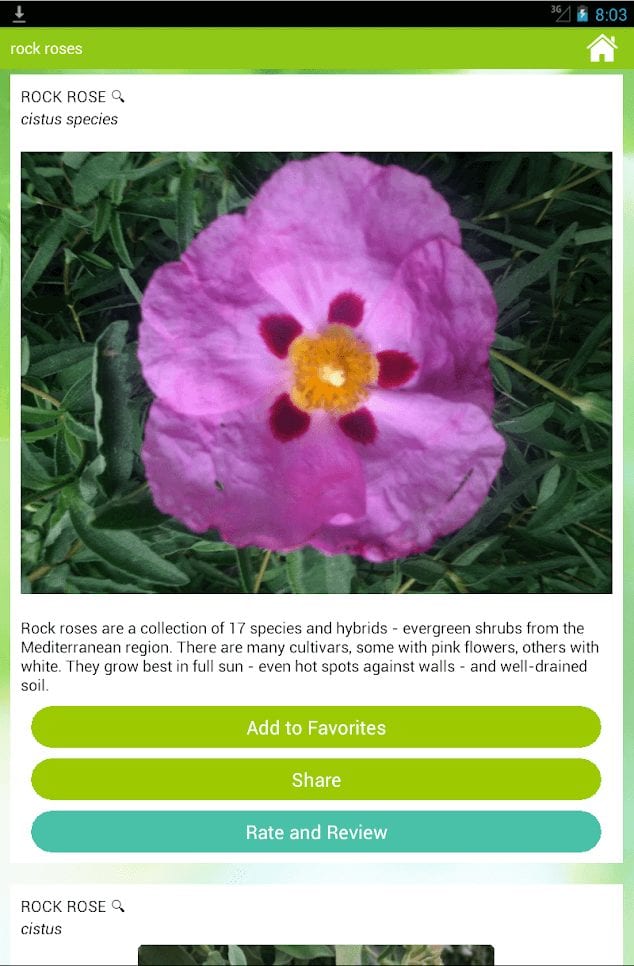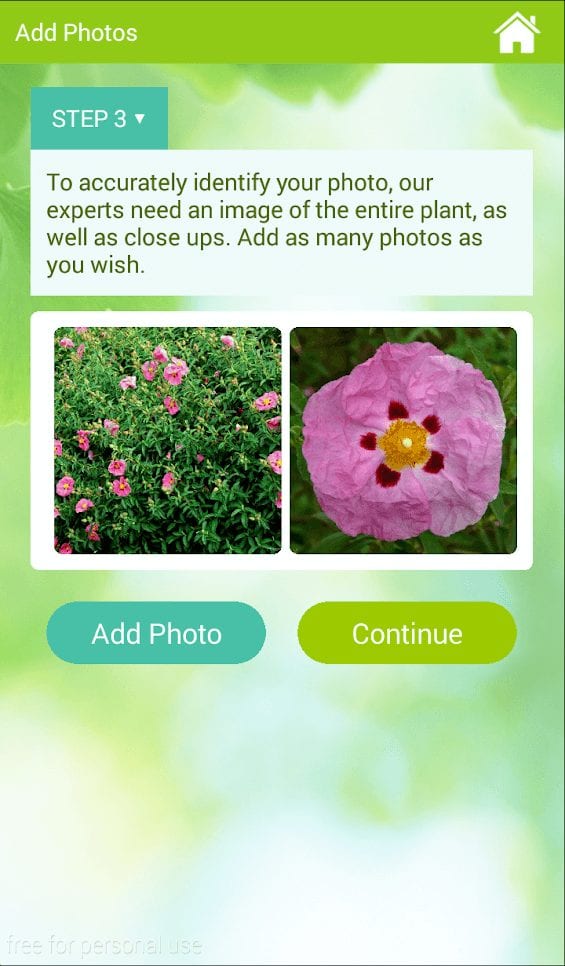 The world around us is constantly changing, evolving, or regressing. Plants can either disappear forever or new species can emerge that have never been seen before. In order to know exactly what is growing in your yard, you should use the presented applications.
When you go camping, go out with friends to the lake, or just decide to do gardening – in any case, applications to identify plants will help you. Your smartphone is an indispensable helper in the world of plants, flowers, and trees, and specialized services will only make your life easier.