After work or main studies, few people want to do mental work. You will rarely find someone who would come after a day at the office and sit down to solve tasks with integrals or math charts.
Nevertheless, no matter how tired you are, your brain also needs constant work – even when your body is resting. Even on weekends, you can solve various tasks, logic, and wit tests – these are not full-fledged learning tasks. You may check the list of 15 Best math game apps for adults (Android & iOS) if you are interested in math.
The average IQ is about 100, and you may have gotten about that from taking the tests. We decided to find the best applications that will not only give you the opportunity to learn your intelligence but even improve them by developing different abilities.
If you are really interested in the indicators of your intellect, we offer you to learn about 11 Free IQ Test Apps for Android & iOS.
Brain Test: Tricky Puzzles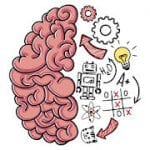 If you love puzzles and want to find something really unusual, then Brain Test is one of the best options for you. Each puzzle presented in the game is quite complex and has its own features – you can't solve it in a standard way.
Of course, the very first levels will seem to you too simple and even boring, but the game will surprise you further. In Brain Test you will be able to test and improve your wit, as well as learn to think outside the box and even relax.
While you will be resting during the lunch break or on the weekend evening, you will be able to engage in your development. Brain Test is exciting, and you will not be able to break away and just stop passing levels.
The gaming process captures the user, despite the fact that it is very simple and does not require anything special. By the way, the Brain Test is suitable for players of all ages, so that even children can improve their abilities. Especially since you do not need an Internet connection.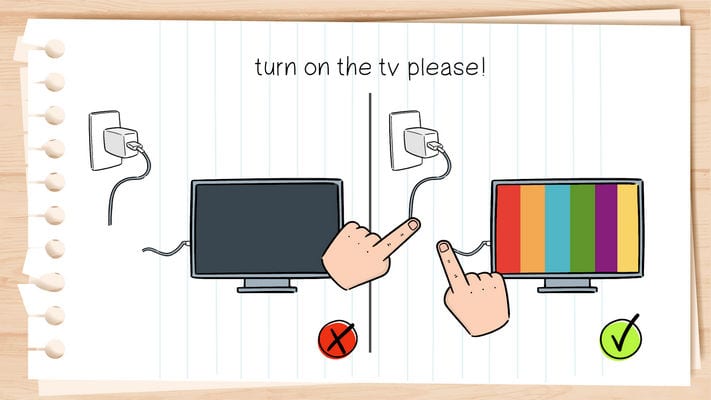 You may also like: 11 Best griddler puzzle games for Android & iOS
94% – Quiz, Trivia & Logic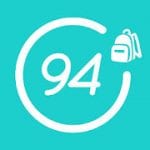 Usually the lack of individuality is generally condemned. You may have heard from friends or bloggers that the main thing is to always be yourself and not to blend in with the crowd. In the game 94%, you will need to put it all aside and start thinking the way most people think.
In this puzzle game, you are invited to become the voice of the main part of society, as well as to learn how other people have answered the question. Each level can become unusual and interesting for you, so you can spend your free time.
94% is a text-based puzzle that will make you think carefully about your answer. Even a few minutes of your free time during the break you will be able to devote to your development.
Each level is a question to which you must give a specific answer. The correct answer is that 94% of other respondents have answered.
Once you answer correctly, you are entitled to a reward in the form of coins – then they can be spent on hints and bonuses. The answer is entered using the keyboard, so you can try hundreds of different options!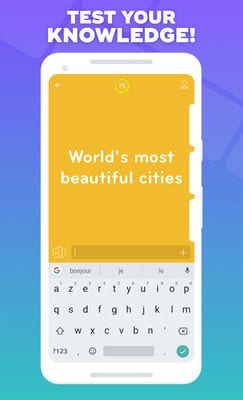 Skillz – Logic Brain Games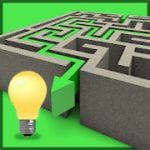 You can check how well your brain works at the moment in the Skillz application. This game checks your intelligence, memory, attentiveness, and many other abilities of your brain, which you may not even use in everyday life.
You can play Skillz not only on your own but also together with children so that the process would benefit them. You will not notice for yourself how you get involved with the game and will be happy to improve your mental abilities.
In Skillz, there are different types of tasks that you need to solve. For example, to improve your memory, you will find all the same cards, and your attention will develop as you shuffle some characters.
For each skill, the complexity of the tasks will increase with time and depending on how hard you go through them. As in many other games, in Skillz, you will receive an assessment of your abilities with the help of stars and additional awards. Are you ready to strain your mind to solve another puzzle?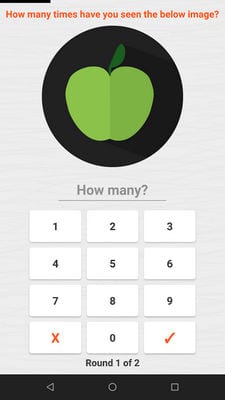 Best IQ Test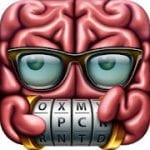 Application Best IQ Test can be called one of the non-standard ways to learn the indicators of your intellect. There are not many puzzles – only 60, but you can hardly reach the end.
The developers assure that the first level of their game can pass about 90% of the world's population, but a similar figure for the last level is only 5%. Will you be able to solve it or stop in the middle of the way? We think it will be interesting for you to test your abilities.
Each puzzle and riddle is unique, to solve which you will need to think outside the box. You will be given 120 tips to help you out, which you can use at the very beginning of the game.
Best IQ Test will help not only to stretch the brain a little and think, but also to develop memory and improve it. According to the results of passing the levels, you will receive an assessment of your intellect – just like in the standard IQ Test.
You will even be able to show off to your friends how smart you are – well, or learn the result and get a little upset from small numbers.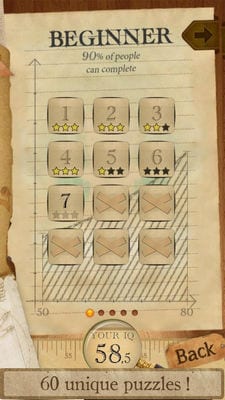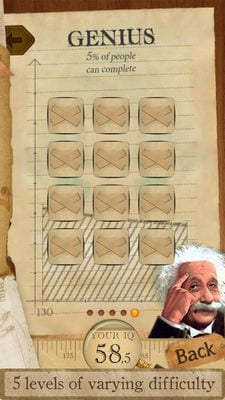 Tricky Test: Logic Game Puzzle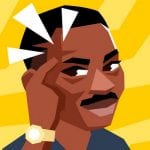 Unusual puzzles attract attention because they do not have time to bore you. Tricky Test presents only such puzzles – they are bright, non-standard, and colorful so that your attention is not switched to something else.
In the game, each puzzle is part of a single story in which you will dive into the process. All characters and objects are drawn in excellent graphics, and animated – you will see it the moment you start to interact with them.
To pass each task, you will need to think outside the box and find unusual solutions. So, for example, you will need to shake your phone, turn it over, count bees and do many other unusual actions.
In addition to the benefits for the intellect, Tricky Test will give you the opportunity to get good emotions from the game itself.
In order for you to get to the end, you will need a high level of IQ and ingenuity – there are a lot of puzzles waiting for you on the way. Try to think as unconventional as possible, as if the Tricky Test is not a test, but a fantastic game.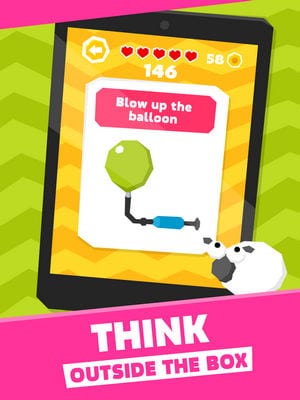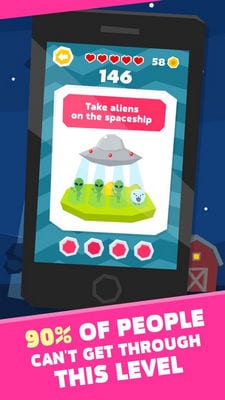 You may also like: 15 Best Logic Game Apps for Android & iOS
Tricky Test 2™: Genius Brain?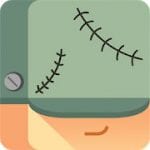 Are you a genius? If you would like to fight in the intellectual battle with your friends, then Tricky Test 2 will show which of you is more genius. You will be able to play together with your friends, solving puzzles of different difficulty levels, and considering many details.
You need to be so smart that no puzzle can mislead or confuse you in the process of solving. Tricky Test 2 contains more than a hundred quizzes, which are even limited in time.
The game has several different types of tasks and exercises, among which you can choose a test of genius, fun for all ages, puzzles, and deceptions, and much more. You will play with your friends in a separate mode, where you choose certain questions on which to test your genius.
The interface of the application looks very simple and in the style of minimalism, so nothing on the screen will distract you during the decisions. Try not to lose your life and leave the game as a winner.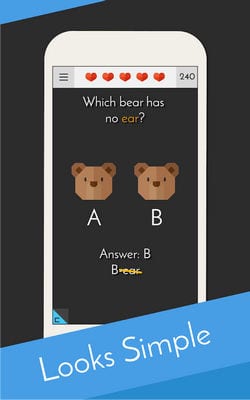 Mr Brain – Trick Puzzle Game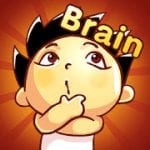 Mr Brain is a collection of different puzzles that are designed for different types of mental abilities. You can deal with logic, memory, accuracy, and other indicators by simply solving various interesting puzzles.
In Mr Brain, the developers promise that your standard thinking will not let you win – you have to think unconventionally. Gaming answers can be so unexpected that you will not guess about them until you take a special hint.
Mr Brain also has various characters and improvements that can be unlocked in the game. The further you progress in the solutions, the better your character will become, as well as the opportunity to change it.
It is worth noting that all the puzzles are perfectly stylized and have excellent picture quality, and unexpected animations can surprise you in the solution. Don't be afraid to do something with your phone – in Mr Brain you may need to shake it or put it on a charge.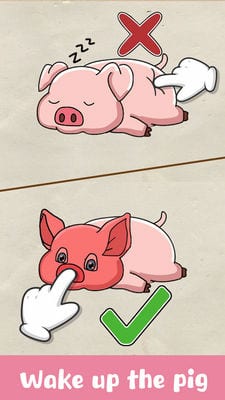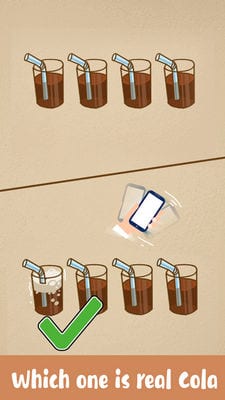 IQ Test: Brain Cognitive Games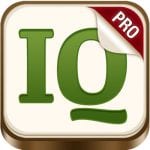 Among your acquaintances may not be someone whose IQ exceeds 120 points. If you want to know what exactly your IQ is, just install the IQ Test application and go through it!
Perhaps you are from a rare group of people, where the level of intelligence is incredibly high. Everything is tested here with the Kettell testing method, which is considered to be one of the most accurate systems for assessing intelligence in the world.
It is worth noting that your result does not depend on what kind of education you received or what you do in life. You can be an excellent accountant or an artist while having enough average IQ scores.
The IQ Test is designed so that you can take special tests and learn a little more about yourself. So, for example, after completing the test service will tell you which of the celebrities have approximately the same results, as well as your intellectual age.
Send a link to the application to your friends and find out who in your company is the most brilliant.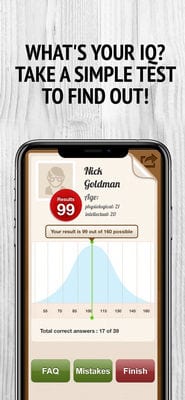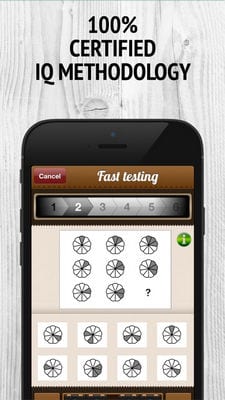 IQ test by digerati.cz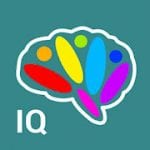 The IQ test application is a convenient test format that you can pass in your smartphone. Here you are offered to pass a real test of intelligence, which would show your abilities in different areas of life.
Previously, this test was called a non-verbal test of abstract thinking, which means that you do not have to solve here examples or remember the authors of classical poems.
The IQ test gives you the opportunity to assess how you understand the complexity of templates and can think logically. Here you will observe the task, solve problems, and even learn something new from the field.
In total, the IQ test contains 60 different questions, the complexity of which only increases. The further you go and the easier it is for you to solve the tasks, the higher your intelligence level will be. Remember that the IQ test defines only a fluid intellect, which includes discussion and problem-solving.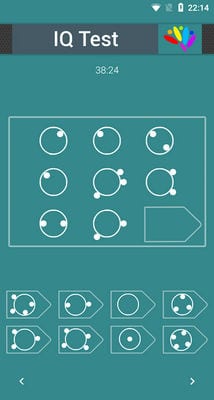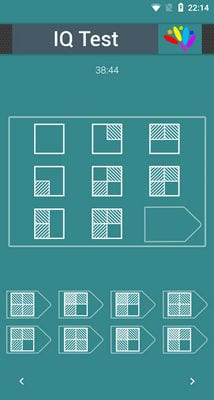 IQ Test – How smart are you?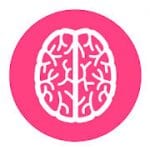 How smart are you? If you can score more than 160 points here, then your intelligence is incredibly advanced, and you are smarter than most of your friends.
With the IQ Test, you will test your verbal abilities, your understanding of the text, your math, and more. In the application, you will need to fill out a small form, where you will specify your age. This criterion will determine the final results of the test – and your answers, of course!
The IQ Test application is designed for continuous self-improvement. That is, if you passed the test once, do not hurry to delete the application after receiving the results.
Here the whole history of your tests is saved, and in the future, you can track your progress in training and development. If you have a desire to improve your intelligence, the IQ Test will be a tracking tool for you. Different tests have different ways and criteria of assessment – try each of them!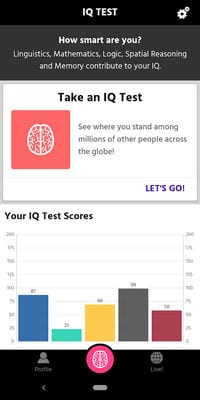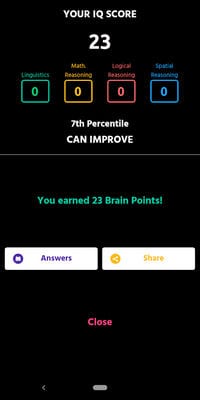 You may also like: 7 Best Intuition Test Apps for Android & iOS
Brain test – psychological and IQ test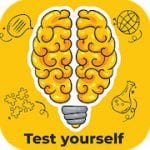 The brain of each person is a complex system. It is not possible to evaluate mental abilities based on the results of a mathematics test. Brain test is a test based on various world tests that will assess your abilities.
Here, your psychological state, your ability to think logically, and of course, your IQ level will be tested. Try to pass the Brain test and determine who you really are.
Some experts recommend such tests to people for self-analysis. If you do not know who you want to work or what your level of intellectual ability, try to find the answers to these questions in Brain test.
Inside the application, you will be able to choose any test topics that are of interest to you at the moment. This can be career guidance, type of thinking, psychological state, and IQ test of Eysenck. By collecting information about yourself, you can better understand your desires and abilities with the Brain test.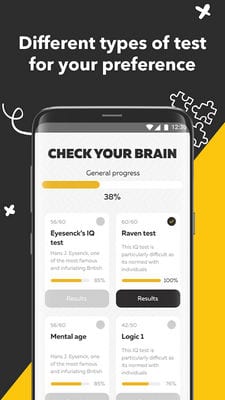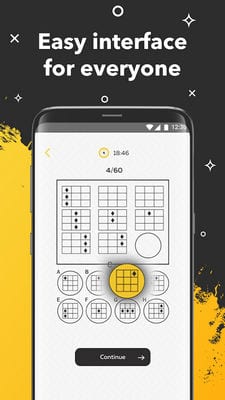 Scientists around the world are constantly arguing about whether the IQ test results are reliable. Some of them believe that people with creative professions and talents in the field of creativity may have too low an IQ, while not experiencing problems with development.
You may also have the opposite viewpoint. We believe that you should not take test results as an accurate indicator – even your mood at the moment may affect your success in passing it.
Still, we recommend that you constantly solve various tasks of ingenuity, so that your brain is always in tone and you do not lose your ability to think. We hope that we were able to help you find the best tool to develop and evaluate your intelligence.