Wanna prank your friends with fake money transactions? This article has you covered!
There are free fake money transfer generator apps that will help you to create realistic fake receipts. These apps let you fake bank acc balances, transfer receipts, invoices, and more.
All these apps are easy to use, so everyone could cope with them. Needless to say, all the apps are made for entertainment purposes, so don't get into illegal stuff with them.
We've gathered together the 9 best apps in that category you may try. Have a look!
Quick Receipt
To start with, we have an app that will help you fake a money transfer receipt.
It needs to be said, this one is not made for faking such stuff, so you'll need to put work into making a nice fake. However, it won't be too hard to not cope with.
The app is originally made to generate receipts and invoices. The main idea here is to ease the life of businesses via simple invoice creation, but you can use it as you want.
The app lets you customize every little detail about the receipt. You may pick the color theme, and customize all the names, dates, numbers, and all that. And the best thing is – there are plenty of templates, so all you need to do is to pick the one that fits you the most and fill in the essential info.
Besides, the app covers plenty of additional elements like the "paid" sign and more. You may also save the receipt in several formats and save it as a template for future needs. The number of receipts is unlimited, so no worries here. Herewith, the app doesn't require a sign-up or fees, which is pleasant.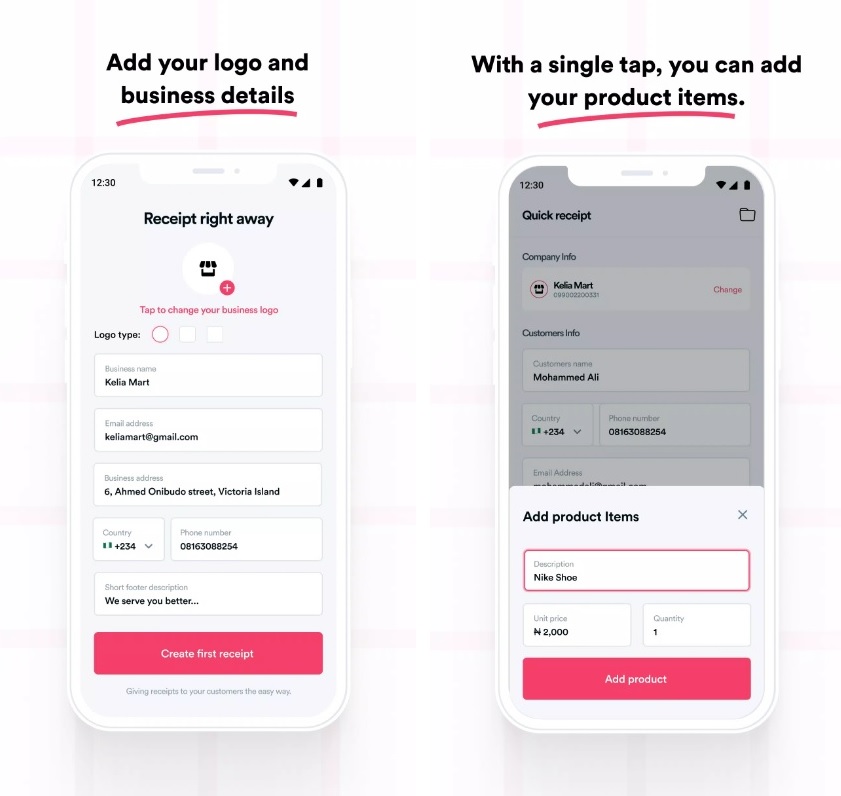 You may also like: 13 Best Fake Email Generator Apps & Websites
Receipt Maker – Sign & Send
Professionalism and expertise are important when working with documents. Let Receipt Maker help you with this difficult task. You can use it to create and edit financial transaction receipts in no time at all. The app works with any PDF document.
By automating your daily work, you will save time and energy for more important tasks. Create colorful and creative receipts and share them with others.
The design of your company documents is up to you. Choose a background and font from a huge variety of options. Check the information you want to add to the document. Add your company logo and slogan on the front side of the check.
Now the work with financial documents becomes even easier and clearer for you and your clients. All it takes is a few minutes to work with the app. Send checks and receipts created to colleagues and customers via SMS, email, or messengers.
Print receipts and create up-to-date reports. Copy a document as many times as you need it with one click. The app is ad-free, so nothing will distract you from what you need to do.

FakeMoney – FakePay&Note Guide
The FakeMoney mobile app is created for users. who just need to complete others in their ability to pay.
Create the appearance of wealth: take screenshots of fake money bills and transfers. Surprise your friends and colleagues with your financial capabilities.
You can also use the app to create a fake UPI QR code to simulate large money transfers. Take part in big raffles with your friends. Make jokes and really enjoy surprising other people.
FakeMoney allows you to check the authenticity of Indian rupees. The banknotes in denominations of 50, 200, 500, and 2000 Indian rupees are to be checked.
Stay alert and don't let yourself be fooled. This feature will be useful for individuals in India as well as for big businessmen. Be sure of the authenticity of the bills. The app is also suitable for bank clerks who are undergoing a training course.
The developers of the app note that FakeMoney is created for entertainment purposes and is not intended to pay for goods and services. Make jokes, prank your friends and instantly verify the authenticity of received rupees.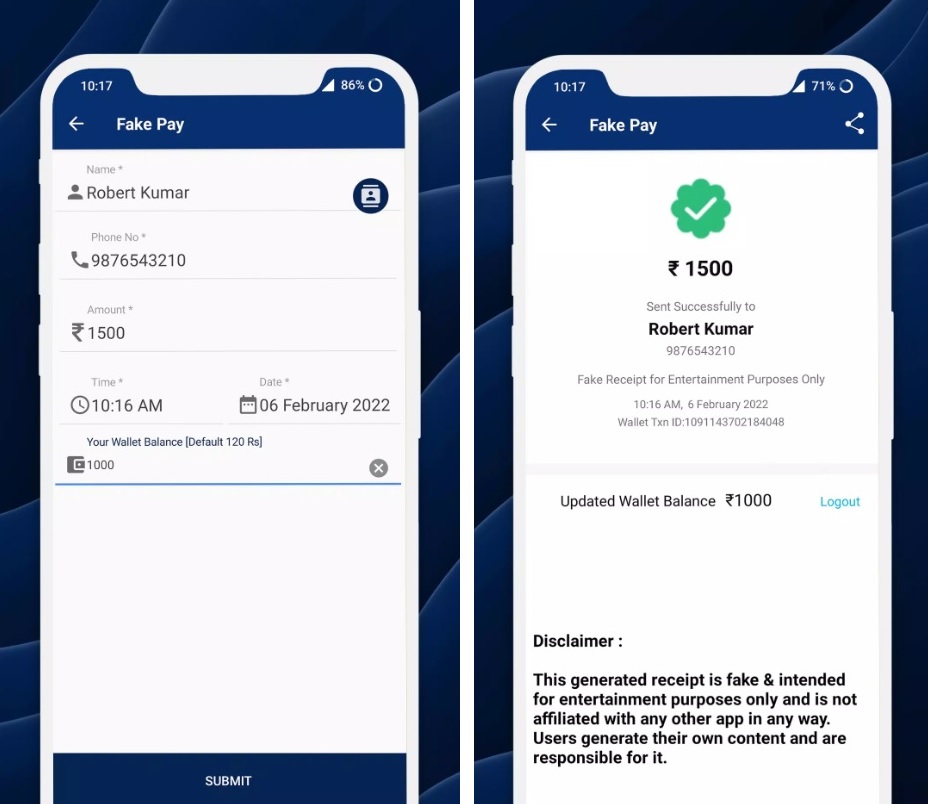 Fake Bank Account Prank
Fake Bank Account Prank is a prank app that allows you to fake a fake bank account for entertainment purposes.
It allows you to customize your bank account by entering your name, preferred account balance, and transaction history. It also includes features such as account statements, withdrawal and deposit options, and fake transfer receipts.
An entertaining app to play pranks on your friends
Makes you feel rich
Easy to use and navigate
There are technical flaws
Crashes during operation
The app has some drawbacks. Some report that the app often crashes while others criticize the app for excessive ads. In addition, some reviewers expressed disappointment with the limited customization options available in the app.
Despite its shortcomings, the application has a number of advantages. It provides you with a fun and harmless (seemingly) way to prank your friends and family by showing them a fake bank account with a large balance.
It can also be used for entertainment purposes, such as creating fictional characters with bank accounts for storytelling or role playing.
Fake Bank Account Prank is an entertaining mobile app with some limitations. While some people may find the app amusing, others may find it frustrating with its shortcomings and limitations.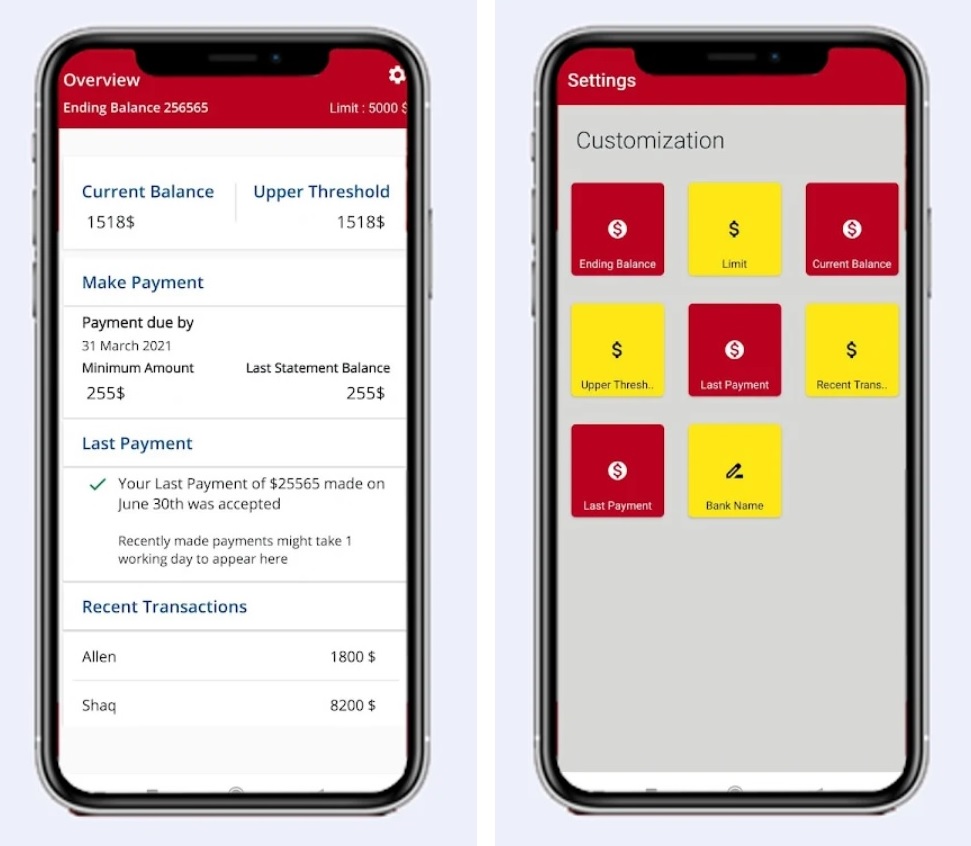 My Invoice Generator & Invoice
If you've always been terrified of accounting, and your economic figures don't seem to fit in your accounts, check out the modern My Invoice Generator & Invoice app. It can help you create all kinds of invoices and estimates.
Anyone can use it absolutely free of charge. The mobile app is designed to make the invoicing procedure as easy as possible.
The program performs the work in a quality and professional manner. You won't have to ask for help from real professionals.
One app will be enough to get your accounting documents in order both at work and at home. Whether you run your own business, run a large company, or are a student of economics, My Invoice Generator & Invoice is for everyone.
The documents you create with the app are no different from those created by experienced professionals. Working with documents will now take a fraction of the time.
The app is universal and suitable for all invoices. Create and send invoices to your colleagues, employees, and customers. Format your invoices stylishly and brightly with extra company logos.
The program works with multiple currencies, which is great for international companies. Entrust your invoices to My Invoice Generator & Invoice and enjoy the work you do.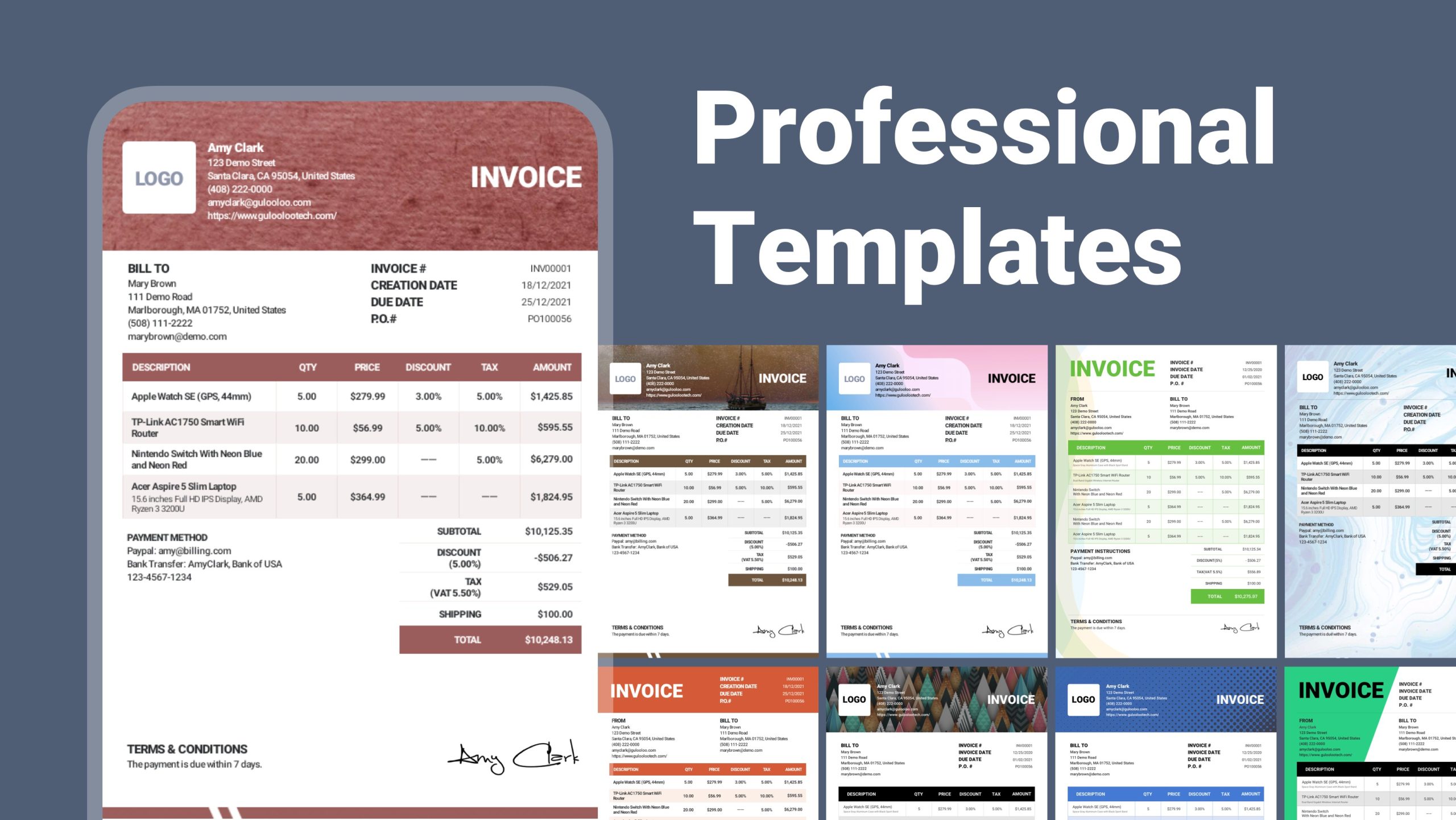 You may also like: 15 Best Fake GPS Location Apps
Cash Receipt Generator
If you want to be aware of the current state of affairs in the financial sector, the Cash Receipt Generator app is for you.
With its help, you can get information about money transfers and transactions at any time of the day or night. Receive real-time notifications when money is deposited into your account.
The mobile app can be used both for professional and personal purposes. You do not need to print endless checks and orders and do not waste your money. Use Cash Receipt Generator and get digital confirmation of money transfers instantly.
Now you don't need to keep a list of debtors, clients, and colleagues. All information about your financial transactions is in one app. You can always check the actual data.
What amount was transferred and when, the data of the sender, and the purpose of payment, you can also choose the method of payment: bank card, electronic payment systems, or cash.
You can easily print out a cheque or receipt if you need it for reporting purposes. You can also delete, copy or send the receipt to another user with one touch.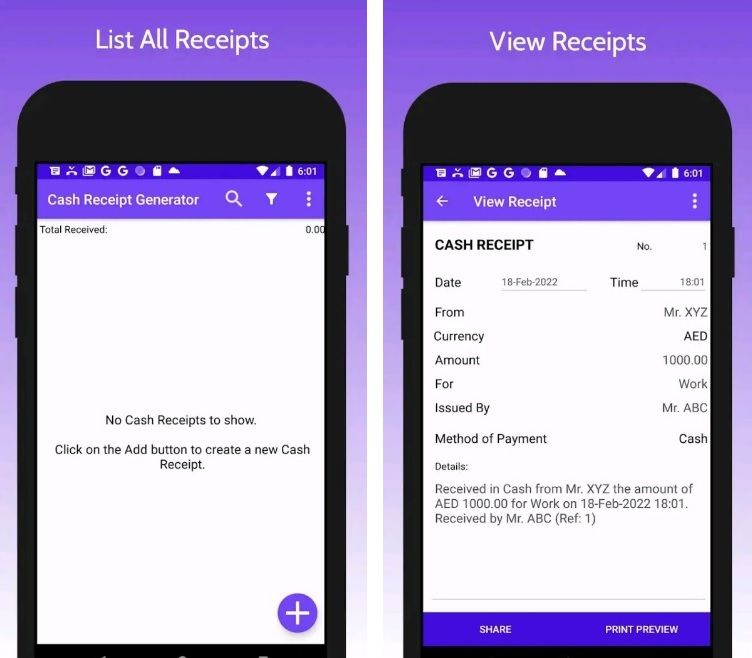 Smart Invoice Maker
As you may guess by the name, it's an invoice maker that you can use to make fake receipts.
This one is not a fake pay kind of app. It's here to help you create professional-looking invoices, estimates, and other stuff. You'll get to create any kind of PDF receipt easily, so nothing stops you from creating a fake. Just make sure to not get in trouble with it, ok?
The app is incredibly easy to use. It's actually similar to graphic design apps with all the templates and stuff. It covers plenty of templates for different kinds of docs, so there's smth for everyone. You'll get to customize all the little details in the templates to make the doc look as real as possible.
There's a huge collection of stamps like "paid", "accepted", and all that, so your possibilities are endless. Once you're done, you may share the receipt right from the app. You may also save it as a template for future fakes. The app runs on sub-packs, but there's a free trial as well.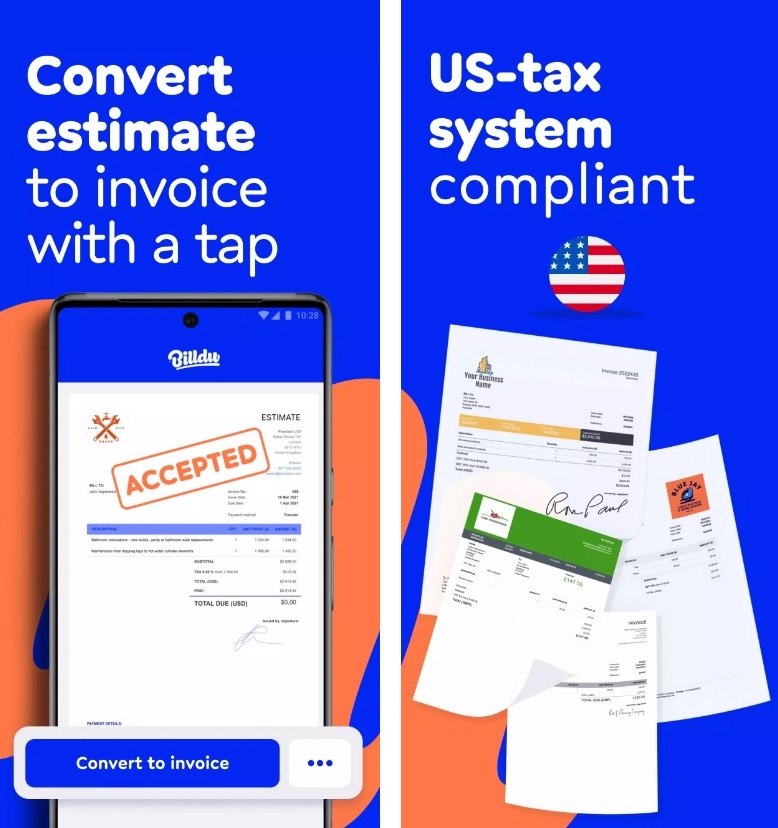 Receipt Maker
Working with an extensive amount of documentation? No time to create financial reports? Afraid of forgetting important information about payments and financial transactions? Download the Receipt Maker mobile app and enjoy working with documents without any rush and problems.
The app allows you to create and work with any documents in an easy-to-use PDF format.
Create, and change checks and receipts and share them with colleagues. You don't need a financial or economic background to work with the app. The menu is designed so even newbies will be productive from the first minutes. Save time and money with Receipt Maker.
You need to install the app on your cell phone or tablet with Android 4.4 or higher to get started. The app doesn't take up a lot of space and doesn't affect your phone's performance. It can be used by residents of almost all countries absolutely free of charge.
Synchronize your account with Google Drive and make your daily work much easier. Recover lost documents, create lists of suppliers, customers, and payers, and have up-to-date information at your fingertips.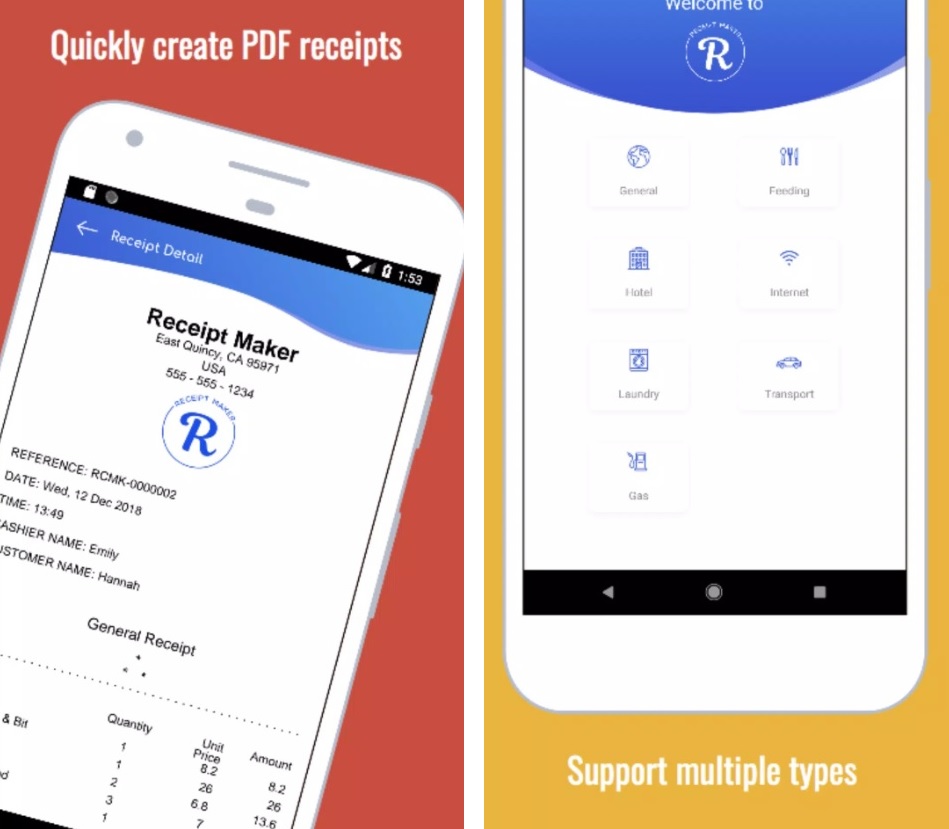 Fake Money Transfer – Bank Balance Prank is an app that allows you to create fake bank balances and money transfers for prank purposes.
It claims it is a fun way to trick friends and family into believing that you have a lot of money in your bank account or that you are sending them a large amount of money.
An entertaining app to play pranks on your friends
Makes you feel rich
Easy to use and navigate
There are technical flaws
Crashes during operation
It has several features, including the ability to customize bank account information, create fake bank balances, and simulate money transfers between different accounts. You can also take screenshots of your fake bank accounts and share them on social media or messaging apps.
At the same time, some people complain that the application does not work properly and transactions are unrealistic and inconclusive. In addition, some users have complained about the excessive amount of ads displayed in the app, which can be annoying and disruptive to the user experience.
Despite these shortcomings, the app has a number of advantages. It is convenient and easy to use, and it can be a great tool for harmless pranks and jokes. It can also be a source of fun and entertainment for users who want to impress their friends or family.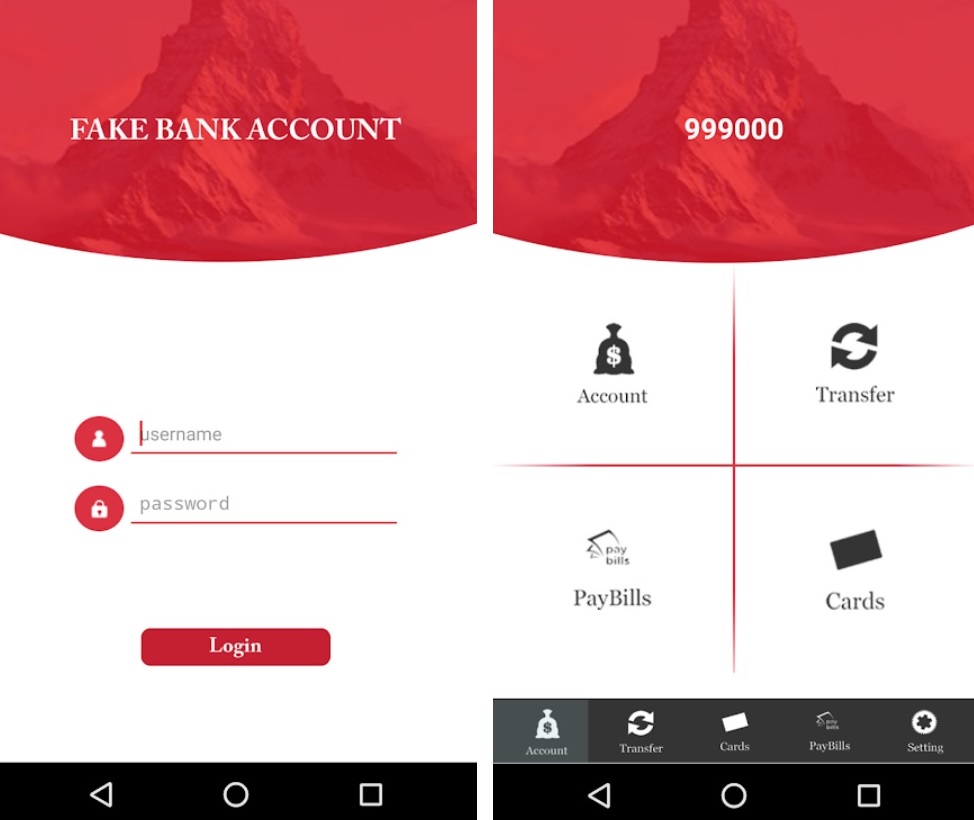 Pay Fake
Pay Fake this application will make you rich even if you are really a beggar. Remember that this is primarily an entertainment application and you will not see real money.
Predend you are rich
Lots of features that look realistic
Possibility to prank friends and relatives
There are inaccuracies in the work
This app can help you prank your friends or loved ones. It is humorous and entertaining. The whole point of his work is that it shows a fake bank account with any amount of money you wish.
Here you have your profile with a supposedly bank account – which you can really manage (make transfers, check the balance), but of course everything is not real.
You can store any amount in this account in any known currency, be it US dollars, euros or Chinese yuan. In addition to everything, you can pay fake bills and write joke checks.
But no matter how funny it is, always remember that this is just an entertainment application. If you want to be rich, you have to get off the couch and go to work.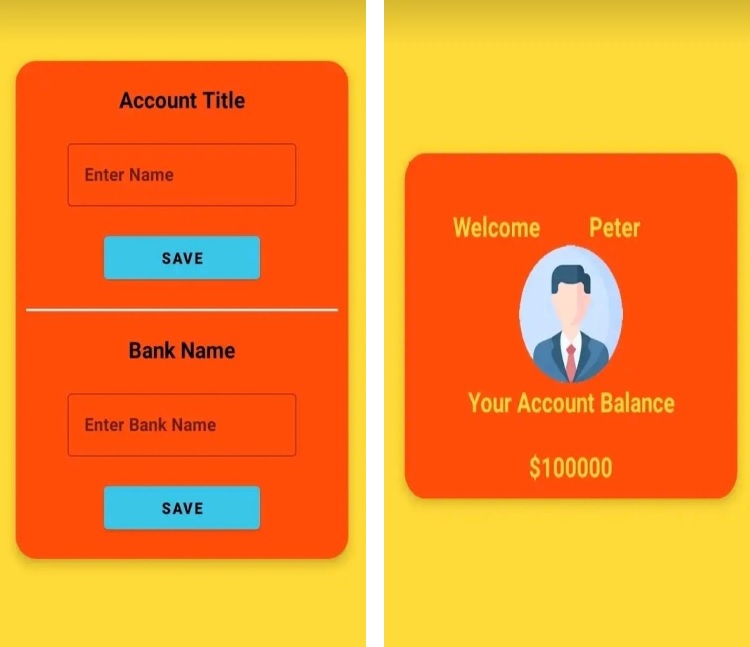 You may also like: Top 10 Fake Money Making Games
Mobile Cash Prank
Mobile Cash Prank is a simple prank app. It is designed to simulate a bank on your device with a lot of money. Once activated, the app will give you access to a virtual non-existent bank account
The Mobile Cash Prank app is easy to use and can be a fun way to prank your friends and family. The app is free to download and does not require any special permissions to use.
But some have reported issues with the app such as being unable to close the app or sound effects not working properly.
One of the major drawbacks of the Mobile Cash Prank app is that some may find it inappropriate or annoying. It is important to use the app responsibly and not use it to harm or harass others.
Lots of features that look realistic
Possibility to prank friends and relatives
There are inaccuracies in the work
In addition, the application is not suitable for use in professional or formal settings.
Despite its shortcomings, the Mobile Crash Prank app has some advantages. It's a simple and easy-to-use application that can provide users with harmless entertainment (if you only use it for jokes and not money shenanigans).
The app is also free to download and does not require any special permissions to use.
Mobile Cash Prank is a fun and harmless prank app that can keep users entertained. However, it is important to use the app responsibly and be aware of potential downsides.