Adopting a pet is a responsible and important decision in your life. Yes, it will bring you lots of joy, but also a lot of hassle. You will get a new family member and will try to do everything for it to feel like home.
And you don't need any extra hassle with the process of adoption, right? Because of that, we found the most convenient pet adoption apps.
And if you won't find a suitable app on this list, you can explore more pet adoption apps in this article.
WeRescue – Adopt a Pet
We Rescue has been one of the best apps for pet adoption for many years already. It is truly the trusted service where pets can find the best matching owner.
Apart from that, one of the main advantages of WeRescue is its abundance of various animals to adopt – not just cats or dogs, but also parrots, reptiles, rats, and many more.
Another advantage is the filtration options while affecting the search for a pet. Advanced filters allow you to affect the search of a pet by location, type, breed, age, color, gender, and many other factors across the whole country and even in Canada.
One more reason to choose the WeRescue app when you want to adopt a pet – is its proven reliability. Thousands of happy pet owners have already taken their furry friends home and their feedback proves there is no fraudulence in the app.
You can view the pages of pets with the photos and descriptions until you find that the one. The only little downside of WeRescue is that its interface is a little bit intricate in usage – because of this abundance of filters and options. And, keep in mind that some filters are paid.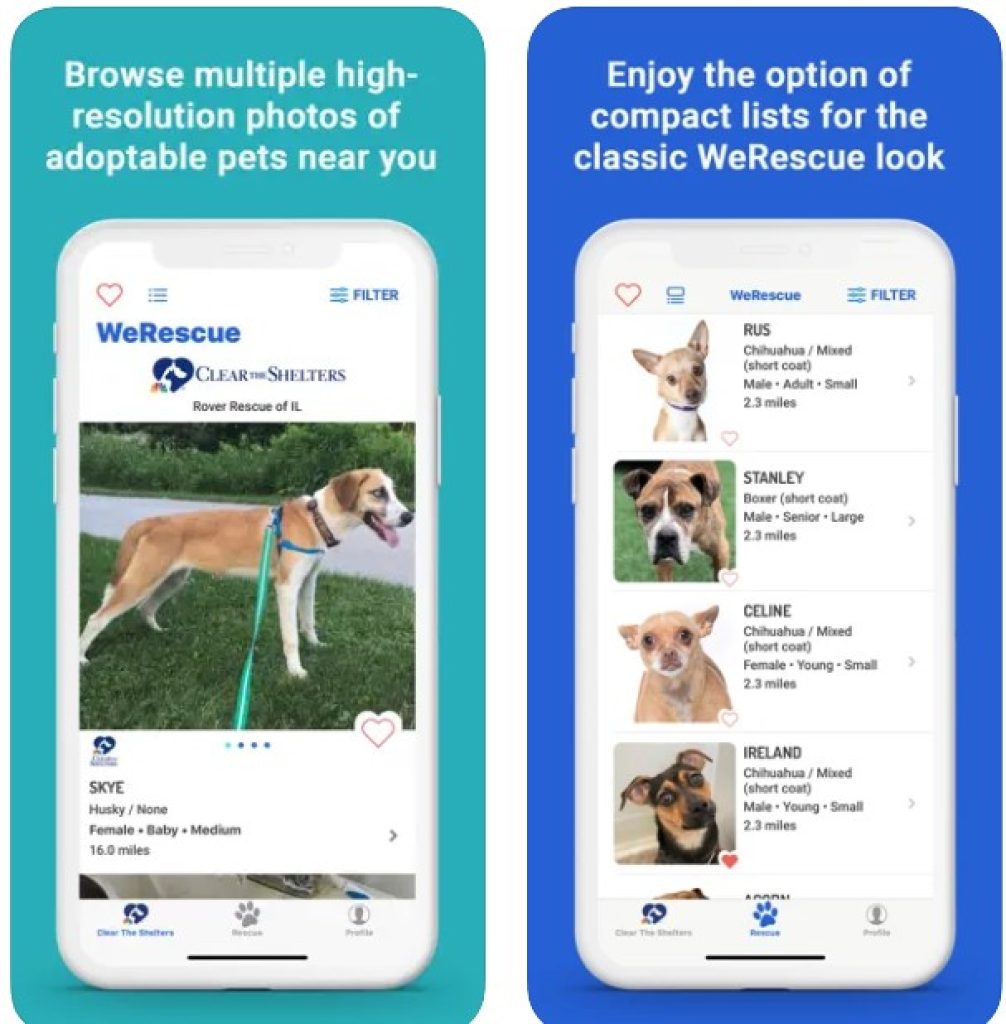 You may also like: 15 Free apps for pet lovers (Android & iOS)
Petfinder – Adopt a Pet
Petfinder is an analog of the previous app and it's available on all platforms (WeRescue is available for iOS users only). Of course, the diversity of pets here is not that wide (only cats and dogs) but it still works great and it's secure. One interesting thing about Petfinder is it was developed by the Nestle company.
Once again, here you can affect the search using the filters, however, there are not so many of them as in the previous app. For example, here the main filter is the filter by distance. The age filter is available as well.
And of course, all the pets have photos and names! Moreover, an interesting addition of Petfinder is each pet can have votes. It's not really clear why, but we guess so that you could see which pet is… liked the most?
What we didn't like is the quite plain interface design and the fact that the app tends to slow down as you are using it for some amount of time. It definitely needs some improvements, since for now, the Petfinder website is better.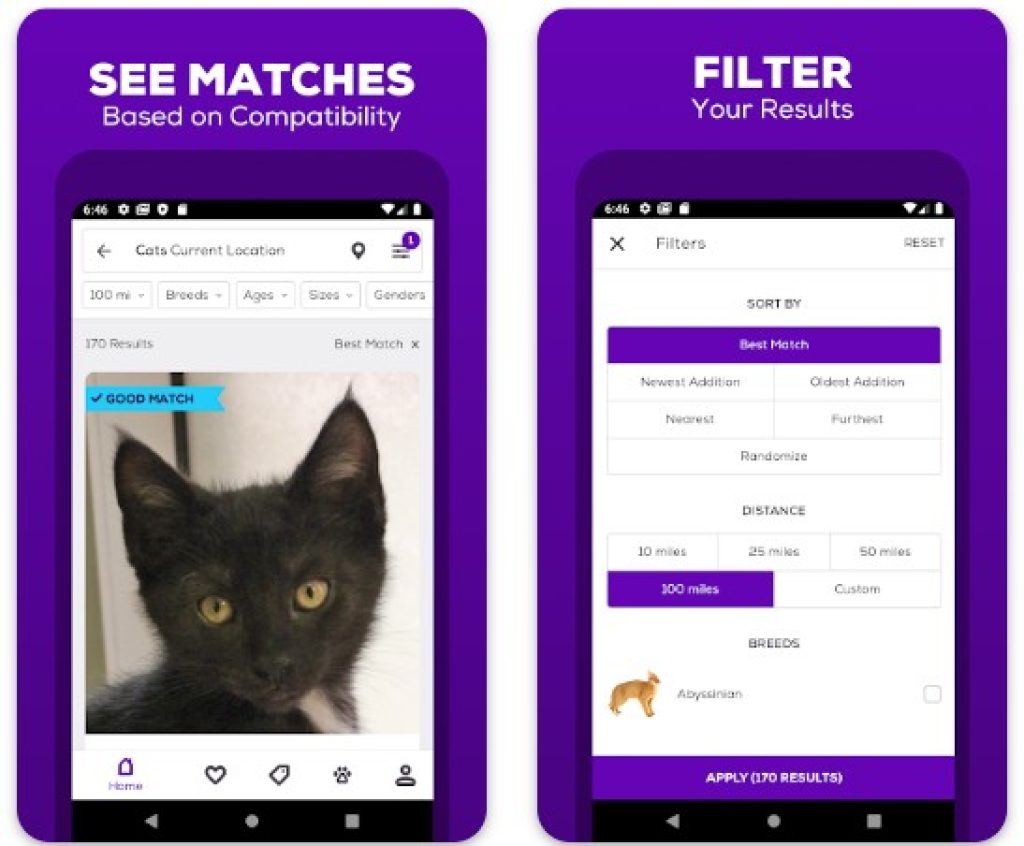 Find Benji-Adopt & Rehome Pets
This app has entered the market quite recently, but it's already gained some success. The developers claim that this is the number one app for adopting pets straight from another owner.
In reality, it's a frequent case that the owners have to give up a pet for some reason, and instead of giving it to the shelter, where its life will be full of stress, they can hand it over to the new owner using Find Benji!
The app works similarly to the previous ones. You can search with filters, by proximity, age, type of pet, breed, and so on.
All owners try to upload pictures of pets and short explanations of why they decided to give the pet away. So, this app will be beneficial both for those who want to adopt a pet and for those who want to hand it over.
One cool aspect that we also would like to highlight about Find Benji is its convenient chat system – you can discuss the details about the adoption right in the app like in a regular messenger. The design is awesome.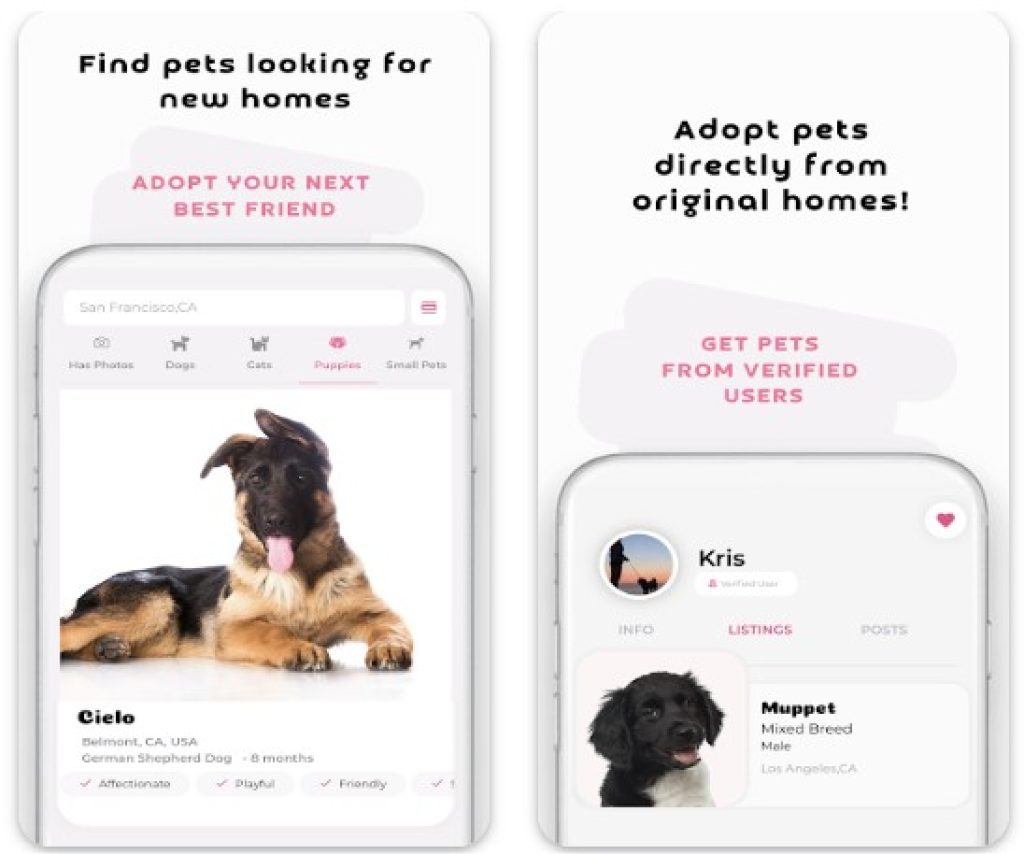 You may also like: 7 Best Pet Camera Apps for Android & iOS
Adopt Pet or Post for Adoption
The functionality of this app causes some questions, however, if all the previous options didn't work for you, you can try this one.
Here you can find pets for adoption by searching them on the map – just see which one is the closest to you (if you want to adopt the one that doesn't require a day of being on the road). Each pet has a separate profile with a photo and a description.
You can contact a pet's temporary owner or a shelter by finding contacts in the description and discussing the details about further adoption.
But there is no guarantee that the app is going to work on your phone, and it has lots of bugs and lags that the developers have to fix before it can truly become an attractive and reliable adoption app.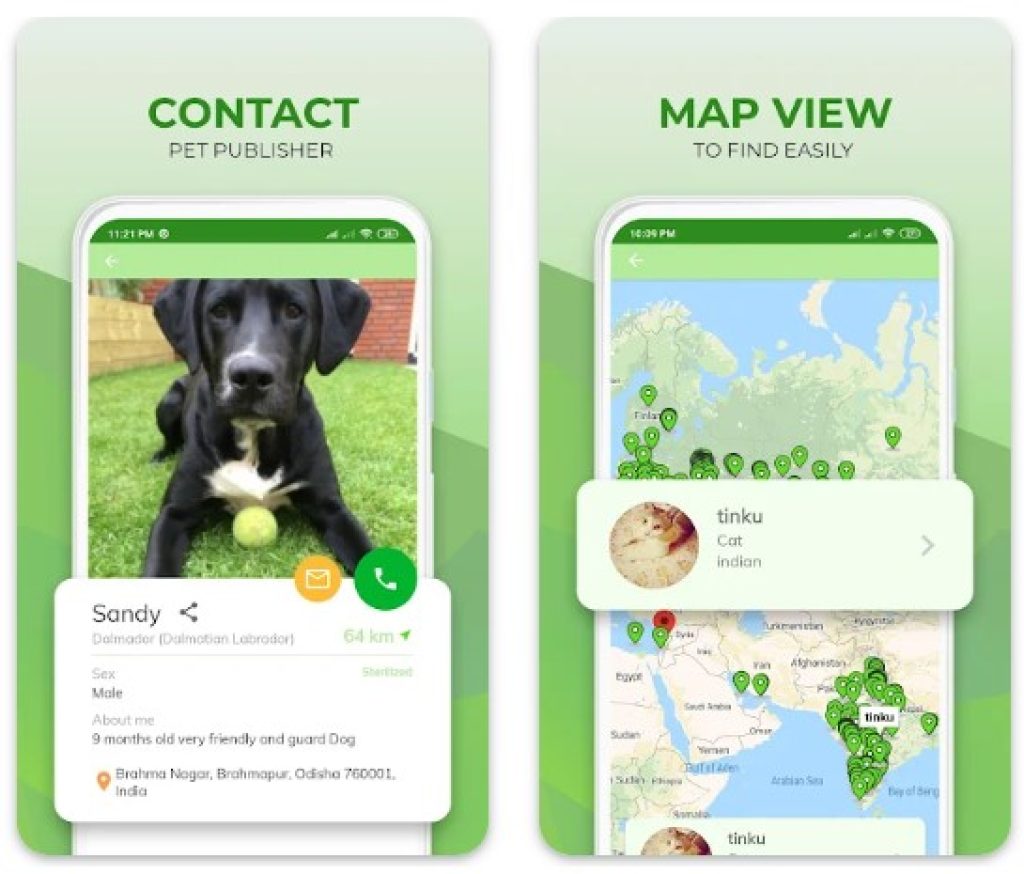 Pets Adoption – Adopt a Pet
A more or less popular app for pet adoption. However, here you can't affect the search using the filters – the app shows you the best options based on your location.
Of course, all suggestions will have various proximity to you and if you scroll down the selection, some pets might be a couple of thousands of miles away from you. Or, you can search for the pets with some filters, but only if you previously type in a certain location.
One advantage of Pets Adoption is that it allows not only to adopt cats and dogs but also rabbits, parrots, and even horses. However, lots of pets' profiles don't have enough information in their profiles and you will have to apply some effort to gain it.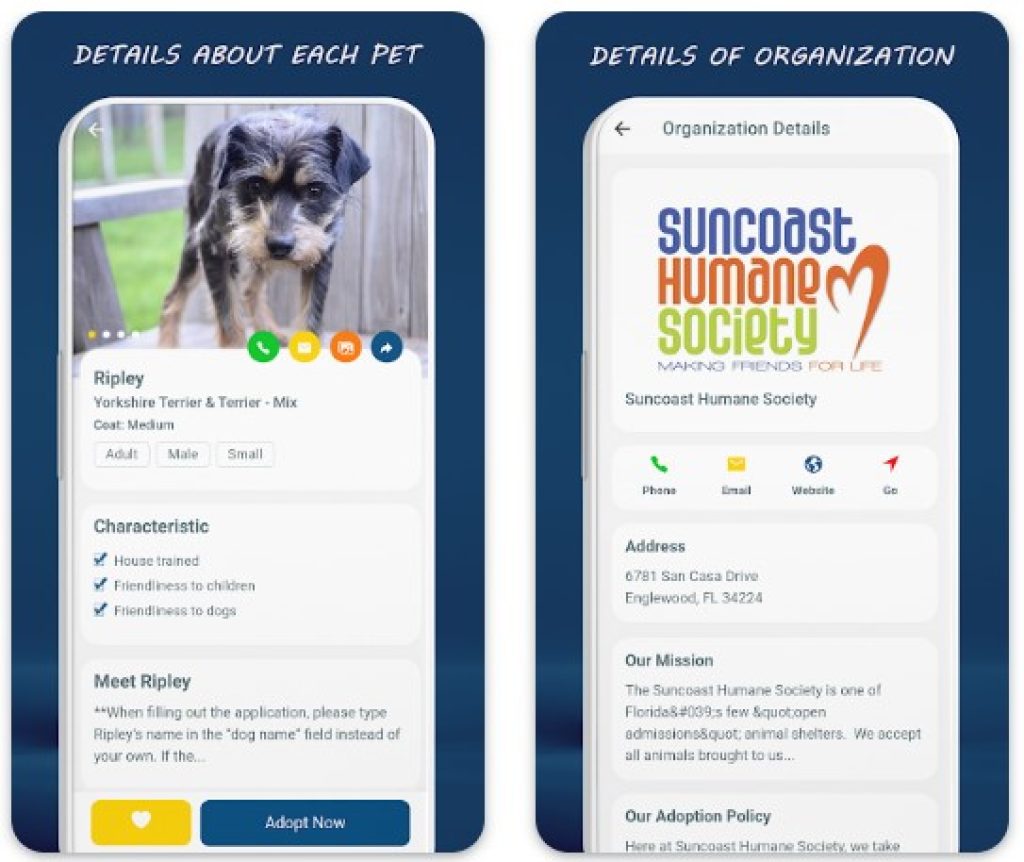 Adopt Me: Adopt a Pet, Adopt All Kind of Pets
This is not so popular app that allows people to adopt pets in the USA, Canada, and Mexico. Once again – a filter-based search, by location, type, gender, and kind of a pet. You can also choose the size of it in the filters. All animals have their profiles with their history and description.
The only difficulty with Adopt Me is that it doesn't really explain how you can adopt a certain animal. You will have to spend some time finding contact of an owner or of a shelter before you find out all the details about it. In other aspects, the app is quite mediocre.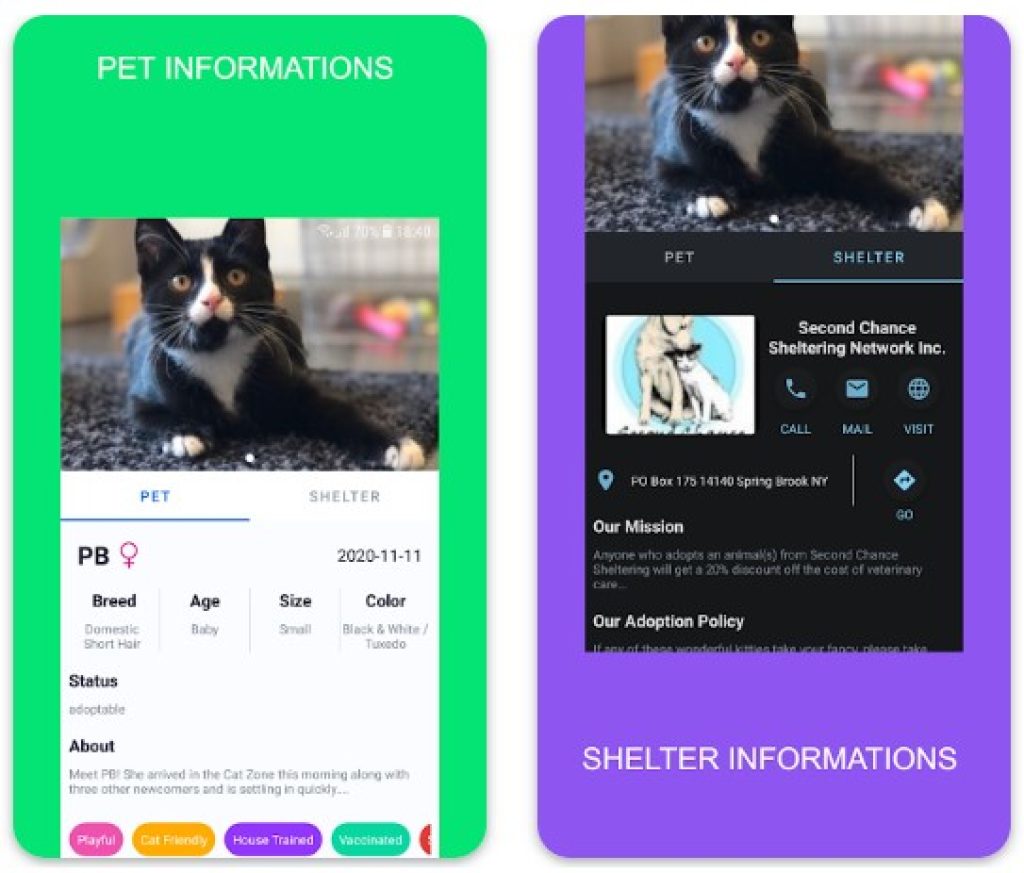 You may also like: 9 Best Animal Breeding Apps for Android & iOS
Petdoption – Adopt a rescue animal
This app allows you to adopt pets from shelters. Each shelter can create a separate page for each animal they have with detailed information, so the potential owners can find it in the base. Another remarkable feature is that the search here allows you to apply the breed filter.
In order not to lose the profile of the pets that you liked you can mark them as your favorites. In general, Petdoption implies a great idea, but the developers need to work on its technical part – the app has lots of errors, lags, and other problems with functionality, which makes it an unpreferable choice.