To find out approximately what your interior will look like and the room as a whole, you can resort to the help of special applications or online designers. With the help of such applications, you can easily plan the design of any room and the house as a whole.
And here we have prepared a list of the best free kitchen design apps & websites, so let's proceed with the look. And in case you are only in the process of buying a house and you want to also calculate your mortgage, we can recommend you free mortgage calculator apps & websites for The USA.
Kitchen design: 3D planner
First of all, the application is easy to use, and it has great features and tools for further work in it. To recreate a great and most importantly realistic kitchen design, application developers have created a 3D modeling function.
That is, to find out what the design will look like, use 3D kitchen sets from IKEA.
To find out what this or that thing will look like, you can measure their dimensions and calculate the distance between objects.
Also, to make everything look like a great design and layout, use 3D figures in your work. In the application you can change the view of the display, so you can change the design of the room both on top and inside.
With a glider, you can not only create a good layout and design a room, but also recreate your fantasy into reality. Among the tools of the app, you can find varieties of kitchen furniture, as well as materials for visual changes. With all the other functions of the app, you can see for yourself.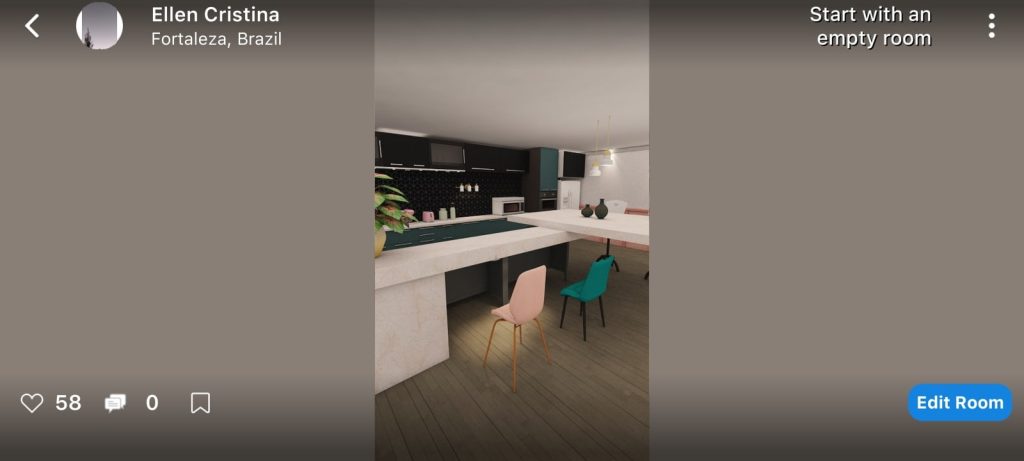 You may also like: 11 Best Home Renovation Apps (Android & iOS)
My Kitchen: 3D Planner
Another similar application is for 3D design layout. The very name of the app already speaks for itself that it's a great option for planning your kitchen design.
You can easily recreate the approximate look of your kitchen in the app, and you can change it using various tools and functions of the app. The features of the app are not grandiose, but it will generally satisfy users with exciting features.
In the app, you can view the created layout from different sides, i.e. horizontally, vertically, and sideways. This feature is great for viewing any details or the interior of a room from different corners of the room. You can also use the app to alter and view the combination of colors and shades in a room.
Also in the app, you can easily find out the length and width of objects, as well as specify their size. In the tools, you can add various kitchen sets, furniture, and so on. You can take a picture of the finished result and save it to the gallery.
The application has a premium version, where the possibilities are even wider, but basically, all the features you need are in the regular free version.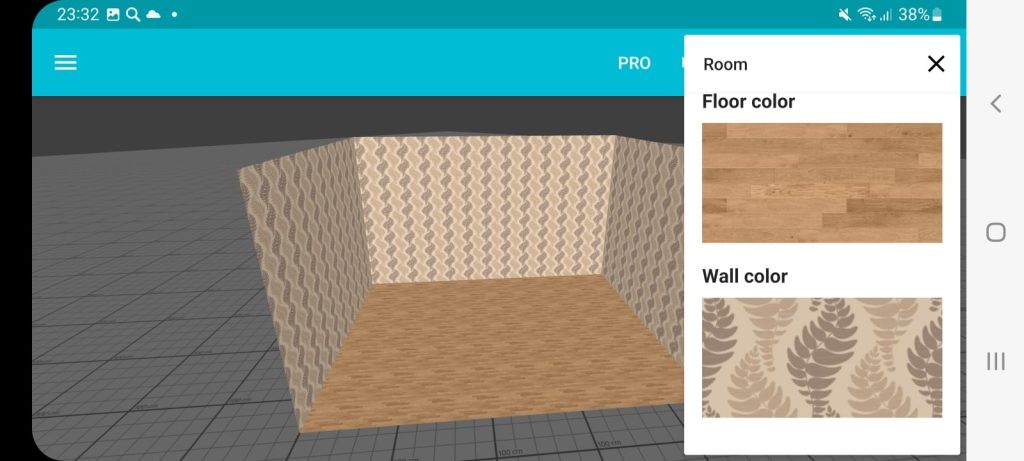 It's pretty much possible you may need nursery design apps as well.
Kitchenplaner.net
Next on our list is the Kitchen planner website. This site is a great option for online kitchen and home design in general. While using it, you have several convenient features, such as working without registration right on the site.
And also you don't need to download it to make it easy to use in the future. Let's do a short but clear review of this site.
The site is quite popular because of its ease and accessibility. All users of the site can use it for their purposes, and even users from other countries can use it because there are so many languages in the interface.
To get started you click on the start. You will be redirected to another tab where you do the layout and design of your kitchen. All the parts can be found in the left menu with lists.
Another good thing about the site is that you can choose how you measure, such as inches, centimeters, and millimeters. And other design tools can also be found in the same left menu, under design or furniture.
To work comfortably and to understand how this or that object will look like you can rotate the camera for a better view. In general, the site is easy to use, and most importantly it is clearly described.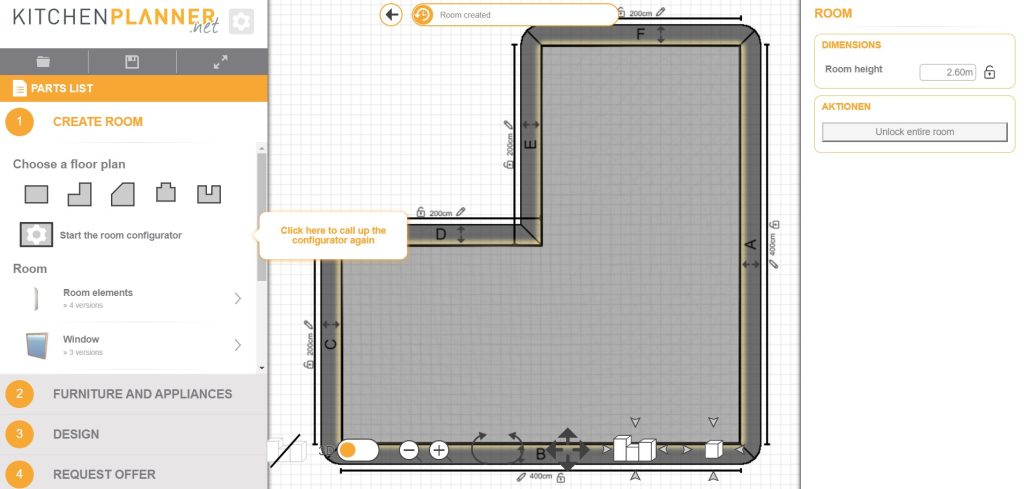 Wrenkithcen
Wren Kitchen is also one of the most popular and sought-after sites for kitchen planning and design. To get started, you can choose what style you want to have your kitchen in, and for that, you can just choose from the list listed.
Otherwise, you can simply create everything from scratch using the online website builder. If this is your first time going to a site like this and you don't know where to start, you'll have a video tutorial.
Getting started with the site is very easy because there are instructions on what is where and how to use the site tools. Once you choose a kitchen style, you can also choose a home design for that particular kitchen design. This is a feature we think is great because through it we can make everything fit together.
The kitchen design is given ready-made, and the rest you can change according to your taste and preferences. Every time you touch an object in the kitchen with your mouse, a window opens with tools or other materials that you can use to see which is best.
The other functions of the site are up to you to figure out, but we'll move on to the next site.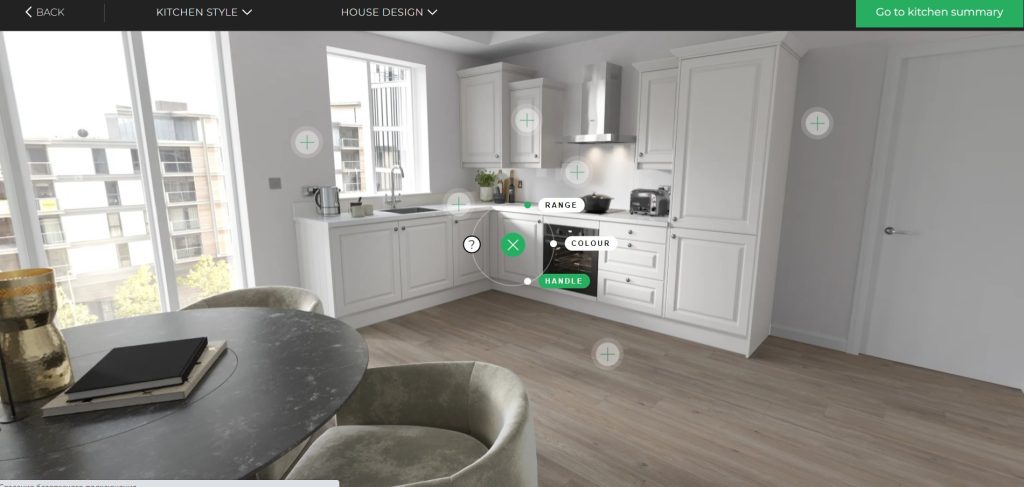 DIY Kitchens
An online designer to create your design, without any extra purchases or the like. Recreate your ideas into a design in a few easy steps. Before you start you need to register on the site, this is to save your design and not lose it when you leave. After registering you can start creating your design without hesitation.
Surely everyone likes to have everything sorted out, clearly spelled out, and organized to the fullest. So, this site is for such organized people. It is all divided into sections and functions, each tool and material in special blocks, and so on. It's very convenient and pleasing to the eye.
During the creation of the design, users can not have individual questions, because the site is understandable even to a dummy. Each element you choose in your way, and you can even see it in 3D view, as well as from different angles with the rotation of the camera.
All materials and furnishings are in modern form, according to the latest standards. When you select an object, you are automatically given information about the object and furniture.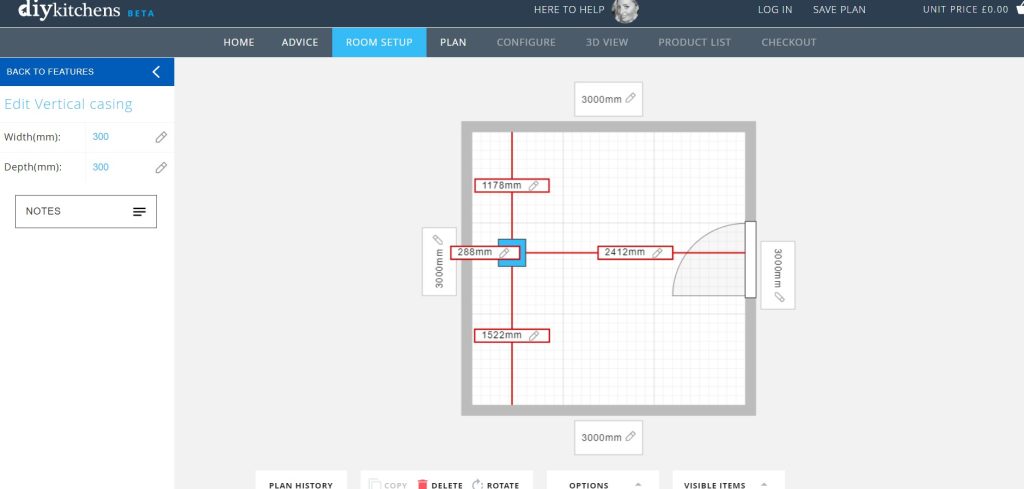 Lowe's kitchen planner
This site has similar features and tools for working on a kitchen design, but it also has its distinctive aspects. The distinctive side is that the site can calculate for you an approximate amount of money for materials to buy after the design is constructed.
The site also has a free kitchen interior design consultant. And if you don't have enough ideas, you can use the options on the site.
Also, to find out what style you want to use for your new design, you can take a short survey, and by answering a few questions you can find out what style suits you best.
On the site, you can find interesting information and tools for your project. In the different styles section, there are a lot of pictures to find an idea. And for the best work you can do, you can subscribe to premium.
This site is not only a simple constructor, here you can order services or materials for your home or repairs. For a better overview of the site, it's best to register as a regular customer. The site cannot do a 3D view of the kitchen designs, but it is full of different types of designs and materials that can be useful to you.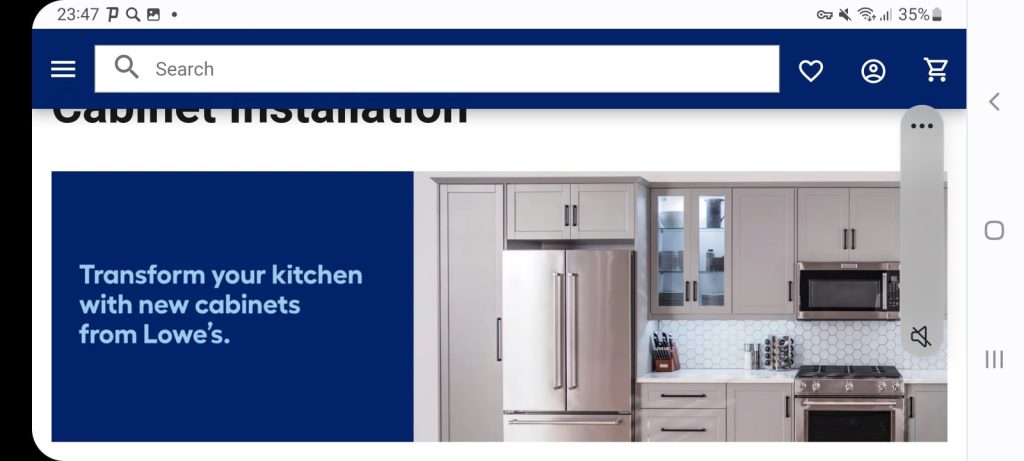 You may also like: 9 Best home assistant apps for Android & iOS
Smart Draw
Now that's an important find. On this site, you can not only recreate your new design but also use other templates that are available on the site in the templates section.
The site has very, very many functions and features. To start working on a project, you can first look at examples of other designs, and learn about how the site works and how to operate it.
The first thing you will notice when you start working on this site is a handy feature. This is a feature that displays the size of the blank page and a ruler for orientation.
The site's interface resembles something of a Windows program, such as Word. So, for active users of Word, this site will not create problems during work.
The tools are in the left-hand corner, and from there you can find the different symbols for markup. To speed up the process, you can copy the design or elements of the layout and simply paste them into your blank page. What we liked about this site is that it has tons of design tools and materials.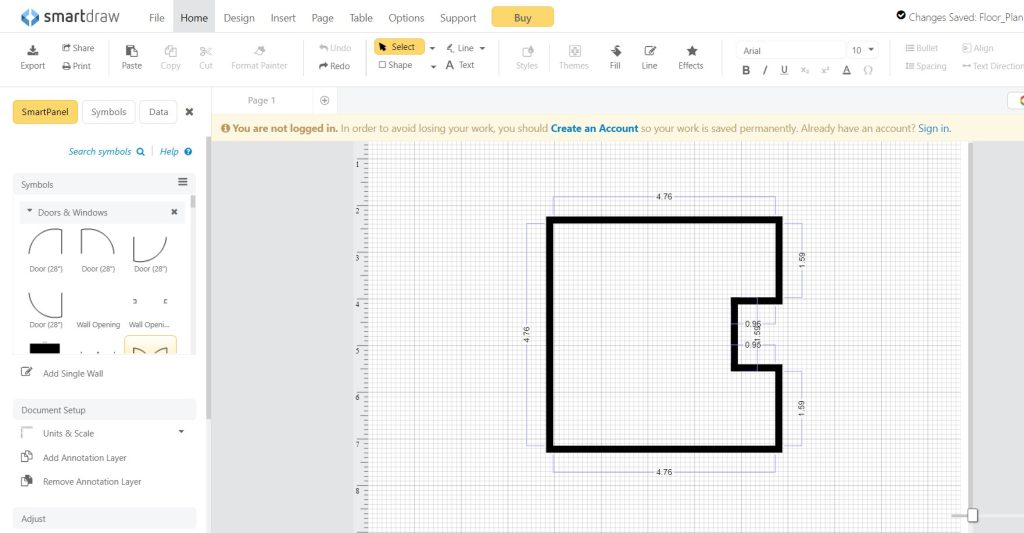 Houzz
Next on our list is the Houzz app. The app can be used not only for kitchen design but for the whole house. You can use the app to change the look of any room in your home, as well as find ideas and inspirations.
And also in the app, you can order things for your home, and sometimes even take advantage of a special promotion.
As we mentioned above, you can use this application for several purposes. The first and easiest is as a resource for finding design ideas, the next is online furniture shopping, for finding local workers in the field.
For convenient use of the app you can register, this will be a plus when you try to save an item in the cart or the like.
Not only can you search the app for design ideas and finished photos of different commands, but you can also browse other types of furniture and things to do at home. And to find out if this or that furniture will fit in your room you can turn on the 3D camera and see how things will look in your house.
If all this isn't enough for you, you can type the name of what you're looking for into the app's search engine.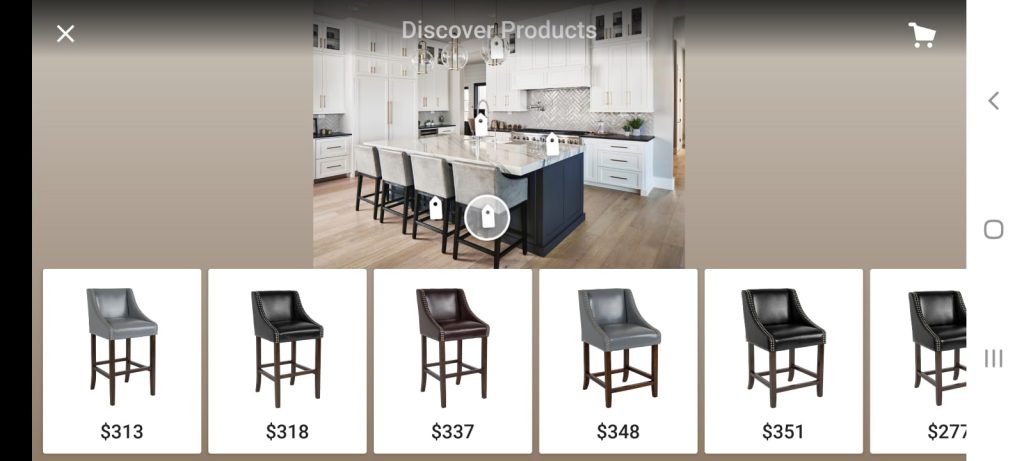 Roomsketcher
The main difference between this site and the others, above, is the way it displays pictures. That is, here everything is visible, and drawn, without unnecessary strokes. Room design can be done here and the color and black and white version. The finished plan can be viewed in 3D format.
To make it easy to look at your design from any angle, the app has a 360-degree camera rotation feature. If you're having trouble creating your design, or if you're new to it, you can browse through ready-made design ideas from the site.
One of the important points is, to work on this site you need to register on it. Just creating a design in the online designer will not work. For new users, there is an opportunity to learn much more about the site in the demo video from the creators of the site. After viewing it you will decide whether to register or not.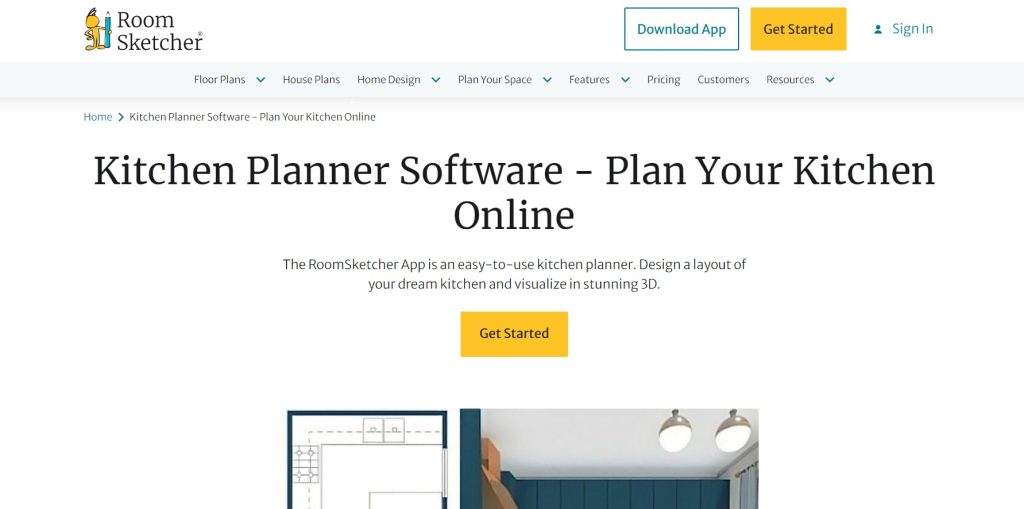 Nolte
This, too, is one of the creative sites for the online design of your kitchen. The features of the app and some of the features are very similar to others, even identical, but despite this, we decided to do a review on it as well.
All materials that you will use on this site can change or create from scratch. You can find ready-made ideas from other users or creators on the site. During the design process, you'll have all the tools at your fingertips in an organized order.
In addition, the app has several designs for certain materials for the room, such as wallpaper, tiles, and others.
The graphics on the site are reflected clearly, and you can also seamlessly revisit your design from any angle. And you can also add all sorts of accessories to complete the look of the design. To save the design you must be a user of the site.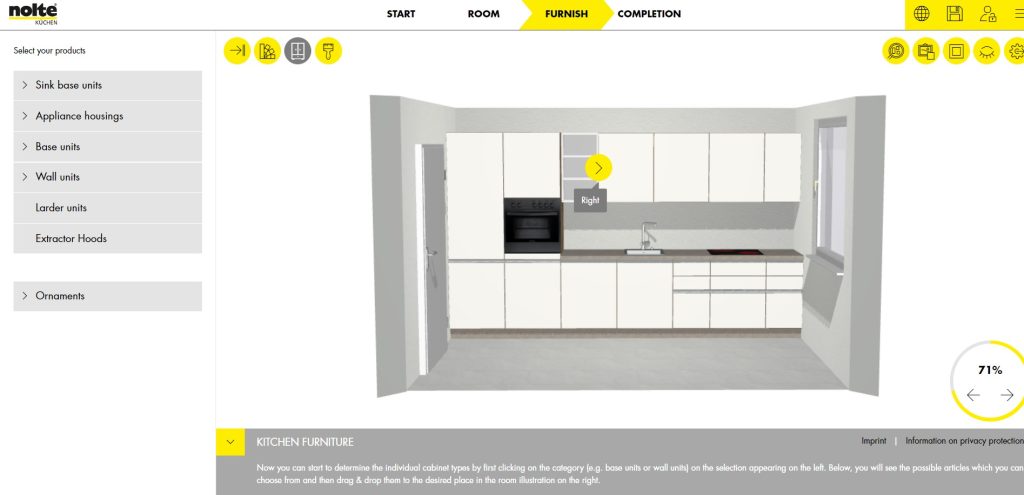 You may also like: 11 Best logo design apps for Android & iOS
Kaboodle
The site is designed for those who like to change the design from one to the other. What do we mean by that? Because here you just take one of the ready-made room layouts and then you start to create your idea in reality. Users can change the size and shape of the room, as well as rearrange their stuff.
The site is recommended for users who focus on kitchen interior design. Because here you are already rearranging and changing the look of only objects in the kitchen, and the structure and the look remain the same. The tools of the site are not 3D materials or graphics, they are just ordinary photos.
Even though everything in it is not, as usual, the site is popular among designers. We almost forgot to mention that you can use the website templates to get started. If that does not suit your taste you can start from scratch.