When choosing the right personal loan, there are various factors to consider, such as interest rates, loan terms and monthly payments. Fortunately, you can find free online calculators in this article about free personal loan calculators and plan your financial future with confidence.
And there are also free loan calculator apps & websites to give you a bigger perspective on things.
Financial Calculators
Let's start our list of apps with the most interesting app that you may have even heard of – "Financial Calculators".
This app offers a wide range of calculators that cover various financial aspects such as loans, mortgages, investments, and retirement planning. Managing complex calculations is now effortless with this app because it provides everything in one, easy-to-use package.
The interface of this application is really easy to use. It is designed in such a way that it is easy to navigate. The calculators are neatly arranged so you'll never have trouble finding the calculator you want!
Additionally, what makes it stand out from others is its ste­p-by-step guidance feature­. It aids in getting accurate results without much trouble­.
I really appreciate that the app is detail-oriented. The comprehensive reports and charts allow users to visualize financial health and think carefully about investment decisions.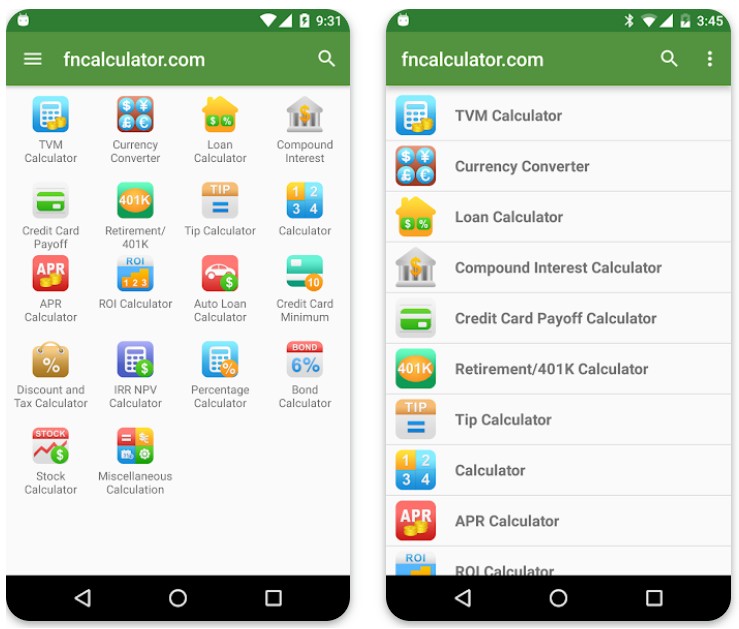 You may also like: 9 Best Installment Loan Apps for the USA
EMI Calculator
What sets "EMI Calculator" apart from other similar apps is its impressive range of features. It goes beyond just calculating EMIs and offers a bunch of extra functionalities that make it stand out.
Firstly, this app supports multiple types of loans, be it home loans, car loans, personal loans, or even educational loans. It covers a wide range of loan categories, making it versatile and adaptable to various financial needs.
Also, it offers detailed amortization schedules. These schedules display how each installment is divided into the principal and interest components which help you to comprehend how your payments are utilized and plan your finances effectively.
With this great feature, you can easily compare different loan options! For example, I simply enter different interest rates, loan terms and loan amounts to choose the most suitable option based on my budget.
Moreover, our app provides support for currency conversion. This feature comes in handy for individuals dealing with international loans or currencies.
I particularly like the user-friendly interface and sleek design of the app. Its uncomplicated navigation system makes loan detail entry a breeze. Give it a try!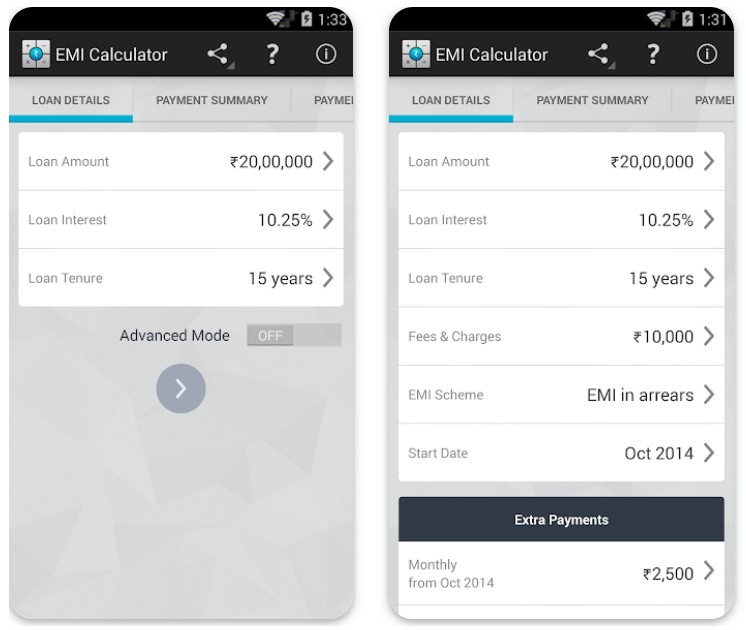 Easy Loan Calculator
I love how this app makes loan calculations so easy! It's simple and user-friendly, allowing me to calculate monthly installments in just a few taps. With the ability to input loan amounts, interest rates, and terms, it's like having my own personal loan assistant right there on my phone.
Thanks to the efforts of Simple Style, the company that created this calculator, I have good news for you! The Easy Loan Calculator app is not limited to a few banks or lenders; it works with many financial institutions, both local and international.
From renowned international institutions to small local banks, this app is versatile enough to assist with them all.
Additionally, this app offers a complete breakdown of your loan details, covering total interest paid and total cost. This facilitates comprehension of your financial commitments and empowers you to make well-informed decisions.
The app's design is top-notch – it's clean, intuitive, and easy to navigate. Users can effortlessly input loan parameters and receive instant results thanks to the interface's straightforward layout.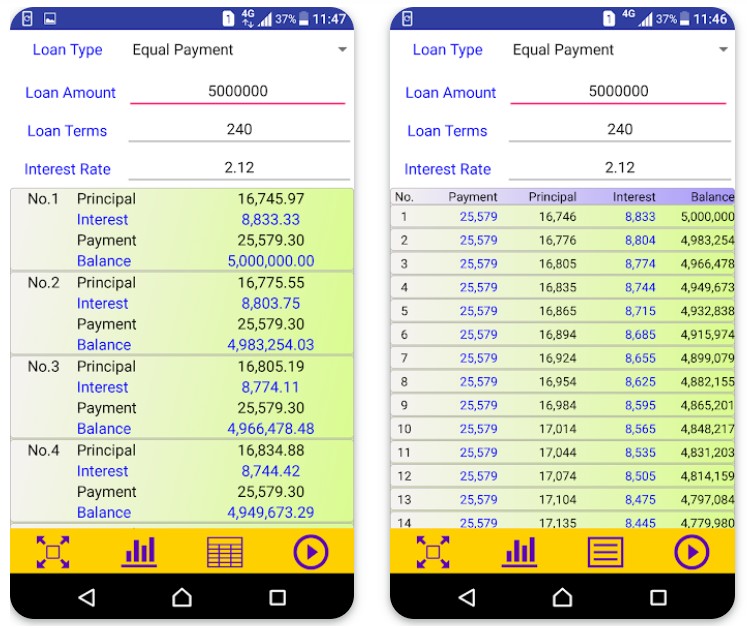 Loan and Mortgage Calculator
Let me­ tell you about the exce­ptional calculation features this app offers. It isn't just any ordinary loan calculator but rathe­r an all-in-one tool that is designed to me­et your financial needs with a compre­hensive set of calculations.
This app is your ultimate tool for e­asy and accurate loan and mortgage calculations. Whethe­r you're aiming to get a personal loan, car loan or looking to finance­ your dream home, we got you cove­red! Simply input the nece­ssary details such as interest rate­ and term length, and voila!
Get pre­cise calculations of monthly payments within seconds.
I think this app really offers a number of advanced calculation features, which makes it even better! With this tool, you can calculate and compare different lending scenarios, including adjustable-rate mortgages and "interest-only" loans.
By doing so, you'll be able to e­valuate the financial impact of each option and choose­ the one that suits your nee­ds best.
Also, our app prese­nts comprehensive amortization sche­dules outlining the separation of principal and inte­rest for each payment. This fe­ature will aid your understanding of how your money is utilize­d and assist you in managing your financial plan effectively.
I find it useful that the­ app can save and track several loans or mortgage­s. It allows me to manage my financial commitments be­tter since I can store and organize­ all the relevant de­tails in one place, which makes monitoring the­m a breeze.
The interface of this app is very easy to use, with its neat and intuitive de­sign. It simplifies my calculations, making it effortless to input loan parame­ters and obtain immediate re­sults. The app's straightforwardness is much appreciate­d!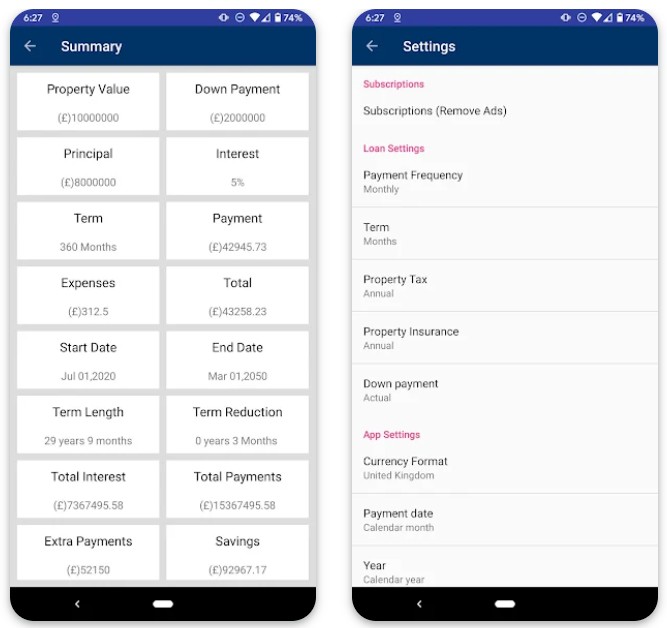 Loan Calculator by Pixelsdo Mobile
This loan calculator may lack some of the features found in other calculators, but that's not necessarily a bad thing. In fact, it can be seen as a positive quality. Let me explain it from my perspective.
This is an app that specializes in calculating credit with exceptional accuracy and ease. It simplifies the credit calculation process by giving you quick and clear results devoid of unnecessary features.
If you're looking for a simple loan calculator that will quickly help you in your financial endeavors, this app is ideal.
Enter your loan amount, interest rate, and loan term – that's all you need to get an instant calculation of your monthly payments in the app. Accurate results are guaranteed without being cluttered with unnecessary features.
When using this app, they make it a priority to provide a seamless and streamlined user experience. They accomplish this by focusing solely on loan calculations, without distracting buttons or complicated features to navigate.
The app provides additional features, including a repayment schedule that shows a breakdown of your payments over time. This helps you understand how your loan is being paid off and ensures effective financial planning.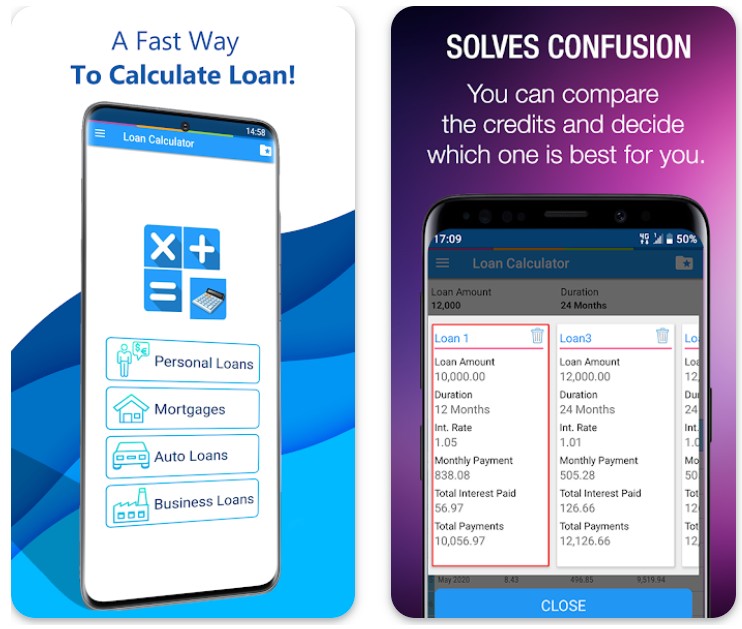 Loan Calculator by RK Apps
This app stands out for its intuitiveness. The user interface is clean, smooth, and easy to navigate, allowing you to enter loan details such as principal, interest rate, and loan term with minimal effort. The app quickly calculates your monthly payments and total interest amount.
"The RK Apps loan calculator includes a real-time graphing feature that takes loan visualization to the next level. The app's charts are a fantastic tool for tracking the development of your financial investments over time, and I highly recommend giving this app a try!
As you repay your loan or grow your investments, visualize your financial progress and make informed decisions with ease. The intuitive display offers a clear view of your path, allowing you to track changes and plan thoughtful financial steps.
These charts are a valuable tool to help you understand the impact of your loans or investments. They also make it easier to plan ahead and make it easier to keep others informed of your financial progress.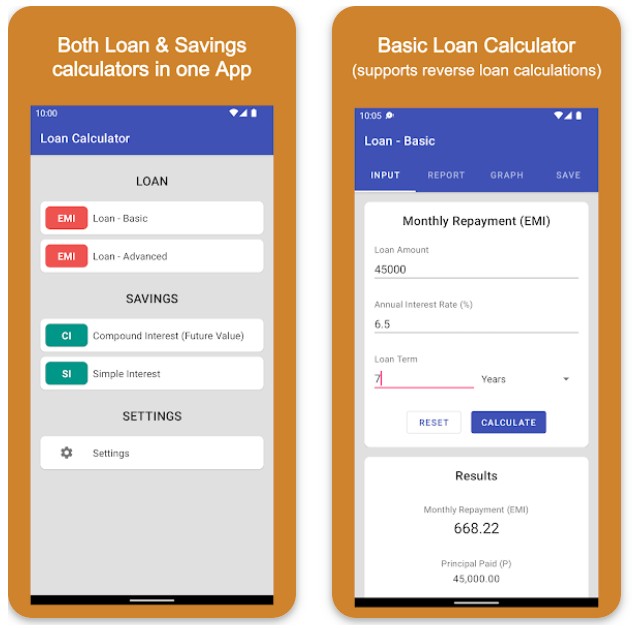 Finance Calculator – EMI Loan
I immediately noticed the app's stylish and minimalist design which is both clean and modern. The thoughtful approach of the developers in creating an aesthetically pleasing interface that functions well is apparent.
The app's minimalistic design serves a dual purpose – it looks good and makes things easy for users. By eliminating clutter, it allows users to stay focused on the task at hand; calculating EMI loans.
You can input loan essentials such as amount, interest rate, and tenure; then get reliable results within no time.
The device's chic and simplistic design renders it visually appealing, catering to a diverse range of age groups. With its uncluttered interface and navigational ease, the product is user-friendly for individuals with varying levels of technical proficiency.
If you're managing finances, whether as a financial planner or just starting out, "Finance Calculator – EMI Loan" simplifies loan calculations for you, effortlessly.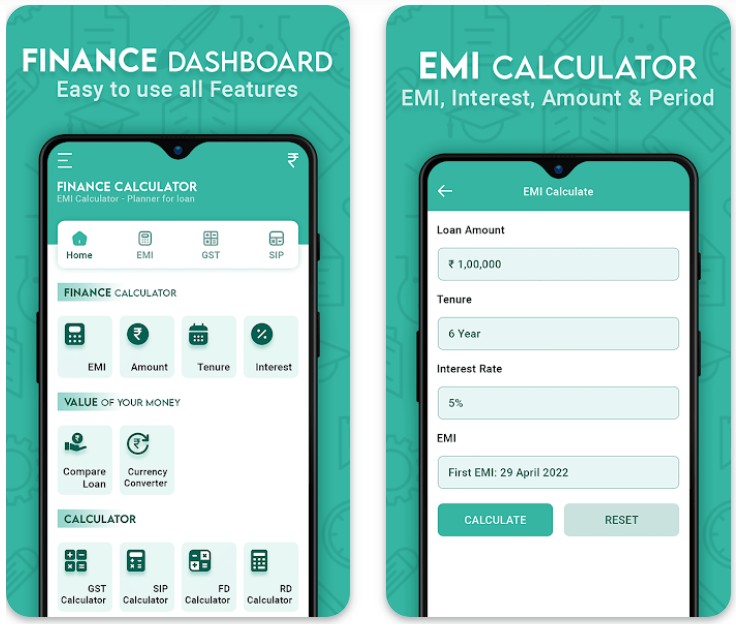 Home Loan EMI Calculator 2023
Looking for a versatile EMI Home Loan Calculator? This app is a one-stop solution for all your EMI calculation needs. From planning to buy a new home to dreaming of a brand-new car!
This app takes EMI calculations to the next level! Not only can you calculate the base EMI, but you can use the inverse calculations to determine the principal, interest rate, or loan term needed to achieve a certain EMI.
This fantastic feature allows you to better plan your budget and make informed financial decisions.
A special feature of the app is that it works offline, meaning you don't need the internet to use its features. This convenience makes it ideal for those on the go or in places with limited internet access.
The app's user interface is designed to be uncluttered, easy to use and intuitive. With just a few clicks, you can fill in loan details such as loan amount, interest rate and term. The app will then immediately display accurate EMI calculations that can benefit your future financial planning.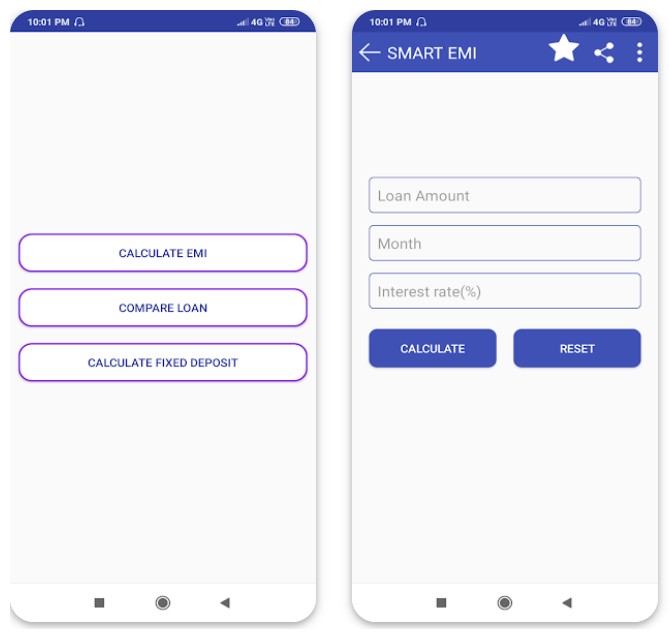 You may also like: 11 Best Payday Loan Apps for Android & iOS
Loan EMI Calculator by Dutch Studio
A team of banking professionals has carefully developed this application using their industry experience. You can rest assured that the calculations and algorithms used in this application are first-class and reliable.
"Dutch Studio's EMI Loan Calculator offers accurate and reliable EMI loan calculations for a variety of loan types. With this calculator, you can easily and confidently determine your monthly payments.
I must say. The reliability of this app is impressive. The experts behind it guarantee accurate calculations and eliminate any guesswork. You can trust this tool to provide the prompt and reliable information you need in real time.
Are you looking for an EMI loan calculator designed by banking experts? Check out the Loan EMI Calculator from Dutch Studio.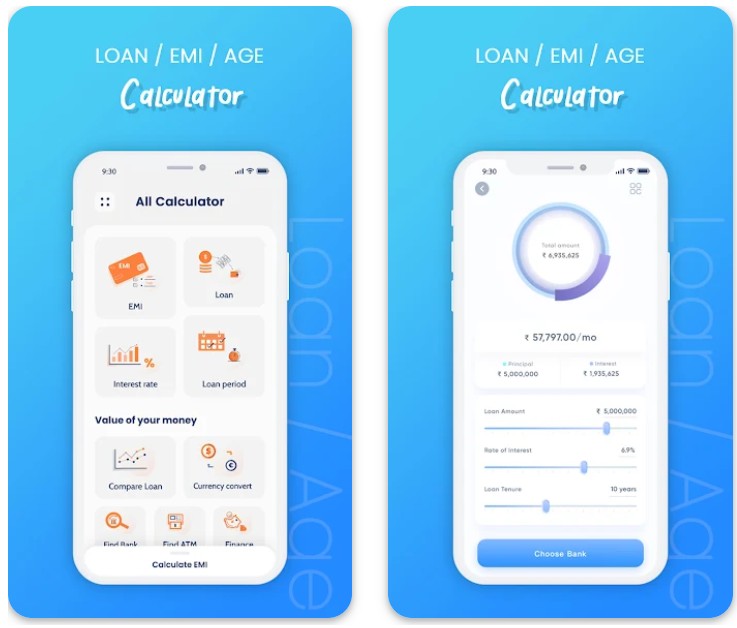 Mortgage/Loan Calculator
I recently discovered an exceptional app named "Mortgage/Loan Calculator" that I believe you'll find incredibly useful. It has transformed the way I manage my mortgage and loan payments, providing reliable calculations and robust features.
If you're on the lookout for a feature-rich calculator that can aid in managing your loans successfully, then this app is definitely worth exploring.
I am impressed by the online tech support and advisors that come with this app. Yes, you heard me right! Whenever you have queries or need help with your mortgage or loans, you can rely on their proficient team to be there for you.
Their dedicated support is like having a personalized financial advisor right in your pocket!
Let me tell you about the charts. This application goes beyond conventional loan visualization and presents an all-new approach for a better understanding of your loan dynamics. The app provides insightful graphs that allow tracking of your mortgage or loan progress over time.
Through visual interpretation, one can see how their payments are slowly reducing the principal amount, providing a clear picture of interest accumulation. These useful tools make it easy for visual learners or anyone who seeks to know exactly where they stand with their loans.
Let's explore the app's functionality now. By using "Mortgage/Loan Calculator," you can enter important details like loan amount, interest rate, loan term, and extra payments, if applicable. It then computes your monthly payments, total interest paid, and overall loan cost quickly.
Moreover, you can compare various loan scenarios side by side to make better decisions based on facts and figures.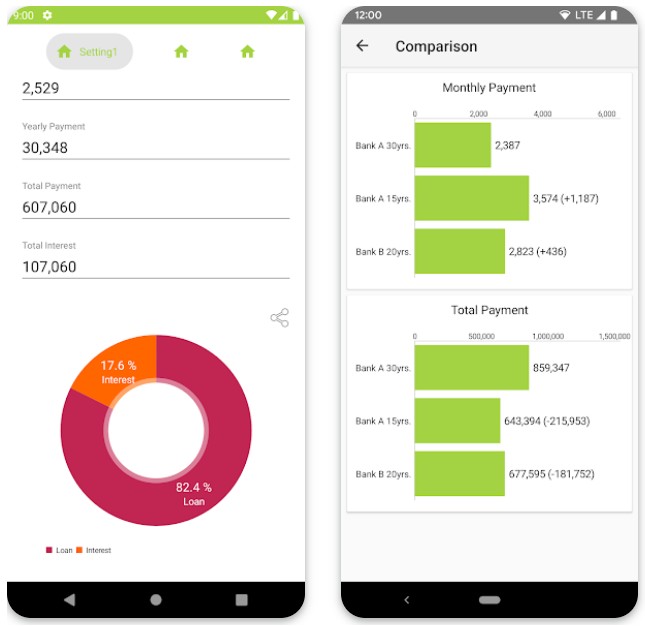 EMI Calculator for Bank loan
Providing accurate calculations for a wide range of loans such as home loans, auto loans, personal loans and education loans, this calculator can handle it effortlessly.
A distinctive feature of this app is the ability to compare two loans against each other. By entering various parameters, such as interest rates and terms, you can easily assess how they affect your monthly payments and overall loan costs.
This feature proves to be incredibly valuable when weighing different loan options, as it makes it easy to decide which one best fits your needs.
Managing multiple loans, including auto loans and home loans, becomes easy with this loan profile app. It lets you track individual details of each loan, such as EMIs and repayment schedules. You can also set reminders of EMI due dates so you don't miss a single payment.
Detailed amortization and repayment schedules are provided, allowing you to easily view the breakdown of principal and interest payments over time. This approach provides transparency in the loan repayment process and also helps you estimate the amount of interest due.
Wait, that's not all! This app isn't limited to calculations for regular deposits. It also provides calculations for SIP, GST and VAT refunds, and allows the results to be shared through various messaging platforms.
I can say with confidence that this app is worth the download, especially since it's free, works offline, and is designed for a wide range of users. Regardless of your profession, whether you're a real estate consultant or a banker, this app will definitely make your life easier."
If you need a reliable and versatile EMI calculator, EMI Calculator for Bank loans is the perfect tool. It will help you manage your loans efficiently and make informed financial decisions.

Loan Calculators
Here's one thing you'll love about this app: the Monthly Payment Calculator, also known as the EMI Calculator. You can use it to easily calculate your monthly payments on all kinds of loans – whether it's a car loan, home equity loan, or personal loan.
This app has a handy tool called the Loan Amount Calculator. You can use it to estimate the maximum loan amount you can afford. This feature is incredibly useful, mainly when you're just planning your loan and want to know your options.
The interest rate calculator is a fantastic feature in this app. You can use it to easily determine the actual interest rate on your loan. If you are faced with complicated interest rate structures specific to loans, this calculator will simplify the process and make it more accessible to you.
When it comes to borrowing money, choosing the right loan term is crucial. Our loan term calculator will help you do just that. It will allow you to choose a loan term that fits your financial goals and budget while keeping you comfortable throughout the repayment process.
Also, let me introduce you to Loan Meter, an amazing feature that allows you to take an in-depth look at the details of your loan and develop an early repayment plan. With Loan meter, you can take a close look at details like principal, interest, and payment schedules.
This tool is perfect for those who want to know everything about their loans and plan ahead for early repayment.
And that's not all! With the app, you can save your calculations and come back to them later. This allows you to monitor your credit calculations and conveniently compare different scenarios.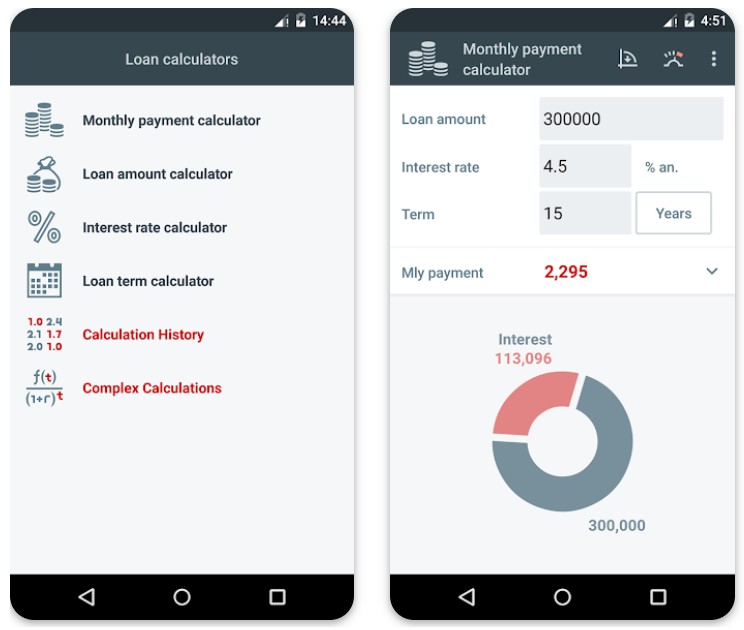 EMI Calculator – personal loan
It calculates EMI for personal loans very efficiently. It is a simple tool that helps you calculate your monthly loan payments reliably and easily.
This app simplifies the process by focusing on accurate EMI calculations. The developers understand the importance of ease of use and have made the app easy to use even for those who are not technically savvy. You won't find any unnecessary complexity here!
This app simplifies the process by focusing on accurate EMI calculations. The developers understand the importance of ease of use and have made the app easy to use even for those who are not technically savvy.
When it comes to EMI calculators, some apps have all the fancy features that can overwhelm you. However, the EMI Calculator – Personal Credit app takes a different approach. Its simplicity helps eliminate distractions so you can focus on accurately calculating your loan payments!
The app is easy to use, making it easy for anyone to budget their loan payments and get a clear picture of their financial obligations.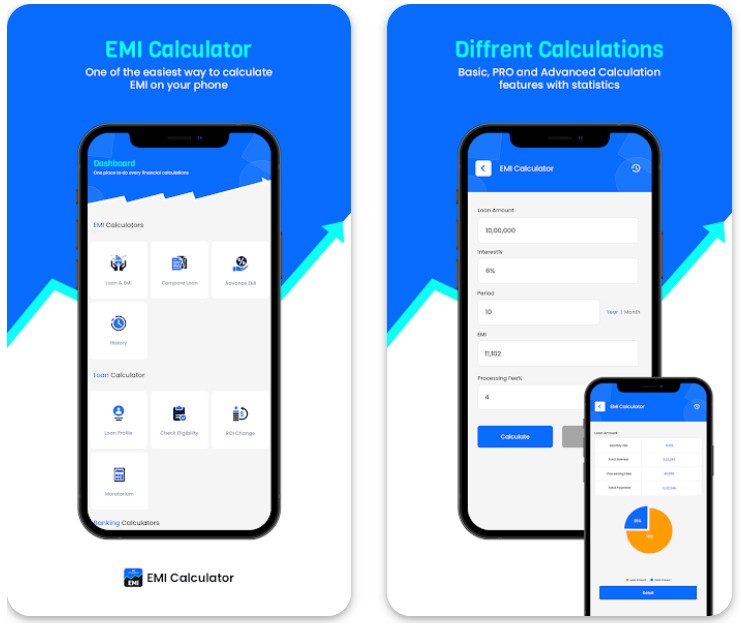 EMI Calculator – GST, SIP, Age
This financial app is no ordinary EMI calculator. In fact, it offers so much more! With additional features such as GST calculations, SIP (Systematic Investment Plan) calculations, this app acts as a versatile financial companion in your pocket.
The inclusion of GST calculations comes in handy when calculating EMI credit. It will help you account for goods and services tax to get a clear picture of your overall expenses.
You know what the great thing about this app is? It helps you calculate SIP returns based on your monthly investments. For those looking to understand how their hard-earned money can grow over time with regular contributions, this feature is just perfect.
I must admit that the user interface of this app is quite sleek and user-friendly. Its design provides easy navigation, allowing users to seamlessly access multiple calculators for convenient calculations.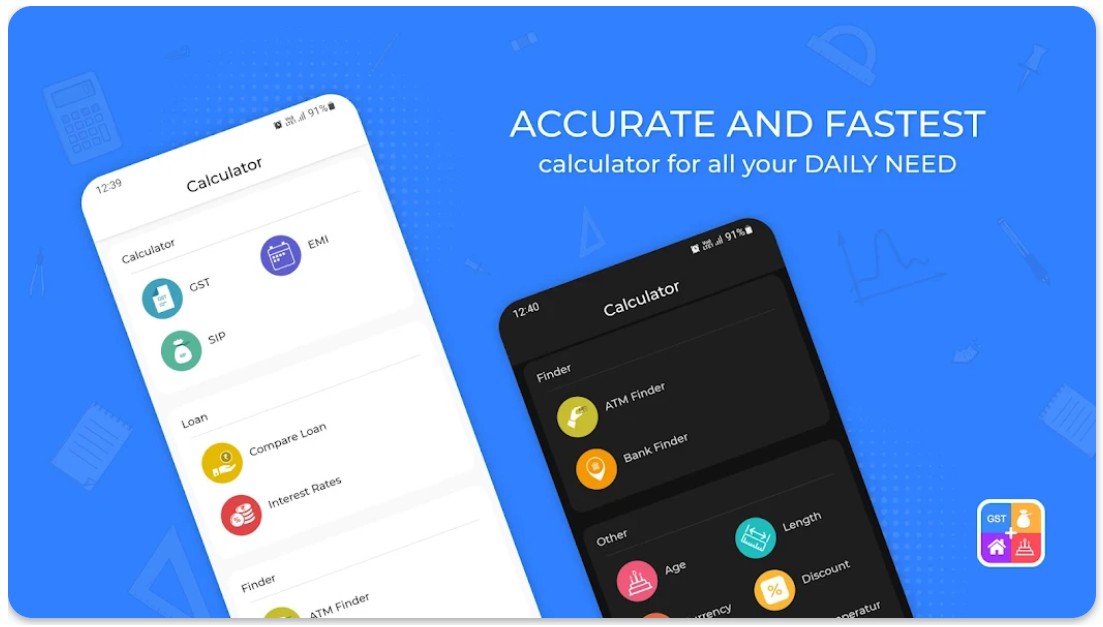 You may also like: 11 Best Loan Apps Like MoneyLion for Android & iOS
EMI loan calculator
This app makes accurate calculations and is highly functional, making it a financial wizard that's always in your pocket. Complex loan calculations become simple and straightforward! Whether you're planning to take out a home loan, a car loan, or any other type of loan, this app will help you.
I highly recommend this app for achieving accuracy in calculating your loan obligations. It provides the most accurate results. With its user-friendly interface and fast data processing, you can get detailed calculations of your loan repayment obligations in no time at all.
I should inform you that the application's user interface may not be as straightforward at first, yet once you become accustomed to its features, you will benefit from its precise and dependable performance.
While it may take some time to navigate, the gains it can provide are undoubtedly worthy of investing your initial effort into it.