All people who live in all the areas of our planet are seeking love and farms are no exception. The one thing that can be problematic is that usually farms are placed not in proximity to any agglomerations, so downloading a regular dating app can be tricky.
In the article down below we collected the best farmer dating apps where everyone can find their love. And more free dating apps for everyone can be found in this article.
Farmers Dating Only – FarmersD
This app was developed specifically for farmers dating and it's one of the leaders in this niche. It actually works according to the similar principle of all dating apps/websites.
You register, create your account, add photos – and then explore the people around you! Give people likes and chat with them. In some ways the app works similarly to Tinder – you can swipe profiles to like someone.
And if the sympathy is mutual then you can start a conversation. There is also the possibility to synchronize your Instagram account with the app.
FarmersD works in the majority of the US states, however, not everywhere – check before you use the app. In all other aspects, this is a pretty classic dating app without the excess of various features. However, it works tough for some places – sometimes it can happen that all the accounts around you are scammers.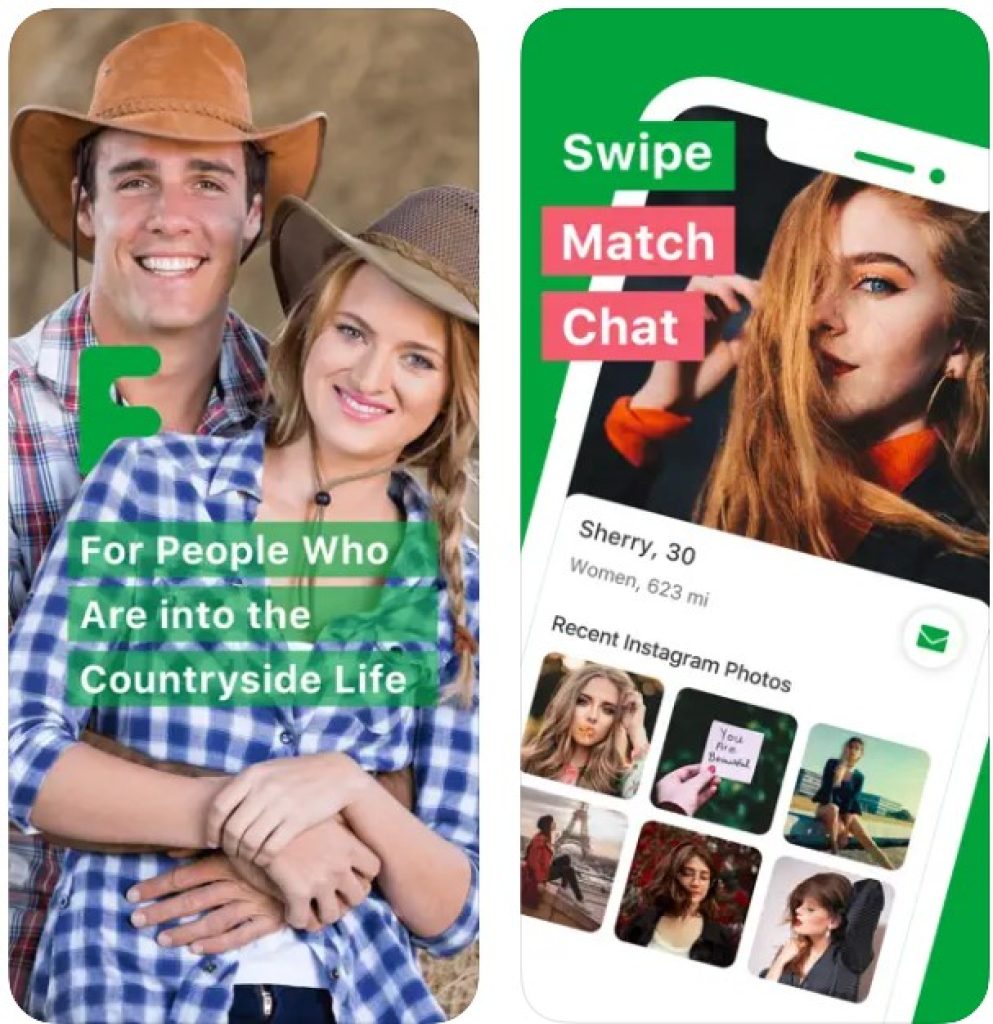 You may also like: 11 Free Polyamory Dating Apps & Websites
Farmers Dating Site App
As you can see from the name of it, this is a farmer dating website that was reclassified into the app. This basically explains why the overall system and interface design of the app is a little bit outdated. However, this app is developed for a more mature audience.
One of the advantages of the Farmers Dating Site app is its pro account. You can give an unlimited number of likes and text as many messages as you wish. Moreover, you will be able to see who viewed your profile. However, we must admit that prices for this pro account are quite unreasonable.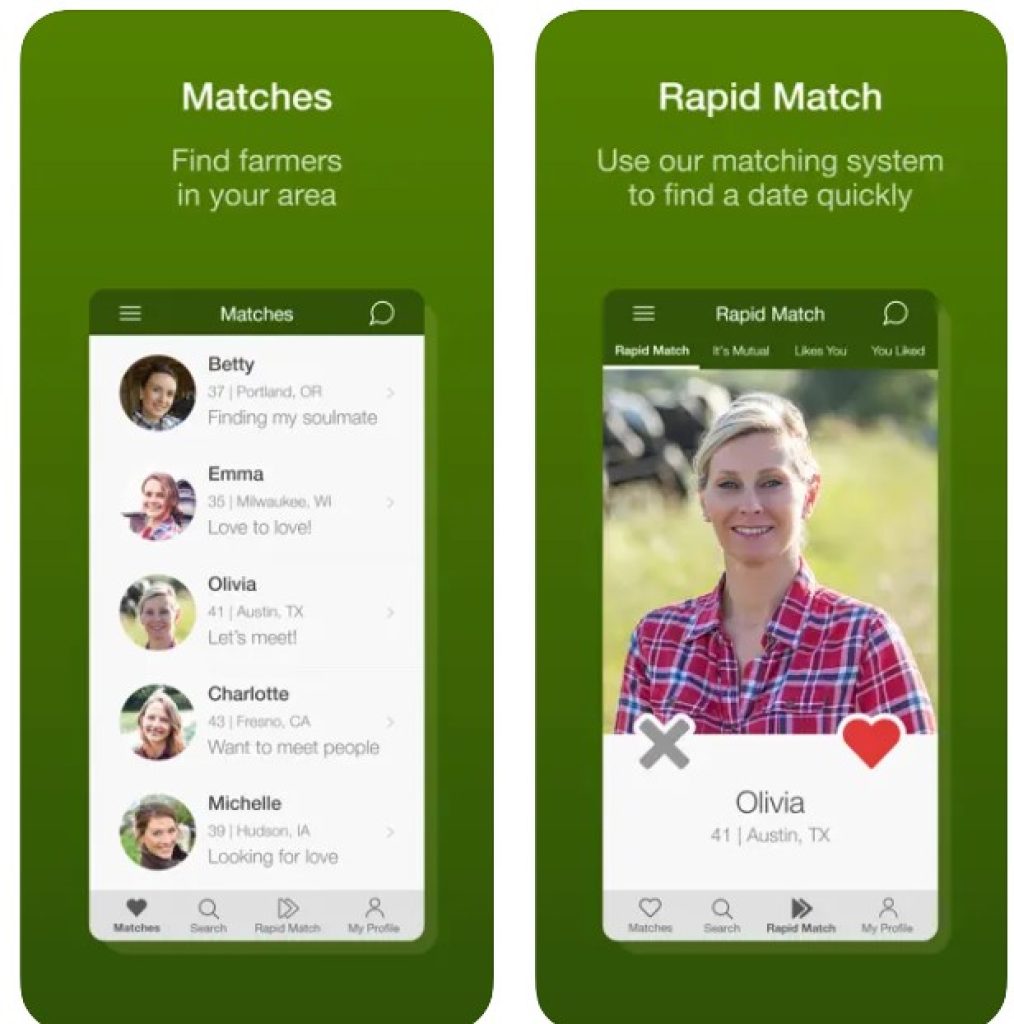 Cowboy Singles
Another quite popular app for farmers dating, though, it seems to have lower rankings from users. Just like the previous app, Cowboy Singles shows the people in the closest proximity to you. Create a good-looking account to get more attention!
One distinctive feature of Cowboy Singles is that here you can message each other without mutual likes. However, be careful with being too persistent since this way you can easily get banned. The in-app purchases include the VIP membership that gives you a chance to stand out from the crowd.
The main downside of Cowboy Singles is that it hangs and lags.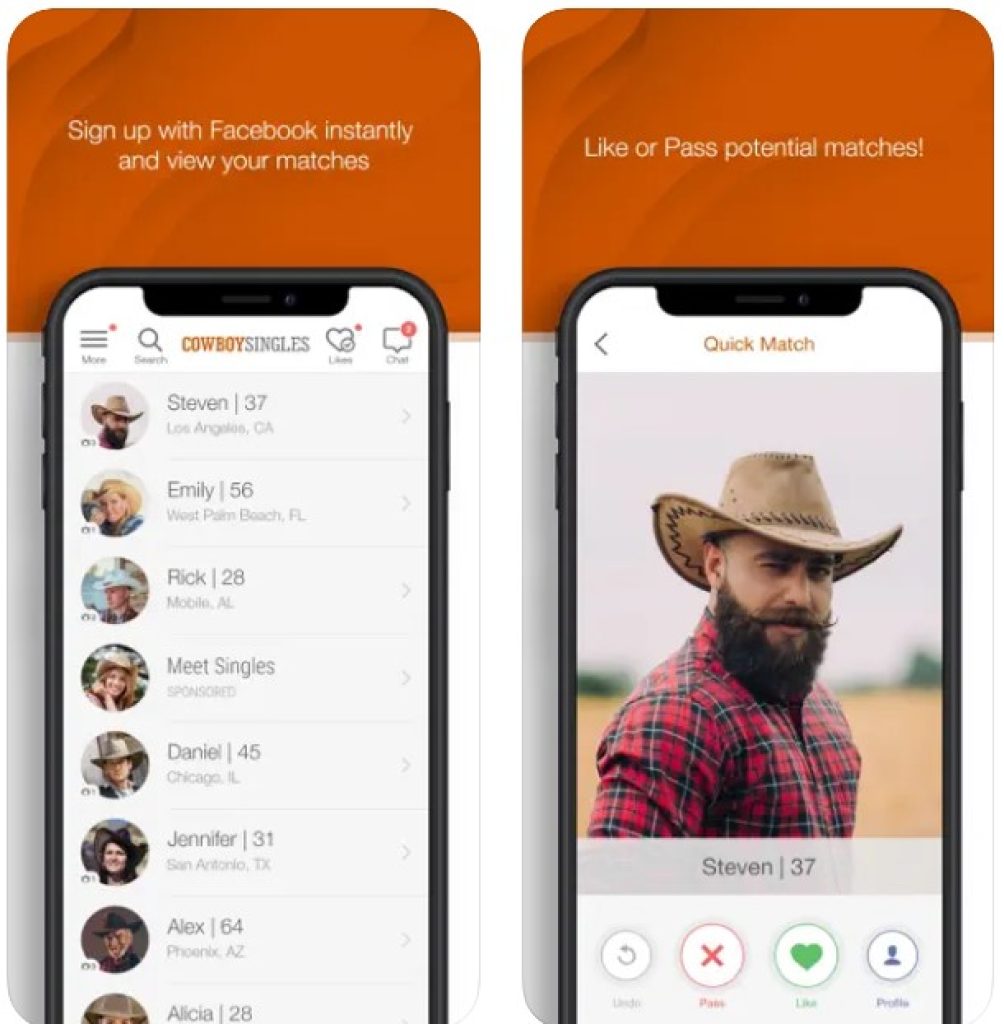 Farmers Dating Only – Farmly
This is the app for those who want to meet and date people from the countryside. It has a pretty cool interface design in bright colors which captures your attention. The whole procedure of the profile creation is quite basic – you just type in the info about yourself and your interests so others can relate.
More features are available in the premium subscription, but here it's not as expensive as in some other apps on our list. Farmly gained mainly positive reviews however, there are complaints that some users use the fake identity on the dating app.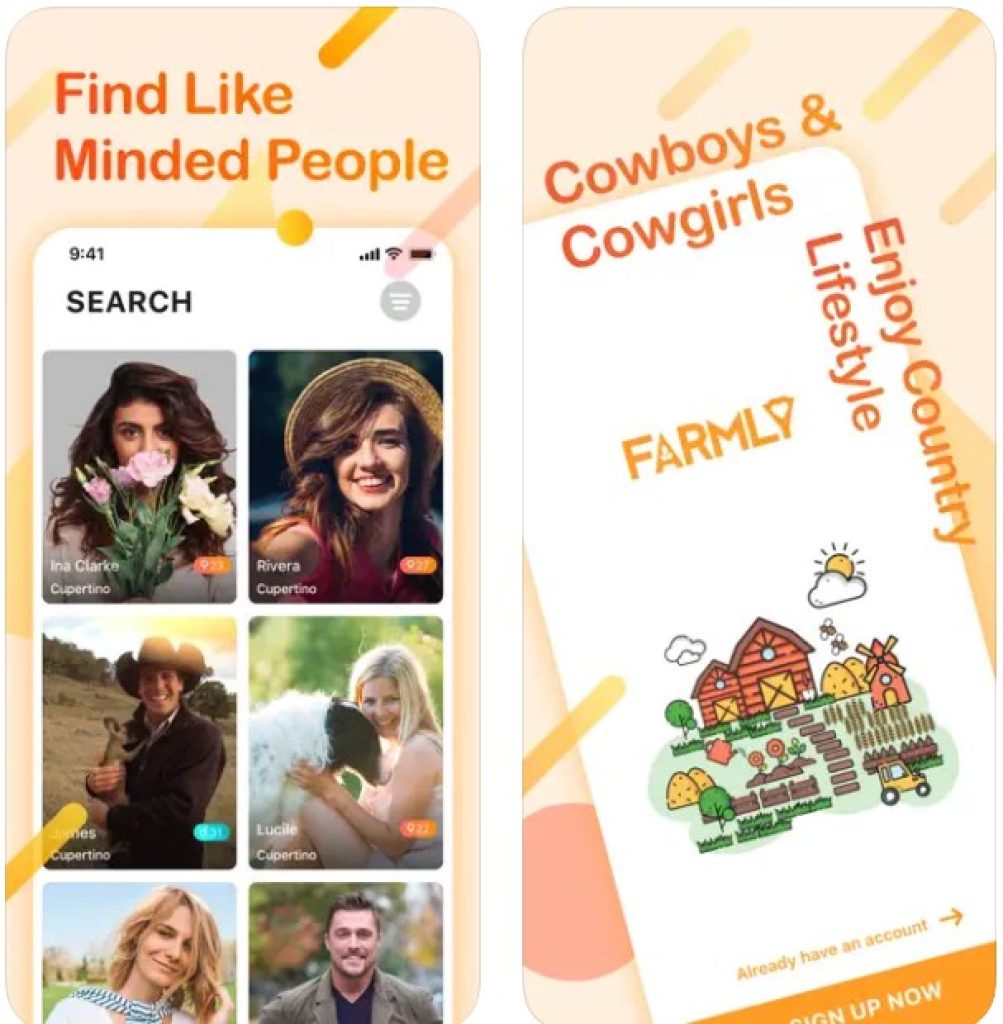 You may also like: 7 Best Goth Dating Apps (Android & iOS)
Farmer Dates
This is a new app on the market that totally stole the concept of Tinder and now it works like Tinder for farmers. For someone, it can be quite convenient. Even though the interface design is similar, the developers just used another color palette.
One of the significant drawbacks of Farmer Dates is that this app is full of ads. In order to remove it, the developers suggest you switch to a premium account, but before you do that, you need to make sure the app is popular enough in your area – you don't want to be stuck alone in this app with a premium membership, right?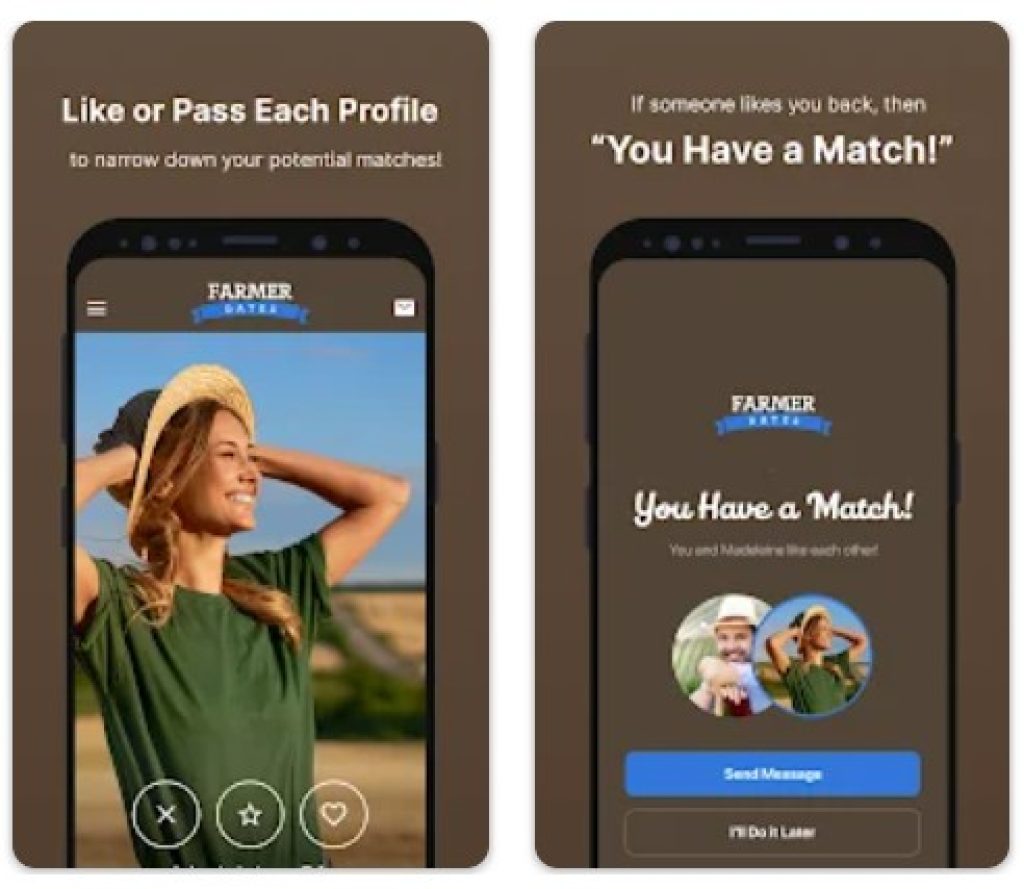 Farmer Dating App – BOL
Quite unusual on a typical Android platform where you can try to search the farm singles nearby. You can message all the people freely. However, there is no system of verification and therefore, it's unknown if the profile is real or not.
Frankly, we don't know exactly if someone is using this app, but you can try your luck, and it's totally free. Among the cool features, you will find the one where you can see who viewed your profile. Apart from that, the profiles look quite boring – one picture and very basic info, like age, gender, etc.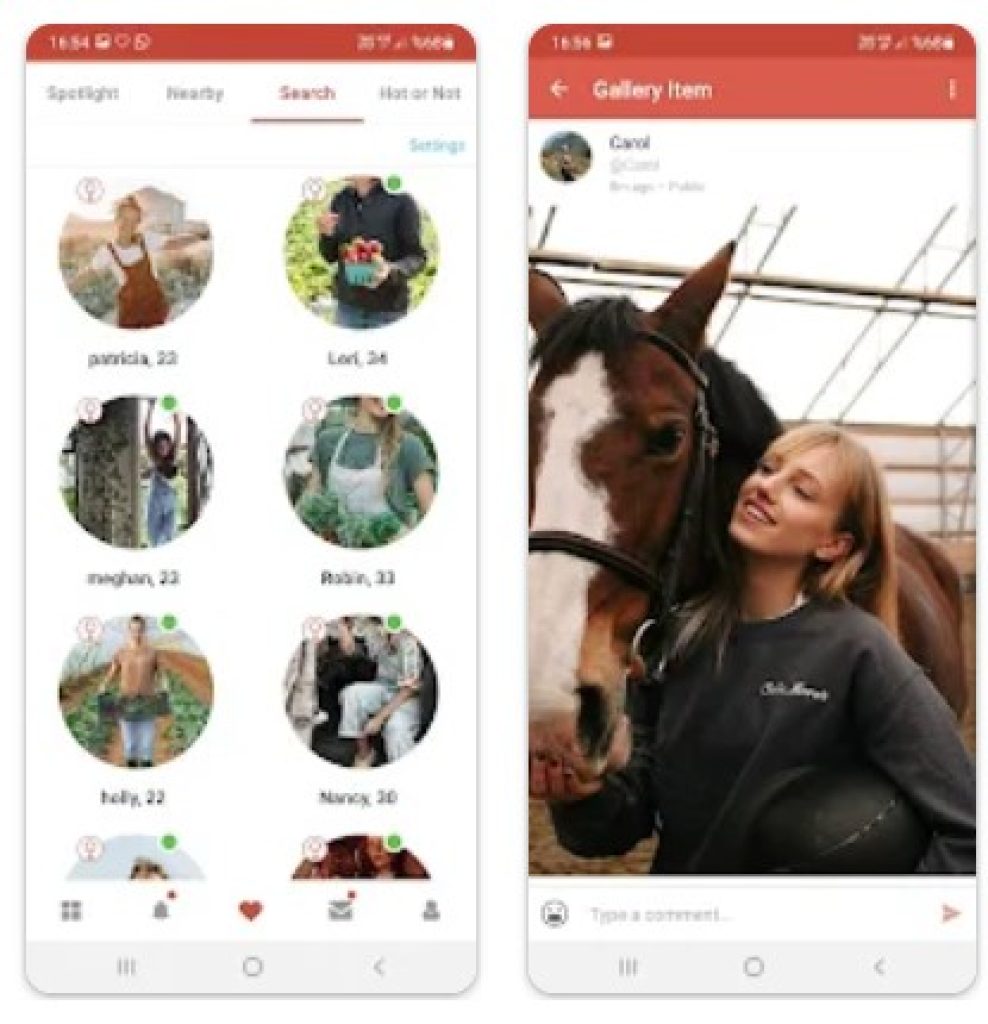 Farmers Chat And Cowboy Dating
Well, if for any reason all the previous apps haven't worked for you or you are above 50, then you can go for this app as well. The interface design is super outdated and it can be a little bit difficult to navigate in this app since it's so old.
The whole profile just consists of a picture. You just select a person and start a convo. However, there is no verification system and therefore you never know whom you're chatting with.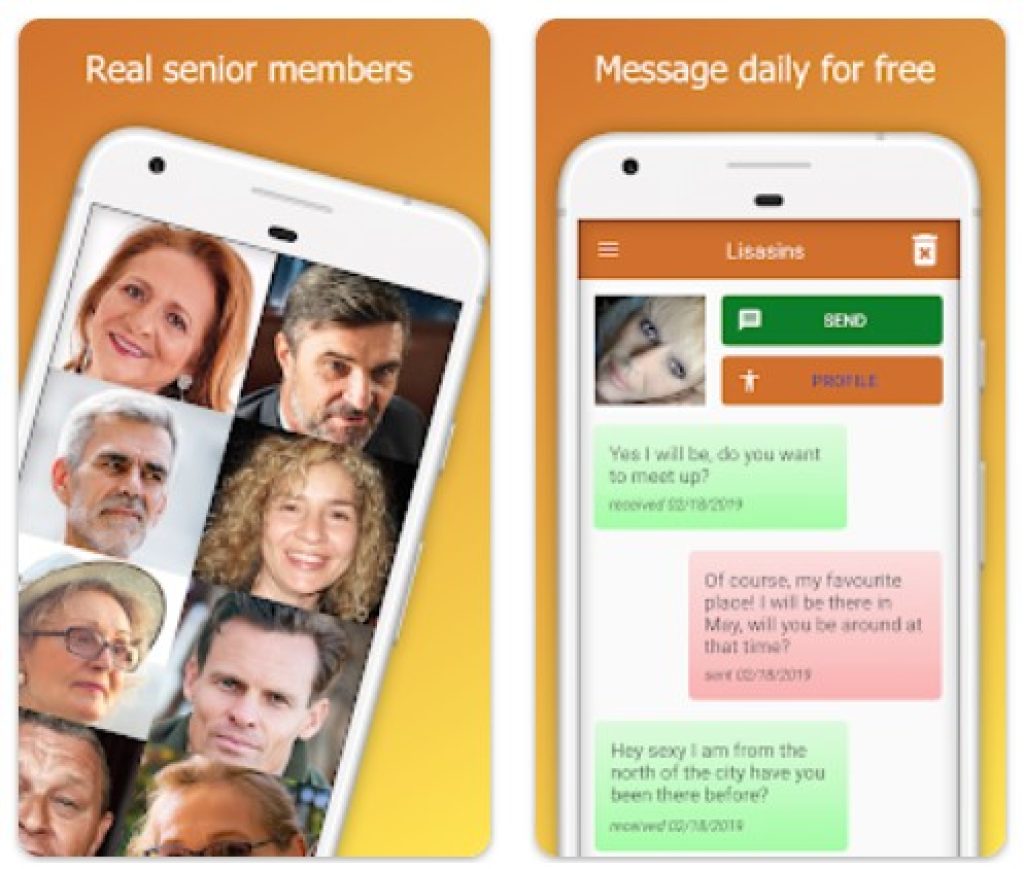 Tinder
Yes, we know it's kinda cheesy, but if all the previous dating apps didn't work for you, why not try some classical apps for dating? In your profile, you can mark all the information about yourself, including the fact that you are a farmer and seeking dates with the farmer.
Moreover, the app searches for people in close proximity, so if you are using Tinder straight from your farm you will probably see accounts of other farmers.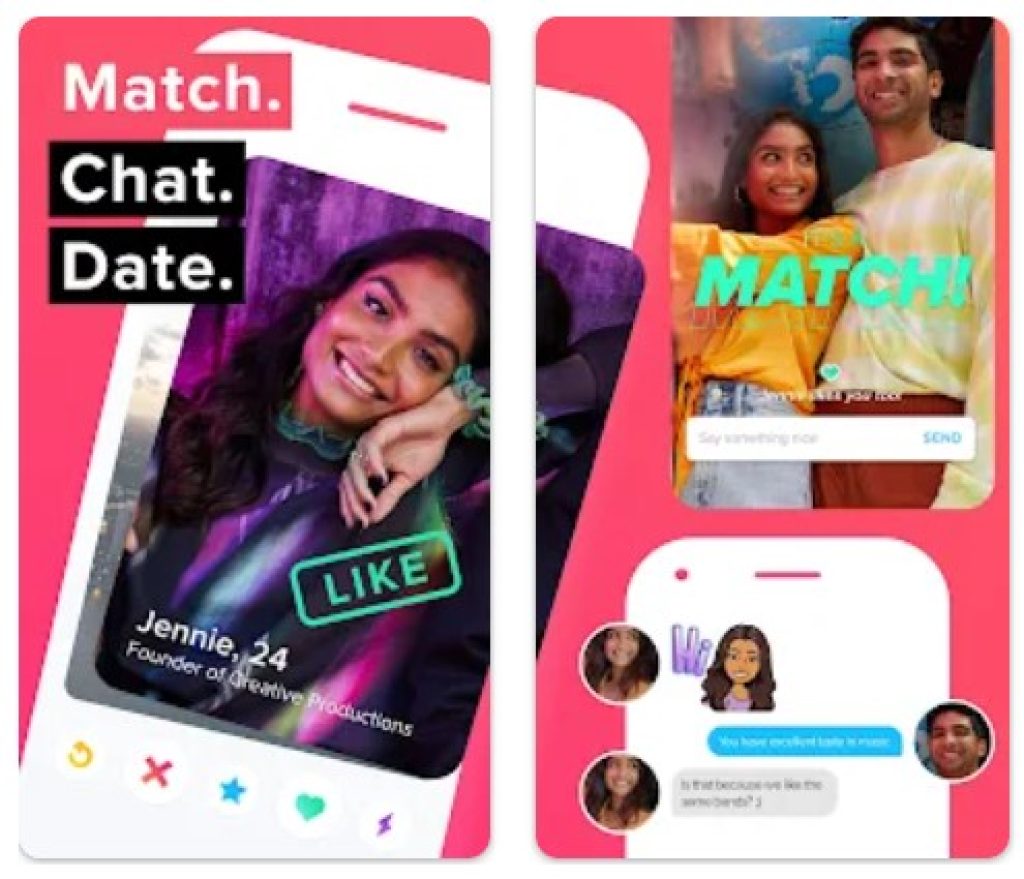 You may also like: 5 Best Dating Apps Without Pictures (Android & iOS)
Hinge – Dating & Relationships
Thus, since there is a shortage of dating apps for farmers, you can go sideways and still try to use ordinary dating apps. But the main difference between Tinder and Hinge is that the latter is oriented on serious relationships, so if you are looking for this type, it might be your choice.
The ultimate idea in the app is the acquaintances here would be as real as possible so it could feel at least partially like real life. Hing wants you not to waste your time on empty people and convos, but could truly find your soulmate with whom you want to build relationships.