On the hunt for the best music apps for metalheads? This article has you covered!
It was a time when rock dominated among all the other music genres but the situation has changed since then. That's why it may be quite a challenge to find an app the is fully dedicated to rock and metal music.
Luckily for you, we've gathered together the best heavy metal music apps for Android & iOS that will cover all your needs. This list of apps covers both radio and streaming services so there's something for everyone.
You may also like: 8 Cool Drums Simulator Apps for Android & iOS
Gimme Metal
Let's start with the Gimme Metal app — an ultimate streaming service for all the true metalheads.
To be fair, it is one of a few music services that are fully dedicated to metal and rock music. Herewith, the app is well-made and easy to use so you won't have navigation roubles and all that.
As for the music compilation — this app will cover all your needs. The app includes thousands of metal tracks from the past and present and all the newest releases come up instantly.
Beyond that, this app runs on quite a unique concept. The thing is, the app's developers believe that metalheads choose the music by heart and no algorithms could ever replace it.
For that reason, all the music recommendations you'll get in this app are selected by the heads of real people — musicians, producers, and other people from the industry.
The app also covers regular thematic shows hosted by the best DJs out there. The access to these shows is for pro members only but you'll be able to listen to all the previous shows after buying a sub pack. The quality of all the tracks is on the highest level so you'll get to fully enjoy each one of them.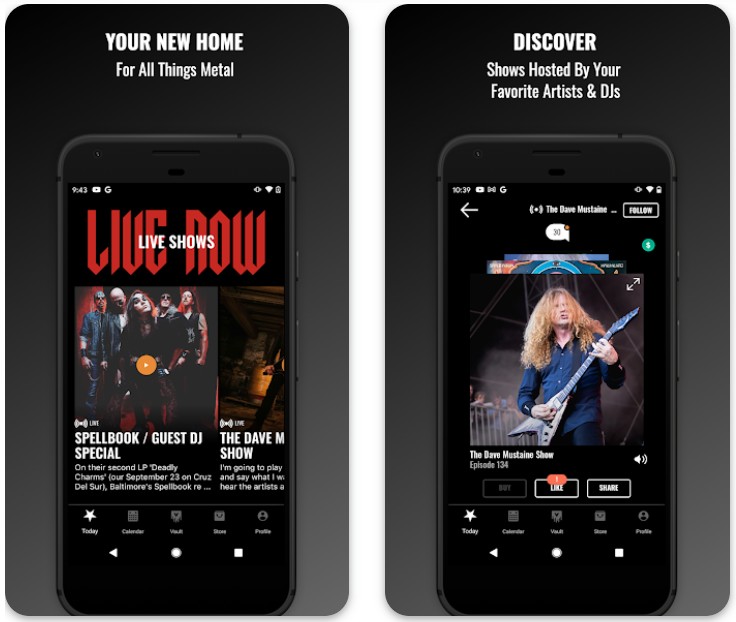 You may also like: 7 Free Trance Music Apps for Android & iOS
Rock Radio
Wanna get one-tap access to your fave rock radio station? This app has you covered!
This app has gathered together the most popular metal stations so you could listen to them non-stop. As you may have guessed, this app is fully dedicated to the rock and metal music genre so it's the only content you'll see there. Speaking of the features, you get all the standard radio app tools, be there are some flaws still.
Starting from the good things, the app supports bg listening so you can do whatever you want while enjoying your fave tracks. Plus, the app covers a wide variety of thematic stations dedicated to classic rock, covers, legends of the genre, alternatives, and more. In case you're on the hunt for some independent artists — there's a stand-alone station for you as well.
As it was already mentioned, the app does have its cons. First of all, it's not a streaming service — it's radio so some stations may crash from time to time and it's highly depends on your web connection. There are also stations powered by actual people so sometimes they may be plain as well.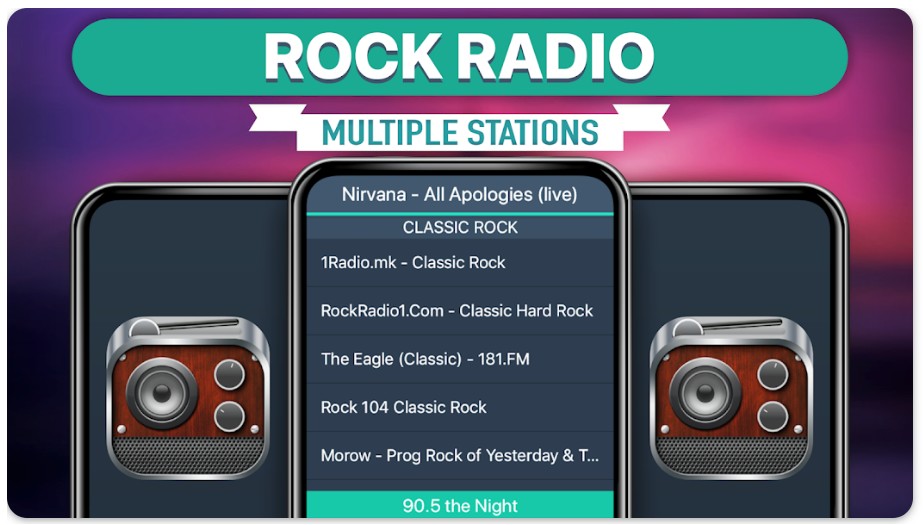 Music Rock
This app lets you enjoy your fave rock music wherever you are.
This app is practically a massive compilation of rock and metal tracks in high quality. Herewith, it has a user-friendly interface and intuitive navigation everyone can cope with.
The design looks quite modern as well in case the aesthetic part matters for you. As it was already mentioned, the app's track collection is impressive and it gets updated on a daily basis so you won't miss a single release.
In case you're a fan of classic rock — this app has you covered as well. There are plenty of tracks from the past including the ones from independent and unknown artists. You'll get to view countless thematic compilations with albums, fans' faves, and more so you'll never run out of the material.
Additionally, you get to make custom playlists with your personal faves and more. The app also covers the lyrics of all the tracks if needed.
It needs to be said, the app doesn't let you download the tracks so it only runs if you're connected to the web. It may be considered a flaw but the app is totally free so the online mode is not that critical.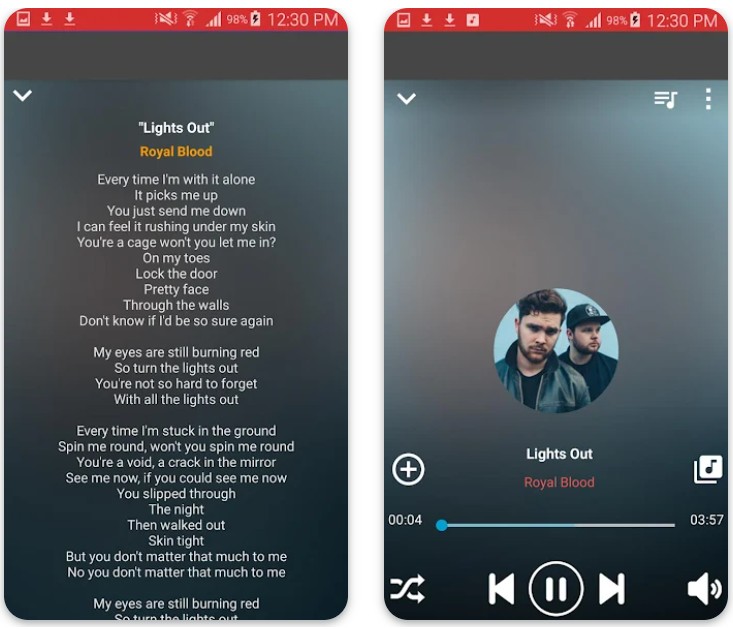 Free Metal Radio
Next, we have another radio station made specifically for metalheads.
Frankly speaking, this app is very similar to the Rock Radio one, the only difference is the compilation of stations and the visual. Although, the visual is not that different after all.
This app is 100% free with n sub packs or ads which is great. However, some stations may include ads within the streaming so keep that in mind.
Speaking of the stations, there are plenty of options to choose from. For instance, there's a compilation of the most popular stations, the ones dedicated to classic rock, the ones for legendary tracks and rock history, and more. There are also stations dedicated to the newest releases and independent artists if needed.
You get to add some stations at your faves for simple navigation and make custom lists as well. Plus, the app runs in the bg of your device so you get to surf the web or do whatever else while listening to your fave tracks.
However, you may have trouble with the music stopping once your screen goes off. It's a common thing that can be fixed by playing with the settings.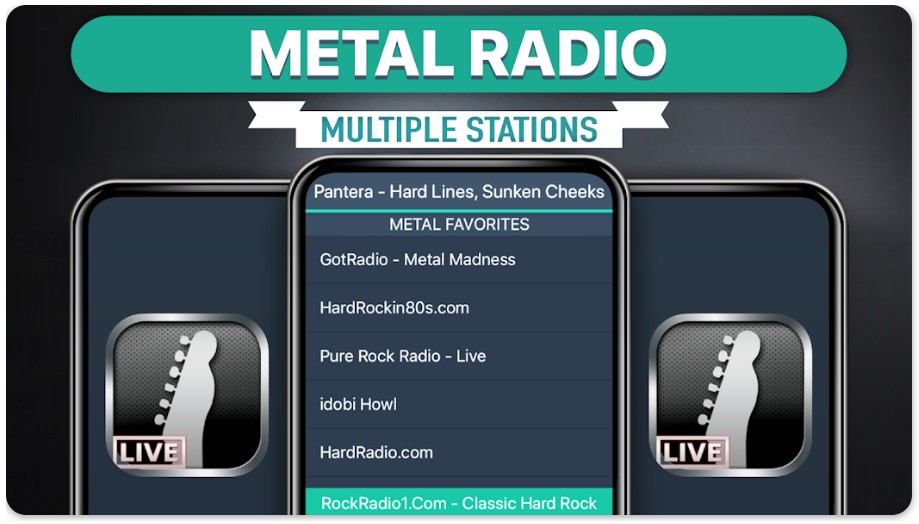 Check also: 9 Free Multiple Bluetooth Speaker Apps for Android & iOS
Brutal Metal and Rock Radio
As you may guess by the name, this app is a heavy metal radio for all the fans of brutal music.
In the first pale, the design of this app is a bit outdated. Well, to be fair it looks like it hasn't been changed since 2010.
The question is — do the developers just don't care about the way the app looks or is it intended to give nostalgic feelings? We can only guess but the interface actually warms a heart a bit if you think about it (especially the stop button in a skull form).
In case you like the design but not completely, you can change the font, the color of the text, the bg pic, and more. As for the functionality, this app gathered together dozens of popular rock stations.
It covers the stations dedicated to old metal, Christian rock, metalcore, and more. Herewith, you need to consider that some stations are powered by actual people, so they won't be available 24/7.
In case you're a fan of punk, blues, and jazz, this app has you covered as well. The app only runs online so you need a stable web connection to use it. However, if you'll tap on the name of the song the app will automatically open a browser for you to download it.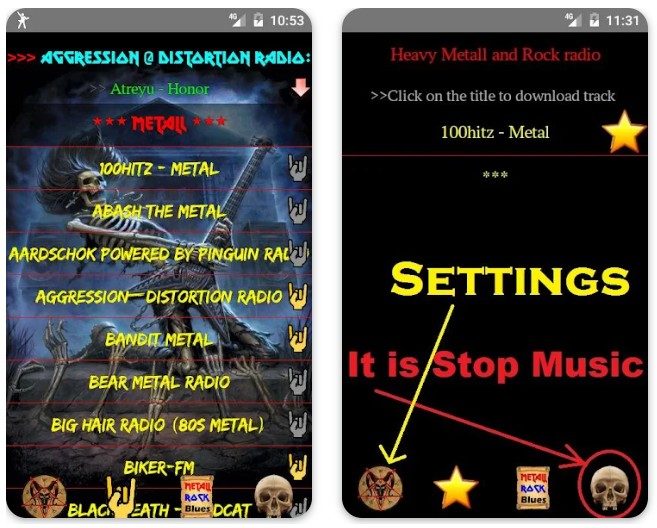 KSHE 95
This is a mobile radio with a solid functional and simple UI.
Although this app is not dedicated to rock music completely, it's still a good choice if you need a fully-featured radio. Plus, the app has quite a unique concept — it rewards you for listening to music. That's right — it tracks the time you spend listening to your fave stations and sends you a reward according to it. The rewards may include coupon codes, merch, and other peasant stuff.
Beyond that, you get to listen to your fave radio stations live wherever you are. You get to add the stations you listen to the most at our faves for quick navigation. Plus, you can set notifications to never miss your fave shows. The app also has a wide compilation of podcasts if needed.
There's also a full-on section dedicated to music news and all that. Herewith, you get to subscribe to the news for specific genres in case you're not interested in anything else.
You" also get recommended posts according to the stations you listen to and the ones you already read. You can even send some feedback to the station or podcast creator.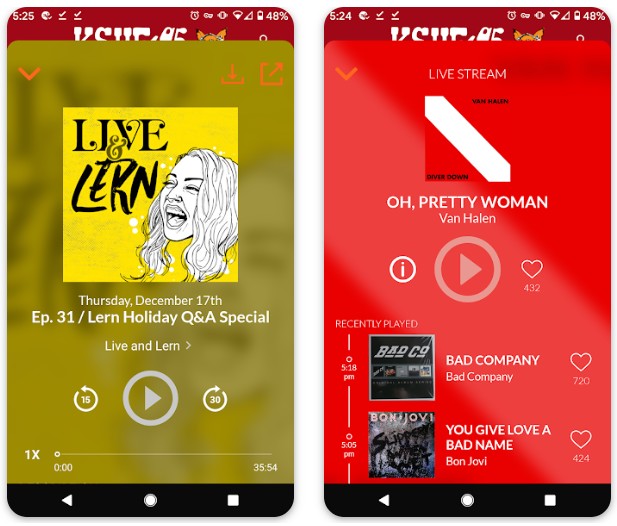 Rock Radio
And lastly, we have a radio app made for all the people with a passion for rock music.
For now, the app covers over 35 channels you can listen to. Although it may sound like a lack of choice. You need to consider the app only picks up the best of the best.
Thus, you get multiple stations with all kids of HQ music. There are stations dedicated to blues, metal, gothic rock, alternative, soft rock, and more so there's smth for everyone.
In case you're not quite sure what so you want to listen to today, you may check out style lists and personal recs. You get to add your fave stations to the custom list to always have quick access to them. The app runs in the bg so you can read, text someone, or do whatever else while enjoying your fave sons.
You can also play with sound settings if you have any preferences for that. Besides, there is a sleeping timer that automatically shuts down the music when you fall asleep. You can even share the tracks on FB, Twitter, and other SM. The app does have a membership option but you can totally do without it.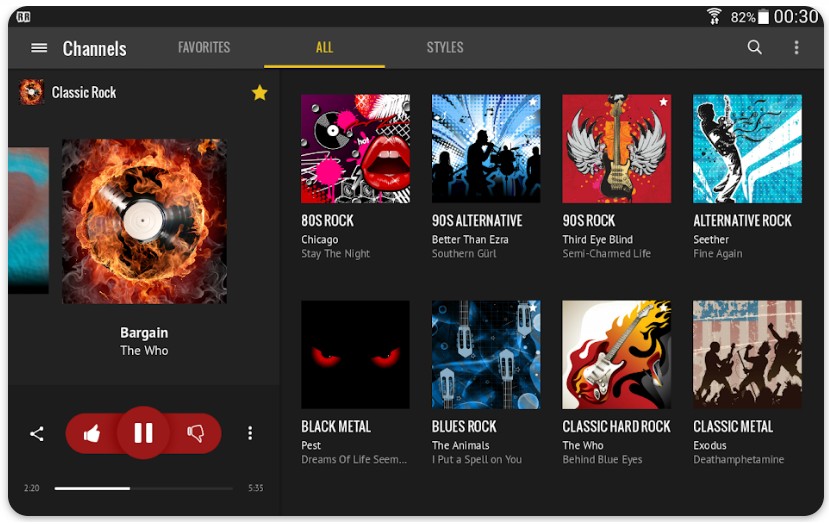 Radio Metal Rock
Radio Metal Rock is a free mobile app that offers a wide selection of heavy metal and rock radio stations. With over 30 different radio stations, this app is designed for metalheads and rock enthusiasts of all tastes and sub-genres.
Pros:
You can listen to your favorite music on thirty different radio stations
High sound quality
You can share your impressions about the music you listened to with other users
Сons:
Application has content buffering issues
Radio Metal Rock has the ability to personalize your listening experience by adding your favorite stations to your favorites and setting an alarm to wake you up to your favorite music. The app also provides song and artist information and allows users to share what they're listening to on social media.
But when it comes to the interface and its convenience, the practice shows that the users aren't really content with this one. Others report random bugs that cause the app to crash or buffering issues.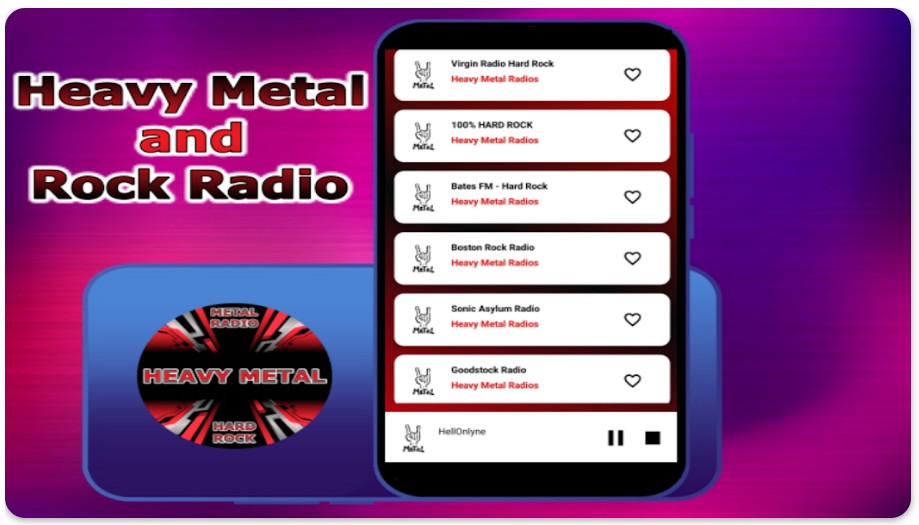 You may also check: 15 Best DJ Apps To Rock Your Party for Android & iOS
Metal Releases
Metal Releases is an app that keeps metalheads up to date with the latest releases in the heavy metal world. This application will help you always stay up to date with the latest events from the world of your favorite music.
The app can please you with an extensive library of metal bands, which can be sorted alphabetically or by subgenre. You can also search for specific bands, save your favorite artists, and even get notified when new releases come out.
In addition to album releases, Metal Releases also gives you the latest news and tour information, as well as access to the band's merchandise and tickets. The app even includes a built-in music player, allowing fans to listen to their favorite tracks without leaving the app.
While Metal Releases is a great tool for metal fans, some users have complained about the app's occasional crashes and slow downloads.
Others point out that the app's library doesn't always include smaller or lesser-known bands, which can be a disappointment for fans of underground metal.
Metal Releases is a handy resource for metal fans who want to stay up to date with the latest releases and news from the genre. Despite some minor flaws, the app's extensive library and user-friendly interface make it a must-have for any metalhead on the go.