Card games have been around for ages and have gained a massive fan base that keeps growing to this day.
Luckily, now you have the ability to play cards with your mates without coming together. Plus, there's a way to cope with that without installing anything on your PC.
There are lots of free sites to play online card games with friends that empower you to play wherever you are. These sites cover all the time-proven games and even some unique foreign ones.
In case you're interested in card game apps, check out this article: 15 Best Strategy Card Games for Android & iOS
Here's the list of the 9 best free websites in that category you should try. Take a look!
Arkadium
Let's start with a website called Arkadium. This is one of the most popular online card gaming websites on the market.
If you've ever searched for a site to play cards with mates on PC the chances are high that you've come across the Arkadium. This site has been up and going for more than 20 years now and it covers a massive compilation of card games. Besides, the site is quite fast and all the matches load in secs.
One of the main pros of this app is its intuitive interface. The home page comes with multiple compilations of games such as fan faves, the newest releases, and all that. Plus, all the games are sorted into categories so it's easy to navigate and find something specific.
All the most beloved games are covered — from Bridge to Solitaire and Blackjack. Plus, the new releases are being added to the site quite often so you'll always have fresh gaming material. The site enables you to play with real players and you can create tables with your mates. In case you just want to train your skills you can compete versus the AI as well.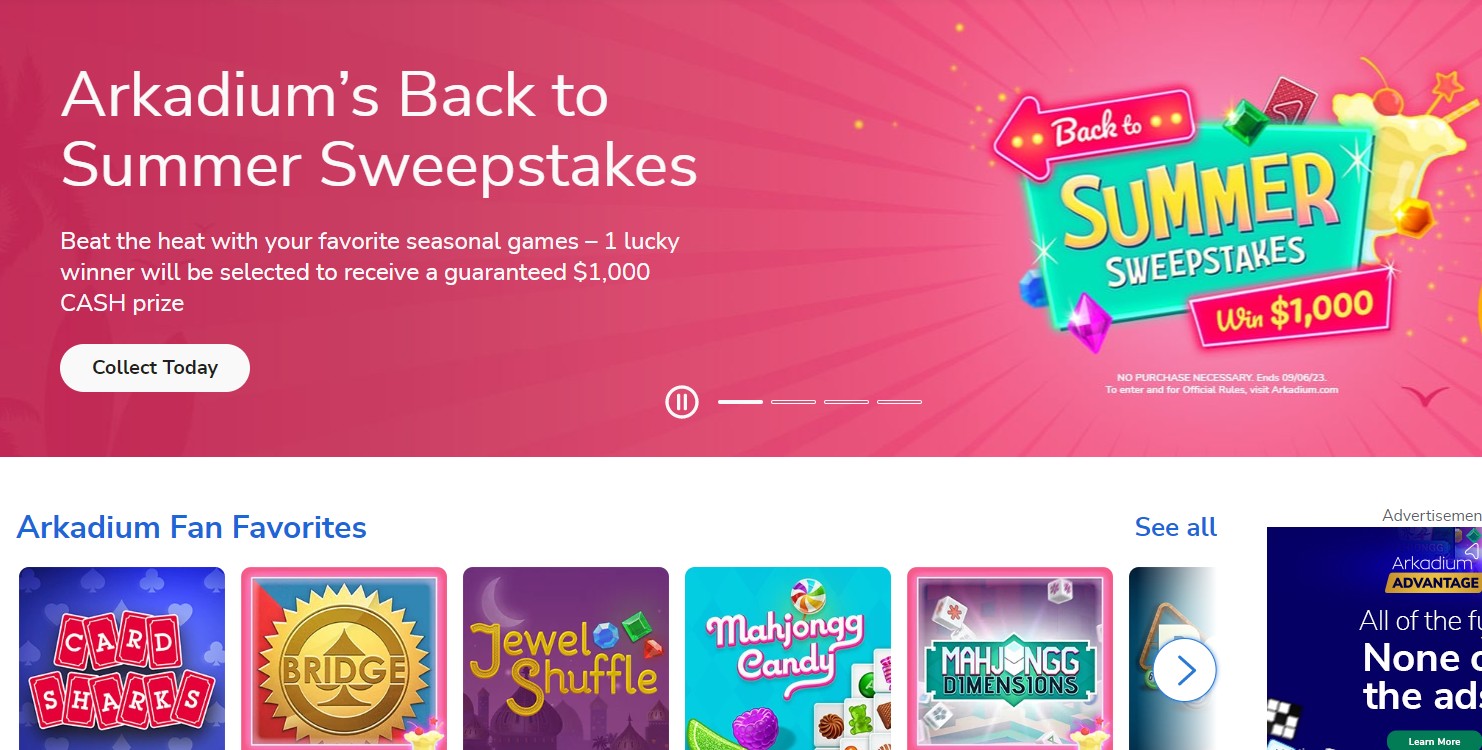 You may also like: 11 Free Poker Apps to Play With Friends
World of Card Games
World of Card Games is another card dedicated site that will keep you and your mates engaged for a while.
This site has quite a minimal UI and it might look a bit outmoded at the first sight but you can modify it according to your taste. To be more precise, you can pick custom bg, your icon, and even change the look of decks. Speaking of the game variety, all the most loved games are covered — from Spades and Rummy to Pinochle.
Plus, the site empowers you to pick whether you want to play again real people or the computer before beginning each round. Therewith, you can view the number of users playing each game right now. You site also follows your stats and you can view them from various devices. The stats cover the number of games you've played and how many of those you've won and lost.
In case you're an amateur and not familiar with the rules of some games yet, the site covers tutorials for all of them. Plus, this game will work great for people of all ages as all the games come with fun pics and illustrations. As for the ads, there are some, but they have placed the way to not bother you too much while playing.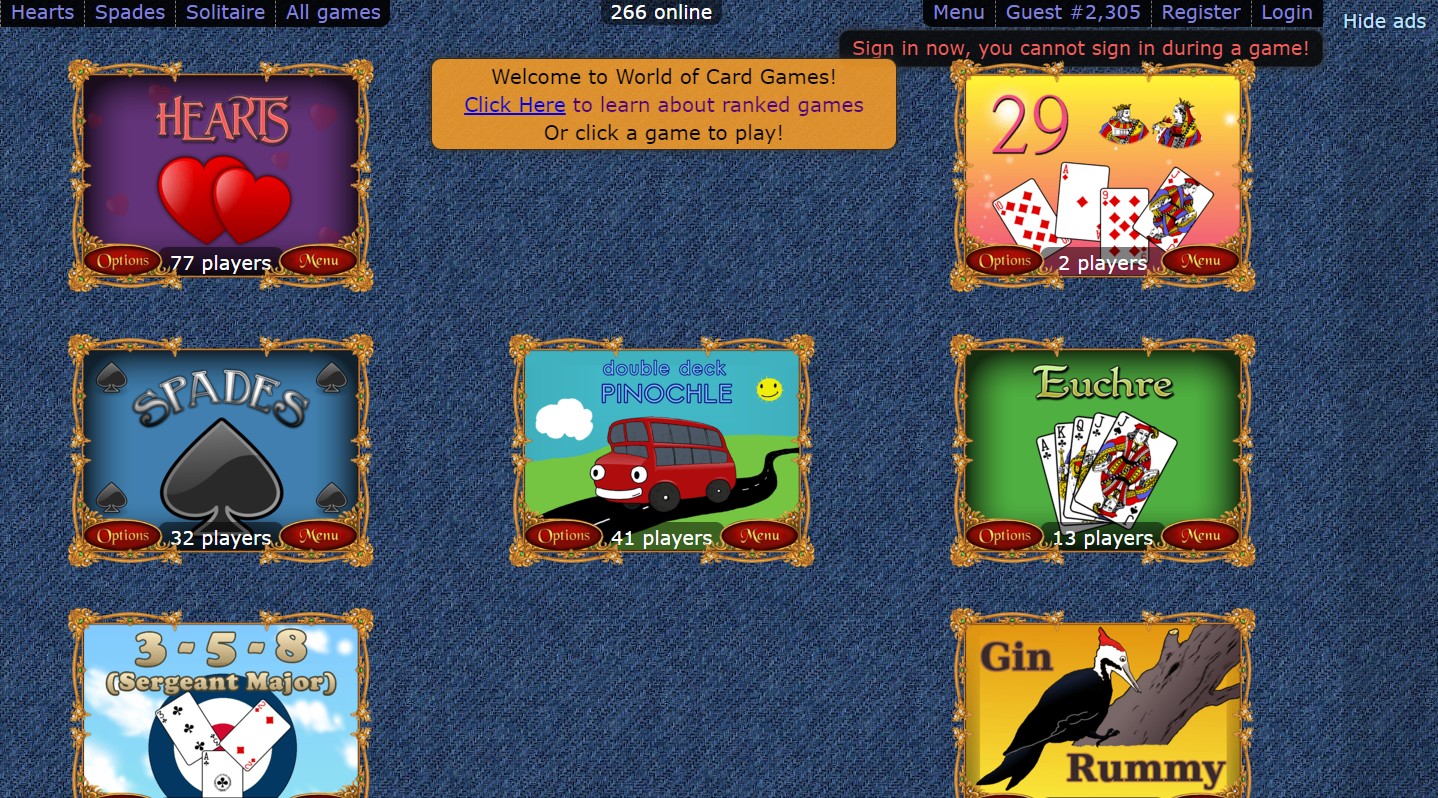 Palace of Cards
As you may guess by the name, Palace of Cards is a site that covers multiple games to play online.
The game covers all the prevalent games you can enjoy with mates — from Rummy to Canasta and more. Plus, there are some tricky games like Skat as well. All the matches are free to play and you can rather battle against the AI or real people. In case you're not familiar with the regulations for some games you can always read the tutorial.
It needs to be said, the site works great on all types of devices — from PC to mobile. Therewith, the site has come up with cards suited for the small screens, so they won't hurt your eyes. You can also pick the design of the decks according to your preferences. There's also a self-called app if needed.
The site is very fast and all the games load in secs with no delays while playing. The interface is quite nice as well — it looks modern and the deck's animation is smooth. Once you've signed in to the site, it starts tracking your stats. You'll be able to view how many games you've played, won, and lost.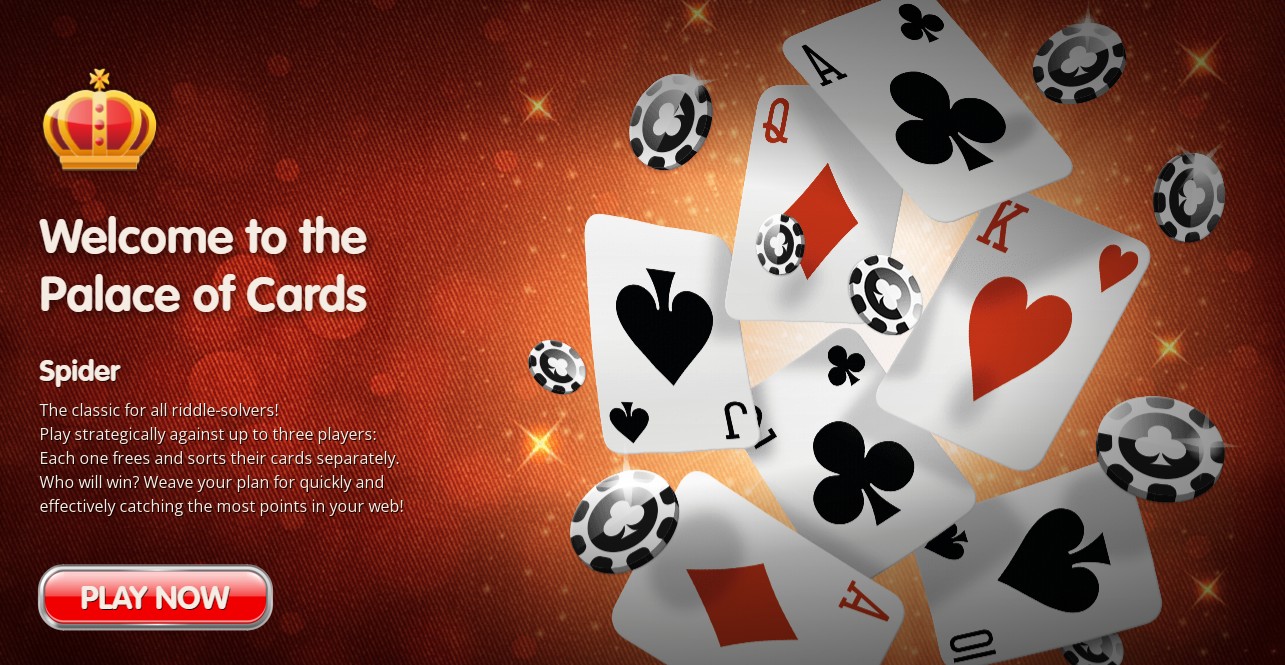 CardGames
CardGames is a minimalistic website filled with various card contests you can play online.
In the first place, this site is a bit different from other similar ones. This site is made for all the old-school lovers that miss the way the Internet looked at the beginning. In other words, this is the simplest looking site you can play games on — it looks like a retro flash app.
All the categories are placed in the frame on the home page — there are more than 40 options for you. Herewith, all the most beloved genres are covered so regardless of if you're a Solitaire or an Idiot fan you're covered as well. Plus, the site covers other board games apart from cards — there are Checkers, Chess, and all that.
Despite its old-school interface, the site works quite fast. All the games load in secs and there are no delays during playing. You can rather play with your mates or against the AI (there are three options here). Thereby, the site keeps track of your stats and you can view them from various devices. The ads do have ads but it won't interrupt you while playing.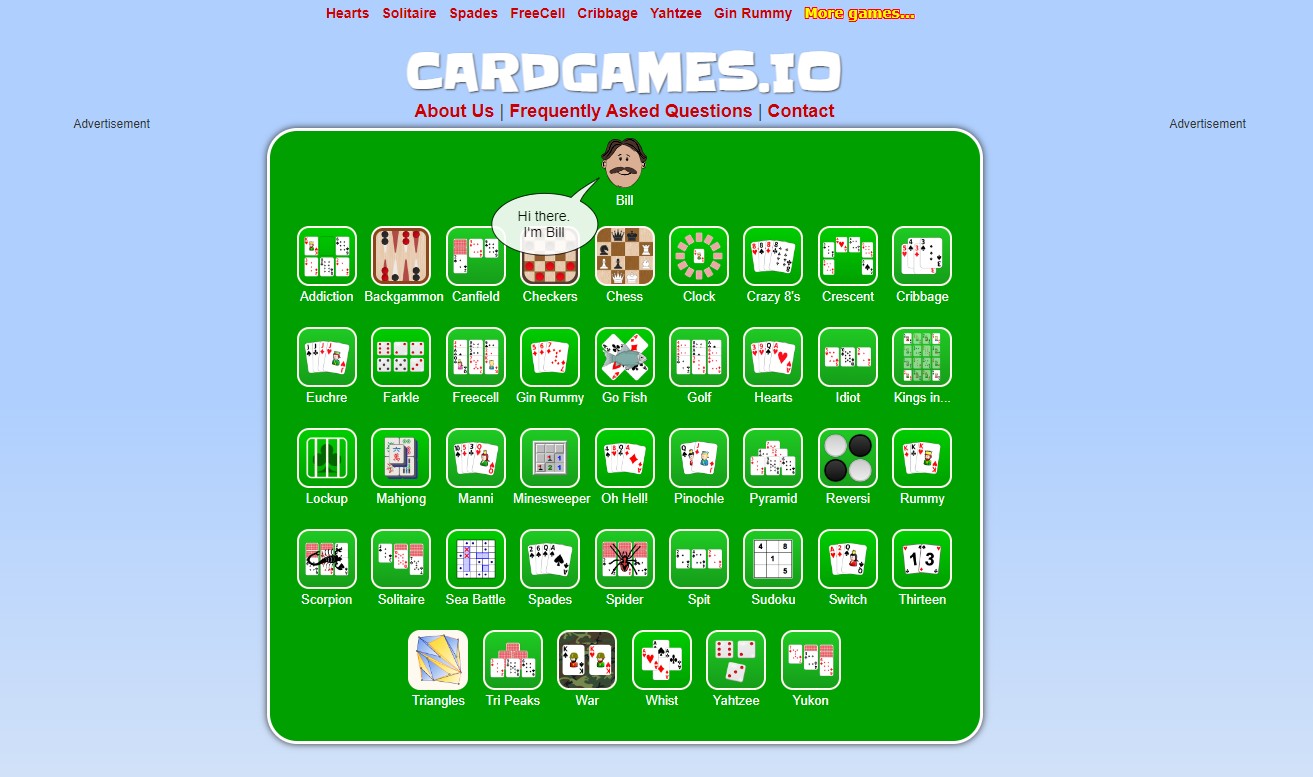 Check also: 11 Best Rummy card games for Android & iOS
Playing Cards
On PlayingCards.io, you can find a rich selection of card games that cater to different preferences and player counts.
From classics like Poker, Crazy Eights, and Go Fish to more niche options like Cards Against Humanity and Secret Hitler, there's something for everyone. You can even create custom card decks for personalized games.
It provides a convenient and accessible platform for playing card games with friends and loved ones, no matter where they are. It's a fantastic way to stay socially connected while enjoying a shared gaming experience.
Plus, the website's simplicity and diverse game library make it suitable for both casual and dedicated card gamers.
You can invite friends or family to join your game session, and many games support multiple players, making it perfect for virtual game nights or casual gaming with pals.
All in all, PlayingCards.io is a valuable online resource for card game enthusiasts as it offers a wide array of games, supports multiple players, and fosters social connections through virtual gameplay.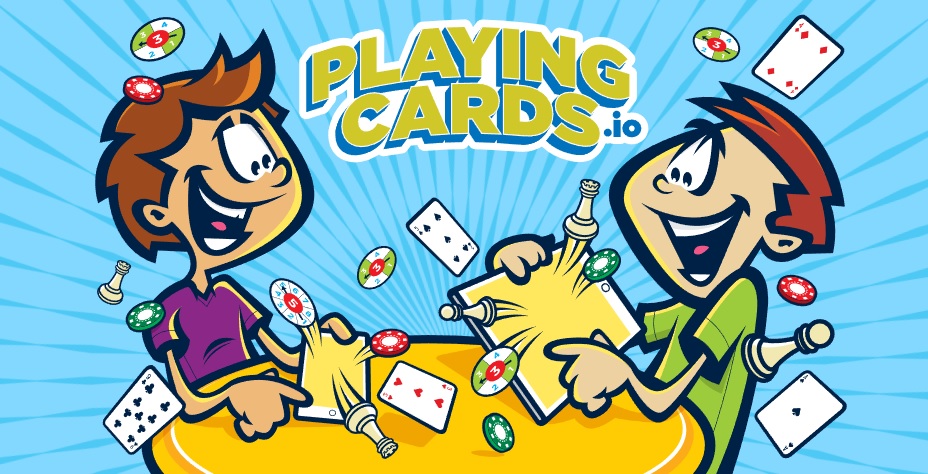 CardzMania
CardzMania is a one-stop platform for all card game lovers.
At first glance, the site looks very simple but you'll discover some incredibly fun features if you'll dig a bit deeper. First of all, the site covers all the time-proven cards like Solitaire and Hearts along with its newest versions. Plus, the game empowers you to rather play against bots or real people.
There are thousands of active users 24/7 so you'll always have someone to battle against. In case you want to play with your mates specifically, you can send them invitation links. Not all the games are available in a multiplayer mode but you can use filters to view them all at once. Another cool thing about this site is the capacity to play via video call to all the players.
Therewith, you may skip turning on your cam, it's up to you. Besides, if some of your mates are not familiar with the game's rules they can read a simple tutorial right on the site. There are also lots of other helpful stuff such as a timer, prompts, and all that. You may also view the stats on how many matches you've played, lost, and won.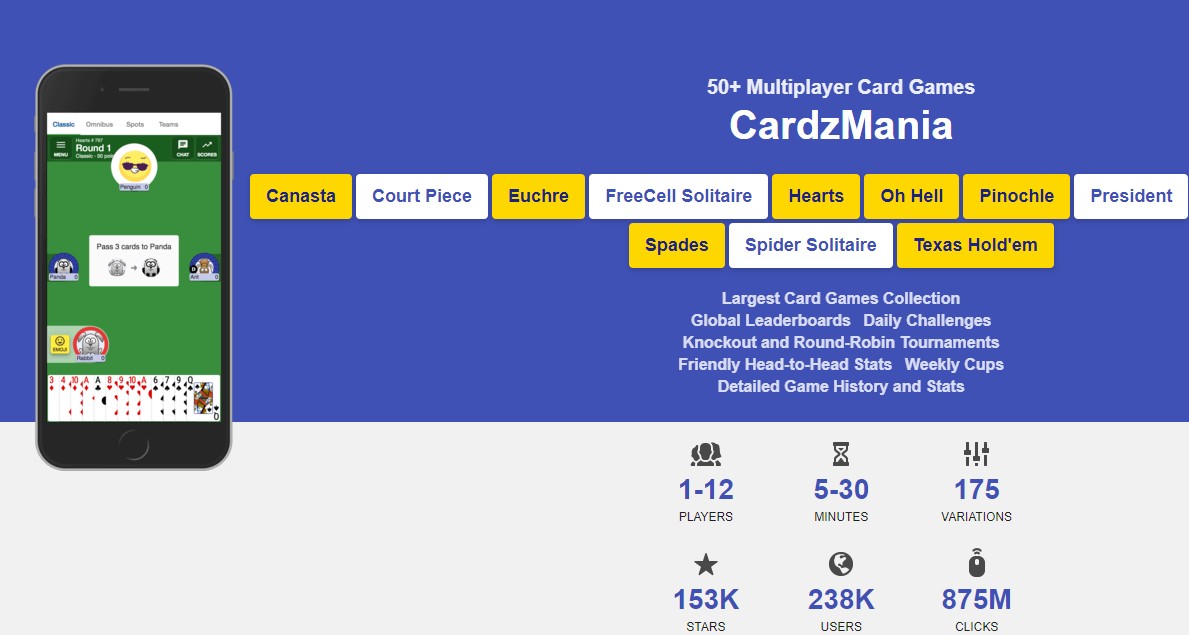 Jawaker
Jawaker is a source that will enable you to the world of foreign card games.
Frankly speaking, if you're a card game lover looking for something new and unique — this site is for you. The site is bundled with all kinds of popular Middle Eastern games. But don't you hurry to skip this one — this website is all in English so you won't face a language barrier. As for the UI, it's quite minimal, and all the choices are placed right on the homepage.
The site covers more than 30 games so you have options to pick from. As all the games on this platform are foreign it's fair to guess you may not know the rules for all of them. Don't worry tho — the web has you covered. There are detailed sets of practices for all the games so you won't need to google them.
Besides, the site enables you to play against the PC or real people by your will. Herewith, you may rather play against random users or send invitation links to your mates. There are also some weekly tournaments you may participate in to get bonuses and all that.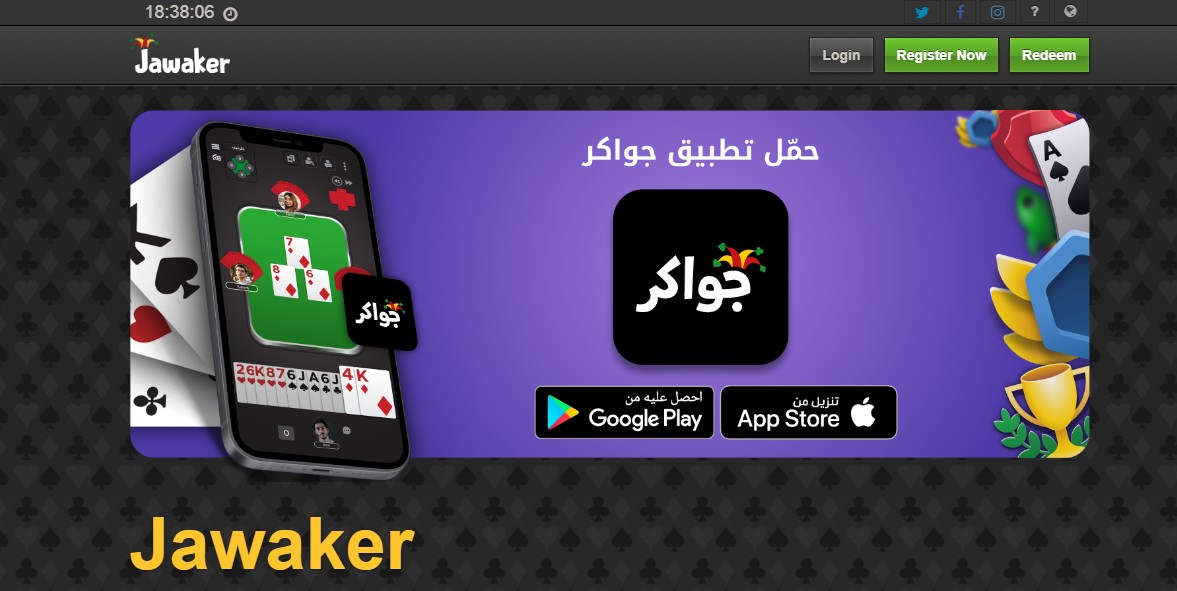 AARP
AARP Games is an online hub that brings card game enthusiasts of all ages together for hours of entertaining play.
One of the highlights of AARP Games is its collection of classic card games. You can choose from favorites like Solitaire, Bridge, and Spider Solitaire, to name just a few.
These games are not only enjoyable but also a great way to keep your mind sharp and engaged. It offers a wide selection of card games suitable for various skill levels and preferences.
What's even better is that you can play these card games solo or invite friends to join in. Some games support multiplayer functionality, allowing you to compete or collaborate with others online. This makes it a perfect platform for virtual game nights with loved ones, no matter where they are.
In conclusion, I find AARP Games a fantastic website for card game enthusiasts, which provides an opportunity for social interaction and mental stimulation through card games.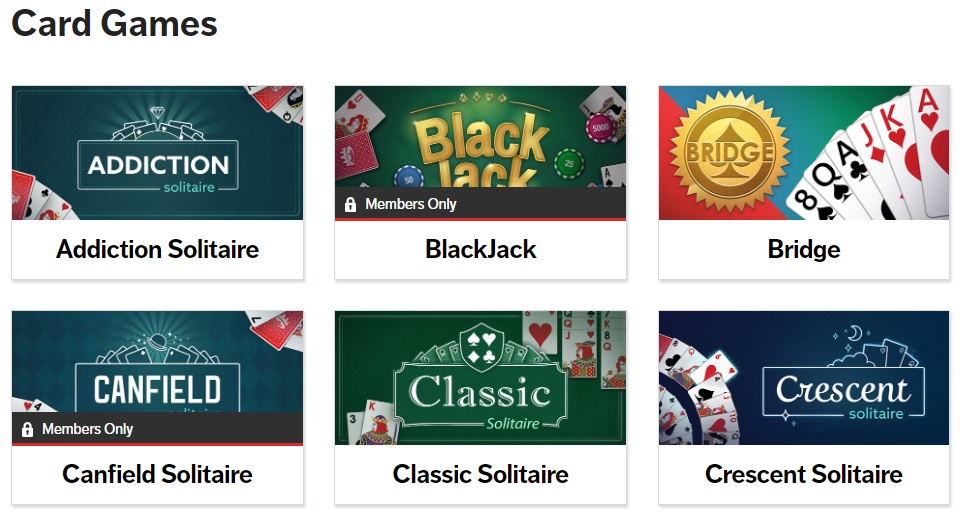 You may also check: 11 Best Online Board Game Apps (Android & iOS)
CrazyGames
And lastly, CrazyGames is an online gaming site that covers dozens of entertaining games.
As you may already guess, this site is not dedicated to card games only — plenty of other genres are covered as well. However, the number of card games is quite wide so no worries about that. The UI and design may seem a bit extra at first sight but you'll quickly get used to it.
All the card games are listed in a self-titled section so it's easy to navigate. The site covers all the traditional games you may need
— from Poker to Solitaire and Hearts. Plus, the site is quite fast and you all the games load in secs. You can rather play against the PC or real people in a multiplayer mode.
In case you would like to play against your mates instead of some random users, you can send them invitation links. Plus, the site runs free on all devices — from PC to mobile. Once you've signed in the site starts to track your stats and you can view it on various devices as well. Plus, all your most played games are listed on your account for easy navigation.