Almost all of us have our idols. Many strive to be like them, similar in appearance or path to success. So, it becomes interesting whether you look like your idol or have similar facial features to another celebrity.
Thanks to artificial intelligence technology, this is possible right on your device. Try these best free star face apps & websites in 2023. You'd be surprised how many celebrities have similar facial features to you.
Surprise your friends and social media subscribers with these best voice changer apps.
Celebs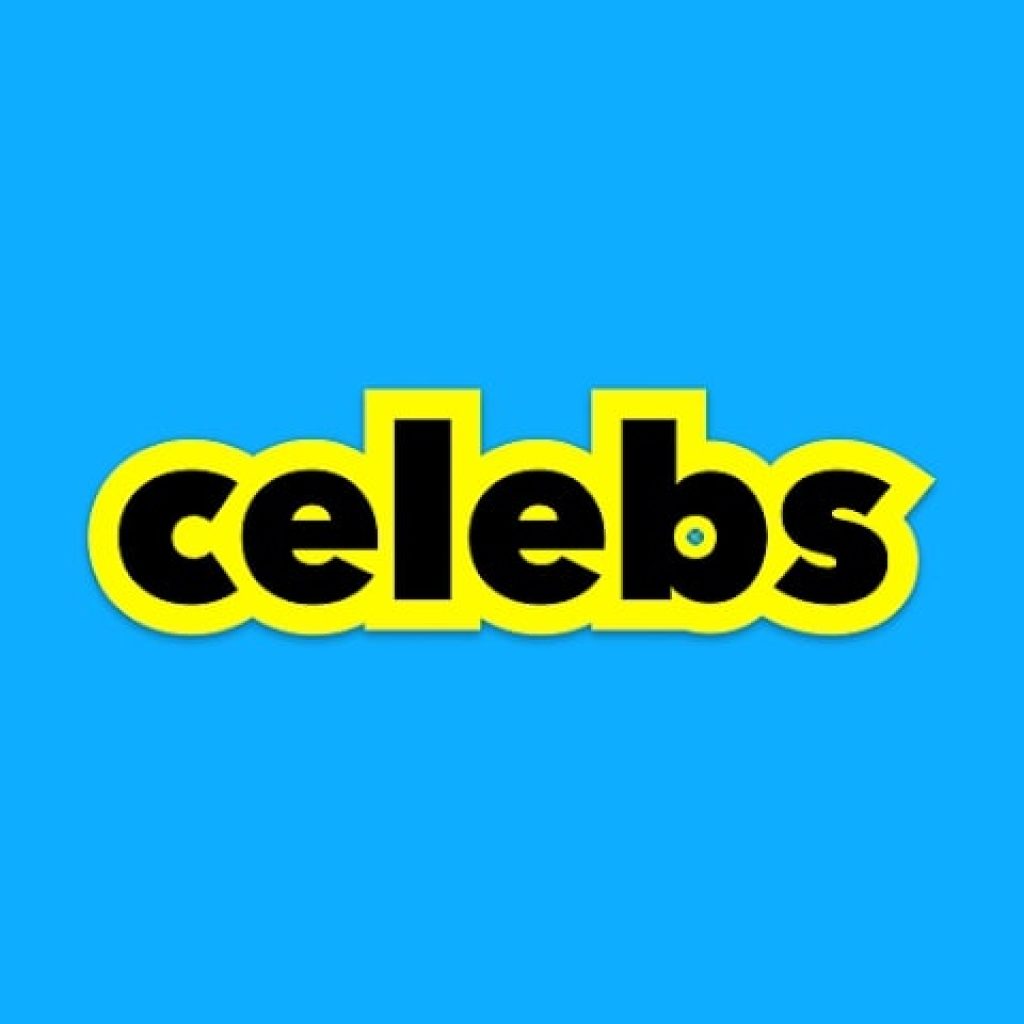 Celebs is an unusual app that allows you to find your celebrity look-alike on the Internet. Have you long wanted to find out who you look like? If yes, then quickly download this program with such an amazing feature.
Since there is machine learning here, searching for similar people has become as fast as possible.
The program will give you the opportunity to upload unlimited photos in different poses and find pictures of strangers like you.
This free app will remember your facial features and show you the person you are most compatible with in appearance.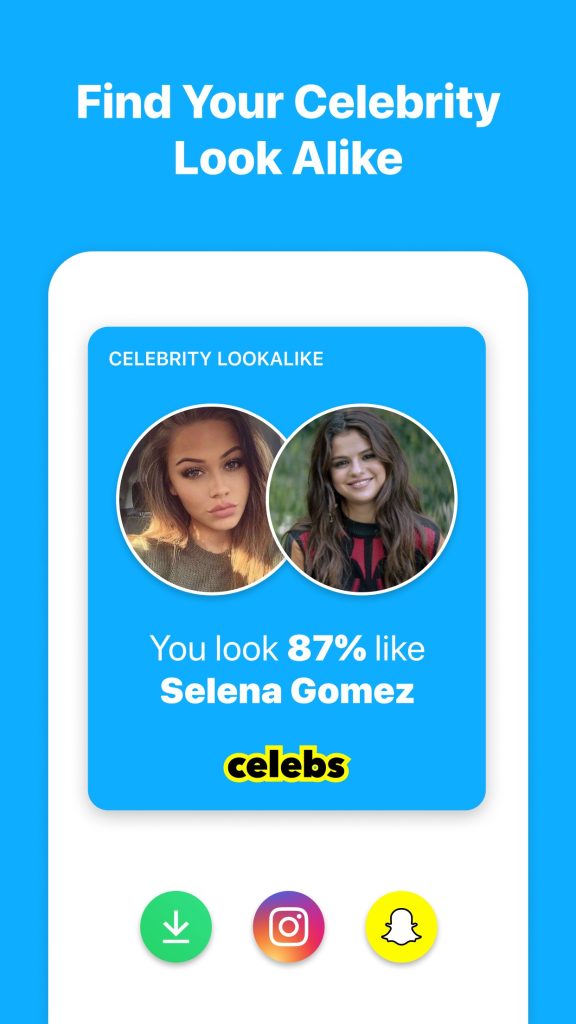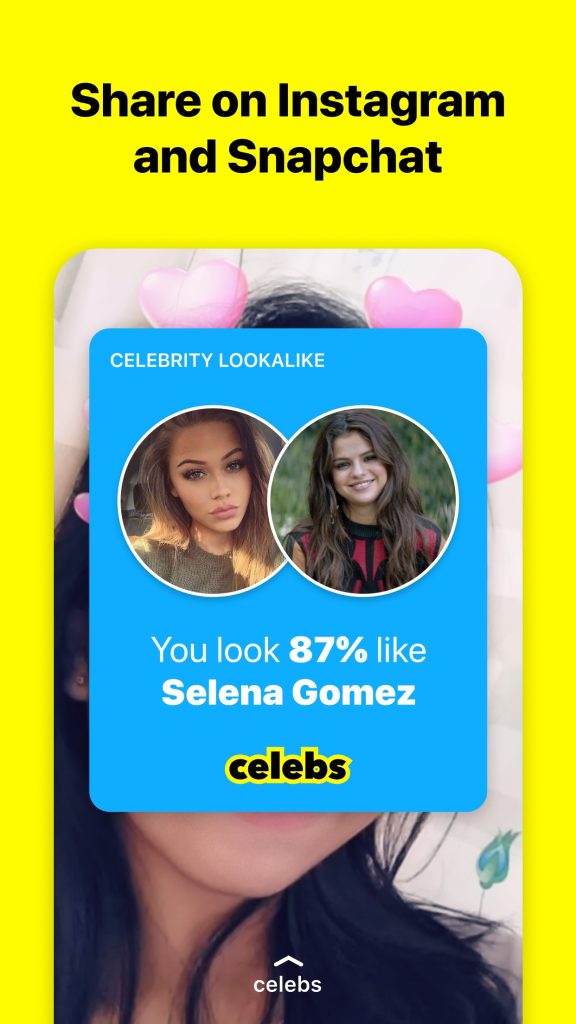 Recognize real-time faces, see Instagram and Snapchat stories, then upload them and get search results. Install the app, share it with your friends and enjoy using it.


You may also like: 11 Free Face Mask Apps for Android & iOS
Gradient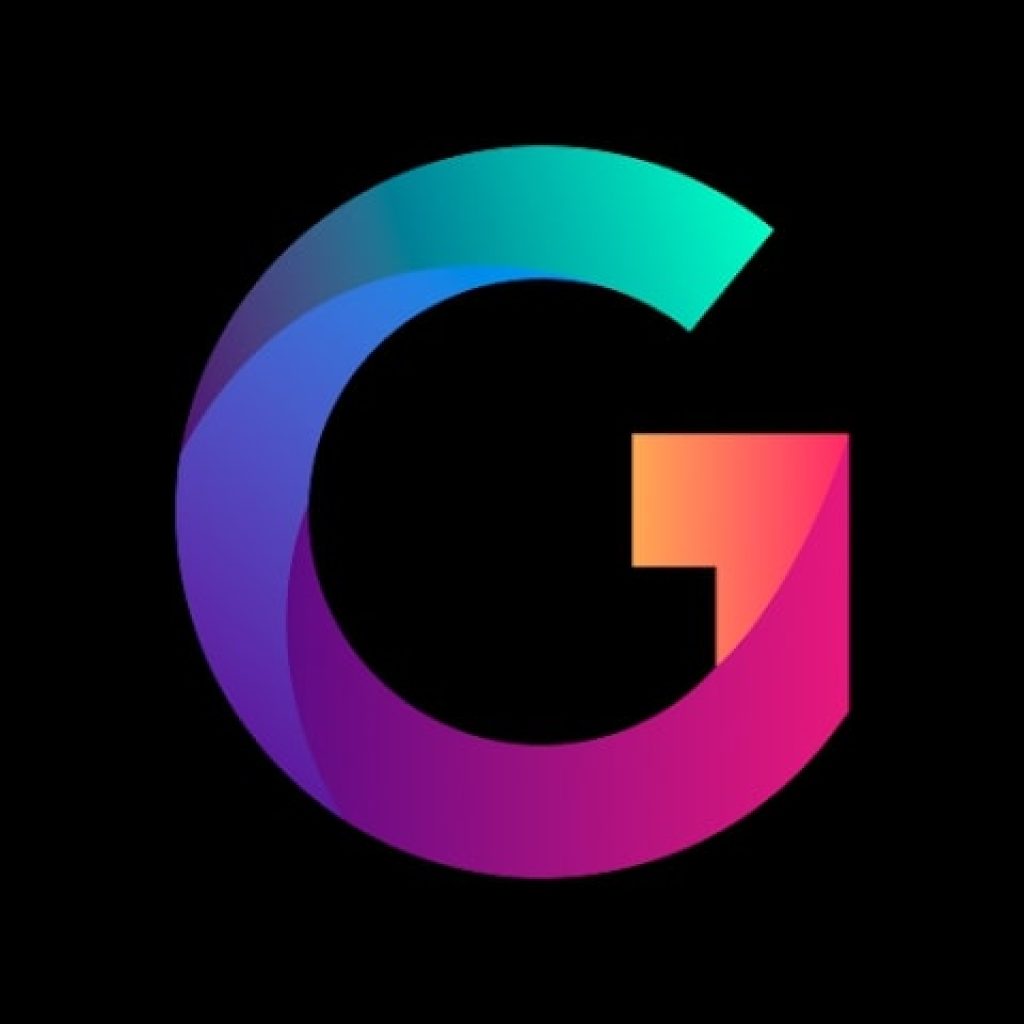 The Gradient graphical editor has many features based on artificial intelligence algorithms. It lets you find out which celebrities you look like.
The search requires you to upload a photo with a close-up of your face. One of the most important features of the app Gradient is artificial intelligence technology.
A large database of photos is stored on the server side and indexed by the system.
Each photo uploaded by the user goes through a similar procedure of indexing and conversion into a feature vector. Based on this, the app produces a vector with the closest values.
Remarkably, to confirm the similarity, the program displays 4 pictures on the screen. Each of them combines your photo and the image of the celebrity in a certain proportion.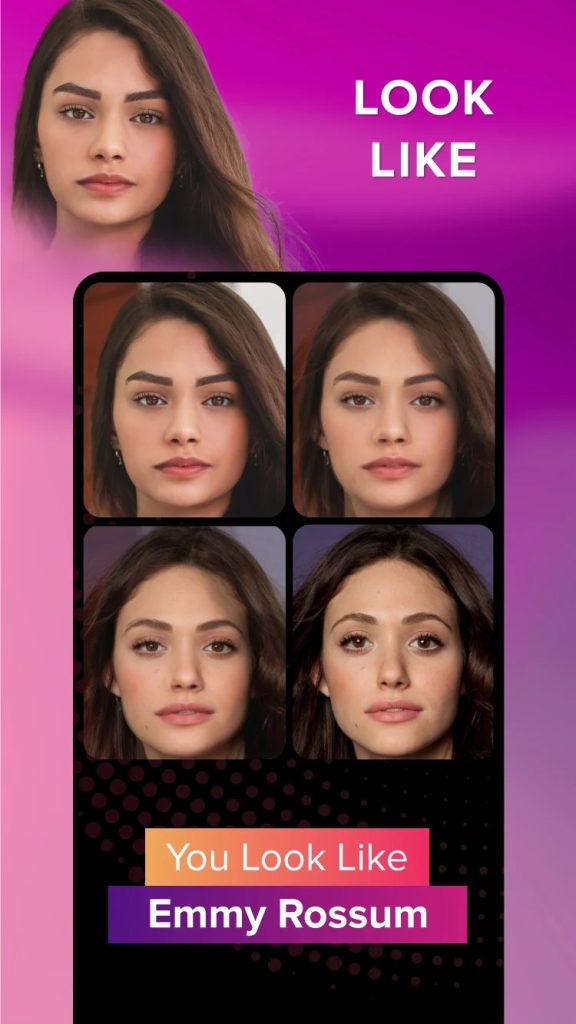 The result of the similarity analysis can be exported to social networks or sent to friends and acquaintances in messengers.


Y-Star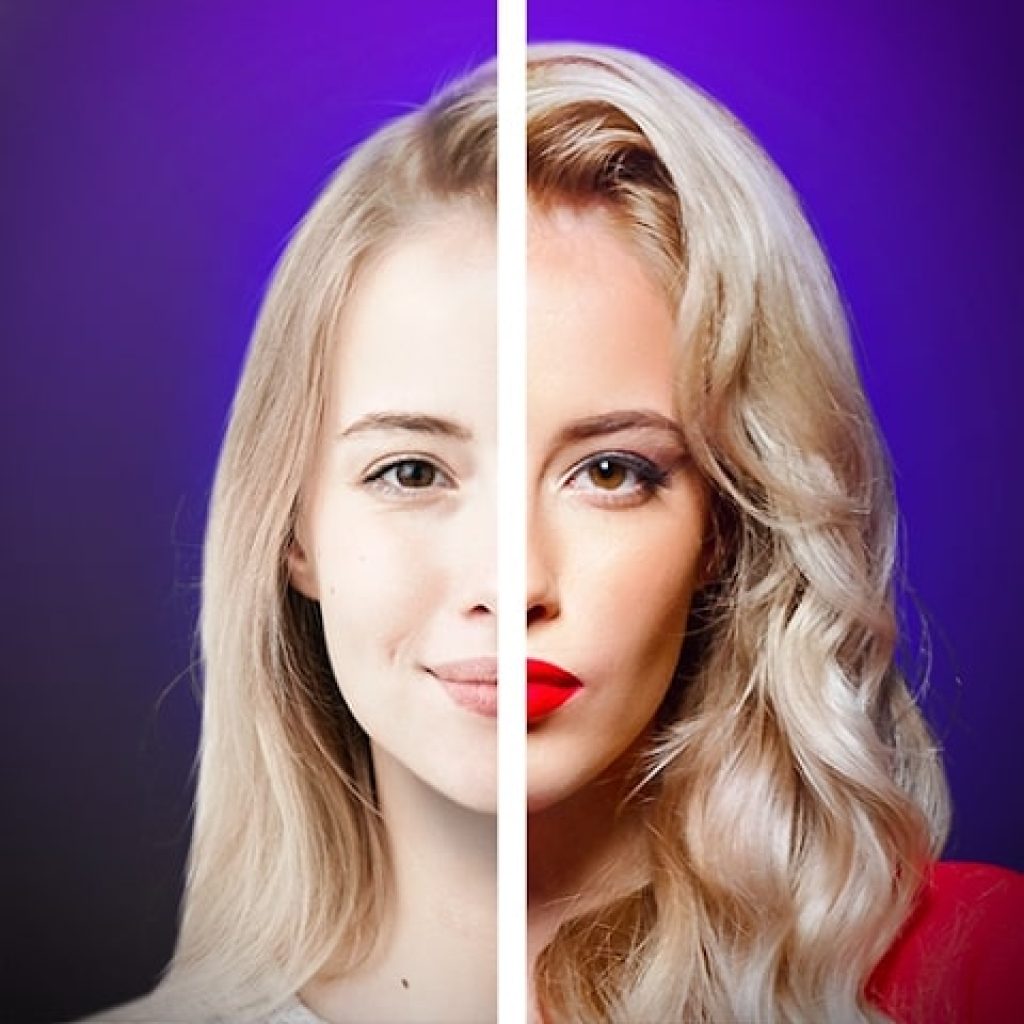 The Y-Star app will show you a person who looks similar to you. This app has gained a lot of popularity because you can add a snapshot of yourself to the system and instantly see the search result.
The app thoroughly remembers appearances and gives out similar popular people. Ask a similar question in the voice assistant and get an immediate answer.
You won't get bored and you will be surprised because when you upload a photo, you will see the resemblance of eyes, lips, and hair with some famous person.
In order for the photo to be clear with legible features, you need to put your face in the special marks for the mouth, nose, and other parts.
It's worth noting that you should shoot yourself on the front camera of your smartphone. After seeing the result, post it to your social networks and let all your friends, and relatives will be shocked.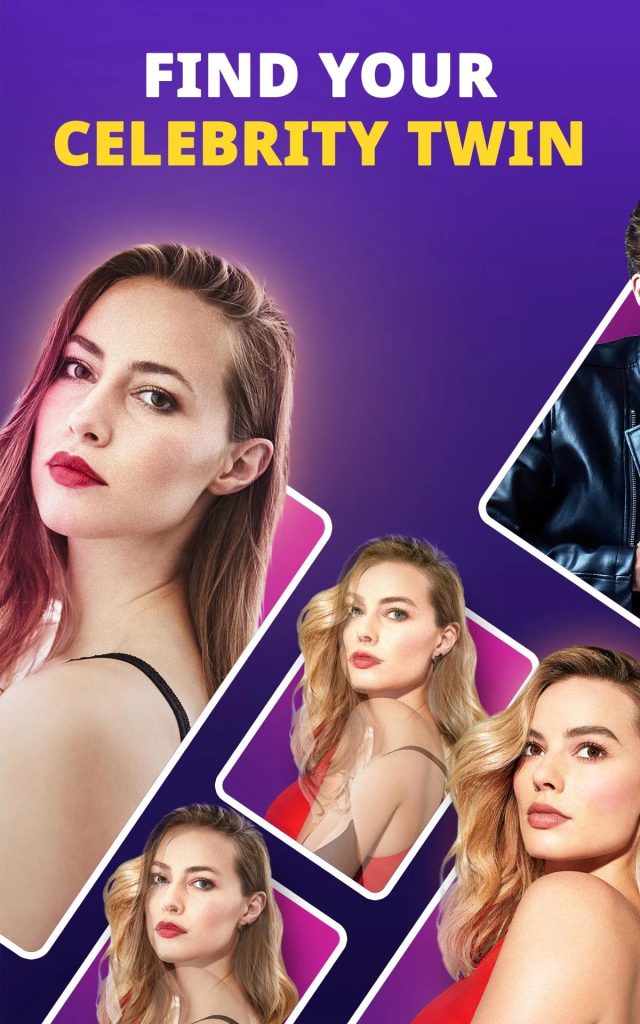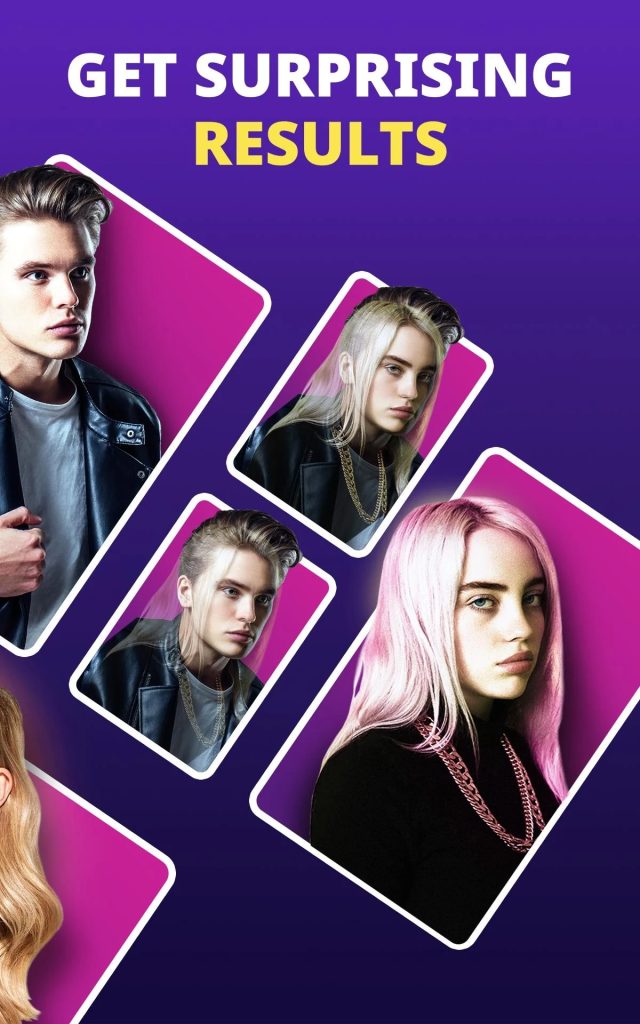 Y-Star is suitable for women and men. The app is confidential and protected, all the photos are kept in a safe place and will not spread anywhere.


Facer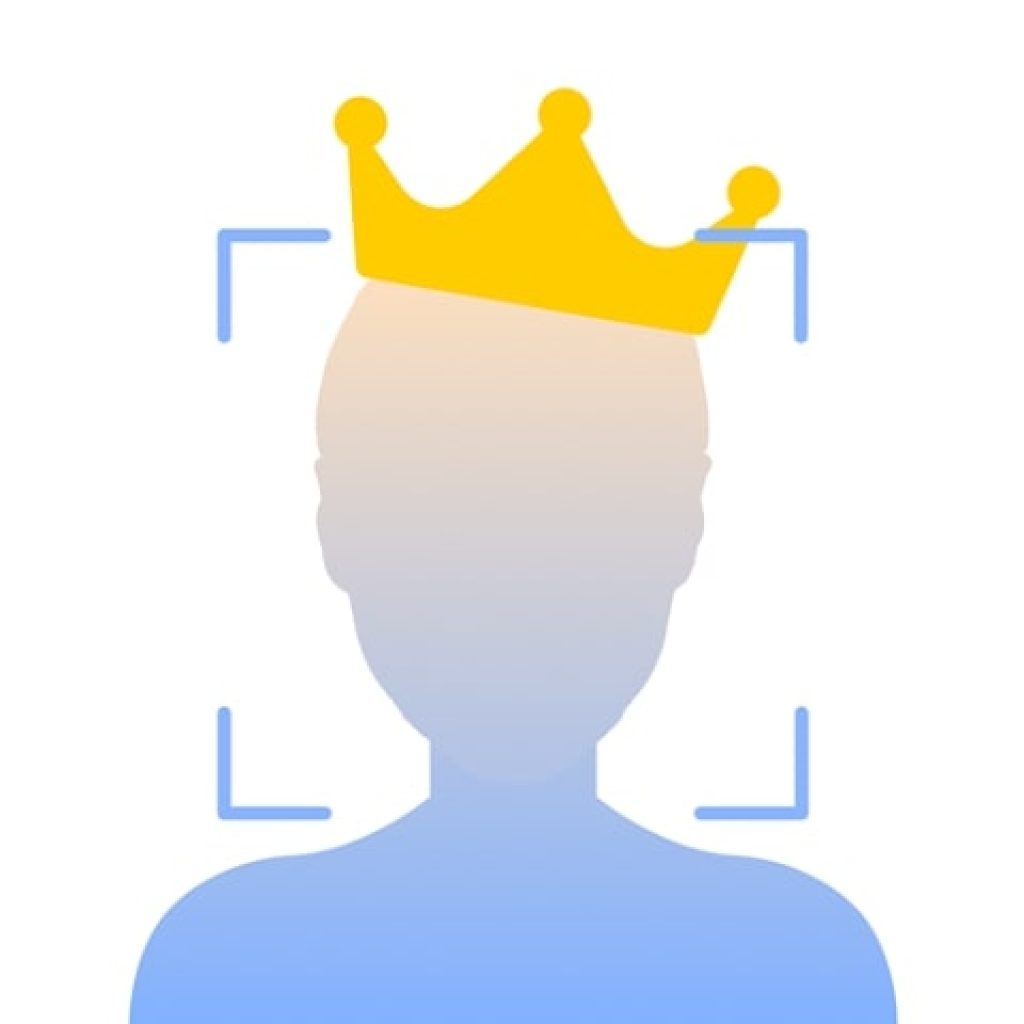 Facer is a program for finding people who look like you. The app includes a special facial recognition sensor that helps to find a copy of your face.
Do you want to know which famous personalities, like sportsmen, directors, and bloggers have similar features? Then this program will definitely appeal to you.
You will need to upload to the system a picture taken at the moment or select the one that is in the gallery of your phone.
After that, the app will give you the result, show 3 famous personalities and state the percentage of similarity with each one.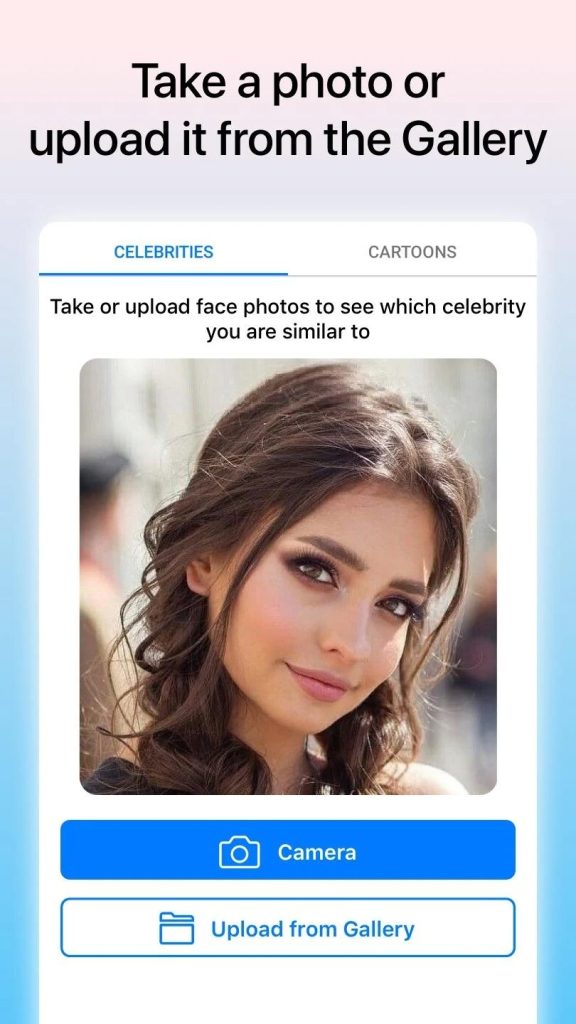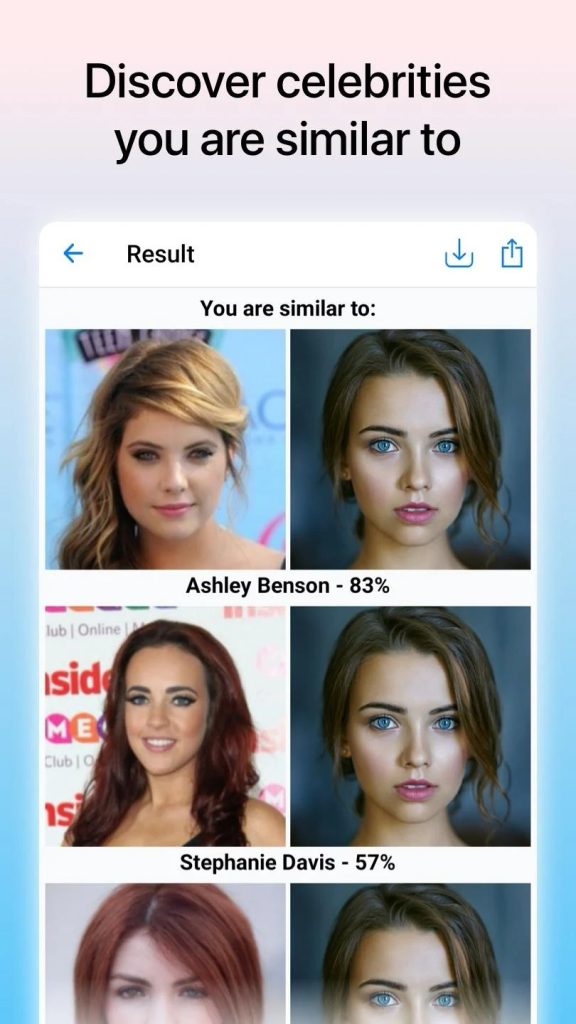 The app necessarily requires a network connection to work properly.


Star by Face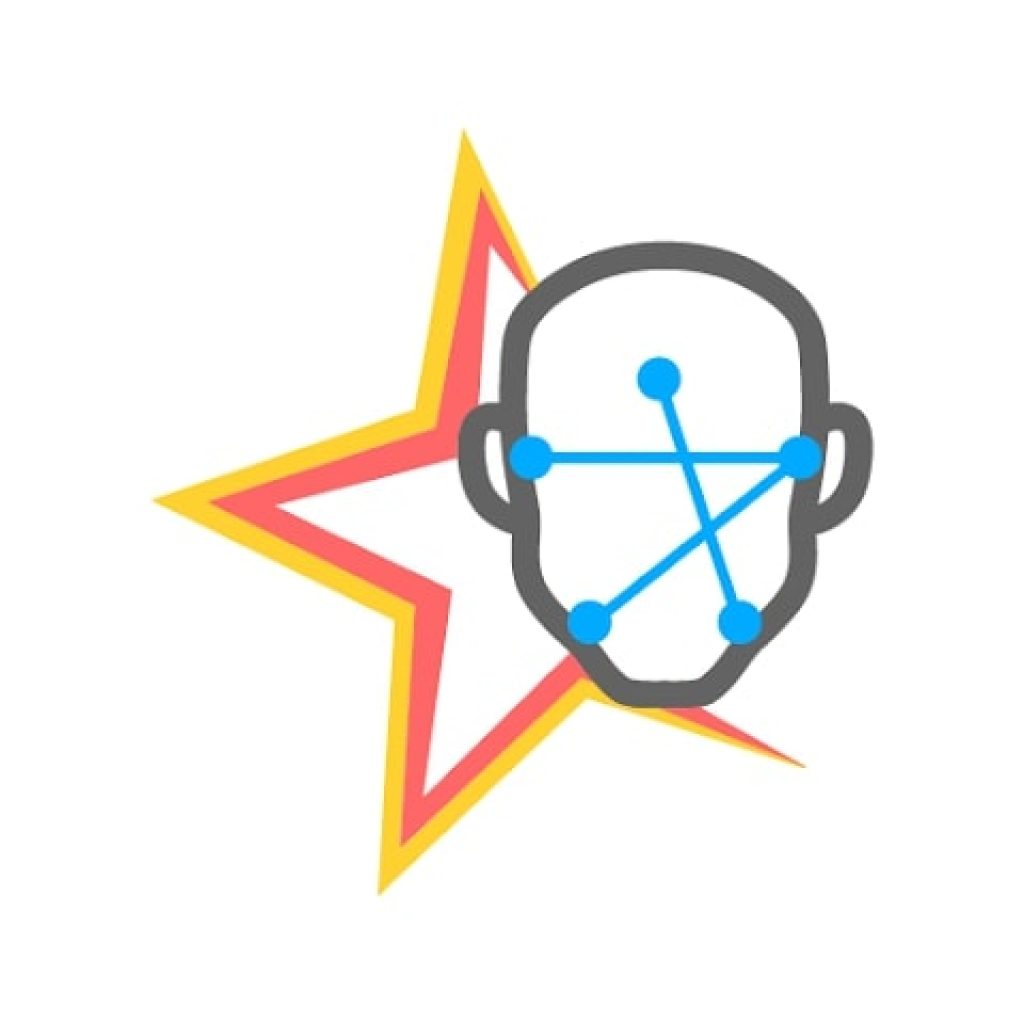 Star by Face is an interesting new program with which you can see the resemblance to other people based on the external parameters of the face.
To start using it, you need to select a photo and upload it. It is worth noting that the photo must be of one person, also the photo must be clear enough.
Putting your face in the marking under the eyes, nose, and other parts is obligatory. The smart system scans your face only when everything is in its place.
The result will not keep you waiting, you will quickly be able to see who you look like from all over the world.
Star by Face is careful about the privacy of all uploaded information. All pictures are deleted after you receive the result, only when you voluntarily save them.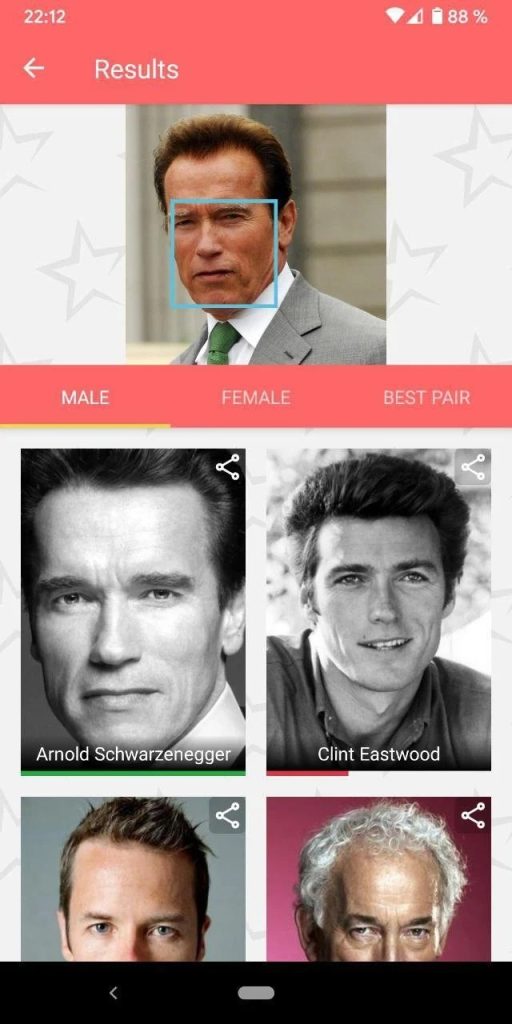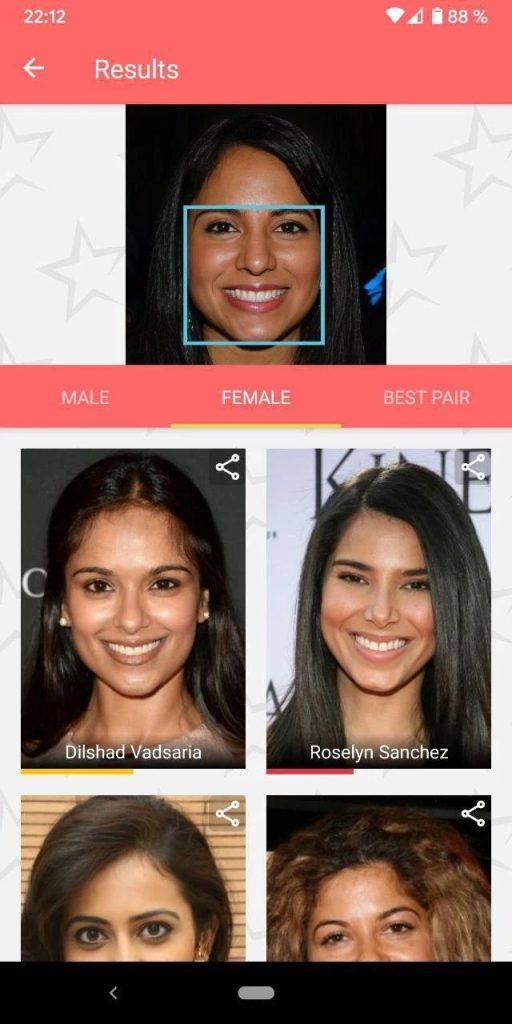 Download the program and share your celebrity photos on social networks.



You look like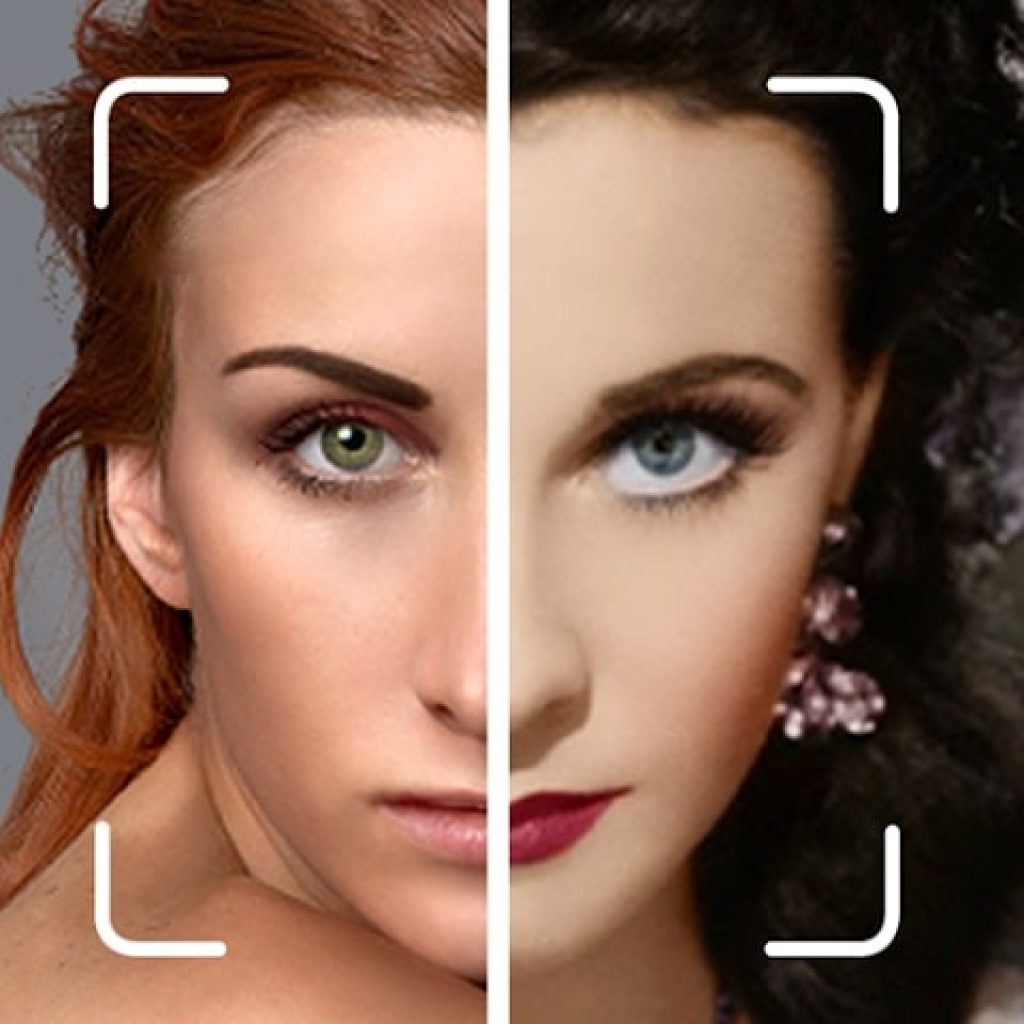 You look like is a program with which you can edit your photos for free and see the similarity to some famous personalities.
Also, in this app, you can create beautiful oil paintings and add gradients. There are also presets here with movies and more that you can add to your picture.
Use different slow motion, and grainy effects, and give a vibrant look to make your creation original. Create the work you want and enjoy the process.
You don't need any extra materials, everything is in the program. This app is frequently updated with new features. Share with your family and friends results and tag the person you like on social networks.
Become a professional in photo processing with this app that has everything for entertainment. Many people like this app because it has high quality and a lot of features that other counterparts do not have.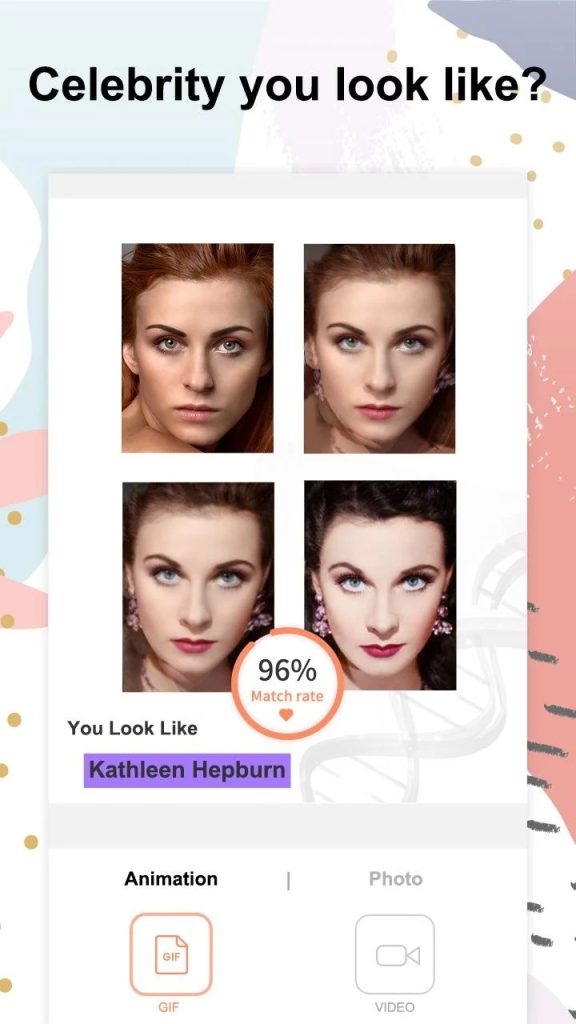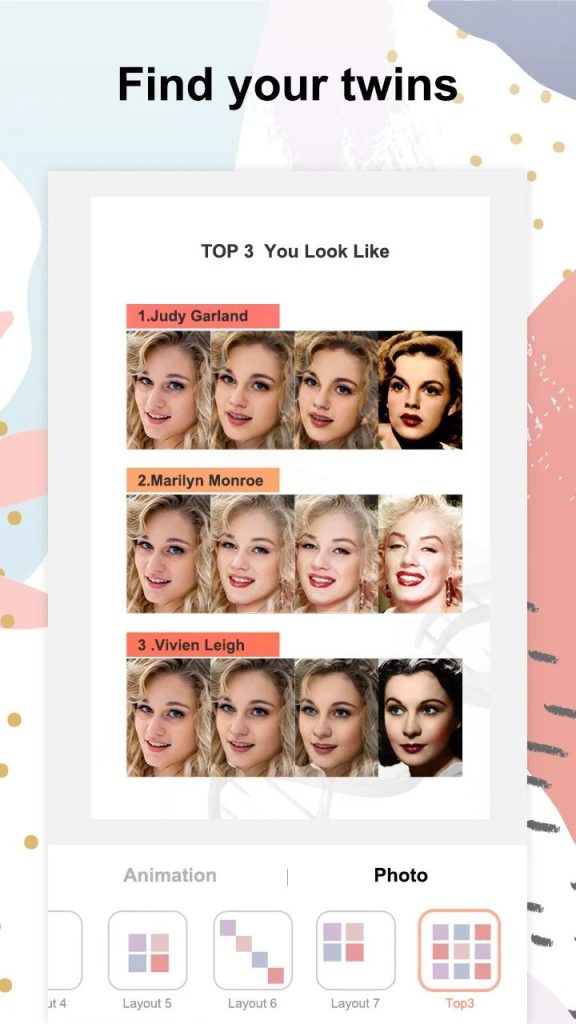 Share your work on Instagram, Facebook, and other social networks, making the most of your skills.

Celebrity Look Alike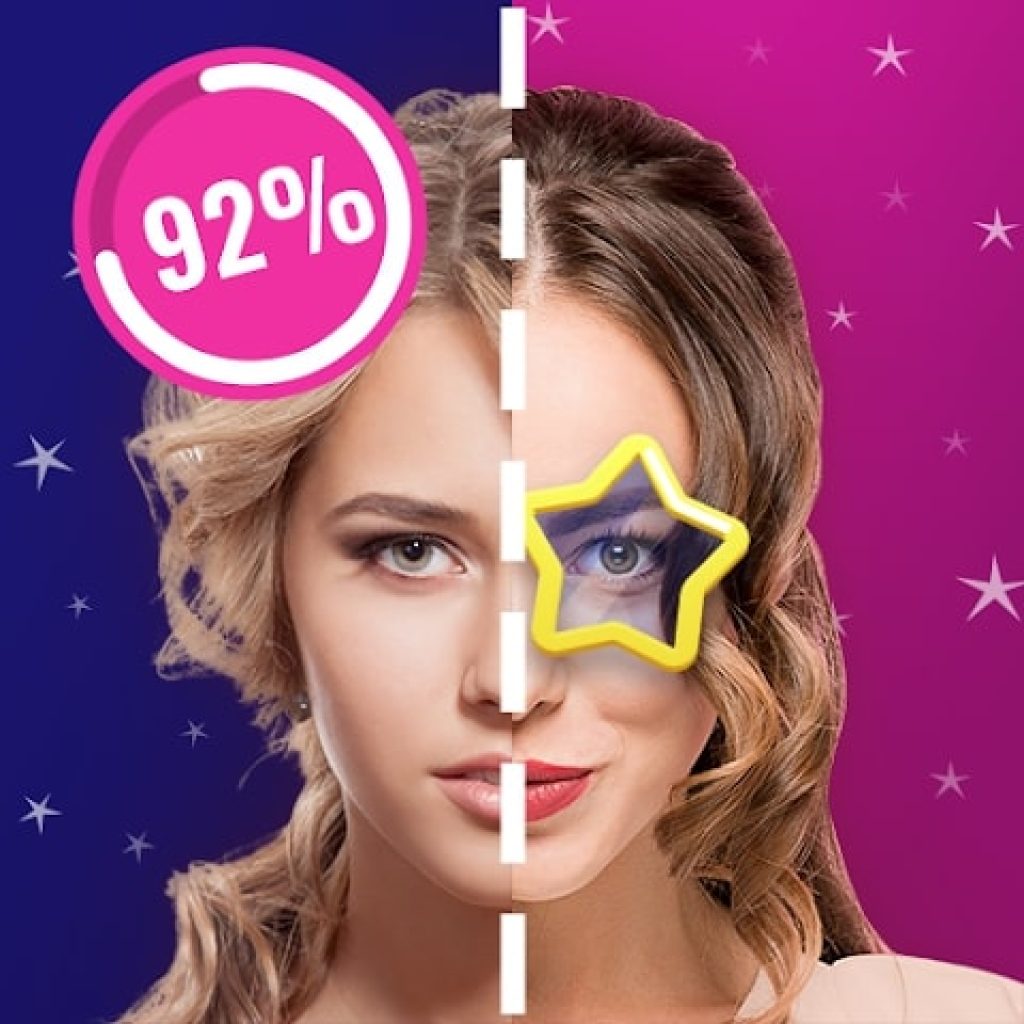 Celebrity Look Alike is an app that edits finished portrait photos and gives the result of your face to a celebrity look alike.
You'd be surprised, but you'll be able to see an actor, artist, singer and other popular people who look like you.
Here is the latest technology that knows how to identify facial features, which shows the outcome of the similarity of people's faces.
Compare yourself with famous personalities, and see the percentage of similarity in facial features. Choose a ready-made photo or take a new one, then upload it to the generator.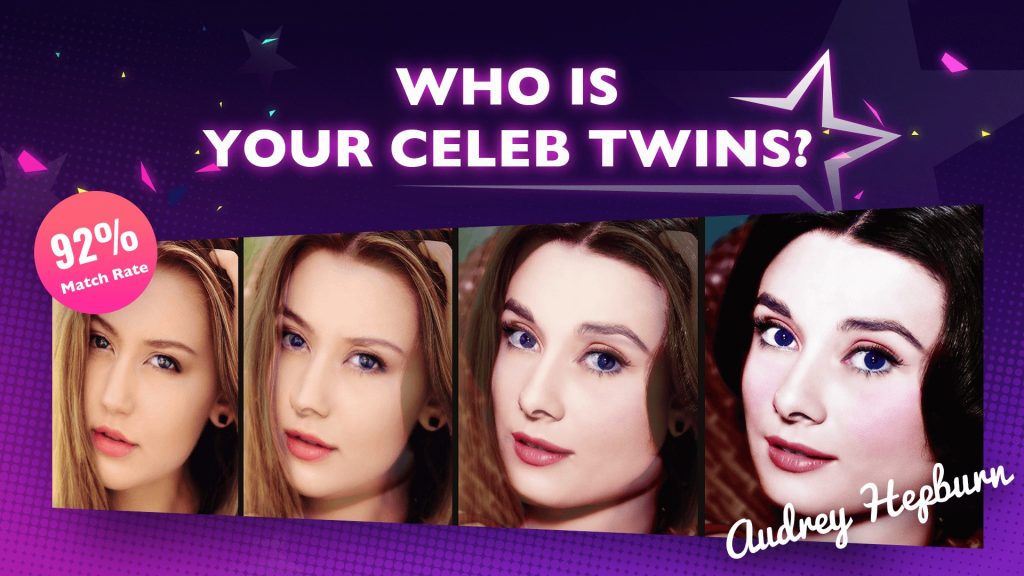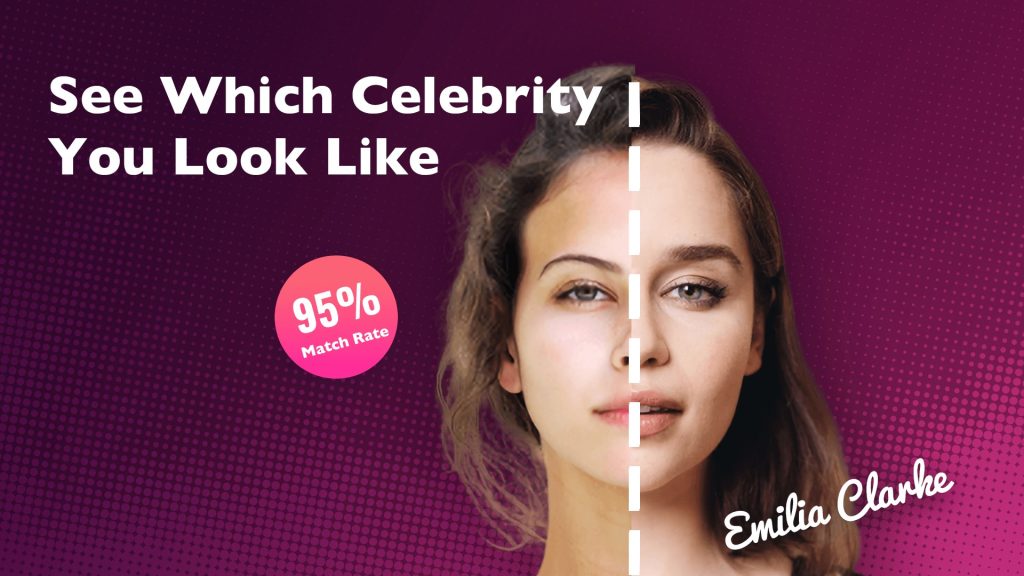 The app has a fast interface and good recognition of all the details. Install the wonderful Celebrity Look Alike app and have incredible fun with unusual images.

You may also like: 9 Best Age My Face Apps for Android & iOS
Strella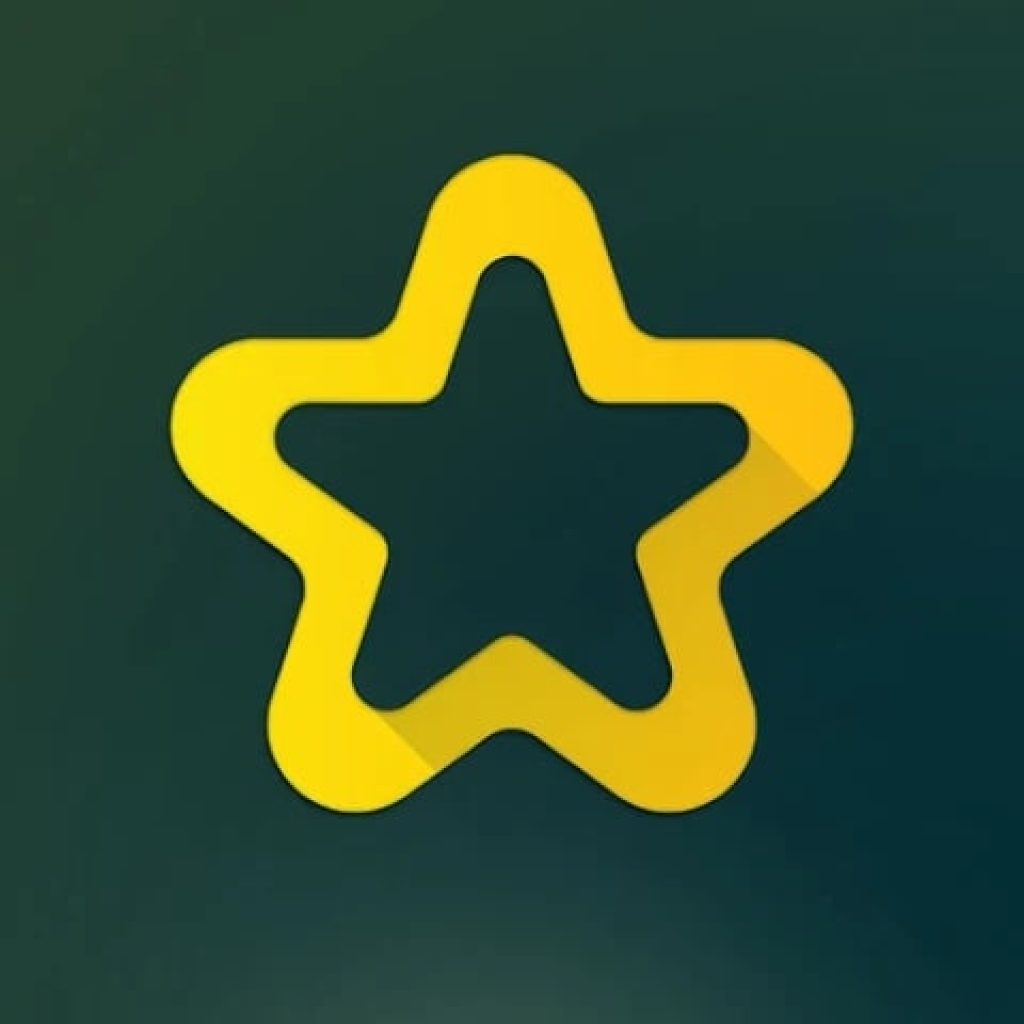 The Strella app is a look-alike search system and provides the ability to share the results.
Would you like to boast in front of your friends about your resemblance to Angelina Jolie, Brad Pitt, and others? Then this program will not disappoint you.
Intelligence along with its advanced recognition system will help you find your doppelganger.
First, take a photo or select a previously taken one from an album on your smartphone. Then the artificial intelligence will start working and it will find all sorts of variations of people with whom you look similar.
You will be compared to thousands of celebrities. Your face has to be well-pictured for the editor to be able to analyze all the necessary details.
The program is widespread because it has simple controls with a clear interface. The Strella app includes several features. Since it has a powerful intelligence built in, it can simultaneously scan several faces in a photo.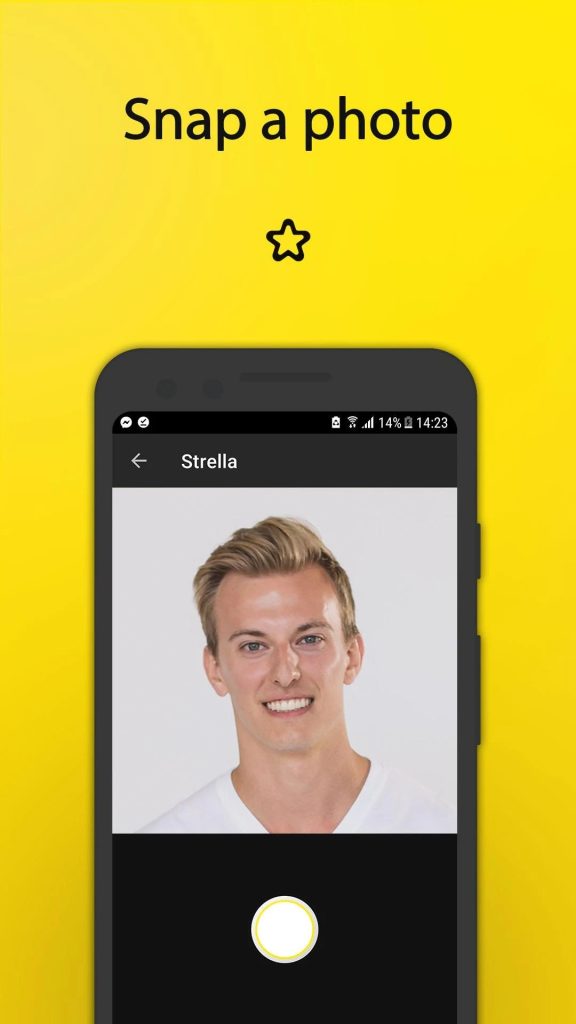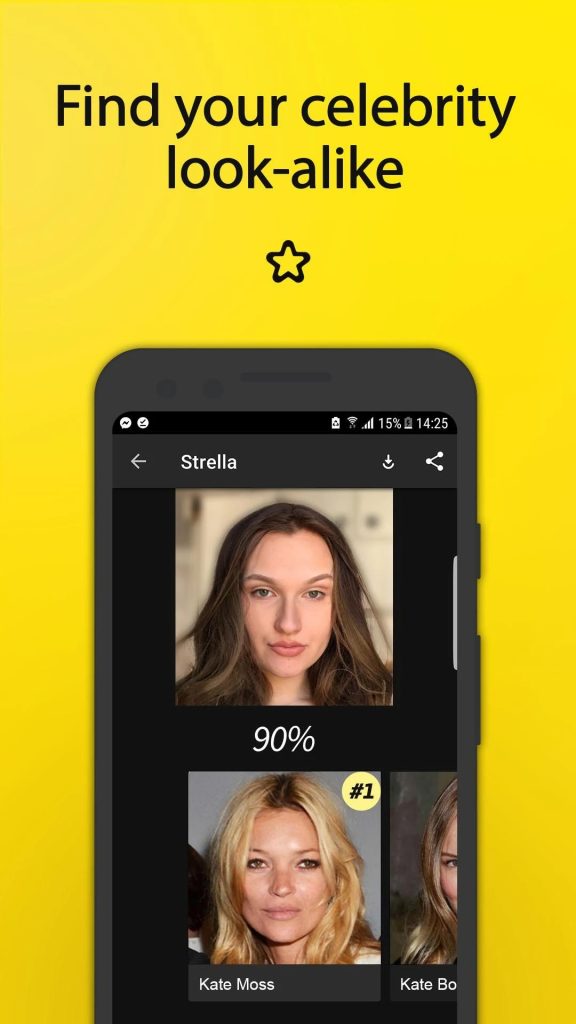 Moreover, the app will pick up 5 stars of each gender with the face of your copy. In case you have never heard of a person who looks like you, you can find out about them by reading the information tab.

LikeStar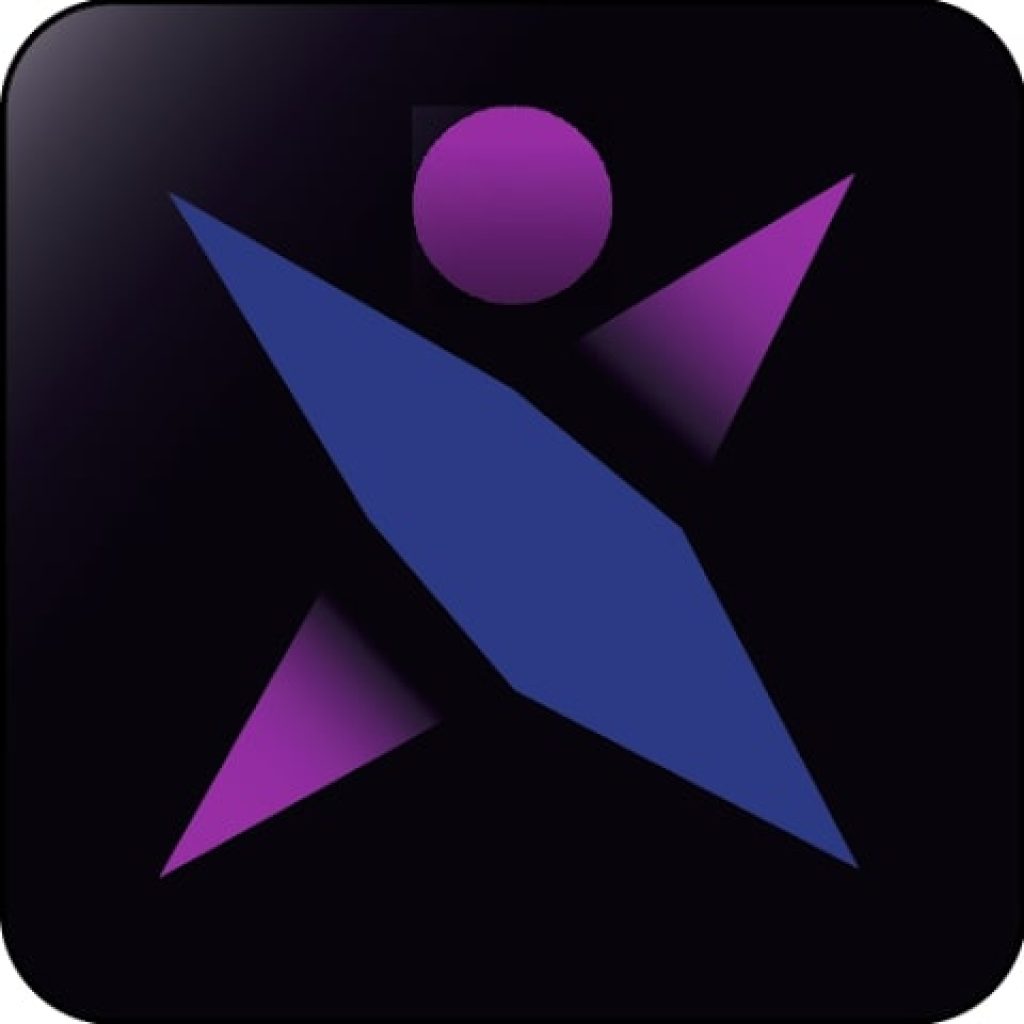 LikeStar is a fun program that knows how to match photos of famous stars based on facial features in a given photo.
Do you want to know who you look like? If so, download LikeStar now. You need to add your own photo, choose a name for the photos of famous personalities, and adjust the similarity percentage.
The original photo must be of high quality, then you will be happy with the result. You only have to wait a few seconds and you will get an amazing outcome.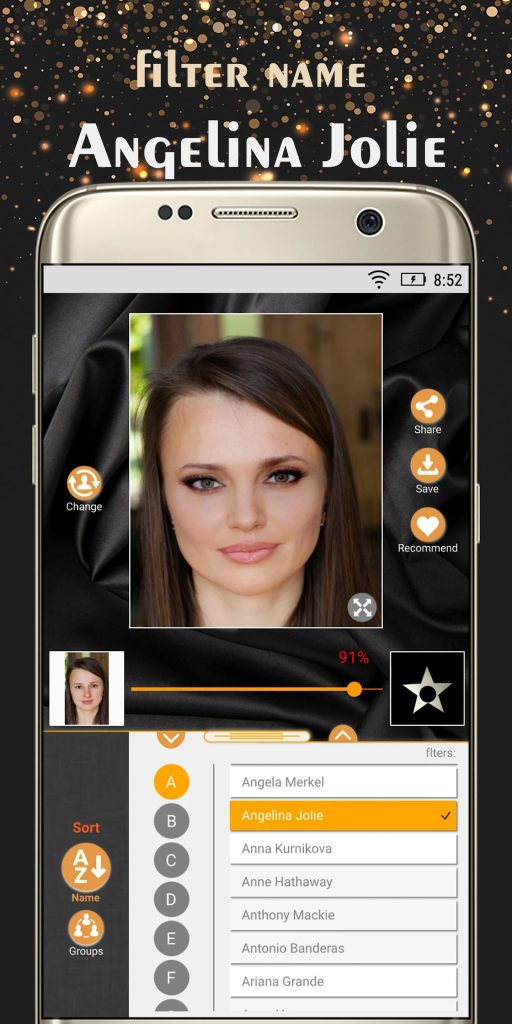 Recommend such a great program to your friends and let them make the face of their idol. You will be able to save the result and share it on social networks.

Creative Career Now
Creative Career Now is a service for uploading your face photos and ending up with a photo of a famous person with whom you look similar.
It has machine learning that will help you analyze everything clearly and give you results. The machine can recognize a large number of celebrity personalities.
The system reads your gender and shows predictions of similarities. What's more, create collages and make your photos as vivid and memorable as possible on Creative Career Now.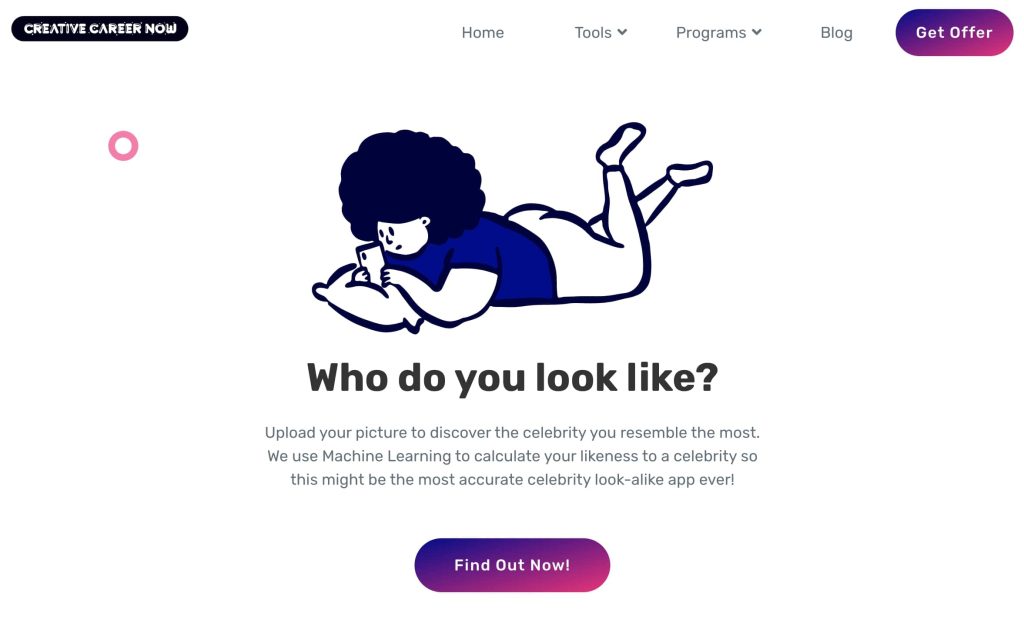 This service securely protects all the photos you take in the Google cloud. Upload photos, dream, and get unforgettable emotions.

You may also like: 11 Free Apps like Facetune (Android & iOS)
Cinestaan
Cinestaan is the latest facial recognition service with the ability to see who you look like. It will let you record as well as talk about Indian cinema.
India's film studio is the oldest in the world. There are a large number of stories on a variety of subjects. So much love for cinema has grown that after independence, people of many countries have rallied, gaining strength.
Cinestaan has interesting content from the past and present. Thus, the service gives you everything you can to access previously unavailable material. Besides, it is actively worked on and contributes useful data about Indian cinema throughout its existence.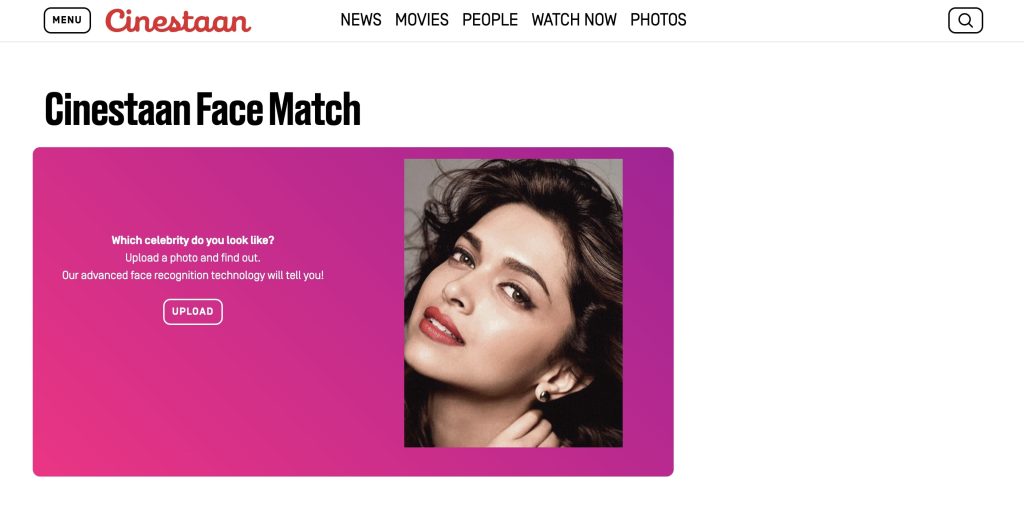 This industry is always full of interesting pieces. Download Cinestaan and find your double among the celebrities of India.