The billiard game has lots of loyal fans around the world — it even has its own world tournament. However, considering the modern style of life it might not always be convenient to attend clubs and bars to play billiards.
That is why more and more people start to prefer a digital pool instead of a real one. There are lots of free pool table games for Android and iOS 2023 that support various billiard types and empower you to compete with players across the globe.
In case you're into gambling games, make sure to check this article: 9 Best Casino Games for Android & iOS
Here's the list of the 8 best free apps in that category you should try. Have a look!
8 Ball Pool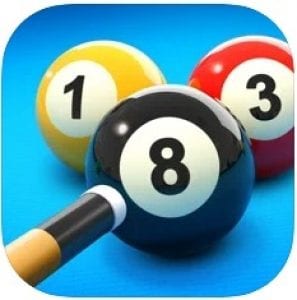 Let's start with the game called 8 Ball Pool. This is by far the most widespread mobile billiards simulator that gives you an authentic playing experience.
As you can probably guess by the name, this game empowers you to battle with up to eight players all at once (which is quite a challenge). In case you're just getting started with these types of matches you can go for the training mode first. The training mode enables you to compete with the AI and it fits perfectly for getting to know the game better.
Once you'll feel ready to play against real people you can participate in a one vs one round. Each round you play will have some coins as a bet and the user that winds — gets them all. When you'll earn enough money you will be able to use them for entering matches that are ranked higher and have bigger stakes.
Therewith, you can not only play with random guys but also compete with your mates. You can even challenge the friends of yours who don't play this game yet — just by sending them the Facebook request. Plus, once you'll get a high rating you will have the entrance to exclusive tournaments with top players.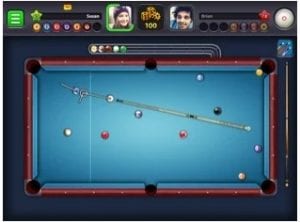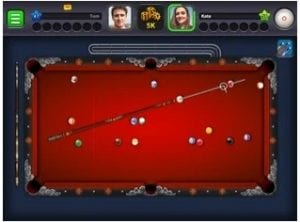 You may also like: 15 best free bowling game apps for Android & IOS
Snooker Stars – 3D Online Sports Game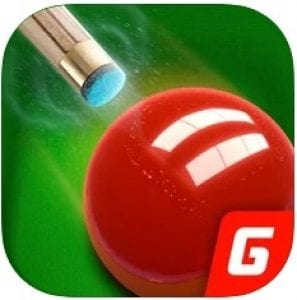 Snooker Stars is another pool game with an amazing 3D visual that empowers you to fully experience the atmosphere of playing.
This game is highly famous for the highly realistic graphics that make it feel like you're actually standing under a pool's stable. Therewith, the game has a simple control so literally anybody could play it. However, it might take you quite a long time to learn how to send the ball in the right direction.
It needs to be said, this mobile game empowers you to go through all the stages of snooker playing in detail — from spinning the cue to breaking the balls. You even get to use the shot off the cushions and see how it looks like from the POV. Just like in real life, the balls behave randomly, and everything depends on your skills.
In case you want to practice your skills, you can try the training mode. This mode will get you through the set of challenges that should sharpen your abilities. You can also compete with real players all over the globe and even ask your mates to come and play this virtual pool round with you.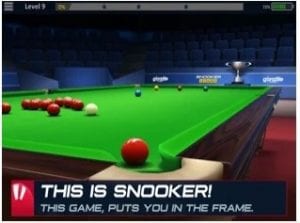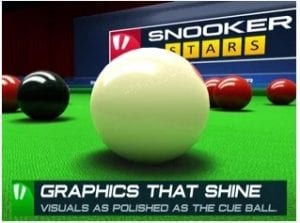 Kings of Pool – Online 8 Ball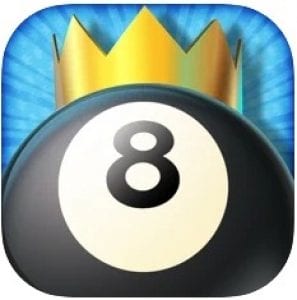 As its name suggests, Kings of Pool is a virtual snooker simulation that looks incredibly real.
The coolest thing about this game is that it can run in AR. The AR mode empowers you to generate a real-sized snooker table on any horizontal surface. Therewith, the model has HQ graphics and realistic ball physics. You can also customize this model to make it fit perfectly for your surface.
Along with the AR, you can casually play this game on your mobile's screen. The game runs on a traditional eight-ball pool just a bit more modern. Thus, you can compete against up to eight people from all over the world. Each round bases on bets and the person who wins get all the coins.
Of course, you will get some coins as you start playing but you will only be able to participate in the easiest and matches with the lowest bets at first. Once you'll earn more coins you will get the opportunity to enter more advanced tables and there's even a chance for you to play under the exclusive one. You can also invite your mates to the game and for a pool club to play as a team.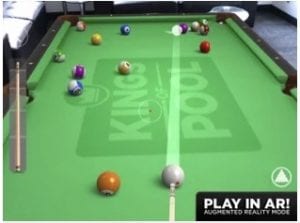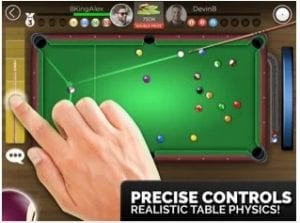 World Championship Billiards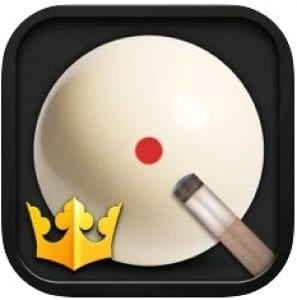 World Championship Billiards is a snooker game that recreates the way the world tournament goes.
Your main aim in this app is to compete against worldwide players and get on top of the leader's board. But just like in real life, you can't just enter the world tournament — you need to practice first. Thus, the game has multiple modes — from training games to competitions with your mates.
Besides, you will need to earn points to enter thinking games. This can be done easily — each friendly match has to bet and the person who wins gets all the coins. Once you'll get enough coins and ratings you will have the ability to enters the world tournament. Therewith, you will have to start from the matches with low betting and then go further to the higher ones.
On top of that, the game covers several billiard types so you will never get bored with playing. There's a carom billiard, snooker, four-ball, pool, and more. As for the visual, the game has sleek 3D graphics that looks quite realistic. You can also custom the tables and switch color schemes for in-game coins if needed.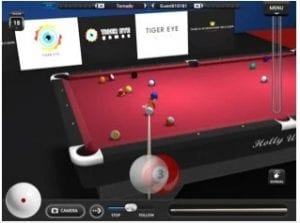 Check also: 15 Free Pool table games for Android & iOS 2018
Shooting Ball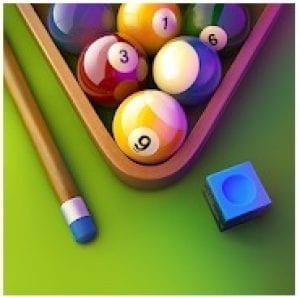 Shooting Ball is a billiard simulator that tries its best to give you the most lifelike gaming experience.
The first thing you'll notice after starting to play this game is probably the visual. The game has an HQ 3D graphic that is drawn to the very details. You will also be able to switch the view angles and look at the table from the top or from the sides. Therewith, all the maneuvers are deadly drawn so you get to see how the cue spins and breaks the balls.
This is not a multiplayer game so you can only play against the AI here. It also needs to be said that the developers have paid lots of attention to the physics of the game. Thus, the movements of the balls are mostly unpredictable and fully depend on your actions. Each game will bring you points and coins that you can spend on new cues, tables, rooms, and ball sets.
The game actually has more than a thousand rounds with an increasing difficulty level so get ready to think strategically. In case you'll find yourself unable to make the next move you can always use hints that will point you in the right direction.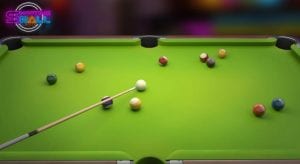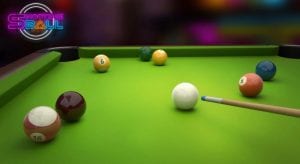 Pro Snooker 2020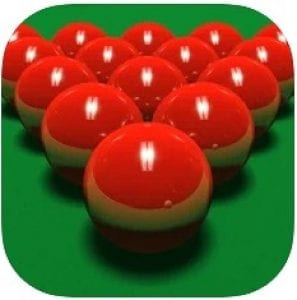 Pro Snooker is another billiard simulator that will entertain both the begginers and experienced users.
The game has a detailed texturized visual so you will defiantly catch a feeling of playing in real life. Plus, the game has full ball physics so the success of each maneuver depends on your actions and skills. Therewith, the game has a simple interface and control so it won't take you long to figure out how to make moves.
Besides, you get to fully control the cue and even make some difficult shots such as backspin, topspin, and ball swerve. Another cool thing about this game is that you can try several playing modes. To be more precise, you can go for the multiplayer mode and compete against the players around the globe, ask your mates to join you for the friendly match, or sharpen your skills with the training mode.
The game also saves the stats of all your games so you can view how your skills have developed with time and practice. Furthermore, you can try to attend the seven-round league where the person with the highest score gets the win. And for those of you who'd like to test your nerves, there's a four-round knockout match.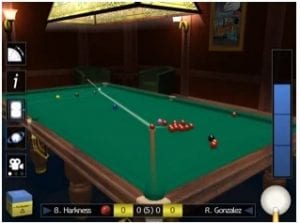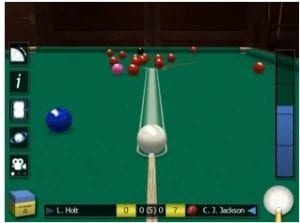 Pool Live Pro 8-Ball 9-Ball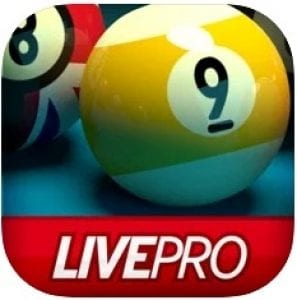 As you can guess by the name, Pool Live Pro is a multiplayer billiard game that empowers you to participate in matches against real players. The main goal of this game is that it supports three types of billiard games at one — 8-ball, 9-ball, and Blackball.
Therewith, the game has realistic 3D graphics that empowers you to fully feel the atmosphere of playing. It also has powerful physics so the balls and the cue move just like they would in real life. Besides, you get to fully customize your gaming equipment — there are more than a hundred different cues and ball sets you can try. The game has a few million active users so you will surely find someone to compete with any time of night and day.
And if you'll find yourself unable to make the move you can use hints to lead you. In case you're not in the mood to play against real people, there are lots of mini-tournaments you can play to earn more coins. You can also invite your friends to join the game via Facebook if needed. The coins can be spent on hints, new equipment, or power-ups.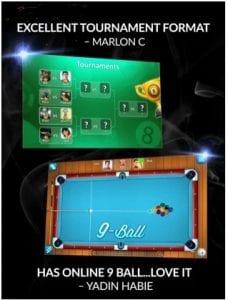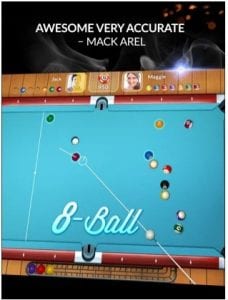 You may also check: 11 Free Football Manager Games for Android & iOS
Pooking – Billiards City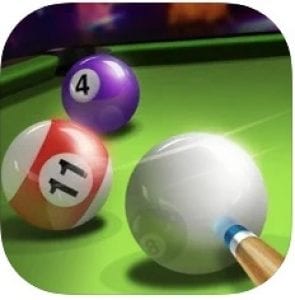 And lastly, Pooking — Billiards City is a single-player billiards game in arcade-style.
As you can see, this game is not about playing against real people so if you want to relax and play billiard at your pace, this one is definitely for you. This app is based on an 8-ball type of game and it runs on the powerful techs that provide you with realistic simulation. Thus, the game has detailed 3D graphics, smooth control, and lifelike ball physics.
The game also supports several difficulty levels so no matter how experienced you are, you will be able to enjoy the game. No matter what difficulty level you'll decide to go for, the rounds will get more complicated with time.
When you'll move through levels, you will be able to switch bards, get yourself new cues, ball sets, and more. You will also be able to participate in tournaments and become the best player in town (this is your main aim here). Each match will bring you coins that can be spent on hints or cool power-ups.