Quite a large number of people of all ages, nationalities, and orientations have encountered unfaithful partners. Infidelities are almost always hidden, and lovers' communication takes place in secret with the maximum possible conspiracy.
There are certain apps that are most often used by lovers to communicate. In this article, we have collected fifteen top apps cheaters use. And those, who want to catch their cheating partner or spouse, we recommend checking out this article.
Tinder
This is one of the most popular dating apps among users from all over the world. Most often, this app registers people who are not looking for a serious relationship but just want to get acquainted and pick up someone for an exciting pastime.
It is because of this reputation that Tinder is very popular among those who want to change their soulmate by meeting someone on the Internet.
In the Tinder app, people can add filters of desired qualities and external data for a potential lover, and then the system will select suitable profiles of other users.
The advantage of the application is the fact that here you can choose the locations of people you plan to meet. This is necessary in order to, for example, select as a location area in which the traitor does not appear, and where no one knows him.
Also, in this dating app, user data is classified, so no one will be able to find out either the phone number or the address of the interlocutor – complete confidentiality of personal data.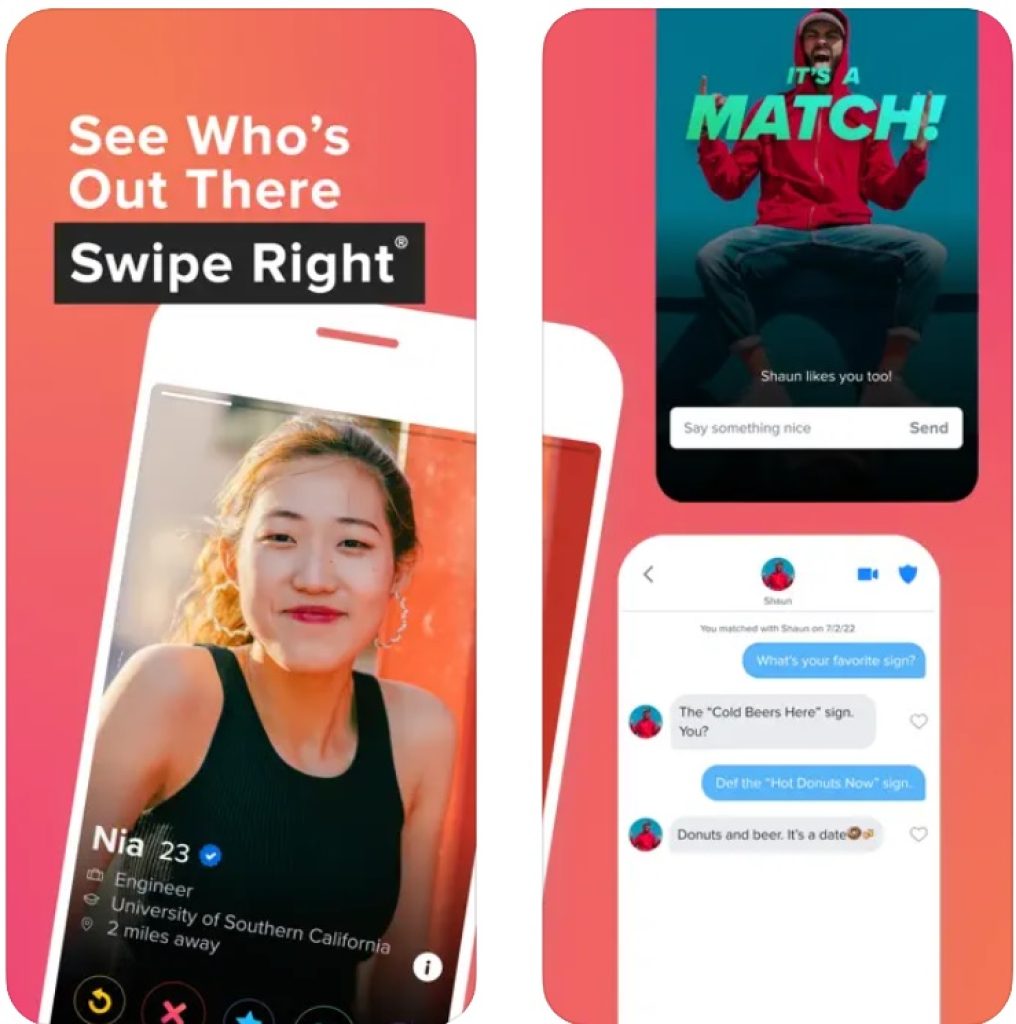 You may also like: 5 Best Dating Apps Without Pictures (Android & iOS)
TigerConnect
This is an extremely interesting app because it was originally created as a secret messenger with increased data secrecy for doctors to communicate with patients so that no one else could find out about the diseases of a particular patient, and doctors could easily describe problems and recommendations for treatment in a chat, without fear that someone's account might hack.
However, anyone can register in this app and correspond with the user to whom they provide their nickname.
So, when you see this app on someone's phone, you will never think that there may be a partner's infidelity hiding there, since there is communication with doctors and hospital administrations, and there is also synchronization with hospital devices to automatically receive data on analyzes.
But in fact, in this application, people often register to hide online communication with someone.
Also, TigerConnect has an extremely complex system for protecting the data of each registered user, so the possibility of hacking someone's account to obtain data is excluded. It is worth paying attention to the presence of such an app on your partner's phone.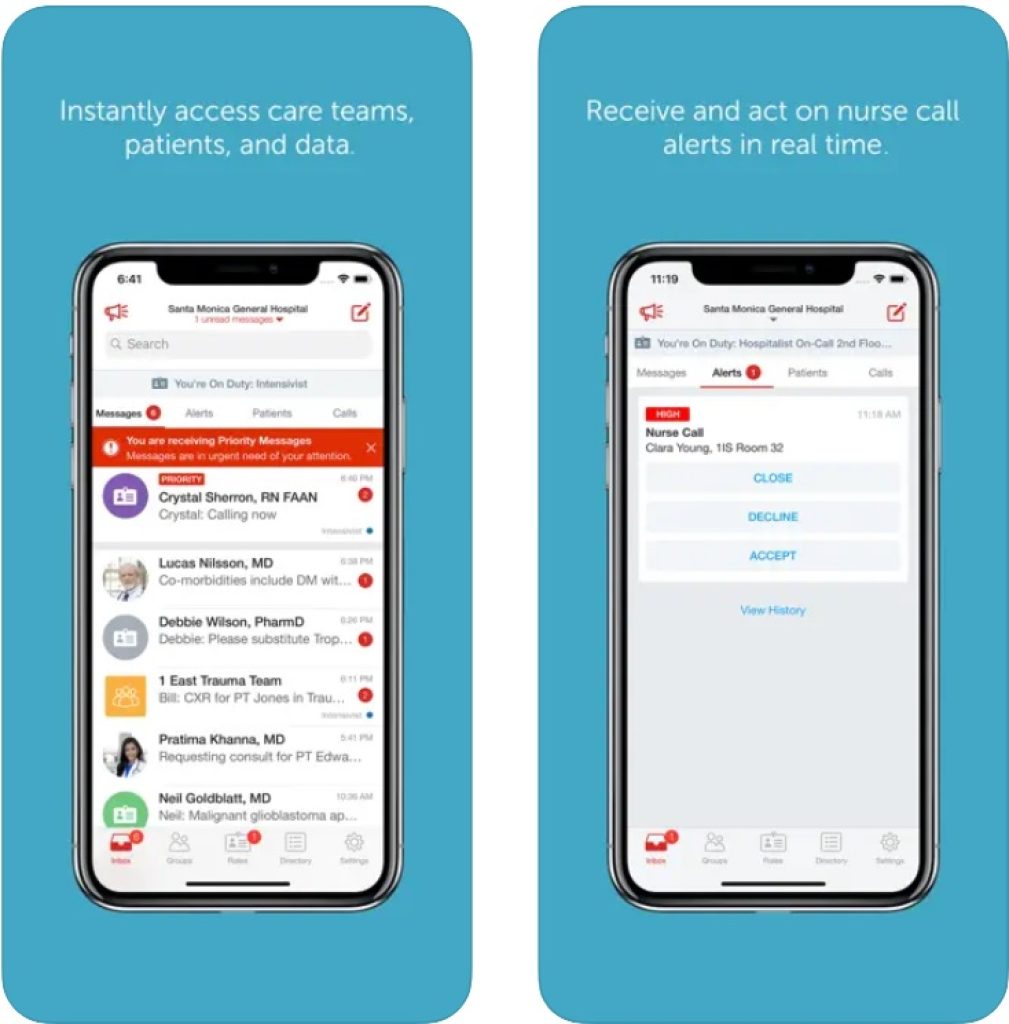 Wickr Me- Private Messenger
This is one of the most popular and reliable apps for creating secret chats and personal dialogues.
In general, it was created for the working sphere, for example, for different organizations and corporations, so that their employees could discuss working moments when they are not next to each other, without worrying that the information they share may fall into the wrong hands.
This app has passed a fairly serious test by the crypto community in order to provide evidence of the increased security of the data exchanged by users.
To register an account with Wickr Me, you do not need to enter your personal data: you do not need a first name, last name, date of birth, phone number, or email address. You will just need to come up with a nickname and share it with the right person, then you can start a dialogue with him.
Also, you can create an unlimited number of chats for up to ten participants here. Such an app on a partner's phone may arouse suspicion since it is used exclusively for covert communication.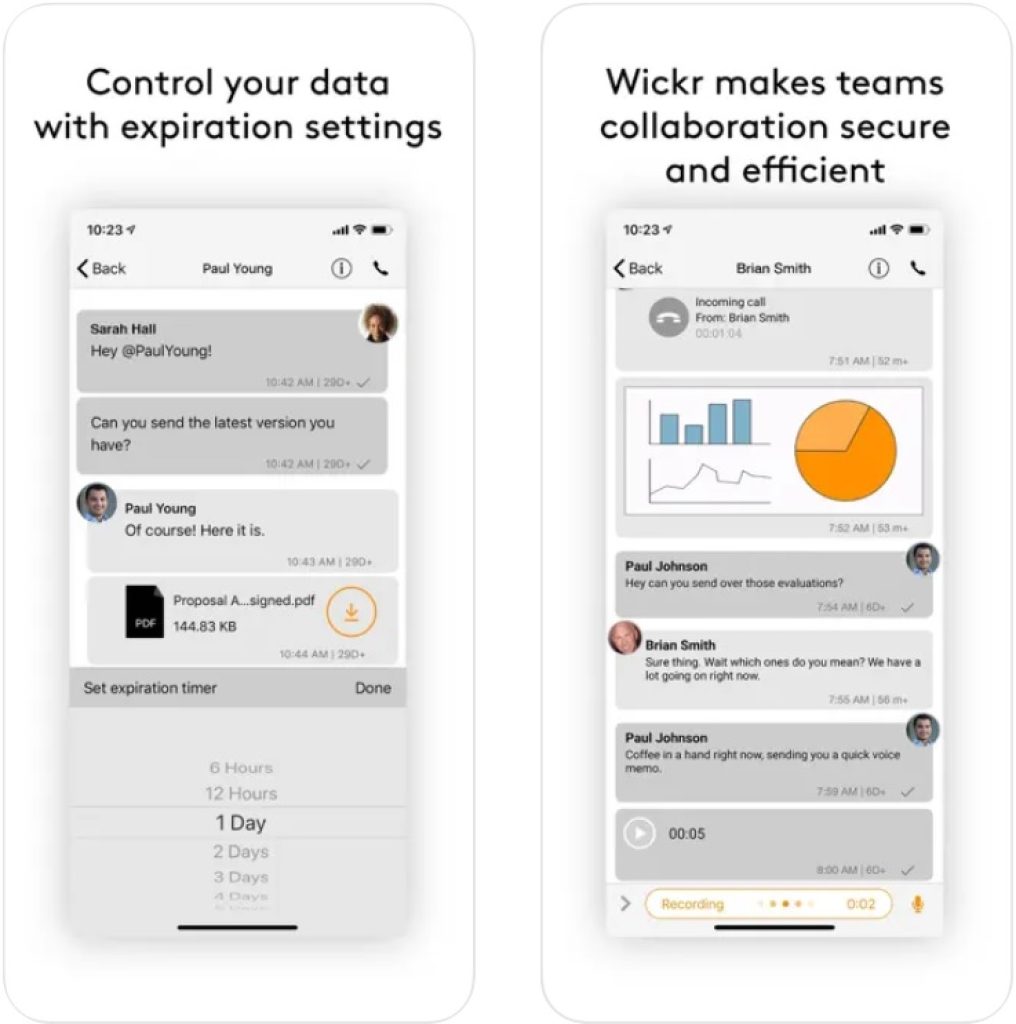 Secret Photo album: Pic Vault
It is clear from the name that this app is designed so that users can create private albums in which they can store photos, document files, necessary notes, audio recordings, video recordings, as well as any other types of files. You will not be able to log in to this application without entering a password, fingerprint, or FaceID.
People who cheat on their significant other can store photos of their lovers in this app, as they want to leave them as memories, but do not want them to be in the usual gallery of a mobile device, since it is easy enough to stumble upon them by accident, and in this app, you will have to first find out the password code for login, and then passwords to unlock each individual file (this function is optional).
This app also has its own camera as in social networks: using it, the photos taken will automatically move to the desired file in this app. The resolution of this camera will match the resolution of your mobile device's camera.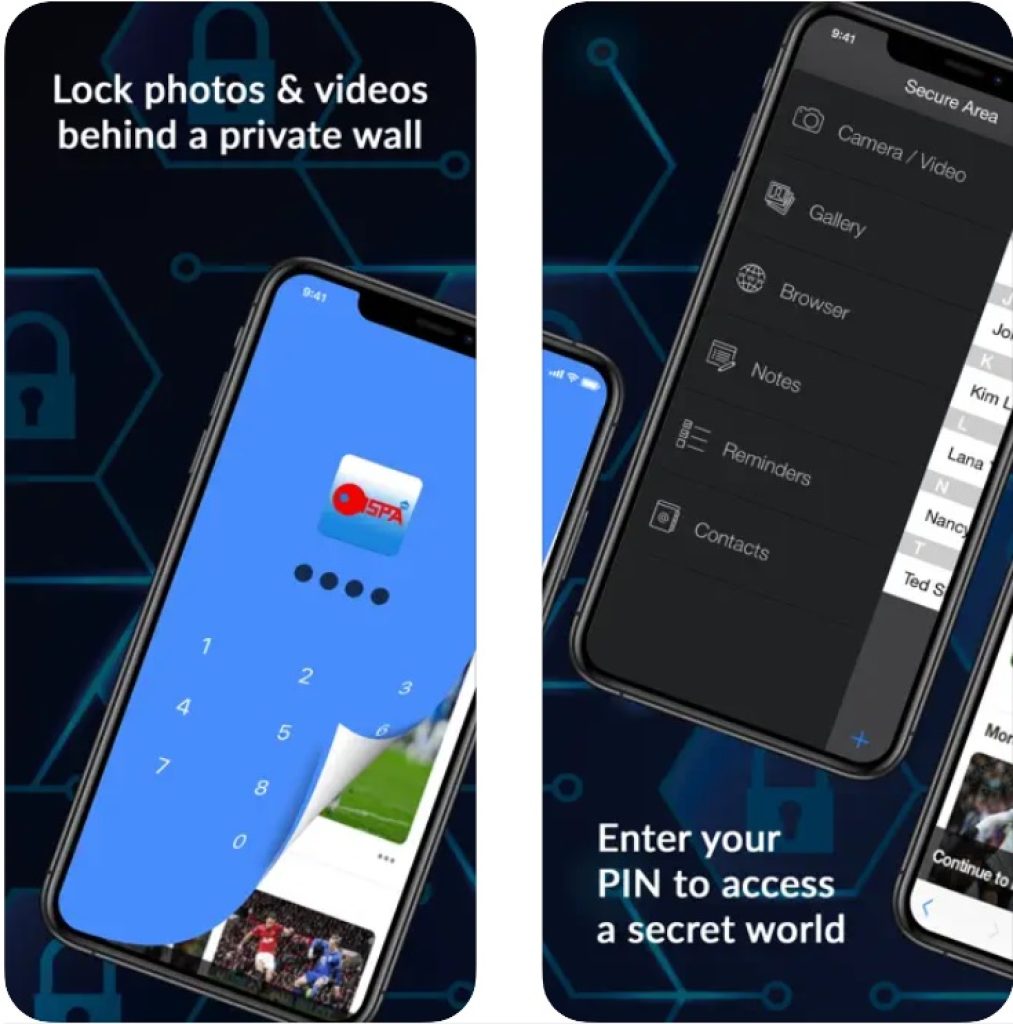 Snapchat
This is an insanely popular app that has been scattered over the mobile devices of users from all over the world for several years. Here, each person can try on different masks in order to highlight some areas of the face, smooth out the skin tone, or just be surrounded by different stickers and cute animal faces.
Precisely because this app is extremely popular, its presence on a mobile device does not cause any suspicion, since it is designed only to create cute photos and small video clips. However, in this app, there is a chat that can be conducted by any user with anyone.
The advantage of this chat is that all messages, as well as sent photos, videos, and other files, are automatically destroyed from the chat a day after sending without the possibility of recovery.
It is for these reasons that people who cheat often communicate on Snapchat since the evidence of their affair is destroyed automatically by the app system itself. Also, lovers can share cute videos and stickers here, just like any other users. There is no such number of cute masks, stickers, and effects in any app.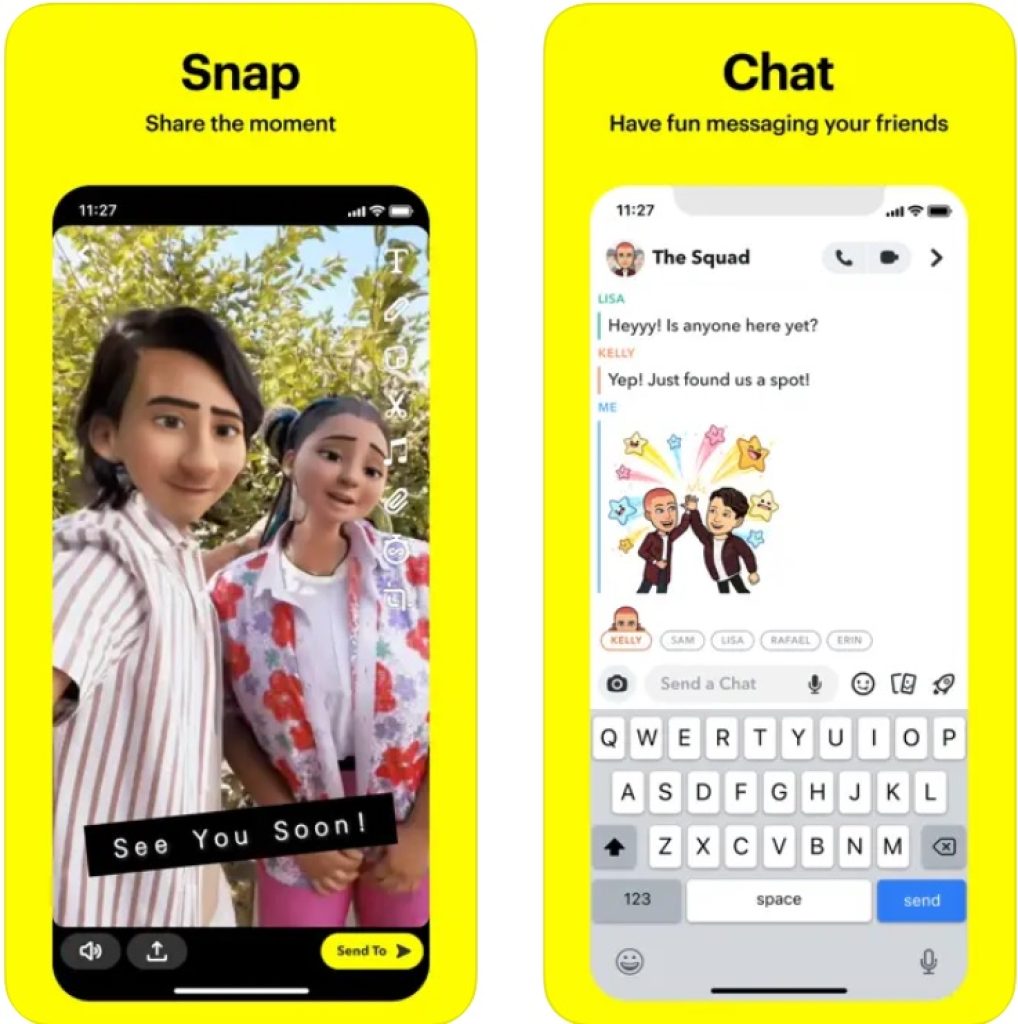 CalculatorX- Calculator Lock
On various popular forums, users who have caught their partners in treason spread some important information that can help other users find out about their partner's infidelity.
This app is one of those that people use to hide evidence of their infidelity, such as photos of their lovers, documents that may correspond to their local pastime, various transactions, screenshots of correspondence, and so on.
The fact is that this app is visually disguised as a powerful calculator. which are used by people working with numbers for more convenient calculations.
However, to log into this app, you will need a password code that only the owner of the mobile device on which the app is installed knows. Here you can transfer any files, images, notes, or photos that for some reason you want to hide from prying eyes.
In this app, you do not need to register an account or enter any of your data into the system, because it works as additional storage for your files, which will be stored under additional protection. That is why it is impossible to hack this app from other devices.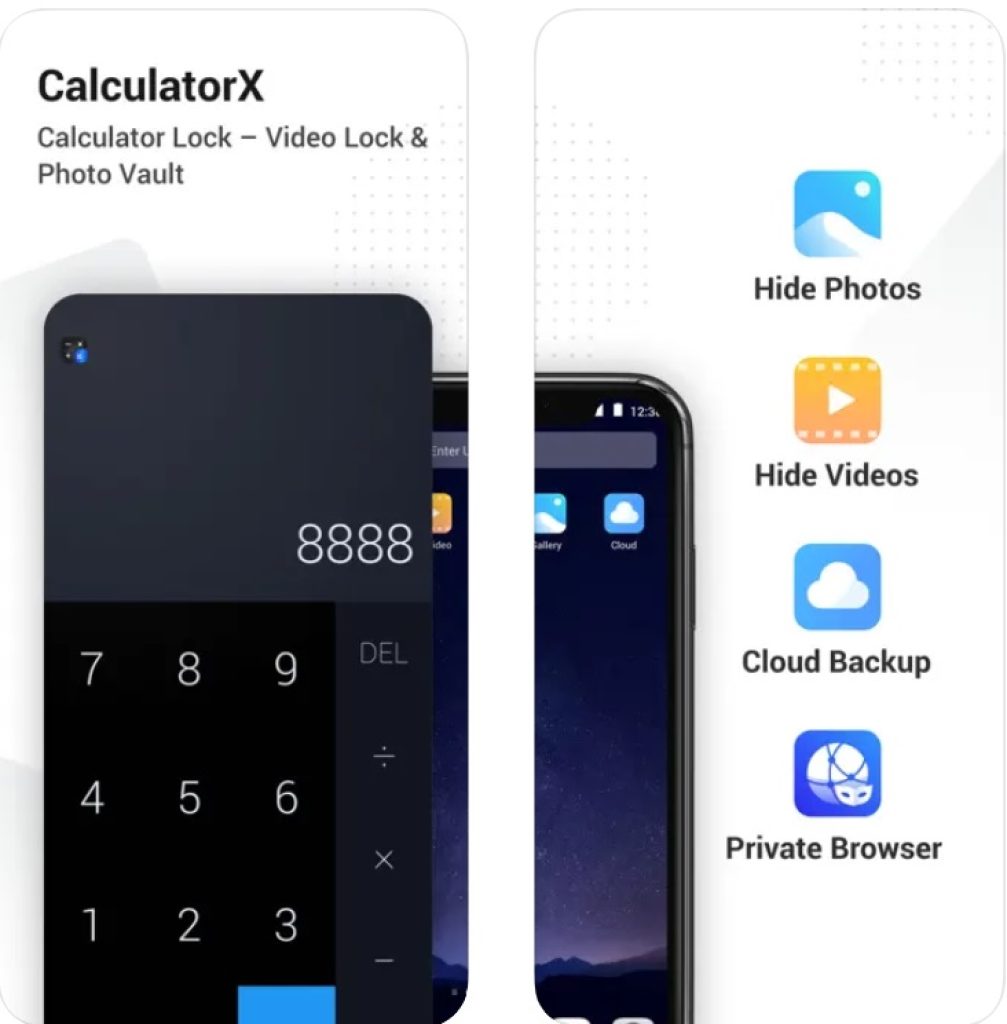 Pure
This is an app in which users from all over the world can openly declare their desires and what they lack in life, and what they would like to try, but cannot because they are in a relationship, or for other reasons.
The Pure app is popular among those who cheat on their partners, as all users here are open to experiments and are ready to share something new with you.
Here you will need to register an account, choose a nickname, and then post an ad that will tell you about your secret desires, or about revelations that you would like to share with other people. Further, other users who share your interests will be able to write to you and try to implement something together.
The Pure platform is far from the most common dating site, as users register here for quite popular purposes.
Here, those who cheat do not bother with personal acquaintances and search for those who are ready to experiment with them but immediately post an ad in this application, and immediately find like-minded people.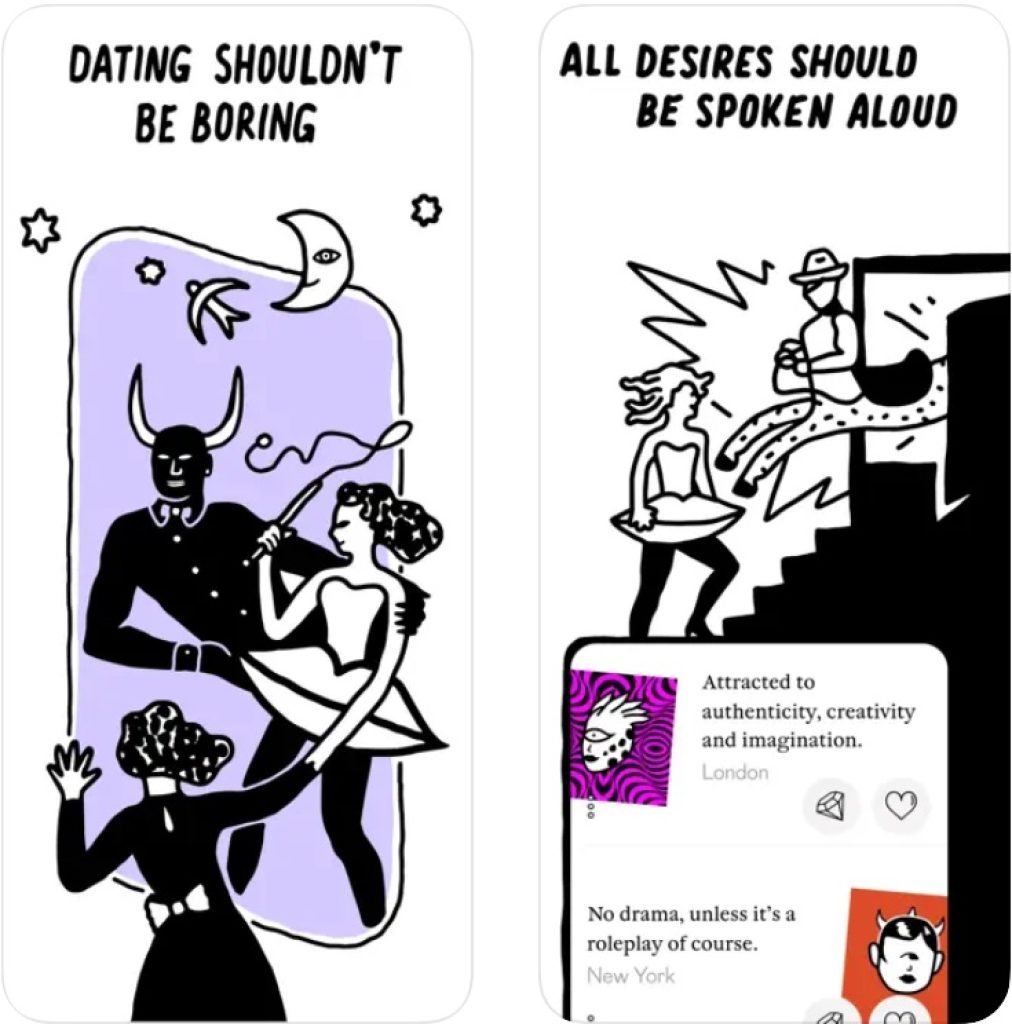 You may also like: 11 Best local chatting apps for Android & iOS
Anonymous Chat Rooms, Dating
This app is a platform on which people in an anonymous format get acquainted, communicate with each other, and share frank desires.
There is also a format of a social network, or popular forums, where you can ask questions and talk about your personal desires not only to a specific user but also to the entire community, which can share advice and experience.
The presence of such an app on the phone of a person who is in a relationship is suspicious, since here people communicate on quite piquant topics, and also make acquaintances for both personal and online dates, which often end with a certain continuation.
Also, this application has enhanced privacy settings, so it will not work to hack someone else's account in the usual way.
Also, in this app, there is no real user data in accounts: no names, phone numbers, email addresses, etc. However, you will be able to share your contact information with other users if you have your own desire.
Also, there is an opportunity to use the function of video sessions, where people can communicate and conduct online dating. This app is also often found on mobile devices of those people who cheat on their partners.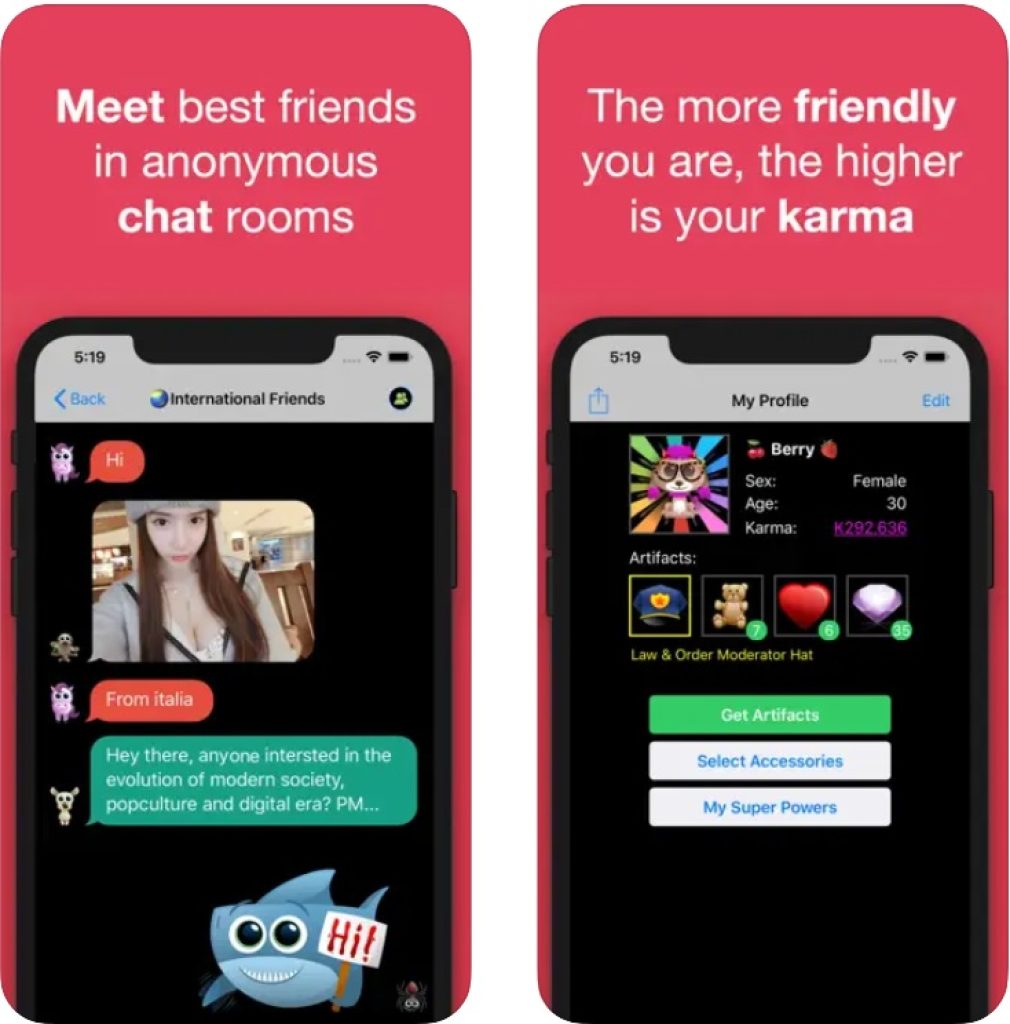 Kik
This messenger is singled out by many forums as the most popular among those who change their relationship partners, since there are functions of chat rooms, hiding messages, as well as many others.
According to Reddit polls, about forty percent of those who change (anonymous voting) use the Kik messenger.
This app has built-in enhanced privacy settings, as well as end-to-end data encryption, and the generation of a new year for each new chat created by the user.
Also, the images that users share in the app are saved in the chat only for a day, and then self-destruct thanks to the automatic settings of the app. Also, any user will be able to set up a self-destruct timer for all received and sent messages to get rid of the evidence of their infidelity.
Also, in this app, users can not only correspond and share photos but also communicate using audio and video sessions for an unlimited amount of time, which are also additionally protected.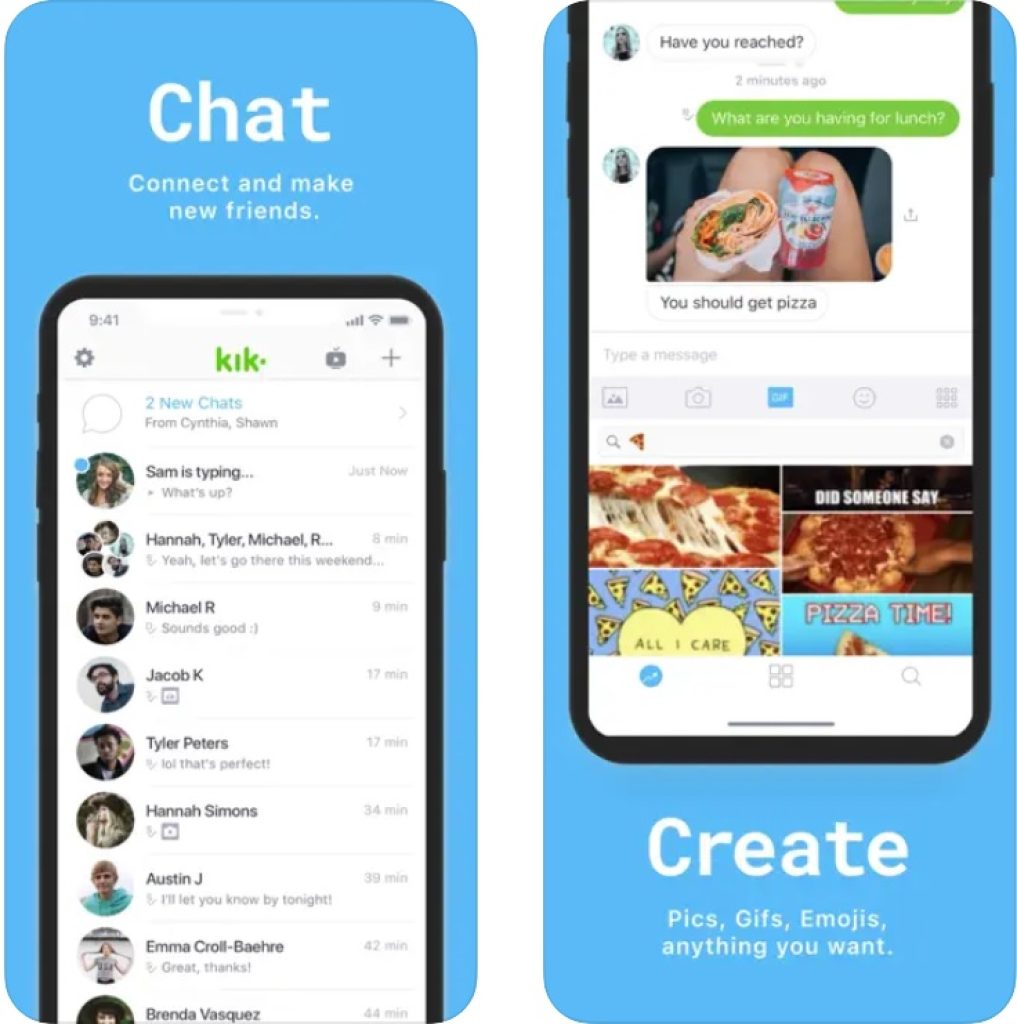 Dust
This is an app that allows you to fully control your digital life in the online space: It is a secure messenger and planner where users can store the most important data, images, passwords for bank accounts, any kind of files, and much more.
The presence of this app on someone's mobile device in no way confirms treason, but it's worth considering what the user is hiding behind some passwords in this app. To enter it, you will need to enter a password code or provide a FaceID or fingerprint.
Next, you will see a list of files saved here and a messenger, to which you will also need to enter a password (additional security is an optional function).
Thus, all user data will be protected, and your personal information will not be available even to the developers of the app, since registration with the introduction of personal data is not required for its use.
Also, all sent and received messages in the chats of this app will automatically self-destruct after 24 hours, or you can set your own timer for self-destructing messages.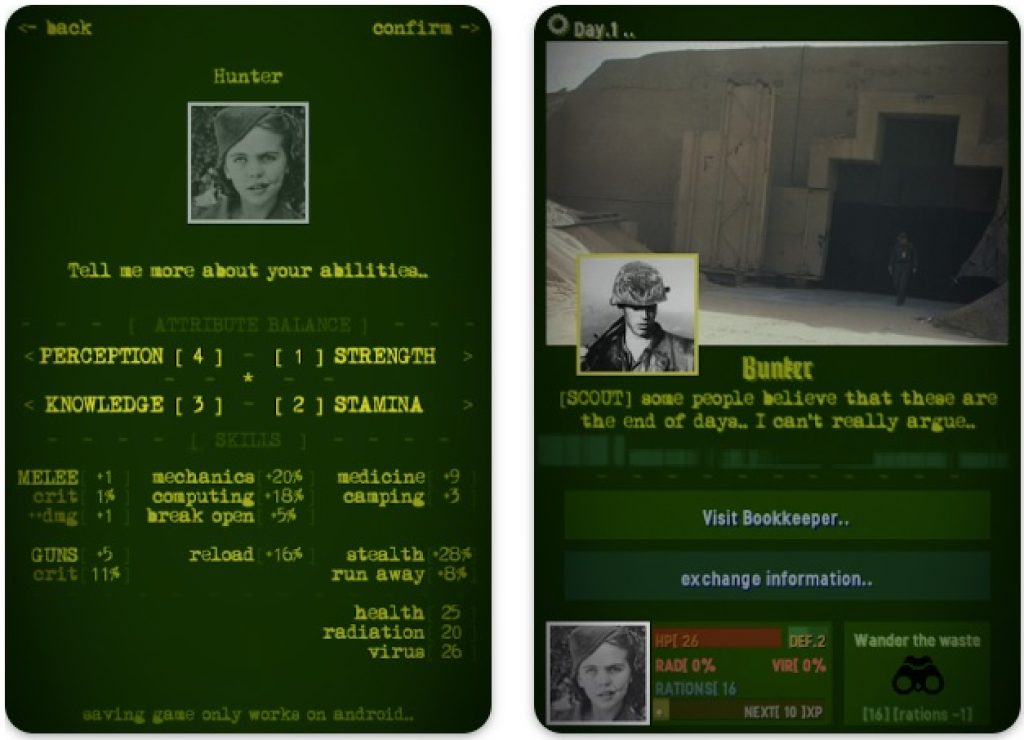 Signal
This messenger is also noted as often used among those who cheat on their significant other since every message here is protected by end-to-end encryption and automatically self-destructs twenty-four hours after sending or receiving.
Also, at any time you will be able to delete an already sent message yourself both from your device and from the device of the user to whom you sent the messages.
Also, the Signal app makes it possible to edit and modify the received images, and then save them to a hotel folder, which also has additional protection. Moreover, you can set an additional lock with a coded password for each new folder.
In this messenger, users can communicate not only with text messages but also with audio recordings, and short video fragments, as well as create audio and video sessions. Each session will be protected by a separate new security code, so it will be impossible to hack it.
In addition, after creating chats with different users, you will be able to set a separate notification sound for each user, so that after receiving the notification, you immediately understand who exactly sent the message.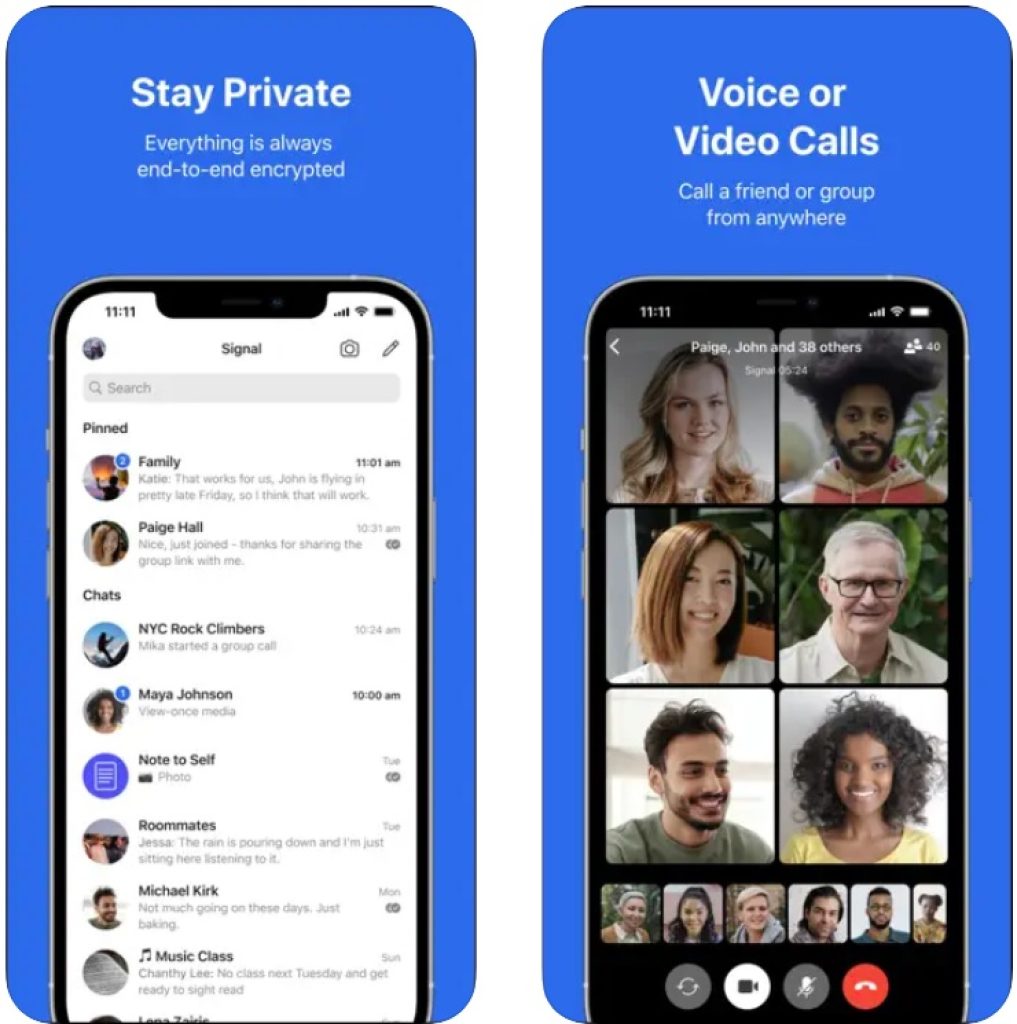 Vaulty: Hide Pictures Videos
This app provides additional protection for photos, videos, and files from a mobile device. Here users can upload photos from the gallery of their mobile device and make them invisible to prying eyes. To open these files and images, you will need to enter a password code or unlock a biometric lock.
Registration in this app does not require the introduction of personal data, because Arno is designed as a repository for files with increased confidentiality.
Vault is a very popular app, and has several million users. It is also popular among those who hide the evidence of their infidelity since any images and files can only be accessed by the owner of the mobile device, even when the phone is unlocked.
Also, this app will record every attempt to unlock files, so the user will be able to understand who and at what point tried to unlock this app. Each file here will be protected by a separate encryption code, so it is impossible to crack it and gain access from other devices.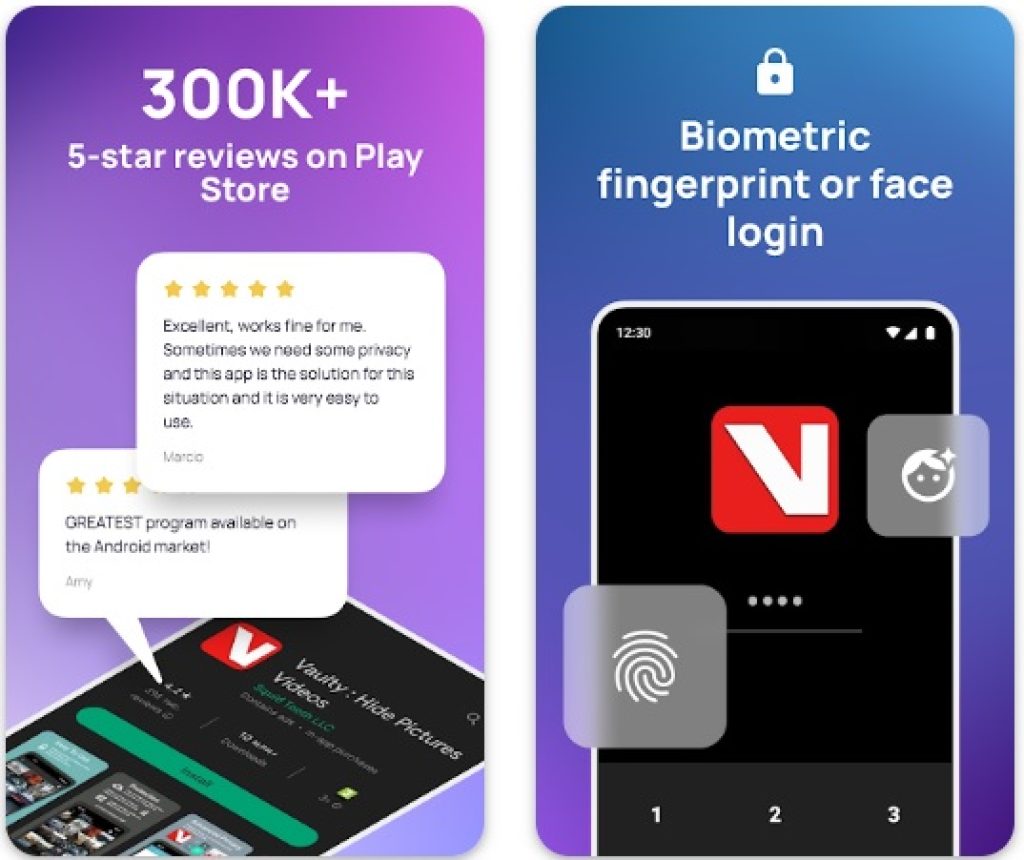 LOVOO dating app, Singles Chat
This app is created for dating with the purpose of entertainment and finding open and accessible people.
It is for this reason that this app is very popular among those who cheat on their significant other, because here people are looking for entertainment, and there is no need to waste time on those who want a serious relationship with a faithful partner.
In the LOVOO app, each user can enable certain filters to search for the desired partner, for example, filters concerning external data, and users can also specify the goals of their acquaintance in order to filter out the profiles of those with whom the goal does not match.
This is how users can get acquainted with those people who want the same.
Also, it is not necessary to specify personal data and publish photos in this application, so traitors do not have to worry about their privacy, as well as about the fact that someone will be able to recognize them.
In addition, chats with other users self-destruct after twenty-four hours, so there will simply be no evidence of infidelity.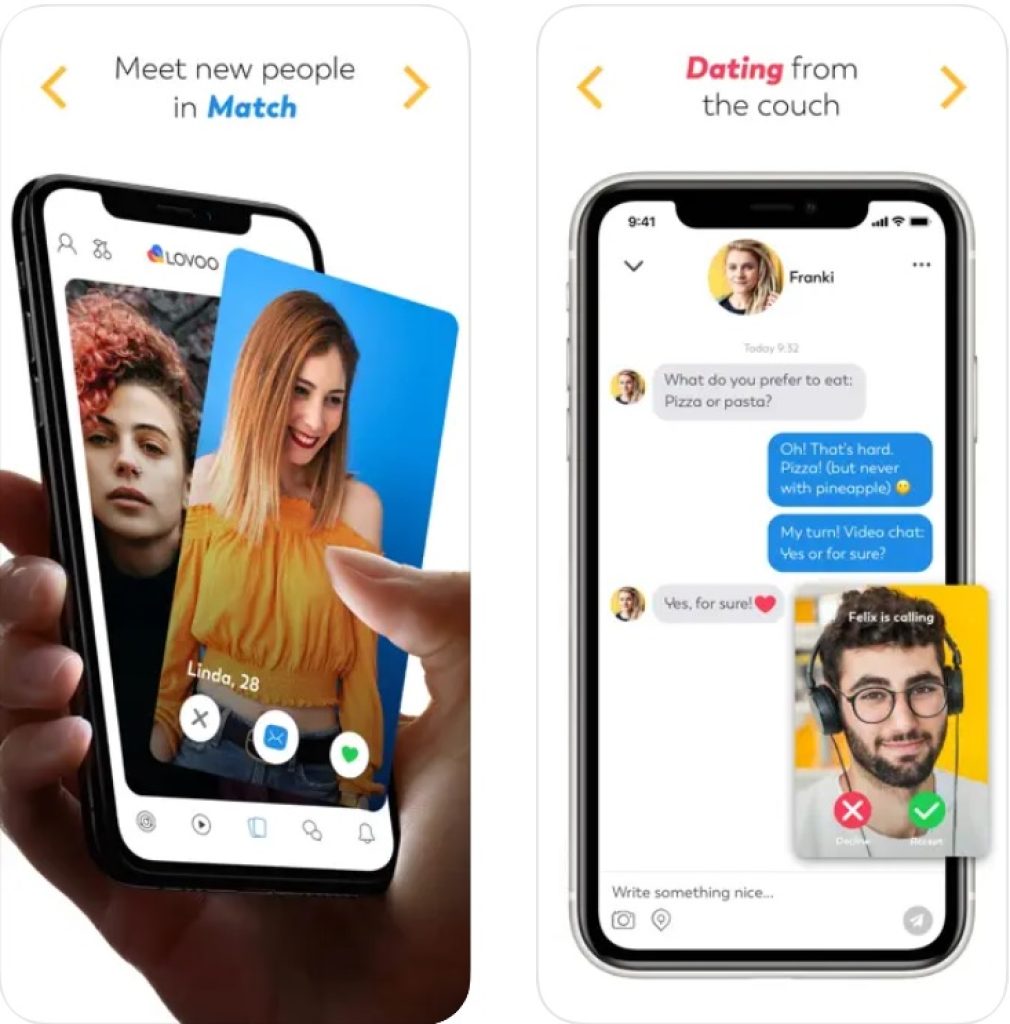 Grindr – gay Chat
This is a specialized dating platform for gay men with a messenger. Here men can meet like-minded people, as well as make dates, or communicate online using video and audio sessions.
This app also contains enhanced privacy settings that can be both enabled and disabled. These privacy settings include:
Automatic self-destruction of correspondence in a personal chat 24 hours after sending or receiving a message
You can not publish your personal data, such as an email address, phone number, or personal photos
Ability to set a passcode to unlock the app
End-to-end encryption and a new digital code for each new chat, as well as much more.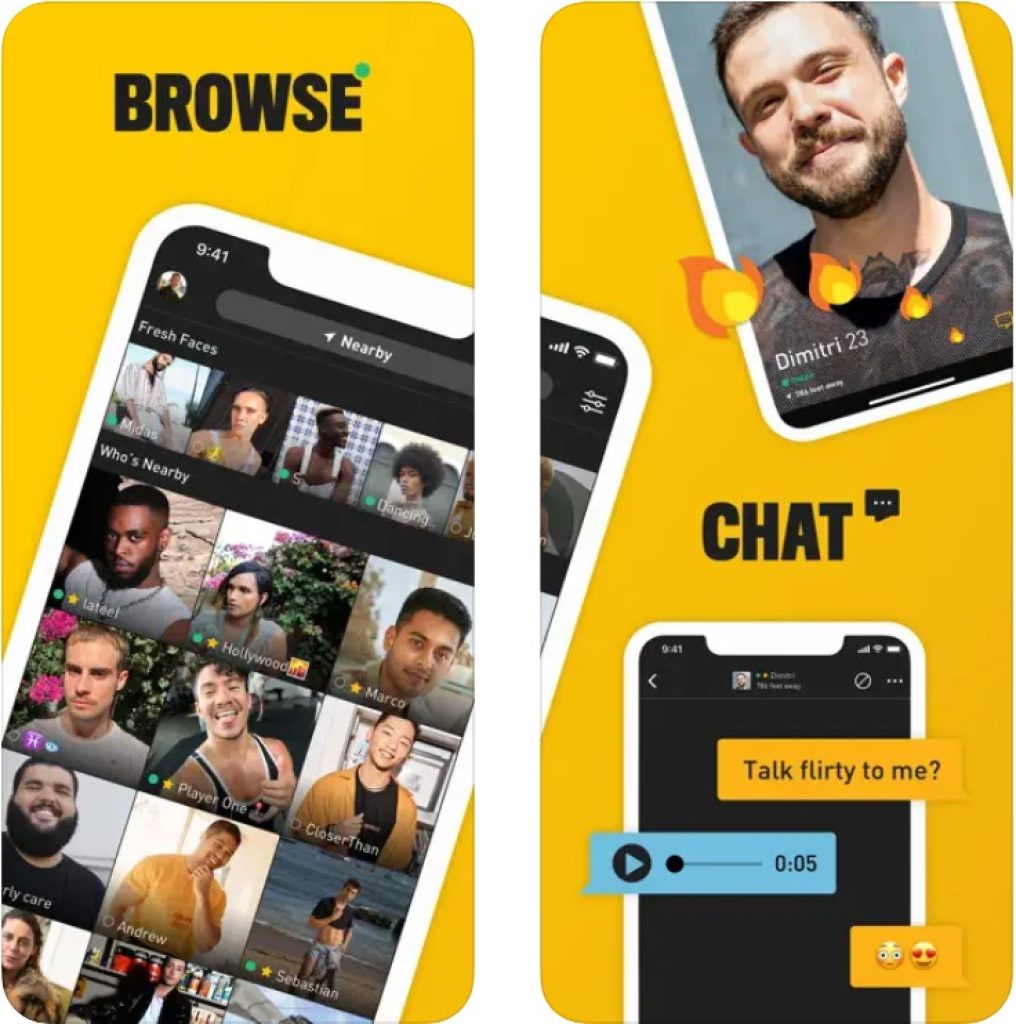 You may also like: 17 Best free chat apps to talk with strangers for Android & iOS
Invisible Text
This app is designed to give users the ability to send invisible messages to other users that will be visible only to you and the person to whom the message is addressed. Also, here you can send several types of such invisible messages.
For example, users can correspond with open messages, between which invisible messages in the form of text will be sent: you will be able to click on the space between the messages and see what is written there. Only you and the user to whom the message was sent have this option.
The presence of these apps does not mean a reliable fact of treason on the part of the person on whose phone these apps are installed. Users from all over the world have provided information on various forums that these apps are most often downloaded from those who want to hide their infidelity.