Have you ever had to escape from a boring or annoying company? In order not to strain your imagination and not to invent various excuses – you can use the convenient prank calling application. Using it will help you get out of an uncomfortable situation and maintain a good relationship with the company in 2023.
You may also like: 11 Best Male to Female Voice Changer Apps for Android & iOS
MagicCall
Perfect for pranks, MagicCall lets you transform your voice into various characters, from a robot to a baby or even a celebrity. With a wide range of voice options, you can truly immerse yourself in the role and surprise your friends with your newfound vocal prowess.
You can customize the caller's identity by setting a fake name and caller ID, making the call feel utterly authentic. The app also offers a diverse selection of background sounds, further enhancing the illusion.
With its user-friendly interface, you can quickly master the art of voice transformation and surprise your loved ones with your amusing antics. The app is suitable for all ages, allowing everyone to join in on the fun.
In conclusion, I can say that MagicCall is an app that allows you to create entertaining content for social media, engage in light-hearted conversations, or add a twist to your daily routine.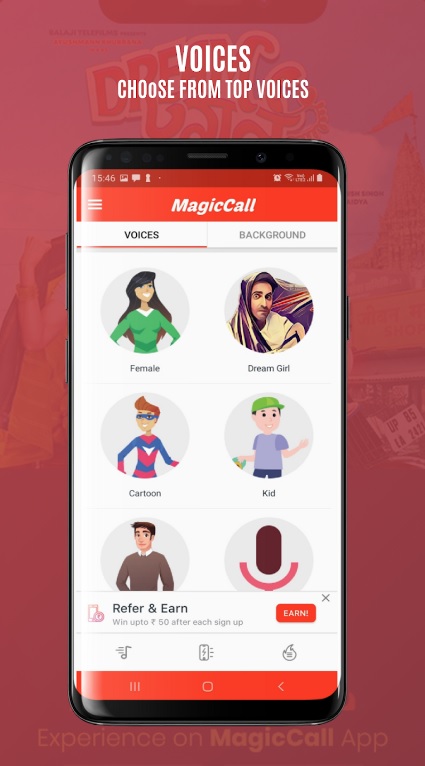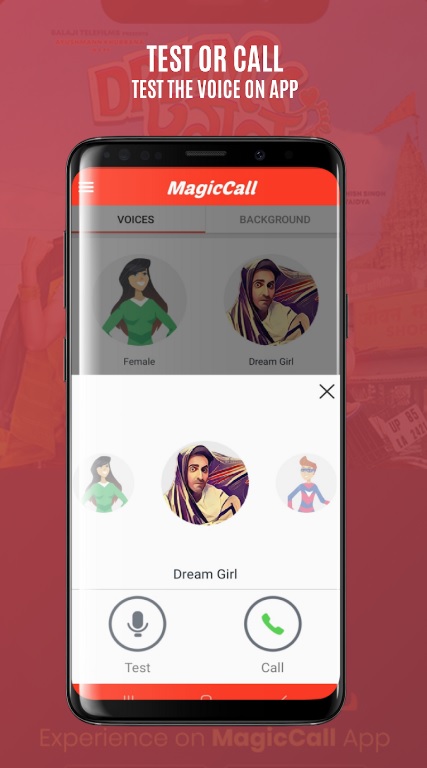 You can also check:12 Best Call Blocker Apps For iPhone & Android
Prank Caller Voice & Text Chat
Prank Caller Voice & Text Chat provides an innovative way to break the ice, bond with friends, and lighten the mood.
Using a variety of different voices, you can assume new identities and deliver side-splitting lines to unsuspecting recipients. From funny characters to celebrity impersonations, the possibilities are endless, making every call a hilarious adventure.
With a wide selection of distinct voices to choose from, you can master the art of surprise by transforming your voice into that of a totally different persona. Just imagine the reactions when your friends hear their favorite movie star or cartoon character on the other end of the line.
Beyond prank calls, this app lets you engage in entertaining text chat conversations with various personalities. You can swap messages with unique avatars and immerse yourself in humorous interactions that are sure to brighten your day.
Finally, i recommend you this app for fake calls as it provides you with a reliable way to prank other people.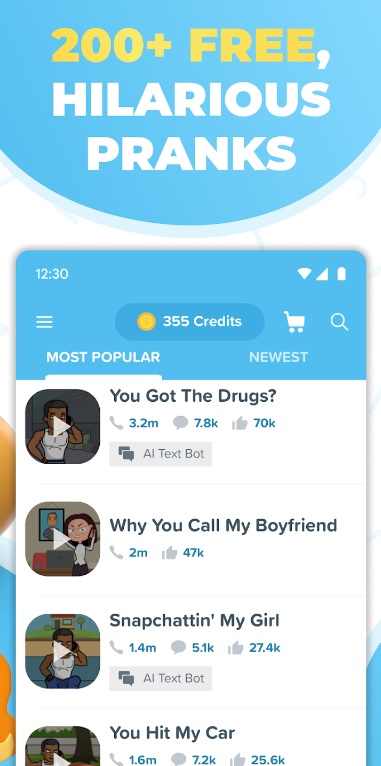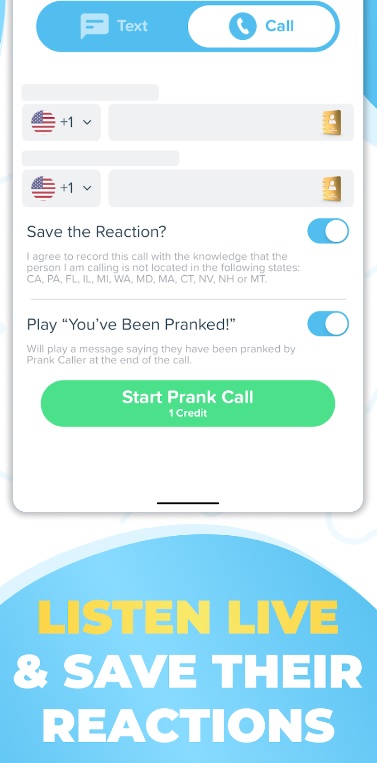 Juasapp
Juasapp is an application for playing friends through calls. You will be able to make only a limited number of calls. You will need to pay with money, or you will have to share the application with friends.
In the application, there are jokes for different people. Some are for women only, some are for those traveling to work, some for dog owners, and so on. You will find all kinds of jokes.
The process of making calls using Juasapp is really simple. You will need to choose a joke, then specify the phone number you want to call, and finally choose the time of this call. After that, you just have to wait for the chosen moment.
Juasapp is a really effective application for prank calls. Yes, these calls will cost a certain amount of money, but you can either pay for them or just share the application with many of your friends.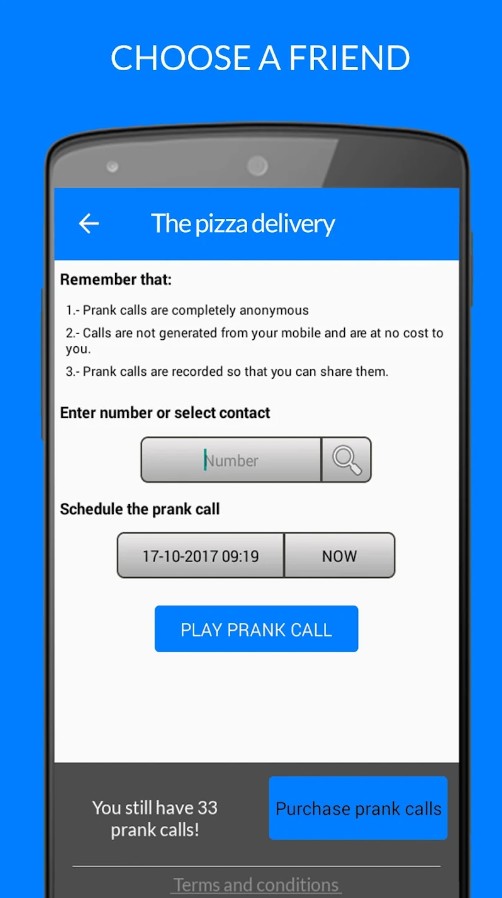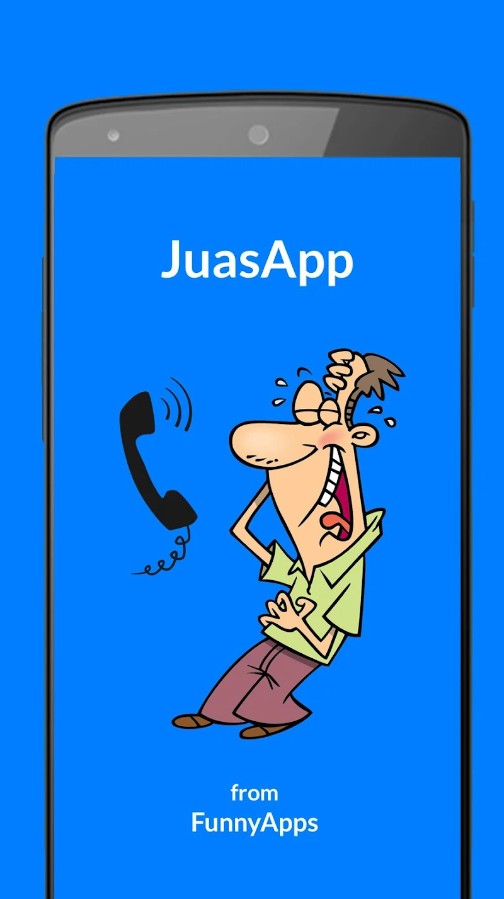 Ownage Pranks
Download Ownage Pranks app and enjoy quality jokes with your friends. There is nothing complicated. Just choose a scenario, make a call, and be ready to laugh a lot. This awesome funny call app available for both Android and iPhone users.
You can save a call in your profile area and share it with others. Laugh together! The app contains many scripts and jokes. They are recorded by professional voice actors.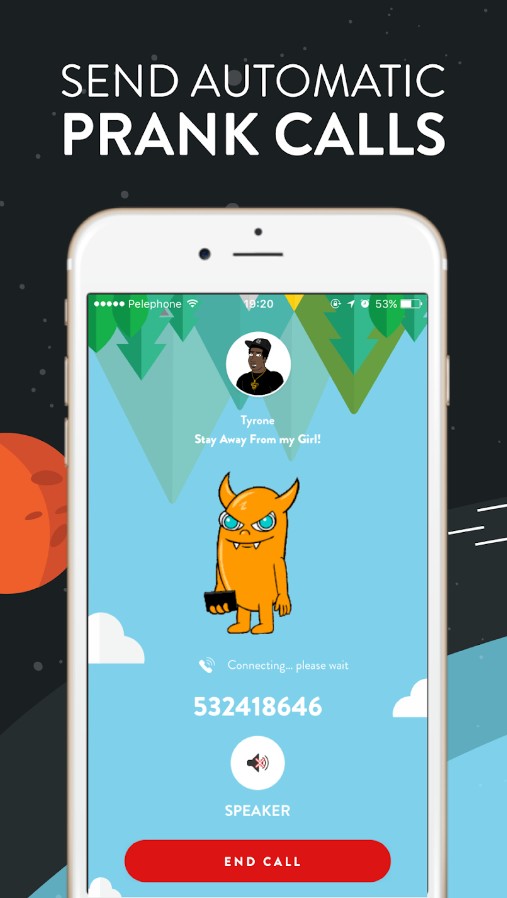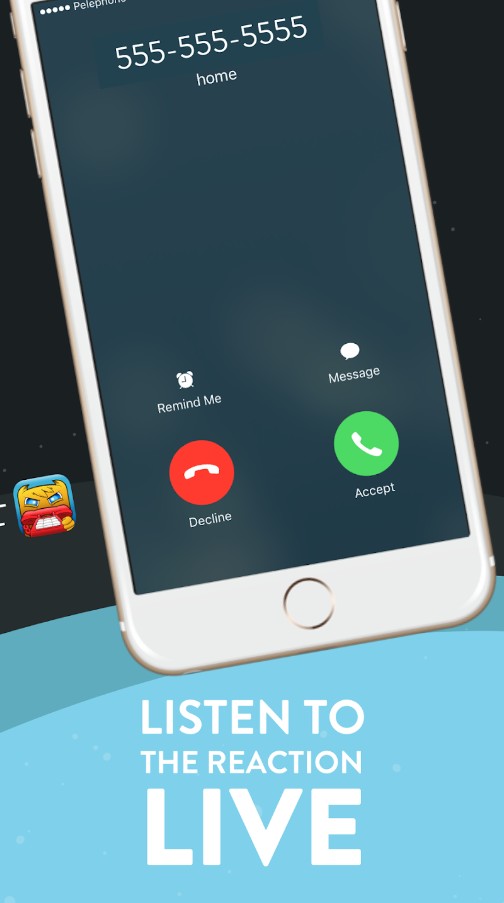 BoomRang
BoomRang is a fun and entertaining app that allows you to prank your friends and family in a unique and creative way.
With its advanced call simulation technology, this app makes it easy to fool your loved ones into thinking you're calling from a different number or location.
Just select the desired ID address, choose the length of the call, and press the call button. That's it! Your friend will receive the call and will have no idea that it's actually a prank.
It is also possible to make fake calls from famous personalities. Do you want to impress your relatives and make them think they got a call from someone from Hollywood.
BoomRang features a realistic call simulator with customizable call settings and voice changer options for a convincing and entertaining experience.
So if you're looking for a fun and entertaining way to prank your friends and family, look no further than BoomRang.
Whether you're a prankster at heart or simply looking for a good laugh, this app is an excellent tool that will bring a smile to your face and those around you.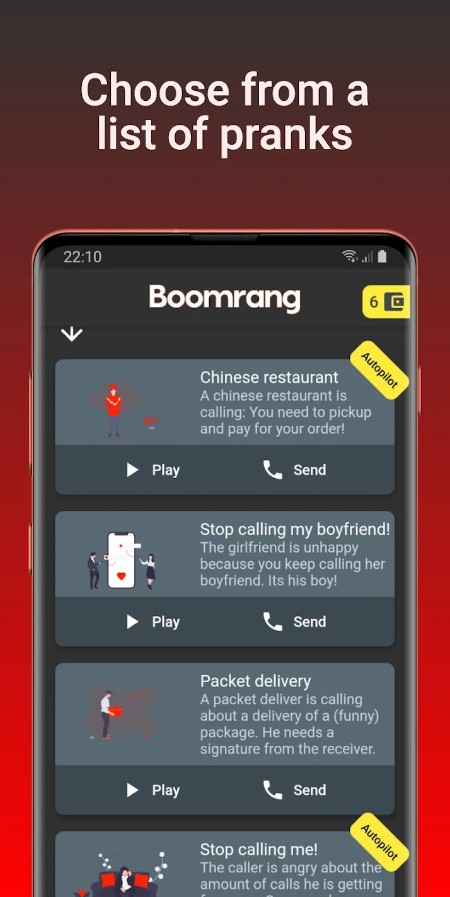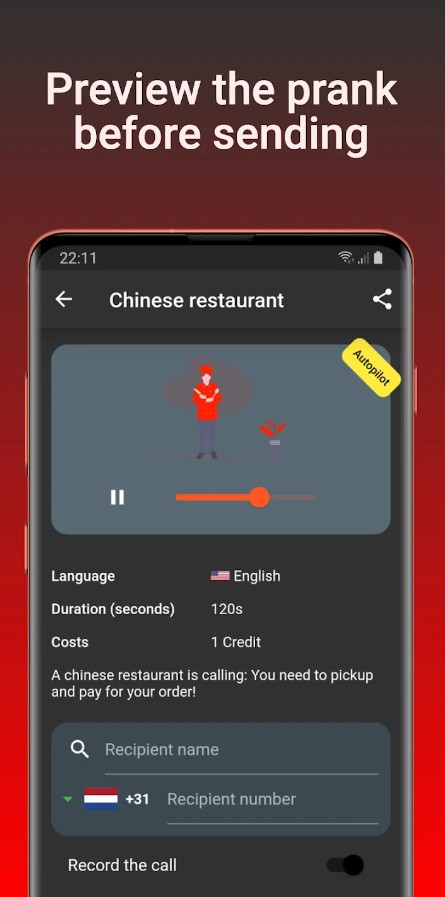 JokesPhone – Joke Calls
JokesPhone – Prank Calling is the best free app in the Entertainment category because there aren't any lags.
After downloading the app, you are directed to the main menu. At the bottom of the screen, there are three buttons.
The first one is The list of Pranks. There are a lot of topics for jokes. For example, You have crashed my car or Your dog is barking all the time. You can read a brief description to choose the best one.
The second button is for Examples. There you can figure out how to send a call and learn step-by-step instructions.
The third button is for My Calls. By tapping on it, you can check whom you have called, and listen to the prank again.
There is a chance to pick any Prank, to tease a friend within two minutes, listen to it, and share on social networks (Instagram, WhatsApp, Facebook, etc).
If you will be logged in and if will you invite a friend, you will get extra coins. You need coins to buy calls.
The interface is simple to understand and manage.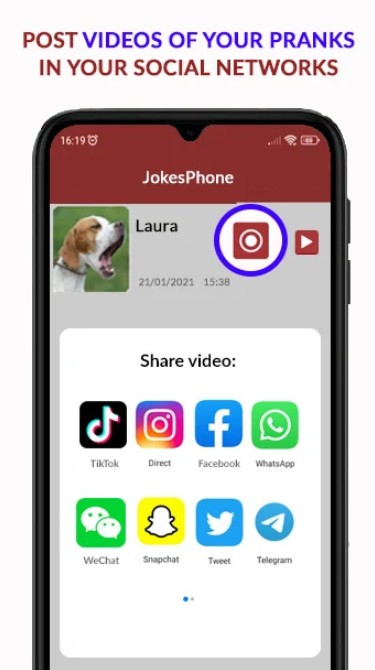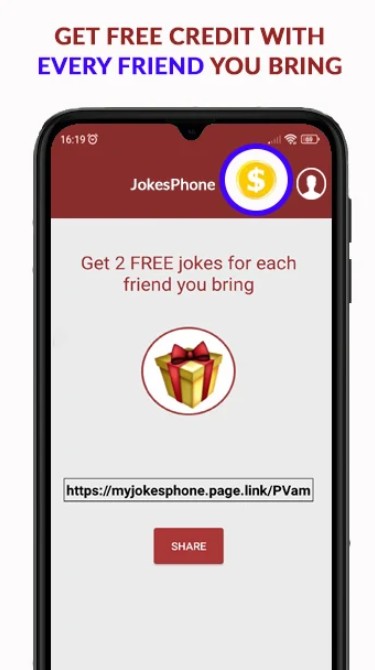 Fake Call Me!
Tailored for those who enjoy lighthearted pranks, creating amusing diversions, or adding a touch of excitement to their routine, Fake Call Me is your partner in orchestrating playful interactions. 
The app offers an array of voices to choose from, enabling you to simulate the caller's identity convincingly. You can even personalize the caller's name and photo, heightening the authenticity of the experience.
Besides voices, Fake Call Me also provides customization options for call timing, ringtone selection, and even faking missed calls.
So, if you're ready to add a touch of spontaneity to your life and spark laughter wherever you go, give Fake Call Me a try and embark on a journey of amusing interactions.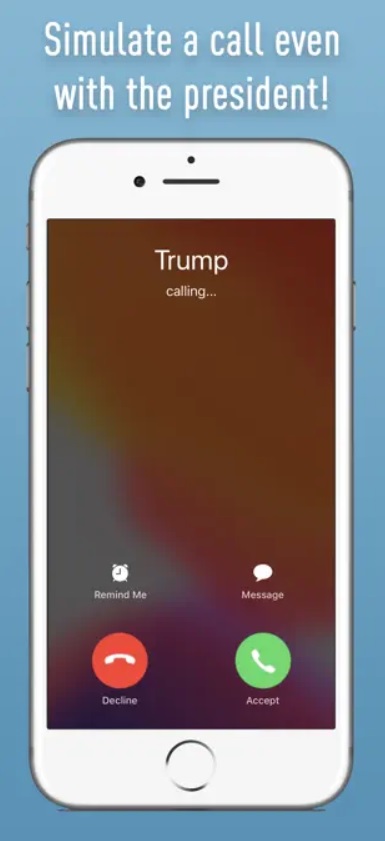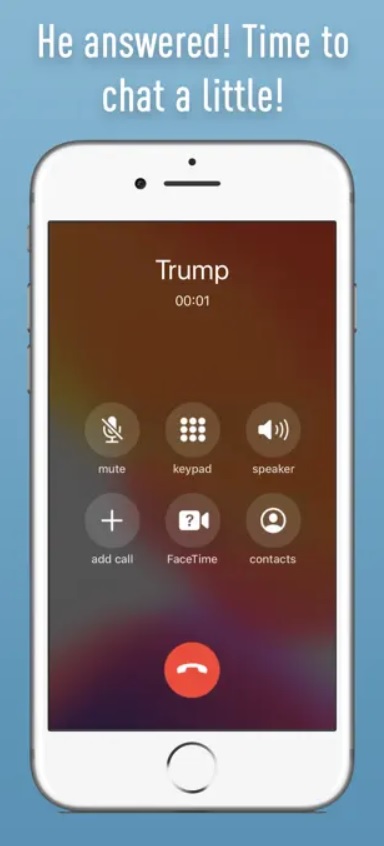 You may also like: 5 Best Fake Text Conversation Apps for Android & iOS
PRANK DIAL
Here's one of the most prank calling apps on Google Play and hundreds of people have already been pranked by the funny scenarios that you can find here. The developers claim that there have been made more than 200 million calls with this app. Want to be the next one?
There are several prank scenarios in the app and you can select one of them in the main menu. For instance, one of the most popular ones is called "you hit my car". What you need to do here is to type the phone number of the friend that you want to prank and then PRANK DIAL will make a call automatically.
The new scenarios are added regularly. The interface of the app is super comfortable to use and you will navigate yourself quite quickly.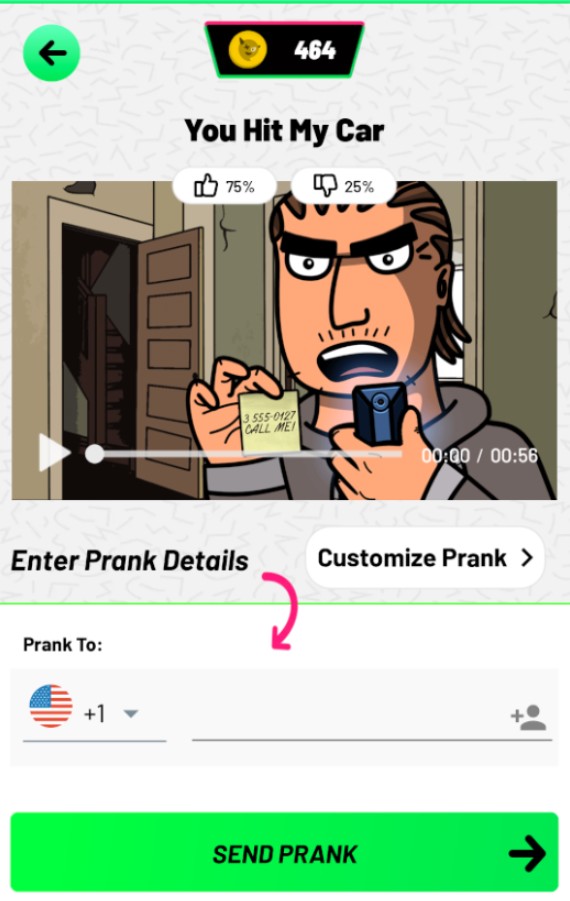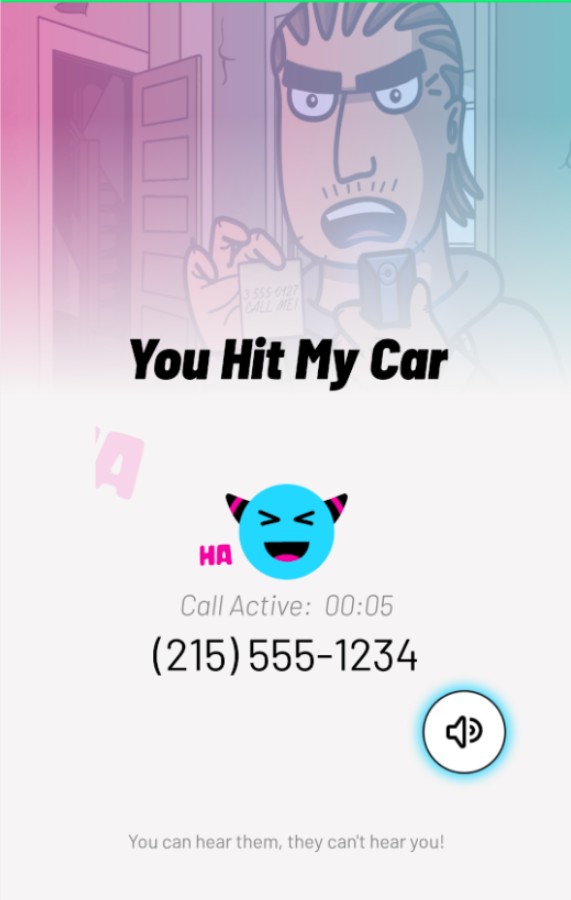 Fake Caller Id, Fake Call, Prank Call App
Another really cool prank call app that allows you to use the fake identity while you are calling. You can get your friends or boyfriend/girlfriend by pretending it is a police officer or sheriff is calling them because the app allows you to create the ID that would look totally realistic.
All you have to do is to enter the username and the last name, add some description (optional), and add the icon. Then call your friend and your ID will be shown as you marked it in the app. You can also make automatic calls using this app with intervals of 10-15 seconds.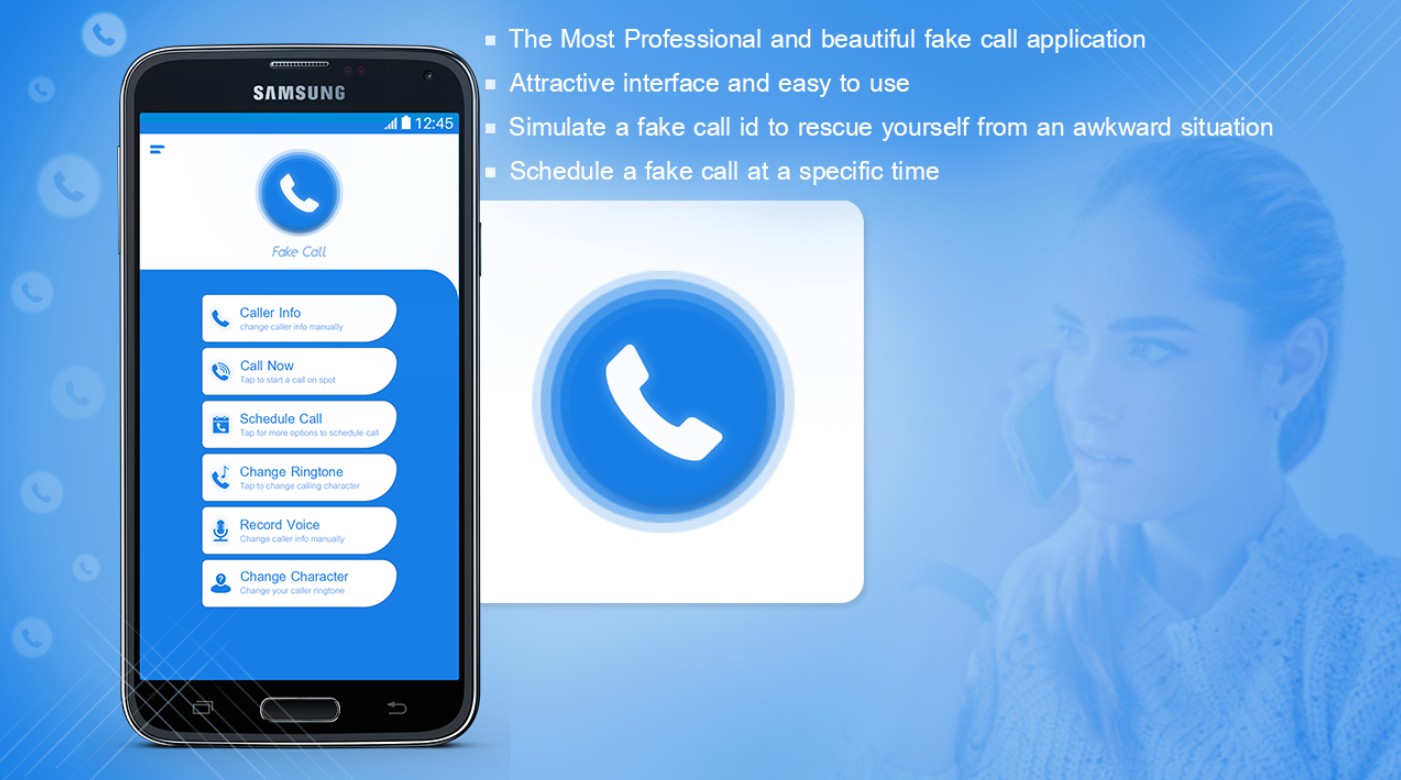 Fake Call Plus
Stop the boring conversation, leave the company, and get a reason to leave. All thanks to the sudden incoming call, which you called. There is a way to activate a fake call on the iPhone, which apparently cannot be distinguished from a real phone call.
How to set everything up
1. Download the free Fake Call Plus application from the App Store.
2. Run the program and configure the call parameters.
You can set:
call time after activation;
the name of the caller;
ringtone;
the background sound of the interlocutor when you answer the call;
contact photo.
3. We are waiting for a suitable case for using the application.
Now when you need to find a reason to leave, run Fake Call Plus and click Start Call. The device screen goes out, you don't need to block it. After a specified period of time, an incoming call will be heard, and you will get a good reason to step aside. You can add an application widget and activate a false call right from the lock screen.
This developer has a paid version of the program Fake Call App Pro. It is characterized by the lack of advertising and unlimited change of parameters (in the free version, some settings can be changed only once).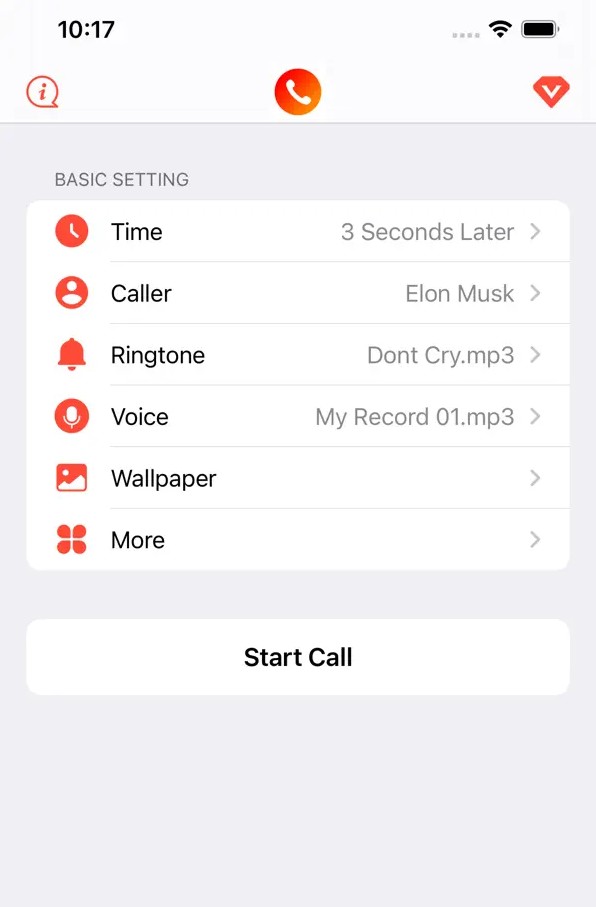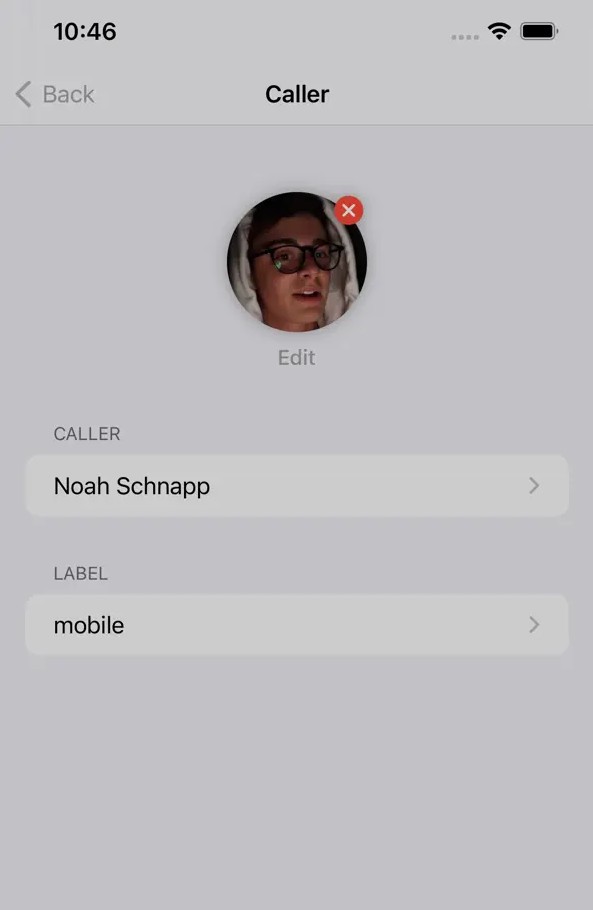 Fake call – prank
Fake Call – prank – imitate fake calls and short messages, customize them and edit the name, image, and ringtone! The program allows you to create false calls only on your phone, and you can joke or avoid awkward situations.
An interesting function of the application is the imitation of false calls, for example, it can be a call from the mother or the boss. This will help dodge an unpleasant conversation or an unnecessary meeting.
The program allows you to create new contacts, as well as use the numbers that are in the phone book so that they "call" or "send" messages. This is a very interesting utility that will help to avoid an unpleasant situation. Now you don't have to listen to grumbling mother-in-law. Just imitate an important call and go about your business.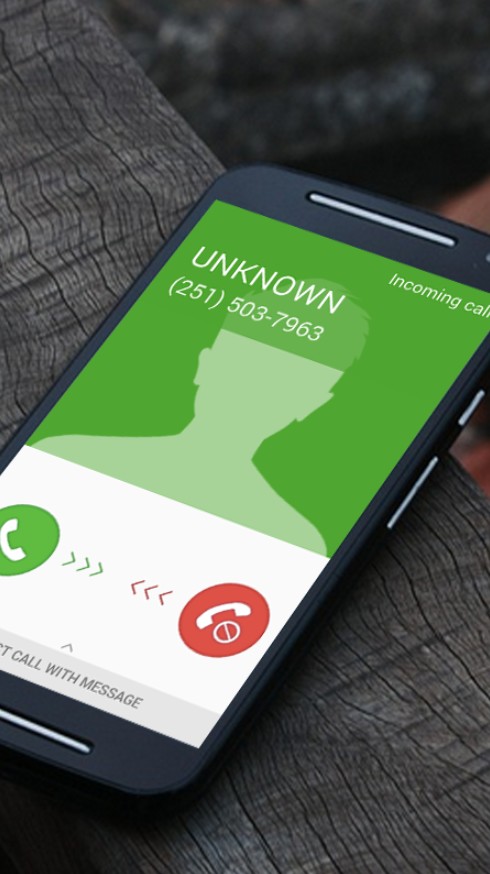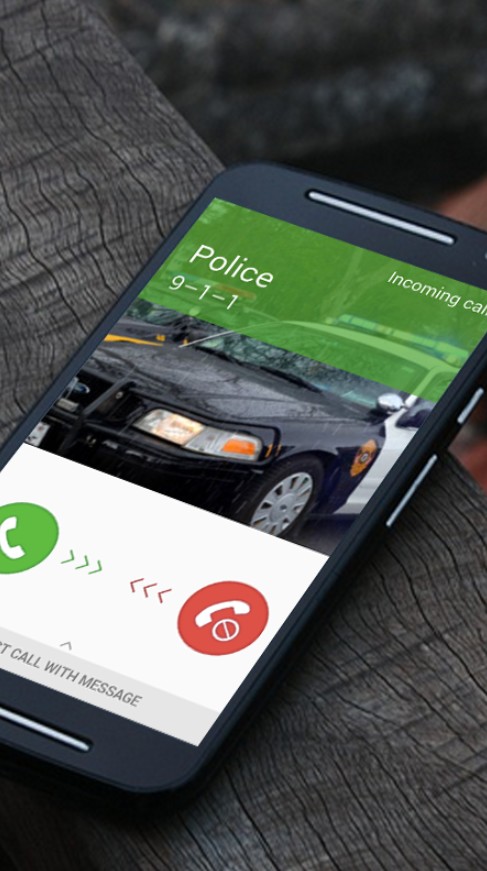 Fake Call
Fake Call is a great tool that lets you simulate incoming calls with different voices and scenarios.
The app has a variety of voices to choose from, allowing you to personalize the caller's identity and make the fake call appear convincingly real. So, if you want to impress friends with a celebrity call or need a clever excuse to exit a conversation, Fake Call has you covered.
While the app offers a range of voices, it also provides additional voice options through in-app purchases, giving you even more versatility in creating entertaining scenarios.
One of the app's highlights is its user-friendly interface that makes crafting fake calls a breeze. It's a handy tool to keep in your pocket for spontaneous moments that need a bit of laughter.
So, Fake Call is an app that allows you to prank your friends and have fun together, that is why you can bravely download it.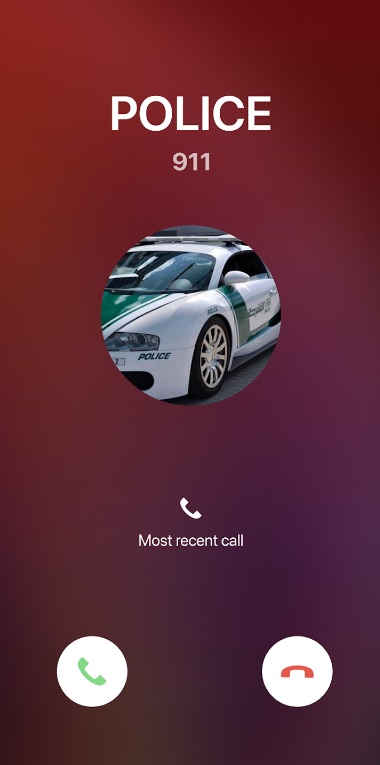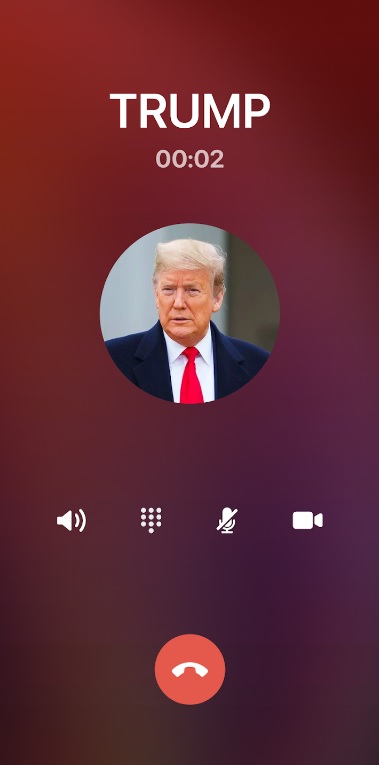 You may also like: 9 Fun Fake Celebrity Call Apps for Android & iOS
Fake Call – Prank Friends
Fake Call is perfect for any occasion where laughter is the goal.
This app offers an array of diverse voices to choose from, allowing you to seamlessly adopt different personas for your prank calls. Imagine using a celebrity's voice or adopting a whimsical character to catch your friends off guard. With these voice options, every call becomes a new adventure.
You can set the caller's name, photo, and even simulate a realistic ringtone, making the call seem completely authentic. These features enable you to craft truly immersive and memorable pranks.
The app's versatility and simplicity make it accessible to users of all ages, and its potential for creative pranks ensures that no two calls are the same.
To sum up, I believe that you will like this app as it gives you a chance to trick your friends and have fun.