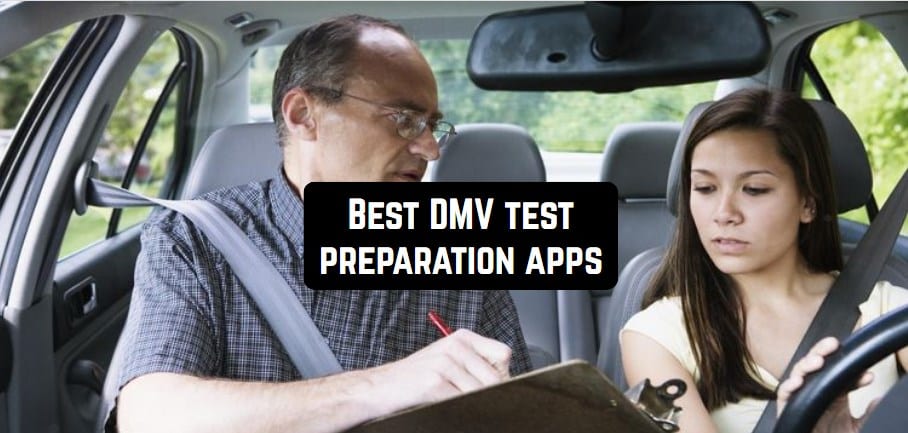 Are you getting ready for your driving test?
First of all, it's highly important to take the DMV test being greatly prepared. This can be achieved by taking sample tests as more as possible. Thus you will avoid unpleasant situations during an actual test itself.
Secondly, there is a high chance to meet the same questions in the test that you have already practiced. And finally, there is a great opportunity to practice tests using listed below DMV test preparation apps that are available for Android and iOS as well.
PA Driver's Practice Test
Driving process can be not easy. It can be even more difficult if there various signs and rules on the road. Knowing these rules will not just help you to pass the DMV test but also will save you from many troubles. So to conclude, there is not just one reason to spend more time preparing for your actual driving test. Besides the driving license itself, studying process will make you be confident on roads.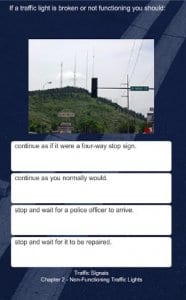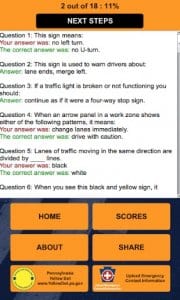 Driver`s Practise Test app is dedicated to simplifying your life. Literally. You are just suggested to pass lots of sample tests with questions that are more likely will be present on exam. The app is due to the theoretical part of the exam. Luckily the app is available for both platform Android and iOS and gained high popularity as well as a high rating. The interface, color pattern, and font assist with questions perception. In addition, you can share your results with your friends or family members via different messengers and social media platforms.
You can also check: 15 Best apps for tracking car maintenance (Android & iOS)
back to menu ↑
DMV Practice Test 2019
Next app in our list covers all US states. It includes tests that were formed with the help of official DMV handbook with little differences related to a particular state. DMV Practise Test offers preparation programs for cars, motorcycles, and CDL driving tests.
Its claimed that the app has two different modes. First one is called Read Mode: take your time without time reference to learn questions and answers. The second mode is an Exam Mode: it resembles the actual exam as it is with a time limit but no answers appearing. Moreover, if you have started the test you won't be able to prematurely stop it.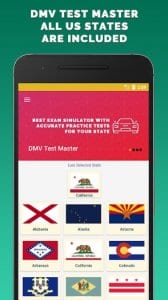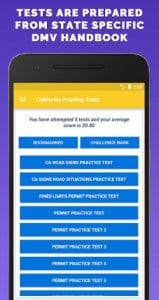 Clear road signs will be displayed followed by a question to teach a potential driver about its specifics. As well as clear explanations will be above each question to not let the user feel confused. Those questions that weren't fully comprehended can be bookmarked for further revision. Surprisingly statistic is formed as a result of your preparation in the app displaying data in a pie chart view.
back to menu ↑
DMV Permit Practice Test 2019 Edition
For those who are overwhelmed with the upcoming driving license test should better download this app and soothe themselves. And here is advice. DMV Permit Practise test app is a constantly updated collection of alike actual tests. They have state-specific information and the total number of questions exceeds 40 000. Impressing, isn't it?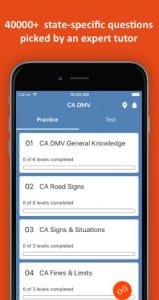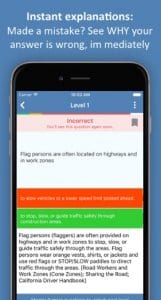 There are two divisions: practice and real tests. Practise includes general knowledge, road signs, limits and fines, different road situations. The app is intuitive and will record your previous mistakes reminding nex time about wrong answers to take a better look.  More interesting is that the app reminds us of a game as they are levels that can be unlocked only after completing an earlier level.
The answer will be immediately estimated and in case if its wrong the right answer with explanation will appear below the question. It's one of the most popular apps with a high rating.
back to menu ↑
Drivers Ed
If you need to get a driving permit you have to pass the driving license test. It's well known for its difficulty and strong preparation requirement. Drivers ED is yet another app to help users and potential drivers to prepare well for the DMV test. It won't cost you an arm and a leg. It offers a free version an paid one.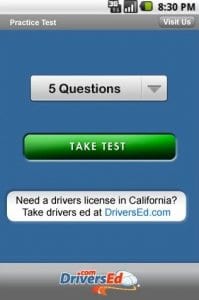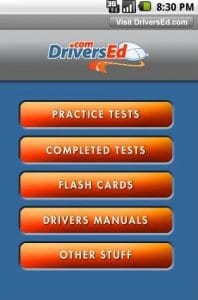 There you will find actual tests followed by flashcards with road signs and road situations. Moreover, there are drivers manuals attached to the app so you won't waste any minute searching them on the internet. There are more than 350 questions and passing all of them can be a guarantee for a successful result in a real DMV test.
back to menu ↑
DMV Practice Test by Zutobi
DMV Practice Test by Zutobi is the app available for both Android and iOS. It's a very popular free application with in-app purchases to unlock all features. The app has a colorful design and a comfortable interface. It is arranged in a style of the game where you need to pass levels an see your progress.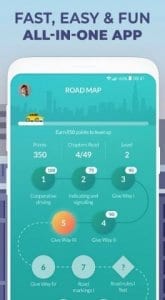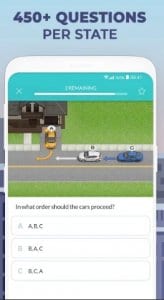 All answers go with explanations in case if users gave a wrong answer. There are questions with pictures displaying road situations. The app also has a built-in manual that contains all the necessary information followed by appropriate pictures giving even more explanation.
back to menu ↑
Driver start
Driver start is yet another app that covers all states driving tests for different states. There are DMV, BMV, DOT, DDS, and other tests. In this app besides tests themselves, you can find the latest handbooks and manuals where you can find all the latest theory related to road rules, signs, situations. There is an option to choose specific topics that you may know less than others to revise it more meticulously.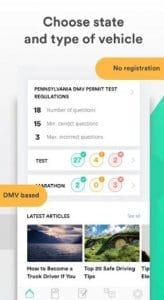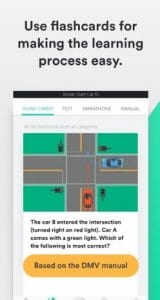 This app can be irreplaceable for those who are struggling prepare for their knowledge driving test. It will be also quite helpful for those who have already failed previous times and has some difficulties with particular questions or topics.  Tests in the app resemble those actual tests for permit or license.

back to menu ↑
DMV Genie Permit Practice Test: Car & CDL
Get ready for your driving license test or written permit with DMV Genie Permit application that is free and available for Android and iOS. It's based on the DMV manual and refer to the latest actual tests in your state. Everyone knows how stressful it can be to take tests like this. Therefore it's essential to be prepared as much as possible.
Train yourself as you are taking a test right now, This way you will fill all gaps in your knowledge base and maybe will prepare yourself to endure the stress of the real exam.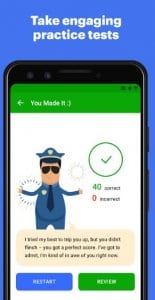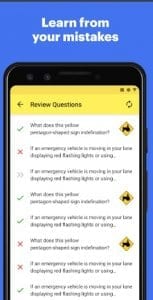 It claims that the app covers all tests from different states like DMV, DDS, DOT and many others. All questions are randomized and appear from the easiest one to the hardest.
back to menu ↑
DMV Hub – 2019 Driving Test
Constantly updated with the latest questions list DMV Hub app covers up to 500 different questions in 19 different topics. Moreover, it's free to use and available for Android and iOS devices.  The high popularity and high rates can be easily explained. Firstly the app has recent actual tests questions. Plus it's very simple and comprehensive. User will have answers corrections and explanations for each question.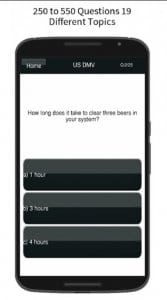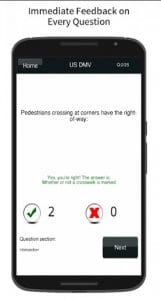 The app will show you the number of right questions, wrong and not attempted by you previously. Though to be able to see not attempted questions you may need to subscribe to the paid version.
Otherwise, all question will appear randomly. It's not that bad isn't? Repetition will increase your chances to pass the driving license test.
back to menu ↑
DMV Practice Test by ABC learning
DMV Practice Test is yet another app with tests divided into state-specific DMV handbook. If you are getting ready for the test and already fed up from handbook reading this app is right for you. Its high rated and got almost 5 stars. Recommended by thousands of users. Available on both platforms Android and iOS. It's a really handy beneficial app as you can be sure about downloading the app and trying it yourself.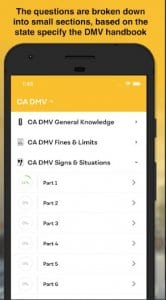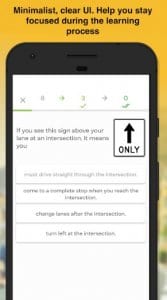 Practicing can be done by topics or in test simulator as well.  Registration isn't required so once you have downloaded and launched the app you can start practicing. At any time and any place as no internet connection is needed.
You can also check: 11 Best car rental apps (Android & iOS)
back to menu ↑
US DMV Driving Tests
Our last app in the list is also free and has an option to select a state. Its called US DMV Driving-Tests. The whole application is divided into state-specific preparation tests. In addition to that user can choose different vehicles driving tests: Class C, Class M, CDL. Each test contains 20 questions. So you have to move from one test to another to pass all questions. Then the app will estimate your answer and will produce a result in percentage announcing whether you passed it or no. And whether you deserve your driving license or no.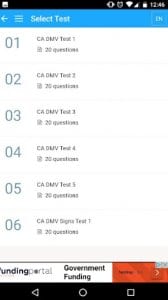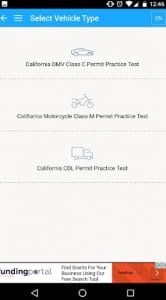 However, people who have already used this app claimed that in class D test questions related to motorcycle test appear sometimes. Personally, I don't see any problem with it. It is very helpful to have knowledge about all rules related to a road.