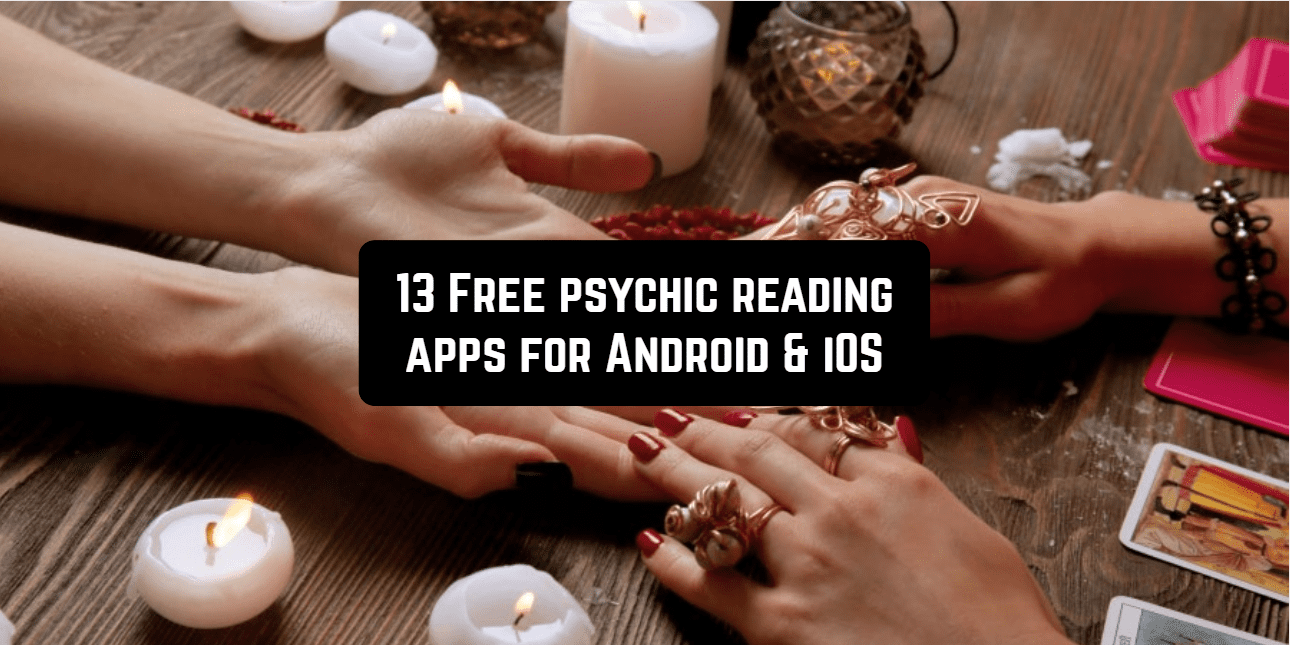 Psychic reading applications are wonderful free tools for mobile platforms iOS and Android, which you can download and install on your phone. Applications from the psychic reading series are perhaps one of the best in the field of predictions and forecasts for the future, the volume of their functionality amazes with their capabilities. Let's see!
Purple Ocean Psychic Reading
Purple Ocean Psychic Readings is an amazing app which will help you to connect with non-judgmental advisors via video chat. Here you will find the most rated psychics from all over the world! Do you need love or relationship advice? Have some problems in career development or some other life questions? Ask a psychic advisor in Purple Ocean Psychic Readings!
How it works. After installation, choose one psychic advisor from the list and address him a video question or just type it. Then, you will get a reply within 24 hours. It will contain the info with your psychic forecast.
The main features:
Purple Oce has the most experienced and talented mediums and psychics in its datebase
All experts have their own profiles with an introduction video, so it will be easier to choose from them
You will get accurate forecast and answers
If you feel that you also have supernatural powers and can predict fate, why not become an expert in this service too? This is quite possible and is welcomed.

You can also check: 11 Best proofreading apps for Android & iOS
back to menu ↑
Zodiac Touch Psychic Reading
This is another service for live psychic readings. Zodiac Touch Psychic Reading is similar in many ways to the previous representative. Here, you will get tarot or psychic readings using chat or you can just call an expert. The app collects the genuine, professional advisors. They will give you answers concerning love, career, family, money, health and so on.
You can get daily horoscope, online tarot readings, psychic advice, angel guidance in real time 24/7. Choose from world-class experts. Use editor's choice or most popular sections. Each advisor has rating and profile info. So, it will be easy to choose the best one personally for you.

back to menu ↑
Psychic Txt & Daily Horoscopes
Psychic Txt & Daily Horoscopes is your personal guide for psychic readings. You will get information about all questions that interest you. Ask about love, health, career or future. You will find answers for every aspect! This becomes possible due to a huge database of professionals in psychic and tarot readings, horoscopes and spiritual advice.
The main features of Psychic Txt & Daily Horoscopes:
Professional advisors who give answers in real time
Choosing a specialist according to your needs: every astrologer has a profile info
To get an accurate advice psychic readings are personalized with your birthday and gender
Free daily horoscopes for all zodiac signs

back to menu ↑
Keen Psychic Reading
Keen Psychic Reading experts will help you learn about your destiny. The astrological forecast is made by real professionals. In this application, you can ask about all aspects of your life: work, health, luck. The present and the future are now available to you.
Here you can ask interesting questions to professional clairvoyants, psychic advisors, who will prompt you what will happen in the future and help you make a decision. Also, a free daily horoscope is available. Read the info about love, relationships, zodiac compatibility, health, career, and so on.
The main features of Keen Psychic Reading:
See profiles of psychic advisors
View rating and reviews of each advisor to be confident in quality psychic reading advise
Find Your Best Match function to choose the best expert for your personal needs
Connect with an advisor right in the app by call or chat
See if your advisor online
Free reading psychic articles
Free daily horoscope for every zodiac sign
Sharing predictions via popular social networks

back to menu ↑
fortunica
Fortunica is the best way to connect with professional spiritual advisors if you have a dispute question. There are more than 80 specialists from all over the world to choose from.
The main features of fortunica:
Daily advice and support
Choose an advisor from the top
The following spheres are available: card readings, astrology, rituals, palm reading.
Fortunica will help you learn more about yourself and the close people, provide answers to important questions in life and predictions for the future. With the help of applications you can plan your life in advance and protect yourself from probable problems and dangers.

back to menu ↑
Kasamba
Kasamba is a popular online service for a psychic reading. It offers 3 free chat minutes with each new advisor you try. All you need is to download Kasamba app and choose a psychic medium. Also, it is required to add payment info. You will have to pay if you continue to a paid session. More than 3 million people have already chosen Kasamba. Do you want to get an accurate forecast? Download Kasamba and you will get answers to all burning questions you have.
The key features of the Kasamba app:
There are hundreds of professional psychic mediums & advisors from all over the world
The service is available 24/7
Free chat minutes to find the best advisor
The service is anonymous and 100% private
All forecasts are saved so you always have an access to them, for example, to check if the info given was accurate
Free monthly, weekly or daily horoscopes for every zodiac sign

back to menu ↑
My Psychic Reading
My Psychic Reading is a famous application available for both iPhone and Android users. You will get advice in every sphere of your life: about love, career, health, horoscope compatibility, business and more.
The main features of My Psychic Reading:
Service is available anytime and anywhere
Psychic readings are provided by world famous psychics
There are sample questions to choose from divided into categories: love, self, life, career, money, education and so on
Your info is always private and secure

back to menu ↑
Oranum
Oranum is a simple way to get a psychic reading in the form of a free chat with experienced psychics from all over the world.
The main features of Oranum: 
Free chat in online mode
There are more than 100 experts
Free horoscope
Email Readings
Here you will find a detailed zodiacal horoscope for 2018, which will give answers to all the questions that you may have. It takes into account all the significant astrological aspects. It is precise, objective, informative and, therefore, informative and useful.
To start using this service you should log in. Everything is clear and understandable. So, there will not be any difficulties in getting advice. The experts are available 24/7.

back to menu ↑
Psychic
Have you got a burning question? Don't know how to solve this or that problem? Experts of Psychic service will help you! All you need is to register (fill your personal info: name, gender, date and time of birth, city, and email), then choose a psychic and ask your question. It is easy to choose a psychic as everyone has his own profile with personal info, rating, and reviews. You can start a chart or just call an expert.
The design of the app is pleasant, made in light blue colors. It is available for Android only.
back to menu ↑
Psychic – Live Reading
Psychic – Live Reading is an amazing application allowing you to connect with the best psychics. They help you answer the question of interest, make the right decision in online mode. Astrologers and mediums will give recommendations for you, predictions, through which you can bring harmony to your life and destiny. This is a great way to learn more about yourself and your future.

back to menu ↑
Free Tarot reading & Psychic Reading
Free Tarot reading & Psychic Reading is a simple way to find an answer to any question that interests you. With the help of it, you can look into both the near and the far future, to learn the past, to understand any complicated life situation.
Each prediction is individual and concrete, fortune telling is always tied to a specific person and his situation. Free Tarot reading & Psychic Reading is not a game or entertainment, but a powerful and effective way of harmonizing life and solving important tasks in it. Therefore, always remember the most important thing:
1. There are no 100 percent true predictions;
2. Follow the forecast or prompts are not necessary;
3. Any forecast, and hence future, can always be changed.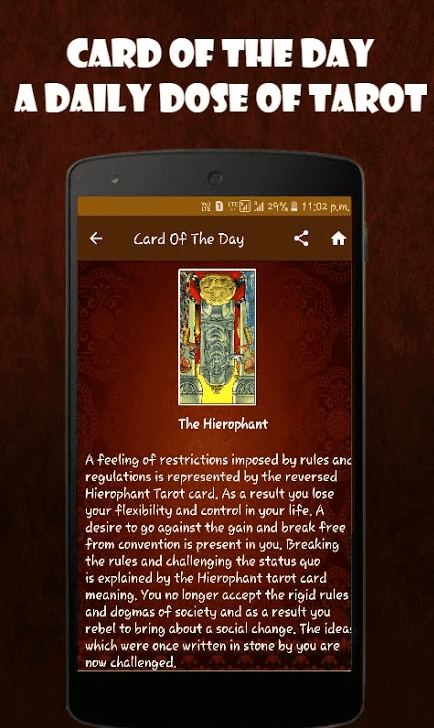 back to menu ↑
TAROT READING
Tarot Reading or psychic reading is quite simple but very informative, ideal for predicting the near future, predicting the development of the situation. You can ask questions for cards on any topic. Decoding options are provided for all sorts of life situations, such as relationships with friends and relatives, love relationships, study, work, career, health, personality characteristics and others. Concentrate and ask a question that interest you.
back to menu ↑
Psychic Reading 2018
The indisputable advantage of Psychic Reading 2018 is its accessibility and reliability of results. This application makes it possible to ask the most intimate, deeply personal questions without fear.
What are we going to do? What pleasures or, perhaps, disappointments await in the future, how to avoid misfortunes and troubles, to bring and multiply events filled with joy? These and other questions will be answered by the experts of this application. You can choose one from more than 50 experienced and skillful psychics.
Listen to the astrological advice that will help you to maximize your opportunities.
A psychic reading can be treated differently – many people believe that they really allow something to be learned, others treat them as entertainment. However, one should not forget that when referring to psychic reading, you not only get answers to any questions but also learn to look differently at yourself and others around you, learn to pay attention to your inner world, to the prompts of fate, to learn to interpret and apply them in your daily live.