Many people want to travel around the country without restrictions, but it's not so convenient in a regular car, because you can only move around sitting in it. For more convenient movement, mobile homes were created, as well as parking for camping.
For such types of recreation, additional insurance is needed. That is why certain apps have been created in which you can find out everything about this additional insurance and buy it. In this article, we have collected best RV rental apps & websites in the USA. And best RV apps for travelers can be found here.
This is a special app where people can find suitable vans for themselves, as well as rent places for camping, and much more.
RVshare is one of the most popular vacation services among Americans, as here you can find information about such types of recreation as camping, traveling in a mobile home, camp stops in nature reserves, and so on.
If you want to rent a van, in RVshare individuals and specialized companies offer their vehicles, of which there are about forty thousand.
You can find a suitable option for you by any parameters: size, mileage, the possibility of being with pets, the distance of trips, and much more. In addition, you will be able to be in touch with the owner of your chosen option around the clock.
This app also gives you the opportunity to earn if you are a van owner. You can post an ad about it and rent it out to the same lovers of similar trips. The support service of the app works around the clock, and also here you can always track the location of your van when you rented it.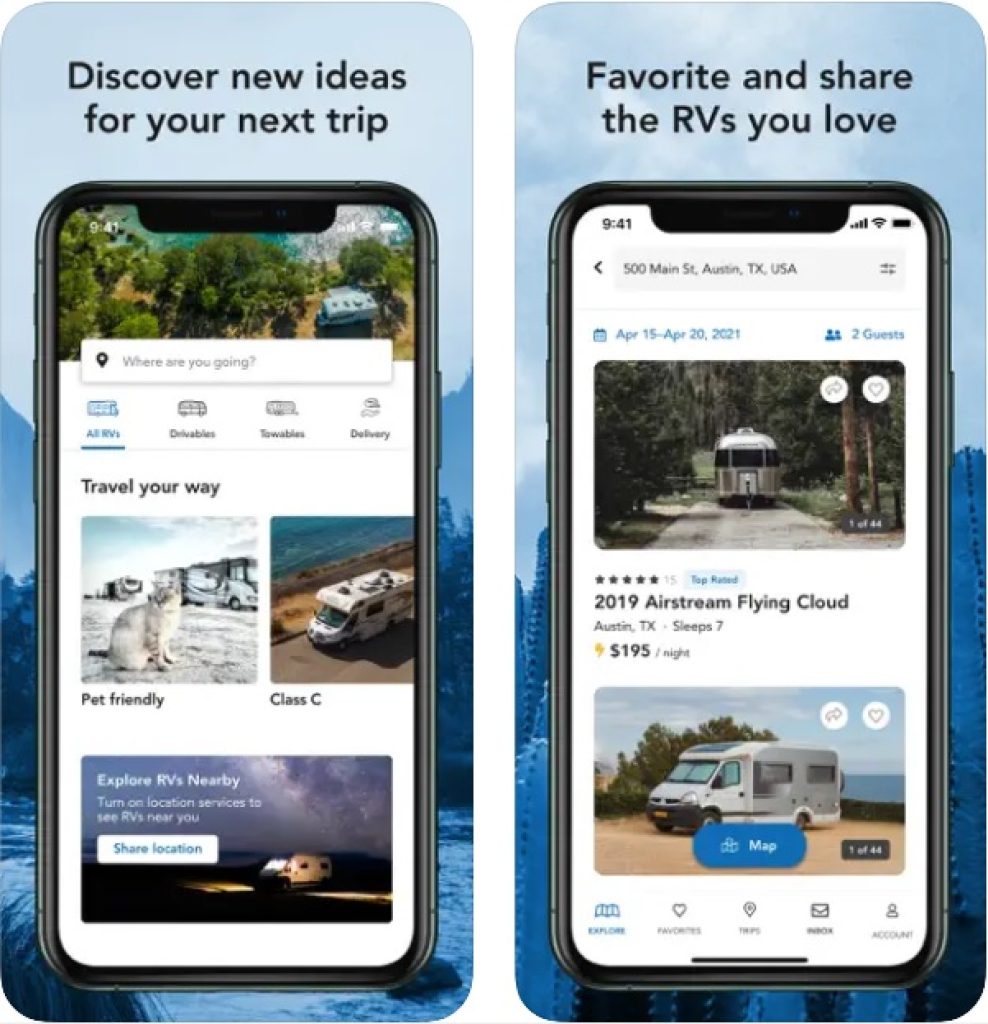 You may also like: 11 Free road trip apps for Android & iOS
Outdoorsy- RV Rentals
This app is a service that helps users not only plan and book, but also organize their next vacation. For your trip here you will be able to find all kinds of vehicles, including specialized ones, as well as arrange sleeping places in advance not in a small room in a hotel, but in a van, tent, or in any other variant.
Outdoorsy offers users to join the outdoorsy recreation, as well as explore the country on their own.
To do this, you will be able to find any means of transportation in this app: ordinary cars, jeeps, SUVs, mobile homes, vans, as well as specialized vehicles for certain localities (for example, for passing canyons or deserts).
One of the main advantages of the Outdoors app is the fact that vehicles are provided here with all the necessary additional equipment: for example, you can specify that special roof mounts are needed for the SUV you want to rent, or you need additional gas burners, and so on.
Moreover, you can immediately order additional bicycles, or water skis if you are going on a trip to the water, as well as many other things.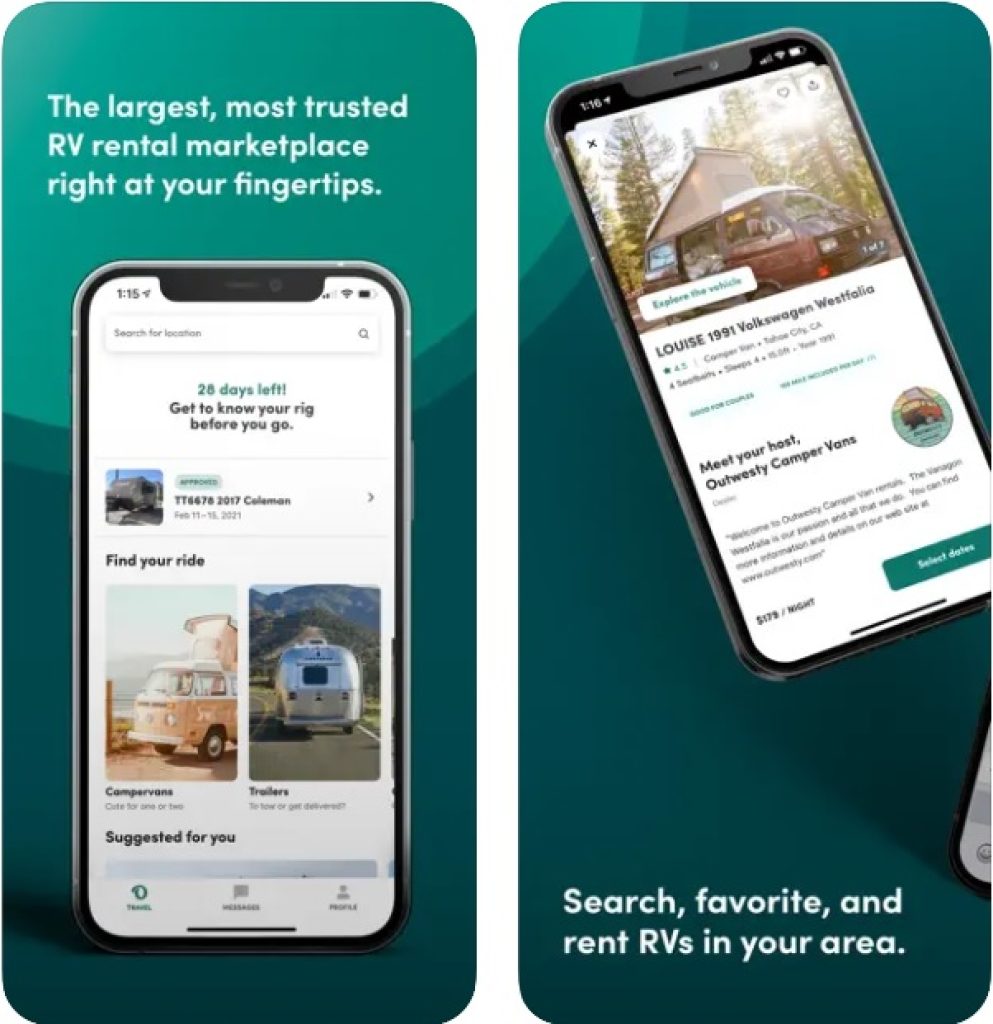 RVezy – RV & Trailer Rental
This is a service for renting trailers for your unforgettable vacation in the format of an app for your mobile device. Of course, here you can find all kinds of vehicles, but RVezy specializes in trailers, as this is the most convenient way to move while traveling.
Here you can choose any filters to search for the trailer option you need, for example, its size, price, the ability to travel with pets, with children, as well as the availability of additional equipment.
Moreover, you can immediately outline the intended route of your trip in this app, and based on this, choose the right vehicle and order its delivery to the right place.
Here you can order the delivery of a trailer directly to the airport, or to the venue of some festival so that upon arrival you already have a transport medium at hand.
Also, this app is known among users not only for the huge number of options provided for travel vehicles but also for various discounts and promotions that are held every week and every month.
You will be able to get acquainted with the discount schedule and plan your vacation for these dates in order to reduce costs.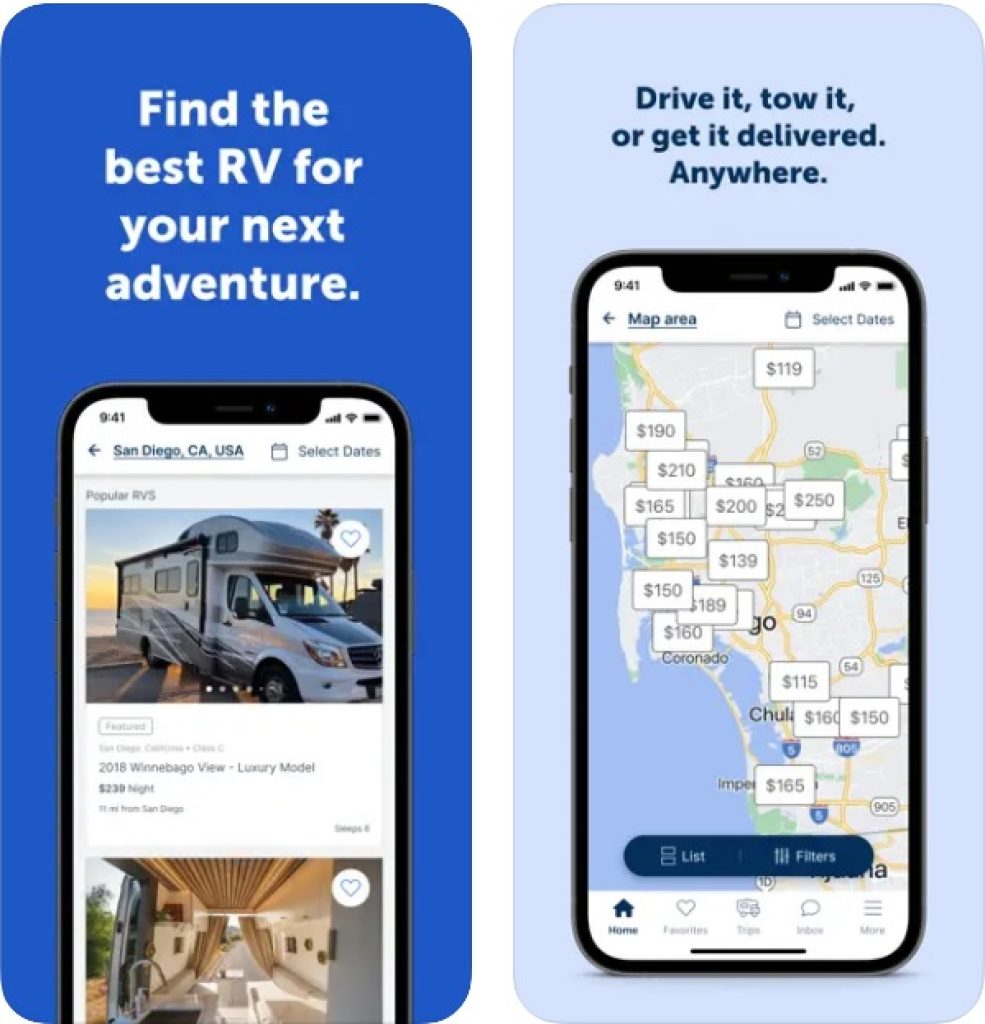 Outdoorsy Pro for RV Owners
This is a service created specifically for owners of vans and trailers who want to earn money by renting out their vehicles. This app syncs directly with the Outdoorsy app, where users rent vehicles. Here you can post an ad about renting out your trailers and other means of transportation.
Here you can independently adjust the rental prices of your vehicle.
If suddenly you have the opportunity to provide additional equipment in the form of roof mounts or a trunk for bicycles or water skis (for example), or in the form of additional sleeping kits, and so on.- in this case, you can add this information to the ad and set an additional price for it.
In this app, you can independently negotiate with tenants, as well as track the location of your rented vehicle around the clock. The support system of this app has user data, therefore, the security of rental transactions is provided at the highest level.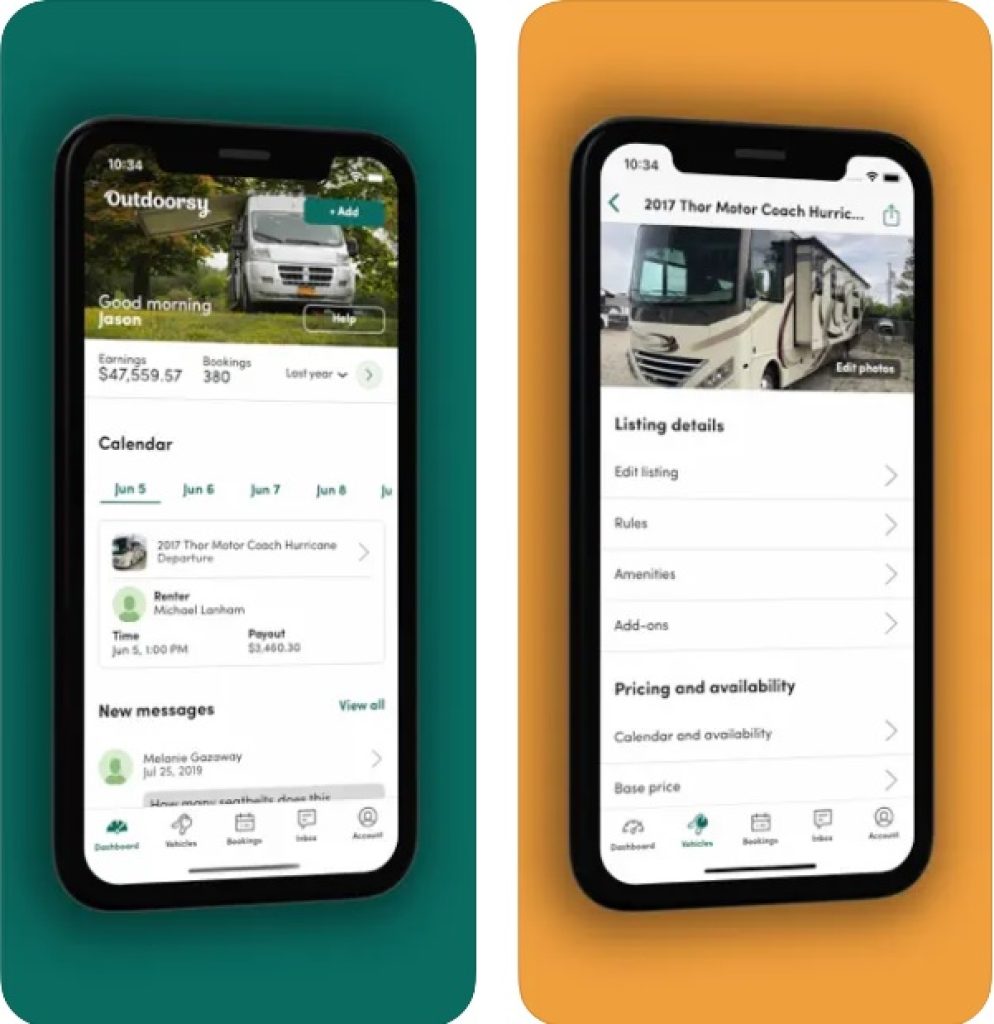 Good Sam RV Rentals
This app is one of the most popular services for renting vans, drilling rigs, SUVs, as well as other vehicles to create an amazing experience of a new trip around the United States of America.
The system of this app charges significantly fewer commission fees than other similar services, which is why this app has become so popular.
Here you can contact private owners of vans and other vehicles and negotiate with them about renting the vehicle you need.
Also, in the search filters for the SUV, van, or car you need, in addition to standard criteria such as price, size, location, etc., you can also specify additional filters, such as additional fasteners on the roof or trunk of the vehicle, or additional equipment (bicycles, water skis, additional camping equipment, and much more).
Moreover, when you book the right vehicle, the app system will provide you with a round-the-clock support service, which you can contact for any questions you are interested in.
Also, all vehicle owners in this app provide a complete package of documents for both their personal and the vehicles they rent, so the safety of your trip will be ensured.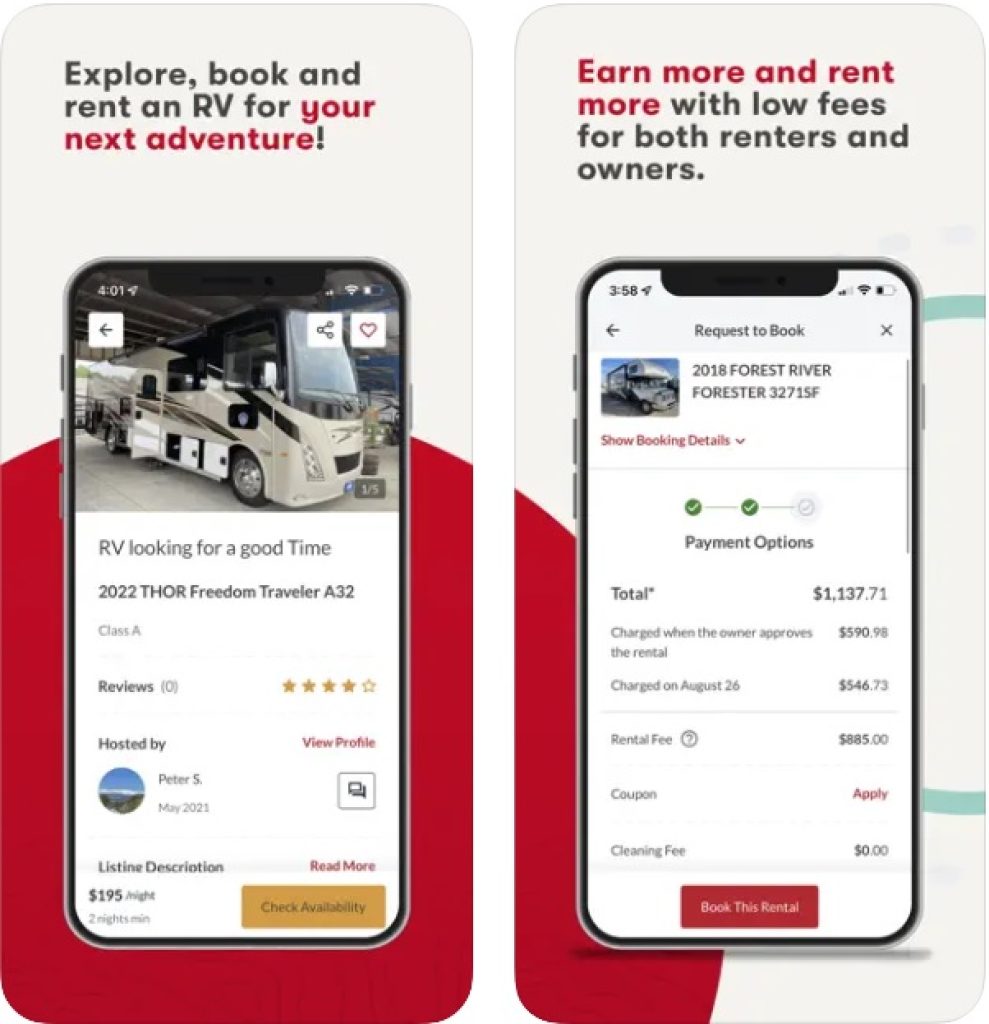 You may also like: 9 Free Vanlife (RV) Apps for Android & iOS
Hipcamp: Camping & Caravans
This is an extremely large-scale service for planning and organizing recreation, including vehicles, and sleeping places, as well as booking places for camping in nature reserves, on rough terrain, as well as in any other possible places.
Here you will be able to contact both private owners of vehicles and land, as well as government agencies that provide permits for the installation of, for example, tents or vans in nature reserves, parks, etc.
In this application, you can find any vehicle for transportation, as well as plan a route in advance and enter it in this app, so that you can rent places to stay overnight on an organized route in advance. All this can be done in one app.
Communication with landlords and government agencies is carried out both directly and through the technical support of the app, if you have any questions.
In this app, you can also cooperate with other users and invite fellow travelers to travel together, because it's more fun and cheaper. In addition, you will be able to view images and videos in advance from the place where you plan to stay overnight or where your route will take place.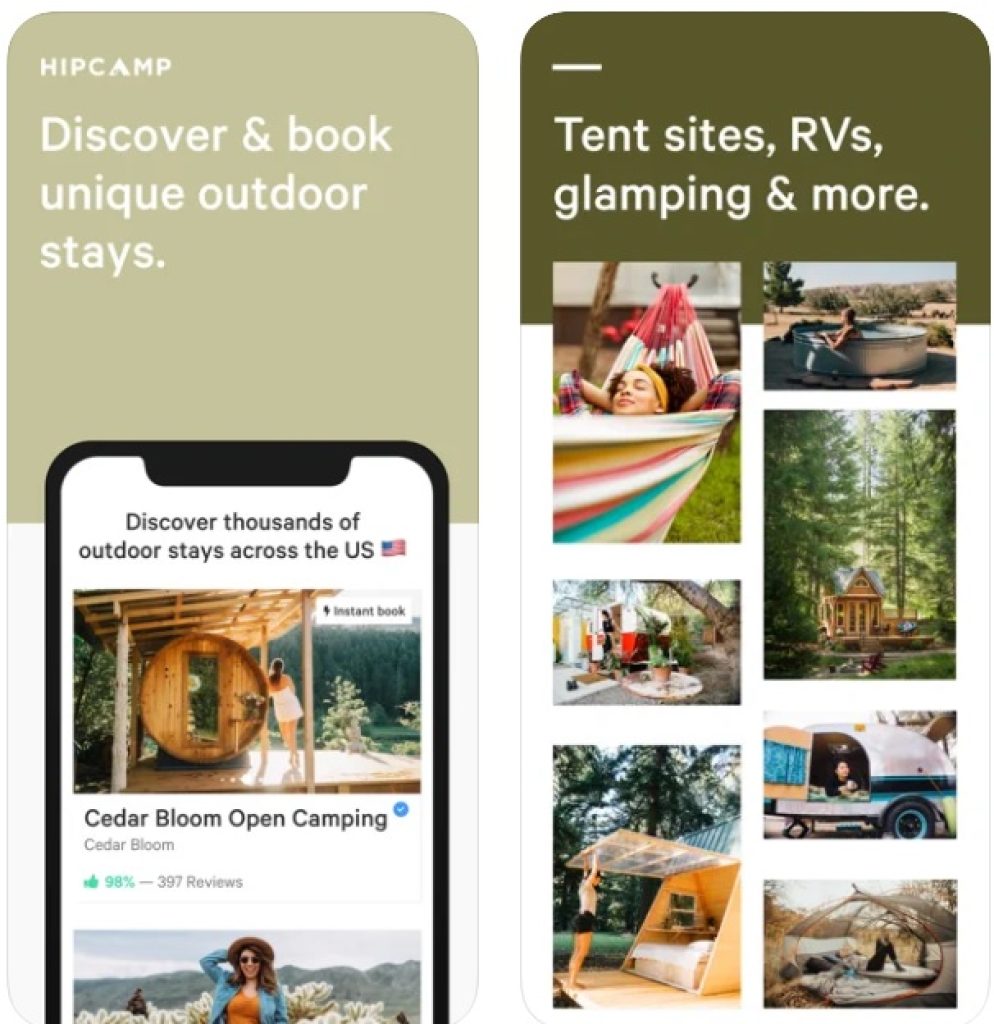 Wallabing- RV Rentals
This app is a large-scale service in which both tenants and landlords are registered, as well as owners of campers, places to stay overnight, as well as many others.
Here you can organize for yourself and your loved ones an amazing vacation with unforgettable impressions, which will cost less than a hotel stay but will bring much more emotions.
In this app, you can find SUVs, mobile homes, trailers, vans, as well as many specialized vehicles for any terrain.
Most often, users choose trailers, since this is a full-fledged living space on which you can move around practically in any terrain, and you can put additional fasteners on it for transporting equipment or equipment, such as bicycles, skis, and so on.
Moreover, in this app, you can discover a new way of earning. If you are the owner of a vehicle that you do not use in your daily life, in this case, you can rent them out, set prices yourself, and negotiate with potential tenants.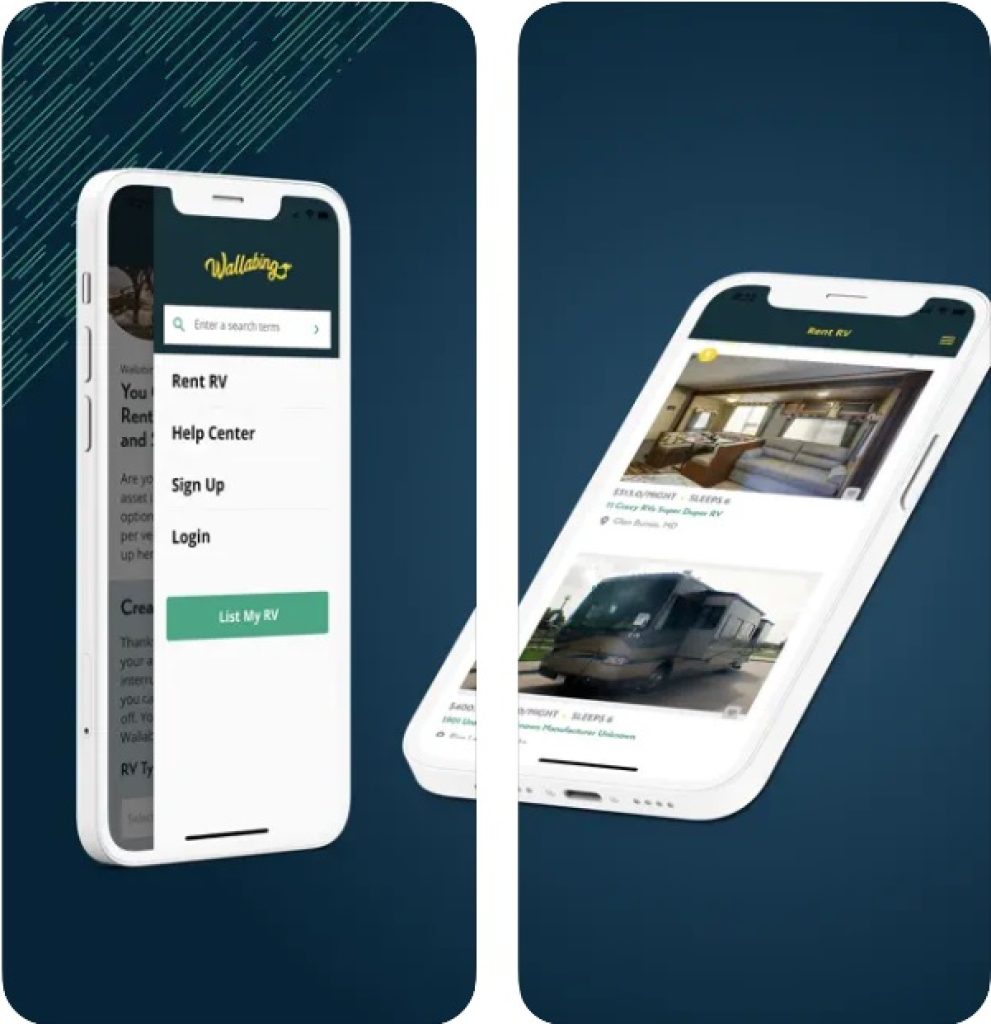 RV Trader
This is a service that allows you to simultaneously organize holidays, contact tenants and landlords, as well as earn money by providing your second-hand transport for other users. In addition, this app has partnerships with all well-known van manufacturers, such as Keystone, Jayco, and many others.
Such partnerships with van manufacturers make it possible to provide users with much more options for vehicles to rent. Also, private owners of vans, SUVs, and other vehicles offer them here for rent, or even for sale.
Moreover, KM Trader provides not only vehicles but also additional equipment designed for a certain area or situation, for example, additional sleeping kits, kitchen tools, bike racks, skis, safety ropes, and climbing equipment, as well as many other things.
Here you can pre-designate your route for the application system so that it can select suitable vehicle options for you that will match both the location and the planned location, as well as the availability of equipment that will be required to cross this route.
Contact the landlords personally to resolve any issues that arise, and track the movement of your vehicle that you have provided for rent around the clock.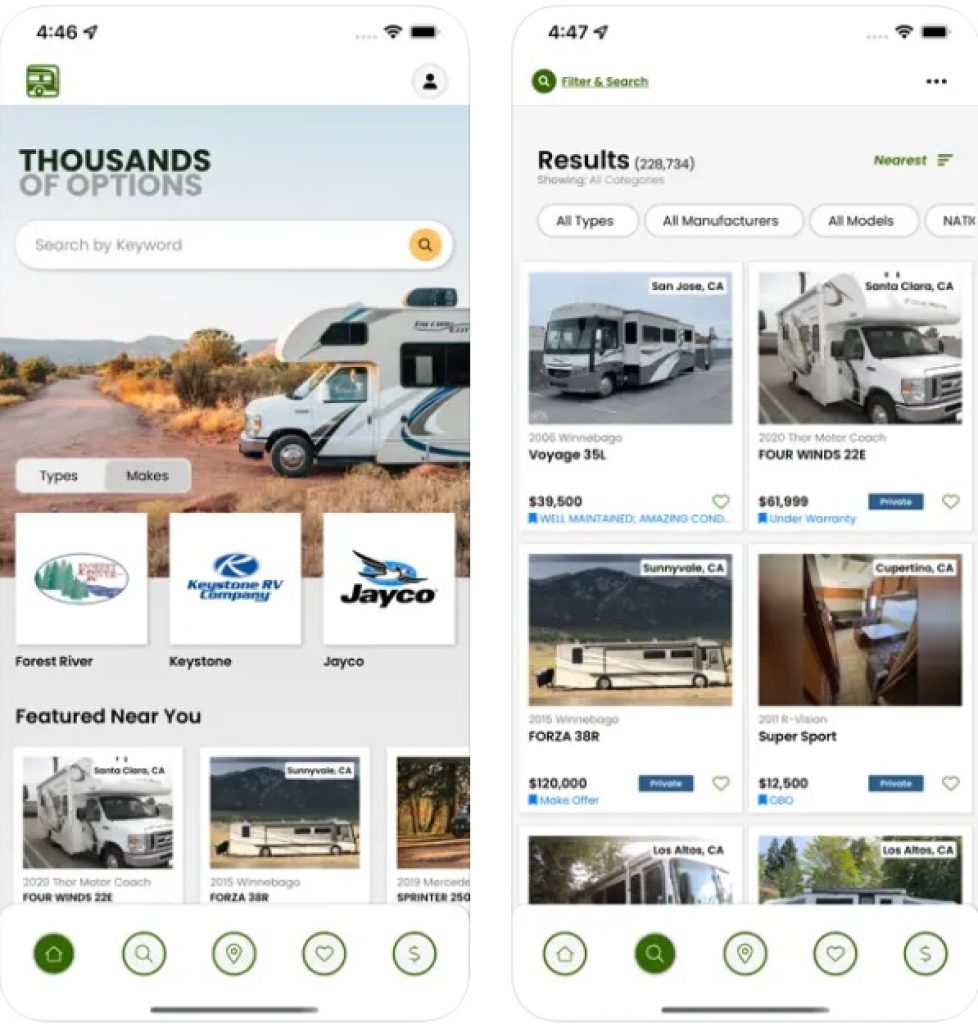 Cruiseamerica.com
From the name of this website, it is clear that by using it you will be able to organize for yourself and your loved ones an amazing vacation with a huge amount of impressions and emotions. Here you can find everything you need to organize a trip to the United States of America.
Here you can choose any filters to search for a suitable vehicle, starting with the availability of air conditioners, and ending with the availability of additional equipment for mapping a certain area, as well as much more. You can talk about these additional facilities with private owners of vans and other vehicles.
On this website, you can view videos and images from the area you are going to go to. Or, if you choose an area to spend the night with private land owners, in this case, they will provide you with videos and photos of this place so that you understand where you are going.
Moreover, all layouts of vans, cars, and trailers, as well as all the amenities provided will be described and shown to all users who wish to rent the selected vehicle.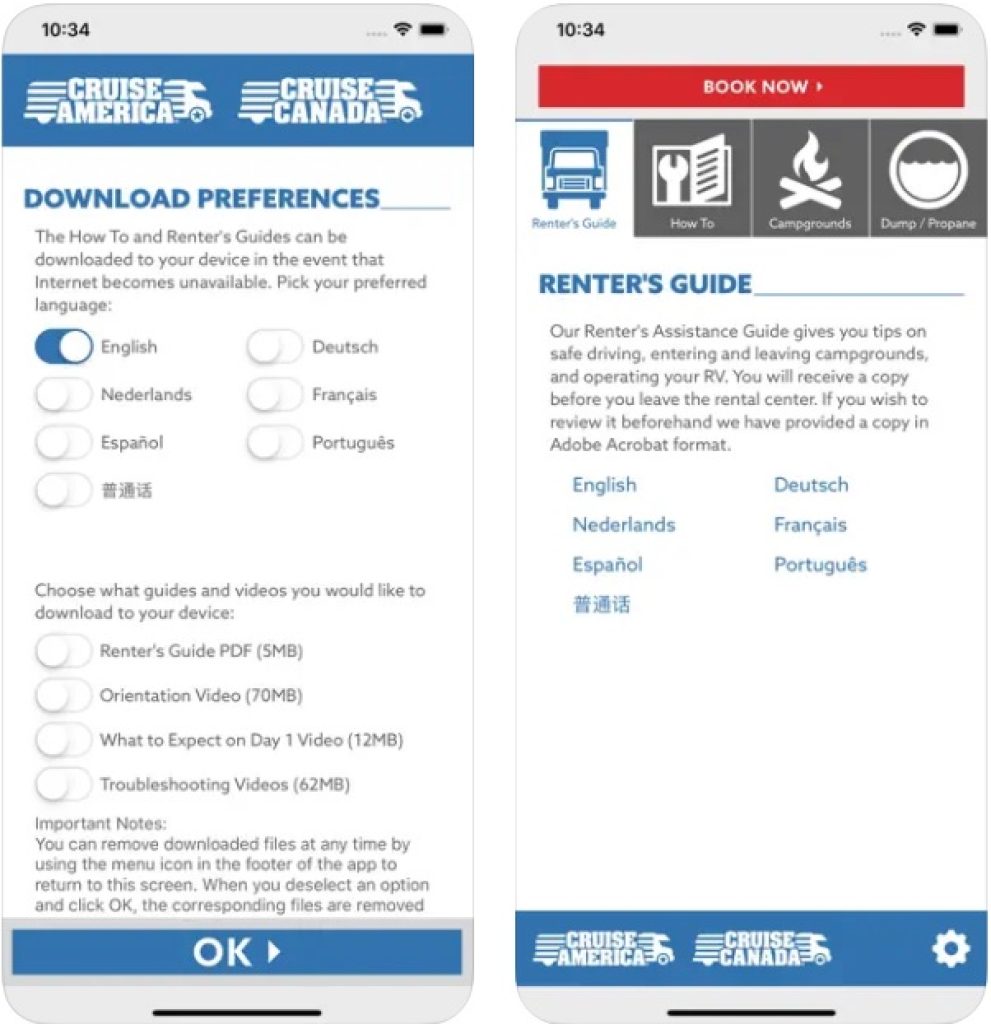 Elmonterv.com
This site provides travelers with any vehicles for rent and also helps to make a trip itinerary so that you do not have unnecessary costs and problems with the passage of the route. In addition, here you will be able to provide users with your own vehicles for rent.
Also, there is a very convenient division into states – this means that you will be able to choose only those states that you want to visit and through which your route will pass to choose places to spend the night, as well as those landlords from whom you will take vehicles.
Also, here you can contact the support service of the site at any convenient time. Moreover, all landlords provide the application system with all the necessary documents regarding their identity and the vehicle they provide for rent, so the security of your rental transaction is fully ensured.

You may also like: 20 Best Ever Travel Apps For iPhone & iPad
Rvngo.com
This site is common among users precisely because of the simplicity of organizing travel and making a vehicle rental transaction. Here you can specify any search filters to find the best option for your trip. Any vehicles are provided together with full packages of documents and insurance.
This site can also become an assistant for you in determining and drawing up the route of your trip.
For example, here you can specify the cities and areas that you want to visit, and then this site will generate the best and safest route for you, and also provide additional tips and recommendations for overcoming individual sections of the route.
Also, here you can put up an ad for renting your own vehicle if you do not use it on a permanent basis. Adjust the cost, add additional equipment, and negotiate with potential tenants.