The era of electricity has given us many wonderful discoveries, but one of the most important – is the radio. For many decades in a row, it was the only mean of communication, but also the most affordable entertainment for the masses.
Today we will tell about a few radio apps for Android and iOS devices, with the help of which you can listen to thousands of online radio stations that broadcast music, reports, thematic programs to suit every taste.
You may also like: 7 Best Shortwave Radio Apps for Android & iOS
Radio FM
Radio FM is a free mobile application for listening to any online radio station on your smartphone. FM Radio allows you to listen and enjoy a variety of genres like news, music, songs, talk shows and comedy, concerts, and other various programs available live on various Internet radio stations.
You will find the number of radio stations that play the music of different types, including rock, country, rap, hip-hop, jazz, pop, reggae, metal, Gospel, House, Classical, Christmas, etc.
You have several ways to enjoy your favorite radio stations:
a. Add a radio station to Favorites to listen to the station later
b. You can listen to a radio station at any time finding it in the recent list
c. Add radio shortcut on the home screen and listen to it just with one touch
d. Set radio station to automatically turn on when the application starts
In the app, there are more than 10 000 radio stations that are grouped by countries. The interface is simple and intuitive. Enjoy modern design while listening to the chosen radio station.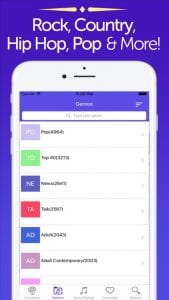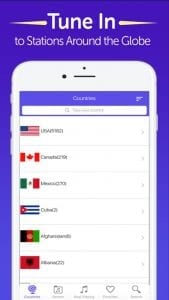 You may also like: 9 Best apps for classical music radio (Android & iOS)
iHeartRadio Free Music & Radio
This app is a great way to get unlimited music on your phone. There are more than 1 000 radio stations for every taste. You can listen to the best radio stations of different genres like comedy shows, pop music, sports, talk shows and more. You can search for radio AM and FM stations which are close to your location or find radio stations from other cities.
One of the benefits of iHeartRadio is that you can save and replay any songs from the radio. There is also an offline mode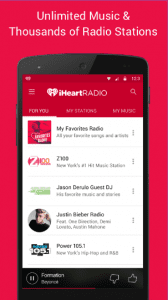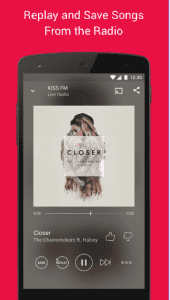 TuneIn Radio – Radio & Music
Perhaps the most popular radio app to date. TuneIn service began its work back in 2002 as a regular web aggregator of radio stations. During this time it has grown, and currently, it is a great social network with an audience of millions of users.
TuneIn contains over 100 thousand radio stations and more than 4 million podcasts from all over the world completely free of charge. The application can be seen on almost all mobile platforms.
Since TuneIn – is primarily a radio, here the catalog of various online and offline stations is respectively represented, conveniently sorted by genre, region, language, etc. The application has the ability to search for a station by name or by an artist. In playback mode, the program offers additional options.
For example, you can select the quality of the Stream, watch the radio playlist, buy the current song, turn on a sleep timer, or set an alarm reminder. TuneIn remembers the history of listened stations and offers similar variants.
Social functions of the application are available after registration when there is support for Google and Facebook. The user is able to subscribe to radio stations and tracks, add friends, and monitor their activity.
Based on subscriptions the news feed is created. Despite the impressive functionality of the free version of the application, there is a paid version of TuneIn Pro without advertising and with the audio stream recording function.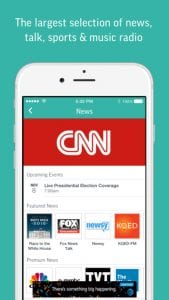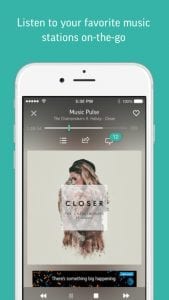 Pandora® Radio
Pandora Radio is one of the best apps designed for those who appreciate good music. The program is designed for iPhone and Android-based devices, providing excellent tracks to the owners of smartphones and tablets. The application has a nice design and a user-friendly interface.
To find your favorite music became much easier with the Pandora Radio app. You just need to enter the artist name or song title, genre, or composer preferred. This action will provide you with at least a personalized radio station, which will play your favorite songs. What could be more desirable?
On a personal account, you can create about 100 individual stations, which helps to make the selection of music for 450 parameters. This is – the ultimate dream of true music lovers. So take advantage of such a unique opportunity.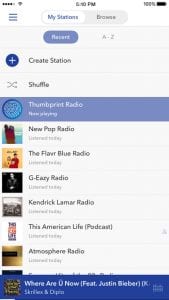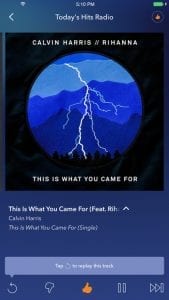 Google Play Music
Section "Radio" in Google Play Music allows you to listen to music similar to a particular artist or genre. Here, the system collects the recommended tracks for you. The lists are made on the basis of the information collected about what you often listen.
Accordingly, the more time you use the Google Play Music, the more accurate the system will work and the more suitable tracks, it will collect in the lists.
But if you listen to a selection and some tracks you do not like, you can put a bad mark to it (on a five-point rating scale), and the track will be removed from this collection, and this rating will be counted by the system in the preparation of future collections. All in all, radio stations are extremely flexible.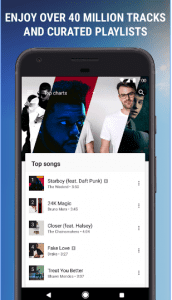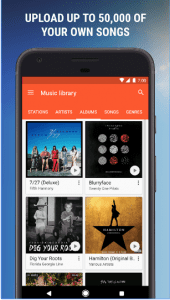 Apple Music
Radio on Apple Music includes several main components:
Beats 1. It is the radio, which works 24 hours per day. It is available in more than 100 countries. Here you will hear free exclusive interviews and the best contemporary music.
A detailed program guide is also available.
Other stations to live broadcast. Apple Music also lets you listen to live radio stations such as Bloomberg Radio, ESPN News and Sports, and NPR News and Culture. To listen Beats 1 and other radio stations live on the Apple Music subscription is not required.
Radio stations that are broadcasted in a record, and custom radio station. With Apple Music subscription you can listen to recommended stations that are broadcasted in a record, or create your own custom stations.
These stations do not broadcast advertisements and allow you to skip any number of songs while listening. One more positive thing is that you can also add your favorite songs to your library in Apple Music.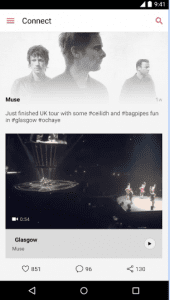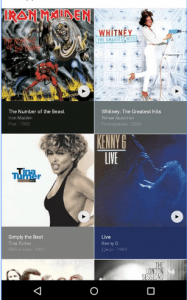 Simple Radio – Live AM & FM Radio Stations
Simple Radio app is the easiest way to listen to your favorite FM-, AM- and online radio stations.
With a choice of more than 40,000 stations, you can listen to those you love, or to discover new stations from anywhere in the world. Simple Radio is the first app that combines numerous advantages of online radio with simple radios of the past.
To find any radio station is very simple. You are to use the search by genre: pop, rock, news, sports, etc., or search by country (eg, US radio stations), by genre, by format, by city or state (eg, radio in New York or Los radio Angeles).
The main goal is to facilitate listening to the radio on the Internet and on mobile devices. These efforts resulted in a Simple Radio application.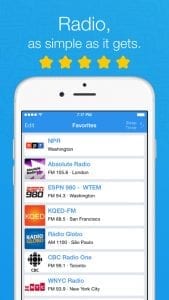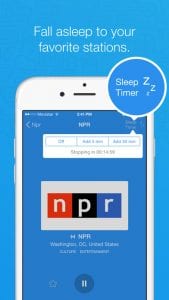 Radio Online – PCRADIO
It is a very popular Internet radio, which offers thousands of radio stations of various genres. Here you can find channels dedicated to individual artists (discography), channels for children, for people who are fond of yoga and meditation, and even audiobooks.
All the essential information is displayed on the main screen, including the function buttons and the player controls. The radio catalog is divided into several sections, but it is possible to show a list of all available channels. You can also filter them by country.
The interface of the application can not be called outstanding. It is poorly optimized for small screens, and looks a bit alien at all mobile devices – it is rather a hello from the past of a desktop music player. The free version includes ads and the timer and stream recording are not available.
The advantage of the application is a stable and fast operation system, low system requirements, and availability of discographies performers. PCRADIO can be advised to fans who like to listen to online radio without too much tinsel and additional functionality.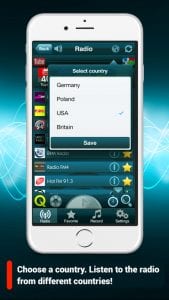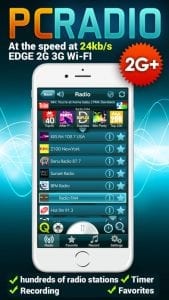 XiiaLive™ – Internet Radio
XiiaLive contains more than 50 000 radio stations. Depending on the source of the broadcast, the directory display changes. For example, the SHOUTcast offers to sort channels by hits and genre, while UberStations shares radio stations on speaking, music, and local.
In the SHOUTcast mode filters of the sound quality, audio format, and bitrate are available to the user. The application has a list of radio stations where you can find a needed one by tapping its name.
You can search for separate channels, and artists, and songs that are currently playing on the radio. If the radio is not in the catalog, there is an opportunity to add its URL.
The interface of the application looks unusual for a radio station and even more complicated. The interface is made in the form of tabs, and on the home screen, there is the main menu for quick access to the functions you need.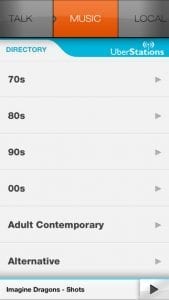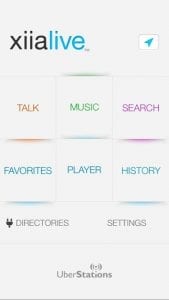 radio.net
This is one of the few well-made applications for listening to Internet radio. There you will find a lot of interesting things, except for the radio. It is designed in the style of the music player. Only now the lists of tracks is replaced by the list of radio stations with the relevant information.
Radio.net is a free app with a large catalog (more than 30,000 online radio stations) and a standard basic set of functions. The integrated system of filters allows you to sort the radio stations by genre, language, country, and even cities. There are a search function and a possibility to save favorite streams to your favorites.
For lovers of listening to the radio before going to bed, there is a useful built-in sleep timer. You can use Radio.net well as an alarm clock, choosing the time you want to get up and the radio station you want to hear at that moment.
There is also an integration with social networks.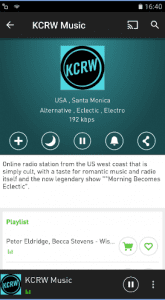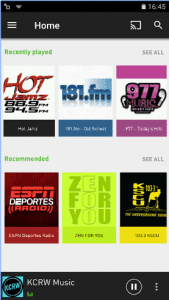 Radio Player by Audials
Radio Player by Audials is one of the most popular apps among iPhone and Android users nowadays. This program is able to play over 63,000 online radio stations, which although not a record, but still a very decent rate. Of course, in such an extensive catalog you can be confusing, so all stations are sorted by country, genre, subject areas.
For the busiest ones, there is a handy feature of the automatic selection of radio stations, similar to the one you are currently listening to. In addition, the program includes a built-in equalizer, what will wake you up with the sounds of your favorite stations, and even able to keep the broadcast stream to your device in MP3 format.
Even many paid programs can not boast of the availability of the last function.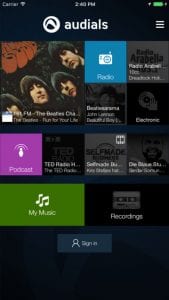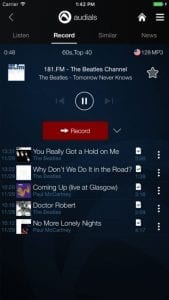 AccuRadio
AccuRadio is a radio client, which includes about a thousand radio stations, categorized according to genre and language of broadcast. A distinctive feature of the app is that it allows you to listen to the music of the very rare genre.
For example, there are entire "sets" of stations on which jazz of the eighties, Christmas music, traditional folk music of different countries, island music, and so on plays 24 hours a day.
Of course, all this is presented along with the more usual ordinary music for the listener. The program also contains advanced tools to create a personal library of favorite stations. In addition, this radio app, as well as many other ones of this kind, able to recognize the composition, playing live and offers to store them in a separate list.
In general, the interface of the application is very stylish and comfortable, designed in accordance with the "requirements" of recent versions of iOS and Android.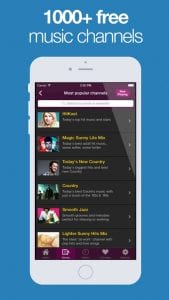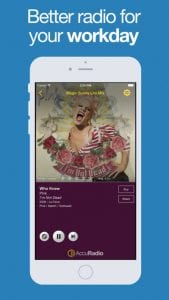 You may also like: 15 Free music streaming apps for Android & iOS
myTuner Radio – Free FM Radio
myTuner Radio is a great app for those who are on the road or just like to listen to the radio. This radio is listened to in more than 100 countries and supports a huge range of radio stations. This way you can choose any radio if it is even the usual local radio.
This application lets you listen to about thirty thousand radio stations which are broadcasted on a variety of languages.
No other program of this kind today offers anything of this sort. To find a station that you are interested in from all the variety, they are broken down by country of broadcasting. There are more than a hundred countries here.
Immediately after the release, myTuner Radio took top place in the charts and today remains incredibly popular and in demand. The local interface, although it is not very usual for this kind of program, and doesn't "fit" to the design of the latest versions of smartphones it is very convenient and practical.
Moreover, the program provides users with a number of very useful features such as the possibility of recording, listening to the radio in the background, and so on.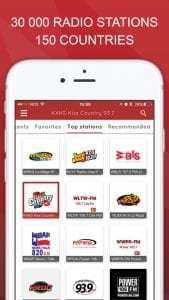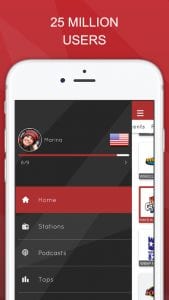 Mixcloud – Radio & DJ mixes
Mixcloud – Radio & DJ mixes is a music service for Android and iPhone devices, which contains a large number of radio stations from around the world. This application allows you to listen to various radio shows, podcasts, as well as the latest DJ mixes.
All the content is divided into convenient categories and includes both music and spoken recordings. Club, Drum and Bass, Dubstep, Funk, House, Jazz, Pop, Rock – this is only a part of genres available in 24 hours a day.
In addition, you will always be aware of the major world events from the field of economy, education, politics, and sports. It is only necessary to subscribe to the needed podcast! Using Mixcloud – Radio & DJ mixes are absolutely free, but only after registration.
The main menu has a light and modern design, which is replete with graphic elements.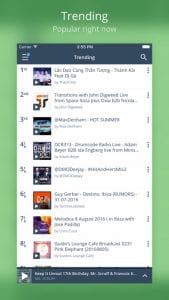 8tracks playlist radio
If you are tired and bored of all stations and with your own playlist – open 8tracks playlist radio! Usual radio stations are not available, but it has a lot of streaming stations.
Just tap a tag into a convenient search (a genre, era, artist, a celebrity, a kind of activity) and we are immediately given a few stations with suitable tracks. Each station has a list of artists who performed on it. While listening to music, you can pause or rewind to the next track.
The originality of 8tracks  is that you will be always aware of the latest news of the music world. Developers have created a great DJ database by subscribing to whom you'll be the first to know about the output of their new songs.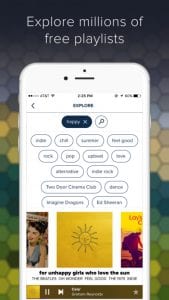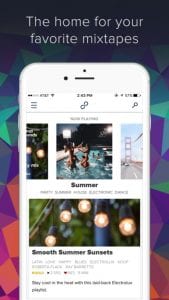 NRJ Radio
One of the most popular radio stations in the world. You have probably heard of NRJ radio before – it has its branch almost in each country of the world and it conducts great festivals all across the globe with the hottest artists. It plays mainly the pop music or any kind of music that is trending right now. This radio station is a great choice for the part with friends or to listen to in the background.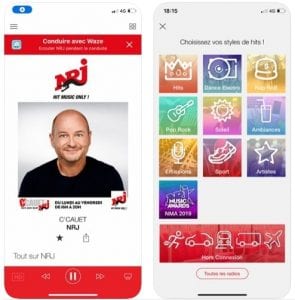 SiriusXM
Listen to what you want wherever you are with the SiriusXM radio app on your phone! The app offers free music, sports, talk, and comedy shows. One of the main positive things is that if you are unable to link to the internet or cellular networks you can still listen to things you have downloaded to your device.
The interface is user-friendly and the design of a new version of the app is stylish and bright.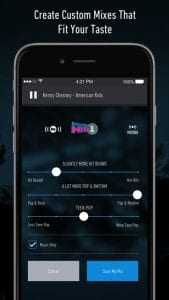 JAZZ MUSIC RADIO
It might seem like hip-hop and pop music have taken over the world, but in fact, millions of people are still really enjoying classical jazz music. And let's be honest, this type of music has many advantages compared to other genres – it is light, not overwhelming, it is harmonical and relaxing.
Moreover, jazz is played on the classical instruments which are known to have the healing effect on human health – both mental and physical. However, jazz music is not always commercially attractive to record companies, that's why it is quite hard to discover nice jazz songs too often.
However, this app will fix that problem. This is the ultimate jazz radio station that you can listen to from any spot of the world and enjoy all types of jazz. You can see, by it popularity on Google Play, that many people share this opinion.
It includes more than 35 jazz channels – you can always switch between. If you want, you can also put the app running in the background. The sleep timer will help you to switch it off on time.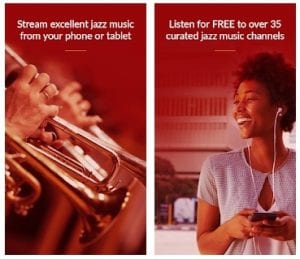 Spotify Music
Spotify is a set of online services and desktop client for listening to music. Spotify offers listening to more than 10 million tracks of various genres, as well as many other features. So, Spotify Radio allows you to listen to the radio, based on your preferences.
Spotify Radio is a great choice for all music lovers, offering to listen to a huge catalog of songs for free. Well, except for a certain amount of advertising, of course.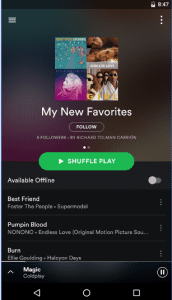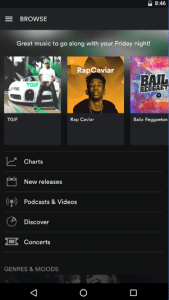 Audials Radio
This is one of the most popular radio players for Android devices. It counts around 100000 radio stations so you will definitely get some choose to go for here.
Moreover, an interesting feature of this app that distinguishes it from others in this category is that you can type in the name of the song or of your favorite singer and the app first, of course, will find a track or an artist but will also suggest you radio stations which play the music of this style.
It is very convenient for those who are looking for new ways to discover more new music on the daily basis. Another pleasant bonus here is that you can listen to the podcasts in every language. One more interesting aspect of this app is that it allows you to set up a radio station as an alarm so you can even wake up to the sound of your favorite radio!
One tricky aspect here is that the user interface is a little bit complicated because everything is mixed in one place.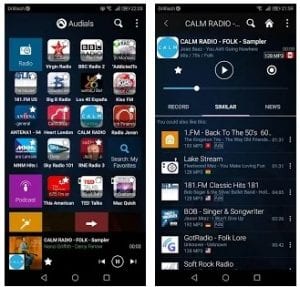 Earbits Music Discovery Radio
For those who want to have the total freedom while using their streaming app, this is a perfect choice. Earbits require no signing in, no accounts, no payment for a subscription. All you need to do is only to launch the app and enjoy the music. When you just enter the menu you can choose which category you want to listen to.
You can choose what you want to listen to – to the radio, music streaming service, or podcasts. You will be able to create your personalized playlists of songs and radio stations. A cool feature that you will find in the app is that it suggests you their own recommendation of radio stations and music. Plus, there are no ads at all.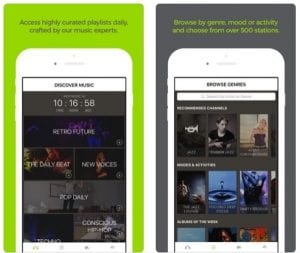 You may also like: 13 Best FM Transmitter Apps for Android and iOS
NPR One
This is a great radio app where you can listen not only to the traditional radio station with music and interviews but also to podcasts and radio shows. This is a full set of all the programs for those who want to have everything on their phone. In order not to lose your favorite radio stations or programs, you can always mark them as favorites.
With NPR you can always make your streaming experience as personalized as possible. Unlike the regular radio, this app allows you to pause, rewind, and share the broadcasts. All the radio stations in the world are available to you – international, local, and regional.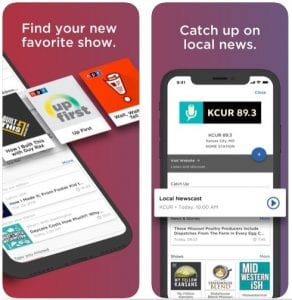 Surely each person has a personal media library on his smartphone or tablet or at least some kind of music. Sometimes, of course, you want something new and radically different. In this case, an important role can play Internet radio. Do not rush to think that the radio – it's something boring and terribly annoying.
Today it is quite a popular source of music and spoken genres, a good option for background noise and is still one of the best ways to discover new music. Take in mind these the best apps for listening to online radio.
The above applications are worthy candidates for the role of the mobile client to listen to online radio. To date, the Internet connection speed is not a critical consideration when selecting a radio. All of the applications stably transmit the selected broadcast stations in one way or another have similar capabilities.