When you apply for a job, you need to "sell" yourself to the employer. Create a kind of "card" that describes all your capabilities and advantages over other candidates. The generally accepted format and the first step to getting the job you want is a resume.
It is worth noting that a photograph is an integral part of any resume. Thus, we also recommend you make use of these best headshot photo apps.
In order not to get lost in a lot of papers, which are made in the same format, you can surprise your future employer with an interesting and catchy letter about yourself. These free resume templates apps for Android & iOS will help you do that.
Resume Builder – CV Engineer
CV Engineer is a handy and easy-to-use app that will help you create a professional resume for employment. This app contains all the necessary tools and templates to create a unique and professional resume that reflects your skills, education, work experience, and achievements.
It offers a clear user interface that is designed to meet all the needs and requirements of people in job search. You can easily find all the tools and features you need to create a resume without too much effort. All controls and features are located on the home screen and are available to use completely free of charge.
The app offers a wide range of templates and styles so that each user can choose the one that best suits their profession or field of work. You can choose any of the different layouts, fonts, color schemes, and formats to create a unique resume.
The resume templates have different sections where you have to enter information about your education, work experience, professional skills, and achievements. You can easily enter all the necessary data, save, and even share it. You can edit the data at any time.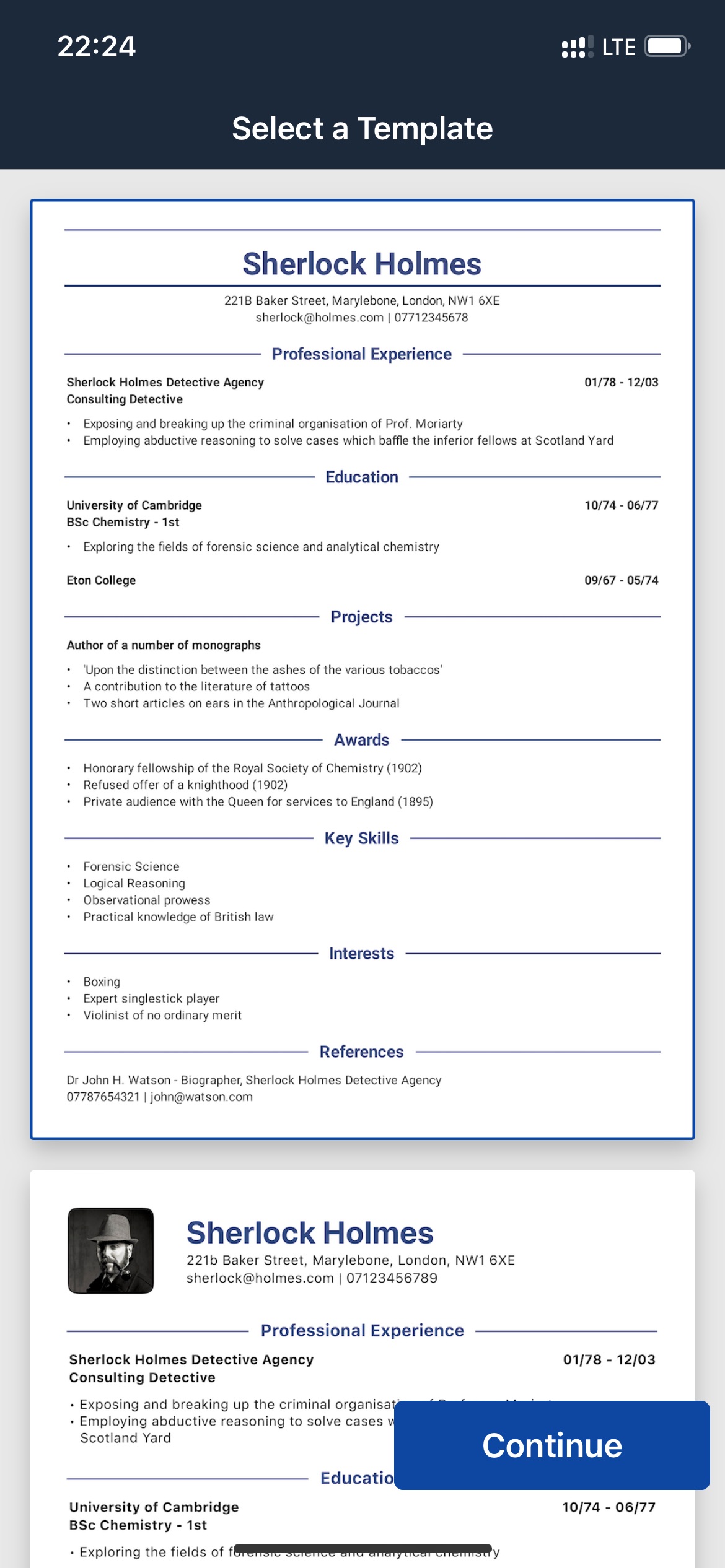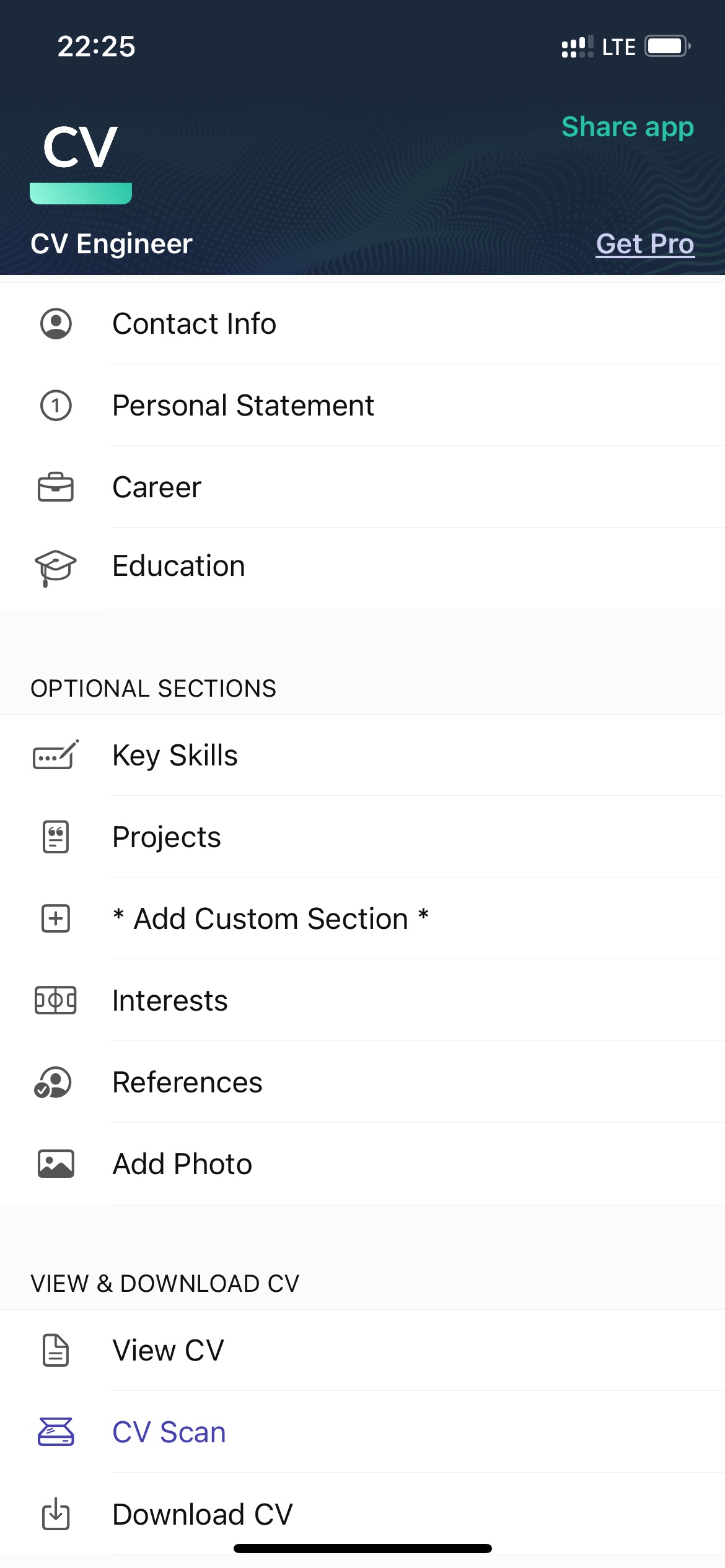 The app also has tips and instructions for creating a resume. This can be especially helpful for those who are making one for the first time. The resume can be saved in a convenient format and sent through any channel.


You may also like: 11 Best Digital Signature Apps for Android & iOS
CV & Resume Creator by Desygner Pty Ltd
The CV & Resume Creator app is a mobile tool for creating professional resumes. It will help you create a unique document that will emphasize your skills, experience, and uniqueness. All the tools of the program will be displayed on a user-friendly dashboard and are available for use for free.
The templates are professionally created by designers and include a variety of styles and layouts to meet the needs of every user. Each template can be customized independently with different colors, fonts, photos, and texts.
Choose any layouts and edit them according to your preferences and requirements. Add your photo, contact information, personal details, education, work experience, skills, achievements, and more to your resume.
The app also allows you to add links to social media profiles, portfolios, or websites. All these features allow you to create high-quality resumes that stand out from the rest.
Here, you can preview your resumes to keep them looking perfect. At any stage, the resume can be edited. The app allows you to save and export the created documents in various formats including the most popular ones. This allows users to easily print and send their resumes via email or messengers.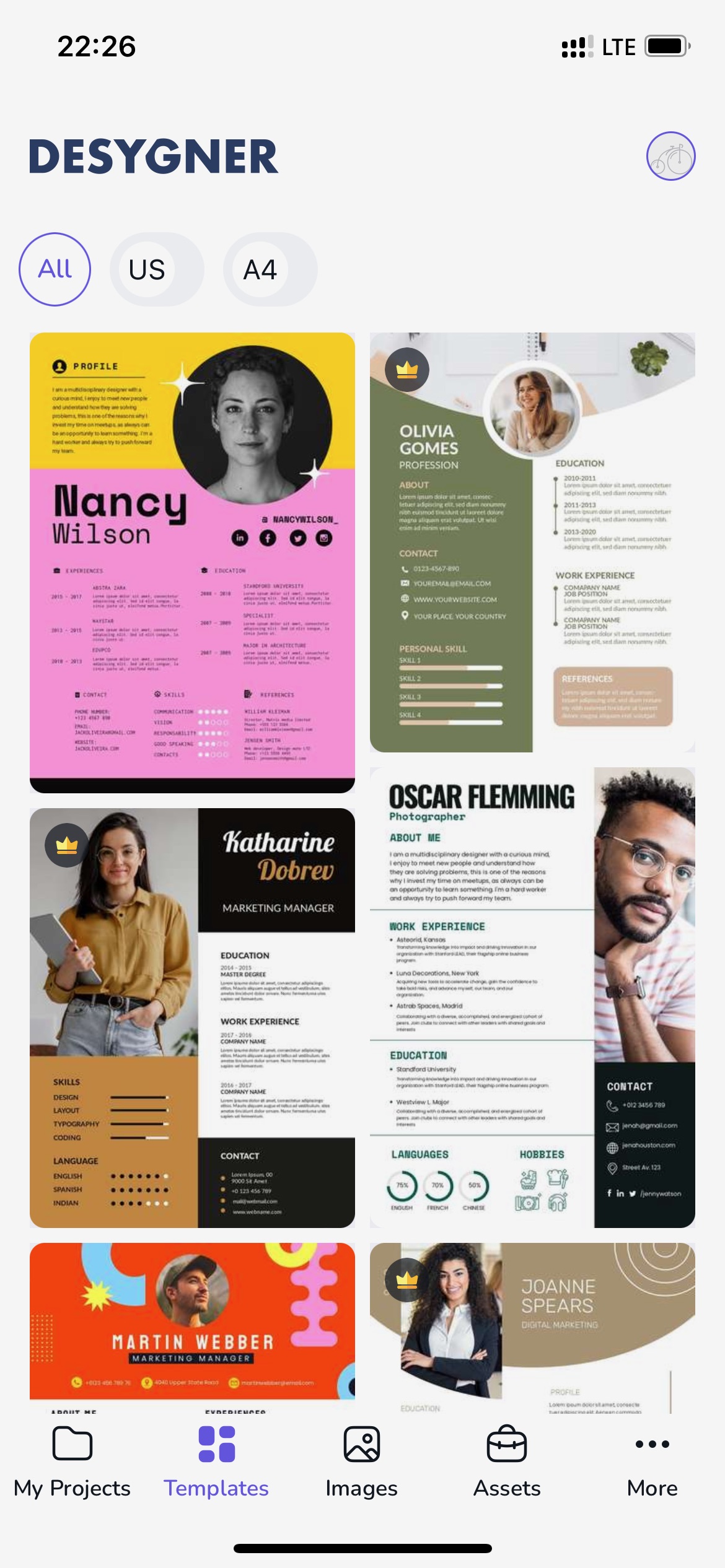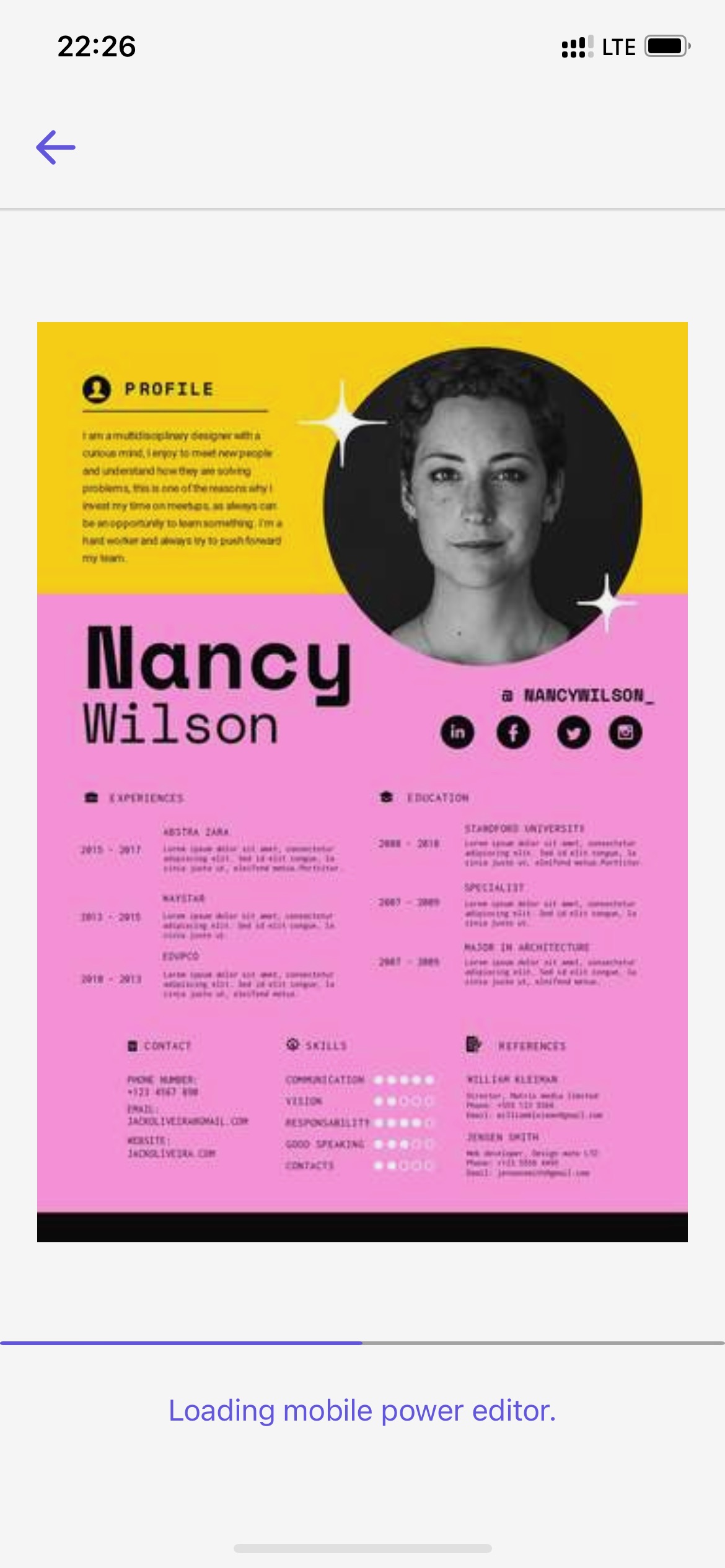 It is also possible to save documents to cloud storage for later editing or sharing.


Resume Builder: PDF Resume App
Resume Builder is a handy mobile tool for creating original resumes that will help you stand out from the rest of the candidates. With this app, users can quickly and easily create high-quality resumes suitable for jobs in different industries.
One of the main advantages of the app is its ease of use. Even people with no experience in resume writing can easily learn the basic functions of the app and create the right business card for employment. All the tools and features are available in a clear interface.
The app offers a wide range of different resume templates that users can choose from, depending on their needs. Here you will find templates that have been prepared by professionals. For each professional field, you can choose your unique layout and fill it out according to your preferences.
You can also edit an already prepared template to make it even more interesting. When creating a resume, be sure to add your photo, contact information, work experience, education, skills, and personal achievements. Additionally, mention your interests and hobbies that may be of interest to the employer.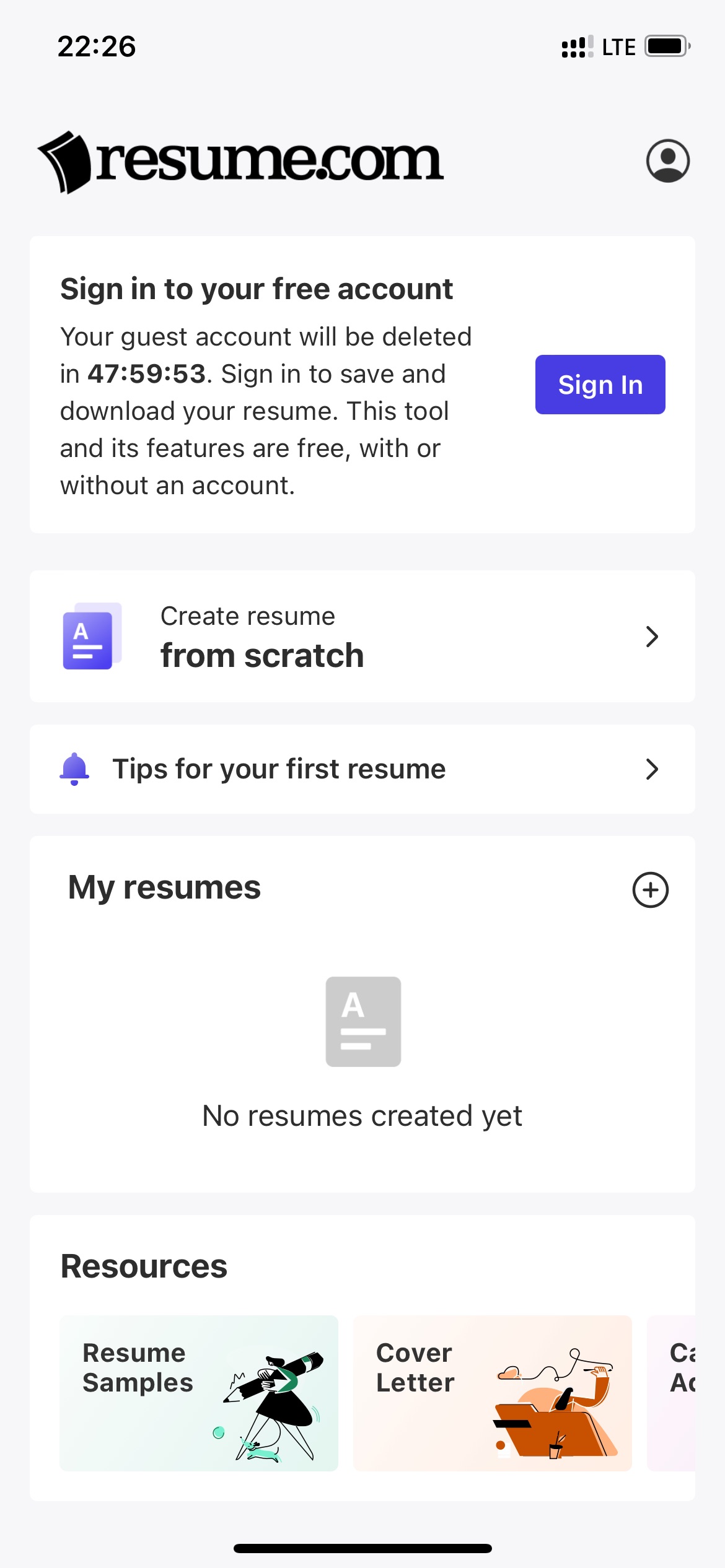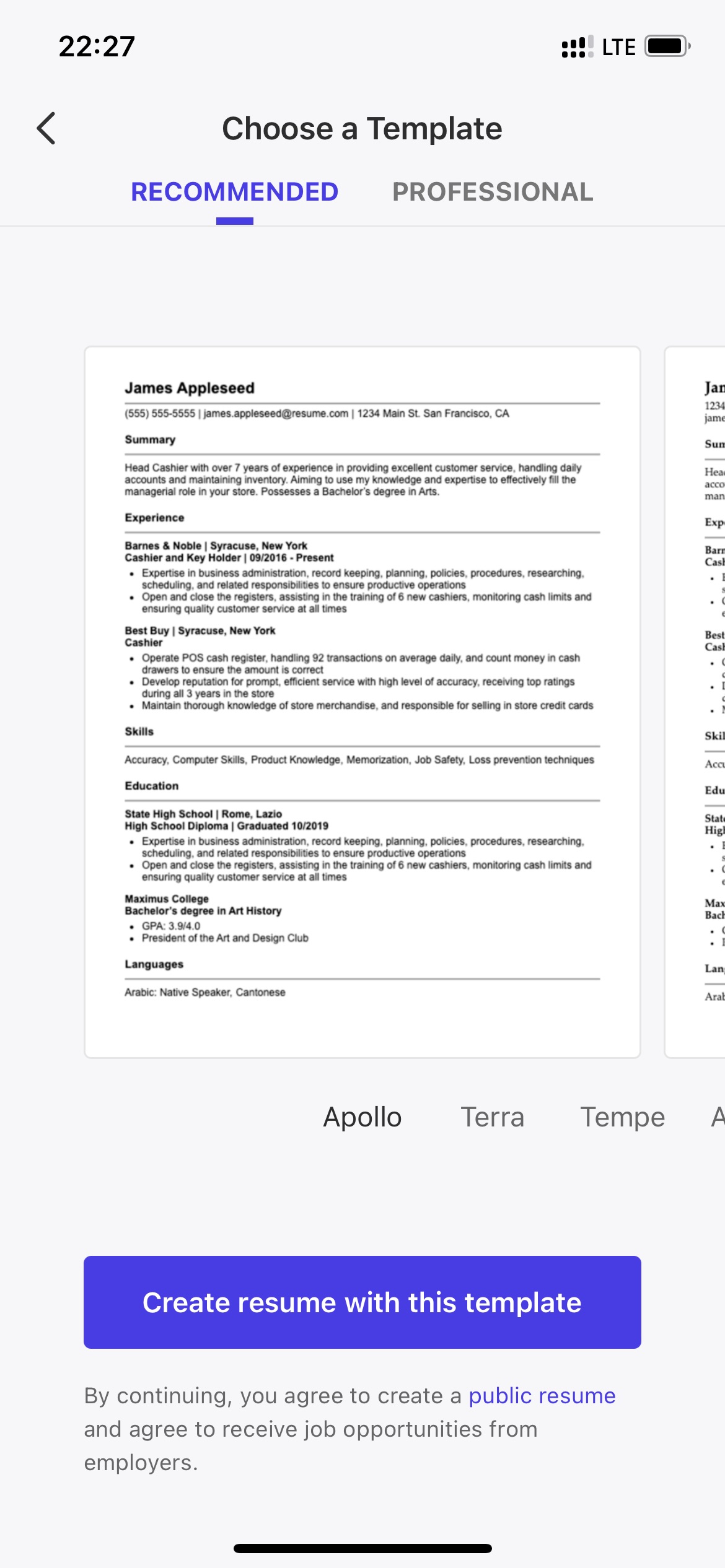 The app also offers many features to edit your already prepared resume. Choose the appropriate fonts, sizes, and colors for your resume text, and customize the format to save the document. After saving the file, you can edit it again or share it with other users.


Kickresume: AI Resume Builder
Kickresume is an innovative mobile app designed to create artificial intelligence-based resumes and cover letters that will help you become the first among your competitors and get the desired position.
The app contains all the necessary tools and features to help you create a quality resume and cover letter for any profession from scratch. It contains many resume templates for different industries and fields. You can easily customize your resume template using the editor and artificial intelligence.
Add information about yourself and your work experience with over 1,000 quality resume examples. Import your data from your smartphone storage or fill in the information yourself. You can make changes to your resume at any time, even after you save the document. Your drafts will be stored publicly in the app.
At the same time, all your data is securely stored and protected from intruders. Also, this app will help you create a persuasive cover letter that follows the rules and standards. You can choose a suitable template and customize it to your preferences.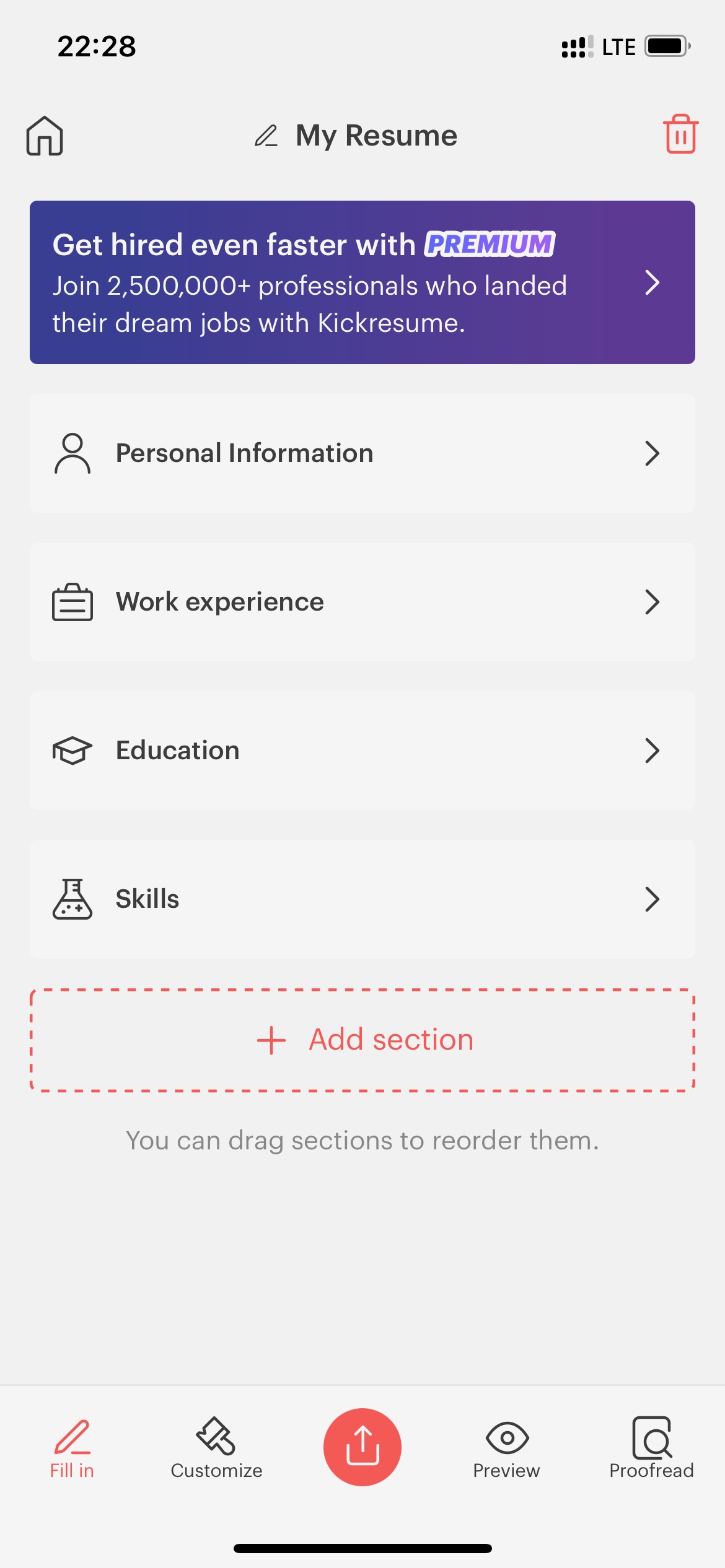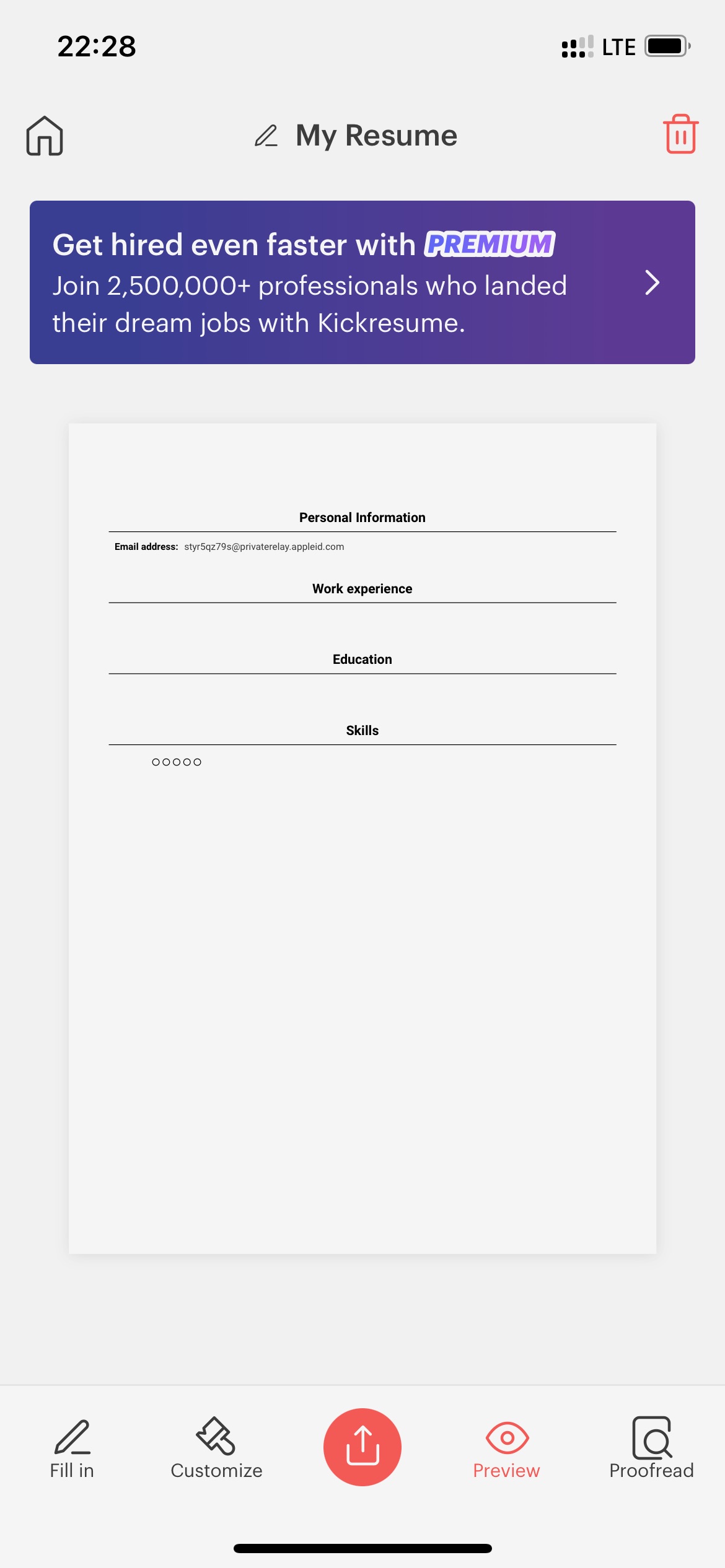 The cover letter can be saved in any convenient format so that you can easily share it with the employer. Thanks to the artificial intelligence in the app, you can get a lot of recommendations and useful tips on how to properly create resumes and cover letters.


You may also like: 11 Best Free Resume Maker Apps
MyPerfectCV: Resume CV Builder
MyPerfectCV is a powerful mobile app for creating and editing resumes. With its help, you can easily and quickly create and customize your resume for any profession and field of work.
The app offers a user-friendly interface that can be mastered by any beginner. It contains many ready-made resume templates so that you can choose the most suitable one for yourself and your profession.
Fill in all the information about yourself so that the employer can get to know you better even before the job invitation. Add information about your training, experience, skills, personal achievements, and other data.
You can include information about any of your educational backgrounds, including school, college, or continuing education courses. You can also add your work experience by spelling out your company name, position, period of employment, and a description of tasks and accomplishments.
Write in your skills and accomplishments professionally so that employers can evaluate your abilities and qualities. Add information about your knowledge of languages, software, and other technical skills that may be important for your future job.
Include the data about awards received, participation in projects, and other important results. You can also spell out references from former employers or colleagues to prove your reliability and professionalism.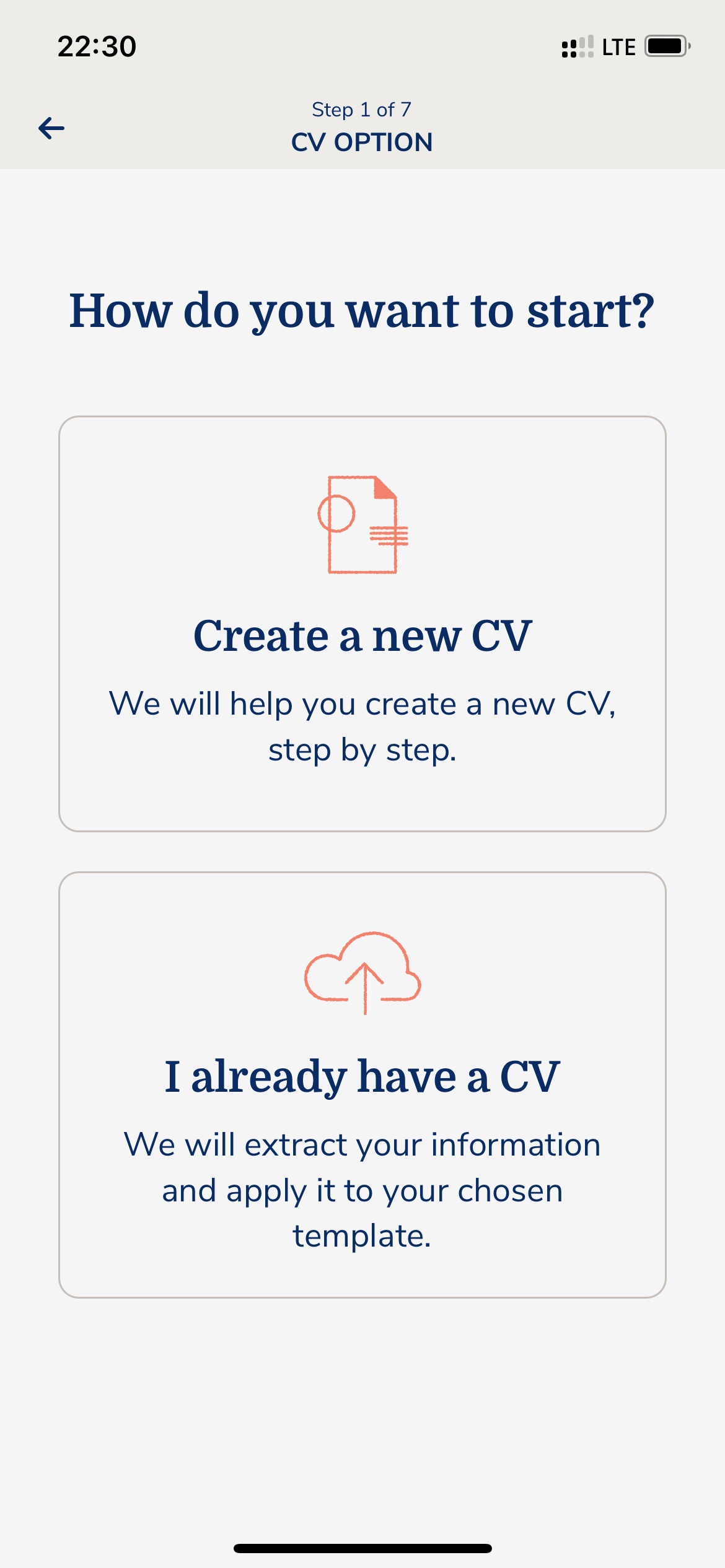 Best of all, you can choose and add your photo so that the employer can see you before a face-to-face meeting.


Resume Builder – Job Templates by Gaurav Singla
This is a mobile app that will help you create the best resume and find the perfect job. This app offers all the tools and templates you need to create the right resume that will set you apart from the rest of the candidates for your position.
The app contains a free range of ready-made templates created by professional designers. They will help you create a stylish and personalized resume in just a few minutes.
Learn detailed instructions and recommendations on how to complete each section of the resume. Thanks to this, you will be able to create a high-quality resume that is guaranteed to attract the attention of your employer.
The app is suitable for any field of activity. Besides, you can customize the ready-made layouts to your own preferences and requirements. Templates contain a standard set of sections for information and personal data. You can also add extra information about your hobbies or, for example, courses taken.
Here you can store multiple resumes in one place, so you can always have access to them. You can easily switch between different resumes, making changes and editing them, depending on the requirements of each individual vacancy.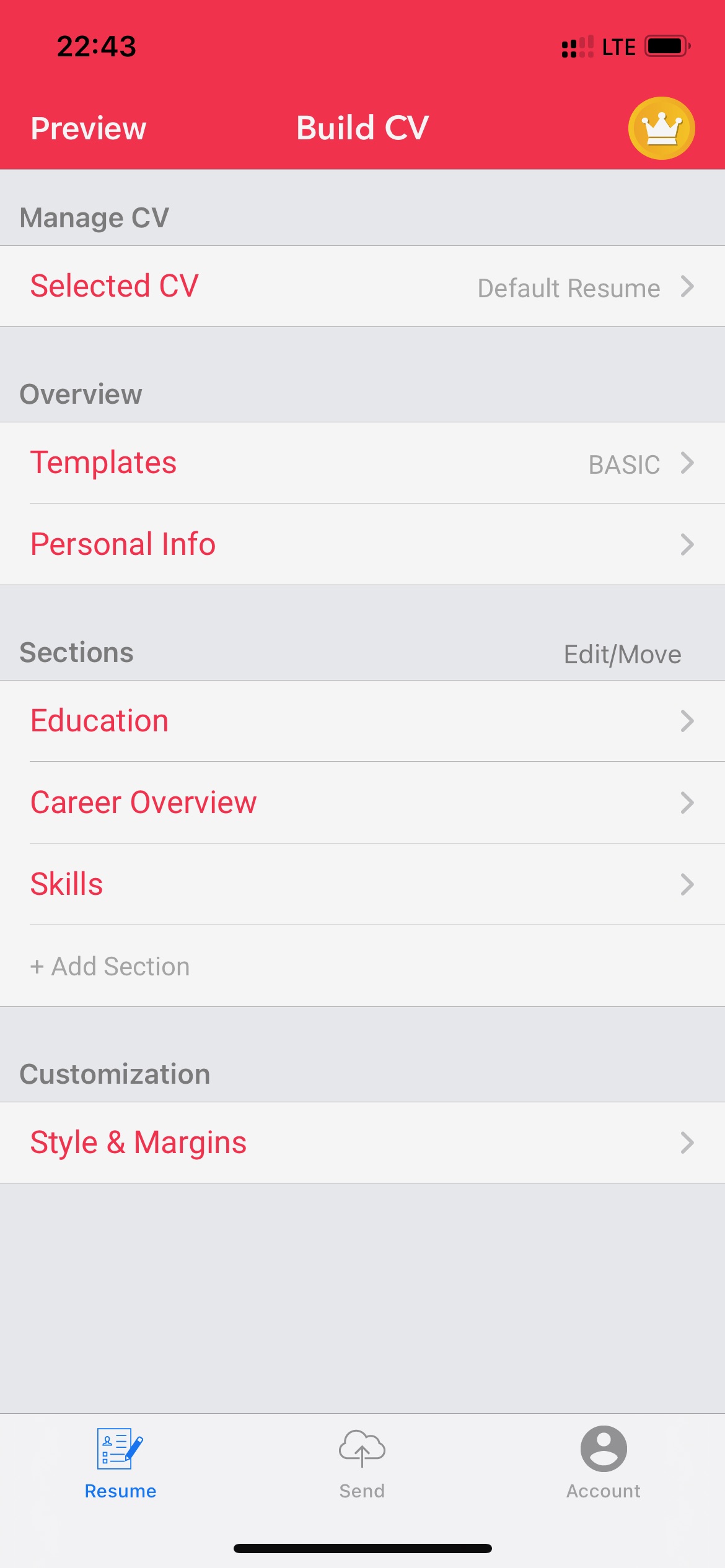 Save and send your resume to any online platform. For this, you can choose any file type and format. You can also save the document so that you can print it out later. In addition to contacts and information, you can add personal photos to your resume.

You may also like: 11 Best event planner apps for Android & iOS
Resume Builder CV Maker by Nirav Alagiya
This is a handy and effective tool for creating a resume for any profession and position. This app will help you create an original resume in just a few minutes and increase your chances of employment.
The clear interface makes the process of creating a resume quick and easy even for beginners. You can make changes to existing templates or create your own version of a resume from scratch at any time. For this purpose, you will be offered instructions and recommendations that are easy to follow.
You can also choose your own photo for your resume. Choose the right template options from the many layouts offered. Each template has a modern and professional design and also offers ready-made sections that will help you organize your data and present it in a convenient form.
Add any extra information in multiple sections of your resume to reveal your personality to the employer. Fill in all sections of the ready-made layouts so that they don't appear blank. Clarify dates when it comes to work experience, education, and personal information.
Thanks to the preview feature, you can see how your resume will look before sending it and making any necessary changes. You can then save the document in any format you like. But even after that, you can make edits and upload the file again.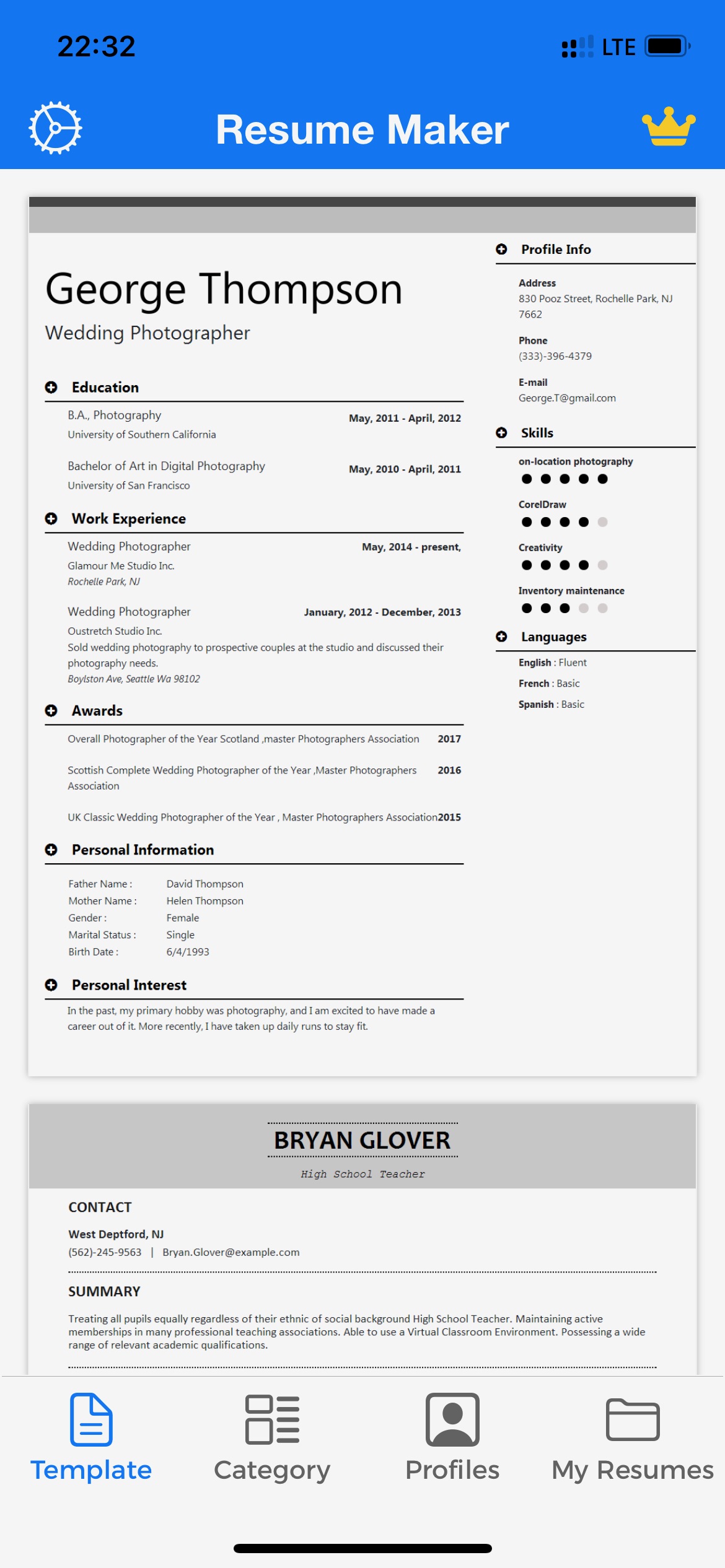 Send your resume directly to employers, print it out, or share it with others.