How to tie knots? Well, it's not a simple thing to do, especially if you have no experience. This activity requires attention and good memory.
If you have opened this article, you probably struggle to tie a fishing knot. This is why we decided to create a list of the best apps that can help you solve this task.
By the way, if you are keen on fishing, you will probably like 11 Best Fishing Map Apps for Android & iOS.
We have collected nice options for Android, as well as iOS users. Some of the apps are free of charge or have a trial period.
Animated Knots by Grog HD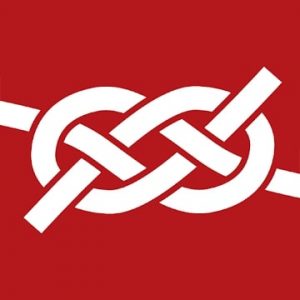 Meet a great application that will teach you to tie knots in a few minutes. Animated Knots by Grog HD is a perfect tool to teach yourself. Why is it so popular and widely loved and respected by users? It's all about its simple interface and great tips. 
Here are the best options provided by the app: 
Enjoy cool animations

. These are full-screen videos that show how to tie the knot step by step. The video is divided into parts so that you can go back to each part if something isn't clear. You can replay the full video as well and pause it wherever you need. 

All the 

knots are divided into categories

 so you can easily find anything you might need. There are fishing knots as well. There are also good knots for climbers and tourists. In general, there are more than 195 knots with detailed descriptions of how to do it. 

Share your favorite knots

 via social networks, such as Facebook, Twitter, and many others. You can also send the knots by email or download them on your device to watch later. 
The app is being updated regularly. Should you find any problems or bugs, don't hesitate to tell them. 
The size is more than 200 MB but the range of knots is truly impressive. 
The app isn't free of charge. To download and use it, you need to pay 4.99$. However, it is the only payment you'll need to make. 
Both Android and iOS users can enjoy this library of detailed descriptions. Get it now and finally start to tie knots!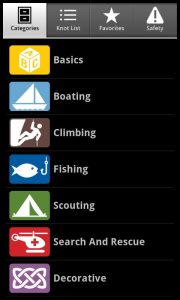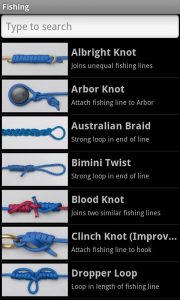 You may also like: 11 Free Lake Map Apps for Android & iOS
Knots 3D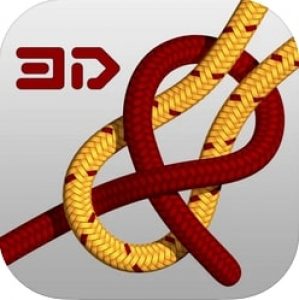 Here comes a truly universal application. It is being used by many people, such as scouts, climbers, fishermen, and soldiers. There are knots for all types of purposes. 
Knots 3D has a pretty simple and user-friendly interface that makes the process of knots-making pleasant. 
There are many cool functions available at no cost: 
There is 

a great library of various knots

. You will discover 151 knots with a detailed explanation. All of them are available once you download the app, there is no need to unlock them. 

Browse through the categories

 of knots. Use search to make the process faster. 

Customize the app

 according to your tastes. We highly recommend that you try the dark mode, it looks super smart. 

If you are 

slow to understand how to tie a knot

, you can rotate the video and the scheme. This will help you to look at the same knot from various directions. 

The app 

supports up to 21 foreign languages

, and many others are about to be added. 

Knots 3D 

doesn't need any connection to the Internet

. Once you download it, it will work offline all the time. 

The application is 100% ads-free. There are no ads popping out of nowhere. You also don't need to choose a subscription. Enjoy complete freedom! 
Knots 3D doesn't collect any type of data about you. According to the developer, they care about the privacy of their users. 
The app is relatively big – you will need at least 200 MB to install it. 
To install Knots 3D, pay 5.99$ for it. You can get it now on the App Store.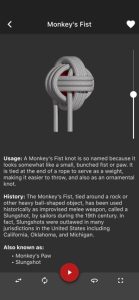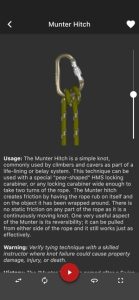 Fishing Knots Real 3D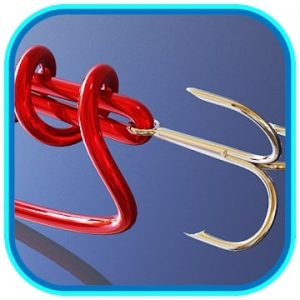 This application is the best tool for those who love fishing. If you don't know how to tie knots, this assistant will be the best decision. 
The app is super simple to use, even if you are not skilled. Its interface is friendly to users. 
Now let's look at the best features of Fishing Knots Real 3D: 
Explore 

a huge number of fishing knots

. Try Clinch Knot, Nail and Cove Knot, and many others. There is a good search system so that you could find the knot you need very fast. 

The app is 

free of charge

. However, once you download it, most of the knots will be locked. To unlock them, watch one video. This means you can unlock all the knots you need for free. 

All the knots will have 

a detailed description

 of how to tie them. However, if you fail to understand how to do it, you can always turn to a 3D model. It is a video that displays each of the steps you have to take. 

The app

 can be used offline

. This means you don't have to download each video. This is especially precious when you are out of town fishing. 
The app is rated 4.5 out of 5 on Google Play. There are many positive reviews written by users. They are grateful for detailed and simple instructions that are perfect for beginners. 
You can get Fishing Knots Real 3D at no cost on Google Play.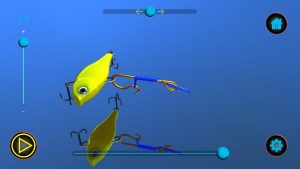 Knots Guide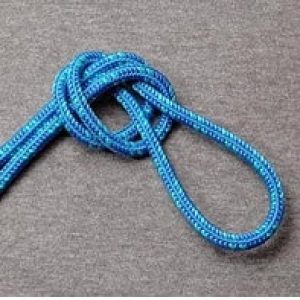 Here is another great Android application you can use for free. It is amazingly simple and user-friendly. There are no redundant functions and complicated stuff.

The only disadvantage is that the number of knots is limited. Still, there are good ones that will come in handy if you often go fishing. 
The app can boast of the following features: 
There are 

92 knots available

 at the app's library. All of them are already unlocked. These are the knots for different purposes, especially for military and fishing stuff. 

The knots are 

divided into 10 categories

 so that you can find what you need much faster. 

Should you feel confused by the explanations, feel free 

to zoom the images or rotate 

them. 
However, here comes a pretty serious disadvantage. The number of ads is truly irritating, they often distract users from learning to tie knots.

By the way, if you you aren't skilled enough, you might need 7 Best Fish Identification Apps for Android & iOS.
Another thing you need to know about is that the app is being updated rarely. So if you happen to find a glitch or a bug, it might be fixed a bit late.
The app is rated 4 out of 5 on Google Play. Get it now and finally learn to tie various knots at no cost.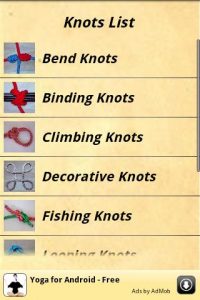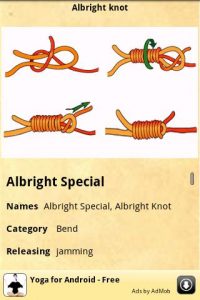 Fishing Knots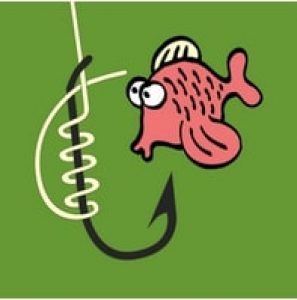 Do you need a reliable pocket assistant that always is there for you? Well, we have a pretty good option for you. 
This Android application is packed with a huge number of knots you can tie for fishing. It doesn't matter what type of fishing you practice, Fishing Knots will be equally useful for you. 
However, these descriptions are not the only advantage you will get. Here are some others:
The app is 

optimized for any screen

. You can use it on practically any device, even an old smartphone with a tiny screen. However, it can also be viewed on a tablet. 

The app is 

being updated regularly

. The developers try to make it better and this is proven by the rating – it is 4.7 out of 5 on Google Play. 
The application is free of charge but there is a significant number of ads you have to put up with. 
Get it now and start mastering your skills.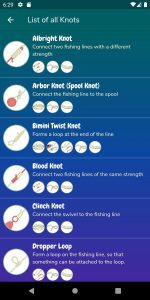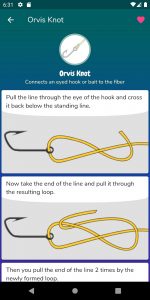 Animated 3D Knots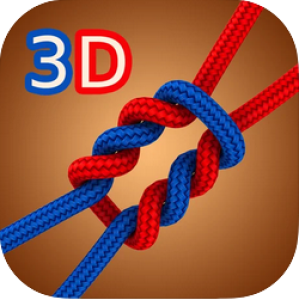 Do you need to tie a knot? It's high time you started learning! With Animated 3D Knots, you can learn such a skill in a few minutes.
This is the best application for people who are slow to learn. It provides all the details and descriptions you need to understand. 
How does the app work? Once you downloaded Animated 3D Knots, you can start using the functions, no registration is needed. 
Here are the best functions: 
Look through the catalog 

of knots and find what you need by using the search system. Then choose the one you want to study. 

Watch the 3D videos

 that give you a detailed explanation of how to tie a knot. You won't be confused by it. Should you feel you don't understand something, feel free to replay the video or pause it. 

Animated 3D Knots 

will always be with you

, wherever you are. You can be in the mountains, swimming in a river or be somewhere far away. 
The app is a good assistant for tourists, scouters, athletes, and anyone who has to tie a knot. 
To install the app, you will need at least 90 MB of memory. The app supports two languages – English and Russian. 
Animated 3D Knots isn't free of charge. To download the app, you'll have to pay 2.99$ once. 
The app has a pretty high rating – it's 4.7 out of 5 on the App Store. 
We recommend that you watch the instructions on a tablet as it's much easier and comfortable to do it on a big screen. 
You can get the application on the App Store for free.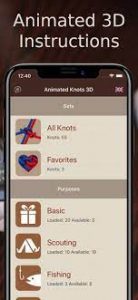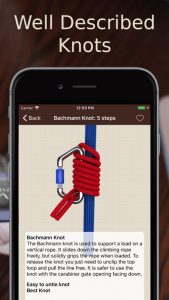 Fishing Knots Mp-Fish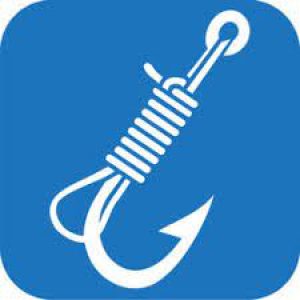 Are looking for a huge encyclopedia full of various knots? If yes, Fishing Knots Mp-Fish is a must for you. It is packed with useful information you might be lacking. 
Why this app is worth trying? Well, there are at least three reasons: 
It has a 

great variety of knots

 for any type of purpose. There are many nice knots for fishermen, as well as for soldiers, tourists, and scouts. 

There are 

detailed explanations

. Follow the instructions step by step. You can always zoom or rotate the image to have a better understanding. Some of the knots have video explanations you can watch. 

The app is 

super easy to use

. Once you download it, you can enjoy a full range of its knots and videos. There is no need to go through a long and complicated system of registration or choose a subscription. 
The app has great graphics that represent real-life knots. For sure, it doesn't make the instructions better but it is quite pleasant. Good design is always a good thing. 
The app is quite small – you'll need 58 MB of your phone memory to install it. 
You can get Fishing Knots Mp-Fish at no cost on the App Store.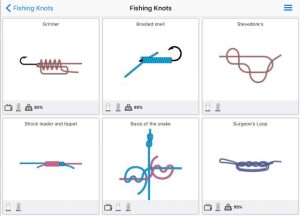 You can also check: 11 Best Fishing Games for Android & iOS