It doesn't matter if you are a professional vocalist or just love singing, someday you want to record your voice and listen to it from the side. But do you really think you need to go to the studio for that?
In the article below, we have collected the free singing recording apps that will make it possible to record your voice right from your phone.
Moreover, if you just want to have fun and sing your favorite covers, we also have an article about the best karaoke apps.
Voloco
This is one of the most popular and hyped apps on the market and we found it best for recording your vocals. What we really liked when we installed it is that Vocolo gives you a detailed guide on how to use the app. There is a lot of features, by the way.
You can start recording right away. One dubious thing we noticed after we were done with our first record is that for some reason, the app automatically applies the harsh autotune to your voice. Probably it means that the app isn't meant for professional vocalists in the first place.
However, you can easily remove that amount of autotune in the settings you will find on the right side of the menu panel.
Moreover, we were quite impressed by the ending quality of the record Vocolo provides when you are done with all the touch-ups. Well, it mainly depends also on the mic that your gadget has, but we were really impressed in a good way.
After you're done with the recording, you can select whether you want to save this audio to your device or publish it in the app.
There are other interesting features in the app, such as sharing with the community, exploring it, and adding your favorite beats, which you can explore on your own.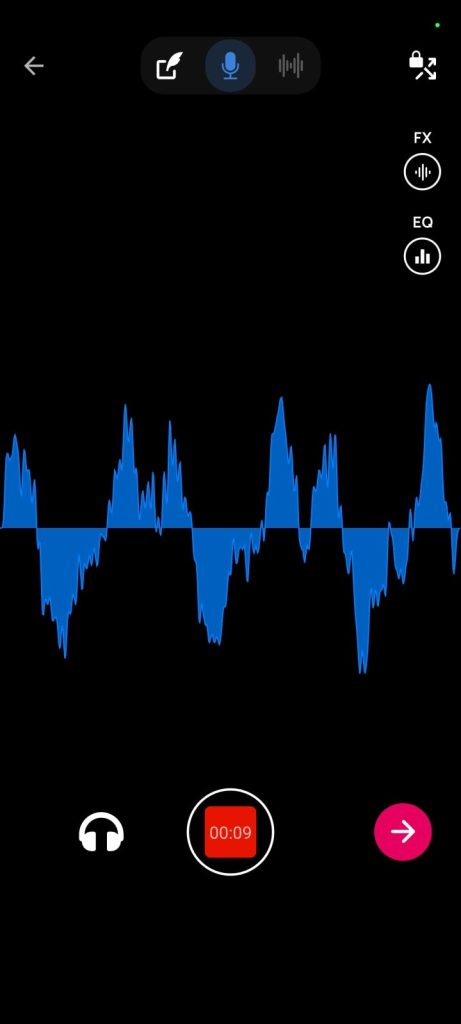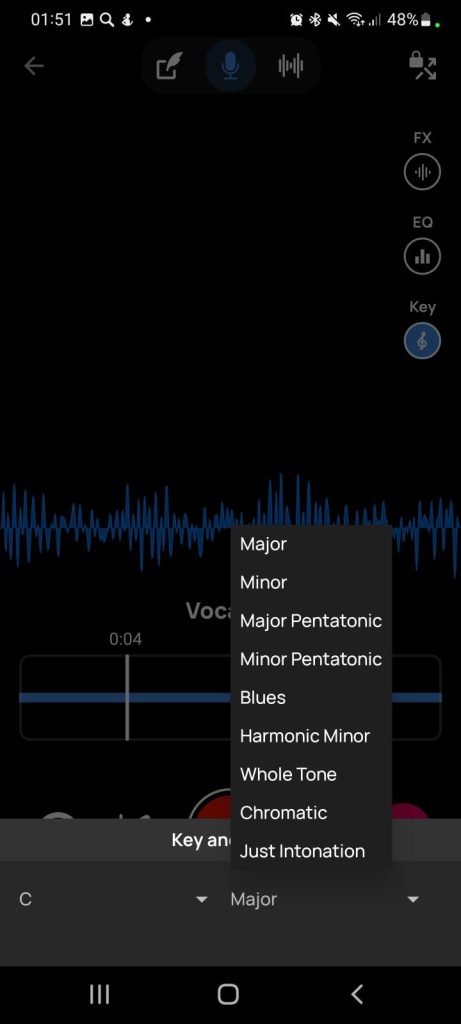 You may also like: 11 Free Lip Singing Apps for Android & iOS
Smule
This app is so popular so it's even cheesy to add it to the list. However, it's really good, especially for beginners! Here you can practice your vocals and find like-minded people in the broad community.
Installation and all that stuff are easy here. Another great advantage of Smule is its collection of instrumentals and that it allows you to record your voice right upon it. When you log in to the app you can start searching for songs right away.
Lots of cool features in Smule are offered in the free version, however, the best effects are available only in case you have a paid subscription.
The whole process of recording looks like karaoke where you just sing in the synchronization of lyrics. It's better to record everything in the headphones if you want to screw up the quality.
After you are done with the recording, you can apply effects, which we highly recommend – they can make even the ugliest voice sound normal.
Then, you proceed with the recording and you can either publish it in the app or just save it to yourself. There is also a possibility to do collabs and record singing videos.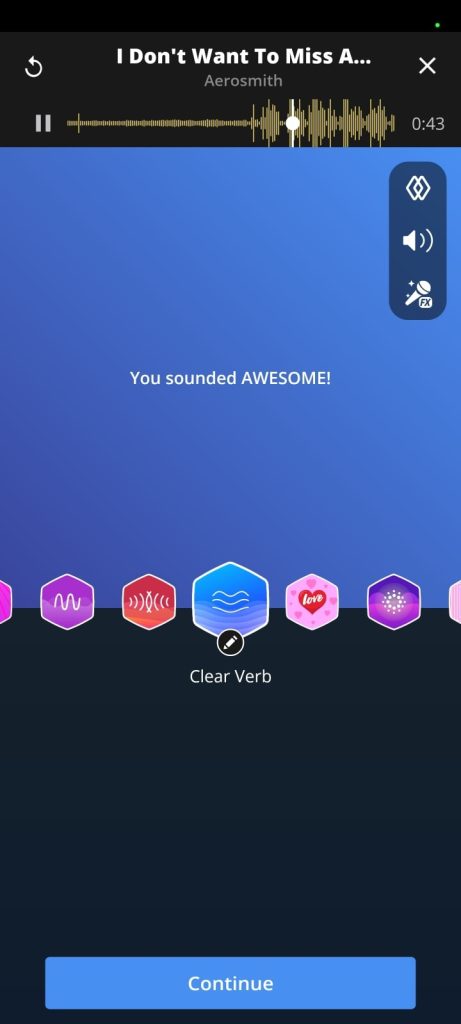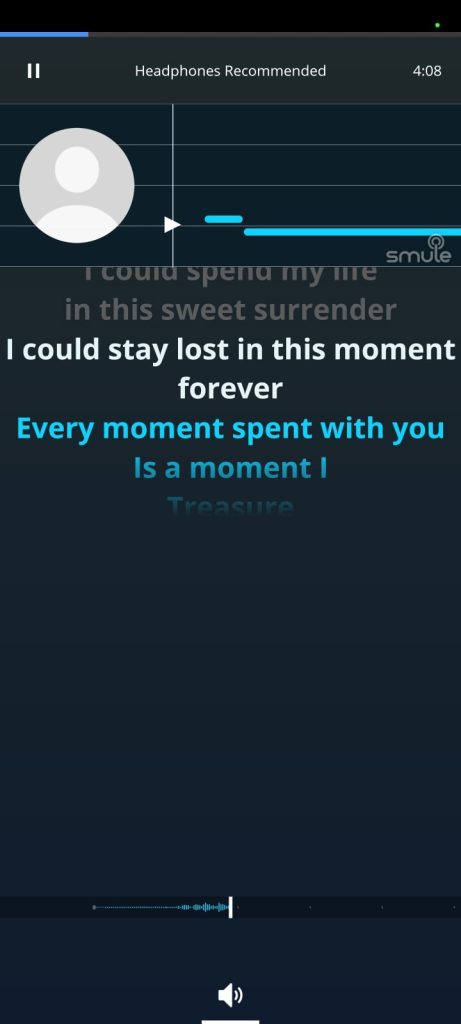 StarMaker
This is basically an analog of the previous Smule app and it's only up to you which one you want to choose. However, we put Star Maker lower because it has a worse interface design and we felt quite weird when searching for a specific track.
If we were new to vocals and wouldn't know anything about this world, it would take us quite some time to understand how to navigate this app and start singing – so we recommend Star Maker only in case you've dealt with the karaoke apps before.
Your search for the track that you want to sing and choose it – and then start recording. By the way, in order to balance the points, we actually liked the quality of the ending result that we got in here more than in Smule. The quality of the instrumentals was way better and the vocals felt smoother after the recording.
While singing, you see the text and the synchronization with the lyrics.
However, beware of this app if you are afraid of the evaluation – like any decent karaoke app, Star Maker does the evaluation of your vocals after each recording:)
After you are done with your singing, you can listen to your voice, apply effects, and maybe clean up some misfits – in other words – nothing new.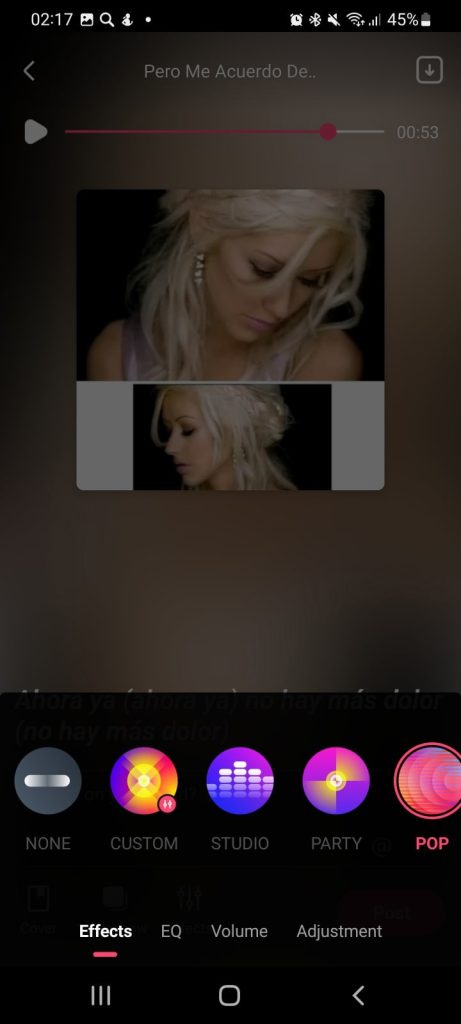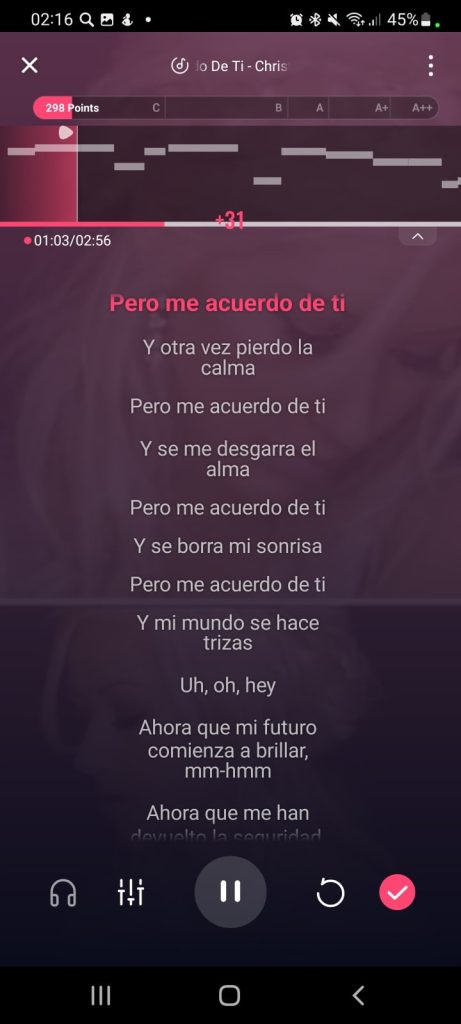 BandLab – Music Making Studio
If you're not new to vocals and you've been looking for an app that will give you broader control over your recordings, this is it. At first, when you just open BandLab, it might be a little bit confusing about how to use this app, but after a minute everything is quite clear.
It is enough just to click on the plus button and BandLab gets you to the whole recording studio where you can record your vocals raw or together with an instrumental (in this case you better use the headphones).
After you are done with the records you can do various touch apps, and here you got the main advantage of BandLab. You can adjust the effects in the details, which means each effect allows you to do the meticulous configuration with the shape of each little echo.
You can also polish your vocals and add autotune. You don't have to apply that to the whole record – you can simply highlight the areas and then add the effects to those parts only. After you are done with the editing, you can save the recording or download it to your device in various formats.
By the way, even if you feel lazy and don't want to do all those complex manipulations with your recordings, there is an auto-fix feature that will make your voice to sound better anyway.
The eventual quality depends on the possibilities of the mic of your gadget.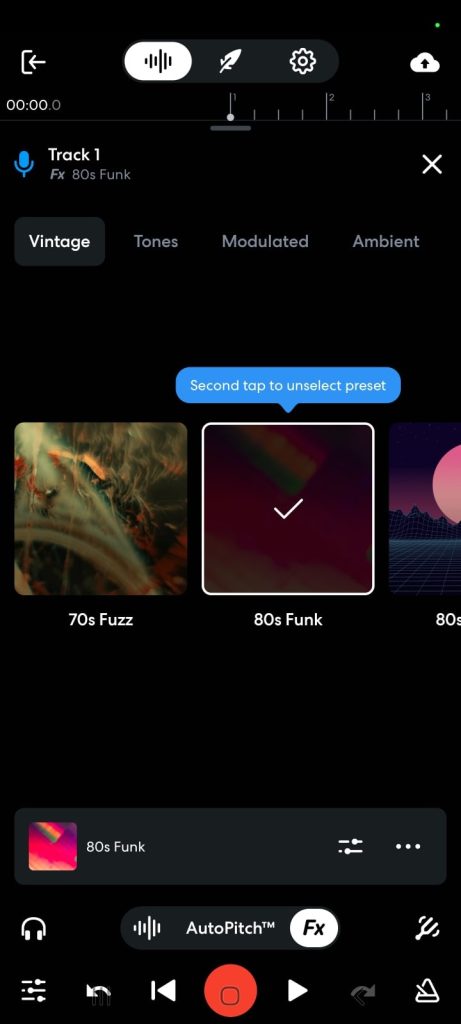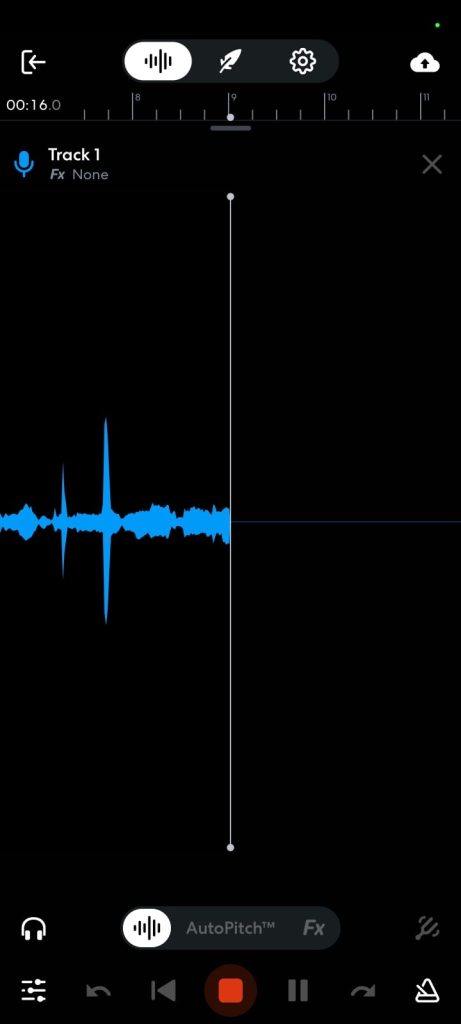 Smart Recorder
In case you don't need all those fancy apps that are basically mini studios and you only want to make raw recordings, this is a nice option for you. This app is completely free and contains no ads. All you have to do is to install, open it and start recording.
After you are done, you can listen to your singing voice. The quality is quite normal for a recording app. You can also share your recordings and they will be saved in the storage of your device as well.
Another advantage of Smart Recorder – it doesn't occupy much space in the memory of your gadget, unlike other apps.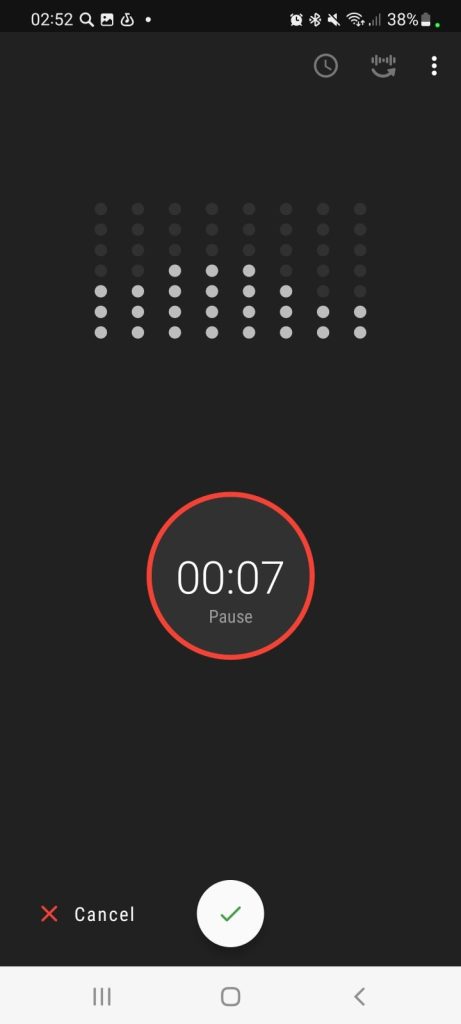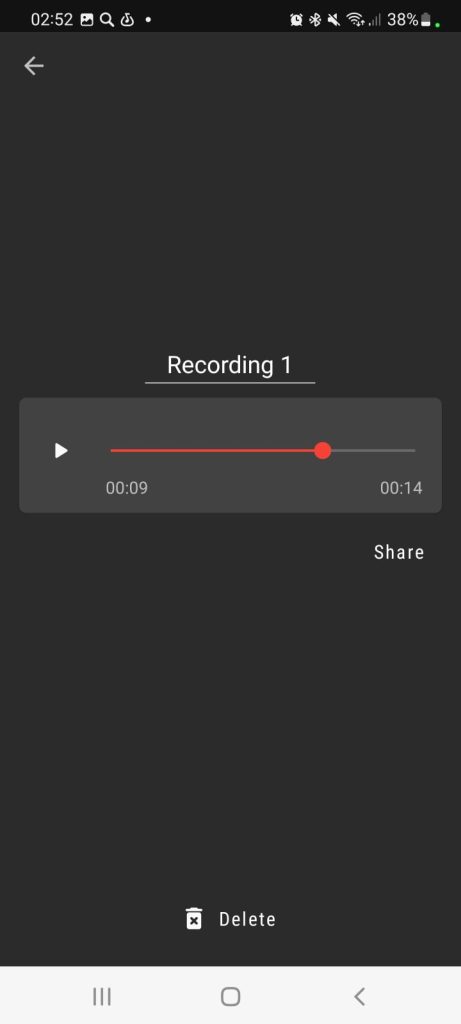 You may also like: 11 Best Apps that Improve Your Singing Voice (Android & iOS)
Voice Recorder & Audio Editor
This is quite a simple and straightforward voice recorder, however, it stands out for its UI. If you didn't like the previous app or you're an iOS user, and all you want for your singing is just to get a simple app for recording your vocals, you can get this one.
The main difference is that the buttons that you should click on are imitated by the buttons of the original voice recorder (the one we had in the 90s).
It makes the whole process more fun, however, recording songs this way wouldn't probably fit professionals. The end quality of the record is quite mundane – it won't unleash all the peculiarities of your voice.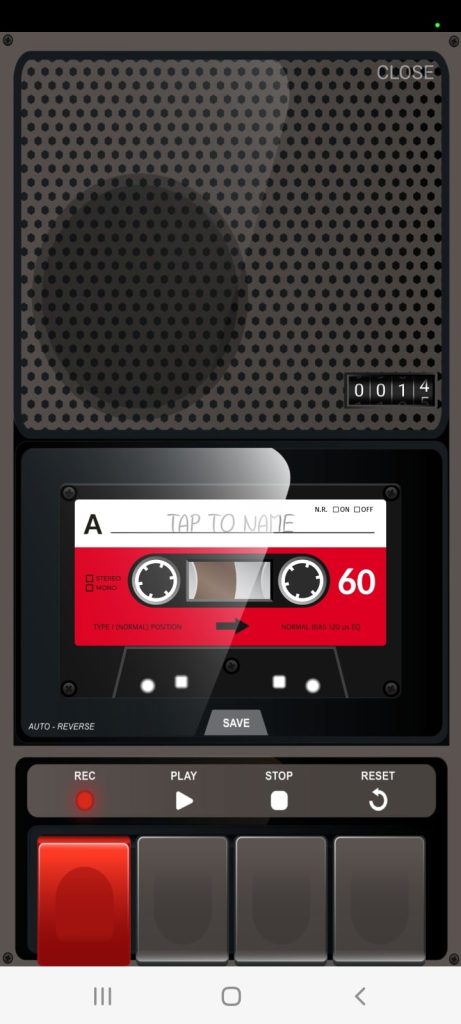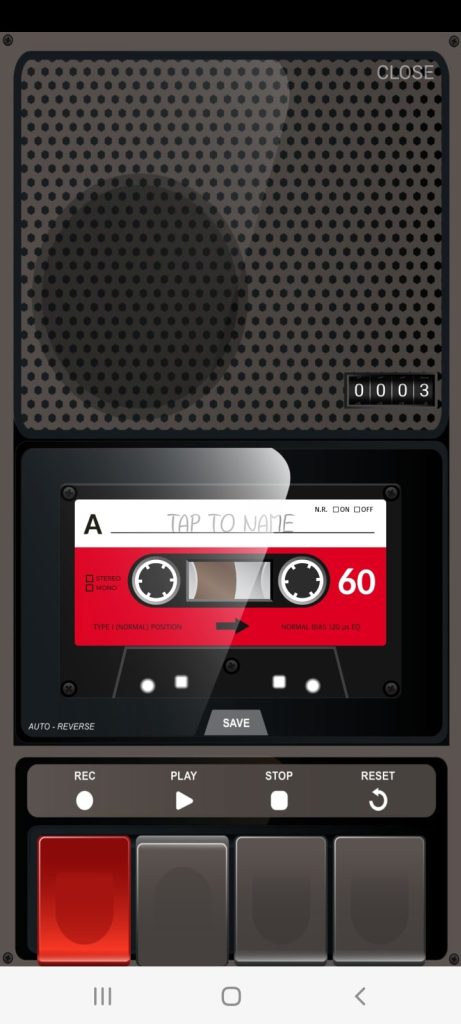 Yokee
Another variant of a karaoke app. Once again, it is really similar to Smule. There is one thing before you start using this app – when you open it, it suggests you get a 7-day free trial of the unlimited version and it seems like you can't go on without it.
However, there is a small close button at the top of the screen and you can use Yokee absolutely for free (version with ads).
And another disadvantage of the app we noticed as soon as we wanted to record our voice – some songs are only available in the pro version which makes Yokee a weaker competitor of all the free karaoke apps. Like, for real?
On the other hand, Yokee has quite a nice user interface design and it's super easy to use it. You just choose a song from the suggested list or find the track in the library and start singing.
And what was an unpleasant surprise for us is that you can't actually edit your vocals here. You just make a raw recording. Moreover, this was the first app where we noticed a desynchronization of the recorded voice and the background music. You can fix that manually though.
There is a possibility to save the result to your phone.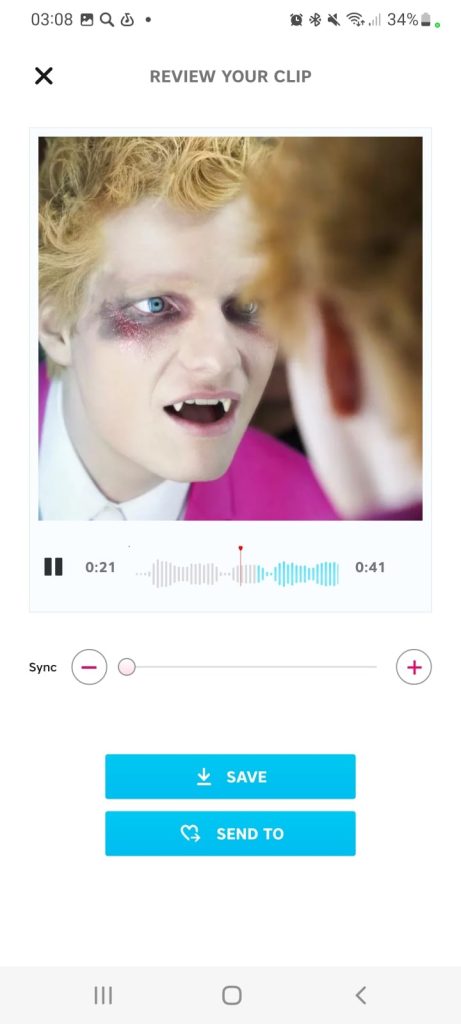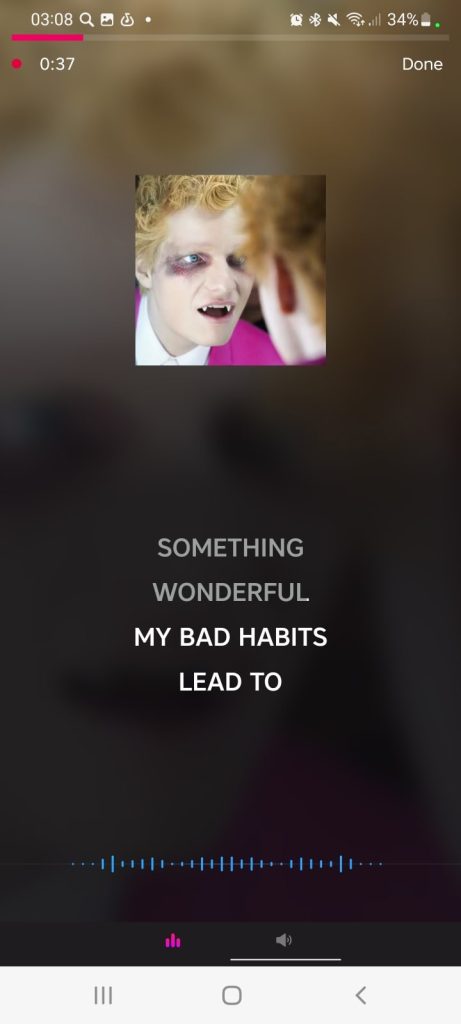 Sing Karaoke, Sing & Record
One more karaoke app for your singing voice!
To be honest, we didn't expect much from an app like this, however, it turned out to be better than that. It works in a little bit different way than other karaoke apps.
Yes, here you can start searching for various songs to sing right away, but the main difference is that all the instrumentals you find here are taken from YouTube and it is known to have a better version of them.
However, some troubles occurred right at the moment we started the recording. Firstly, the start button lags and for some reason, the music starts from the middle of the song.
Moreover, the app doesn't provide any special effects for the recording and the overall quality is low, even though we were using a powerful mic. In total, this is a choice for beginners, not for professionals. Or, if for some reason Smule doesn't run on your device, this is like a cheaper version of it.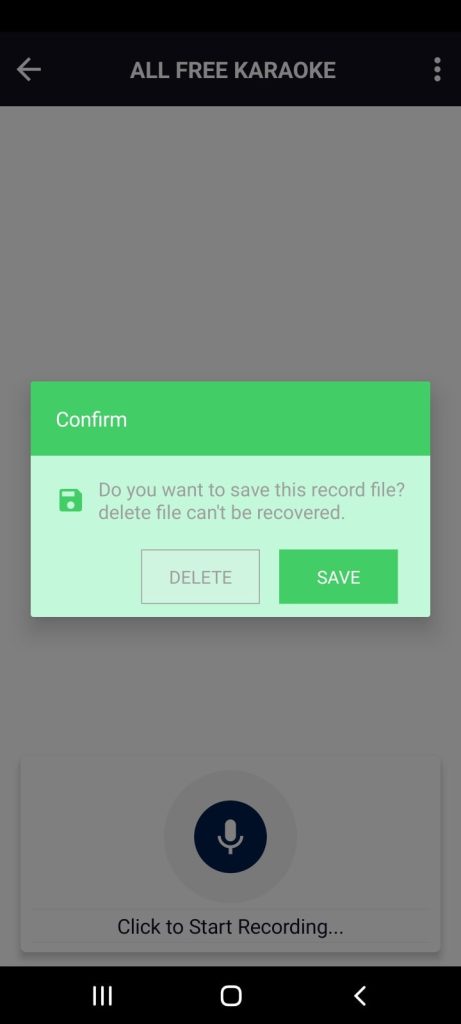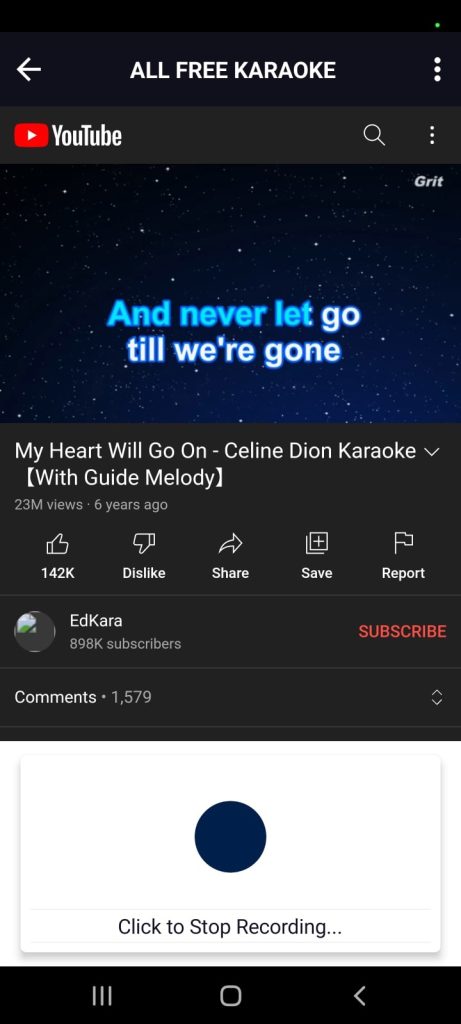 Rapchat
Even though this app positions itself as a rap app, you can record almost any type of song here. Opening it will take a little bit longer because Rapchat will require you to create an account with a name.
After that, you are free to find the music you want to record and start doing that. Take into consideration that there will be no lyrics. Moreover, some instrumentals are not matching and you might get confused as you play the song.
After the recording you can add some autotune effects to it, however, we were quite disappointed by the fact that there are literally a couple of effects that are available in the free version.
Moreover, the app puts watermarks on the recording every 10 seconds and it distracts you from singing and makes you lose focus. Rapchat is also quite clingy with its ads for paid subscriptions. The ending quality of the recording is surprisingly low for an app like this.
In general, Rapchat will be a better option for beginners – and it's better to rap here than sing.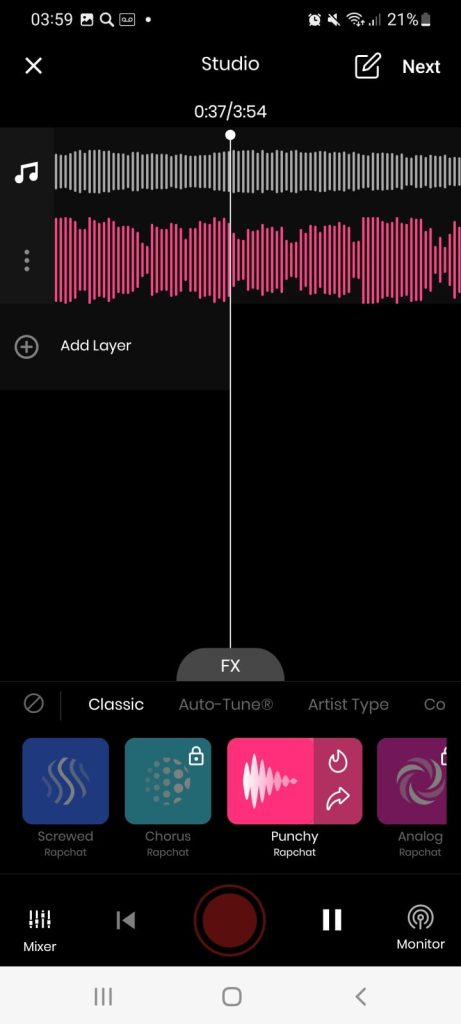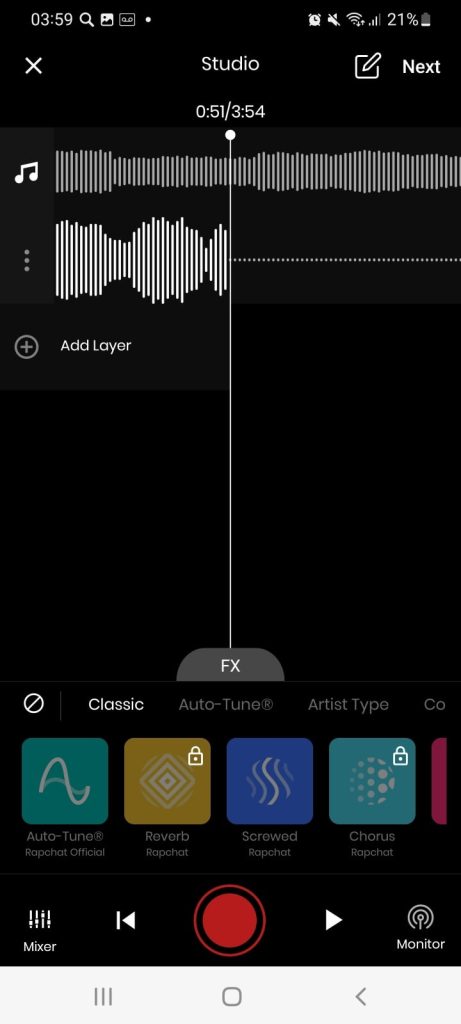 n-Track Studio
n-Track Studio is a widely known software for studio recording all over the world and it's really cool that there is a free version of it for smartphones. This app will be suitable for those who want to make elaborate vocal recordings and are ready to invest their time in editing.
It's really cool that before you start using the app it offers a guide. You can record your voice and after that add the instrumental, or, add the music first and overlay the voice recording on it. You can also record the raw vocals and edit them.
However, in terms of editing everything here is concentrated on the technical side – you need to highlight all the pitches manually and do the configurations on your own.
There are simply too many features to describe here, you can explore them later on your own. In case you want to get access to the autotunes features, you will need to buy the complete version of this program.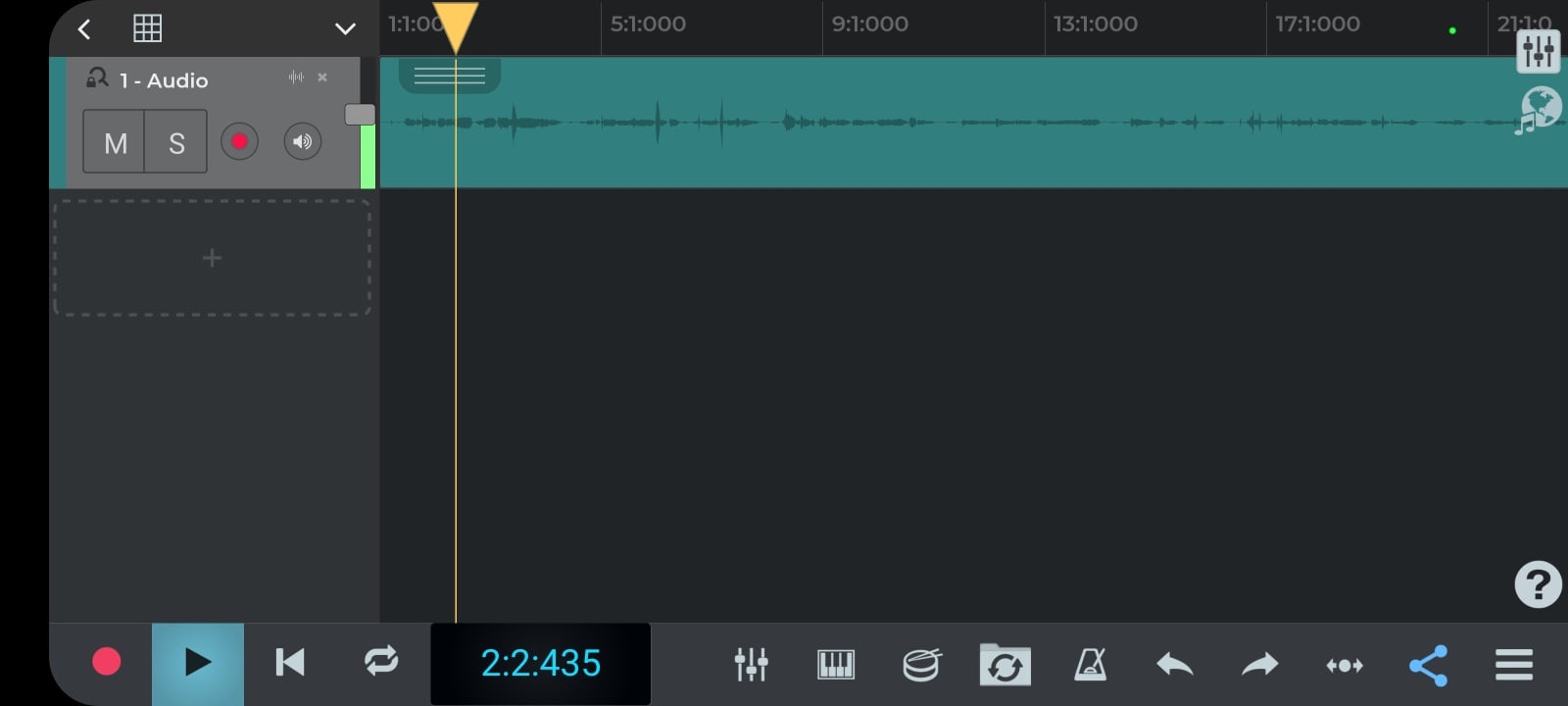 You may also like: 9 Best apps to teach you singing (Android & iOS)
Voice Recorder
Another simple voice recording in contrast to the previous app. However, we must acknowledge the high quality of the end records that it provides. Moreover, the overall design of the app, its animation, and its graphics make it pleasant to use. Moreover, the type of each recording app depends on your initial goals.
After you made a recording you can listen to it immediately at a different speed. Moreover, all the audio is saved to the memory of your device. The app is totally free and has no ads. However, it is available to Android users only.