There are plenty of people, which under the stress all the time. One of the best options to cope with any strain is a sport. And the most convenient way to do it is the acquisition of a spin bike if we don't have time to go to the gym.
This article will look at the free spin bike apps. And more apps for the real cycling can be found in this article.
TrainerDay
TrainerDay offers more than 10,000 training programs. However, without a subscription, you can't use its huge library, and only 20 workouts are available for free. But it allows customizing your own workouts and sharing them with everyone. As well as you can download workouts from others.
Thus, this app represents a community to train in a more interesting and motivating way. That's why we can find here the adherents and increase the effectiveness of training by exchanging experience and useful information.
Also, the app has a simple interface. Therefore, it doesn't make a virtual simulation of a ride like some other apps. Its settings allow users to open more options or hide if it's unnecessary. Thus a menu is adaptable.
The app even has the opportunity to get an individual plan from a trainer. And we can make our own plan using a function as a plan builder. TrainerDay is suitable for outdoor workouts as well.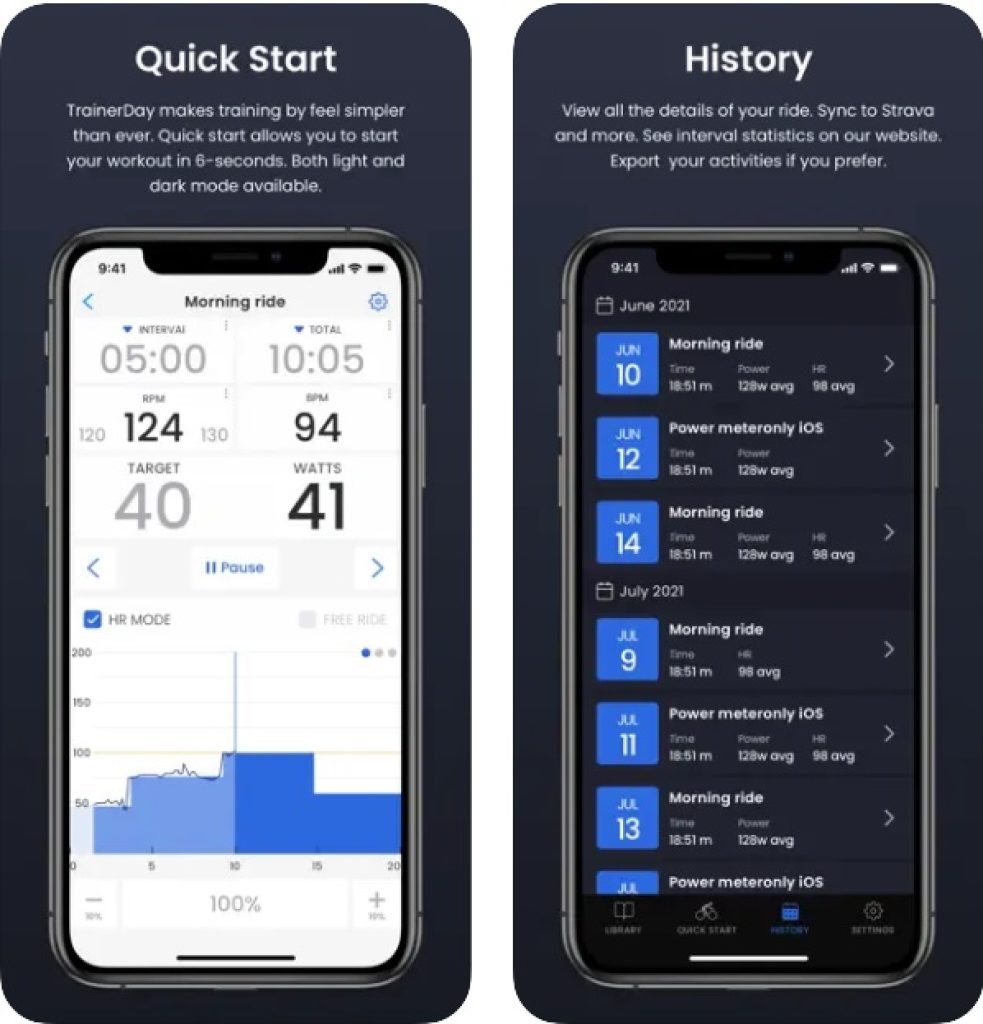 You may also like: 9 Best Apps to Rent a Bike Near Me (Android & iOS)
Onelap
After downloading the app, it asks us to create an avatar and choose the route. It includes numerous types of routes (smooth roads, hills, mountains, etc.). Onelap made a virtual world to turn our workout into a game. Also, it contains music for the background play.
There are competitions where users from the whole world can compete with each other. But in case you have the advanced level you can even compete with first-rate cyclists. Recently, the developers have improved the app adding bots if you're alone on the route.
In the app, we can choose any suitable training plan on strength of our capabilities and needs. Most of them are made by professional trainers. Thus, here we have a huge base of numerous workouts.
As a disadvantage during the training program, Onelap doesn't track our data, so we will have to search and select the next workout manually to not miss it or accidentally do the same workout one more time. The app has a large size for a phone as well.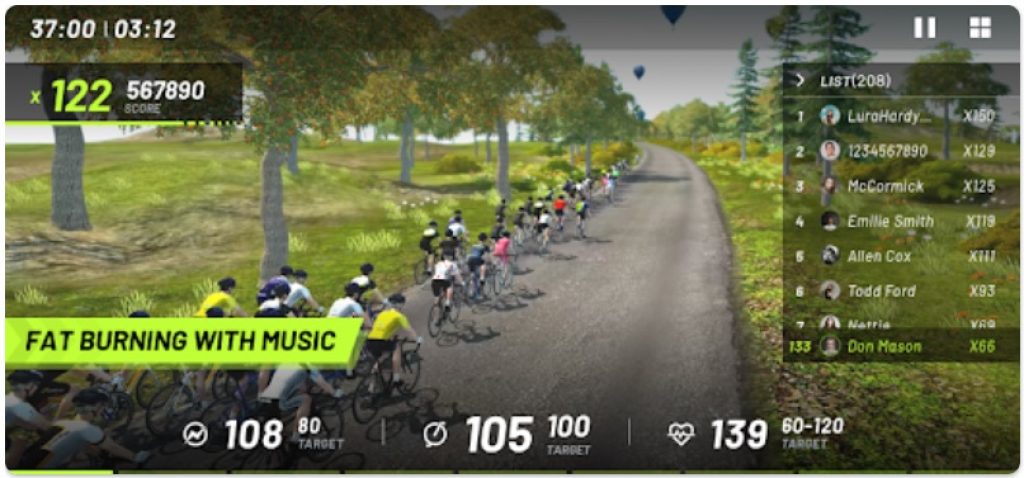 Tacx Training
Tacx Training recreates the atmosphere of riding by using real-life videos with beautiful road views. It has over 150 videos to make our ride more realistic. And the videos are released regularly.
The app allows organizing individual training, analyzing the progress, and competing with other users if they pass the same way. And we can create our ride to achieve a specific goal. There is the ability to ride using maps from Google Street View, although it doesn't look so exciting and frequently has glitches.
While riding, the screen shows our speed, power, pedal speed, and pulse rate. After the training, it can be easily accessed to help analyze our workouts. Training plans are synchronized between all devices and will be available to all friends. Here we can train alone or in online groups (maximum with ten users).
Sometimes the app lags and workouts and their recordings can disappear even if you haven't finished your training.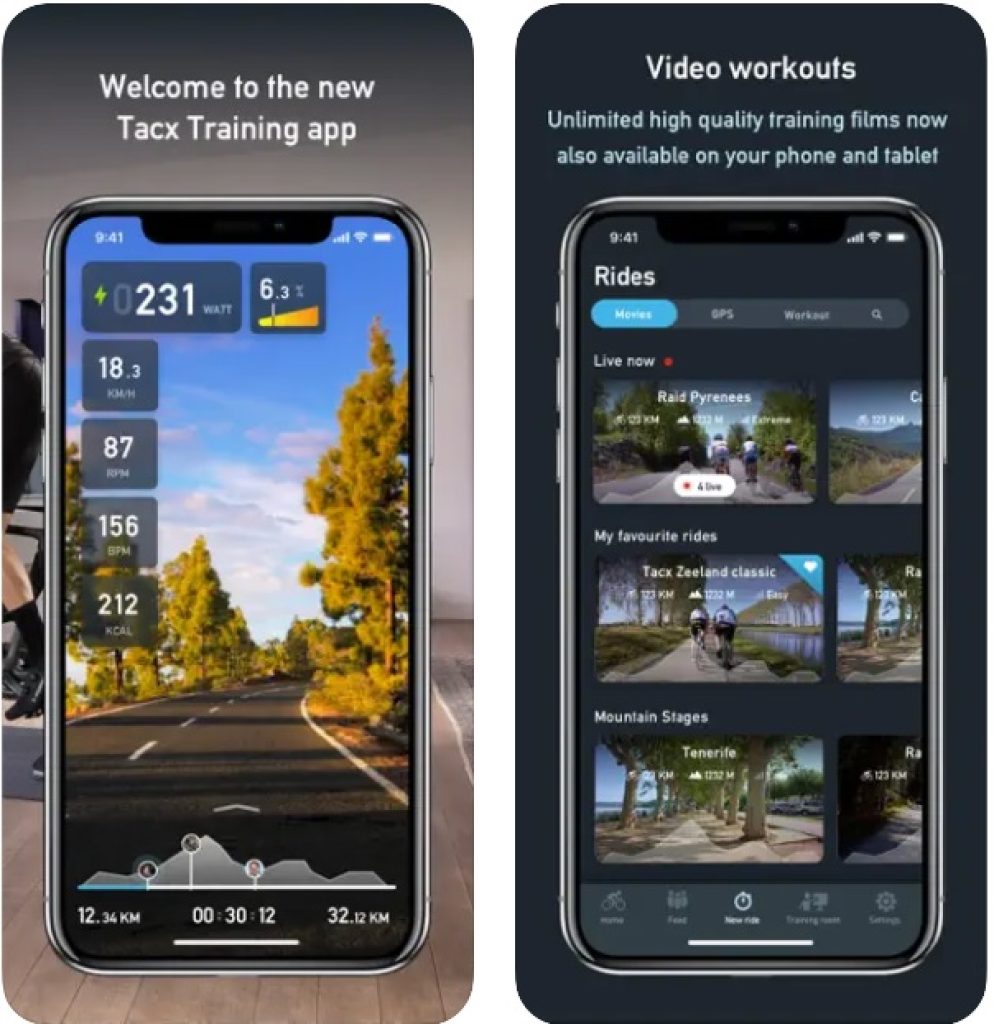 Kinetic fit
Kinetic fit saves our data as other apps but has peculiarity such as combining interval training (using bright histograms) with video integration. This allows watching preselected YouTube playlists while riding, or even movies downloaded to a device, without using a second screen or stopping a workout.
The platform shows data such as rhythm, speed, distance, calories, heart rate and much more. In the app we can share our results in social media, see colorful in real-time graphics, synchronize information with other health apps and make personalize training yourself.
A free membership gives access to one introductory training plan and a range of workouts, while paid membership unlocks extra twenty-seven training plans, more than 200 workouts, and video support from trainers.
As a disadvantage, the app can be buggy and loose workout recordings.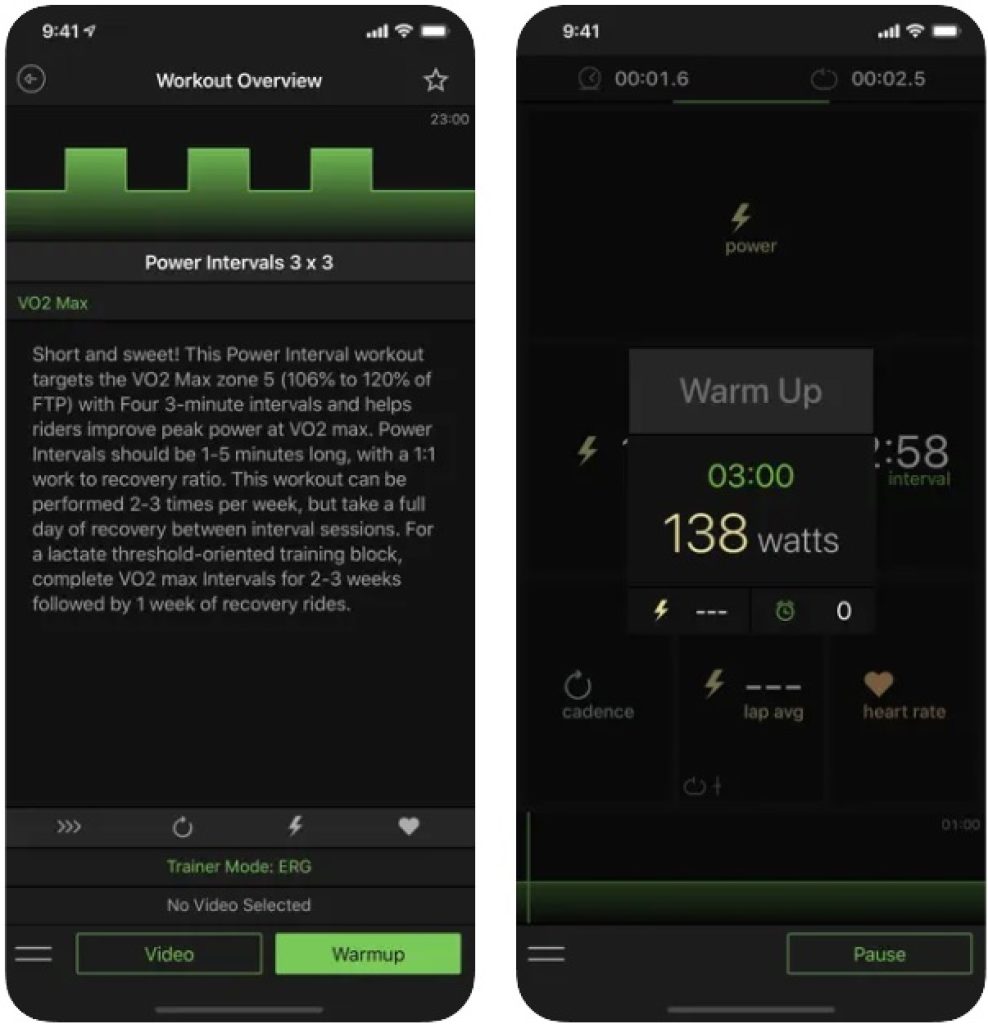 You may also like: 9 Best random workout generator apps for Android & iOS
Intelligent cycling
Intelligent cycling is an interactive platform, where people can make their workout more interesting and fun.
We can choose any complexity (soft camp, base camp, advanced camp, and summit camp are standard camps) of a route with different time. The app offers over 500 training.
As a convenient option we can select and save our favorite workouts and create new ones. And the app offers to us to turn on music from Spotify as soon as we start training.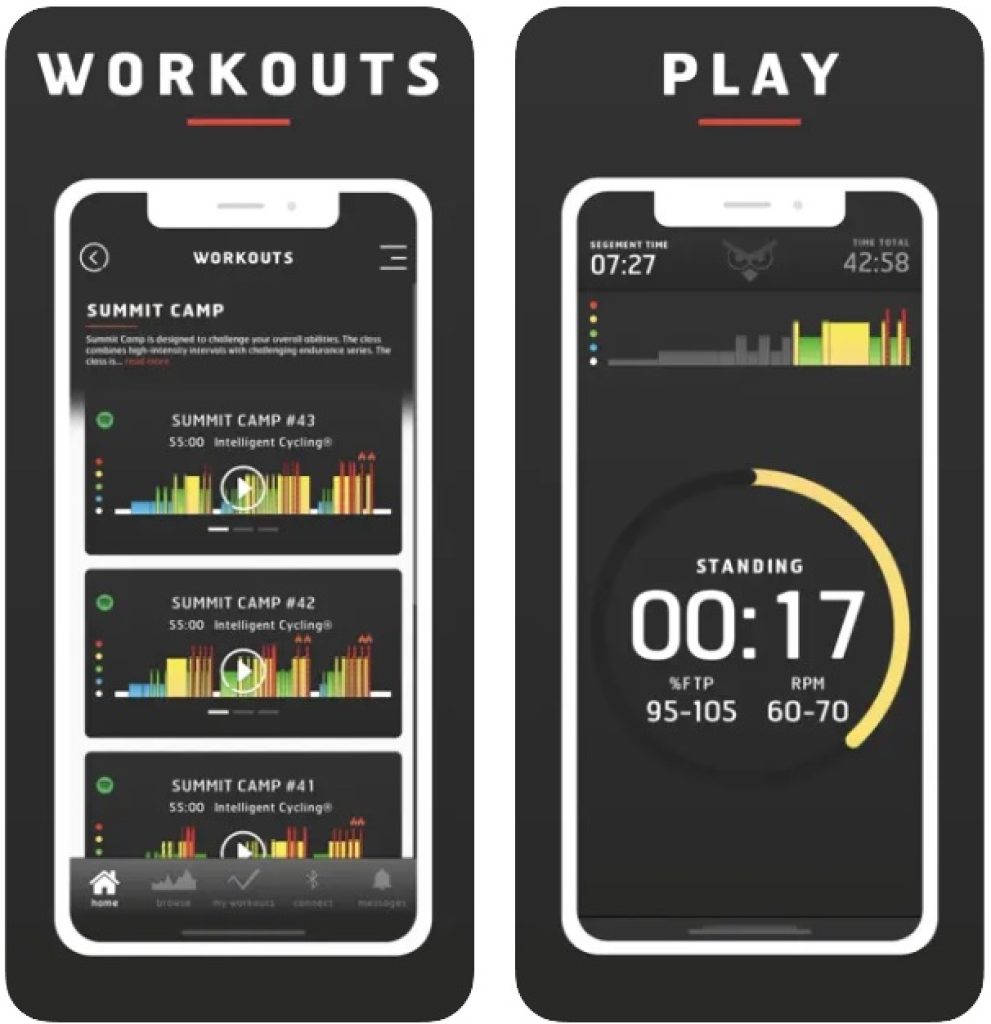 Polar beat
This app will be great if you have a chest strap heart rate monitor to track your pulse, heartbeat, and other important data. It's not only for indoor cycling but also for many other sports activities.
There are a lot of options such as Benefit Target allows to us set specific goals, Energy Pointer allows to us to see our results in real time, Fitness test (iOS only) measures our fitness level while we're resting, Running Index (iOS only) shows progress of the training effectiveness.
Polar beat has a workout diary that allows you to easily track your previous workouts. Our activity data is analyzed to give reports available for viewing through the app. This allows us to see how active we have been and to help us make improvements.
Friends using the same app can be integrated with our account, allowing us to compete with them. And our motivation will be raised and it will make our workout more enjoyable.
The data is synchronized with the cloud, which guarantees their backup in case of loss or change of the device.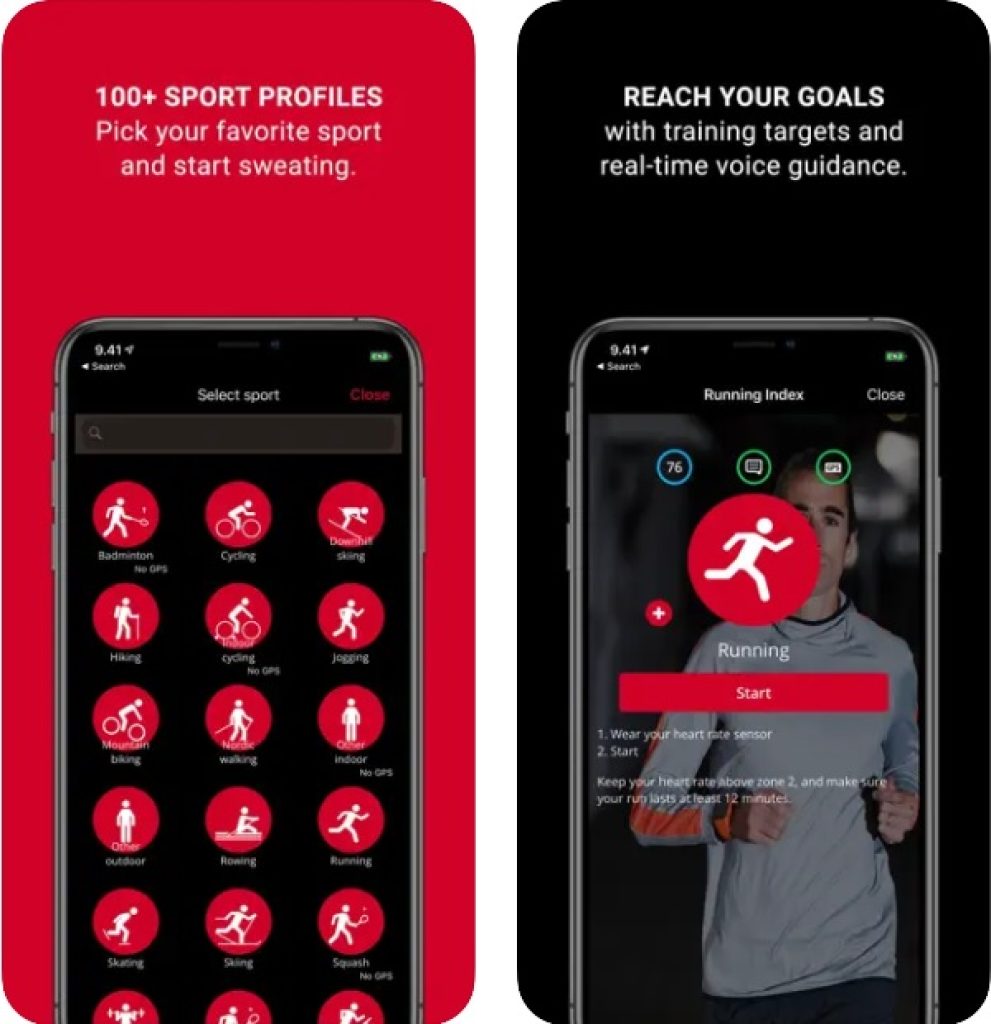 CycleGo
CycleGo is the app, which makes a virtual world for indoor cycling as well. Opening the app, we can make our avatar and after that choose a program for training. Every ride contains instructions (like don't forget to drink water and make exercises after a workout).
A free version of the app doesn't have restrictions on the time of use and there are a lot of programs for a beginner. CycleGo opens more routes and training programs with a paid subscription.
If you have a little time there is workouts from fifteen minutes duration (maximum 180 minutes). And also we can choose suitable level to train.
The app offers consultation from professional couches by audio voice instruction to make bigger progress.
A huge advantage is we don't need internet connection and can use the app wherever we want. Also, the app offers to us music for workouts. And the app has option for running too.
As a disadvantage, some users note that the video frequently doesn't match the program. And there is no way to connect a fitness bracelet.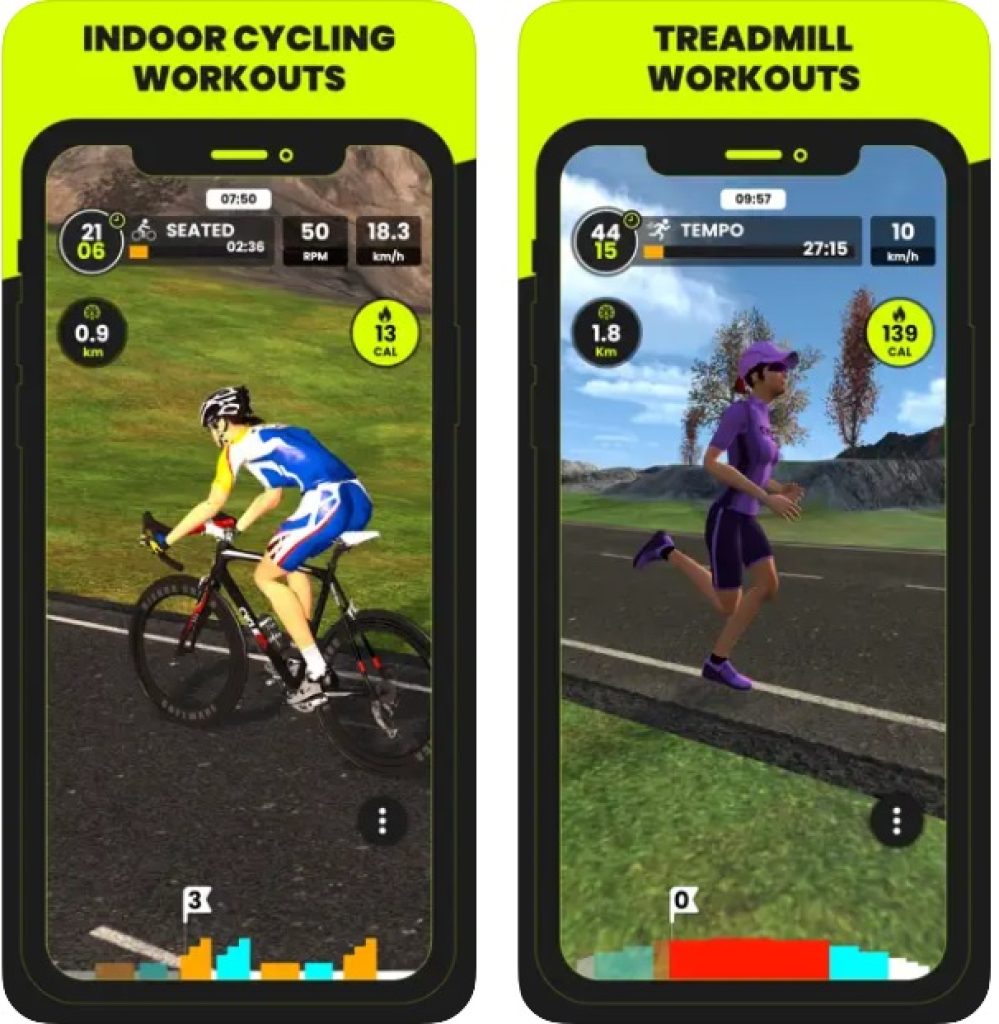 Google Fit
For people, who want to track their health training data this is an excellent choice. Its versatility will make it a great option.
The time of activity is taken as a basis. This can be configured in the settings and changed in the future. The progress of the goal achievement is shown on the screen of the phone. Two rings – blue and green are filled as you're active. The app also counts steps and calories, which were spent.
Google Fit defines the difference between the ways of movement automatically. The system focuses on primarily in the speed you move. That's way can be possible some funny incidents. For example, it can reckon fast walking as running, and fast running as cycling.
In addition, the data can be filed manually, for instance when we trained without our phone. We can fill blood pressure, weight, activity (here we can choose from a large list, there are plenty of sports activities, including unusual ones such as frisbee, squash and etc.)
The main advantage of Google Fit is ease of use. We just need to install the app, and then statistics will start to be collected automatically. And all information will be demonstrated as simple graphs.
However, the app can work slowly and synchronize workouts over several hours. Also, sleep analysis isn't synchronized daily as well.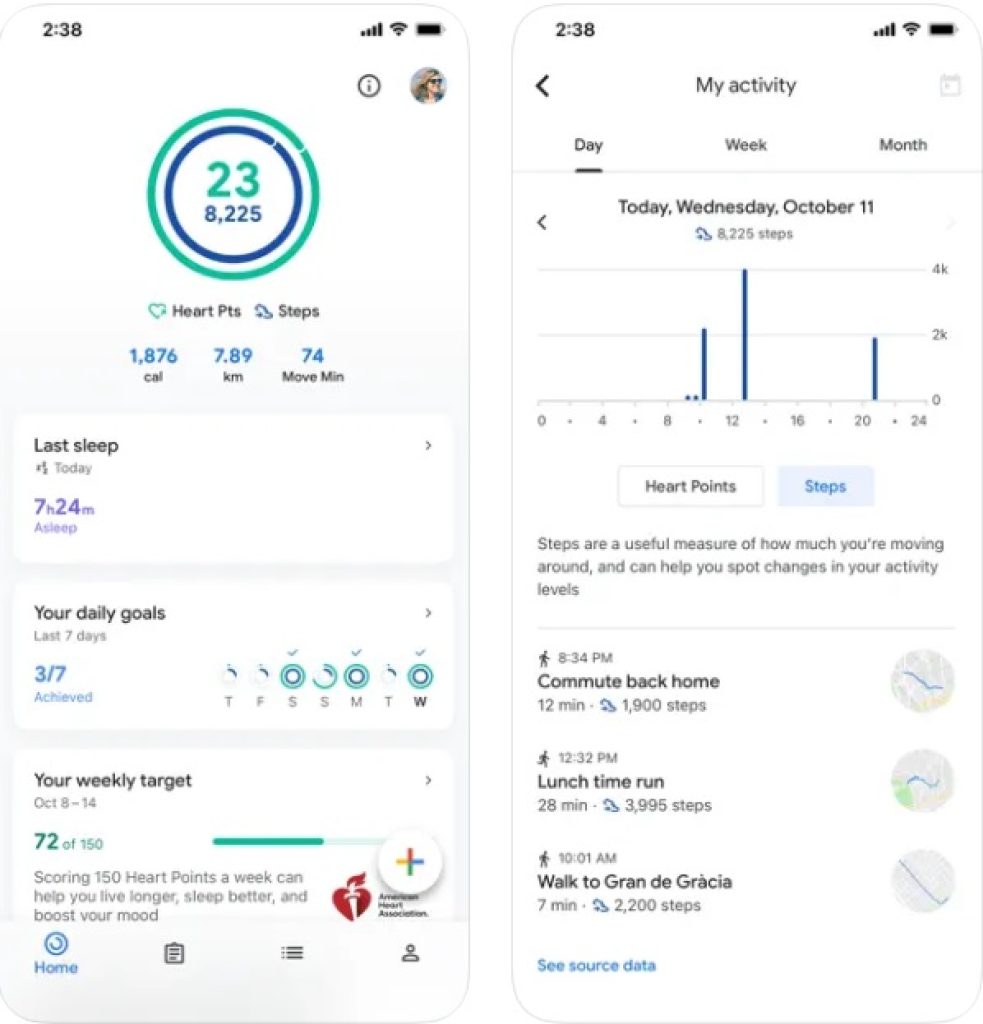 You may also like: 7 Best Resistance Band Training Apps for Android and iOS
Vescape
Vescape has an interactive way for our workouts such as video game Greedy Rabbit with 80 levels of complexity. In addition, it offers ten cardio workouts and five workouts to increase speed.
The game, where the rabbit is trying to find the exit in a maze, is connected with our bike and its speed depends on bike speed. And we should avoid a hedgehog and collect carrots.
The app saves our data so we can analyze it and improve our results. Vescape confirms that two workouts per week are enough to make a positive effect on the body.