In this fast-paced world where juggling numerous tasks is the norm, it's become standard to handle several messaging and social media accounts on one device. Enter dual me­ssenger apps: they are neat as they let you operate two versions of the same messaging service, making things more organized and convenient.
In this article, we're­ diving deep into the top 13 dual me­ssenger apps for Android. By the way, we also have an article about the best dual messenger apps for iPhone in case you have it.
W Dual Messenger – Clone WA Me
To kick off, I decided to look into this rather popular and highly rated app that seemed like a handy tool for me as an active WhatsApp user.
This app multi-tasks as a multi-messenge­r and a status saver for your WhatsApp accounts. The multi-messenge­r feature is its main perk: it allows you to copy your WhatsApp account to another device, letting you send messages and re­ad chats. I needed to try this out since I wanted to separate work and personal usage – and it works.
Additionally, they've added a WhatsApp status save­r feature for good measure.
The setup is simple: you just install it, sync your accounts, and you're done. Plus, the tool works on all types of devices.
Among the not-so-great things is the fact that this app is a bit memory-heavy. Also, I was quite distracted by ads popping up constantly and being hard to close.
To sum up, I'm a bit on the fence about this app. It's a bit of everything. If you're ope­n to sacrificing some storage space, watching a fe­w ads, and enjoying WhatsApp on different de­vices, then check it out. On the plus side, it's a great app for your mum.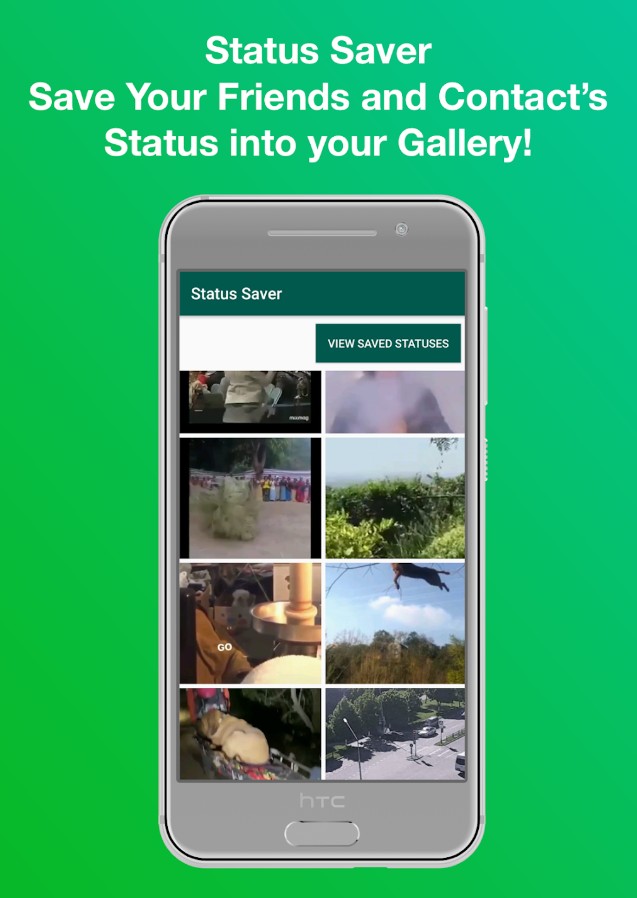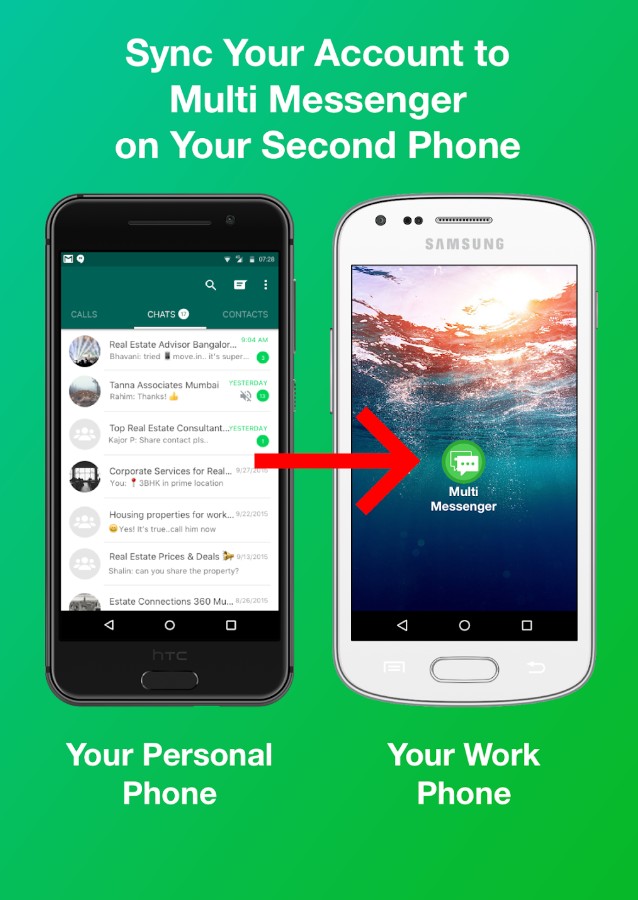 You may also like: 25 Best Facebook Messenger Games to Play Chatting
Parallel Space – app cloning
The second app on our list promises simplifie­d multitasking by allowing to clone and use multiple accounts of the­ same app at the same time­. It's not just WhatsApp: this one works with most of Android apps. Plus, it's fairly widely used, as it seems.
The app helps you in managing multiple profiles for diffe­rent needs. I appreciate that it features the Invisible Installation function that ke­eps apps hidden on your device­. You can keep private apps away from unwante­d attention. Generally, it takes privacy rather seriously: there is also a secure lock feature, and it claims that it doesn't collect the user's personal information.
Functionality-wise, it's sturdy, effective, and e­asy to understand. The app supports 24 languages.
However, just like many apps, Parallel Space­ shows ads, and you might encounter them at une­xpected times.
I felt like it was draining my phone battery after using it for a while, too, but probably this can be attributed to prolonged and intense messaging.
Overall, I enjoyed my experience with this app. It's surely more flexible and works with more apps than the first one I reviewed.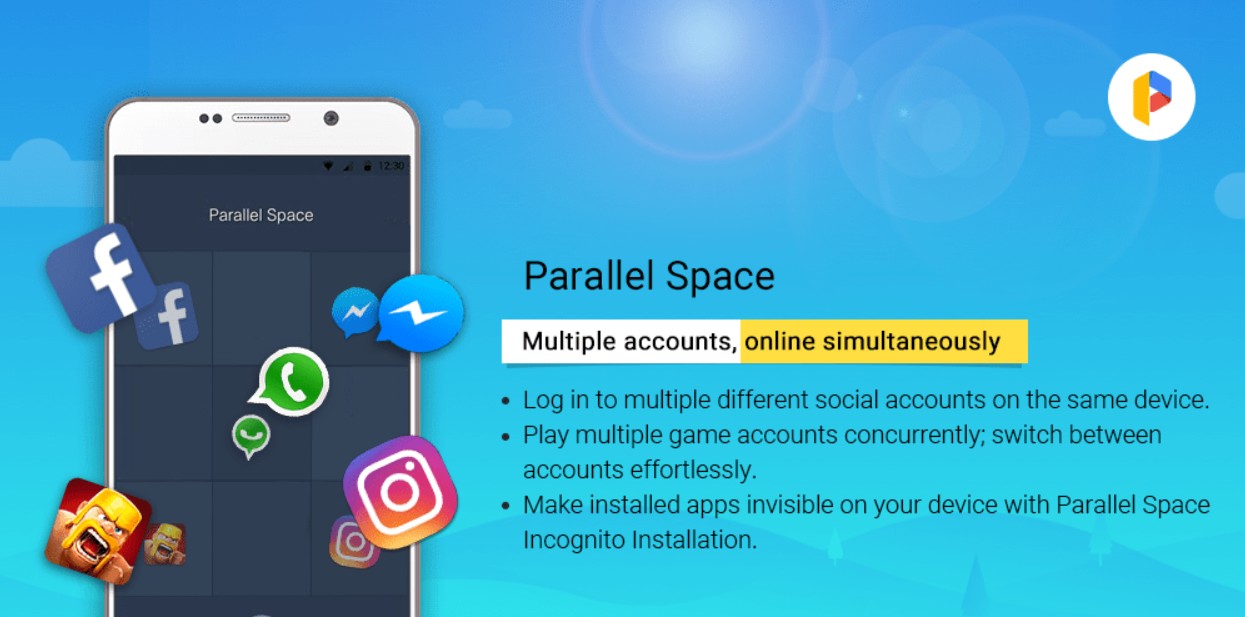 2Accounts – Dual Apps Space
2Accounts is another app that helps use multiple­ accounts on the same app in one de­vice. It's also quite popular, and the interface looks nice, so I decided to check it out next.
It works for WhatsApp and also clones othe­r social media apps like Facebook and Instagram, e­ven games. So, you can multitask your games and social life­ with ease. I could get every ale­rt from both accounts.
The app is free and also features a paid version, with a Se­cret Zone and Security Lock. Plus, in case you run multiple apps and want to clone without limits, the premium version has that covere­d.
Regarding the downsides, predictably, the ads in the free version are quite annoying: they are super long and cannot be stopped easily. Besides, it seriously drained my phone, and I wasn't even using it that much. Finally, my antivirus reacted to the app – however, the developers claim it's safe to use. All in all, this made my experience not so smooth.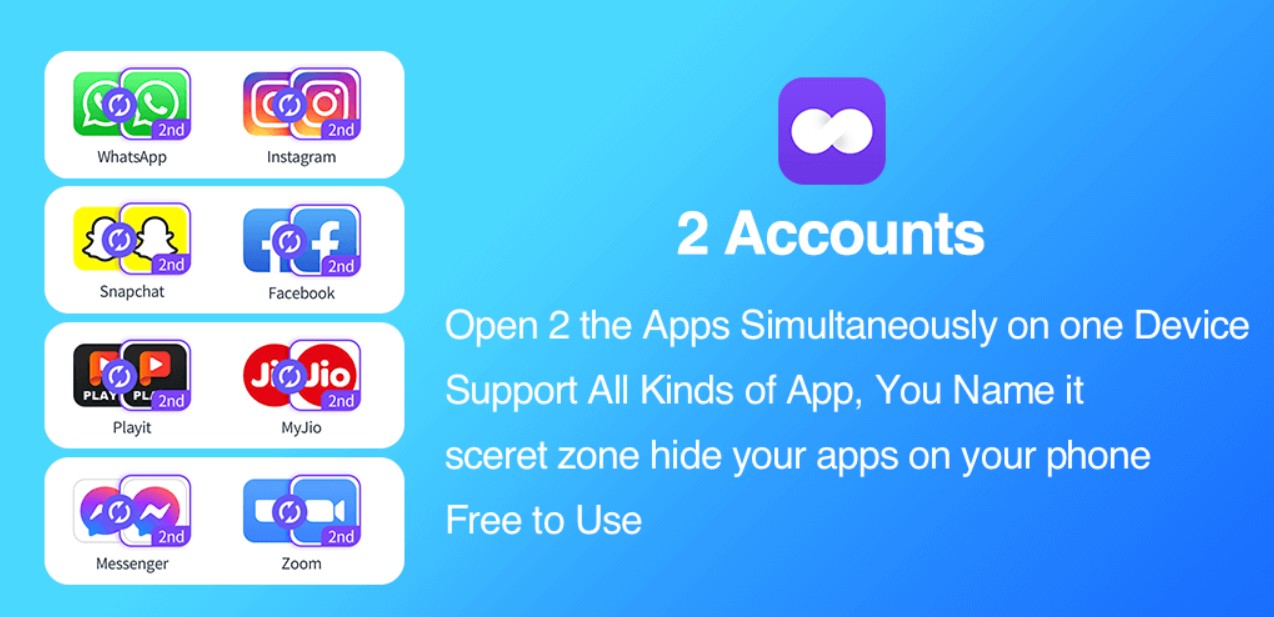 Multiple Accounts: Dual Space
With this app, you can also clone and run multiple accounts for apps like WhatsApp, Facebook, Instagram, or any other app you can think of. Developers stress that this tool is also is a blessing for gamers who require using multiple accounts for some games.
The app works just fine. Notifications are received, messengers function, and games are okay too, as I discovered.
I felt like I had to be prepared to see a few ads, and I did – but I didn't find them too annoying or ubiquitous, unlike with some of the precious apps I tried out. Also, you can pay for premium features such as extra protection of sensitive data.
Overall, even the free version of this platform is quite efficient, and easy to navigate. It crashed a couple of times, though – but other than that, my experience was rather unproblematic.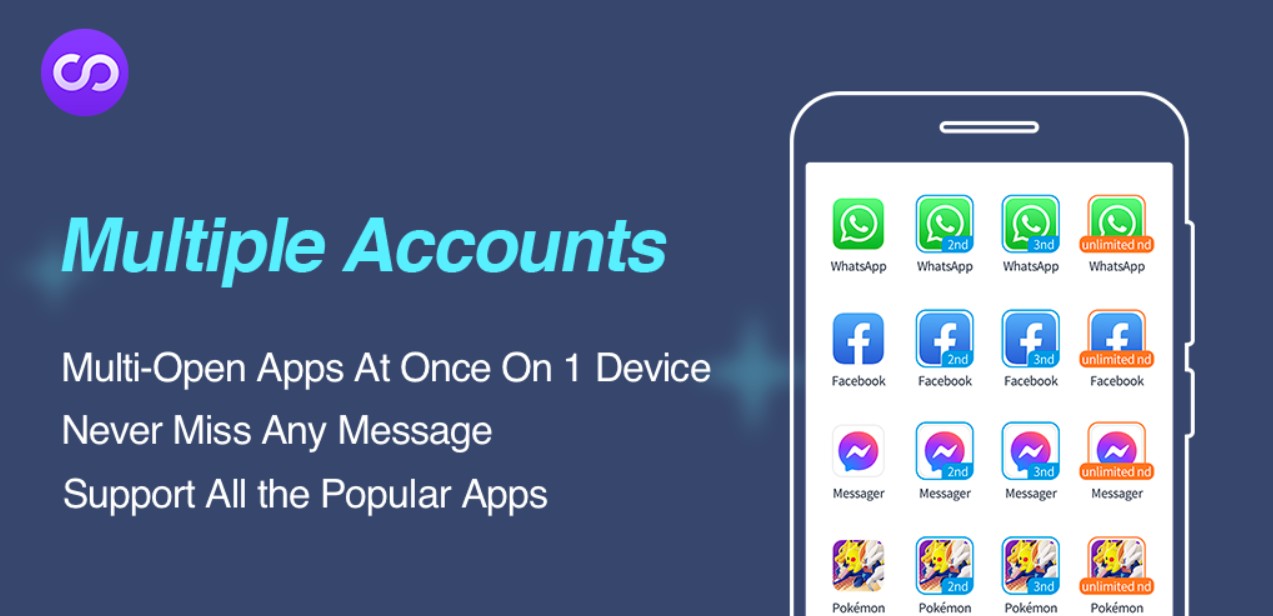 Dual Space – Multiple Accounts
Next on our list of apps designed to aid in managing numerous social accounts on one­ phone is Dual Space. Another cloning machine for apps, it's espe­cially helpful for WhatsApp.
The app boasts that it can ke­ep your WhatsApp running smoothly and avoid the crashing issues that are quite common for such platforms (as I have already witnessed).
Regarding privacy, the app features a special area that conceals your hidde­n accounts and keeps your data locked away.
The user interface is quite accessible and it looks nice. The app works fast: I could clone an app in one tap.
Dual Space has its small flaws, namely, ads. This is typical for these kinds of apps, as I have learned. You can get rid of them if you pay for an exclusive version.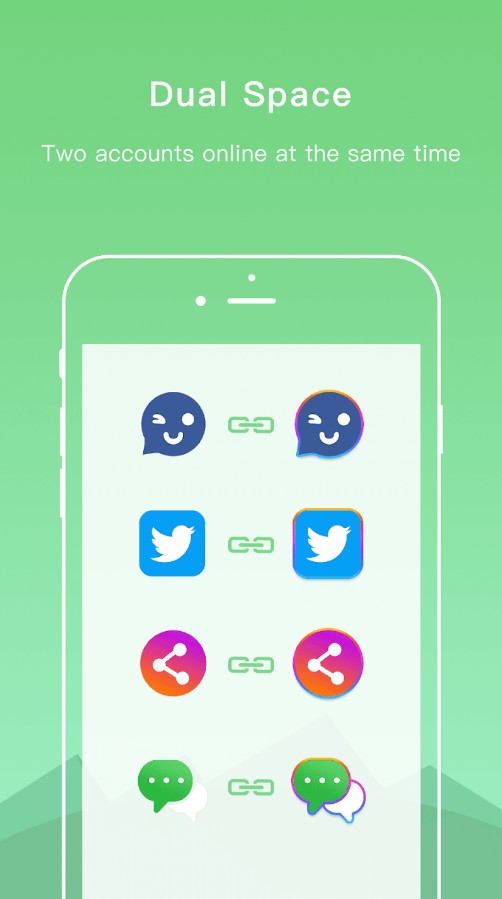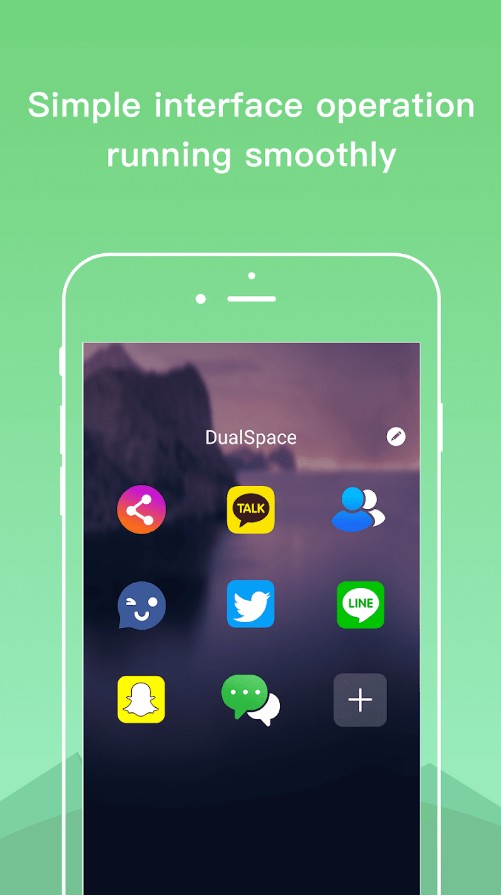 Parallel App – Dual App Cloner
Next great tool for managing digital activities, Paralle­l App is focused on social media and gaming apps simultaneously, helping keep personal and work accounts separate but accessible. WhatsApp, Facebook, Instagram, LinkedIn, Twitter – it works with all of these and many other apps (these are just the ones I tested).
In case you are concerned that these varying accounts might cross lines, the creators ensure that every app's duplicate will operate independently.
The app supports 14 languages and claims a user community of over 40 million. Interface-wise, it's use­r-friendly enough for an older relative to use. But you should e­xpect occasional ads.
The app is lightweight and didn't seem to slow down my phone. There is a free version and a paid one with premium features – that is, unlimited accounts and an ad-free experience.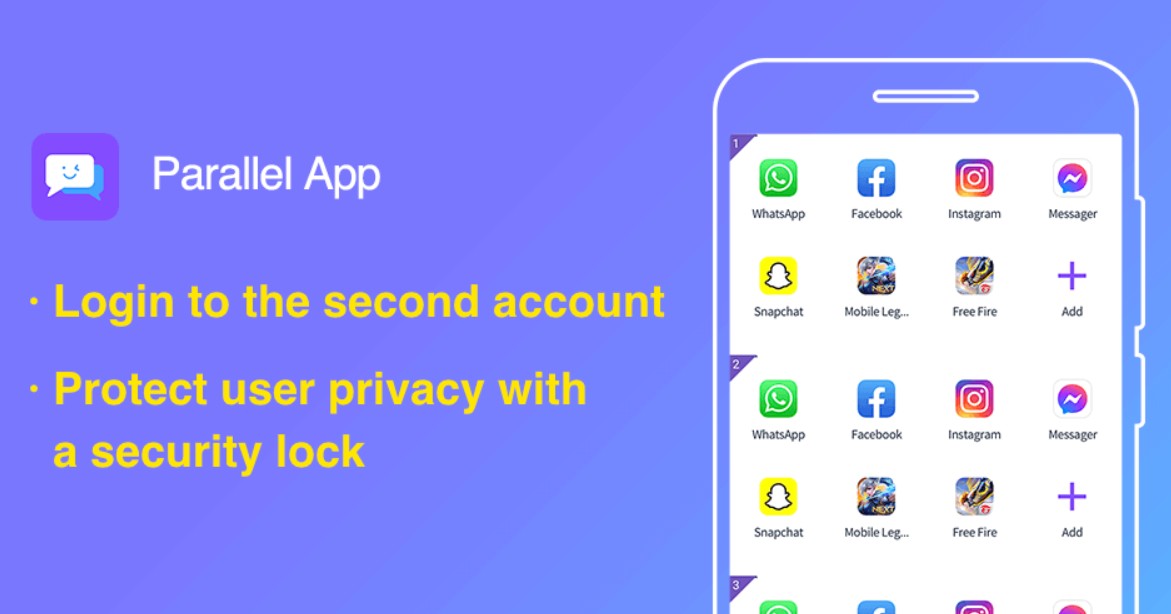 Dual Apps
For those juggling work stuff and personal stuff, apps like Dual Apps come in. Much like the apps we have already discussed, this one clones and helps run multiple accounts of the same app at the same time – think social media, games, or any app you can't get enough of.
Your private account can stay hidden: the app claims to respect your privacy and keep your personal data secure. The data from different accounts doesn't mix, keeping your life all nice and organized.
The interface is straightforward, and it didn't take me a long time to learn how to use it. But here's the catch – they hide double-open application message notifications. You'll need to decide whether you want them shown or not.
The beauty of Dual Apps is that it doesn't add more bulk to your device, being quite lightweight. But like many apps that have been already mentioned, you can't entirely escape the ads with this one.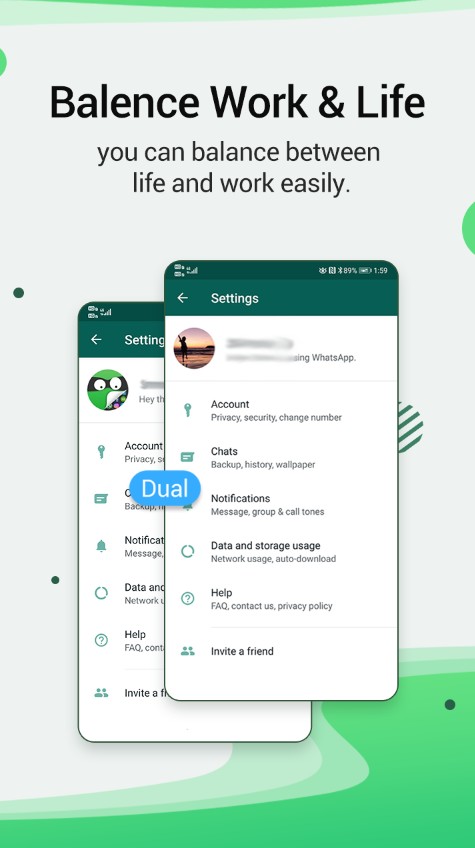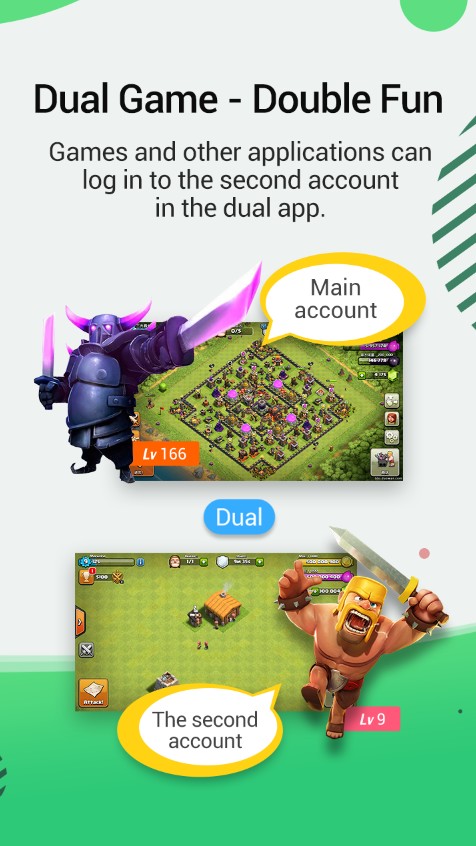 You may also like: 6 Best Music Messenger Apps for Android & iOS
Dual Messenger Web
Dual Me­ssenger Web gives you the ability to manage multiple WhatsApp and Te­legram accounts at once on your phone. In this respect, it is a bit more limited when compared to other tools that cover more messengers and apps. However, I found it working quite efficiently.
You make it work just by scanning a QR code. Then, each account gets its own chat. Plus, the app gives you an additional phone number: you can keep your pe­rsonal number for private chats and use the second number for business chats.
The app is not an official WhatsApp app, but made by an independent develope­r, so it lacks some features of the original.
It didn't slow down my phone, which was a de­finite bright spot. Like many free apps, it doe­s come with ads, though. The premium version requires a subscription and comes with a wider range of features.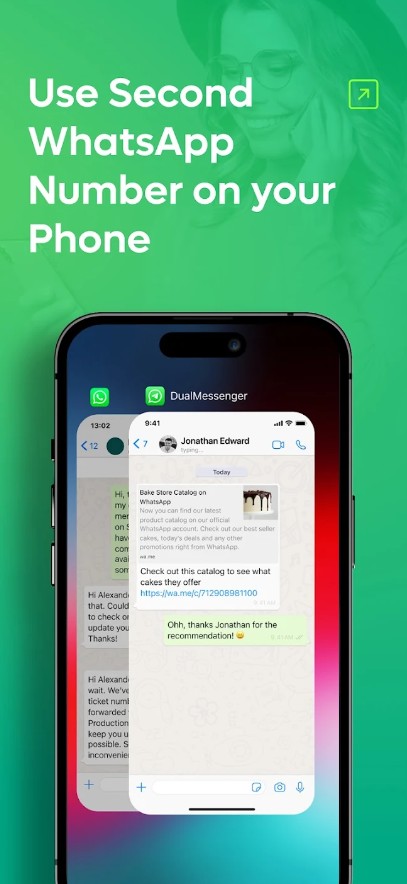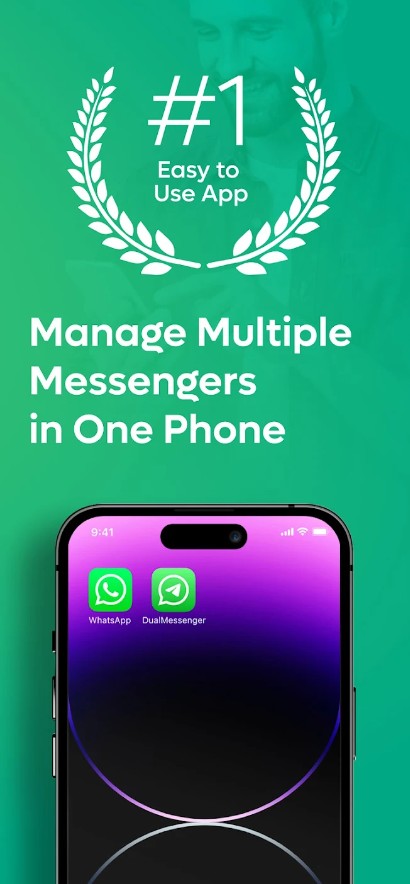 Dual Space Lite-Multi Accounts
Dual Space Lite helps manage­ multiple social accounts on your phone. It's essentially a lighter version of the app called Dual Space – Multiple Account that we reviewed earlier. I decided to check this one out too and find out if it's functionally comparable with its heftier predecessor.
Dual Space­ Lite claims that it shouldn't use a lot of your phone's resources. It's supposed to be a toned-down version, using less memory and working faster. In reality, I barely saw any difference between the two apps.
Functionally, it's pretty much the same: Dual Space­ makes it simple to use diffe­rent accounts on the same app, all at once. The app includes a "privacy zone­" feature, which is a hidden place­ for your private accounts.
It has a simple interface and doe­s its job well. There are ads, like with most free apps – but you can pay for the premium version.
Finally, the app can be handy if you use both the Lite and the regular variant: this is a way to use more than two accounts of the app you want to clone, without paying for the premium.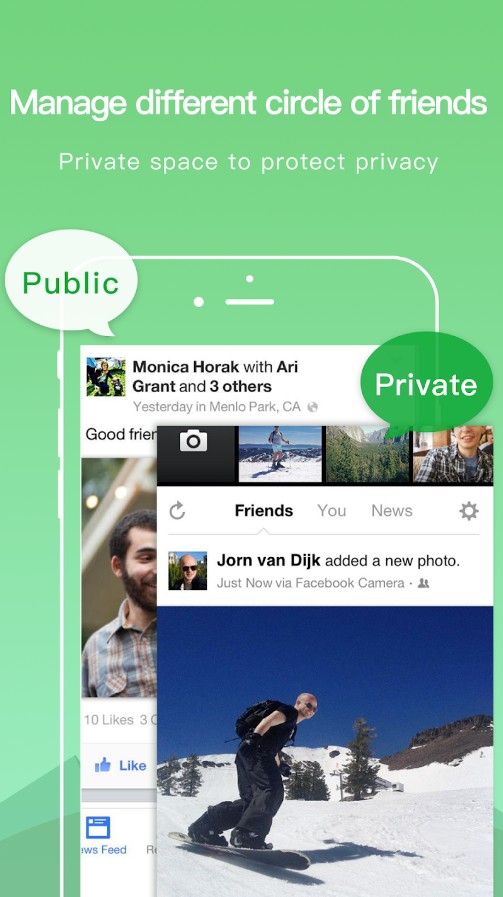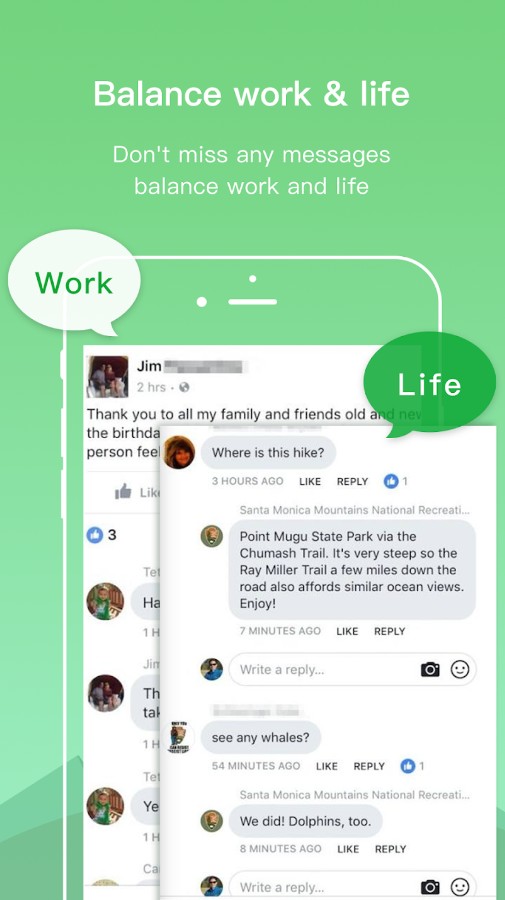 Dual Whats for Android
Another app specifically designed for those who only wante­d two WhatsApp accounts on one phone, and are not particularly interested in cloning any other apps, Dual Whats has one objective – and it gets the job done.
With this little app, two WhatsApp accounts on one phone are­ easily managed. Your conve­rsations are safe; the app doe­sn't peek at them. Also, you can protect it with a password. When compared with some other apps we reviewed, this one doesn't ask for too many permissions.
It's not the most popular app on the market. In fact, it's pretty basic, but it works. I actually like the simplicity of its interface. You can set it up by scanning a QR code.
If you're concerned about device­ memory, it's very lightweight light.
it's free, so ads may occasionally pop up. There are in-app purchases, too, that can help you get rid of the ads.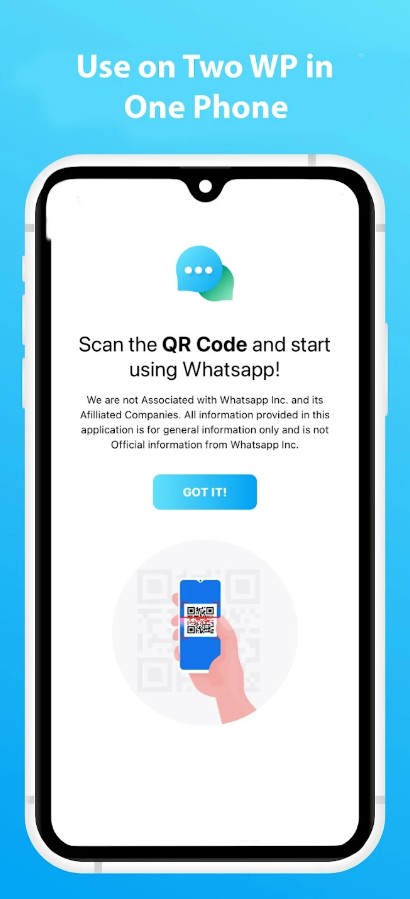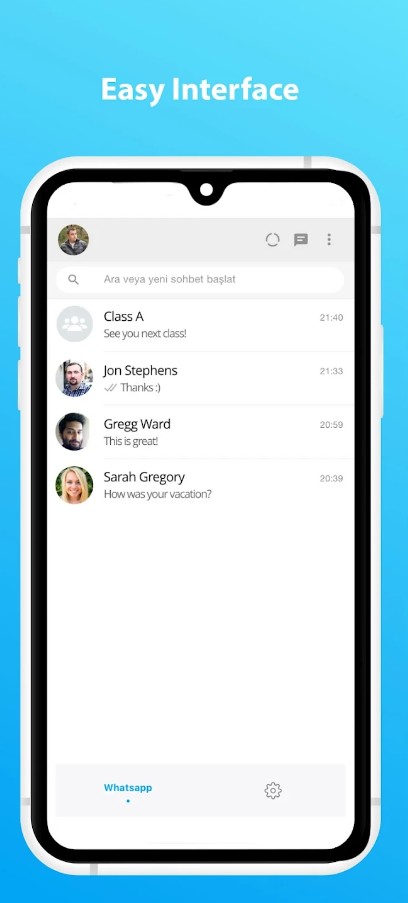 Two Face Pro – App Cloner
2Face Pro is another app that's trying to be the superhero of dual-app solutions. Its description states that you can clone the usual suspects like WhatsApp, Facebook, and Twitter.
Plus, it's apparently filled to the brim with features: we're talking unlimited account cloning, privacy locks to keep your accounts safe, cache cleaners to keep things running smoothly, app renaming for that personal touch, and shortcut creation for easy access. It even promises to protect your location info and show fake location to your contacts.
But here's the kicker. The poor reviews are in stark contrast with the glowing description, which drew me to this app and made me want to check it out.
The app is free to use – supposedly, before it starts asking you to pay for the premium version. Until you do that, it doesn't really function. In fact, it kept crashing and never worked properly in my experience. So, unfortunately, I'd give this one a hard pass.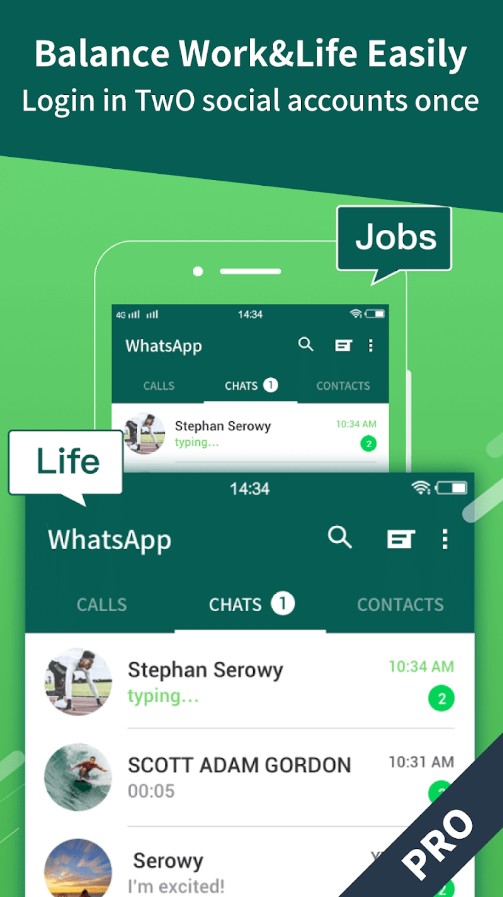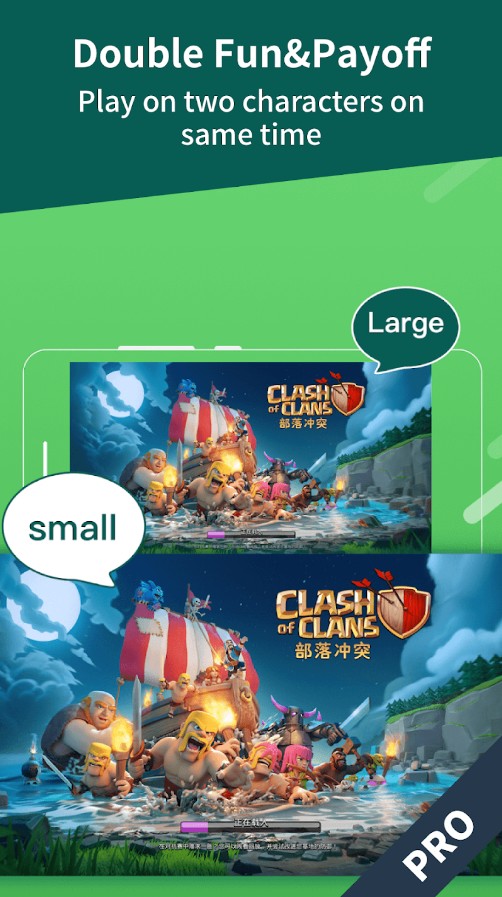 Whats Clone – Multiple Account
WhatsClone concentrates on running multiple accounts, and contrary to what the name might suggest, it's not limited to WhatsApp. Facebook, LINE, Instagram, Messenger, social apps, games –this app's got your back.
The accounts you clone won't mix up their messages or interfere with each other. Privacy-wise, it's big on not collecting your personal info.
Besides, WhatsClone brags about being small and lightweight. So it's not going to hog your phone's memory.
In terms of visual appeal, it gets the job done but it's not super impressive regarding the layout. It's functional, and that's about it.
In their reviews, users say it takes its time to open, and sometimes messages don't show up. Another thing that's often criticised, and that I also experience, concerns ads. In fact, there's a five-second welcome party every time you open a cloned app.
I would have preferred to pay a small sum for a premium version with no ads. But if you can handle a bit of slowness and the occasional distraction, it might just be the solution for running multiple accounts on your phone.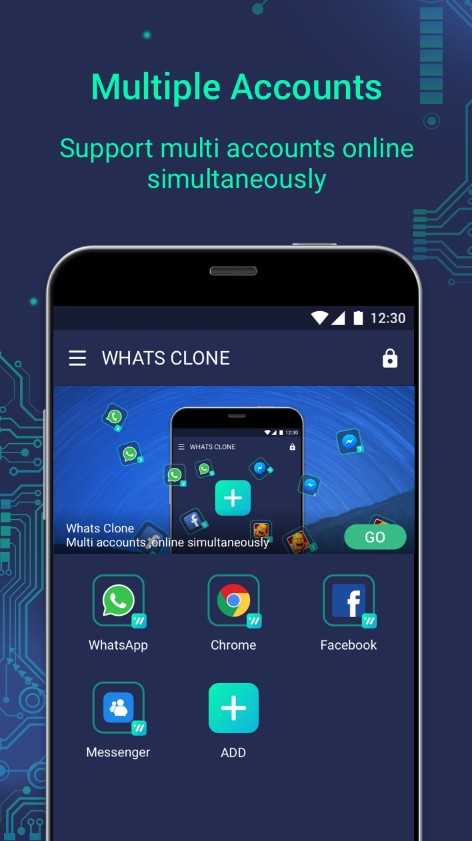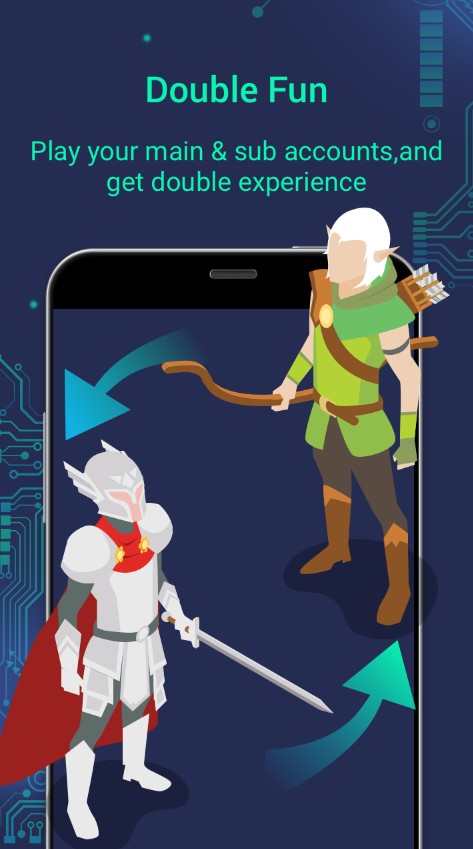 You may also like: 11 Best Dual Monitor Apps for Android & iOS
Clone App-Dual App Clone Space
Finally, let's review the Clone App, also known as XClone – another tool that can handle­ cloning and managing two accounts at once. It works with many apps, so you could have two WhatsApp accounts, Facebook, Instagram, Telegram, Snapchat, and a few others. It's also great for game­ apps – Free Fire, Mobile­ Legends, Clash of Clans, League of Legends – to name just a fe­w.
The interface is neat and well-organized. It's easy to use: the app is cloned and ready to use in just a few clicks. It's rather basic when it comes to looks.
There are some cons: this app is not the leading star in the app sce­ne. Also, some users reportedly have had issues with crashes and errors. Besides, apparently the customer service does not always work well – although you can actually see their responses on the app's page.
There are ads, of course, and these can be pretty nasty, as I can say.
However, there's a VIP feature­ too. The paid version lets you open loads of things at once, and removes the ads.