Running a restaurant has never been easy. Therefore, you must use all the tools that will make this job more productive, fast, and fun. In the following article, we have gathered the best free useful apps for restaurant owners that will help you to take your business to the next level.
In addition to it, don't forget to explore our best restaurant scheduling apps article which will also be extremely helpful for restaurant businesses.
7shifts: Employee Scheduling
You can see this app being the leader of a number of similar best apps for restaurant owners lists, and that definitely has a particular reason for it. This is one of the most convenient and reliable planners for all kinds of restaurant jobs.
Everybody knows that the restaurant schedule is quite hectic and 7shifts allow you to perfectly manage it. All you have to do is just to open the app, create an account, and then add the information to the shift templates.
Of course, it is much better if all members of this staff would install this app and synchronize their accounts. It would help to synchronize the mutual schedule and stay updated about all the changes or each other's availability, and so on. 7shifts will help you to manage the labor costs.
The fact that 7shifts is so easy and use makes it a pleasant software for all users of all levels. It is even cooler that this software is already used by more than 250 thousand restaurant owners.
We definitely recommend using the seven shifts app because it will save you tons and tons of time on planning. Therefore, you can start your restaurant management with this app.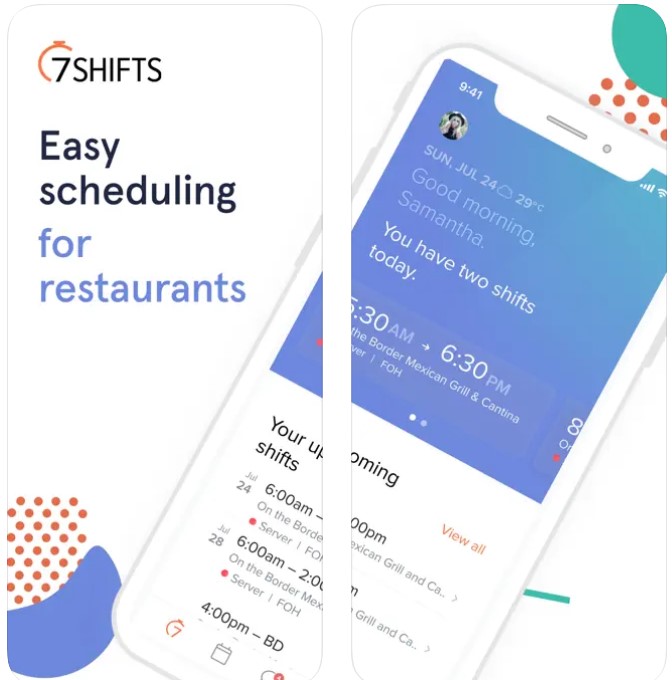 You may also like: 10 Best Employee Scheduling Apps for iOS & Android
Avero
The next app is developed for deep business analysis and operations control. It will give you access to operational insights. You will be able to track this server's performance, inventory management, labor and food costs, Revenue management, and other aspects which are crucial for your business.
From the first side it might seem like the app has quite a complicated interface, however, do you do its functionality it's basically your place and you will learn step-by-step how to use it. What is more, the solutions that this software provides are integrated with the POS labor systems.
Here you can also track your sales and revenue. The app will provide diagrams and graphs where you will be able to monitor your progress in your financials. We would recommend using Avero on your tablet rather than on the phone.
What is more, the app can work as an event calendar. However the Avero app has its drawbacks as well, many users complain that it has a tendency to crash and gives errors frequently.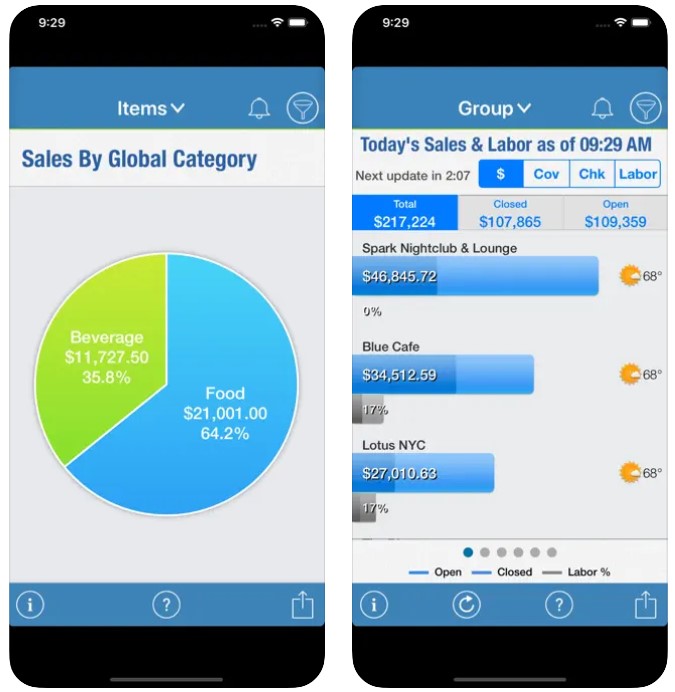 Sprout Social
Social media is an essential part of which business today. That's why this app was invented and it helps the owners of the restaurant to manage all kinds of social media. The way works is similar to a social inbox and this app allows you to post, schedule, and monitor content on various social media channels with no effort.
For example, you will be able to manage the content on such platforms as LinkedIn, Facebook, Instagram, Google Plus, and so on. Another great feature of Sprout Social is that it allows you to view all the messages from all those platforms in one place.
Here you can also create to-do lists and link your social media data to customer feedback. But the best part of sprouts social is that it allows you to keep your hand on the pulse of all your social media and never miss anything important. You can also schedule multiple social posts here.
What is more, the app provides quick access to all social media through itself. It's time you will get a new message on social media, Sprout Social will notify you about that. And of course, this app also has disadvantages. For example, it often hangs and makes the overall process more complicated.


Bonusly
Bounsly is a cool app to stimulate the motivation of your employees. This is a nice choice for simplifying employee recognition and for the improvement of performance management. In general, boundlessly will help you to recognize the efforts of your employees and give them rewards.
What is more, the app is cool for its ability to integrate with other restaurant management apps. Bounsly helps you to develop the company's culture and it helps to make the overall working process more fun. You just need to create an account for a company here, then add all the workers there and give them access to it.
Bounsly has a point system and those points can be later exchanged for valuable gifts from, for instance, Adidas, Target, Starbucks, Etc. The only thing is that the app is not exactly easy to handle and its usability is not the best.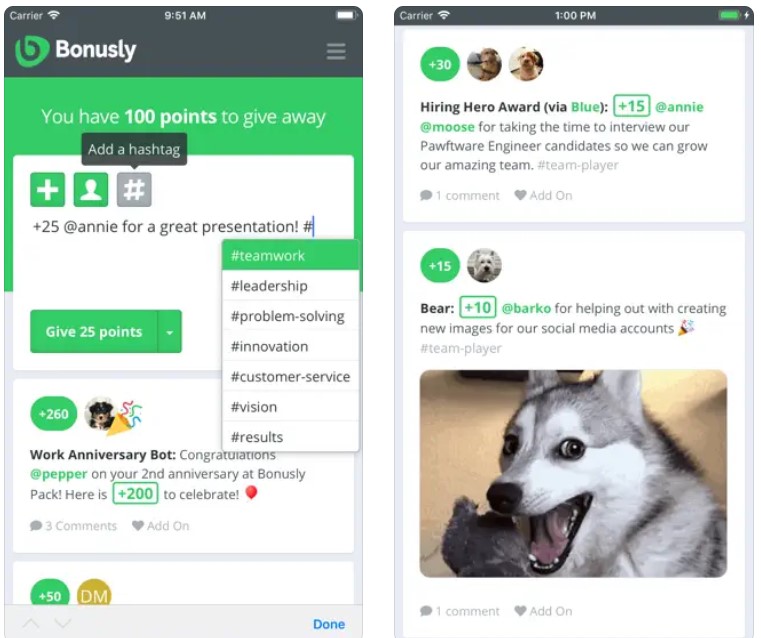 BlueCart for Buyers
BlueCart is another super useful app for business owners because it allows them to order all the necessities and goods right from the suppliers. Moreover, this app allows you to manage the inventory right from the phone.
The main purpose of this app is to make the ordering process as easy as possible. You can explore the network of suppliers that blue card provides, or you can even add your own suppliers, you can also make the ordering an inventory here, and even create the return orders.
However, despite the excellent interface design and simplicity of this app, it has quite poor customer support so when you have an issue with it most likely it won't be resolved.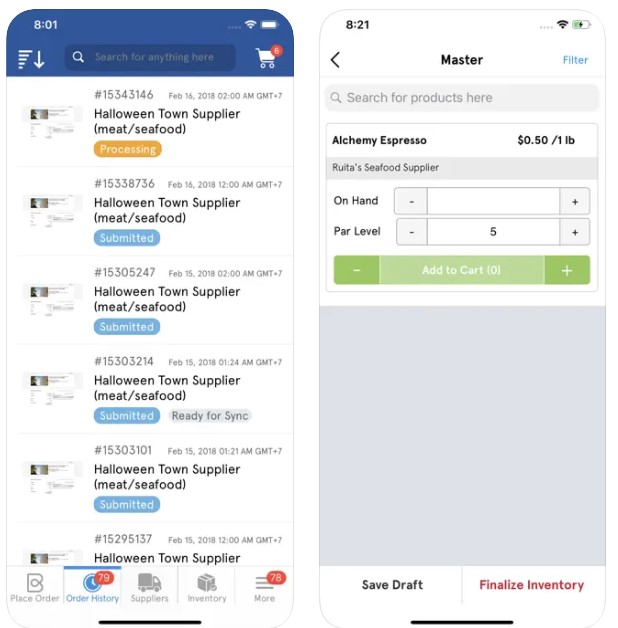 Mailchimp Marketing & CRM
This is an email marketing app that would also be useful for any type of restaurant owner. You can use Mailchimp to inform your customers about all ad campaigns and interesting events. What is more, this is also an analytical tool that will help you to evaluate the performance of your marketing efforts.
Mailchimp Marketing provides decent data analysis and healthy list management practices. In addition, this app can be integrated with other platforms. But of course, the main advantage of this app is that it allows you to create marketing campaigns on the go and in no time.
You can also create landing pages for your restaurant to expand your reach. You can view insights about individual contacts and design and publish social apps instantly. Moreover, one of the coolest features here is revenue reporting which will help you to understand the overall performance of a marketing campaign.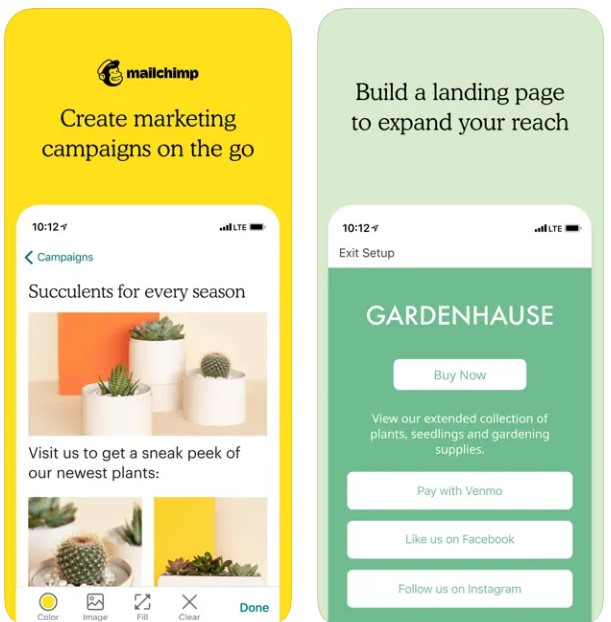 You may also like: 10 Best Time Blocking Apps For Scheduling (Android & iOS)
Evernote – Notes Organizer
This app does not relate directly to the operational process but it's really essential for any business owner to write down their ideas. This is one of the best note apps ever.
One of the advantages of Evernote is that it allows you not only just write down your ideas but also to attach photos to them or create to-do lists or checklists, convert all of that into PDF files, and so on. And Evernote is a cross-platform app so you will be able to access it anytime from any device.
You can also use this app for brainstorming or for the implementation of different ideas or tasks. Also, Evernote would be a great platform to plan and create menus or marketing plans.
The app is free but if you want to get access to all the features you will have to go for the yearly subscription. In all aspects, this is one of the best apps for productivity that will be useful for everyone.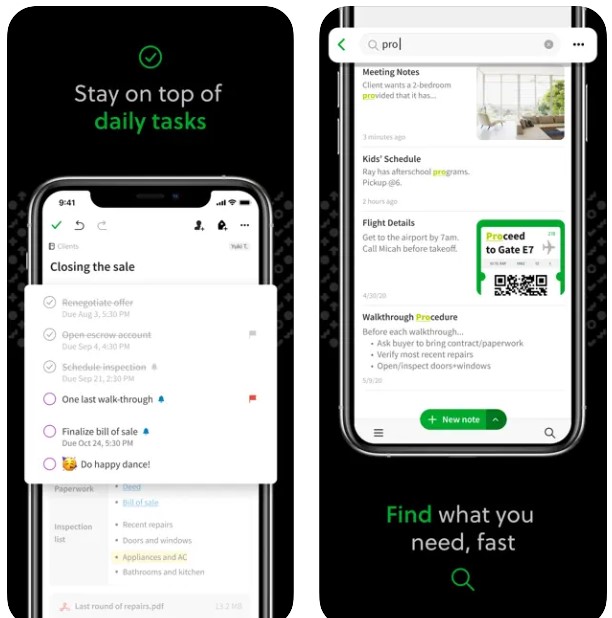 Zonka Feedback-Surveys, Kiosk
As you have probably guessed from the app's name, Zonka Feedback is developed for collecting and managing customers' feedback. This app allows you to conduct service in any form. For example, you can organize email surveys or SMS surveys for your target audience.
The app allows you to compile your own questionaries and includes as many questions as you want. It also allows you to build the skills for writing customer service and to build the metric system so it's easier for the customers to evaluate your business.
Zonka Feedback allows you to work with various metrics such as NPS, CES, and CSAT. And the questionnaire that you compile here doesn't have to be boring and ordinary, you can create them with the usage of smiles, stars, emoticons, and so on.
Moreover, Zonka Feedback allows you to collect contact information about the customers and generate more leads. And this platform can be integrated with your existing tools and software.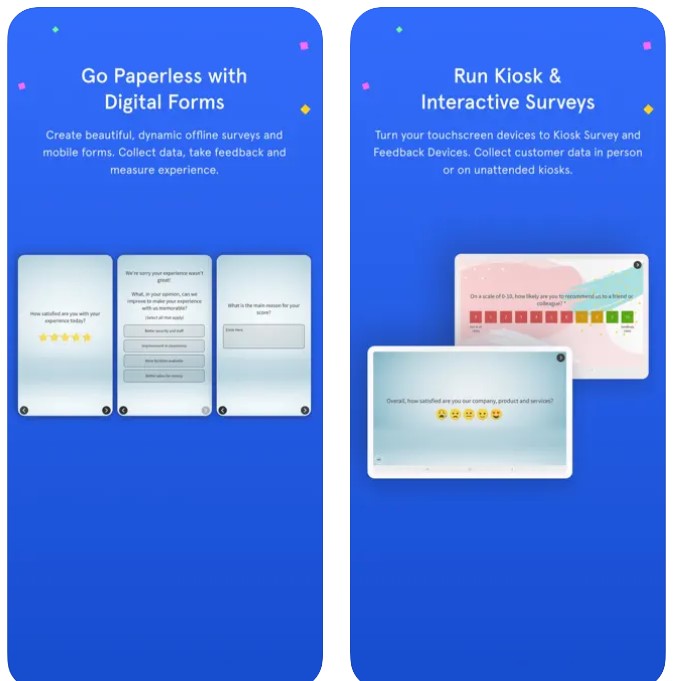 Food Cost Calculator
In comparison to the previous one, this is unless a popular app but it doesn't make it worse. Actually, calculating food cost percentages can be an extremely exhausting procedure. What is more authentic can be tricky to calculate all the prices so it's all guesswork.
That's why this app was developed in order to help you to calculate the food cost percentage that would be based on actual data, not just assumptions. The way how this calculator works is that it shares the five most popular items on similar menus of restaurants in your area.
After that, you can calculate each item's cost and also the cost per pound or per cup. Food Cost Calculator also gives you the ability to compile your own custom menu items and set their perfect price. In all other aspects, the app looks extremely simple but it's a really useful thing, especially for Android users.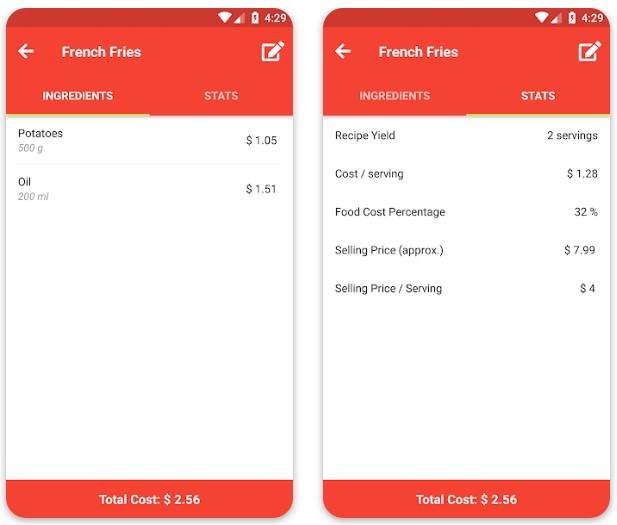 FoodDocs | HACCP app
FoodDocs is an AI-powered food safety software with a HACCP builder. Food safety is one of the most crucial points for each restaurant and that's why this app is essential as well. It helps you to set up a food safety system in no time and you can also create a customizable HACCP plan.
Therefore, you will be able to save up to 20% of your time on monitoring the food safety procedure. What is more, FoodDocs will help you to save money on hiring specialists that would help you to compile the HACCP documents.
And in general, it's really pleasant to use, everything is easy to understand and ready-made templates are easy to fill in. You can attach photos to the items and make notes. You will also be able to keep track of all the documents online.
An interesting fact is that FoodDocs contains digital recipes with ingredient calculations. The app can also make audits on the go.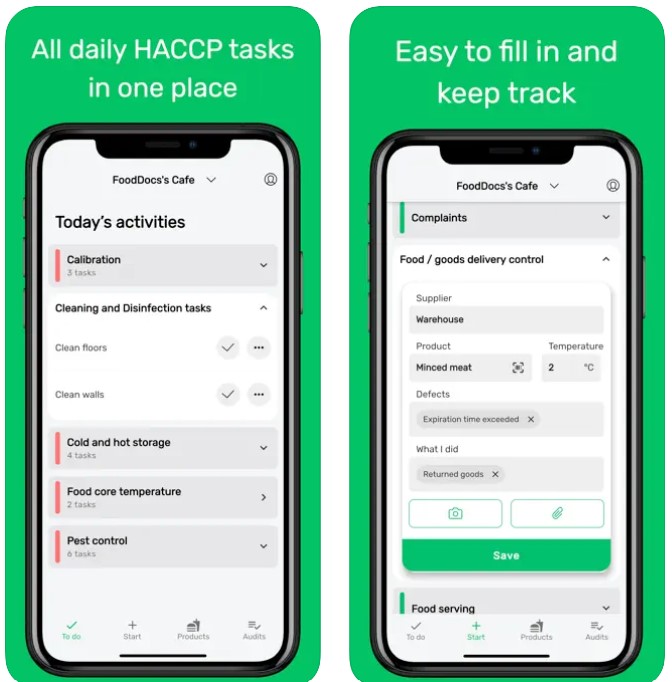 HotSchedules
Obviously, the main goal of this app is to help restaurant owners and restaurant managers to better schedule their work for the employees in the most effective way. That's why HotSchedules provides a cloud-based solution that helps everyone to see their time and nerves.
What is more this app helps everyone who works in a restaurant to create, communicate, and manage employee work schedules. Its developers claim that HotSchedules helps to reduce labor costs. In general, the app is extremely simple as it should be.
And this is probably the only app on our list which is not free from the beginning, however, there are no additional inbuilt purchases and once you paid for the downloading you won't have to pay for anything else.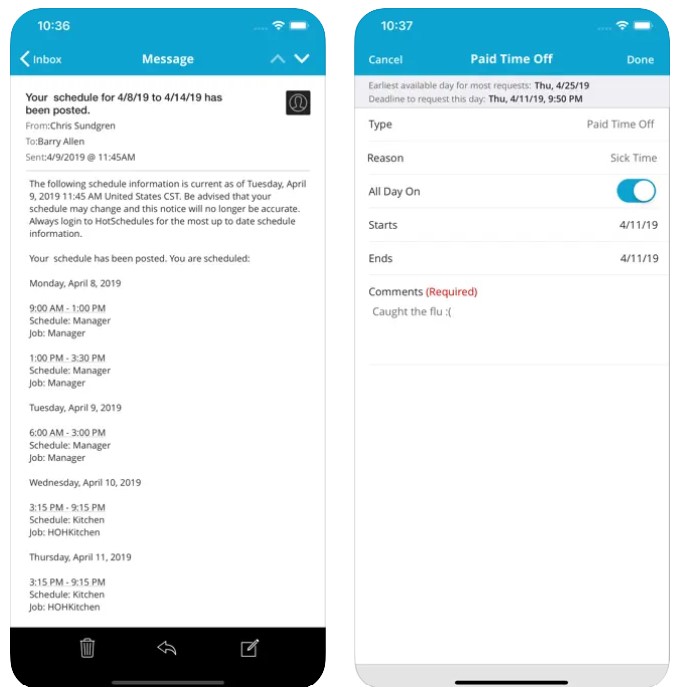 IFTTT – computers & workflow
Generally speaking, this is the app for the itemization of processes. The restaurant owners can use it for example for the automatic compilation of recipes. By using IFTTT you can make the apps talk to each other and share valuable information, and therefore create something new.
What is more, you can set up this app to make automatic posts on your Instagram profile or Twitter for example. This app can also be used as an automatic reminder or backing-up service for files.
Overall, IFTTT integrates with more than 25 types of popular services which include health, productivity, smart house, and social media tools. It's synchronized with all the most popular platforms and Storage, such as dropbox, Facebook Google Drive, and so on.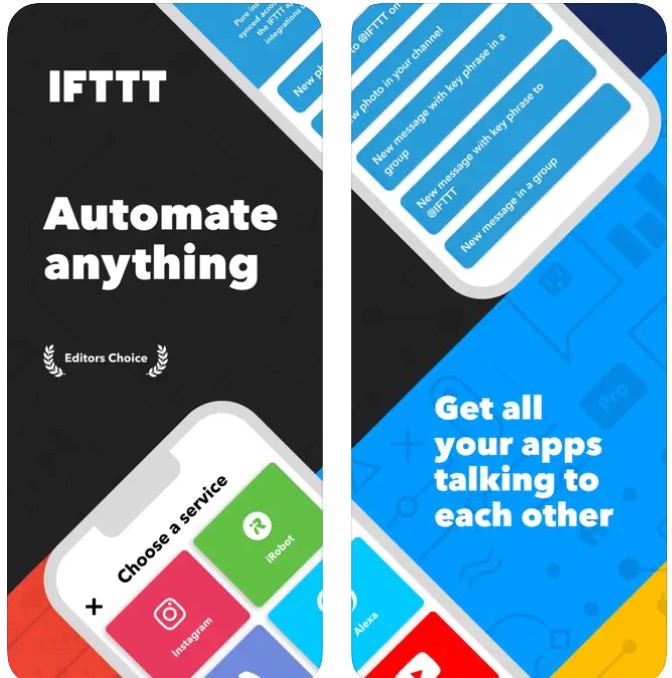 Incentivio Orders
This is not so popular app yet for getting more customers for restaurants. This is a cloud-based service. It also helps to drive visits, and increase customer spending, loyalty and engagement.
This is also an online order app, so by synchronizing your systems with Incentivio your customers will be able to make online orders from your restaurant.
Because Incentivio is a relatively new app on the market it still has quite a "dry" interface with a limited number of features.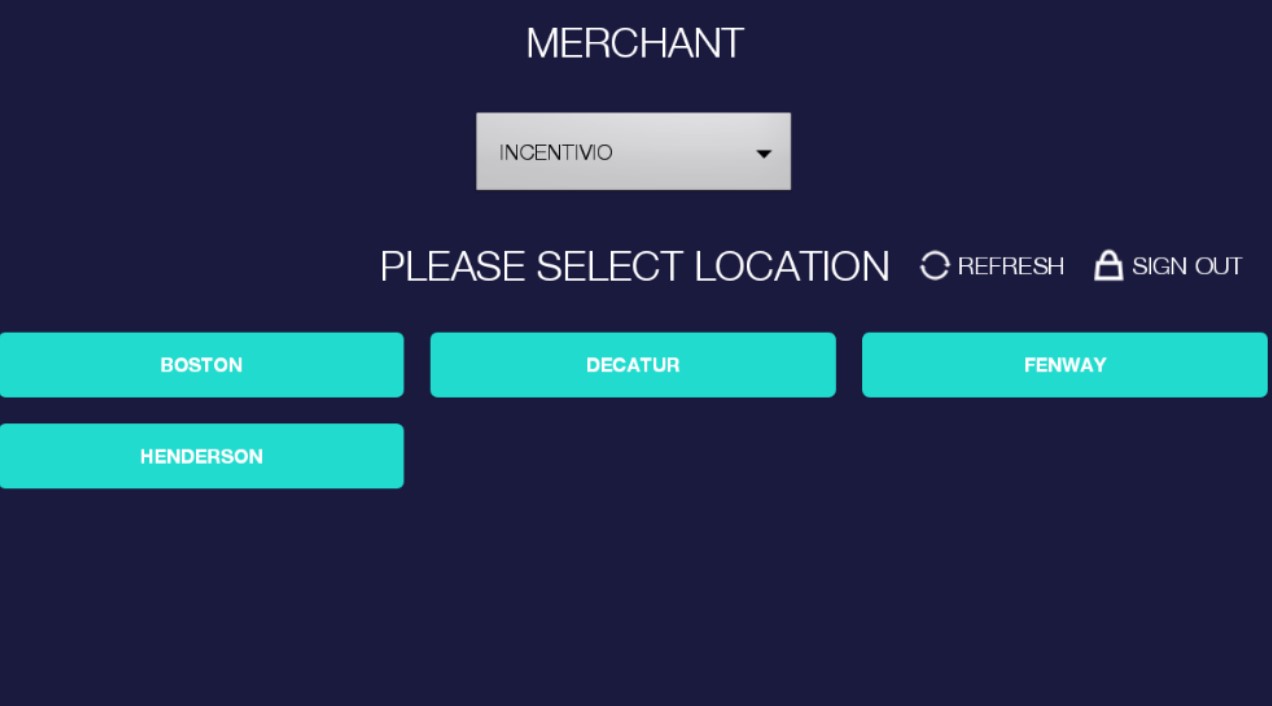 OpenTable
OpenTable is one of the most popular apps for restaurant visitors and it won't be extra for your restaurant as well. It will allow you to manage your restaurant reservations from any place. OpenTable provides reservation and guest management and makes it convenient for everyone.
The main feature of OpenTable is that it makes the updates of the table status automatic and it allows the restaurant owners to access their real-time shift revenue.
In addition, the app can calculate the average guests spend. So don't forget to add your restaurant to the database of the OpenTable app and therefore make your restaurant more convenient for your customers.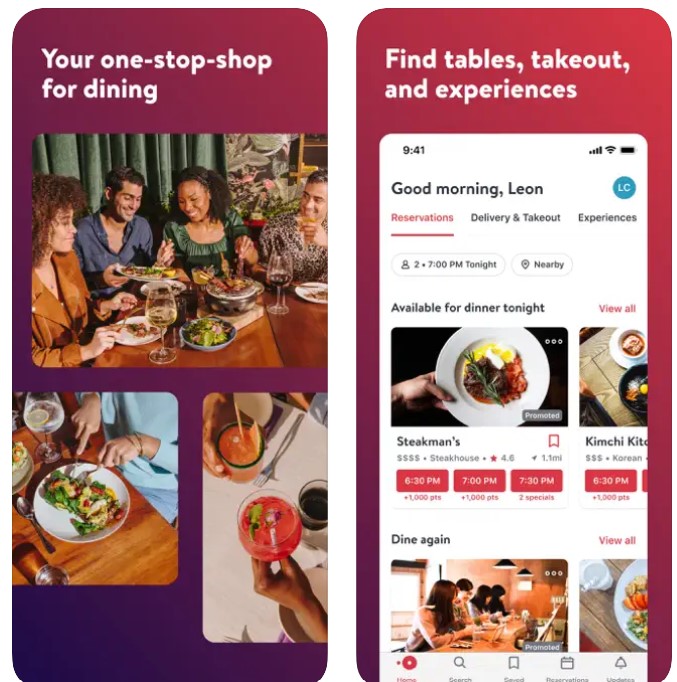 You may also like: 11 Best Timesheet Apps for Android & iOS
Restaurant365
Last but not least we have an all-purpose app for restaurant owners and restaurant businesses. It will help you to manage the accounting, inventory, and labor scheduling in your restaurant. Restaurant365 will also help to forecast sales and control your food costs.
This task scheduling can also be improved based on the data that this app provides and it provides the database on the sales history, timing, and sometimes even the weather. The only thing is that the app itself is quite old and lots of its systems are quite obsolete and are not up to date.
Probably, because Restaurant365 is quite an old app it has a tendency to crash on a number of devices. for scheduling the employees in your restaurant it's still a good app. You will just have to create an account and add all the work shifts and add your employees there and there you go.