NFL – National Football League, is a big deal in the sports world. The league currently consists of 32 teams, divided equally between the National Football Conference (NFC) and the American Football Conference (AFC). This is one of the most famous professional leagues in the USA.
The regular season usually consists of 17 weeks, starting in September and ending in December. The NFL was formed in 1920 and has gained even more popularity since then. During its history, it had such prominent players as Jim Brown, Jerry Rice, Joe Montana, and many others.
You may also like: 11 Best football streaming apps for Android & iOS
Want to join the excitement of a new football season? Don't waste a minute more, gather your friends, get snacks and stay tuned for each new game and all the latest news about NFL with these apps!
NFL
Alone or with your friends, inside or outside, on the street or in the castle, loud or quiet – now you can enjoy your favorite game in all shapes and volumes. Don't miss any single moment and watch this show right from the screen of your mobile device.
Now people are no tied up to a certain place to watch the live stream as it used to be and you can easily buy yourself a hot dog and go to Central Park to enjoy the weather and football.
This is an official app by NLF, it was developed for true fans and it contains everything you need. Here you will also find local and primetime games, exciting videos and highlights, and replays of every game with NFL Game Pass. Stay updated on all off-season long, with breaking NFL news, highlights, stats & more.
Watch your favorite players win. From your phone, you now can watch Live Local and Primetime Games, Live Playoffs and Super Bowl LIII, NFL Combine, and Draft Coverage.
ll New Game Center with up-to-the-minute scoring, in-game highlights and drive charts, NFL Network 24/7/365 with authentication, all the articles and video highlights with groundbreaking news are here. The NFL app allows the use of AirPlay and Chromecast when viewing all video-on-demand and select live content.
However, the NFL app does not permit outputs from phones of live games, NFL RedZone, or NFL Network to external displays via HDMI, Chromecast, AirPlay, Miracast, or other similar streaming functionality due to rights restrictions, so pay your attention to this aspect. If you would like to record a match, you better use another app.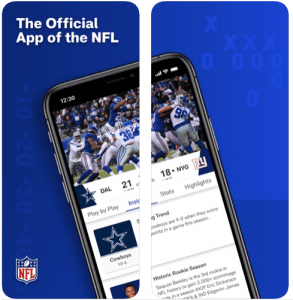 You may also like: 11 Best sports betting apps for Android & iOS 2020
Feedly
All football fans will discover something interesting and find their live stream on this app. The sport is perceived very seriously on Feedly and this is surely the source that you can trust. Obviously, it usually covers the basics, scores, schedules, news, rumors, trades, and all other things related to this sport.
Once there is a big event happening in the NFL industry you will find out first. This app is actually used by a countless number of professionals around the world as it allows to learn things quickly.
The platform allows to share and organize the informational process in an efficient way, so all the NFL fans can create their own channels here. So read the blog you really like or create one yourself.
You can search for topics and news by entering the keywords into the search bar. Instantly you will get tons of different sources, so you can easily keep up with trends and even build up expertise. It is easy here to find all the necessary information on NFL players and updates since the app includes more than 40 million sources.
Feedly offers useful integrations with Facebook, Twitter, Evernote, Buffer, OneNote, Pinterest, LinkedIn, IFTTT, and Zapier so that you can easily share stories with your networks and teammates. However, the app works in a simple way so even a regular user will understand how it functions.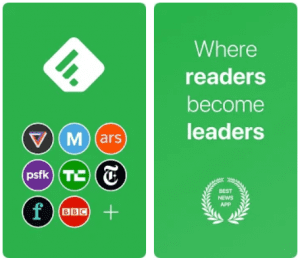 Sling TV: Stop Paying Too Much For TV!
All the most exciting NFL games including the famous Super Bowl can be found here. Actually, this is not exactly a football streaming app, this is the live streaming for all the channels. Nevertheless, there are a lot of packages which are developed especially for football fans so it is not a big deal.
Most of the packages include even local sports channels so you can be sure you don't miss anything. As a bonus, you will get a full range of channels that are not streaming football. In total, there are about 100 channels.
You can personalize your lineup. Watch your favorite live sports like the NFL & college football, hit TV shows, plus 65,000+ hours of on-demand tv shows and movies.
In this app you can stream anywhere and how you want, without paying for useless channels that you never watch. Sling also offers channels in different languages so if English is not your native language or you have a friend who doesn't understand it you can always switch to other options.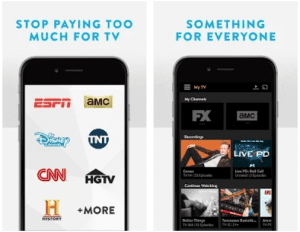 theScore: Live Sports Scores, News, Stats & Videos
Sports streaming service which will bring to you news, scores, stats, sports betting coverage, and videos from NFL Football, NBA Basketball, NCAA Basketball, MLB Baseball, NCAA Football, NHL Hockey, WNBA Basketball, English Premier League Soccer, La Liga Soccer, Champions League Soccer, PGA Golf and many more.
If you are a fan of the NFL you probably have your favorite team. Don't miss a single game of such teams, as Dallas Cowboys, Buffalo Bills, Cleveland Browns, Pittsburgh Steelers, Philadelphia Eagles, New Orleans Saints, Minnesota Vikings, Green Bay Packers, New England Patriots, Carolina Panthers, and keep up with the latest news!
The scores update is as quick as possible. You'll also be able to navigate quickly from box scores straight into theScore Bet app with a single tap, delivering fluid and seamless cross-app navigation. Activate Bet Mode from your profile page.
When you are watching a live game all the data about all the players is available in real-time mode. In order to share your emotions and thoughts, you can use group chats.
Choose a football league to find out the latest news about them. Or maybe you've missed something and have no idea of what the whole football world is talking about? Then just swiftly find all the latest feed on this app!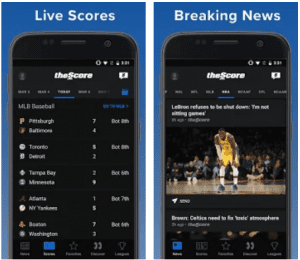 You may also like: Top 8 sport video analysis apps for Android & iOS
CBS Sports
CBS Sports is currently one of the most popular sports streaming apps, and here you will find much more than just NFL. However, since you came here exactly for that, it makes sense to describe its NFL broadcast possibilities first.
In order to find the schedule of upcoming NFL tournaments, you should go to the program section and see if they have any NFL games.
Then, all you will have to do is to tune into the channel and that's it. There is also a CBS news channel that is operating 24/7. What is more, you can find the list of players of each team with the most peculiar details.
Apart from NFL, the CBS Sports app gives you front-row access to games from UEFA Champions and Europa Leagues, the Masters, the PGA Championship, SEC on CBS, March Madness, PGA Tour, the National Women's Soccer League, WNBA, and more.
You will find any breaking news from the sports world first with this app. Apart from that, there are not only live streams, but the service actually contains lots of videos and articles and you can browse through the library any time you want. After a while, the app will start providing personalized recommendations for you.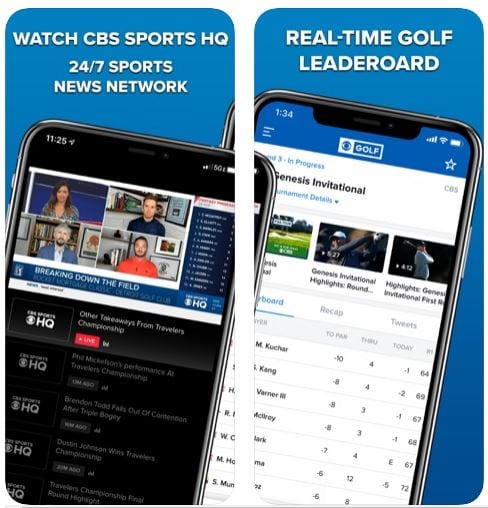 SofaScore
This is also one of the most popular apps for watching sports broadcasts. Here you can watch live streams on more than 22 kinds of sports and of course, the NFL is included. It covers all the actual score of the recent games. The app even covers niche stuff like rugby, volleyball, and others.
However, compared to the previous apps, this one is quite simple. So if you are a type of person who can enjoy a simple watching NFL game without all that stuff with the latest news, personalized broadcasts, and group chats you can easily choose this app.
You can check out the schedules and see which game and when you will be able to watch. When you tap off one of the past games you can see statistics of it, like the information of participating teams, final score, and the list of players. Choose a country, choose a game – and enjoy watching.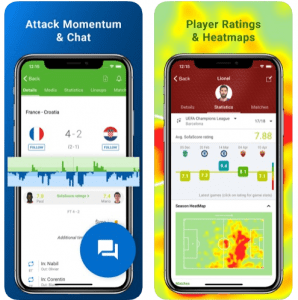 You may also like: 17 Best Sports Streaming Apps for Android & iPhone
Yahoo Sports: watch NFL games
Yahoo Sports allows users to watch live NFL games and monitor real-time sports news and scores.
After downloading the app, the first thing you need to do-enable a few permissions and select your favorite league teams.
Thereafter, you will get to the homepage containing the list of current news based on your preferences. When you choose the favored one, you will be instantly transferred to the original website.
There is a special section where you can watch or stream sports live games. Herewith, you can also monitor exclusive content from Yahoo Sportswriters. Just scroll through the entire list to find an appropriate NFL report or insert it in the search bar.
In the Scores section, users will have access to standings, odds, stats, and current video reports with an exhaustive description. All the provided content is based on the selected sports games and favorite teams.
Apart from NFL games, the app allows you to keep track of other sports – MMA, NBA, football, basketball, tennis, etc.