If walking is your favorite hobby, you probably would like to have an app that could monitor your way and offer a map of the region. In this article, you can get the list of the best walking direction apps.
And in case you do walking and hiking in fitness purposes, we could also recommend you to check the best slimming world diet apps for better results.
Komoot: Bike Trails & Routes
Kamoot is a service to install on your device that can effectively set a direction for any purpose. You can start your travel on foot or by bike and this service will make sure that you do not get lost.
The app has a voice guide function. It means that you do not need to look into your smartphone every time to find out where to turn and how long to go straight.
You can use headphones and just receive voice prompts while you are going outside and the picturesque views are around you.
Sometimes while walking outside the city it is difficult to get access to the Internet. In this case, you can just download maps of the area where you are going to walk and not depend on a stable Internet connection.
The service's maps give you information not only about your route but also about all the pathways, highways, landmarks, and shops which you can see on the way to your finish point.
Moreover, special marks on the map that indicate an interesting place can be added by other users that they recommend visiting. You have the option to tag parks, meadows, or embankments you like for other people as well.
Advantages:
It is possible to sync with your other devices.
The service stores your routes.
Users can mark interesting places.
Drawbacks:
Some features of the service are available only by subscription.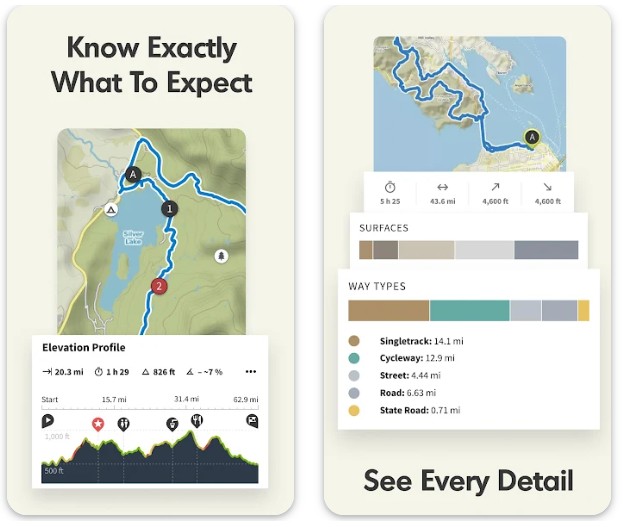 You may also like: 13 Best Health Coach Apps for Android & iOS
It does not matter if you like hiking or prefer cycling, skiing, or other outdoor activities because this service will still be helpful.
Wikiloc is possible to use without an Internet connection. In this case, you do not need to worry about whether you get a guide to come back home if you travel in the forest or far from cities.
Also, saving the story of your routes is available, and you do not have to adjust your path every time. This fact helps you to save time. The app does an excellent job of organizing routes for walking, so for the way to your place of work.
What is more, it is available to send data about your current location to your friends or family members. They have access to your site in real time.
The service also supports the ability to communicate with other fans of active walking. That is why you can make new friends by exploring different communities right in Wikiloc.
Advantages:
The app accurately makes courses.
The service provides support not only for walking but also for about eighty different sports.
Drawbacks:
The maps are not detailed.
Some features are only available by subscription.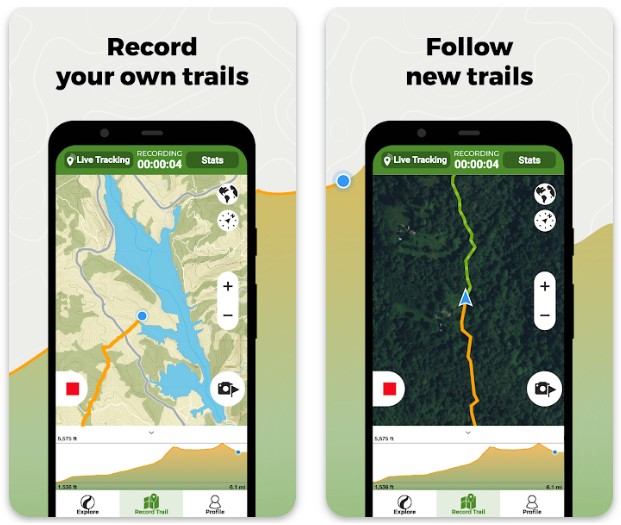 Gaia GPS (Topo Maps)
Gaia is a good choice for people who prefer walking and are fond of it.
The developers give users access to maps of any place on earth. That is why you are not restricted not to your land but to the whole planet as well.
Upload your files or use the ones provided by the service. There are a great number of vector, road, air navigation, and topographic maps that you reach.
All maps can be utilized without an Internet connection, and it means that you will not have a chance to get lost when you are going to walk in the forest, mountains, or very far from cities.
In addition, this service is synchronized with all your gadgets. Use it on your smartphone, tablet, or PC (you need to visit the official website).
The app has a large number of useful tools. For instance, you can take photos with geotags, as well as set points on the map and save routes.
Advantages:
It can be helpful for both professionals and common people.
It is possible to upload your maps.
Drawbacks: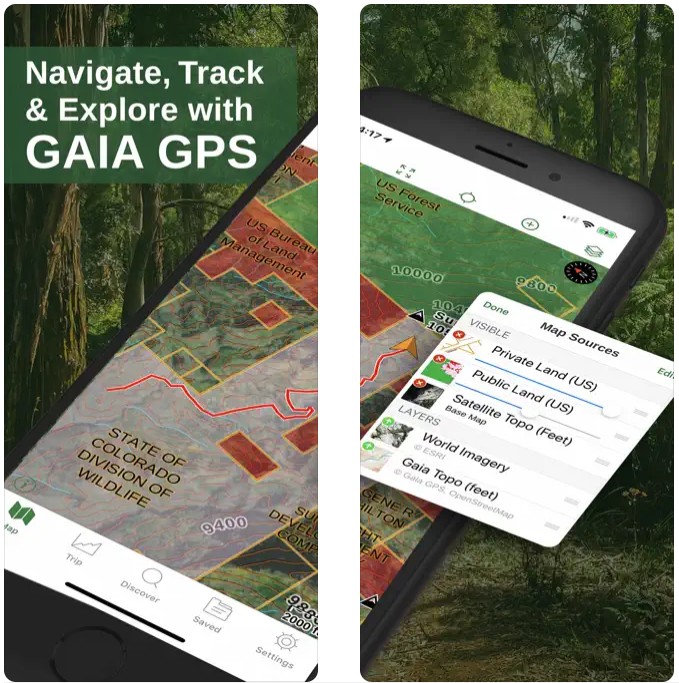 GPX Viewer
This app is a powerful instrument for walking directions that allows you not only to enjoy fresh air and activity but also to improve it with various features.
The service supports such files as GPX, KML, KMZ, and LOC. That is why you can download your maps without any problems.
Moreover, you can edit maps. Did you find an error? Update the information as soon as possible.
However, you can also use the online maps that are in the app. For example, Google Maps, Mapbox, HERE, Thunderforest, and some others based on OpenStreetMap data.
GPS navigator guides you to the finish point. The map rotates when you change direction. Also, it is possible to receive a notification that you will arrive at the place soon.
In addition, this service collects statistics on your hiking travels for you. This way you have a chance to get a detailed analysis of your walking. The app has height and speed charts and much more.
Advantages:
You can add your maps in various formats.
It is available to get statistics and analysis of your routes.
Drawbacks:
Some features can only be used when purchasing the paid version.

TouchTrails: Route Planner
This app is a great choice if you want to plan your routes and trips. It has all the necessary tools to make it convenient and simple.
To create a new route, just draw it using your finger or touch the pen stylus. However, it is also possible for TouchTrails to bring you to the right place using GPS.
You get step-by-step instructions that allow you to feel confident even if you are in an unknown area. What is more, if you accidentally start moving away from your route, TouchTrails will warn you about it and help you get back.
Maps can be uploaded in GPX format and edited so that you can use yourself or send them to your friends.
This service provides research on height levels and the measurement of distances. Thus, you may conduct your amateur scientific analysis or use this data to create more detailed routes.
Advantages:
You can import maps.
It is possible to create routes just by drawing with your finger on the screen.
You get additional details about the area.
Drawbacks:
The app may have bugs and freezes.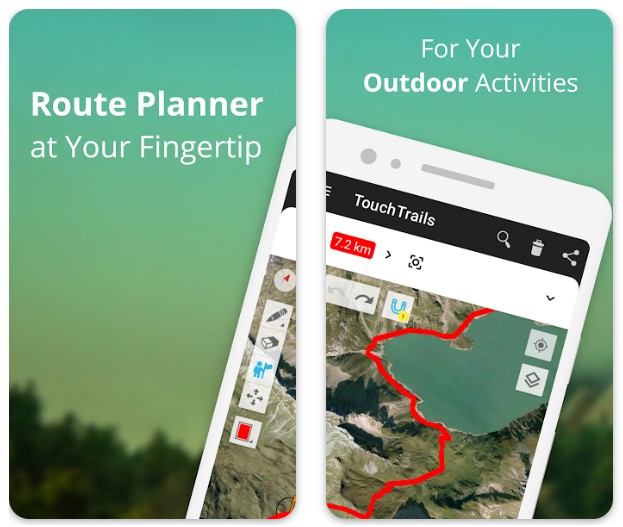 MAPS.ME: Offline maps GPS
This app gives you access to offline maps, which means you no longer have to fear whether there will be a connection far from home or not. Continue to enjoy the journey without limits!
Create routes for walking, cycling, or driving. The service provides detailed maps of the area on which you can easily navigate. There is a marking of paths, special places, and landmarks that all tourists will appreciate.
Be sure that you are using updated maps. The fact is that other users are constantly adding new information about locations and routes so that you can get accurate directions and get to places without problems.
You can also save your routes to then share them with friends or family on social networks.
In addition, the app can also be used as a payment method. Add your cards and pay in stores.
Advantages:
Up-to-date detailed maps offline.
It is possible to pay for shopping using this service.
Drawbacks:
The app can freeze and have bugs.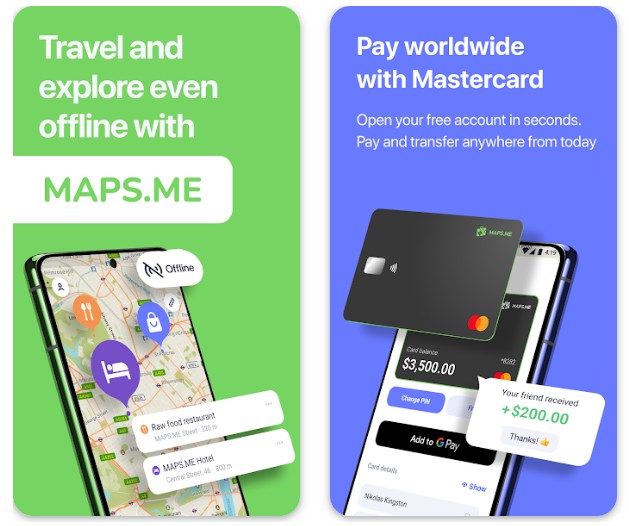 You may also like: 17 Best Nutrition and Diet Apps for Android & iOS
Footpath Route Planner – Runni
This app lets you create a new way just by swiping your finger across the screen. It will automatically take into account all trails and shortcuts to give you the best direction.
The route can be linked not only to pedestrian roads but also to bicycle paths, highways, railway tracks, and rivers. In addition, you get detailed information about the distance to your finish point.
Besides the distance, you can also measure the height if you use this app. This way you get all the data you need for a successful walk or trip.
The routes can be saved so that you do not waste time doing it again every time. In the free version of the service, you can create five routes.
Moreover, the app supports GPX format files. That is why you have the option to download your maps and use them.
Advantages:
Up-to-date detailed maps.
It is possible to create routes by simply swiping your finger across the screen.
The app supports GPX files.
Drawbacks:
Some features are only available by subscription.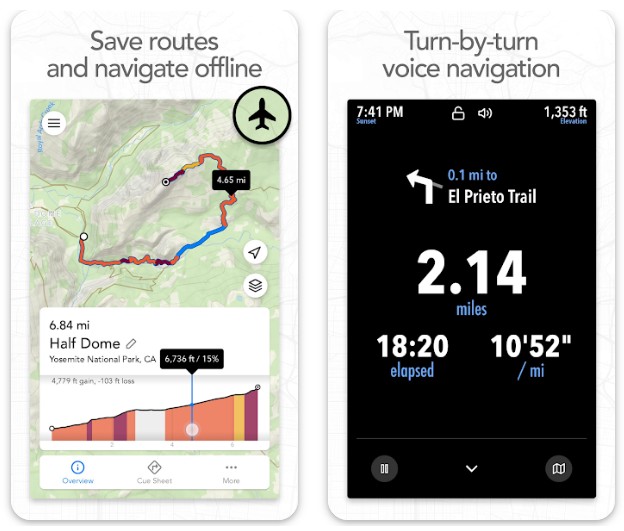 Walkmeter Walking & Hiking GPS
Downloading this app is a great idea if you are fond of walking and would like to have a convenient tool that would give you directions.
Setting up your new route is very simple. Specify where you are now and your final point and then the service will offer you the way with the help of a constantly updated and detailed map.
Moreover, it is possible to upload maps in CSV, GPX, TCX, FIT, or KML format. This way you can use many maps, not just those provided by the app.
In addition, you get statistics to know what time was spent walking, what distance was covered, and so on.
Conveniently, the app does not require a login and password. This way you will not need much time to sign up.
Share your routes with others. The developers have provided the possibility of sending files with the map via email and social networks.
Advantages:
The app can be customized.
It is easy and quick to create a new route.
Drawbacks: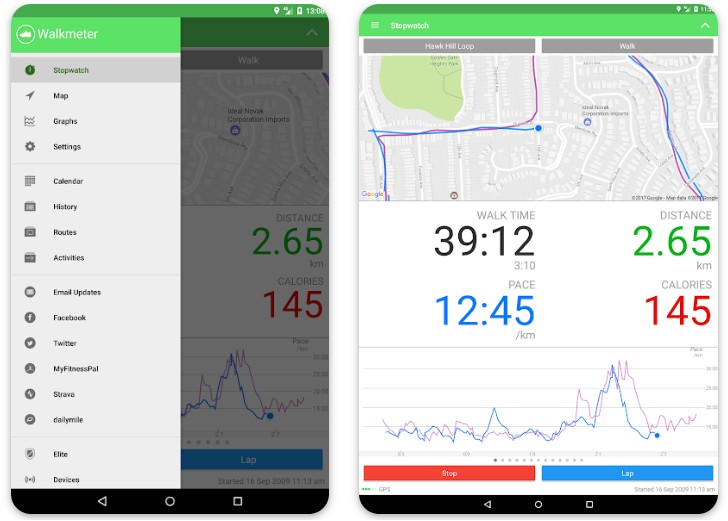 Walk with Map My Walking App
This service is useful not only because it creates routes for your walks, but also helps to monitor your weight. If you want to walk more and lose weight, then install this app rather.
You can choose from three levels of walking. They are based on complexity, so you should pick the one that suits you.
It is possible to use this app on the treadmill and while walking in the fresh air. Then you should include the maps installed directly in this app. You will go and the service will follow your directions.
Activate GPS on your smartphone and enjoy walking useful for your health. In addition to the map with your route, you also get statistics including the number of steps, activity time, and distance.
Records of your walks are saved in the app and you can always view the dynamics. On which days you were most active and on which less.
Advantages:
There is a convenient map for your hiking trips.
It is possible to monitor your weight.
Drawbacks:
The app does not provide detailed maps.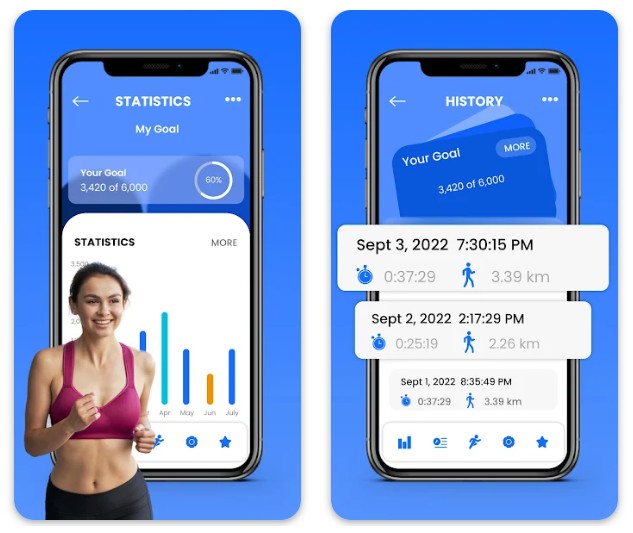 All-In-One Offline Maps
If you often travel to places where there is no Internet access, then this app will be useful for you. The fact is that it loads maps so that you can always use them offline.
It is not necessary to save the whole map as it takes up a lot of your smartphone's storage. However, you can just pick the territory you are currently in and download this.
The app also does not have annoying ads and other tricks that developers often use.
Various types of maps are available to you. Choose the one that is convenient for you, for example, topographic, classical, or satellite, as well as maps on which layers are visible.
It is possible to add tags for any location. There are no restrictions on the number of tags. Mark parts of the road, attractions, hotels, or shops.
Moreover, it is very convenient to use the map. It rotates with you, scales to your needs, and also displays coordinates. You can also import coordinate formats from the official website of the app if the pre-installed ones do not suit you for some reason.
In addition, the metric system can be changed. In the settings, specify which system you require, metric. English or hybrid.
Advantages:
There is a large selection of different maps.
You get detailed maps.
The app has plenty of tools for working with paths.
Drawbacks:
The app has an old-fashioned design.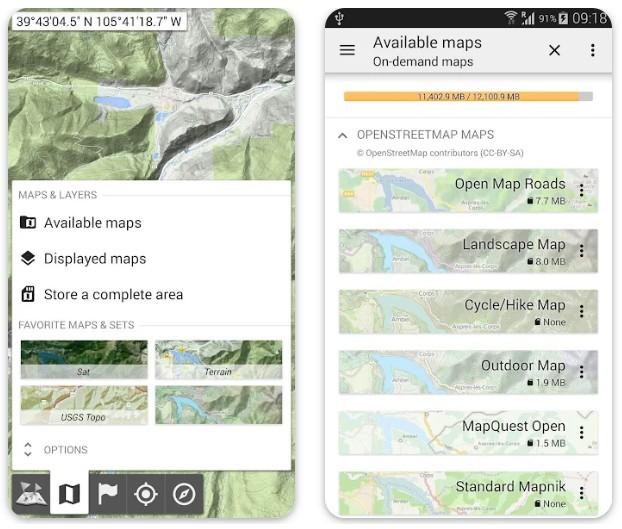 You may also like: 9 Best Diet Diary Apps for Android & iOS
Organic Maps — offline maps
This app provides free maps for which you do not need stable internet access. Just enjoy your hiking trip and do not worry about the route.
Maps are constantly updated by other users. This guarantees that you will always receive only the correct information to create your routes.
However, users may be involved and help make the maps more accurate. Since the service supports OpenStreetMap.org maps it lets people edit them.
It is available to use the app not only as a tool for directing walks but also for cycling trips.
Car navigation also works. Do not be distracted from the path because the service gives you the option of a voice guide that informs you where to turn, how long to go straight, and whether you are on the proper way.
Use your headphones or phone dynamics to listen to the guide.
Moreover, the service allows you to add tags in KML and KMZ format, but GPX format is not yet available for use.
Besides, the app takes care of the safety of its users. That is why you will not see distracting ads. Also, no registration is required. So, all the data that you add to the service are safe.
During the hiking trip, there is often no time or opportunity to understand the interface of the app. Organic Maps has a simple design that is not overloaded with various functions. There is only everything you require.
Advantages:
You can use free offline maps.
Editing maps to improve them is available for users.
There is no advertising, registration, or instruction in the app.
Drawbacks:
Organic Maps may have bugs with location detection.