It's always interesting for childless people how their children will look like. Or if even someone has kids, he or she also wonders about their future babies' appearance. But we live in the XXI century where almost everything is possible.
There are quite many apps where you can see your future baby's face with your beloved or any other person. Also, you can select your friends' photos to have some fun. Anyway, the result will make you agreeably surprised by the similarity between parents and their generated baby.
By using these apps you won't be engaged in an intrigue anymore. If you want to try them – read this post in which we have listed 11 best future baby generator apps which you can download from Google Play or App Store.
BabyMaker
One of the Top future baby generator apps is BabyMaker. The User Interface is quite easy: upload your and your partner's photos of good quality, then click on the heart-shaped button, choose the age and skin tone of your future child and admire the result!
The main advantage of this app is that you can use colorful backgrounds, layouts, frames, then save this photo created by you and share it with your friends and relatives.
So try to find the best photos in order to see several variants of how will your future baby look like.
The paid version of this app is also available.
P.S. The result won't be so precise if you or your partner wear glasses or have a beard or mustache.
back to menu ↑
BabyMaker for iOS
One more cool future baby generator app is for iOS – users. If you are planning to give a delicate hint to your partner about your desire to have a baby – BabyMaker will help you.
Download the app, use your camera or photo gallery in order to upload two photos, then see the result. Based on Luxand biometric identification technologies, the app will show you the most precise future baby's face ever! Then create a collage with baby and parents' photos and send it to your wife or husband.
We guarantee success in this matter: the innovative technology identifies facial features in the source images, creates their mathematical representations for the best result, so he or she will like it for sure.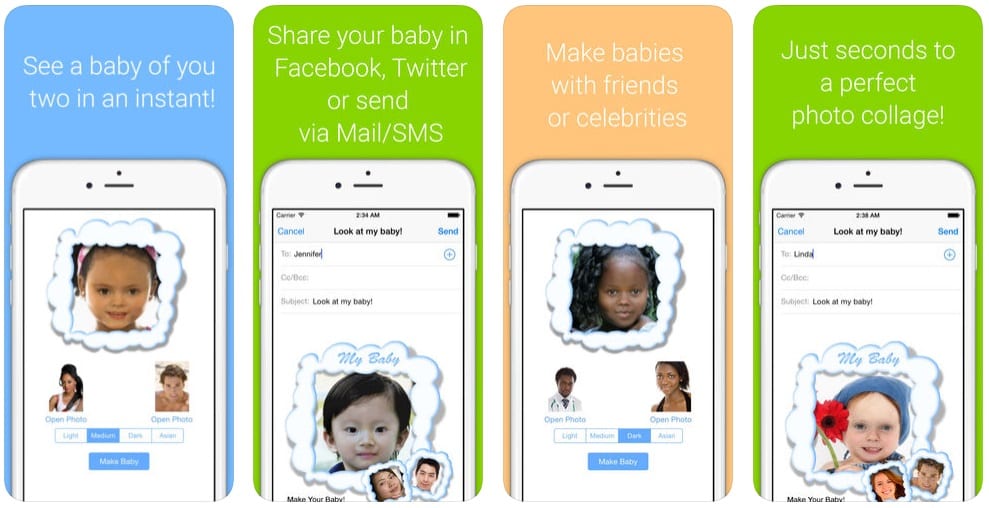 back to menu ↑
Baby Predictor
If you are a pregnant lady, or if you are a man whose wife is in a particular condition, this app is for you.
We can't help admiring Baby Predictor because of many reasons. By using it you can predict baby's gender, eye, skin and hair color, weight, blood, and Rh type. You have an opportunity to get detailed high precision predictions right now. All you need is enter all the necessary information.
The app will generate your future baby according to laws of genetics and the traditional China calendar.
More than ten thousand people have already downloaded it, so don't wait – generate!
back to menu ↑
Make A Baby: Future Face Maker
This app is also considered to be one of the best future baby generators. Do you want to see how would your baby look like if you were a couple with an object of your affections? Download Make A Baby: Future Face Maker, snap pictures of you two, blend your faces on a photo if needed, then see the result. No doubts, the baby will have the best features of you both.
Amazing animations of this app will make these moments much more touching. Now share your results with everyone you want. If you wish, you can edit a baby photo before sending it. How to do it? Read here.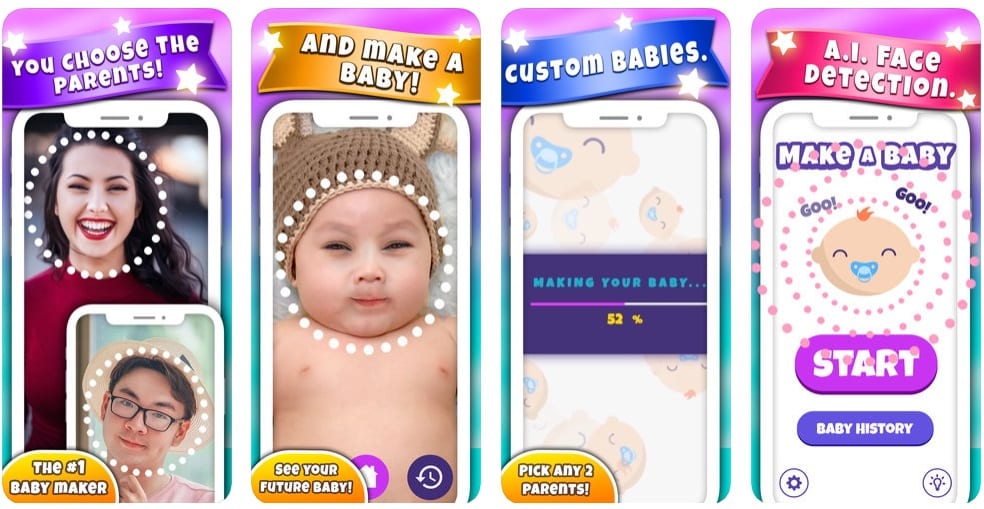 back to menu ↑
What My Baby Look Like?
Still not satisfied? Then we suggest you an app What My Baby Look Like? Here you can represent your future baby appearance as well.
The app applies powerful calculations of your and your partner's photos to create a model describing a new face that looks like a younger version of the two "parents". Just choose mum and dad's facial characteristics, then enjoy the result.
The main advantage of this app is that it is possible to change a kid's age and gender. One more feature of this app is that you are able to zoom and select suitable picture size in order to make a portrait. There is also a babies' gallery function where you can see all the kids available. So, this app will definitely surprise you.
back to menu ↑
Your future baby generator
If, for example, you are going to have a baby, this app will also be appropriate for you. There is no need to wait nine months anymore. Download Your future baby generator in order to learn your child's appearance in nine seconds instead. The app creates a sensible outlook of what a couple's baby would seem to be, so the result is going to be awesome.
More than one thousand people have already downloaded the app, selected two photos, uploaded them and generated future babies. Now you can join them and share your future kids.
back to menu ↑
Baby Maker
One more app of this type will be presented right now. Baby Maker will make you satisfied with the result. All you need is upload Mum and Dad's photo, then click "Get Baby" and enjoy images of your cute future kid.
It's not an entertaining application, because the facial characteristics will be just like parents'. You may choose various photos of you and your partner in order to create slightly different babies or to make siblings. After that, you can make a moving slideshow with photos of your future children. Read this article and learn how to do it.
back to menu ↑
What Would Our Child Look Like? – Baby Face Maker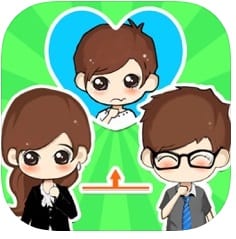 If you consider yourself a curious person, this app is also for you. You should carry out several same simple actions: choose two photos of you and your boyfriend or girlfriend (you can select from your Photo gallery or take a shot by your camera),  zoom in or out the selected photo, click the button "Start prediction" and that's all.
You will surely be glad of the generated photo. It remains to save the results to a photo gallery or share them with your friends. With the help of What Would Our Child Look Like? you won't burn with curiosity anymore.
back to menu ↑
My Future Baby Look-Future Baby Predictor Prank
Despite the word "prank" in the app's name, My Future Baby Look will let you learn the precise appearance of you and your partner's future child.
Don't you believe it still? Then download the app from Google Play, enter your name and your partner's name, after that you have to choose your face shading and nationality. Then select your most appropriate photos or take a shot, add them in the app and then the face of your future baby will appear. If you still can't believe it – download it to make sure of that.
back to menu ↑
Future Baby Generator – Your Baby Predictor
"In what manner will our little child look?" – this is an essential question for young couples. By using a complicated algorithm and connecting facial characteristics of two people together, Future Baby Generator will create the appearance of your desirable kid.
Just follow instructions: select two photos of you and your partner, and that's it! You can see your future baby's face in a few seconds!
Nowadays this app is also popular among users all over the world, now is your turn to use this great app.
back to menu ↑
Instababy
The last but not least app is called Instababy. All actions are the same: choose your and your partner's photos of good quality, upload them into the app and finally enjoy your future baby quickly generated by the app.
There are also some advantages. Firstly, there is no need to select faces anymore – special face detection will do it automatically. Secondly, you can share these beautiful and colorful photos with your friends on various social networks: Facebook, Twitter, etc.