Nostalgia is a feeling inherent to a man. We miss some moments from the past, people, stories, and even games. Freelancer is a computer game that saw the light in 2003 and was really popular among gamers.
At that time it was amazing with its high level of graphics, excellent plot, and even musical accompaniment – literally everything in the game caused extremely positive emotions. But with time and with the release of new games, she began to be abandoned, giving way to more modern and dynamic games. You may be interested in other 22 Cool old game apps for Android & iOS.
In fact, now it is difficult to meet a person who would play Freelancer continuously for such a long time. Rather, someone can go back to her, a little nostalgic, and return to their usual games.
The game is a space simulator, in the story of which humanity is under threat of complete annihilation. The main character of the game performs the orders that you have to deal with.
We decided to find out, whether there is something similar among mobile games at the moment – space arcades or simulators with carefully drawn graphics and simple gameplay. We present to you the 11 Best Games Like Freelancer for Android & iOS.
Rivals at War: 2084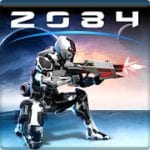 The topic of Earth capture by alien creatures has long been revealed in various areas of entertainment. You could already see hundreds of movies with this theme, but it is not always possible to find something like this among the games.
Rivals at War: 2084 is an online game with small elements of card genre, the plot of which was found a strange alien technology. With its help now you can instantly move from one planet to another, and the whole universe is one big battlefield. You are to become one of the participants in the events.
In Rivals at War: 2084 you will serve as a teacher and mentor for the space infantrymen, who must participate in various kinds of battles. You may have heard about the first part of the game – Rivals at War, but unlike it, now all actions take place in the future.
At the very beginning, you will get your own team of soldiers to be managed, as well as have to think through your own strategy. Rivals at War: 2084 has collected 75 different planets, each of which you will need to visit, as well as several game modes of varying difficulty.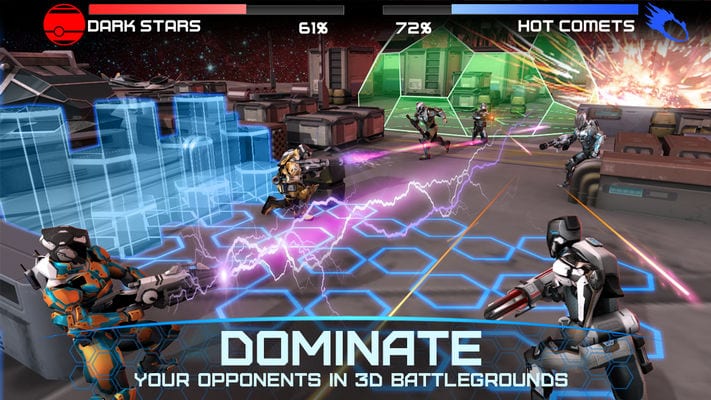 You may also like: 11 Best Space Strategy Games for Android & iOS
Star Command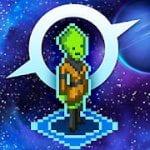 Pixel graphics do not leave anyone indifferent. You can love it or hate it, but 8-bit men on the screen will surely cause your emotions. Star Command game is made in pixel art, and the design of the entire game universe is quite well thought out.
The developers assured that they want to make the game in the style of Space Rangers, but in reality, the games are completely different, although you can feel the common theme.
In Star Command you will be able to create your own ship and manage it, collecting the team and going to explore the endless expanses of the universe.
Star Command may not appeal to players who love dynamic and vibrant effects. There are no special graphical effects besides shooting and explosions of ships – the game as a whole goes quite calmly.
In total, you can distinguish 3 options for the development of events – the fight on the ships, the fight inside the spacecraft, and the calm atmosphere.
In peaceful orbits, you will hire your own team and change the ship itself – for example, improve it or even change the interior situation. The battles on ships are not bad, but there are not so many of them so that Star Command could be called a classic shooter.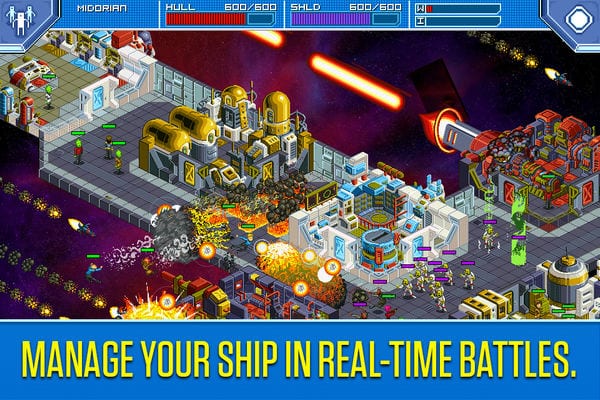 Vendetta Online (3D Space MMO)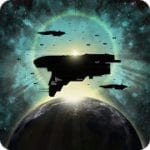 Vendetta Online is a cross-platform MMORPG, all actions of which unfold in the distant future. Here you will find yourself in space, and everything that happens in the game and with the basic concepts explained to you immediately at the training level.
If you are interested not only in the battle but also in the in-game economy, this game will be an opening and a great way to spend your free time. In addition to the classic battles with enemies or space pirates, you will be engaged in trading and earning money, mining various useful and rare resources, and much more.
The entire galaxy in Vendetta Online is divided into different sectors. You can visit each of them, but it is mainly influenced by your character's occupation and so on. Choose a class you can at the beginning – right after the choice of race.
Basically, you will be guided by what type of gameplay you prefer – depending on this, in Vendetta Online you will be able to choose between a pirate, a merchant, a pilot, or even a mercenary.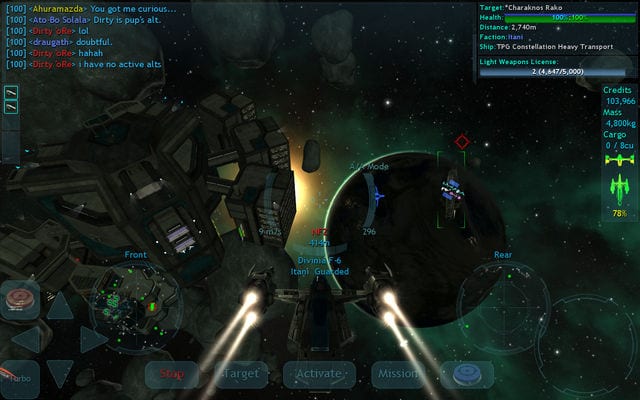 Star Trek™ Timelines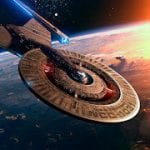 The popular Star Trek series has expanded over time to include additional products for an audience of fans, such as a series of games. Star Trek™ Timelines is an exciting military strategy on Android, where you can immerse yourself in the cosmic atmosphere of the universe of Star Trek.
It is worth noting that it is unlikely that the game will be close to those people who first hears about this space odyssey.
If you are already a long time fond of Star Trek and even several times watched movies and TV series, this game will be just perfect for you. In it, you will encounter your favorite characters and the environment, which has already become close.
Together with the familiar characters, you will be able to make a fascinating journey across the galaxy. In the process, you can find new civilizations and even help them to solve conflicts by participating in wars and battles.
It should be noted that the war in Star Trek ™ Timelines is implemented so that you can not avoid participation. During it, you'll need to use diplomacy, use weapons, and even make contact with new races or unknown creatures.
Note that the characters that are present in the game are voiced using their characteristic phrases from films and TV series, and some characters are even fully voiced by the appropriate actors.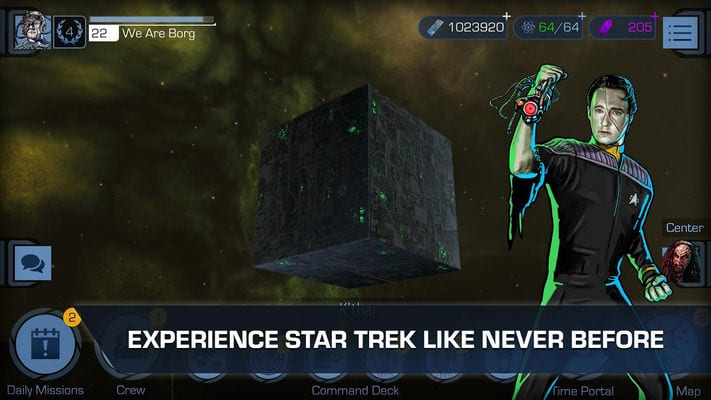 EVE Echoes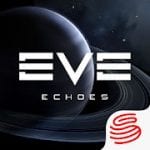 EVE Online is a popular space shooter, which is so loved by all gamers. EVE Echoes is a simplified copy of this game but still remains quite complex compared to other mobile games.
If you compare, the learning process in EVE Online is much more complex and causes much more difficulties. It should also be noted that in EVE Echoes you can play from 5 minutes and until you simply do not run out of strength.
Battle missions in the game do not last too long, and the mechanics of the game will allow you to capture targets semi-automatically.
From this information, you can conclude that the whole gameplay is mostly reduced to the formation of your own strategy. All long processes – such as resource extraction, ship pumping, flight, and even construction – take place in a sleep mode, that is, you can easily turn off the game and do your own thing.
In EVE Echoes everything starts with the fact that you are dead. Yes, yes, now you are a clone of your former incarnation and now you can choose one of 4 factions, each of which has its own reputation and relationships with other characters.
Getting to know EVE Echoes can shock inexperienced players, but to make it easier for you, the developers have added their own training system, which will be with you throughout the game.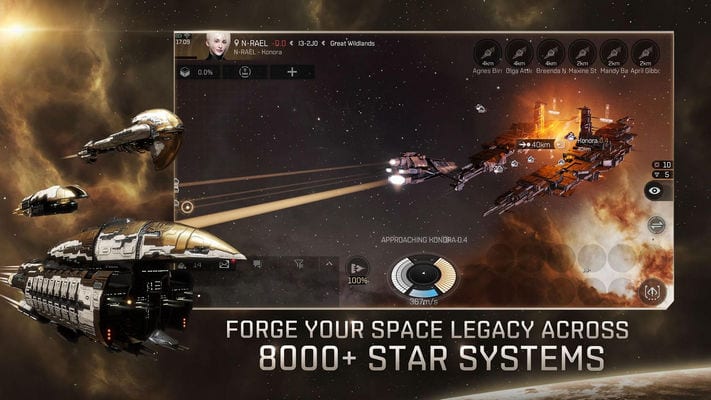 You may also like: 18 Best Multiplayer Strategy Games for Android
Astro Lords: Oort Cloud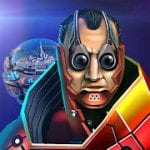 Astro Lords will be interesting to all fans of space adventure who would like to create their own space base. Of course, you won't be able to do it so easily: you will have to fight with other players and aliens, master new technologies, and even mine minerals.
Your base will expand with time, and you will have the opportunity to become the largest player in Astro Lords. The game is online and is cross-platform, so here you will encounter players on different devices and from different countries.
It is worth noting that Astro Lords is free, but there is one catch. Most of the developers were counting on people who will invest in the game and game currency. Of course, you can make money in the game through trade and resource extraction, but people who donate money will have the most power.
There is also a special system for the best and most advanced players: in Astro Lords, you can earn Tritium game currency, which is converted into real money and can be withdrawn on WebMoney.
It should be noted that no one will be able to take you out of the game completely: even your space base can only be robbed, but in no case can not be completely destroyed.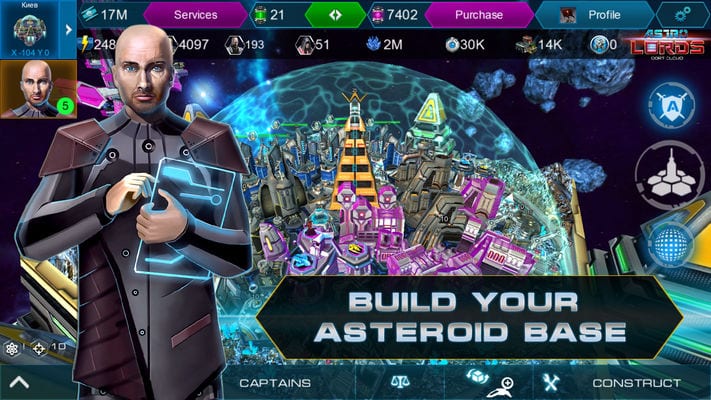 Operation: New Earth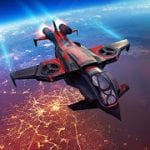 Operation: New Earth is another multiplayer game, which is based on the plot takes a foreign invasion. The game can be called strategic because here you have to build your own base, to organize the extraction of resources, and even fight with neighbors who can attack you at the most unexpected moment.
The goal of all players is the same – to protect the planet from alien invaders who are going to take away from the inhabitants of the Earth all valuable resources. You can even create your own alliance in the game to combine the efforts of several players and achieve more success.
In the story Operation: New Earth, a meteor shower fell on Earth along with a valuable element. It is for this element that the intergalactic war was launched, which captures absolutely all the players.
After you build a base, you will need to collect an army of infantrymen and train them, and they will later collect as much of this valuable element as possible.
If you are a beginner and think that you can't stand alone against a huge number of aliens and other competitors, just join a ready-made alliance, which is quite a lot in Operation: New Earth. Note that if possible, you will have many more opportunities to get into the game, and the whole fight will become easier.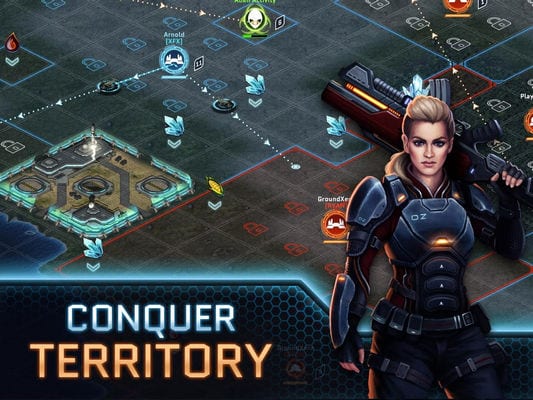 FTL: Faster Than Light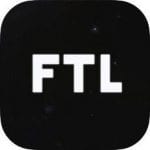 In all the games we have told you about, you can command entire galactic empires, flotillas, ships, and bases with multiple teams. Of course, you can go the easy way and play almost in semi-automatic mode, but not in FTL: Faster Than Light.
Here you need to think about how your ship functions, what all the crew members should do, and other problems that fall into the background in classic space games.
Here you will find bright and large-scale scenes of battle or space battles – mainly all the attention of players is focused on their ships and the crew.
FTL will make you take care of those things that previously might seem too insignificant. For example, a ship, no matter how technological it is, cannot be controlled by itself – you must necessarily put the pilot in a certain place to control the whole ship.
As well as with battles – any torpedo or rocket will surely punch a hole in the hull, which you will need to repair together with the broken equipment.
On the way from the initial point to the final one, you will constantly encounter someone – various traders, lost crews, and much more. In general, FTL is a great game for those who would like to add a little realism to even the most fantastic games.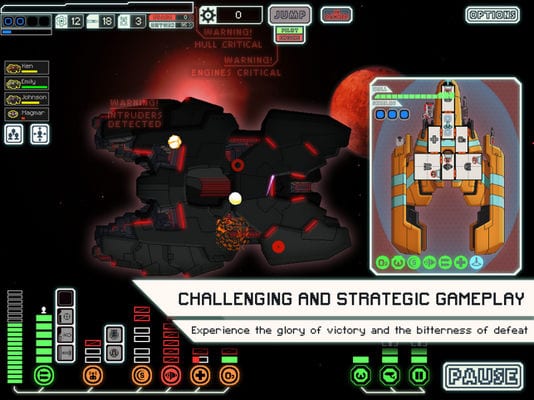 Battlevoid: First Contact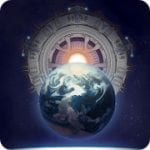 Would you like to take over the authority of a combat space station chief? You can easily do this in the game Battlevoid: First Contact. This is a real-time science-fiction strategy in which you can meet the elements of a roguelike.
You will not just take over the command of the Battlestation: you also need to create your own weapons, assemble the fleet, as well as constantly master new technologies. You will fight with waves of attacking aliens, which will not let you relax for a second.
The idea of fighting in space is not new, but you will be pleased with the game mechanics and visual performance of battles. Battlevoid: First Contact has original gameplay, which mixed many genres – defender, roguelike, strategy, and others.
For example, for defense, you will need to install various structures outside the base, and for a full victory will need to improve absolutely all its performance.
In order to recover from a battle, Battlevoid: First Contact will give you very little time to recover the base and improve it. It should be noted that there are also scientists in the crew, who will advise you on the best way to proceed in the hottest moments of battles.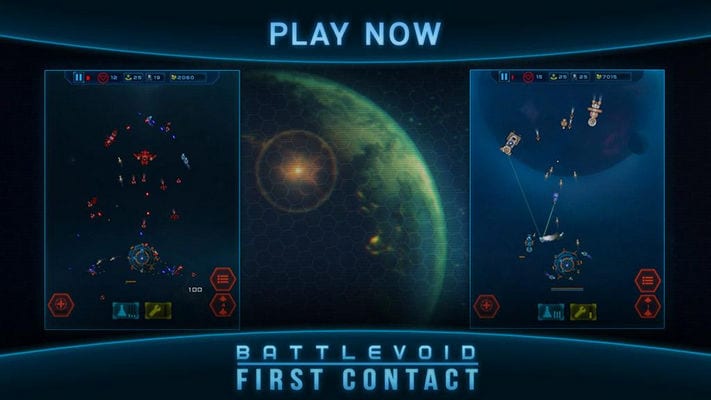 Battlevoid: Harbinger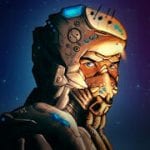 Battlevoid: Harbinger, as you can understand, from the same series as the previous game. Accordingly, the theme and style of all that you will meet in the game, quite similar to other games in the series Battlevoid.
It can be called one of the most undervalued games, which bypassed the excessive attention of users for nothing. Battlevoid: Harbinger turned out lively and dynamic, and you will not lose interest in what is happening throughout the game.
You can play any amount of time – you can either just walk in for 5-10 minutes and win a quick battle, or spend the whole night with your smartphone, unable to break away.
At the very beginning, you will be asked to choose a Baseship, which will have a minimum amount of resources and weapons. It is from this starting point you will start to develop your account.
Battlevoid: Harbinger offers you to earn by assembling the wreckage of other ships, destroying enemies, as well as performing tasks that will be offered to you on a regular basis.
It's worth noting that your opponents are not stupid and will not give up easily. If during the battle your ship was seriously damaged, you will not have time to repair and improve your performance – the enemy will jump after you and try to finish off the already broken ship.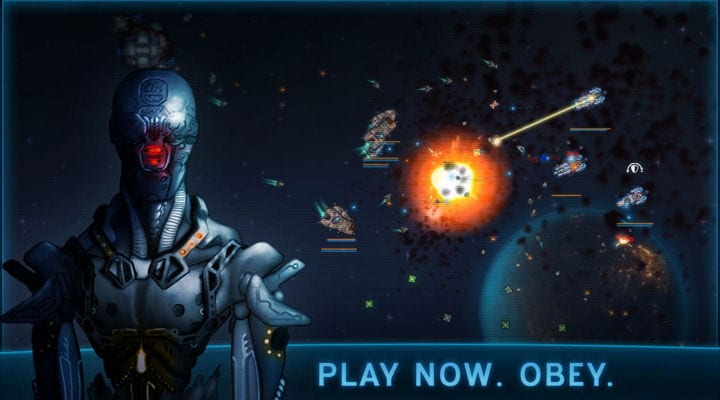 You may also like: 11 Best apps to explore space on Android & iOS
Galactic Phantasy Prelude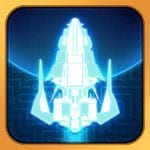 Exciting battles, trade or smuggling, and other fraud – in Galactic Phantasy Prelude you can do whatever you want. This game is a space shooter, in which you will find a huge number of pieces of equipment for your own ship, the technique of innovative combat, and even those details that will help you design your unique spaceship.
It will assist you to cope with all the tasks, as well as will be able to withstand all the battles that you are planning in space.
It is better to play with sound or in headphones in Galactic Phantasy Prelude, because all the dialogues of the heroes are voiced, and quite well. Many players note that the game is too much like Galaxy On Fire – it is not surprising.
The developers admit that the main idea was taken from the popular game, but they tried to add many interesting innovations. Here you will see more graphic effects, improved graphics, and other details that will make the game more enjoyable.
Galactic Phantasy Prelude will please all fans of space subjects, as well as those people who would like to customize their ship completely.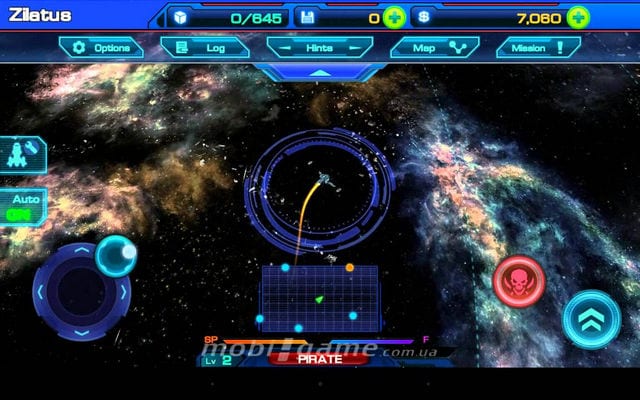 If you have not been previously familiar with the genre of space simulator, then you should start with one of these games. Basically, they have a great story and simple control, which is ideal for beginners.
The shooters and strategies we tried to find for you are quite modern and designed for a specific audience that is ready to play games like Freelancer on a regular basis.
Each of the games has its own chips, which you can find out only during the game – for example, the variety of worlds, careful drawing of all the details, and even the massiveness of spaceships. We hope that our article was useful for you, and among all the games you will find one that you like.