One of the best RPGs of our time can easily be called The Elder Scrolls V: Skyrim. Fans and all lovers of games with the open world immediately after release got acquainted with this game and have completed it (perhaps someone did it even a few times).
Despite all its fascination and beauty, you could get bored with this activity, especially since the next part of the game will not be released soon. In this case, we suggest you look for a worthy analog of Skyrim among the games. Perhaps, you are looking for RPG not exactly like Skyrim you can check our list of 22 Best FREE Android RPG games.
Today we decided to collect for you 11 Best Games Like Skyrim for Android & iOS, in which you can also enjoy the gameplay and have a great time. The main factors that unite all the presented games, were the open world, magical and fantasy themes, battles, and of course, the feedback of other players.
We warn you right away – you shouldn't look for an ideal analog of Skyrim here, each of the games has its own features and story. But each of them can give you a great gaming experience and can even surprise you with its features.
Block Story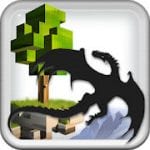 We all know about the Minecraft game, where you find yourself in the world of blocks, as well as constantly building and mastering something. If you like this style of game, we would like to tell you about Block Story, a game that adds role-playing elements to the process.
Here you will also be in the block world, but there will be elements of RPG, such as various quests, improving the skills of characters, levels, and much more. The developers have tried to fulfill their task qualitatively and they did it – especially given the fact that the team consisted of only 2 people.
In Block Story you will have to mine, craft, build, explore the world around you and even fight with enemies.
Of course, all this will happen in parallel with your thematic quests – they will provide most experience points. During the game you will raise your level in different areas, so we recommend to do everything in a balanced and gradual way.
It should be noted that in Block Story most quests are somehow connected to battles, and you will be able to accept them only from friendly NPCs.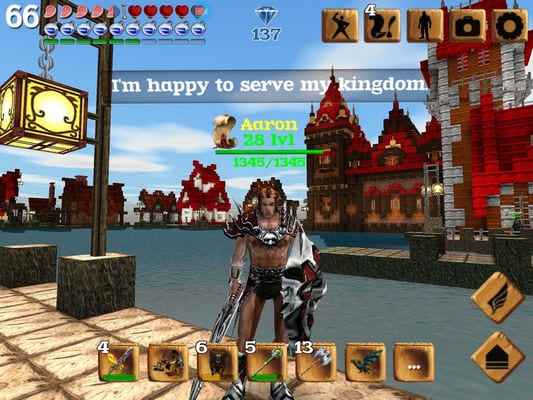 You may also like: 11 Best games like Minecraft for Android & iOS
The Elder Scrolls: Blades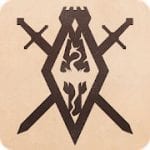 TES is undoubtedly the ideal game for all Skyrim fans. The developers have presented the game Blades for mobile in 2019. Its design is simply amazing, especially if you haven't played something like this before.
The image on the screen of your smartphone will be bright and detailed, and each location is thought over and perfectly executed. It's worth saying right away that this quality also requires a good device: even the latest smartphones can face difficulties while playing your game.
Blades immerses you in dungeons, where you can extract resources. There you will also perform side quests and other tasks that are not too much related to the main plot. The most important events will take place at the top, on beautifully painted locations overlooking nature.
During the main missions in Blades, you will have to talk to the locals, as well as accept tasks where there may be additional conditions or special opponents. It's worth noting that when you go on a mission with an ally, the undead and other monsters will be aimed solely at you, not at your partner.
Iron Blade: Medieval Legends RPG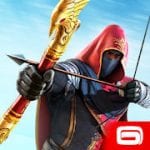 Gameloft is one of the largest manufacturers and developers of games, which for a long time pleases players with various products. Iron Blade was introduced back in 2013, but still, you can meet people who have not even heard about this game.
It is created in the genre of hack-and-slash RPG and is made in a rather dark medieval style, which may also please some of you. Here you have to confront aggressive knights and various mystical creatures, which due to excellent graphics will appear before you in all its beauty (or horror).
The gameplay in Iron Blade is divided into missions that are becoming more and more complex. Each time your hero will be waiting for an even more terrifying and powerful enemy than it was in the previous battle.
It should be noted that the gameplay and control is not quite ordinary – your character will move through the virtual world on his own, and you only need to start a timely defense or attack. During the battles in Iron Blade, you will be able to control your character yourself, but only for a while.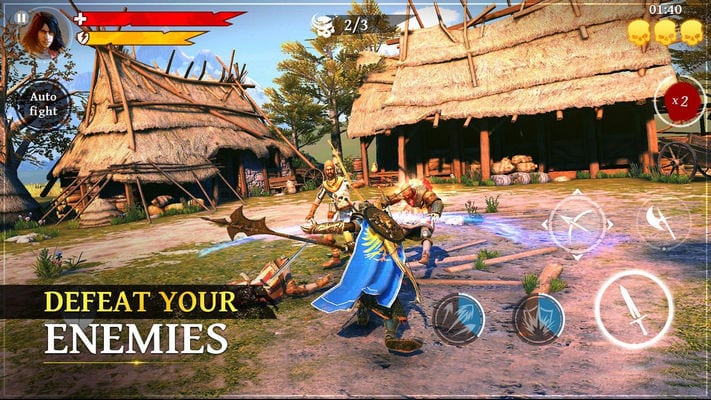 Dungeon Hunter 5 – Action RPG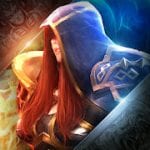 If you like different fancy costumes of characters and do not mind fighting the undead, then welcome to the game Dungeon Hunter 5. Here you will be met from the beginning by a world of unpleasant creatures, with whom you have to fight.
Dungeon Hunter 5 is a fantasy RPG, where you have to exterminate monsters and develop as a hunter. It is worth noting that previously the game had a complex class system – at the moment there are only hunters left, although you could meet magicians, warriors, and guards.
Dungeon Hunter 5 requires a constant connection to the network, so you can not play on the road or on the plane. But here you will immerse yourself in the rich stages of the game and perform tasks. All management is organized quite simply for all types of weapons – there are 5 of them.
You will always have a virtual companion with you, who will tell you what to do. It is also worth mentioning the game currency – there is quite a lot of it in Dungeon Hunter 5, and each of them allows you to open different chests with treasures and new weapons.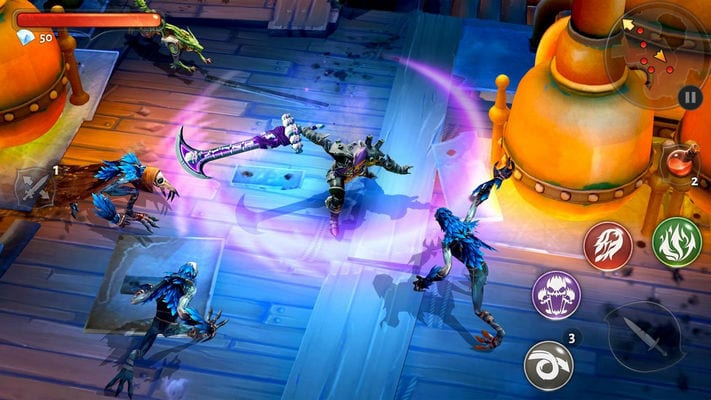 Order & Chaos 2: 3D MMO RPG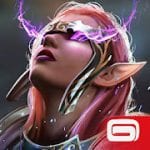 World of Warcraft has become a real legend for MMORPG fans. Order & Chaos 2 can be called the analog of this game, compressed into a mobile format for the convenience of users. Of course, the game has an individuality, which can easily be seen during the game – but most of the gameplay is completely identical.
The events of the second part of Order & Chaos take place 6 centuries after the beginning of history, in the same world. Your task will be quite simple – to pass a certain path, during which you will kill many monsters.
In the Order & Chaos 2, you will also be able to choose a race, to which your character will belong. You will also need to define a class, which will change your gameplay in different ways.
Management is done in the usual way – at the bottom of the screen, you will have a control stick, as well as a sliding panel with additional cells. It should be noted that battles with other players are not given much attention: it is possible only in PvP zones or by agreement.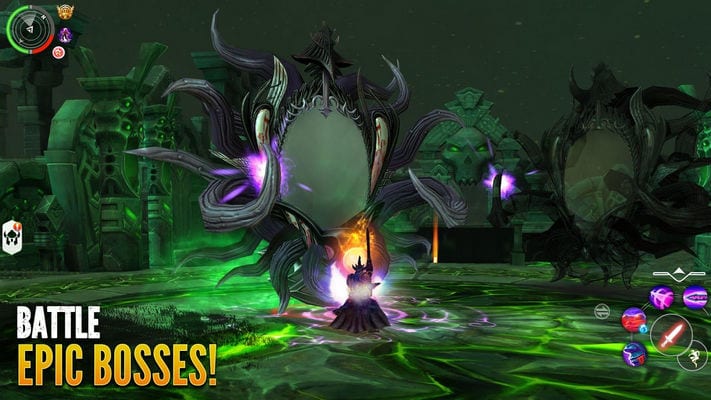 Wild Blood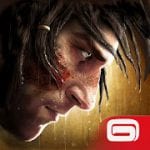 The Celtic era is also often found in mobile games. Wild Blood is just such a place, where you will be immersed in the atmosphere of that time, as well as encounter various myths and legends about the Celtic knights.
The game is a fantasy epic battles, in which you will be able to participate in multiplayer mode. Here everything is presented very simply and classic: there are maps for battles 4X4, as well as several modes, such as match and capture the flag.
Wild Blood includes a multiplayer map "Haunted Castle", multiplayer mode "Juggernaut" and a classic version with a huge number of weapons. You can play with your friends on the Internet or with the help of a Wi-Fi connection to make sure that you are all on the same map.
In the main story, you will have 10 colorful levels, which will lead you to the conclusion of the story. The game tells a lot about King Arthur and his adventures – in fact, we can say that the character has become the key to the development of the plot.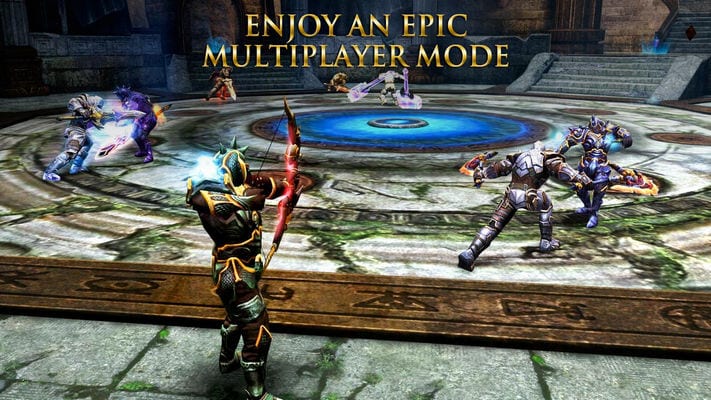 You may also like: 25 Best cross-platform multiplayer app games (Android & iOS)
Celtic Heroes 3D MMO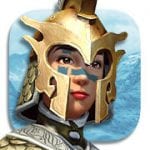 Celtic Heroes – is another game based on Celtic mythology, which can simultaneously contain thousands of players. You can go on a fantastic journey through the open world of the game with your friends while developing your character.
You will also be able to join different clans or even create your own in order to compete with your rivals. Celtic Heroes is highly regarded in the MMORPG genre and players note how well it is made.
The game differs from most similar applications in that it has no fantasy locations. Here you can see the real territories, which in the plot are inhabited by indigenous people and tribes.
In other aspects, Celtic Heroes is quite traditional – both in gameplay and control settings. In order to earn currency for upgrading your character, you can trade with other players.
It's worth noting that it's difficult and many people prefer just to buy items or amplifiers, which makes Celtic Heroes not the most affordable game in material terms.
The Shadow Sun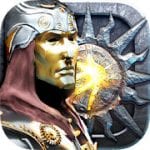 If you love old computer games, the game The Shadow Sun will be a real discovery for you in the world of mobile applications. It looks and works the same as the old games, while the effect is applied to the atmosphere.
This is a classic role-playing game, in which you will choose your own character and go on an adventure. During it, you will participate in various battles in which you will need to throw lightning, drink a potion, and of course, fight. Between battles, players are invited to explore the city and communicate with other characters.
Everything that will happen to you during the game, you can write down in your diary. Of course, in The Shadow Sun, it happens automatically – it reflects all your tasks, as well as information about the characters with whom you had time to communicate.
In order to get new items, weapons, or just to learn something unusual and shocking, you will need to interview many residents of the city in which you will find yourself. In The Shadow Sun, you can also get a dog, which will always help you in moments of the battle.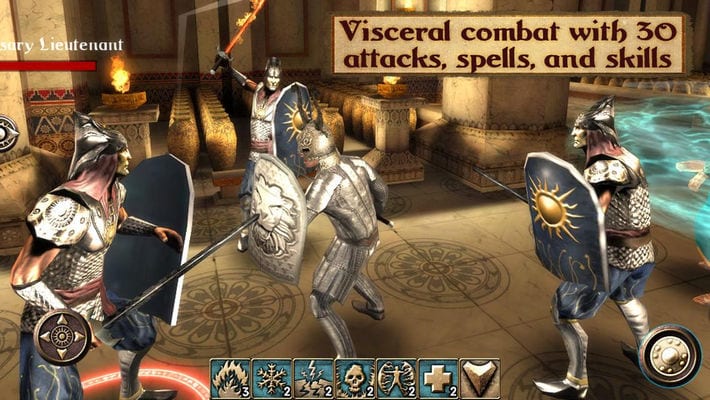 RAVENSWORD: SHADOWLANDS RPG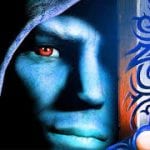 RAVENSWORD is not the first part of the game universe history, but the release of the first part has not been seen by players around the world. It's also worth noting that you don't have to play the game from the beginning in order to start passing RAVENSWORD.
Here you find yourself in a world where you can be punished or imprisoned based on your reputation. At the same time, the very passing of the game or interaction with runes does not depend on your reputation at all.
RAVENSWORD has one main storyline to which players are encouraged to stick. You can also perform additional tasks to improve your weapons or buy something extra. To do this, you can use the city shop or look for special chests.
RAVENSWORD also offers you to improve the player in different categories – overall training, magic, fighting, stealth, and more. Each of them will be divided into separate items, which will make up the parameters of your character.
The first quarter of the game may seem too confusing and incomprehensible to you, but further you will not be able to stop.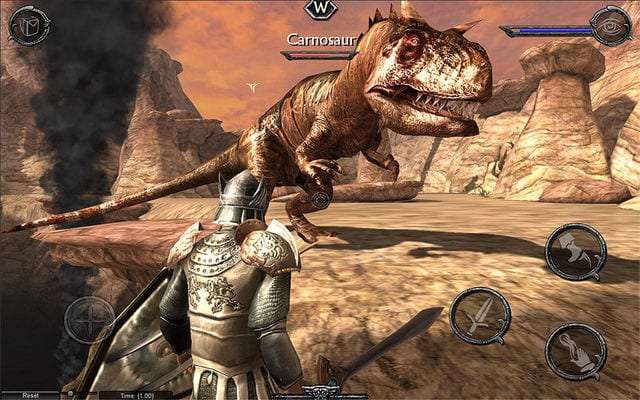 Angel Sword: 3D RPG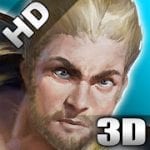 Angel Sword is an RPG with multiplayer mode and an open world, where you get complete freedom of action. Of course, there is the main plot, which will give you the opportunity to pass the various tasks and goals that will need to be performed.
In the world of Angel Sword, there is a legendary sword of justice created by the deities – but at the moment it is stolen. You act as one of the heavenly angels, who go in search of an artifact to return it.
In Angel Sword, you will be immersed in a full-blown adventure that you can participate with your friends. Of course, in the company, you will be much easier to make quests and explore the game world.
If at some point you get bored or you want to distract from the main storyline, you can always test your warrior skills in the PvP arena.
In real battles you can also fight not by yourself: in Angel Sword, you can buy pets, which will either help you in the battles or participate in them instead of you. It is worth noting that in Angel Sword also changes the time of day, and it happens in accordance with your time.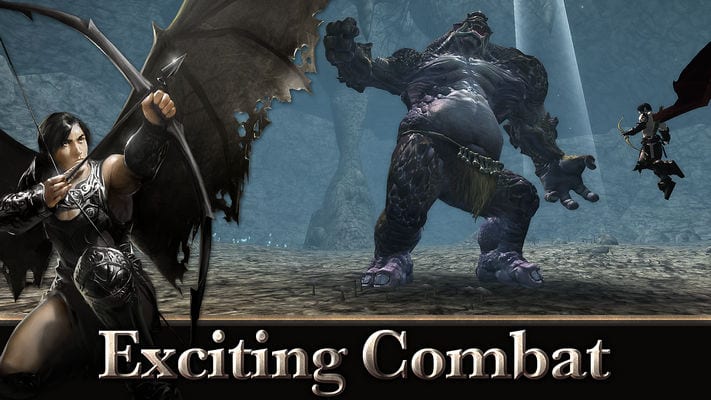 You may also like: 15 Free 3D Action Games Android & iOS
Kingdom Quest Crimson Warden 3D RPG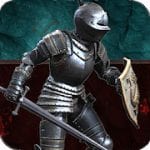 Kingdom, curses, a variety of terrible creatures and battles – all this is abundantly represented in the Kingdom Quest. This is a fantasy RPG game in which your adventure will consist of many quests – more than a hundred of them, including both basic and side quests.
You can pass the Kingdom Quest many times because you have a choice of 8 characters, each of which will need to develop and master a particular profession. The world is completely open, but you will be surrounded by dangers and monsters.
It is worth mentioning little monsters in the Kingdom Quest. Here they are presented in a huge range: golems, orcs, elves, ogres, and even predatory plants – this is not a complete list.
Each type of creature is located according to a certain logic, which can help you when moving – for example, golems live on a stone area, and elves – in the forest near the old trees.
Note that there are not a lot of weapons for combat – it can be a sword, bow, or crossbow. But you can also use various spells and magic to destroy the enemy.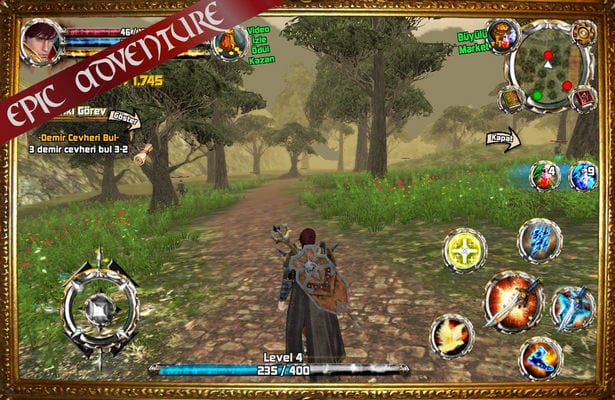 Of course, it cannot be denied that computer games in the genre of RPG with the open world are more vivid and dynamic – it is directly related to the technical characteristics of the devices.
In this case, mobile games of this genre are no less interesting – each has its own zests, which will be for you a real story inside the story. Especially because the games for Android & iOS are convenient for users to play anywhere.
As a fan of Skyrim, you will love to run in each of the games and perform tasks, achieve goals, improve their skills, and much more. We hope that we were able to find for you new or unusual games that will interest you not only by their description.