Everyone is used to the fact that good always triumphs over evil. But If everything changes, what will happen then? What will happen, if evil gains the upper hand, and the world will be in the hands of villains.
Therefore, in order to deviate from the standards, we present a selection of the best mobile games where you are the villain.
Like tales about the villains and scary things? Then we got something special for you – the apps with scary stories!
MAFIA CITY × BLACK LAGOON
This is a great strategy mobile online game that brings together players from all over the world.
You can advance in a team or on your own, but as one of the main quotes of the game says "One person will never be a successful mafia. The mafia is a gang." Therefore, invite your friends, create groups and fight other clans.
Each player chooses a specific role and performs specific functions.
Thus, there are six roles in the game:
killers
marauders
choppers
thugs (bulls)
experienced shooters
artillery
By combining all the roles into one grouping, you will create an invincible gang. And what role will you play is only your choice.
"MAFIA CITY × BLACK LAGOON" will completely involve you in the vibe of mafia groups: Unite in clans, fight, steal, loot, gain power and establish control over the entire criminal world and peaceful people. What place you will occupy in the game depends only on you.
The only downside to "MAFIA CITY × BLACK LAGOON" is the 16+ age limit because the game has explicit scenes of hardcore, alcohol and smoking.

But if you want to become more successful than other players and get to the top faster than anyone, then you can purchase a paid package of services in the game that will help you move faster and level up your character.
Call your friends, unite in criminal gangs, win and become the kings of the world of mafia and crime. Remember, with friends you are stronger than without.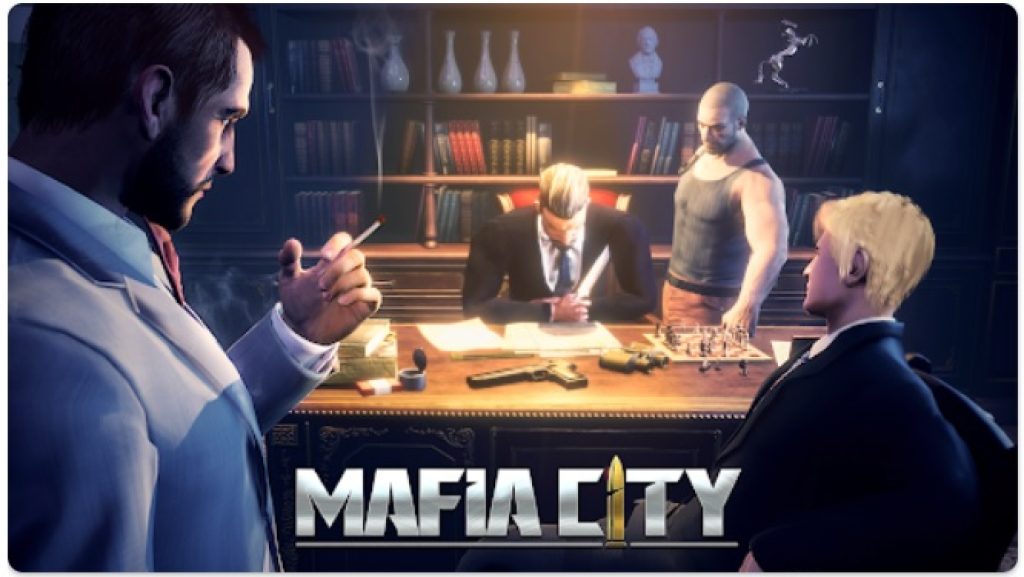 You may also like: 17 Best Games Where You Upgrade Your Character (Android & iOS)
Dead by DayLight mobile
This is a multiplayer action game that was based on the popular horror movies. Besides cool and unusual graphics, the game has very simple rules.
You need to decide which of the two sides you will play: the hunter or the victim. The first side represents one hunter. His goal is to catch and kill all four players who are playing survivors.

The job for the victim is survival and kills his enemy. Victims need to gather all their strength and defeat the hunter by common efforts.
You need to decide the location where you plan to hunt or survive. And there are a lot of different locations in the game, each of them looks cool and scary.

As we already mentioned, the game is based on horror films, so you can choose the necessary skin for the hunter and feel like a hero of one of your favorite horror movies.

Killer skins from the "Saw" (Michael Myers, Amanda Young), from the "Silent Hill" movie (Pyramid Head and Ghost Face) and many other famous skins are available in the game.
Survivors can also choose a character from one of many popular horror films. In the game, you can play as Laurie Strode from "Halloween", Bill Overbeck from "Left for Dead", David Tapp from "Saw", Steve and Cheryl Mason from "Silent Hill".

Invite friends, team up, create tactics, survive or kill and enjoy the game. Be the villain of one of the most famous films or experience yourself as a victim depends only on your choice.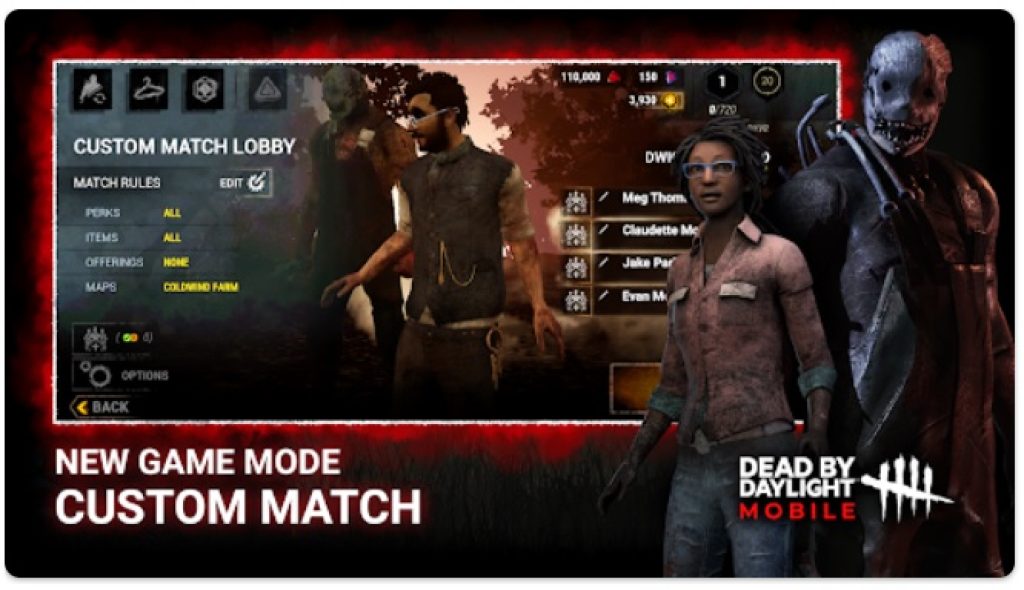 Horror Hunt
This game is similar to "Dead by DayLight mobile" and is designed for a team of five players (one monster and four hunters).
In this game, you are an alien monster who wants to kill all living creatures on the planet and destroy the whole world.
The rules are absolutely the same: You choose which side you want to play for and get rid of the enemies.

Only the graphics and the path to the victory of the hunters are different. In order to win, the hunters must destroy the totems that give strength to the monster. The monster's goal is to kill the hunters and prevent the totems from being destroyed.
It is worth noting that the game is quite new and at the moment only a demo version of the game is available for download. But even the demo version of the application was a success and pleases users with regular new updates.
Choose which side you are on, call your friends and have fun with them, immersing yourself in a game with an unusual and interesting plot. And who will win this fight depends only on you.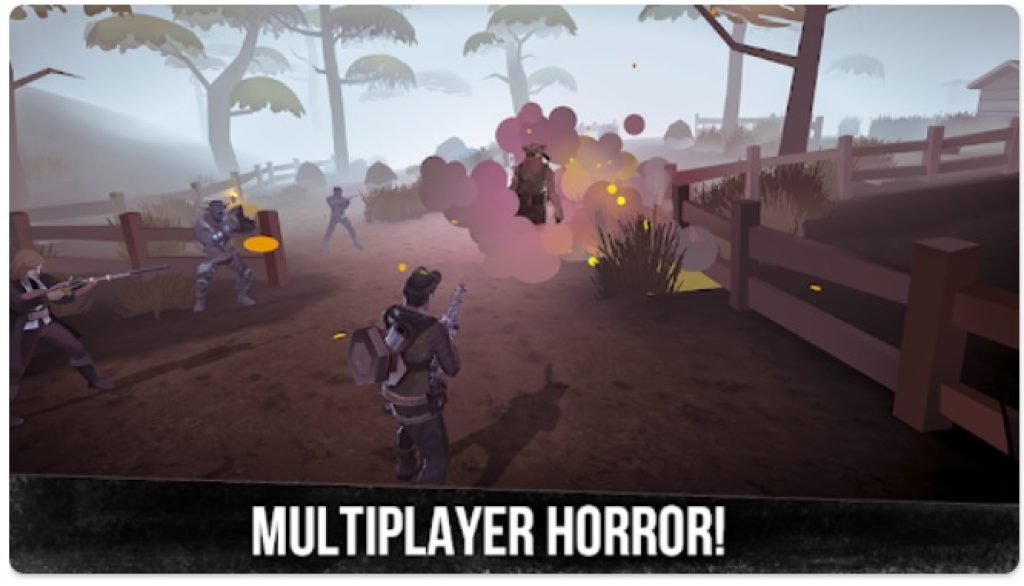 I am Monster
"I am Monster" is a simulator in which you are a huge crazy lizard monster in a big unknown colorful city. Destruction of everything in your path and the implementation of a massive genocide is your main goal.
Complete tasks, level up and improve your huge monster lizard, open new locations, because you need new spaces for destruction and just destroy everything around, making chaos.
Arrange an apocalypse and a mass genocide of all living things, become the strongest crazy monster in the whole world and get into the top of the best players in the «I am a monster» simulator game.
Funny and colorful animation will let you destroy in a beautiful and realistic world. The game will help you have fun, making you the main villain of the city and the most destructive lizard monster. The game does not contain explicit scenes of violence, so it is suitable for adults and children.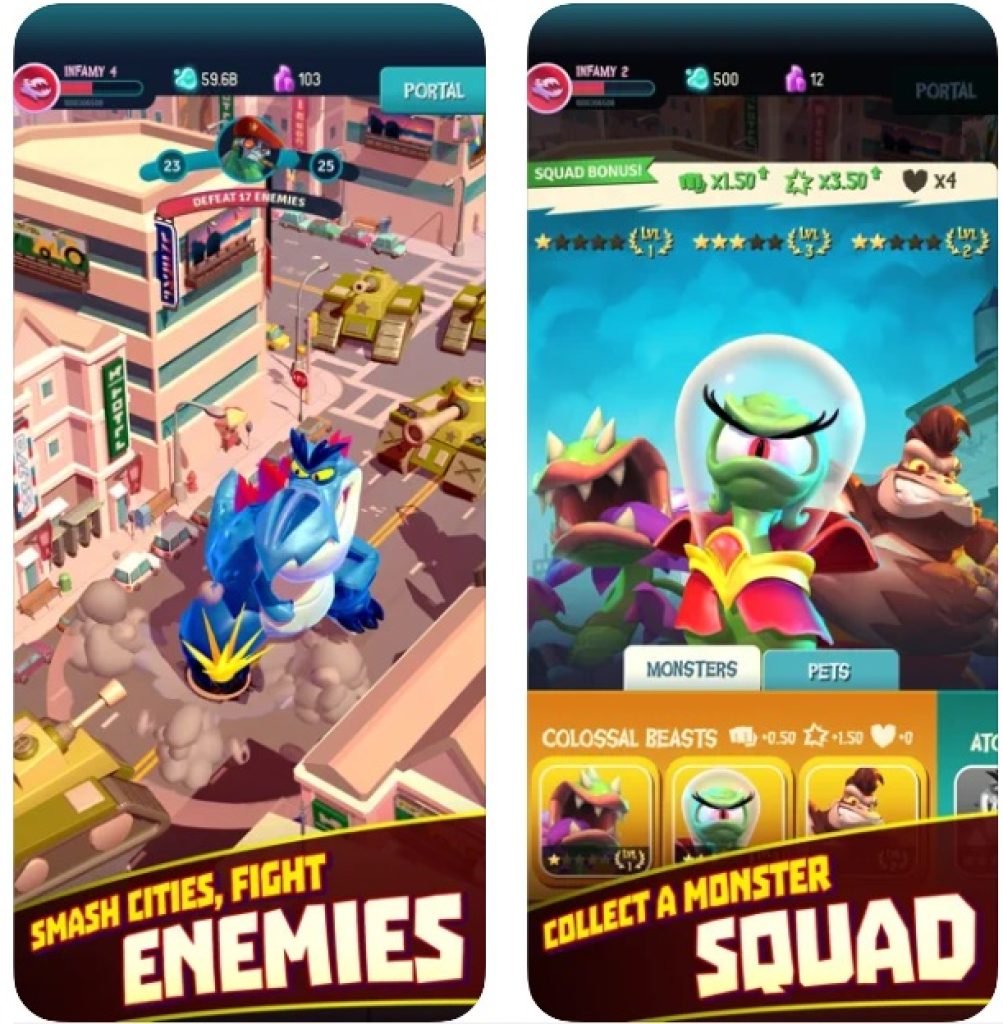 Hungry Shark World
In Hungry Shark World you have to play as a bloodthirsty shark. Start with a small baby shark, that has to survive and fear everything, and grow into a huge megalodon that sees no barriers and instills fear in all living creatures on the planet.
Destroy and eat everything in your path: from small fish and free seabirds to gaping people on the shore.
Destroy everything that is around you: Ships, boats, stations and catamarans. But beware of sea mines and unexploded ordnance in the depths of the sea.
You can play as one of thirty-eight shark species and choose one of eight sizes, from the smallest and agile to the largest and most powerful.
Explore new locations and discover territories with new "tasty" victims. Currently in the game, you can start from one of 4 main locations: the Pacific Ocean, the Arctic Ocean, the Arabian Sea, and the South China Sea.
But in the game you not only create chaos and destruction, but also try to survive yourself. After all, the ocean is the most dangerous place where there are various dangers even for sharks: Broconiers, sea mines and marine inhabitants larger than you.
The bigger you are, the less vulnerable you are to danger. Complete various tasks and improve your level. And a smooth animation and stunning 3D graphics will not leave you indifferent.
But if you want to play with your friends, then you can't do it in this game. Because the game is for single user and also you can play offline without internet. But despite this, you will enjoy spending time playing this interesting game.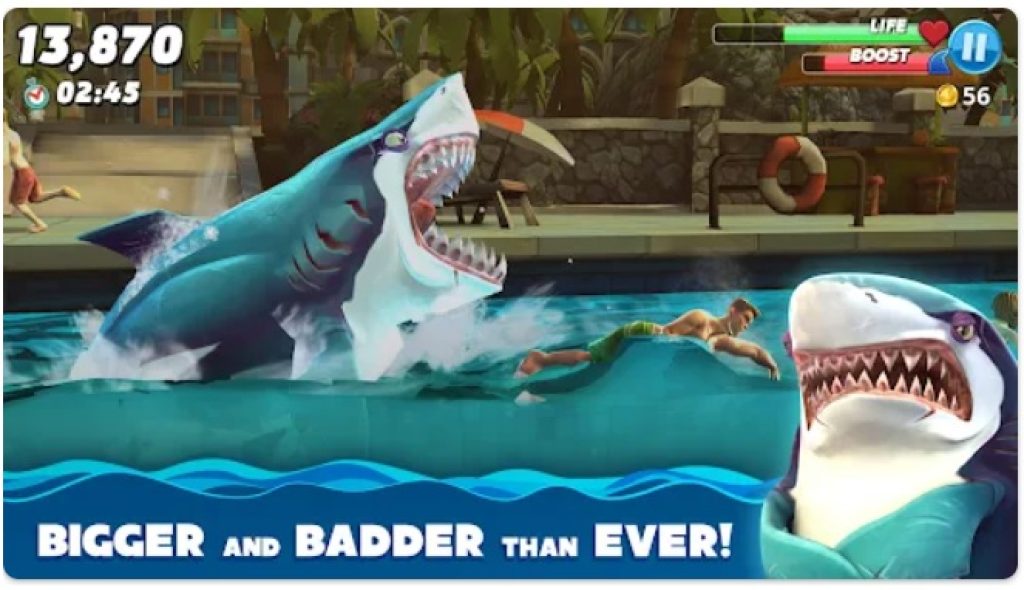 You may also like: 11 Best Horror game apps
Steal 'N Loot
This is another simulation game that will involve you in the world of theft and debauchery. Your main goal in this game is to steal and break into expensive houses, apartments or shops.

Steal everything you see on your way: securities, expensive appliances and electrical appliances, jewelry, money, and even fashionable branded clothes or furniture.
Hack and steal cool expensive cars to move faster and stealthily from one place to another or escape from the police and guards. Remember, the more thefts, the richer you are.
Complete tasks, level up, get rich and buy different things that will help you break into the house faster and more discreetly. Use crowbar, drone and glass cutter.
Rise to the last level and become the best thief in the world.
Work quietly and undercover, but if the police or security spot you, you must run and hide. You should be invisible.
3D graphics and many opportunities and methods of hacking and theft will make your game interesting and exciting.
In Steal 'N Loot, you are a real villain and criminal, who is afraid and trying to catch the whole city.
The only downside to this game is that it's fast paced. As most users say "The whole game can be completed in a couple of hours".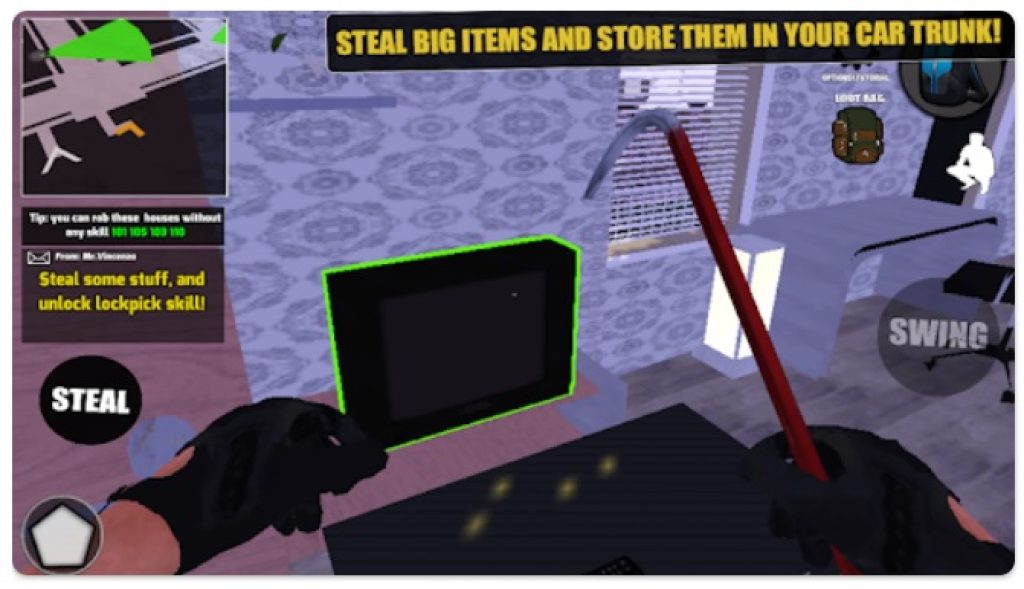 Dark Lord: King simulator
"Dark Lord: King simulator" is a role-playing game, where you are the dark lord of the whole world, awakened from a long and deep sleep.
This game is a strategy simulator with an element of card games. In "Dark Lord: King simulator", you are a real villain and the king of the dark lands. Your main goal is to resist good and plunge the whole world into an atmosphere of evil.
Everything in this game depends on you: the plot depends only on your decisions and actions. You must have a good strategy to take power over the whole world into your own hands.
Give orders and watch as your servants turn the world into a dark realm of evil. Decide fate, plunge the universe into chaos and darkness.
Each of your actions and orders have terrible consequences, many of which are in your favor, because you are the representative of the side of evil in this world.
And the original author's drawing and an unusual plot will help you enjoy the game. What kind of world you will create and what kind of lord you will become, it all depends on you.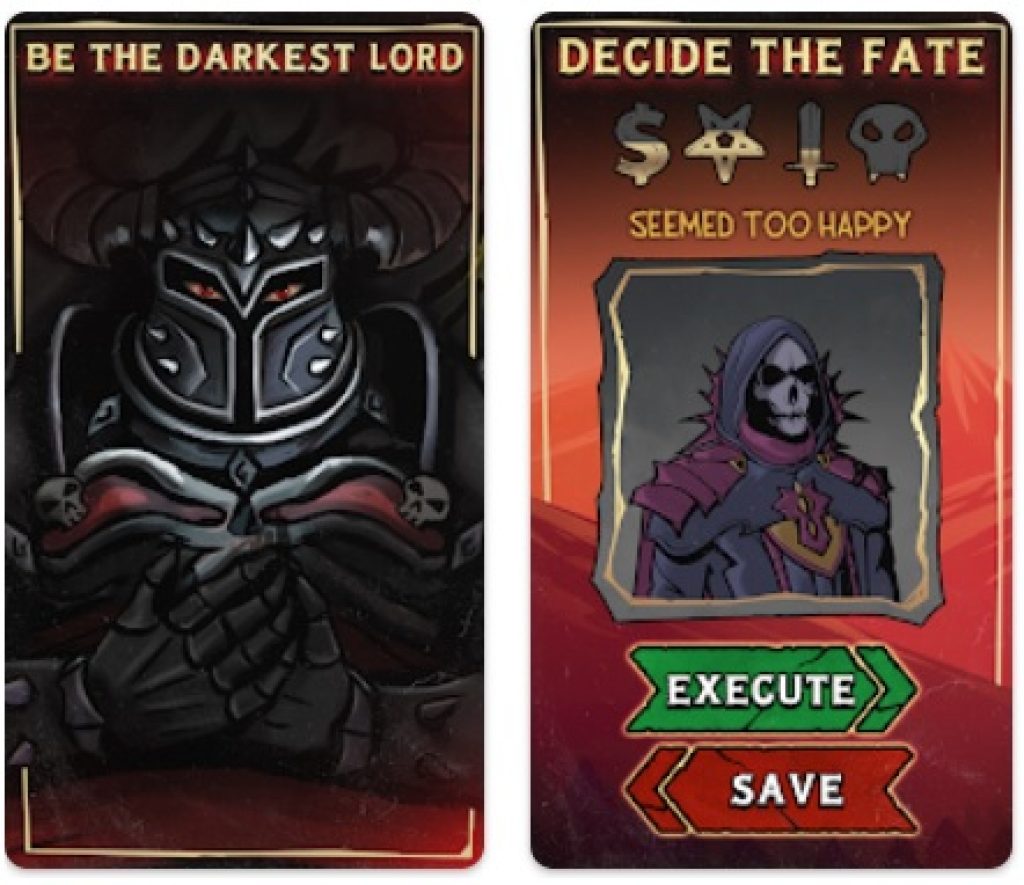 Evil Defenders
"Evil Defenders" is an amazing game in which you have to protect the forces of evil and destroy your enemies who want to interfere with your plans.
The Tower Defense game invites you to cost buildings in your territory, build and upgrade fortresses and towers to protect your evil lands.
The game has more than ninety levels, which each of the players goes through in their own way and tactics.
Choose one of five regions, where you want to play and where you plan to build your evil empire and fight against good. Choose one of six difficulty levels and find out just how powerful an evil lord you can become.

Get game achievements and become the best in the online game rating. And beautiful colorful graphics, smooth high-quality animation and full gameplay will make your game more fun and better.
Call friends, compete or help each other, and fight for the first place in the overall ranking, protect evil and do not let the good side defeat you.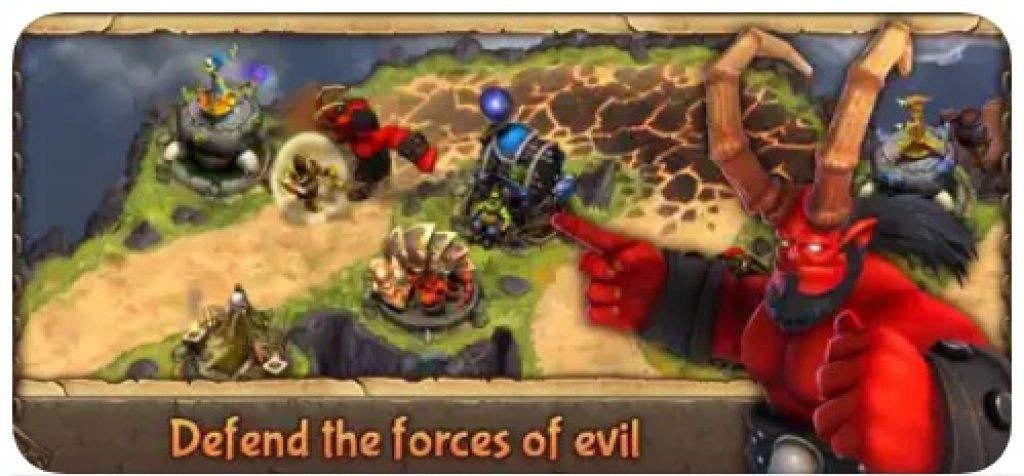 Tap Tap Evil Mastermind
"Tap Tap Evil Mastermind" will completely involve you in the world of evil and make you a real criminal. As soon as you open this amazing game for the first time, you become a member of a villainous gang, where you already have certain missions and tasks that you must complete.
Start developing your villainous faction from the very bottom: expand your office and gang, move it to places where no one will ever find it.
Gather and upgrade your minions in a faction. Each of them has their own abilities and talents. They are able to bring some income to your criminal organization.
And if one of your servants annoys you, you can expel him from the organization. Also Attack other enemy empires to improve your reputation and get money, but don't forget to defend your empire.
Complete tasks, sell goods on the black market and make a profit. Expand and upgrade your office, hire minions and become the most powerful faction in the world.
The only thing that some users might not like is the game's pixelated graphics and non-smooth animation.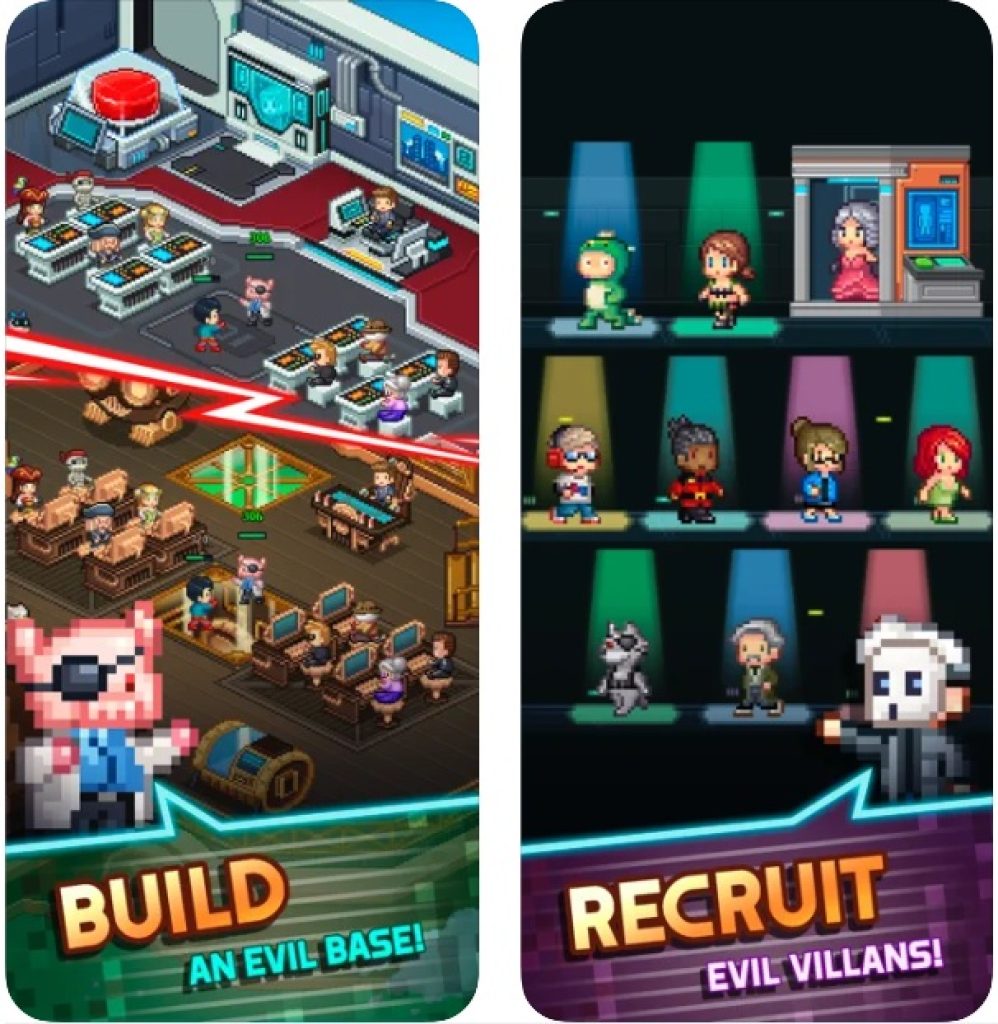 Pumpkins knock down
The game Pumpkins Knock Down is an addictive way to kill time and test your accuracy in shooting the target. In this game, users need to destroy all angry pumpkins by knocking them down using tomatoes, bombs, or by freeing the ultra-tomatoes.
In total, the free version of this game has eight levels in which users can try themselves. In the paid version, you can try out sixty unique levels.
Special bombs that this game offers can destroy obstacles on the way to pumpkins and shoot them eventually. The functionality of the game is straightforward, so any user can figure it out.
Another advantage of this game is that an internet connection is not required here. The design of this app is really vivid and ingenious, so it immediately attracts attention.
The background varies depending on the level. Some background options are:
Dense forest
Mountains covered with snow
Burning hot desert, and much more.
Also, during the game, users can see their score and achieve higher results in the game. In addition, during the game, users can start over or change settings for their convenience.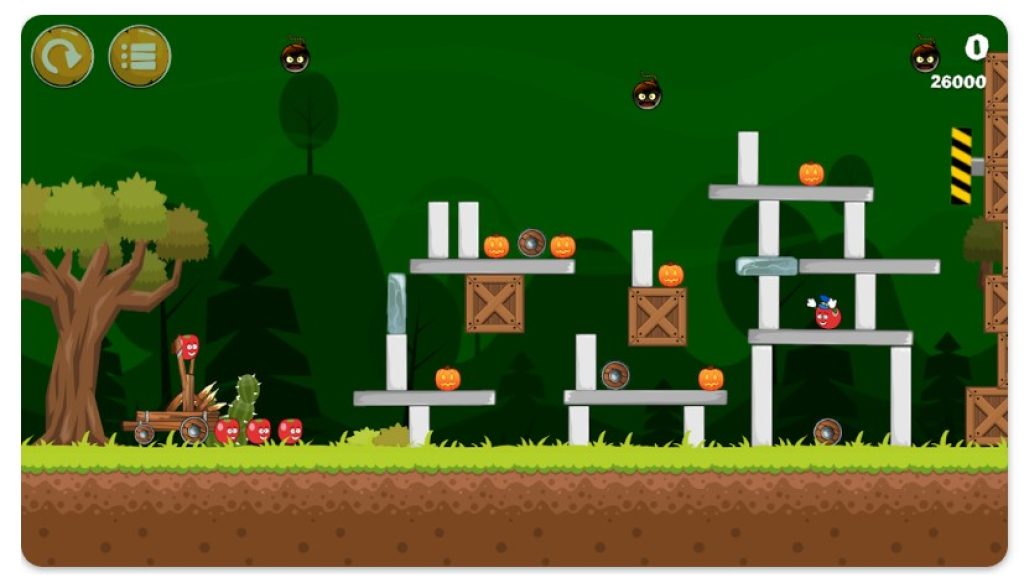 You may also like: 11 Best Paranormal apps for Android & iOS
Idle Evil Clicker
Just imagine that you are the lord of hell and all sinners are under your control, and demons and other evil work for you and obey you.
An unusual game called "Idle Evil Clicker" will allow you to do the most villainous deeds, because in this game you are the lord of the underworld.
Hire demons to work, arrange torture and collect the souls of the most hellish inhabitants of hell.
Buy new punishments and torture chambers. They will help you expand the factory of human sinful souls and generate income. Develop, become more successful and break into the top of the best users of the game.
The "Idle Evil Clicker" does not require tactics, strategy and any talents. Just tap the screen and become a successful player.
The game will help relieve stress and escape from the daily routine. Beautiful colorful animation and interesting cute characters will allow you to take a fresh look at the world of evil.
The game will be interesting for adults and children, because it has rivalry and no cruelty.