In the modern world, there is immense pressure to be productive 24/7. But you probably know how difficult it is to stick with all that pressure and always be on. Therefore, we decided to make this challenge a little easier for you and found an excellent tool for boosting your productivity – the Grid Diary app.
Grid Journal offers you to invent a system of daily planning and tracking, so you could get new insights into your life and carry a more aware lifestyle.
You may also like: 13 Best time calculator apps for Android & iOS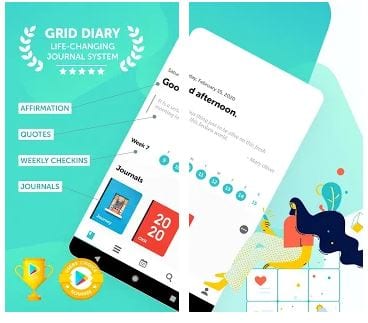 From the very first second that you open the app, you can see the impressive animated intro that gives you an idea about how the app works in general. By making simple actions, you proceed to the main questions that you have to answer first – these are quite simple ones: what are your goals, what would you like to improve, and so on.
You can create your own account in the app, use your Google account, or proceed in guest mode.  On the main page of the app, you can see the small banner with the calendar, a beautiful quote, and a journal in the lower part of the screen. The journal in the main part of the whole app.
When you click on the journal section, you will see that it includes several parts that you can fill out separately – there is a special spot to write down your small victories day by day, a daily planner, health and physical shape, personal growth, career, finance, family relationship and even more.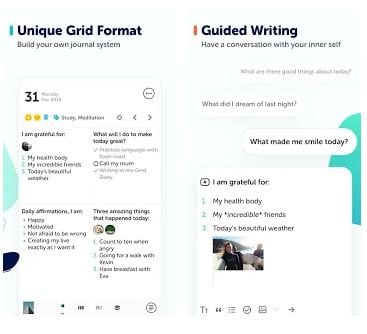 It is a perfect scheme to visualize all the spheres of your life and keep them balanced. The app displays templates for the current day, however, you can easily go forward or back in the calendar and make your notes wherever you want.
Apart from that, there is another section in the main menu (you can find it in the lower part of the screen) which is called "diary". You can make your daily notes there, in the way you want it. One more quite interesting section that totally deserves your attention is the section of your profile.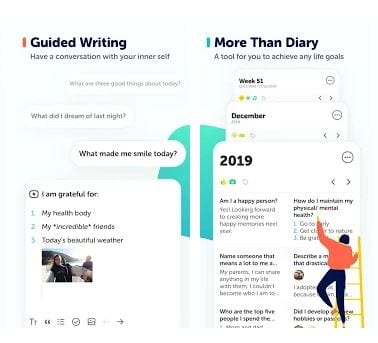 There you can explore possible templates for planning the week, year, and month (available for the premium subscription), explore the useful tips on how to become more aware, explore wise quotes and change the settings of your account.
By the way, it is highly recommended to create your own account, so your information is more personalized, not just to be in the gues mode.
You may also like: 8 Best Cartoon Avatar Creator Apps for Android & iOS
Summarizing all the points, Grid Diary is an excellent app to start a more aware lifestyle and become happier day by day. You will see how your productivity will grow and the casual things that you used to pay no attention, contribute greatly to your emotional and physical state and make your days so much better.